Last Updated on August 2, 2020 by lauren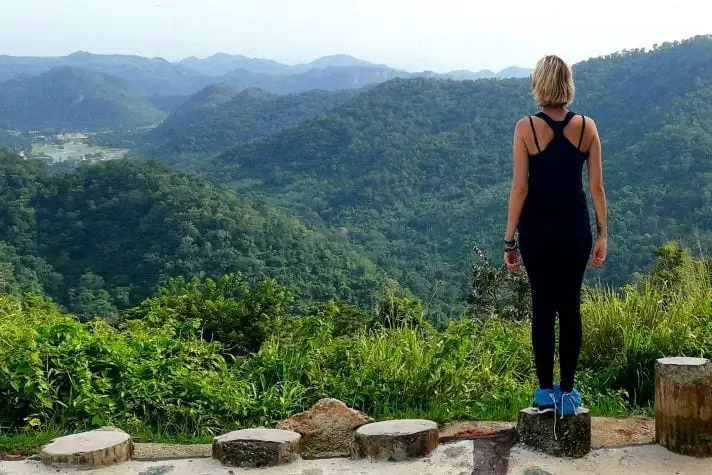 Thailand: home to beautiful beaches, paradise islands, and infamous Full Moon parties. But did you know it also has 127 national parks!? After four months of living in Thailand and no hikes to my name, I decided it was time to get off my ass and explore one of these gems.
Plus my co-teacher Eleanor was leaving soon, and we needed to do something epic on her final weekend.
Khao Yai National Park was founded in 1962 as Thailand's first national park. It's nearly three times the size of Singapore and is the second largest park after Kaeng Krachan. But what sold me about visiting this place is the fact that over 200 elephants call this park home.
Ever since deciding to not visit an elephant sanctuary in Chiang Mai, I have been dying to see an Asian elephant in the wild.
If you're planning a trip to Khao Yai National Park and want to camp over, here's my experience and everything else you need to know!
Getting from Pak Chong to Khao Yai National Park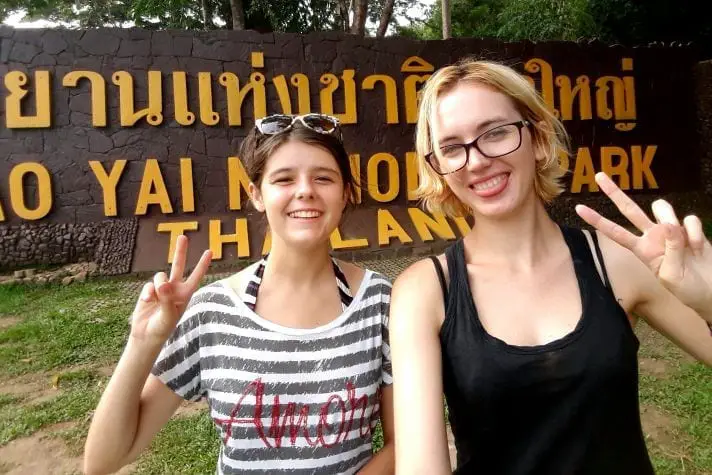 We started our journey at the Pak Chong train station at 1:15 am. The South African in me was a bit creeped out about arriving at this time, but 4-months living in Thailand has weened me off the infamous SAFFA paranoia. For better or for worse.
We were a bit concerned about finding a hostel that would let us check in so late, but luckily At Home Hostel went above and beyond to accommodate us. The hostel was only a 5-minute walk away from the train station, which meant we didn't have to worry about trying to get a taxi at 1 am.
Nice, the hostel owner, left our key hidden under a helmet, a lovely handwritten note with directions to our room and the WiFi code. She understands us millennials so well.
We then proceeded to pretty much ruin our bunkmate's life for the next 6 hours.
First, we woke him up coming into the room and me whispering a series of fuck's after I walked into my bedpost. Then my alarm went off at 3 am to remind me to start charging Eleanor's phone. And finally again at 6 am when we had to get up for our tour.
The glares, over-dramatic sighs and angry duvet cover rolling was intense folks.
Arriving at Khao Yai National Park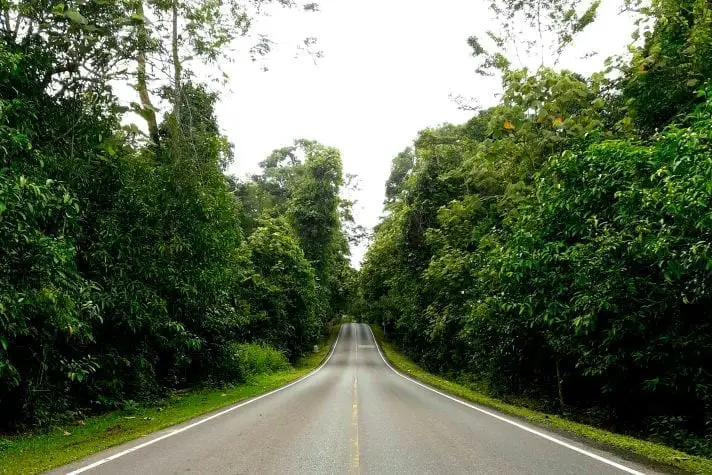 After scoffing down a cup of coffee and some toast, it was time for our full day tour of Khao Yai National Park with Bobby's Jungle Tours! We had planned to do the trip independently and hire a guide, but after looking at what was included in this tour, it worked out cheaper.
 Bobby's Khao Yai National Park tour included:
Pickup and drop off at your hotel/hostel.
A knowledgeable guide.
A 3-hour hike going past the watchtower.
Two shorter hikes to visit the famous Haew Narok waterfall and a smaller one nearby.
Leech socks.
Lunch, water and end of the day snacks.
Scenic drive to try to spot some of the elusive animals found in the park.
This all came in at the attractive price tag of only 1, 300 baht! 
We piled into the truck and set off on what we hoped would be an epic adventure!
As soon as we arrived at the park, I knew we were someplace special. The scenery as we drove through the winding roads past the lush vegetation was nothing short of jaw-dropping. Along the 14 km route to the Visitor Center, we passed a temple, stopped at a beautiful viewpoint overlooking the city of Pak Chang in the distance and were lucky enough to get our first glimpses of Khao Yai National Park's wildlife.
We spotted gibbons, a binturong, tucans, golden web spiders and a troop of curious monkeys on the roadside!
After arriving at Khao Yai National Park's Visitor Center, we had 30-minutes to explore before we set off on our first hike. Eleanor and I took this opportunity to goof around on a swing and a rustic bridge overlooking a nearby stream. We also managed to spot a viper, turtles, and a lizard down in the water below.
Following our impromptu photo session, we headed to the Visitor Centre's museum. There were dinosaurs (!), interesting facts about the flora and fauna and helpful staff ready to give you any information you might need.
There is also a lovely gift shop that is ridiculously cheap. I picked up a pretty awesome elephant bracelet to add to my growing collection for only 35 baht, and Eleanor did a quick spree of souvenir shopping.
Hiking to Nong Pak Chi Wildlife Tower
We set off on our first guided hike that would take us through the forest to Nong Pak Chi wildlife watching tower. The hike was about 5 km long and took us just over 2-hours. Allegedly, the trail we took is quite popular to see all kinds of wildlife.
But, luck was not on our side and we only saw plenty of poisonous caterpillars and two gibbons high up in trees above.
But the epic vegetation and views made up for the lack of wildlife spotting. We hiked past the two tallest trees in the forest, a giant cinnamon tree, a protected sandalwood, and even had the chance to climb up the branches of a tree during one of our breaks.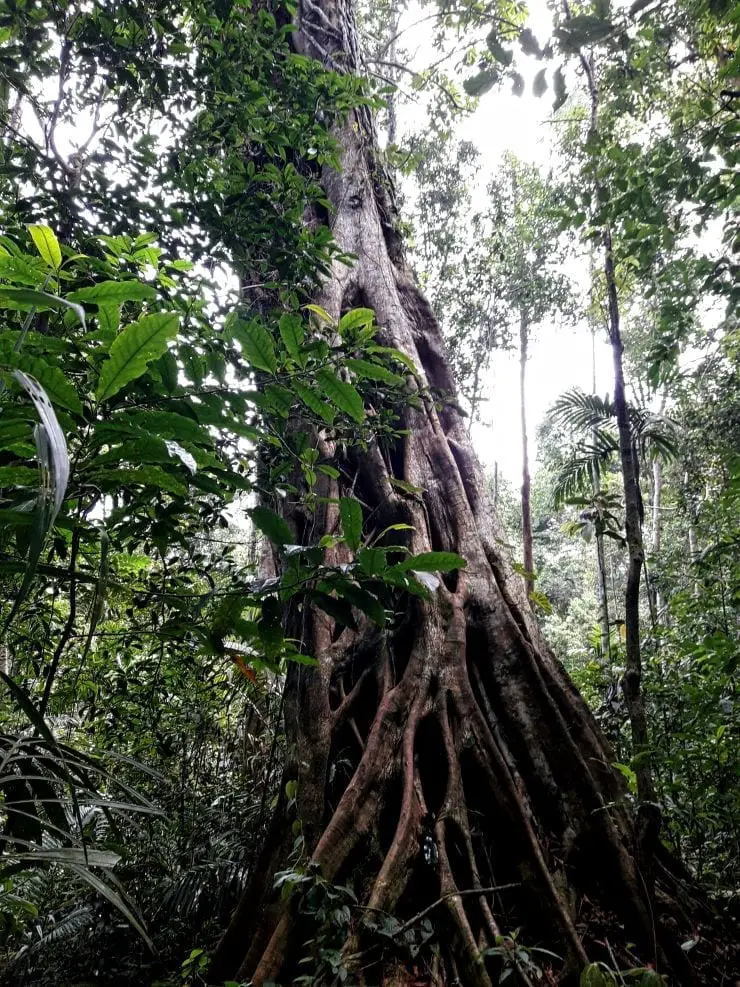 After reaching the Nong Pak Chi wildlife watching tower at the end of our hike, we were rewarded with amazing views of the landscape. The reason this spot is such a great point on the park's longer trails is its popular human-made salt lick.
The park's famous herd of two hundred elephants are frequent visitors and occasionally even tigers can be spotted!
Going to Khao Yai National Park during the rainy season like I did, is one of the worst times to spot fauna. The winter months are the best times to see animals like the elephants and I will definitely be coming back in December to see if this is true.
Exploring Khao Yai National Park's Famous Haew Narok Waterfall
The next stop on our itinerary was a quick 1km walk to Haew Narok Waterfall that consisted of A LOT of stairs. 199 to be exact. At one hell of a terrifying steep incline. This natural wonder is the largest and most impressive waterfall in Khao Yai with a 150-metre drop.
Khao Yai National Park's landmark has a sorrowful story on how the falls got their name. On the 2nd of August in 1992, a baby elephant stumbled crossing the stream leading to the falls and got caught up in the current. His mother and seven other elephants tried to save him, but in the end, they all ended up losing their lives.
The direct translation of Haew Narok to "sunken hole of hell" suddenly makes a whole lot more eerie sense.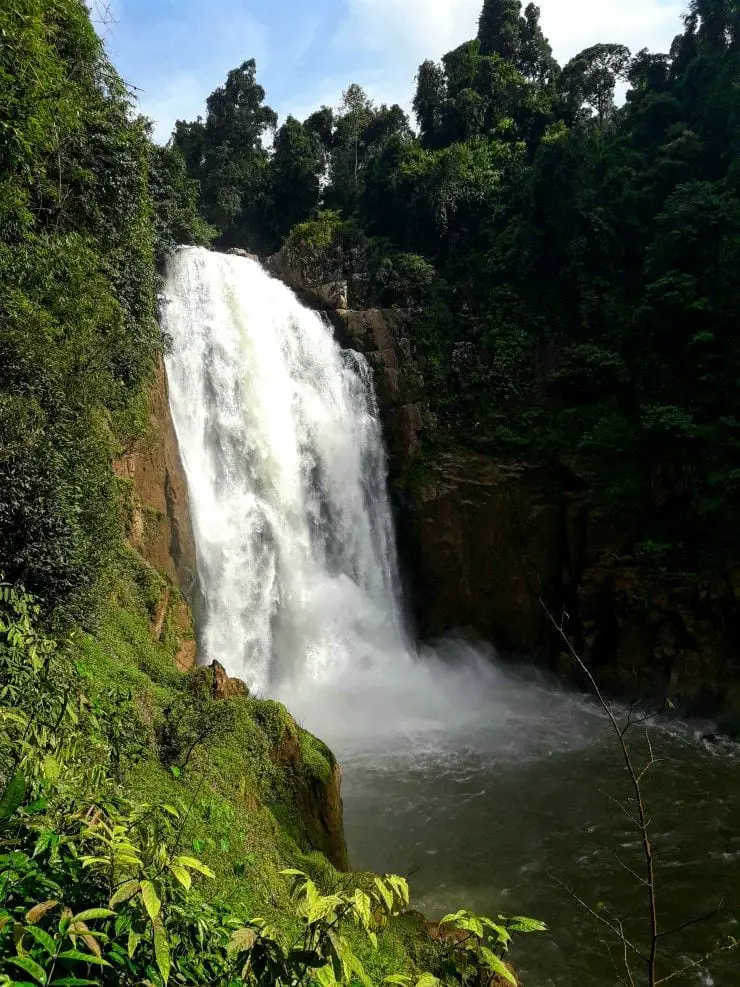 With sunset just around the corner and the park closing down at 6:00 pm, we had just enough time for one last adventure. Our guide took us to Nam Toktarn Ratana, a group of smaller waterfalls just a short drive away from Haew Narok and surprisingly deserted by other tours and local travellers.
For the next hour, everyone cooled off under the falls, washing away that sticky humidity and enjoying the natural scenery.
Everyone besides me. Because of leeches. Not that I didn't enjoy the scenery, but there was no way I was going swimming after being told I needed to wear leech socks the whole day.
Camping in  Khao Yai National Park
Before our group made their way to the park, the truck stopped to let Elenor and me off at the Lumtakong Campsite inside Khao Yai National Park. All we knew about this accommodation option inside the park was that you could hire everything you needed. We had zero idea what to expect and what the facilities would be like.
But we were pleasantly surprised. The location of the campsite was beautiful. It is right by a river teething with wildlife and a beautiful bridge that you can walk across which marks the start of a trail. The bathrooms weren't great, but decent enough for a weekend of camping – plus there were showers and a wide variety of moths to keep you company in your stall during the evening.
In total, camping inside Khao Yai National Park is a steal. It will only cost you about 30 baht if you already have your own camping gear. But we did not and chose to hire out a tent, pillows, blankets and sleeping mats for a cool 200 baht in total.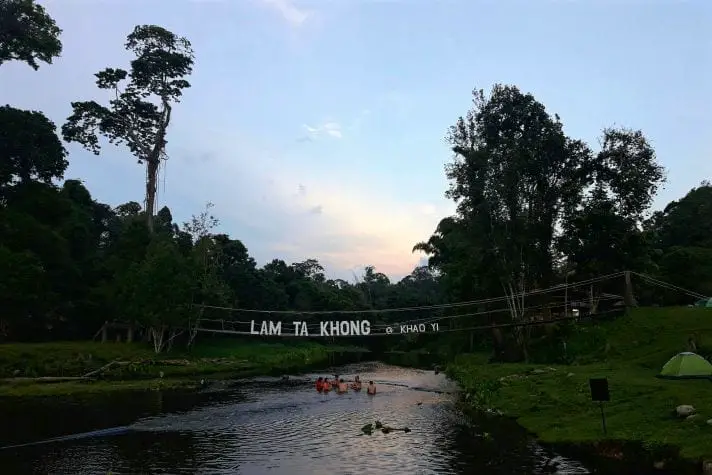 After grabbing all our gear, we dashed off to find a good spot and set up our tent with only 30 minutes of sunlight left. While we were trying to figure out why we had one spare pole, out campsite was visited by one of the ballsiest deer's ever. This animal gave zero fucks. It was scared of no human and got into everyone's things who were stupid enough to leave bags outside their tents.
I woke up a few times from the same dream later that night about this deer eating my shoes. Fortunately, this dream did not come true.
But as we finished setting up and went off to grab a snack at the shop next to the campsite, lightning flashed across the sky. It looked like our tent making skills were going to be put to the waterproof test.
We did not pass.
There was a small hole in our groundsheet, and when the worst of the storm hit, we had a wee bit of a flooding problem for the next few hours. Thankfully, only a full t-shirts and blankets got wet, and we didn't have to abandon ship for drier ground.
The next morning, we were up at 6 am again (!) to get packed up and ready to hitchhike back to the main gate. I'm proud to report that my first stint at this went remarkably well. We got offered a lift by a group of Thai's within 30 seconds of waiting by the side of the road, and they dropped us right at the bus stop for Pak Chang just after the main gate.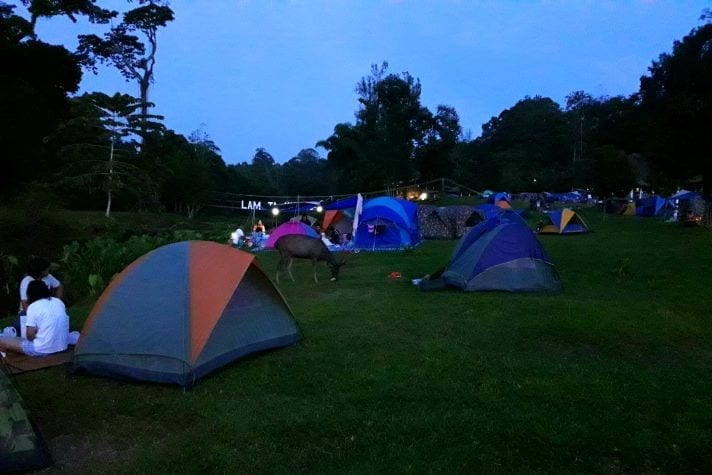 Conclusion? I am head over heels in love with Khao Yai National Park! There are already plans to return here in winter to give elephant spotting a second try and to do a full-day private hike where I can set the pace and go deeper into the forest.
This was my first experience of Thailand's national parks, and it has set the bar high! It made me remember why I love hiking so much and just how good it can be for your soul to be surrounded by nature that dwarves you and keeps you lost in wonder for hours on end.
Do you have any tips for camping inside Khao Yai National Park? Let me know in the comments below!
Want more Thailand travel inspiration? Check out my other posts:
Did you find this post useful? Save it for later on Pinterest!