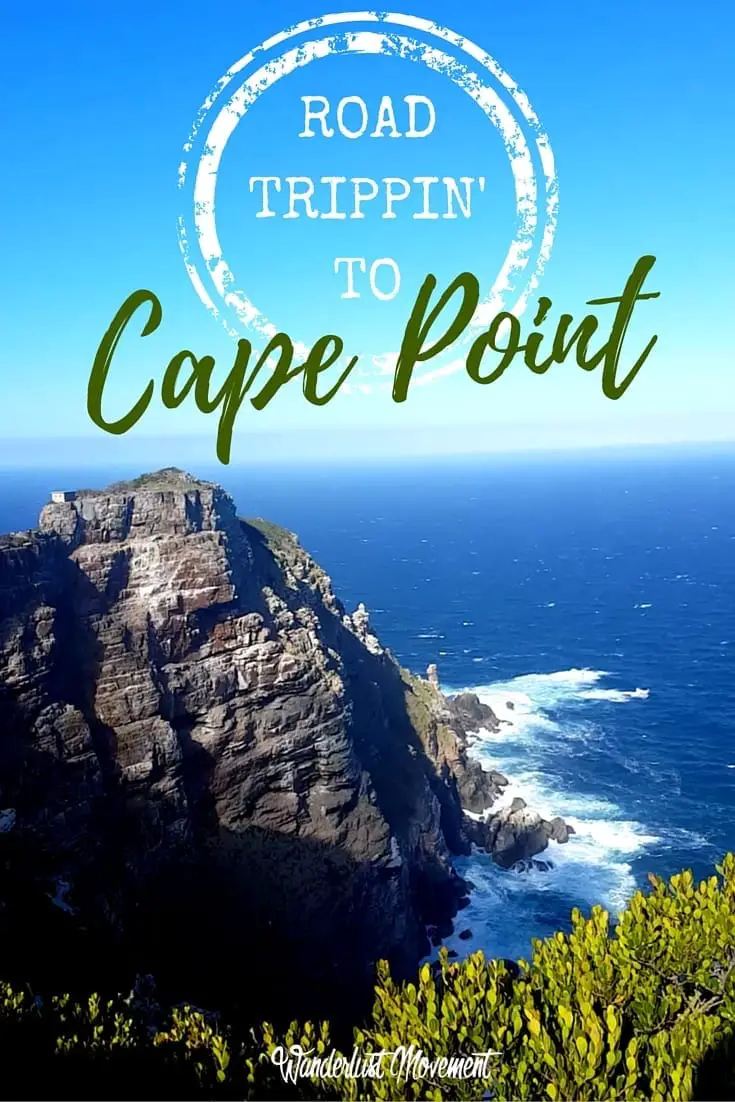 I'M CO-HOSTING AN OVERNIGHT HIKE TO CAPE POINT FROM THE 23-24 APR 2021. GET ALL THE DETAILS HERE.
I have lived in Cape Town for the past 2-years and never once stepped foot into Cape Point National Park. Shocking. Unacceptable. I know. This past weekend, in an act of spontaneity, I finally made the road trip to one of Cape Town's most popular tourist attractions.
Join me as I explore the corner of the Cape Peninsula!
From Cape Town to Misty Falls: A Beautiful Pit Stop
I decided to make a detour on the way to Cape Point and stop at Misty Falls. You can find this beautiful spot halfway between Kommetjie and Scarborough and it is an hour drive away from Cape Town.
It's been one of my favourite places along the southern peninsula since I moved down. There is just something so beautifully dramatic about this section of the coast that calls to my soul. I love sitting on one of the giant boulders and watching the wild and tempestuous sea crash against the rocks again and again.
And Sunday had the perfect weather for Misty Falls. There wasn't a cloud in sight and the South Easter was blowing just enough to stay cool.
But being Cape Town, this didn't last long. And when the wind decided to pick up I knew I had to call it a day and head onwards to Cape Point before the South Easter changed my plans.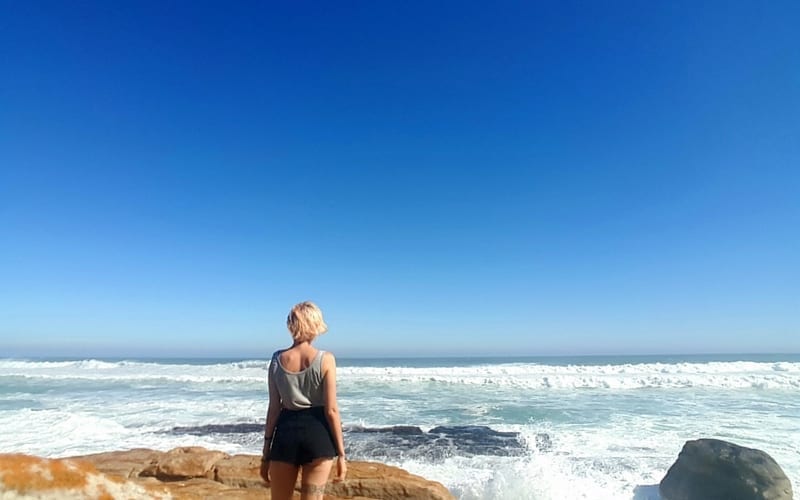 ---
Arriving at Cape Point National Park
Halfway to Cape Point and long past any sign of a civilisation – my petrol light came on. Yip. This day was going to involve more adventure than I had hoped. Who needs reality television when I can rely on my forgetfulness to turn an ordinary road trip into an epic suspense drama?
But I decided to be optimistic. Worst case scenario – I run out petrol and ask some friendly stranger for help. And if that doesn't work I might have to suck up my pride, call my dad and never live the situation down.
Tweet this: Pay your #CapePoint entrance fee by card!
Upon arriving at the gates, I let out a sigh of relief to find out that Cape Point lets you pay by card!
This is great news for everyone who never carries cash on them, just like me.
Opening Times and Entry Fees as of April 2016:
06:00 – 18:00 (October – March)
07:00 – 17:00 (April – September)
Entry fees:
Child (age 2-11): R65
Adult: R125
To get an updated list of fees, check out the Cape Point National Park's website for further info.
Some handy tips to remember before driving into Cape Point:
The distance from Cape Town to Cape Point is 70, 9km and will take you about 1hr and 30 minutes by car.
Beware of the baboons. Keep your windows and doors locked otherwise you are going to be talking to your insurance company. And that is one sure fire way to ruin a road trip.
Pack some pad kos ( road trip food) otherwise be prepared to fork out over R50.00 for the smallest pizza you ever did see.
Make sure you are out of the gate before closing time or you will be forced to pay an R500.00 late fine.
Once you are in the national park, don't rush. Enjoy the ride. The views here are what make Cape Point such an excellent road trip destination. It will take you a good 15 minutes to get to the parking area and it is a drive you'll want to remember.
---
What to see at Cape Point
Cape Point is a big place. There are tonnes of trails you can do throughout the national park. It's easy to spend an entire day here or even three. There is enough eye candy to keep any nature lover happy and smiling for days. Luckily, when you arrive at the gates you will receive a map of Cape Point that marks all the trails and things to see in the national park.
Some of the big things to see to cross off your bucket list are:
Cape of Good Hope
The Lighthouse Keeper's Trail
Diaz Lookout Point
Hike the shipwreck trail
Explore the world famous dive sites
Relax on the beautiful beaches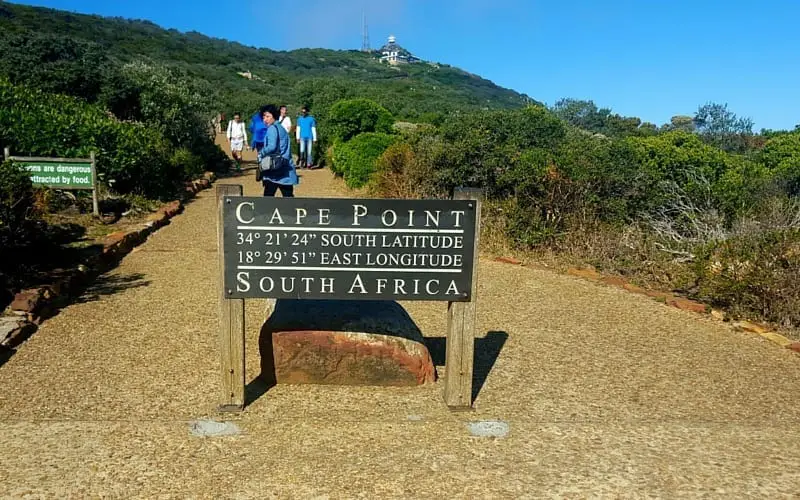 ---
Hiking to the Cape Point Lighthouse
Arriving at the park around 2pm didn't give me too much time to explore. Instead of rushing around, I decided to stick to the lighthouse and Diaz Lookout Point. The Cape of Good Hope would have to be discovered on another day.
But, before setting off on the trail to the lighthouse, I decided to buy some really expensive pizza.
And shit got real with a baboon.
Everyone else got to eat their food outside without a problem. I go outside, open my pizza box and before I can get a slice into my mouth, a waitress comes running towards me with a broom.
A baboon was sitting behind me, preparing to launch itself to get my food!
This is not the first time baboons have had it out for me. They seem to have an unrelenting desire to fuck with me. When I visited Victoria Falls National Park in December 2015, I had a whole troop chasing me through the forest towards the rapids.
I have all the luck.
Luckily, I got to eat my food and made it up the lighthouse in relative peace. You can choose to catch a ride up The Flying Dutchman to the lookout point, but do yourself a favour and take the walk. It's an easy 2km walk with incredible views of the coastline and fynbos.
Right at the top, I finally got to see a birds eye view of Africa's southern coastline. But one my favourite moments was finally seeing the distance signpost for the first time.
Plus, I now know how far away I am from some of my bucket list's big ticket items.
Germany I'm coming for you!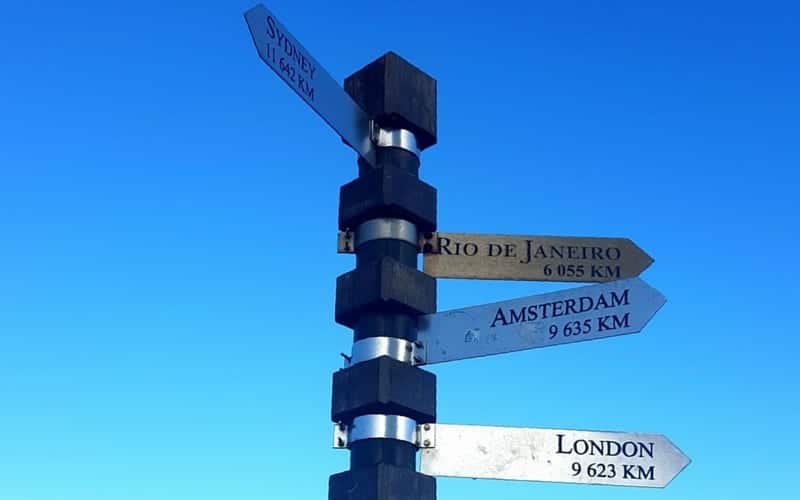 ---
Standing at the Tip of Cape Point
The wind picked up a lot while I was at the lighthouse. So much so that it managed to whip together some clouds and started bringing in a mist.
It was time to get down and explore the last leg of my journey – Dias Lookout Point.
Diaz Lookout Point is where you want to go if you want to mix scenic views with some South African history. It is one of the many strategic observational points built in World War II that is still visible at Cape Point today. The lookout is also arguably the most dramatic, with incredible views of the ocean and the south-east coastline.
Tweet this: Diaz Lookout Point is one of the oldest observational points built in World War II #CapePoint
It's an easy cliff path walk that isn't too narrow or dangerous. Just be careful if the wind is strong as there aren't any railings on some parts to stop you from falling over. Yes – the wind can get that crazy in Cape Town.
Make sure to stop at all the lookout points on the way – it's worth it!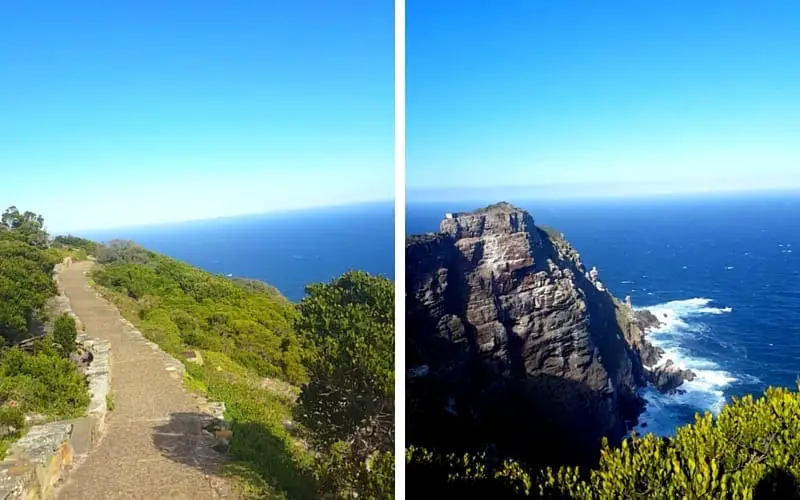 When I arrived at the summit (can I call it that?) I was grinning from ear to ear. I had finally made it to Cape Point! After two years of promising myself and failed plans – I had made it! And it was more majestic than a unicorn!
The eery mist the south easter had brought in made it even better. The mist come in and changed the mood of the entire setting. From picture perfect nature photos to something out of American Horror Story: The Pirates Edition.
Nature, man. Got to love it.
P.S. Yes, I made out Cape Point and to a petrol station on fumes none the less – both adventures were a success.
Have you ever been to Cape Point in South Africa?