Last Updated on January 11, 2021 by lauren
Hostels and budget travel go hand in hand.
When you're trying to stay on the road for as long as possible, you need to get creative and sacrifice some comforts.
Over the years, I've stayed at my fair share of shitty hostels. But those lows are always worth it when you find places like Reset Hostel in Krabi, Thailand. From free snacks to the excellent service and beautiful dorm rooms, it's gems like these that take the roughing it out of backpacking.
Here's my experience staying at Reset Hostel in Krabi, Thailand!
How To Get to Reset Hostel
Take the white songtaew that runs from Krabi Town to Ao Nang. It costs 50 baht per person, and they frequently run during the daylight hours.
Once you reach Ao Nang, the only way to get to Klong Meuong beach where Reset Hostel is located is with a taxi.
It will be quite an expensive ride as its 30 minutes away. I paid 400 baht one way, but if you're in a group, you'll be able to split the fare and get a better price.
The Location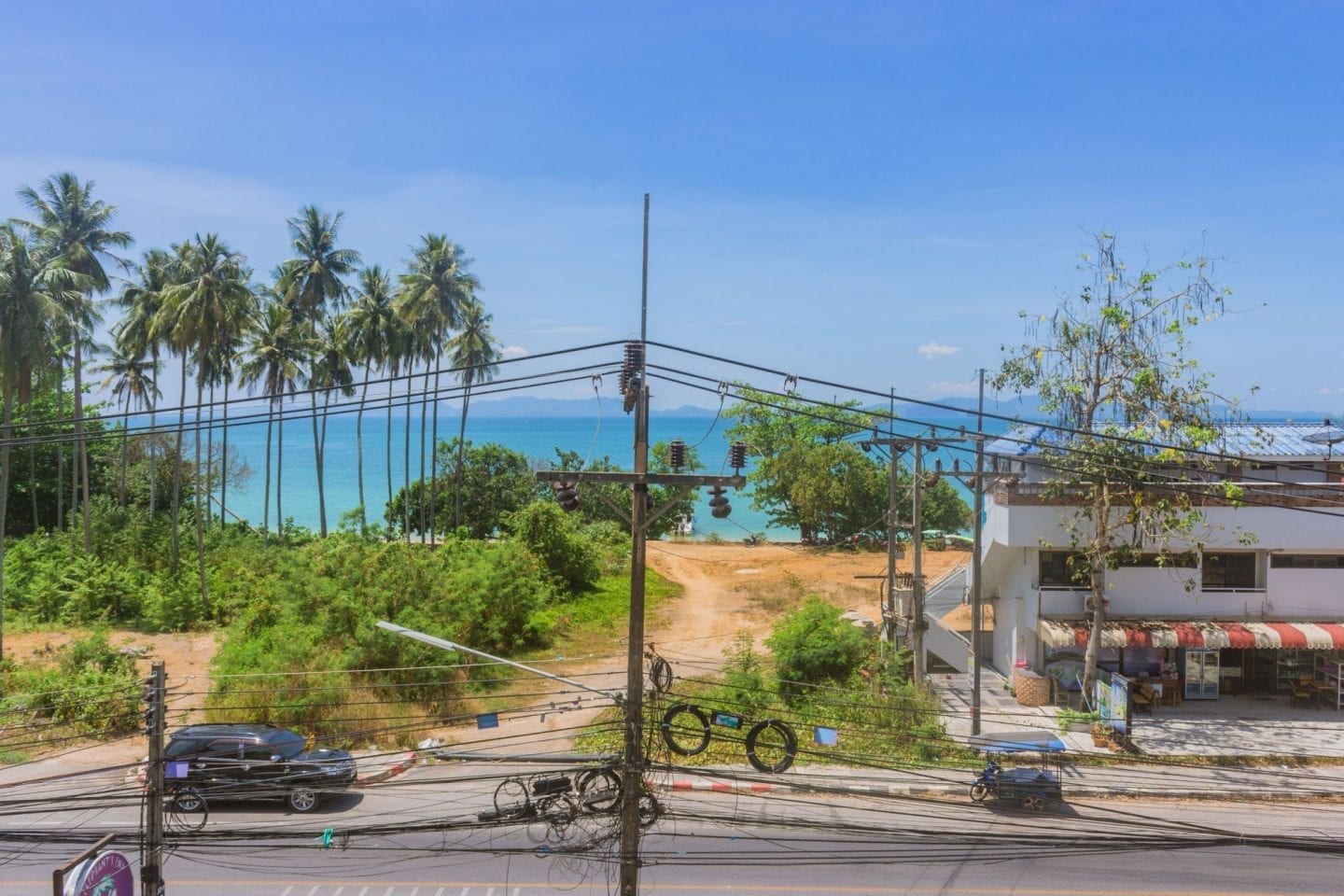 Located right across the road from the beach, staying at Reset Hostel is almost like checking into a private resort.
The beach is virtually empty, apart from a few other travellers who have escaped to this side of Krabi's coast. The water is shallow for quite a far way out, and you can even walk to a small island during low tide.
On the beach and along the road of the hostel, you'll find an endless array of restaurants to choose from for lunch and dinner.
My personal favourite was the Reggae Bar and Bamboo Restaurant (try the pineapple rice!).
The Dorms
The first thing that stands out about the dorms at Reset Hostel is their signature style. Each room has a bright yellow door, with soft grey walls and white bedding.
There are massive lockers for each of the six beds. I managed to fit my hand luggage suitcase in there with ease and still have room for my Freedom of Movement backpack.
The dorms also have one ensuite bathroom that has a shower. But if you need to use the bathroom and it's preoccupied, you'll find a bunch of showers and toilets downstairs next to the kitchen.
What I liked about the dorm beds was the size. Instead of your typical single mattress, it's a comfortable ¾. Each bed also has a curtain so you can get some privacy and there's also a personal headlight and charging socket.
What To Expect
Free towel.
Fast and reliable Wi-Fi.
Tour desk.
Free breakfast.
Laundry services.
Aircon in each dormitory.
Mixed or single-sex dorms.
Lockers (bring your own lock).
Hot showers.
Shuttle service to Ao Nang for 100 baht.
The Perks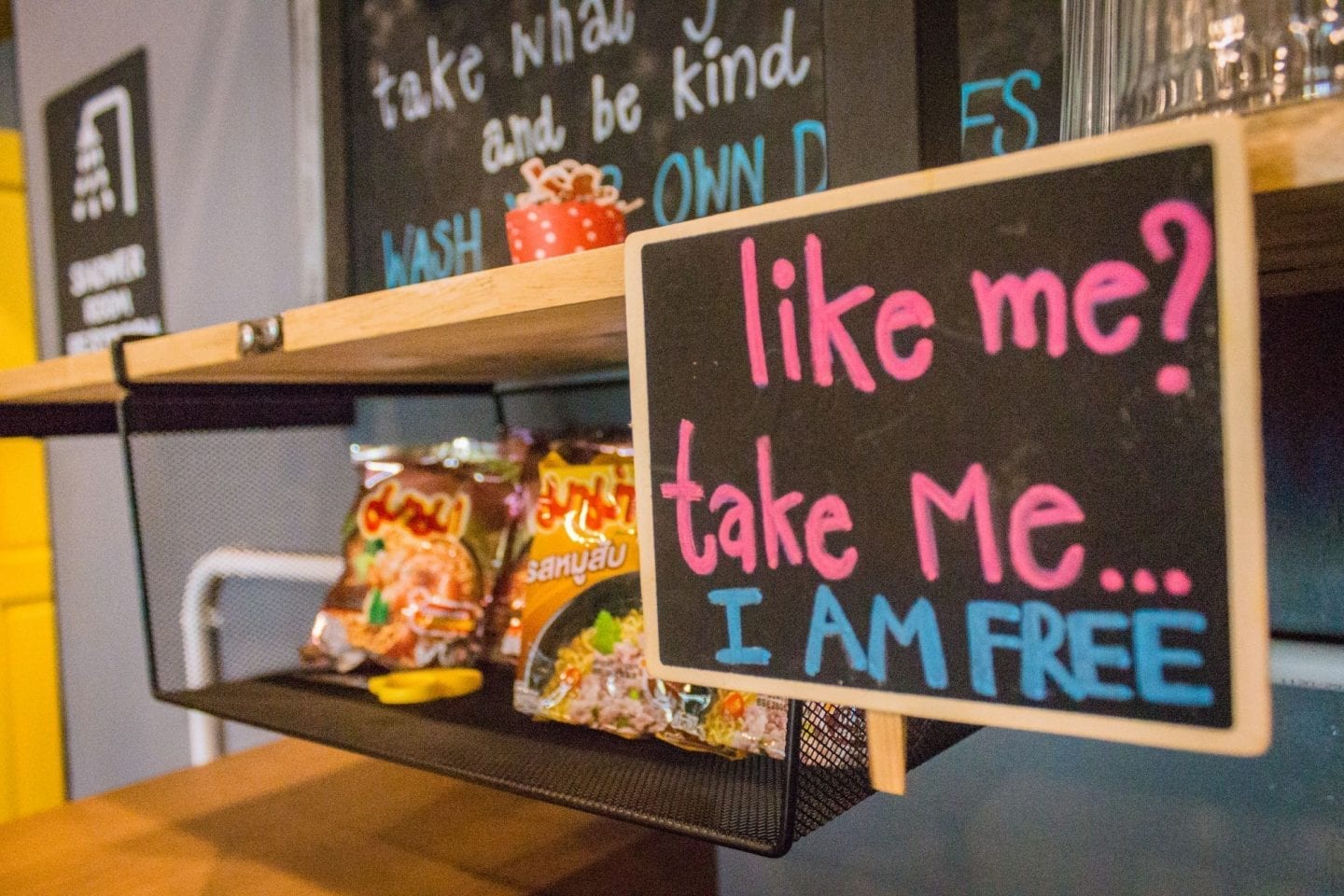 Reset Hostel is unlike any other hostel I've stayed at before.
The owners go out of their way to make your stay special, even though you aren't paying a premium price.
One of the things that blew me away the most was the free breakfast. I was expecting a few slices of toast and coffee. But Reset Hostel went far above my expectations.
Each morning, you'll find two different kinds of cereal to choose from, some fresh fruit in the fridge, bread for toast and the treat of the day. When I was there, guests were offered mini croissants, cake and other pastries.
Another bonus I loved was the instant noodle shelf. The hostel keeps it stocked with a range of flavours and guests are free to have as many as they want.
When you're travelling on a budget in Thailand, and especially in the south where things aren't as cheap, its perks like these that really go a long way.
What To Around Krabi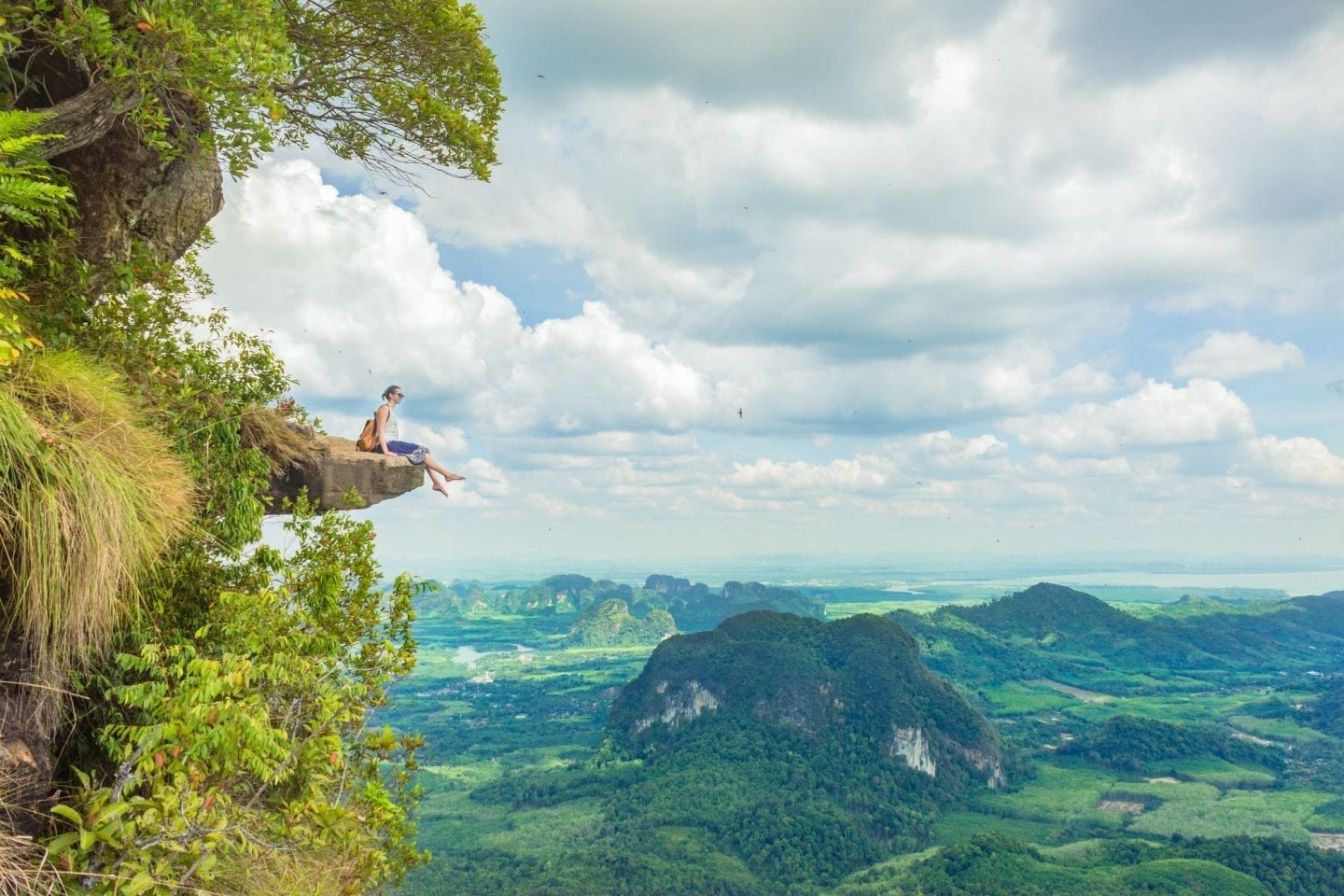 Naka Peak Hike
The start of the trailhead is about a 15-minute bike ride away. If you don't want to rent your own set of wheels, you can use the hostel's shuttle service.
It only costs 100 baht, and you'll be dropped off at 12:30 p.m. and fetched at 6:30 p.m. This gives you enough time to complete the hike (it took me 2 hours each way) and make your way down to the beach for sunset.
Island Hopping
Reset Hostel has a ton of information about the different island tours taking place around Krabi. The most popular option is the five island tour that costs only 1000 baht and includes pick up, drop off and lunch.
Another option is to hire a longtail boat from the beach right in front of the hostel. It will only set you back 2,000 baht for the entire day, and you'll be able to choose which islands you go to and for how long.
Plus if you find a few more people to join you, it starts to work out cheaper than the organised tour.
Railay Beach
Railay Beach doesn't have any backpacker accommodation. The cheapest option on that part of the island is a private bungalow at Rapala Rockwood Resort for 1,000 baht per night. If that's out of your budget, the best way to see one of Thailand's most famous beaches is a day trip.
You can get dropped off at Ao Nang and catch a long tail boat over for 100 baht each way. Just keep in mind that the long tails stop running around 6:00 p.m.
Read More: 8 Adventurous Things To Do in Krabi
What I Thought of Reset Hostel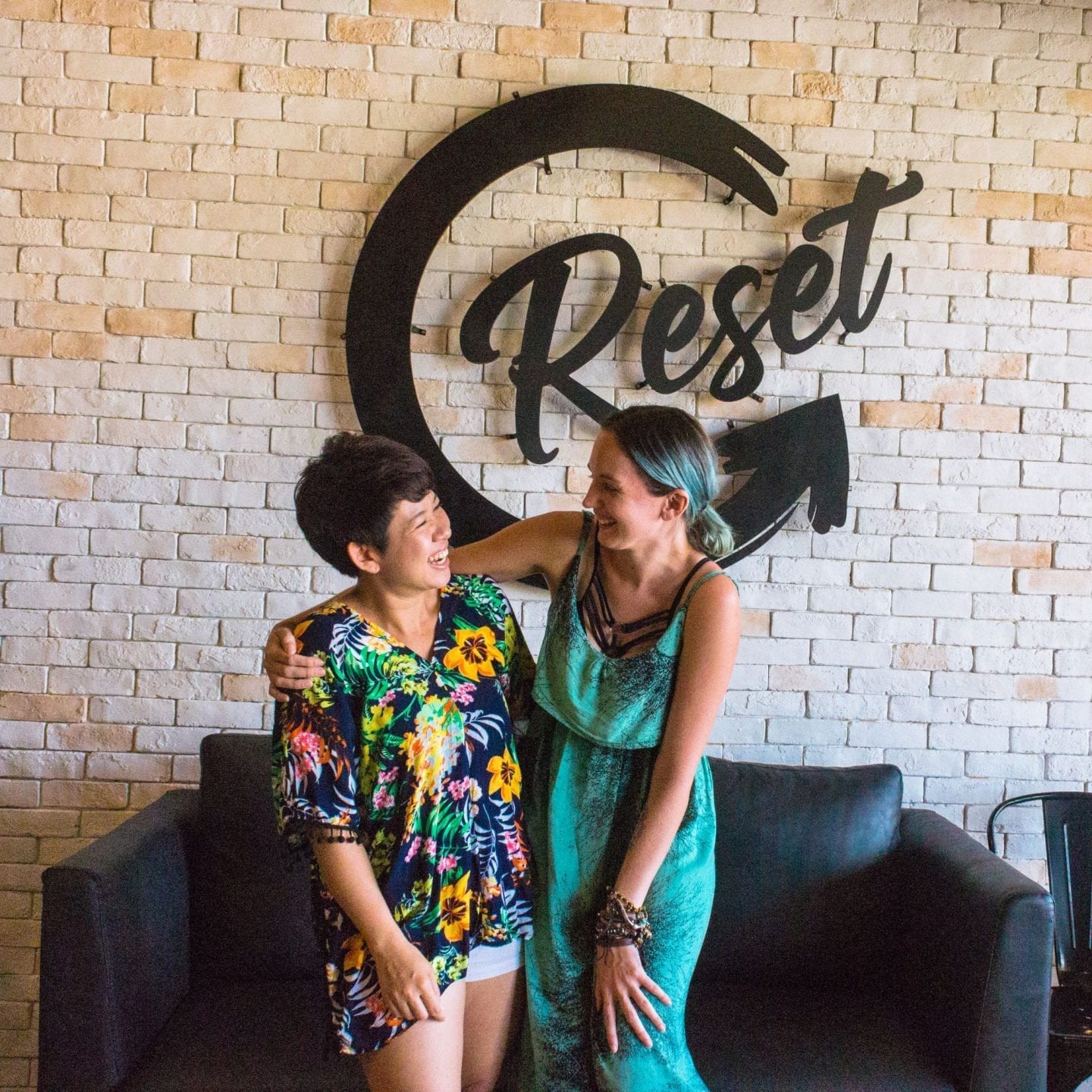 Hands down, the best hostel I've ever stayed at in my travels so far. The décor was modern and funky, the owners were so kind and answered all my millions of questions. The hostel itself was spotless and cleaned every day by a lovely Thai lady. The amazing breakfast was a welcomed surprise, and the location of the hostel couldn't get any better.

If you're planning a trip to Krabi, make an effort to spend at least one night at Reset Hostel. It's far away from Ao Nang's bustling nightlife, you'll have the beach to yourself (minus a handful of other people), and it's located on a street filled with delicious and affordable restaurants.

Staying here felt more like a hotel than a budget accommodation option. I'll definitely be back and Reset played a huge part in changing my mind about the south of Thailand.

Psst…Want more Thailand travel inspiration? Check out my other posts:

Located right across from Klong Muang beach, Reset Hostel is an affordable yet posh hostel in Krabi. From delicious free breakfasts to beautiful decor and sea views, here's everything you can expect!