Last Updated on January 24, 2023 by lauren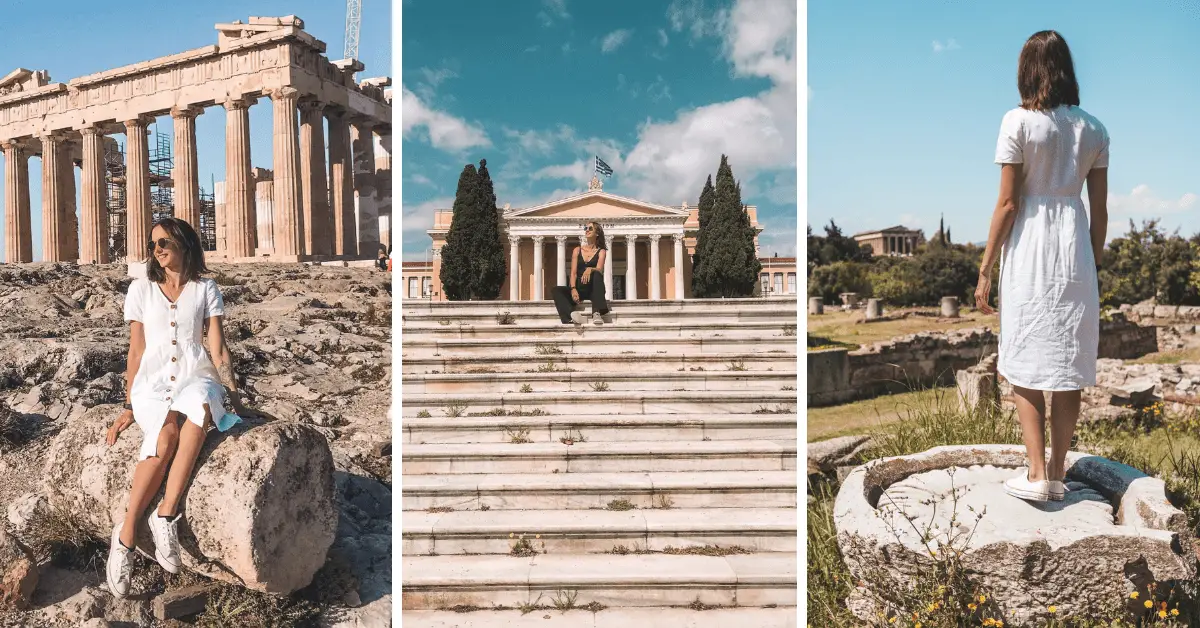 Ever since I was a little girl, I've dreamt about visiting Athens.
While most know Greece as the birthplace of Democracy, to me, it's the birthplace of my obsession with history and gossip. Learning about the past has never been about memorising dates of events; it's always been about uncovering all the drama that went down.
I remember pouring over books in my school library soaking up all the details about the tea that went on between Zeus and us measly mortals.
From Hercules murdering his own family to Prometheus stealing fire and the super relatable fuck boy story of Narcissus and Echo – the Kardashians have NOTHING on these folks.
Also, the Greeks were clearly on some decent hallucinogenics back in the day.
So when I came across a dirt cheap 24-hour return ticket between Rome and Athens, I whipped out my credit card and didn't look back.
I wanted to fulfil my childhood dreams of walking amongst the ruins, remembering all the Greek mythology I've read over the years and immerse myself in Greece's fascinating ancient history.
If you're an ancient history nerd/gossip lover like me, then put a pot of tea on and get ready for the ultimate geek-out session.
Here's my Athens one day itinerary that covers some of the best ancient history spots in the city!
Is One Day in Athens Enough?
Yes, one day in Athens is more than enough to hit up the main sights.
With a robust public transportation system, it's easy to see a lot of places in Athens even if you only have one or two days to explore. You can knock out quite a few of the main historical sites in the city within a few hours!
That being said, don't let the appearance of Athens outside the super touristy neighbourhood of Plaka turn you off. It does look a bit ghetto in some places, but it's not unsafe.
---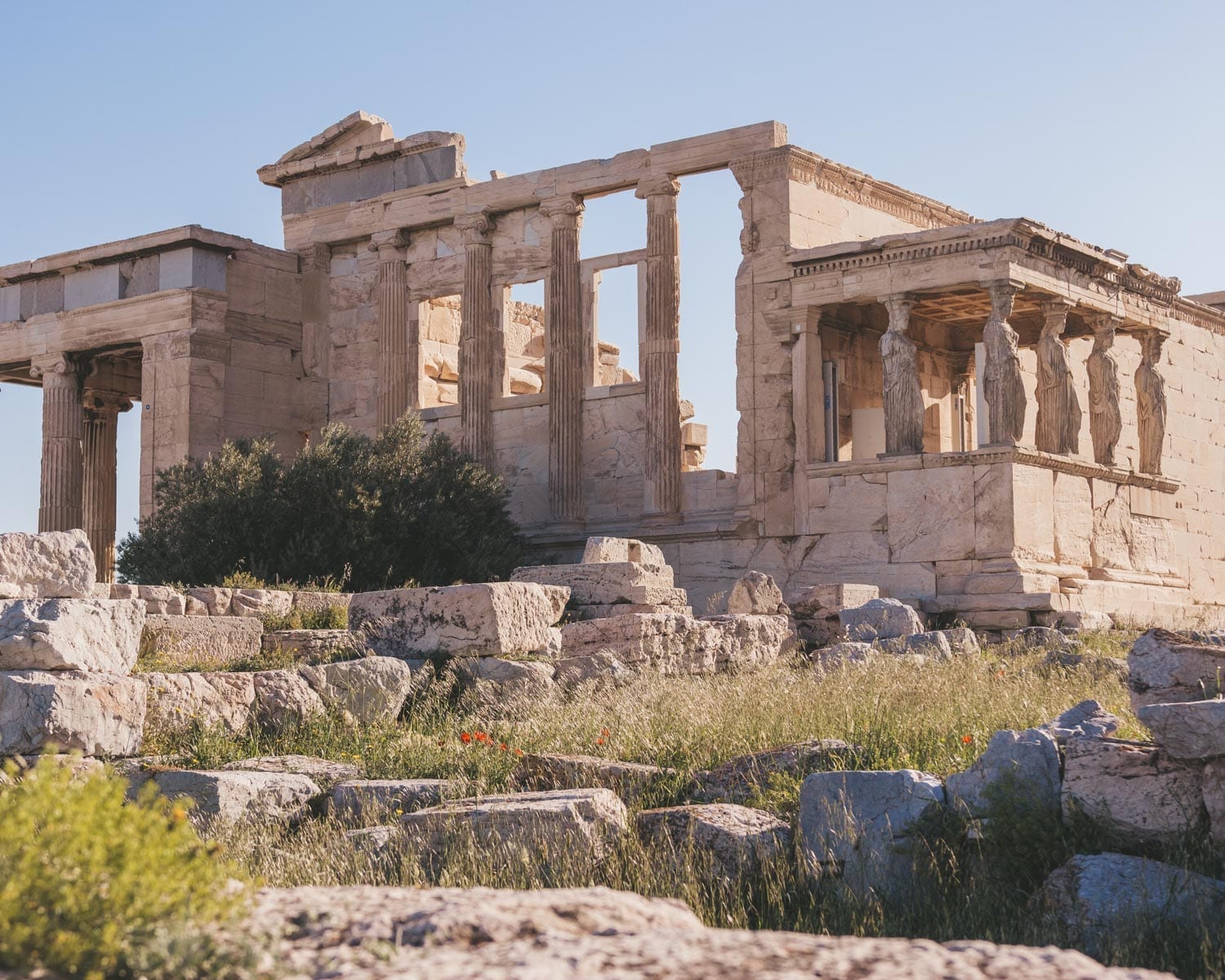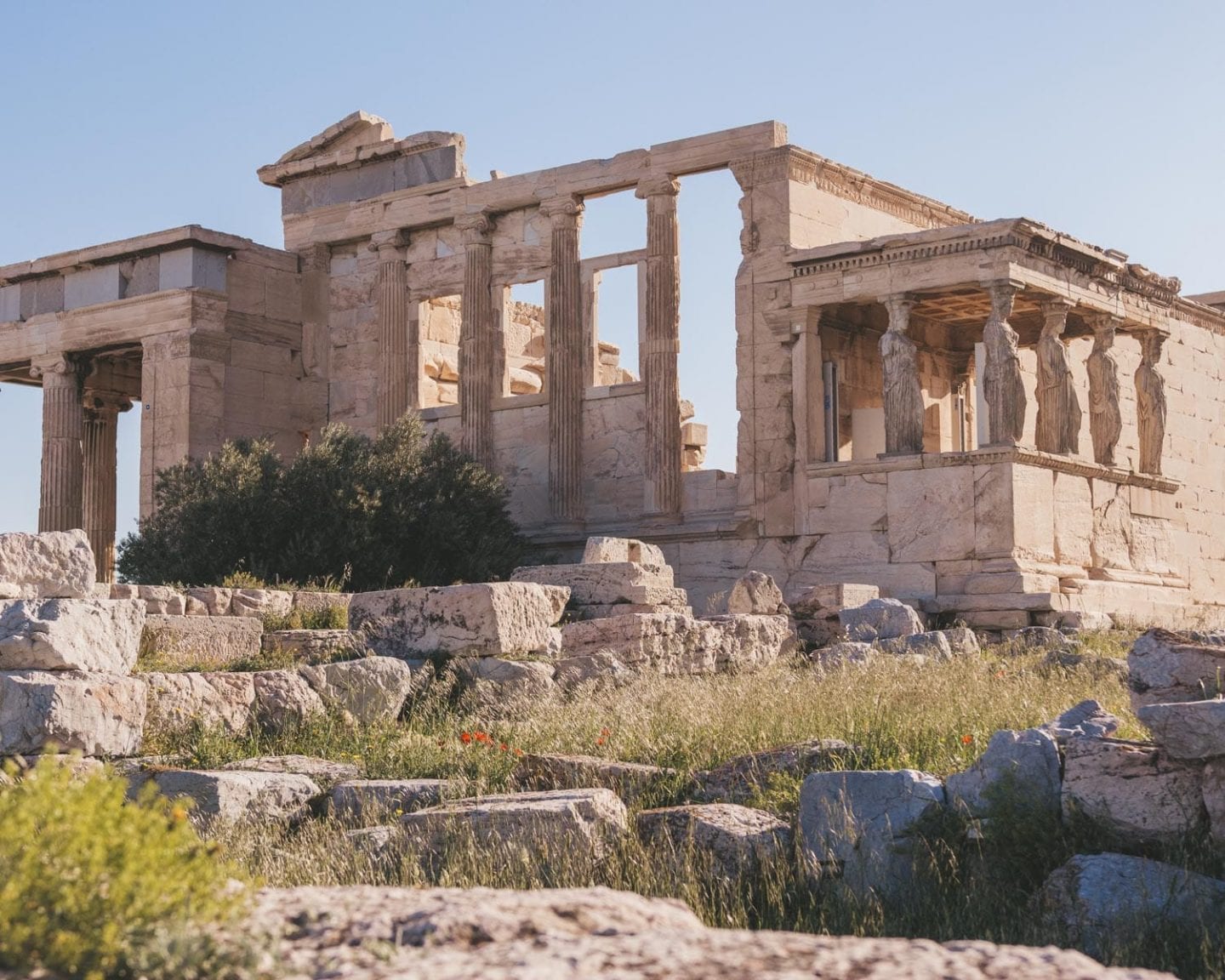 Quick Tips for your 1-day Athens Itinerary
When is the Best Time to Visit Athens
For South Africans planning a trip to Athens, you'll want to avoid the summer months like the plague. From June to August, everyone and their uncle descends upon Europe for the holidays and prices for airfare to Greece and hotels.
To save money, plan your trip to Athens between March and May and September to November.
You'll miss the large crowds, temperatures are still warm (but you won't turn into a walking puddle of sweat), and you'll find incredible hotel and airfare deals.
I went in April, and the weather was perfect! There was a bit of rain when we arrived in the early hours of the morning, but during the day there was plenty of sunshine, and the temperatures made walking around to the different attractions bearable.
While there were still crowds at the Acropolis, it wasn't anything as crazy as the summer months.
---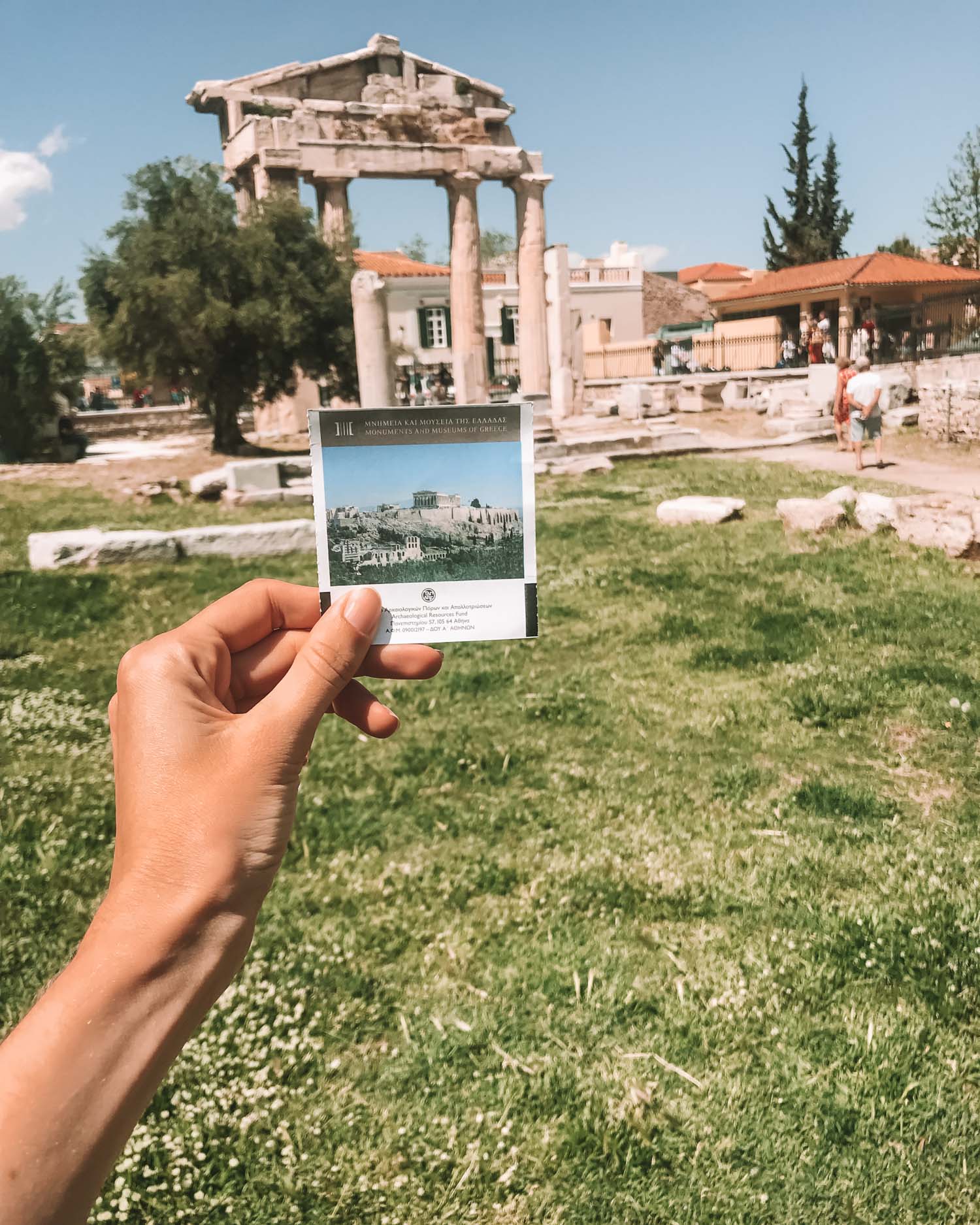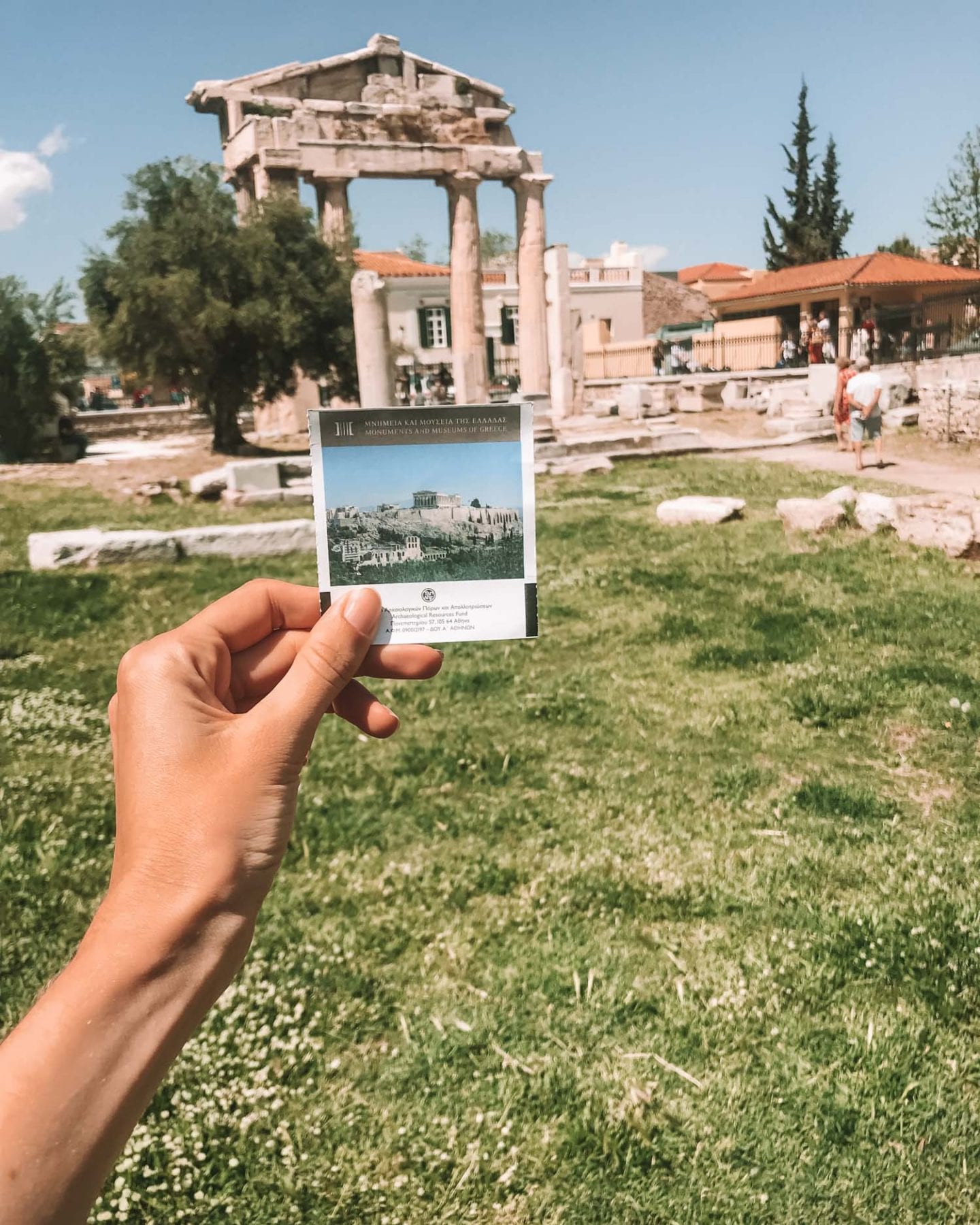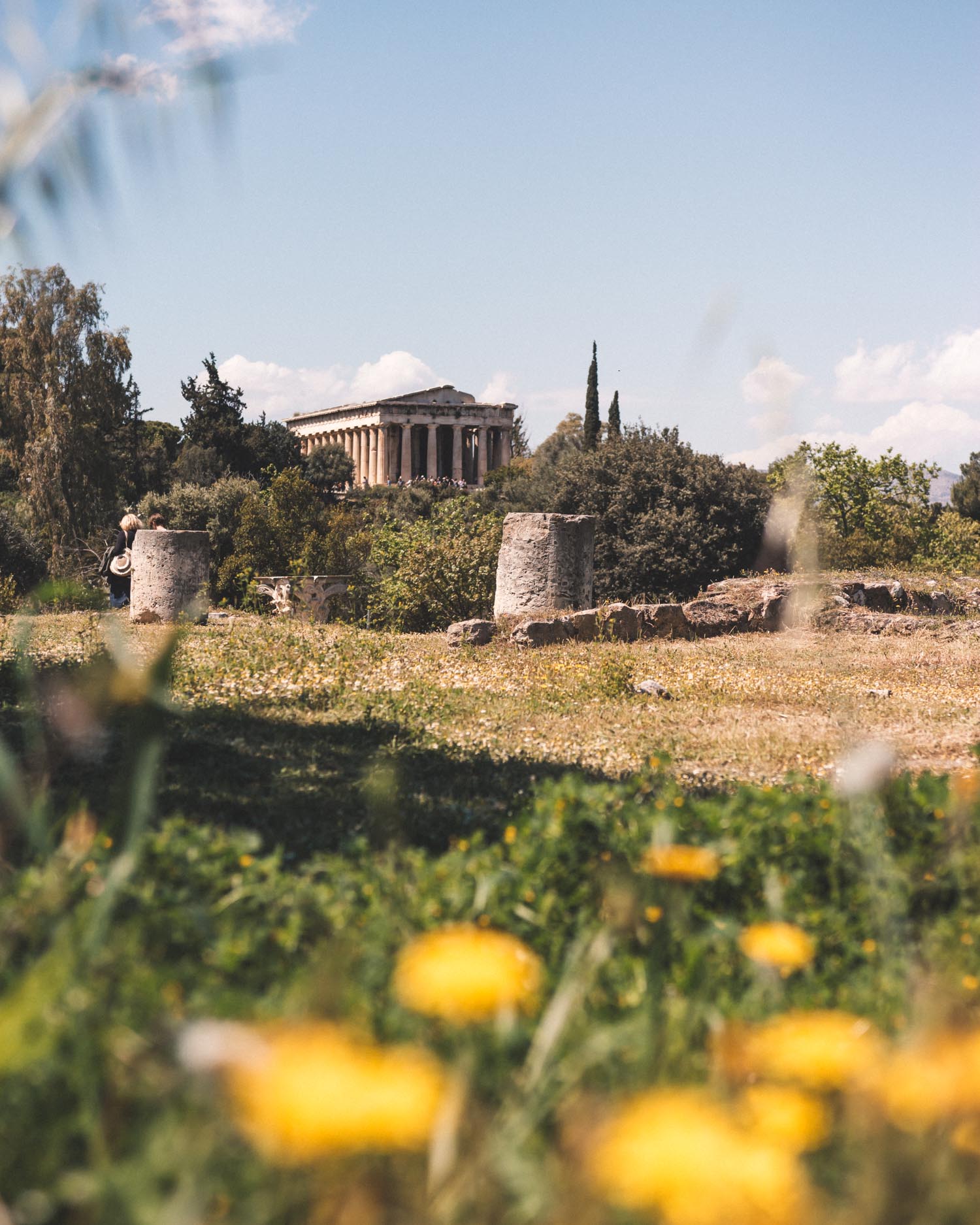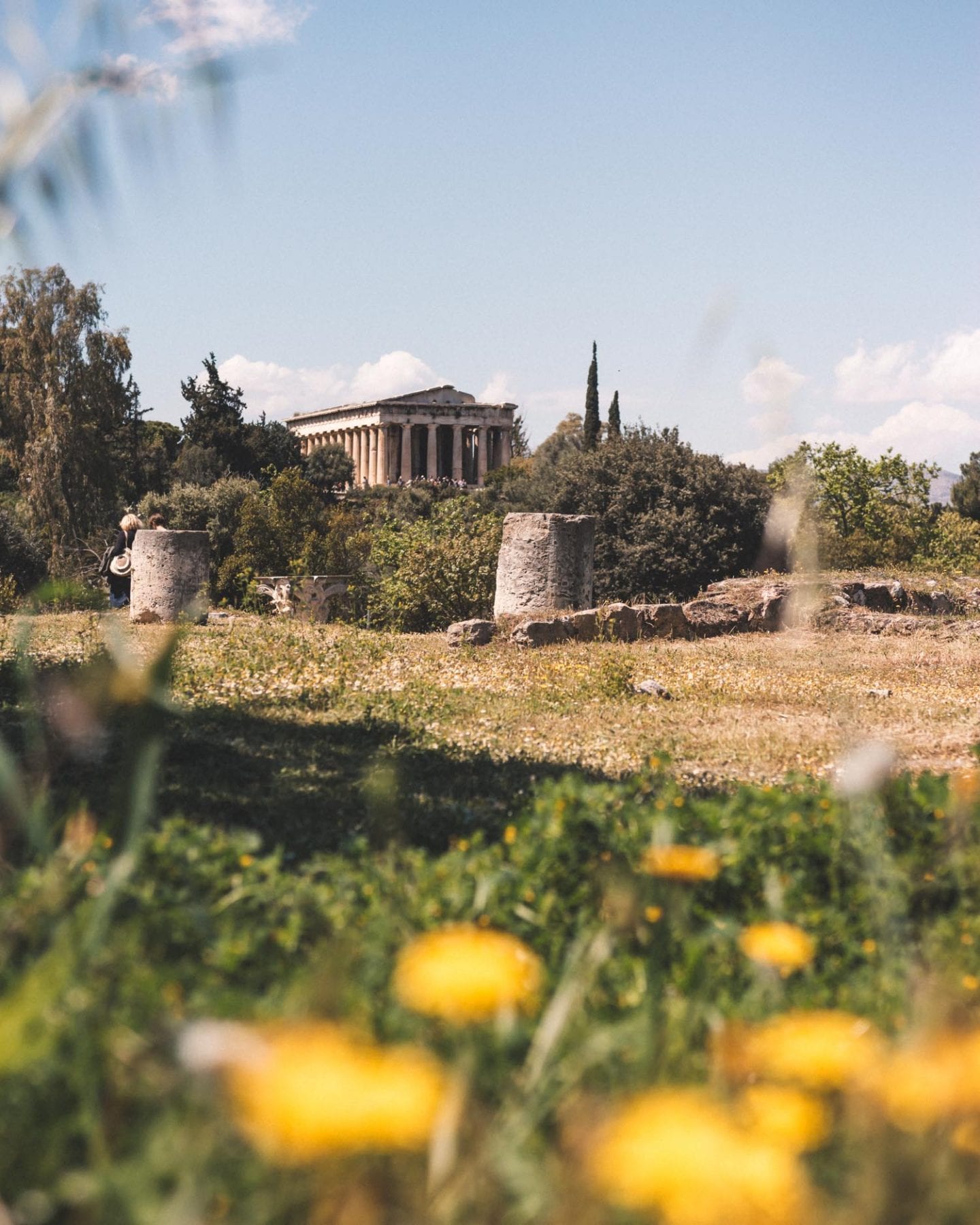 How to Get from Athens International Airport to Your Hotel
The best way to get from Athens International Airport (ATH) to your hotel is with Metro Line 3 or one of the express airport buses.
I'm also happy to report that there is safe public transportation available if your flight arrives after midnight. We touched down just after 12:30 AM and took the X95 night bus from the airport to Syntagma Square.
A one-way trip cost us EUR 6 (R96.00) each and took about 1hr 15 min. Once we arrived at the square, we requested an Uber to our hotel.
There are taxis at the airport, but if you're arriving late in the evening as I did, there is a surcharge, and it's poes expensive.
It's about EUR 54 (R870.00) for a one-way trip and during the day it's EUR 34 (R549.00)!!
When we had to get back to Athens International Airport to catch our flight to Rome, we took the metro. It cost us EUR 8 (R129.00) and took us about an hour to get to the airport in total.
---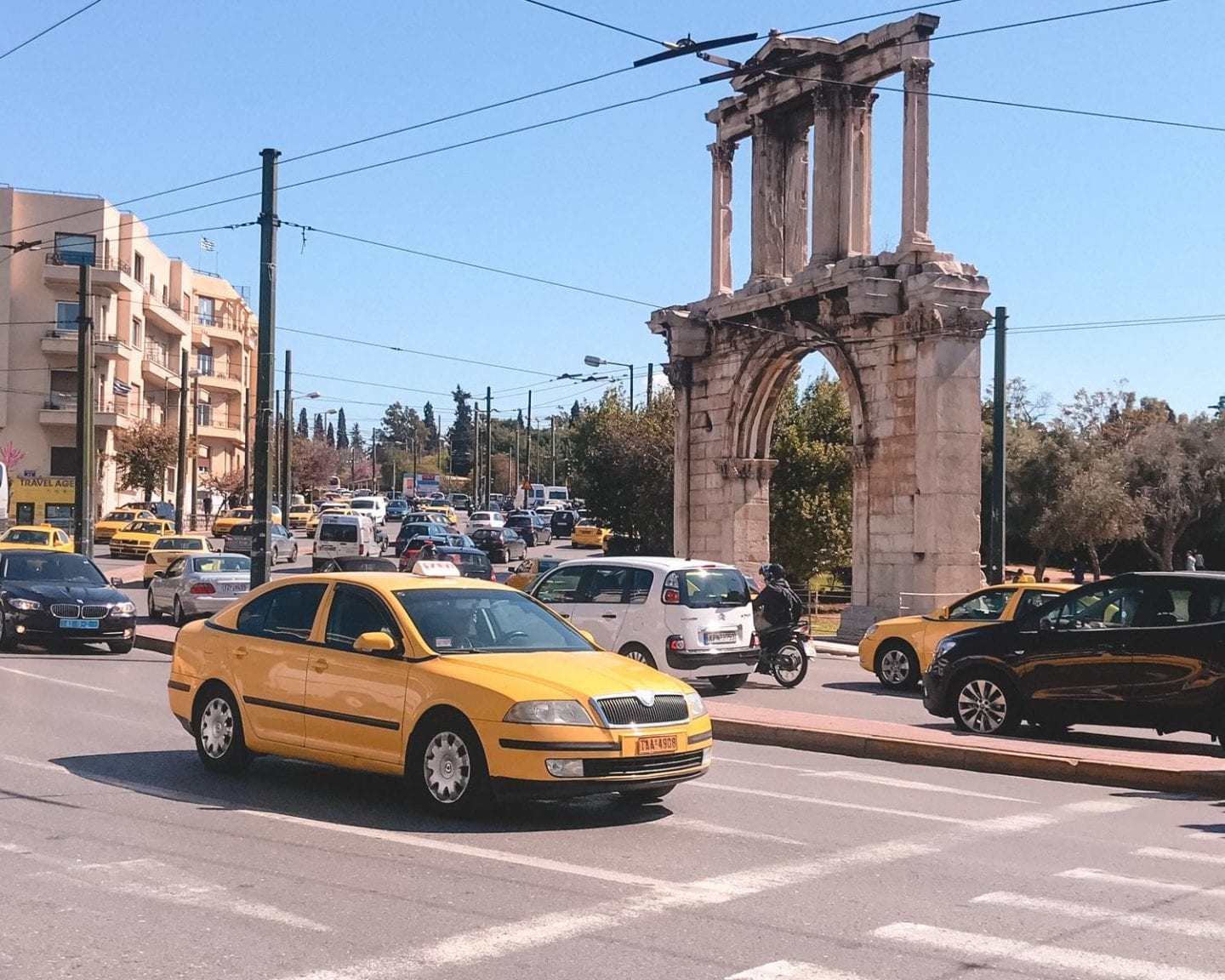 How to Get Around Athens
Metro
The metro is one of the best ways to get around the city when you only have one day in Athens. It's cheap, reliable and the service will take you within walking distance to most of the top places to visit in Athens.
To save money, I recommend buying a day pass for 4.50 EUR (R72.00). You can the day pass on the bus system as well, or you can purchase single 90-minute tickets for 1.40 EUR (R22.00).
You can buy your ticket for the metro from any of the stations.
One thing that I did find confusing is that the metro system uses the Greek alphabet and Google Maps uses the Latin alphabet and sometimes the Greek alphabet as well.
When I took the metro back to the airport, at the one station, there was zero signage in Greek or English, and I ended up having to ask a local for help.
Bus
Athens has an extensive bus system, and it's a cheap way to get around the city. I'd recommend buying a sim card so you can see which bus you need to take.
Trying to figure it out on your own can be confusing as some of the bus stops don't have route numbers. The schedules also vary by route and aren't always on time.
Tram
Three tram lines run between downtown Athens and coastal destinations like Palaio Faliro, Moschato and Glyfada. However, it's not the most convenient mode of transportation, especially if you only have one day in Athens as there aren't stops near the main sightseeing spots.
Taxi / Uber
I only used an Uber to get to the Acropolis early in the morning and my hotel when we arrived late at night. It's a safe and reliable way to get around, and the fares aren't that expensive.
One thing to keep in mind is that you won't be able to see what your journey will cost in advance. The Uber drivers in Athens all have a meter in their car, and you'll get told what you have to pay when you arrive at your final destination.
---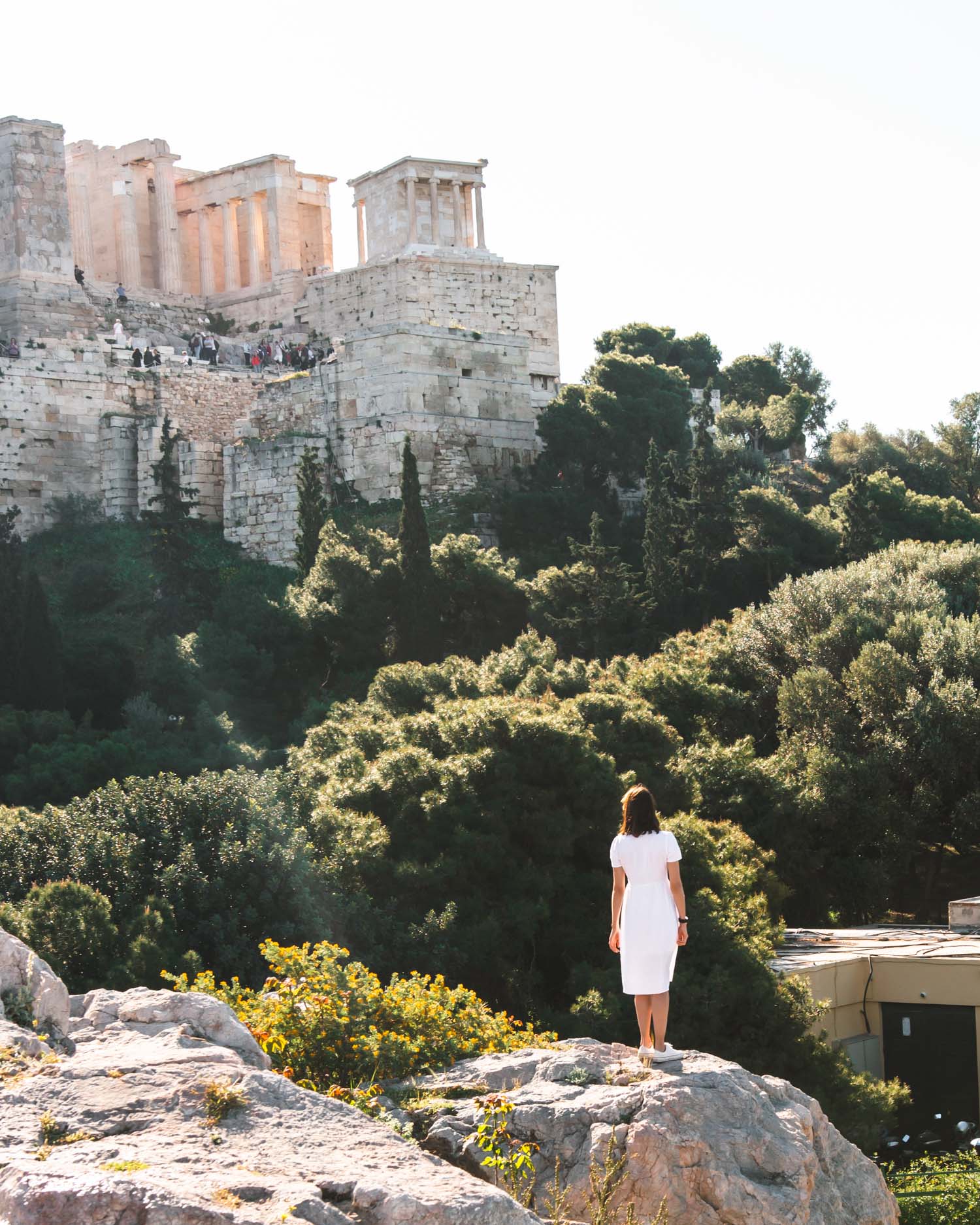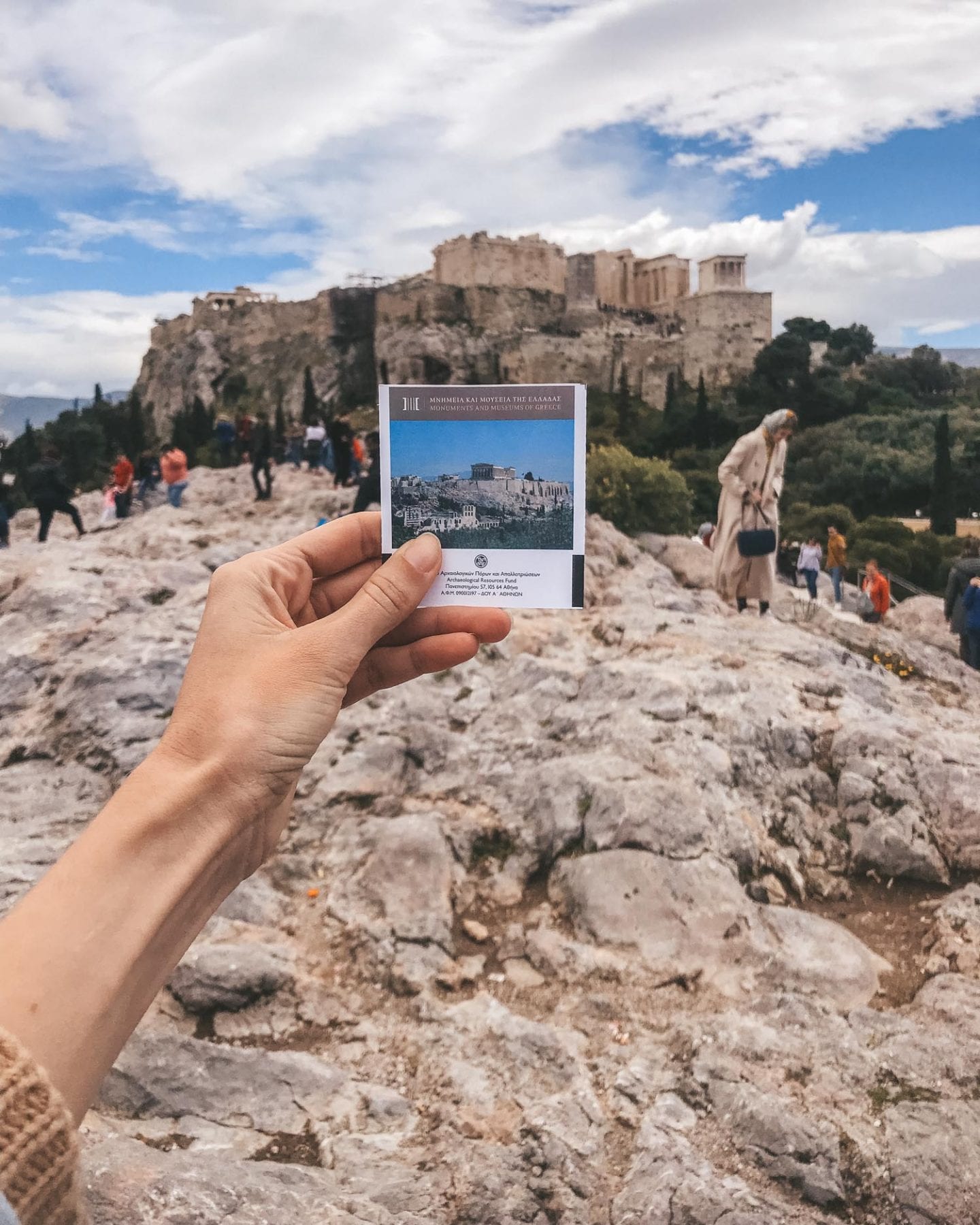 What to Pack for Athens
Here are a few essentials you'll need to pack for Athens no matter when you visit the city:
A pair of comfortable walking shoes: The streets are cobbled in some areas, and it's easy to clock up over 10,000 steps a day. My Converse Chuck Taylor's were the perfect shoes for my day in Athens.
A crossbody bag: If you bring a backpack, it's a good idea to wear it in front of you. I'd also recommend investing in an anti-pickpocketing bag.
A portable charger: From using your phone as a GPS to get to attractions and figuring out transportation routes, having a portable charger is a lifesaver.
Sunscreen and a hat: Most of the best things to do in Athens are outside, and it's easy to get burnt without realising it.
---

Athens Travel Tips
Sim Card: Buying a sim card when you arrived in Europe is worth every penny. The cards will work across the EU. You don't need to worry about buying a new one if you're country hopping. I paid EUR 30 for ten gigs and bought my sim card in Rome.
Electricity: The plugs in Greece are type C, and F and the standard voltage is 230 V. South African travellers will need to buy a universal adapter, and you'll need a converter if you're bringing along any hair dryers or hot tools.
Drinking Water: The tap water in Athens is drinkable. Bring along a reusable water bottle and fill up as you explore the city.
Visa: South Africans travelling to Athens will need to apply for a Schengen Visa, and you'll need a travel insurance policy that meets the Schengen requirements.
Safety: The biggest safety concern for Athens is the pickpocketing. I was warned countless times to watch my bags on the metro and keep my backpack in front of me.
---
One Day in Athens: Where to Stay
With only one day in Athens, you'll want to stay somewhere in Athens with easy access the public transportation system that isn't too far from the main sites.
Plaka is by far the best neighbourhood in Athens for travellers short on time and its the most Instagrammable!
The area has been inhabited for more than 5,000 years and has the nickname "the neighbourhood of Gods". You'll find Byzantine churches and adorable cafes around every corner!
Plaka is also a short walk away from attractions the Acropolis, the Ancient Agora and the Museum of Greek Folk Art.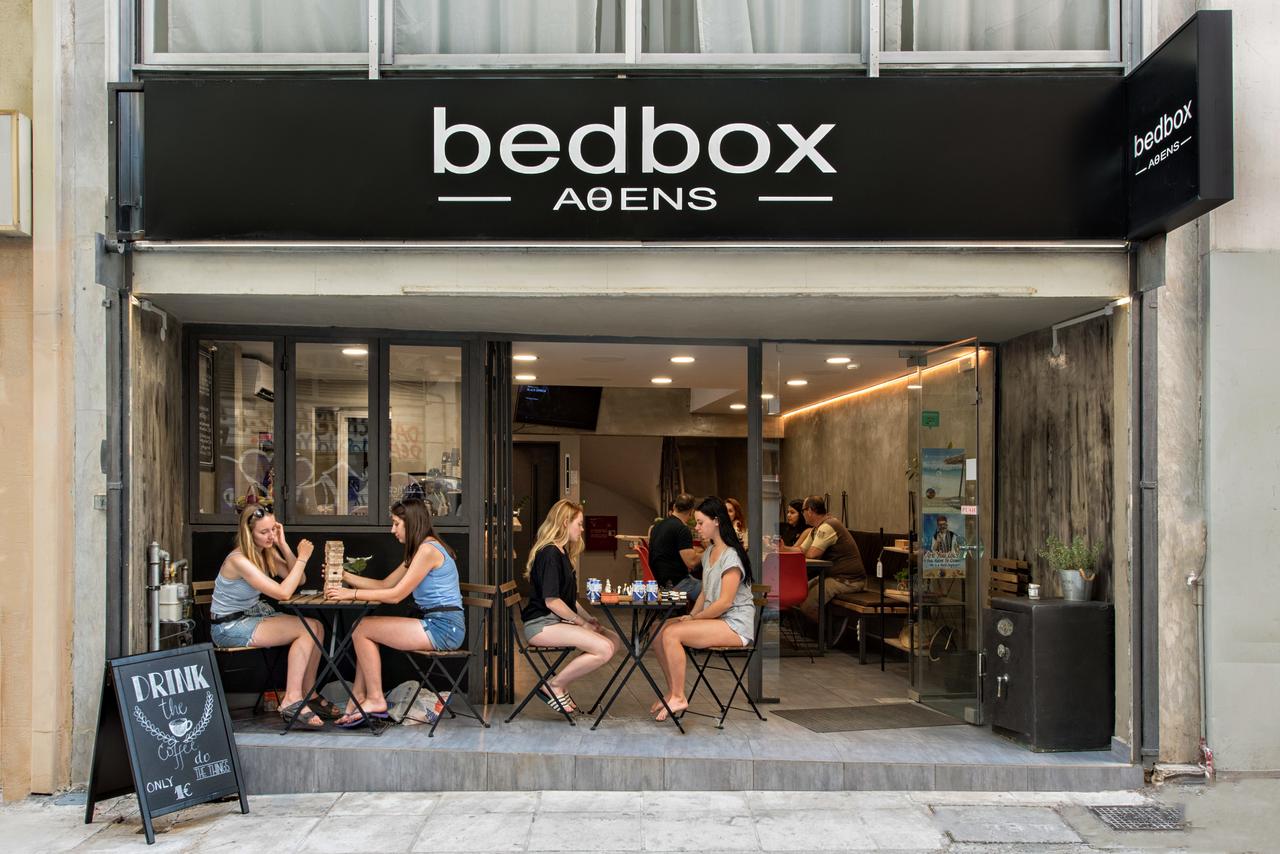 Budget: BedBox Hostel & Acropolis Cozy Place
If you're travelling to Athens on a budget, it's possible to rent out an entire apartment for the same price as a night in a hostel. Acropolis Cozy Place is located just outside of Plaka and offers beautiful studio apartments that only cost R 600 a night.
For solo travellers visiting Athens, it will work out cheaper to stay in a hostel. I'd recommend booking a night at BedBox Hostel. It's in the city centre and costs R280 per night.
There's a 24-hour front desk (perfect if you're arriving on a red-eye flight) and there are private rooms available for R 700. The hostel is 500 meters from Monastiraki Square, and there's an on-site bar.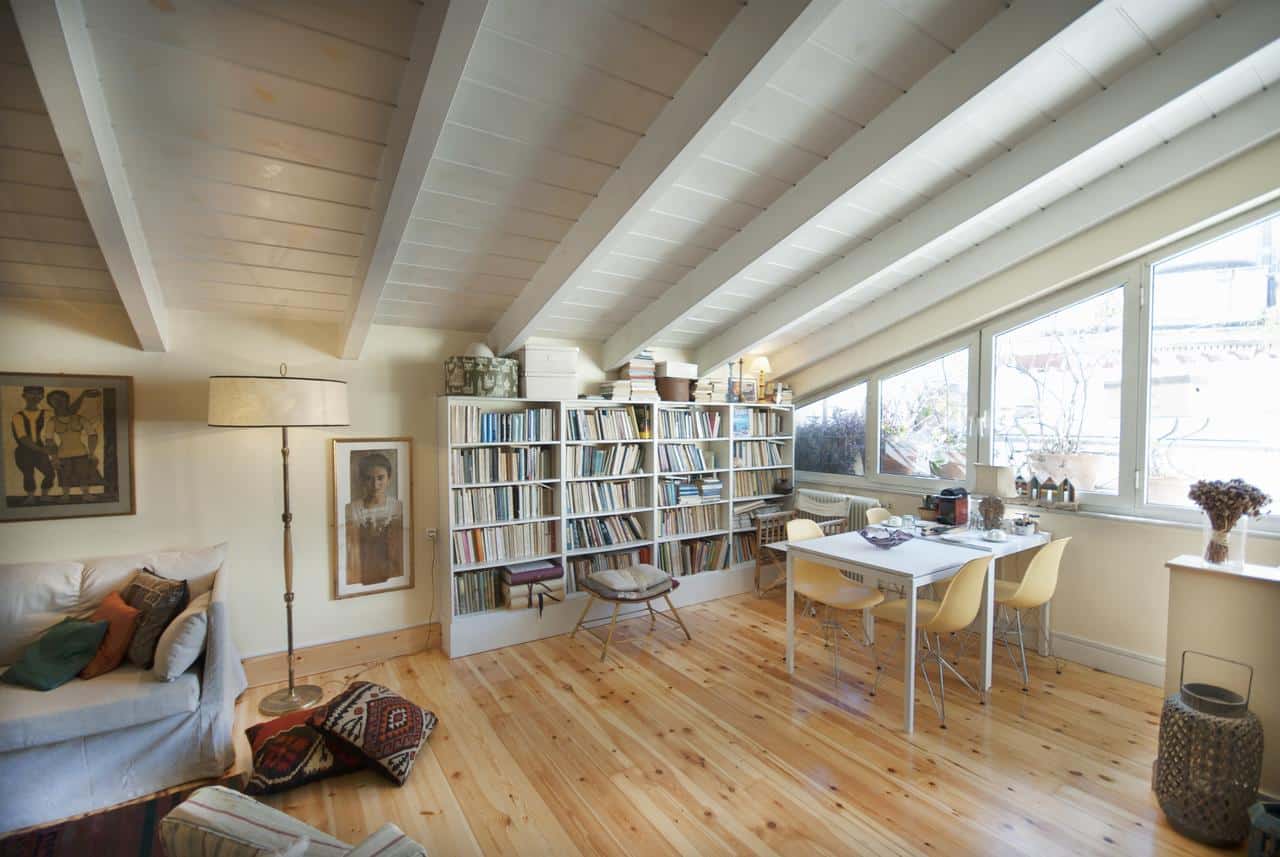 Mid-Range: Lilly's House in Plaka
Lilly's House in Plaka is perfect for book lovers travelling to Athens! The apartment features a massive wall to ceiling bookshelf, and you'll have everything you'll need to cook your own meals.
From the veranda, you'll have breathtaking views of the Acropolis! Breakfast is not included, but there is a fully equipped kitchen where you can whip up some meals.
The property can sleep up to six people! It's an excellent pick if you're travelling in a group. It can end up costing around R380 each per night per person.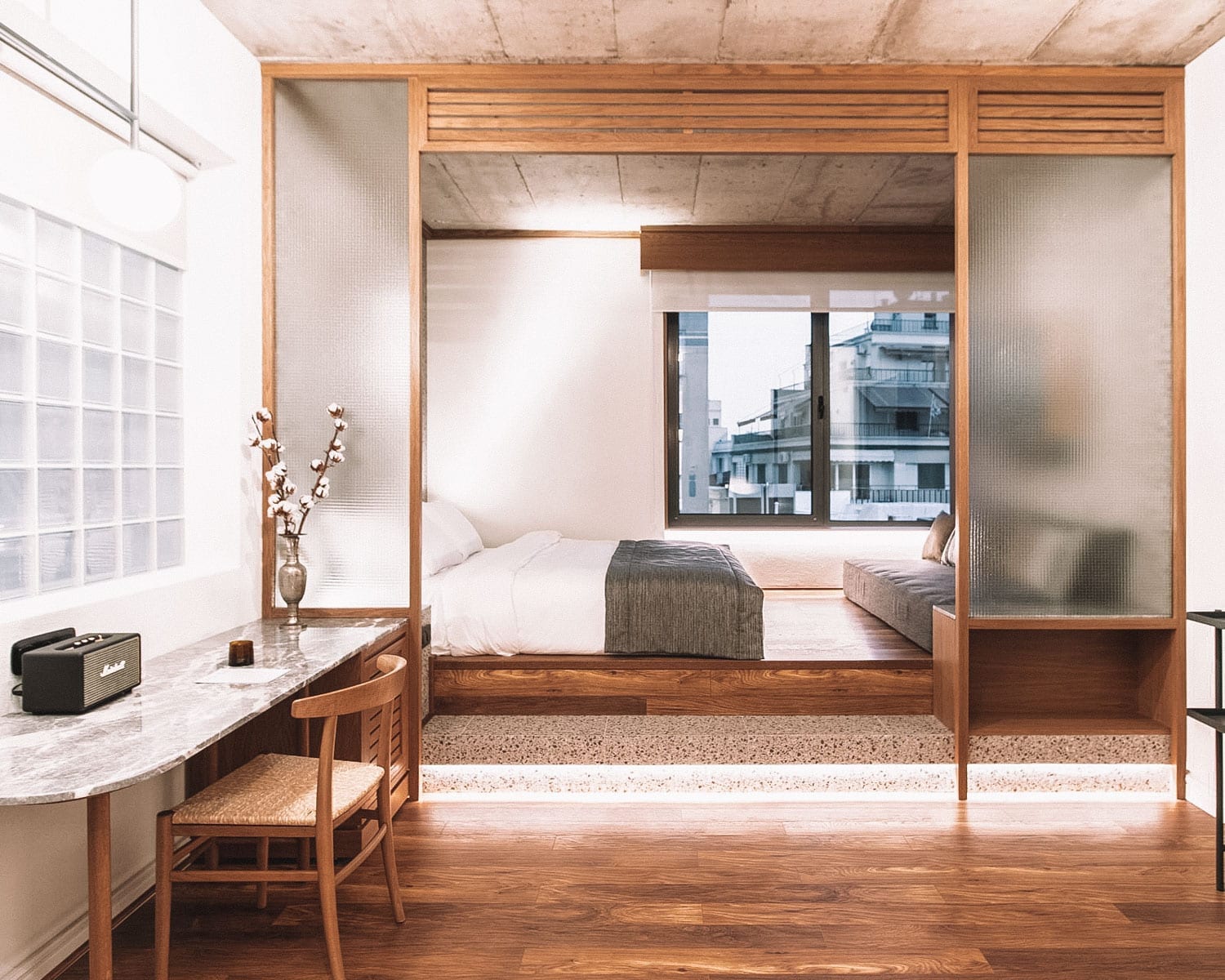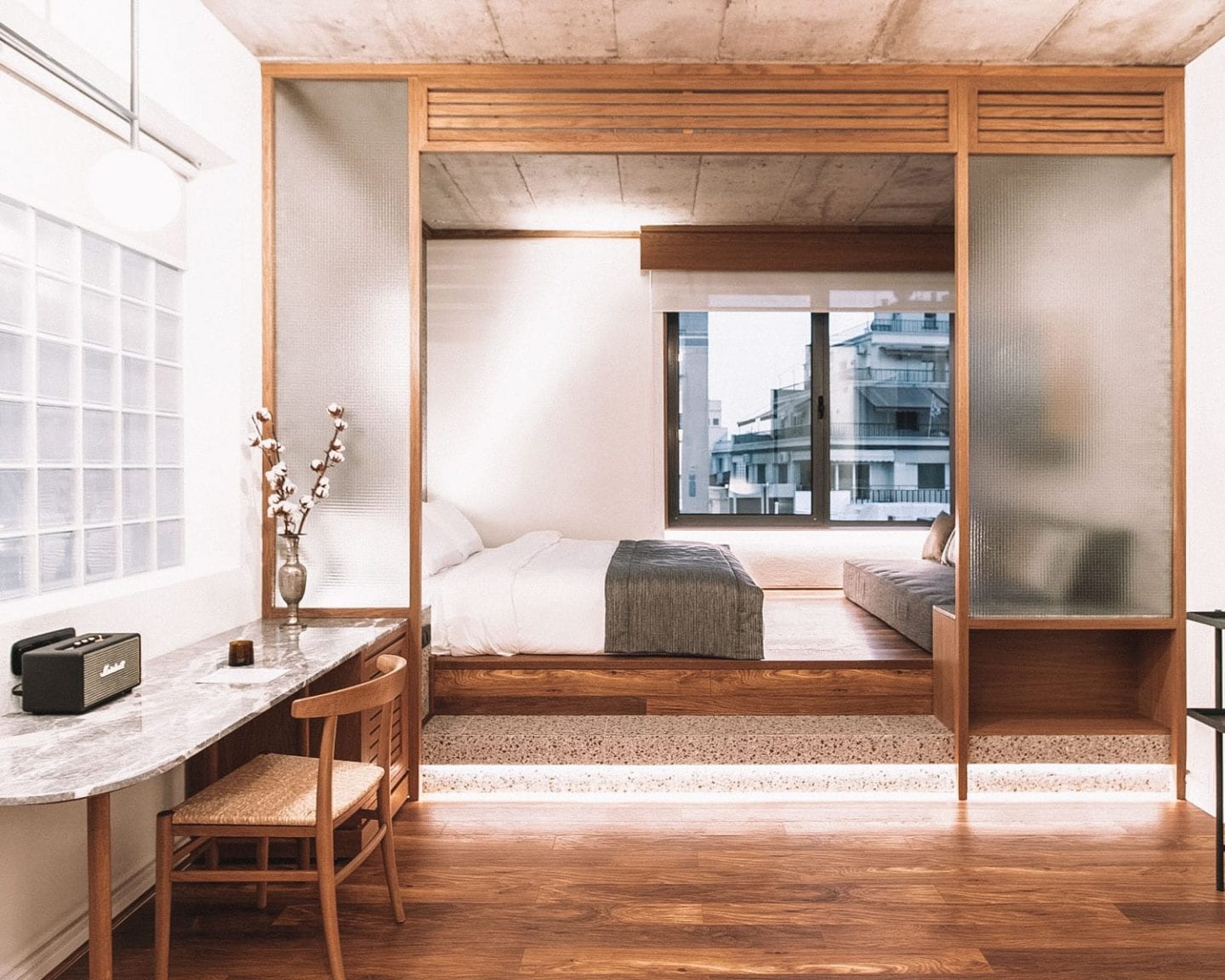 Luxury: Ergon House
Ergon House is a four-star hotel in Plaka and is foodie heaven. The on-site restaurant serves up delicious farm-to-table meals, and Ergon's signature breakfast is included in your stay.
For caffeine lovers, Ergon has partnered with Taf Roasters, who source the highest quality green coffee.
The rooms at Ergon are equally impressive and feature large windows that look out onto the city below. The rooms are designed by local artists and designers and use natural materials to create a modern and contemporary style.
If you want a view of the Acropolis book the X large double room!
---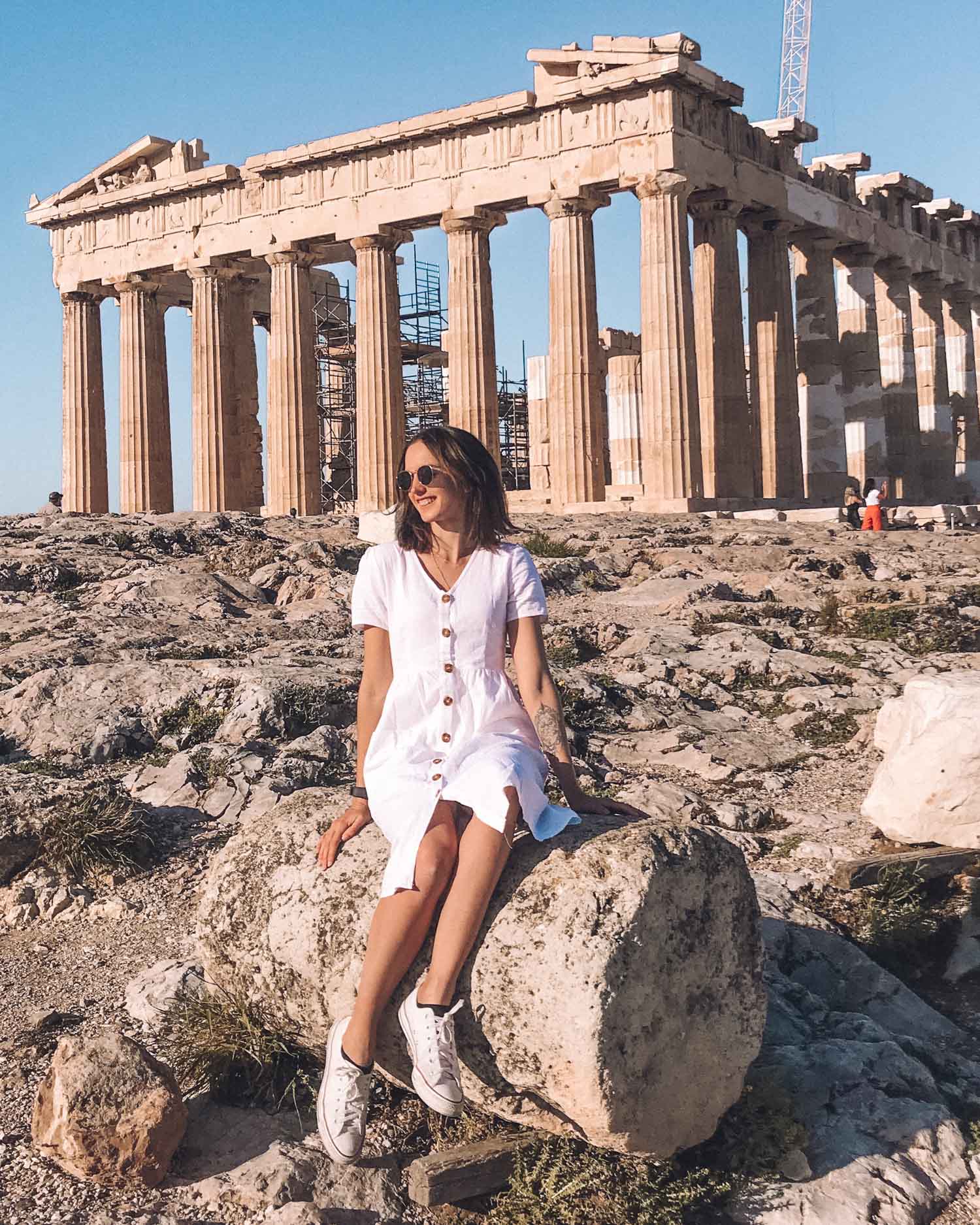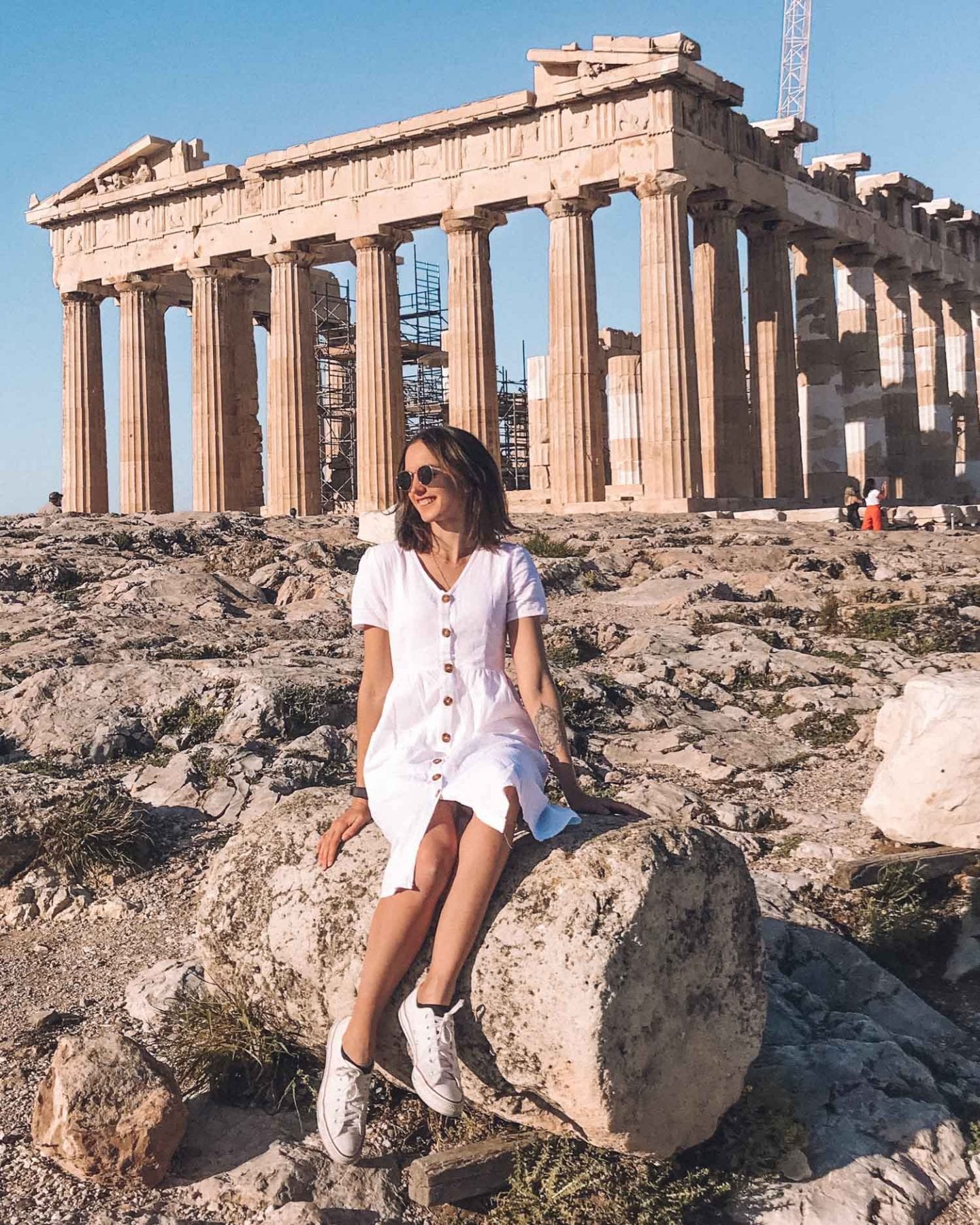 One Day in Athens Itinerary: What to See in Athens
Explore The Ancient Acropolis
Set your alarm clocks, kids, your first day in Athens is going to be full of ancient wonders and adventure, and you'll need to squeeze as much daylight out of the day as possible.
Aim to leave your hotel by 7:30 AM the latest and grab an Uber so you can get to the Acropolis as soon as it opens at 8:00 AM. You'll avoid the crowds and busloads of tourists that will start to arrive from 9:00 AM onwards and it will give you some time to soak up ancient Greece before the chaos descends.
The Acropolis was built in the 5th century, and its most famous attraction is the Parthenon. It's also Socrates' old stomping grounds and where some of the Greek's most innovative ideas, like democracy, were born!
It's without a doubt one of the best places to see in Athens!
Start your journey to the top of the hill by entering the Acropolis grounds from the south slope. You'll find some beautiful ruins of the impressive Theater of Dionysos and a jaw-dropping view of Athens below.
Once you've soaked up your fill, descend the slopes of the Acropolis. But before you make your way down the road back to Plaka, there's a nearby hill that you climb.
It boasts beautiful views of the city below, and you'll be able to get a photo of the Acropolis in the background! 
If you want to learn more about the history of the Acropolis, hire an Athens tour guide or visit the New Acropolis Museum. You can buy tickets online for EUR 10, and it's one of the top things to do in Athens.
Tickets for The Acropolis: I highly recommend buying the multi-site ticket for EUR 30 (R480.00). You will save a ton of money on entrance fees, and you'll only have to wait in a ticket line once! Single tickets for only the Acropolis cost EUR 20 (R322.00) from April to October and EUR 10 from November to March.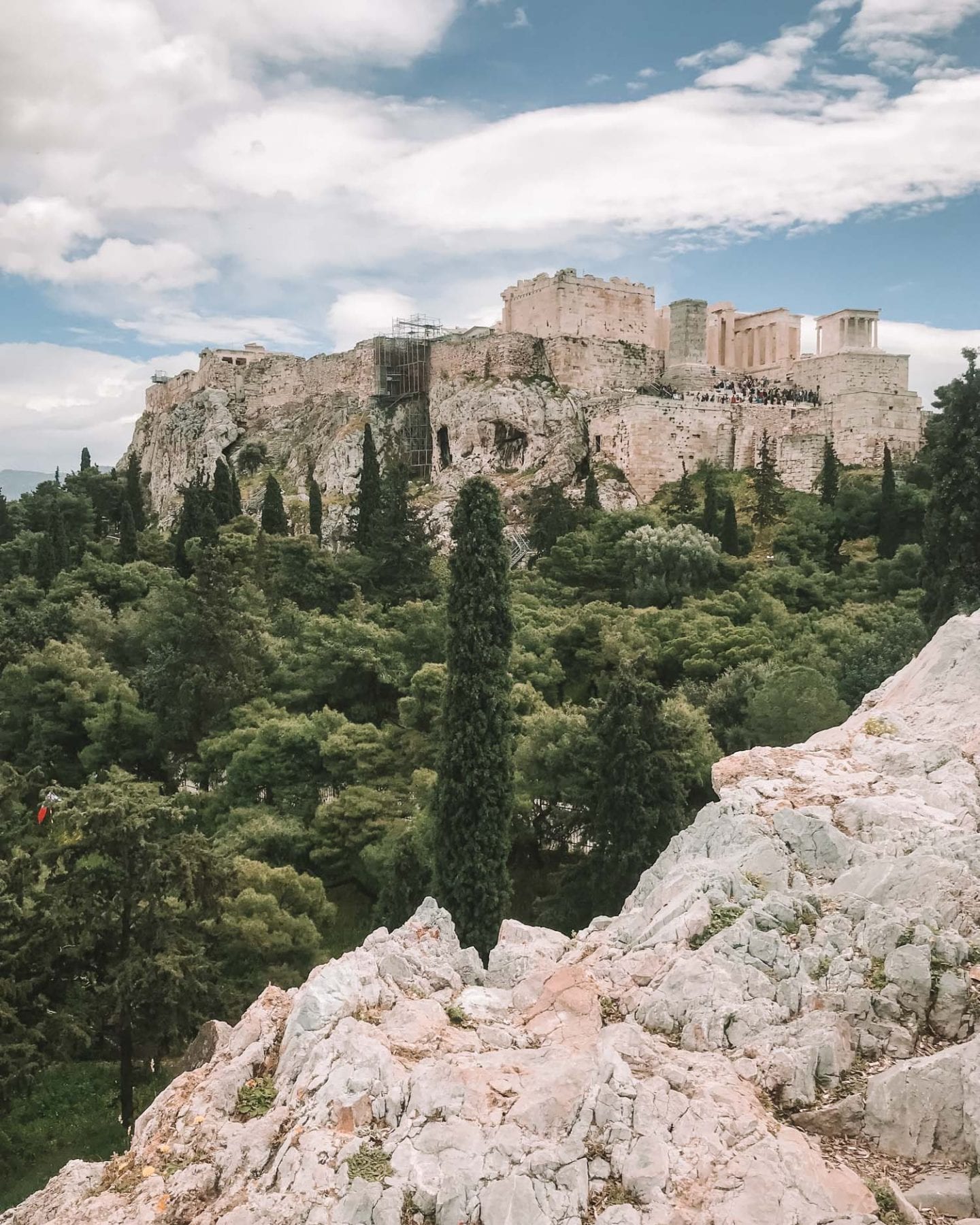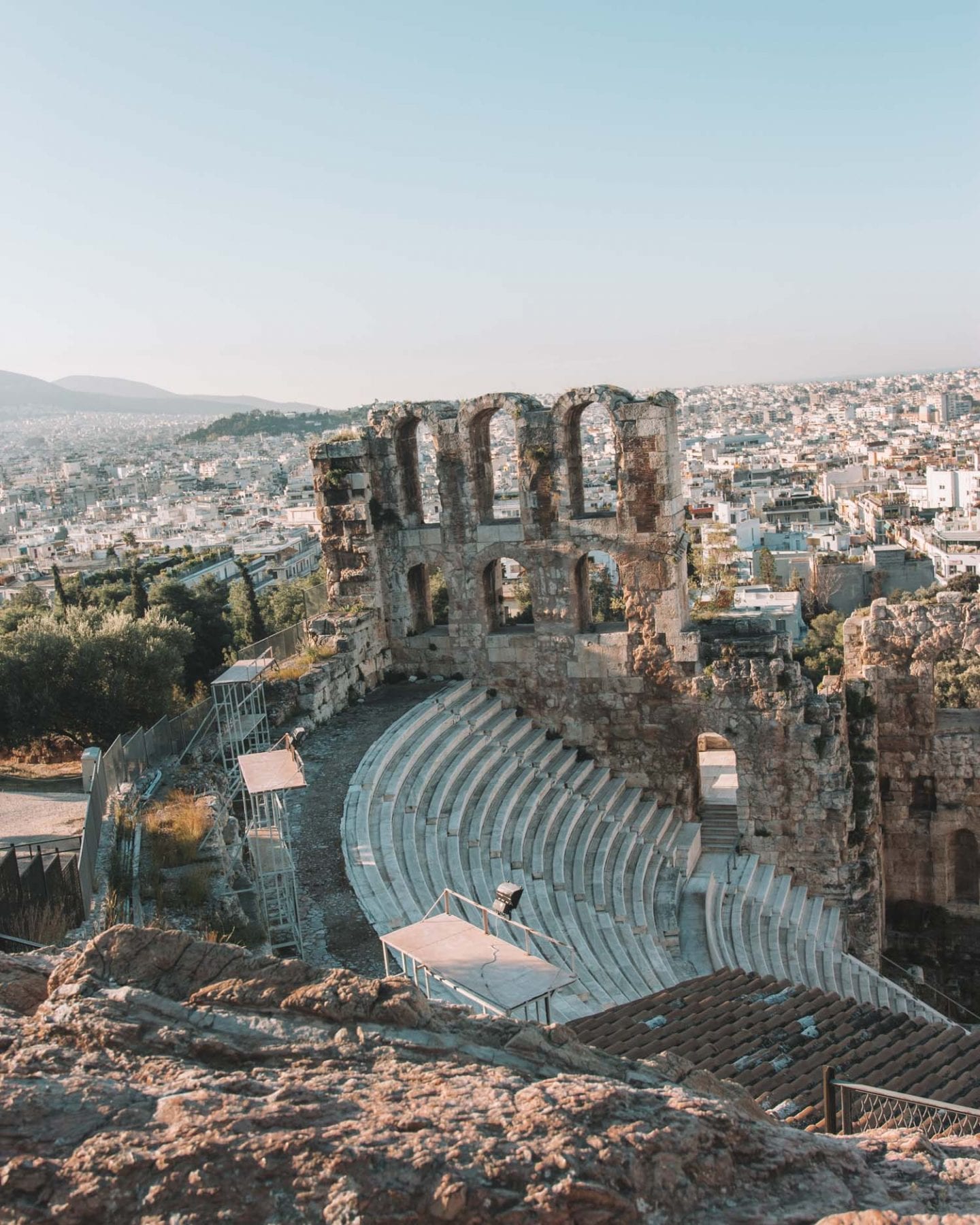 ---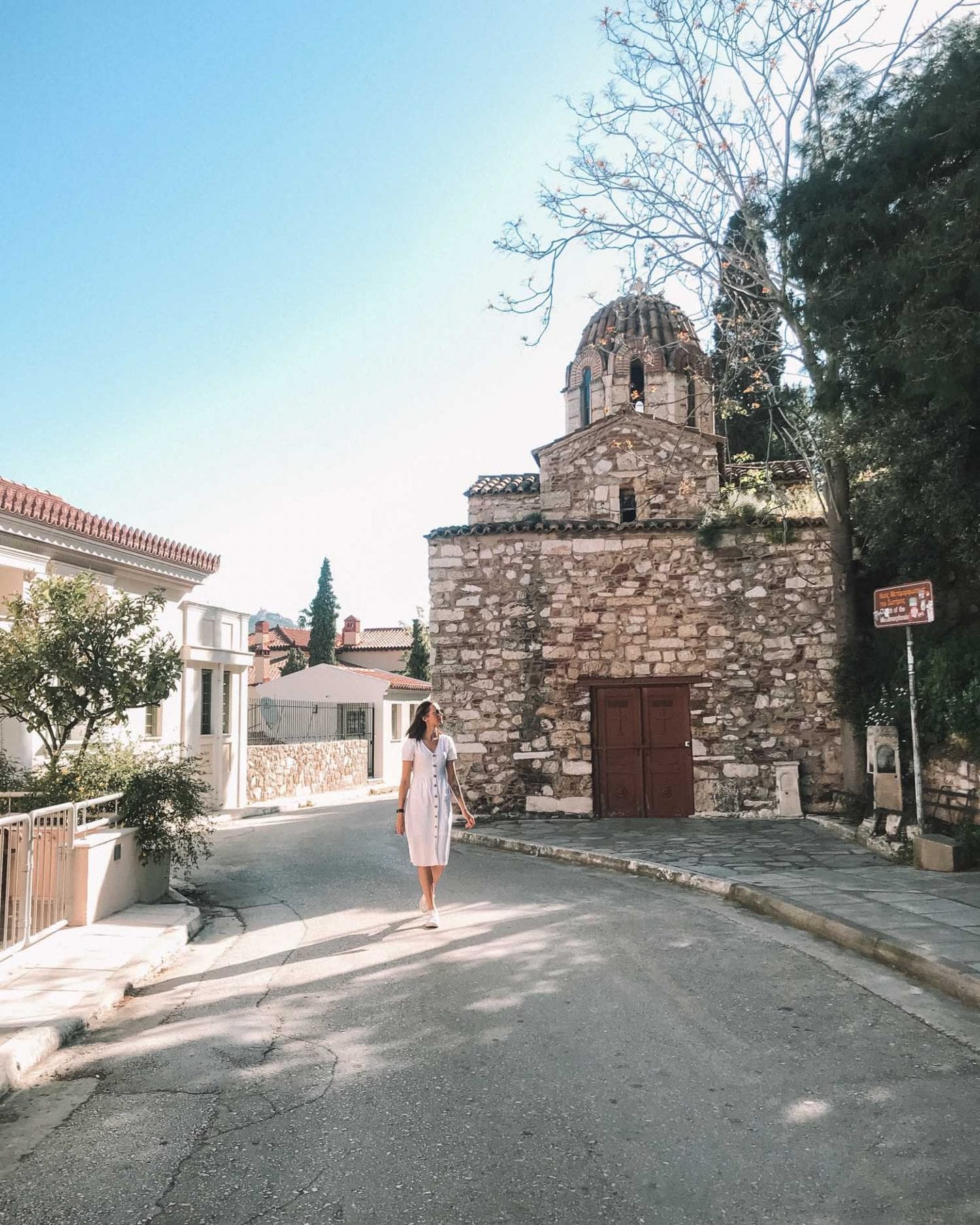 Wander The Streets of Plaka
By the time you've finished exploring the Acropolis, the myriad of shops and restaurants in Plaka will start welcoming their first customers.
Most restaurants will have set breakfast menus. The majority that I saw cater to omnivores and vegetarians, so if you're vegan, you might struggle to find something you can eat so early in the morning.
Once you've grabbed a coffee or something you eat, you can wander around Plaka as you make your way to your next destination. The narrow medieval streets are beautiful, and you'll pass Byzantine churches, 19th-century homes and offbeat museums.
C'est tres romantique!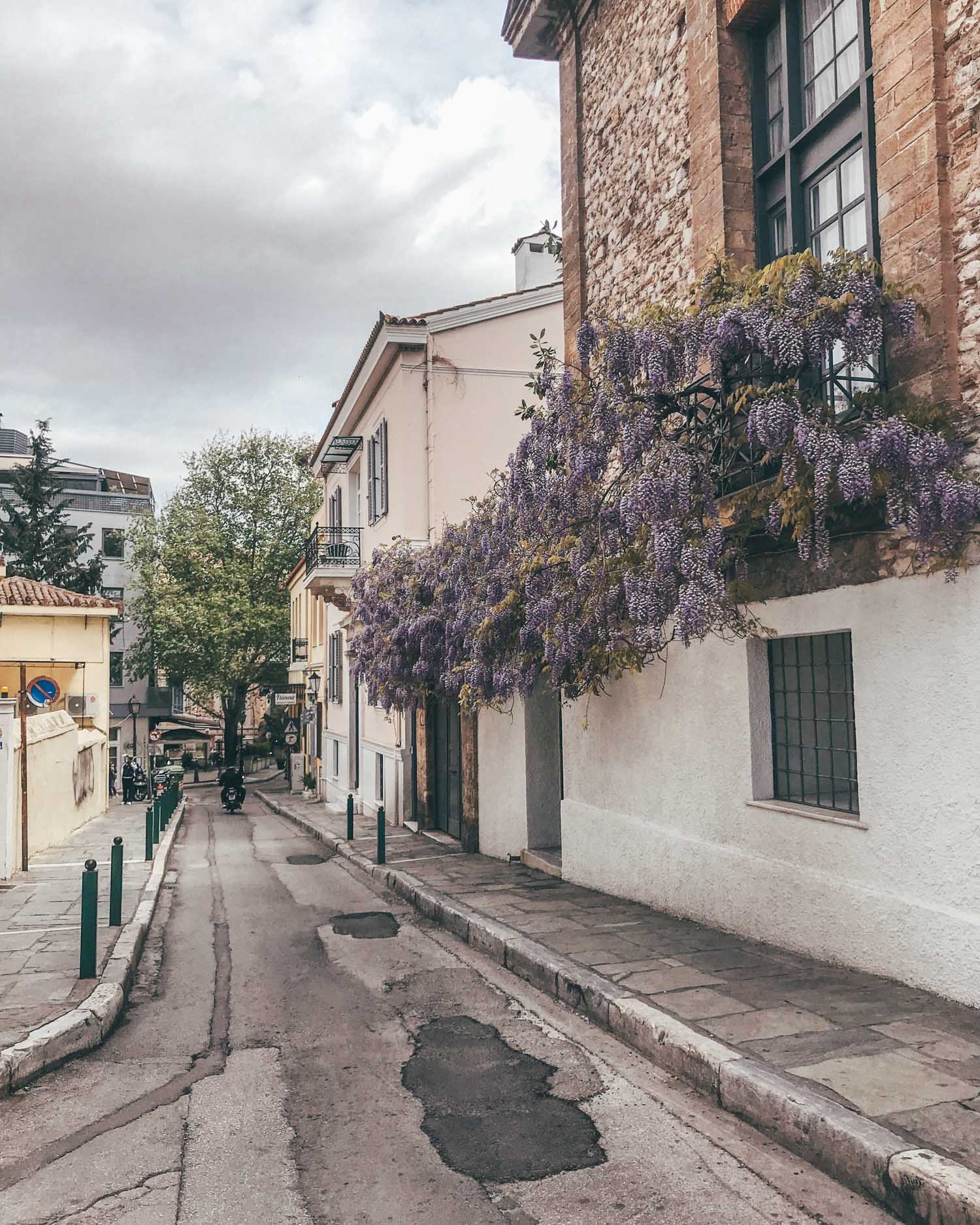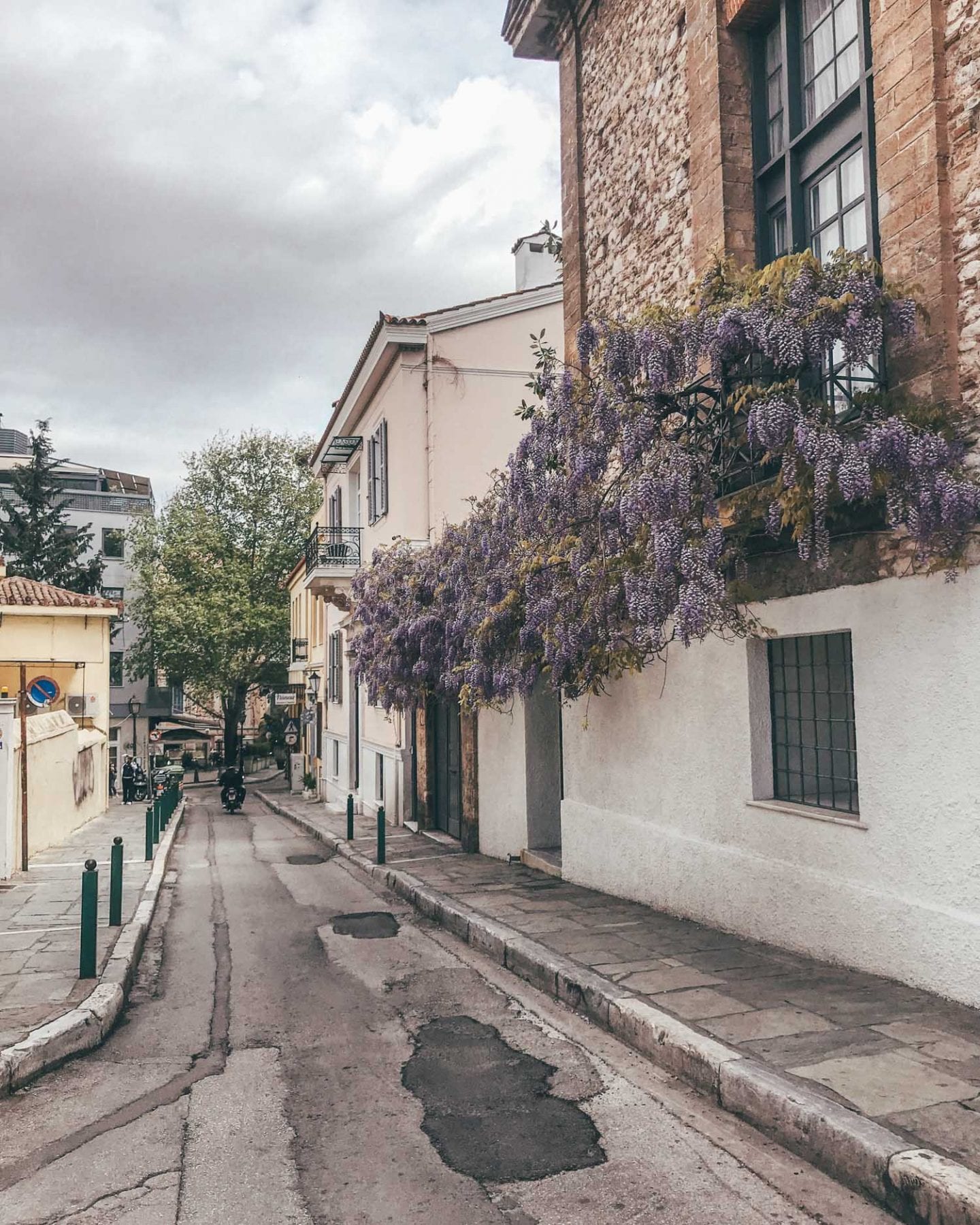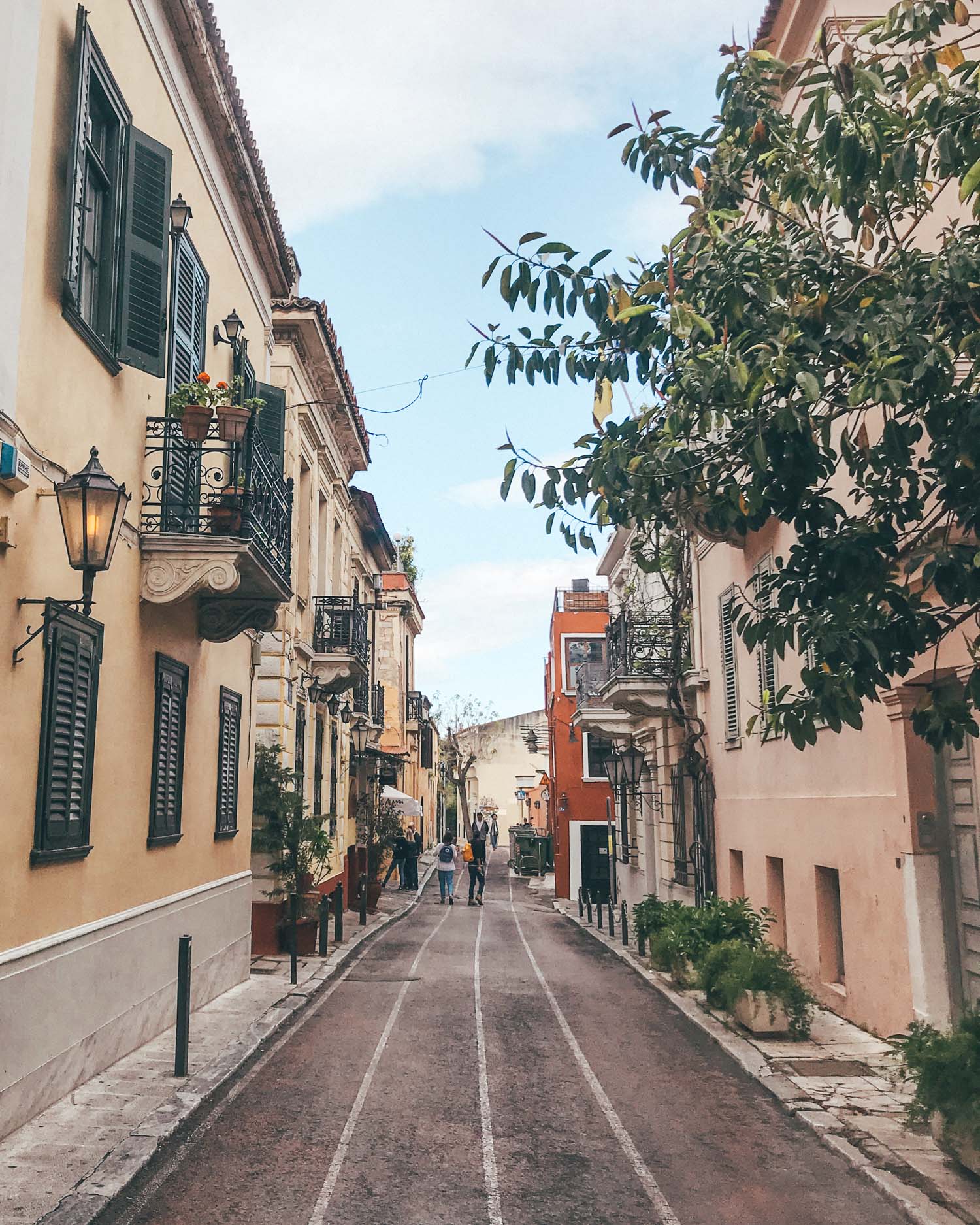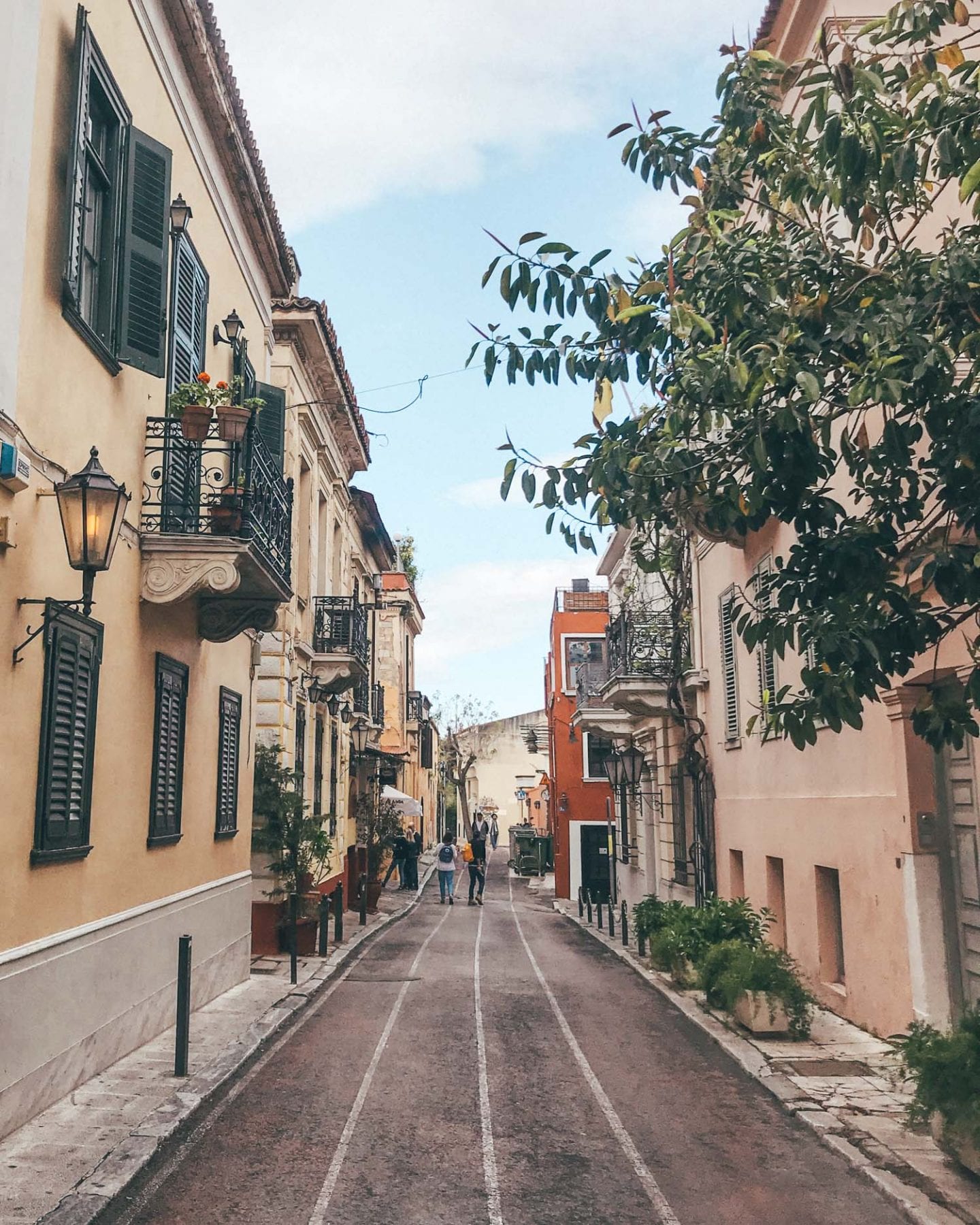 ---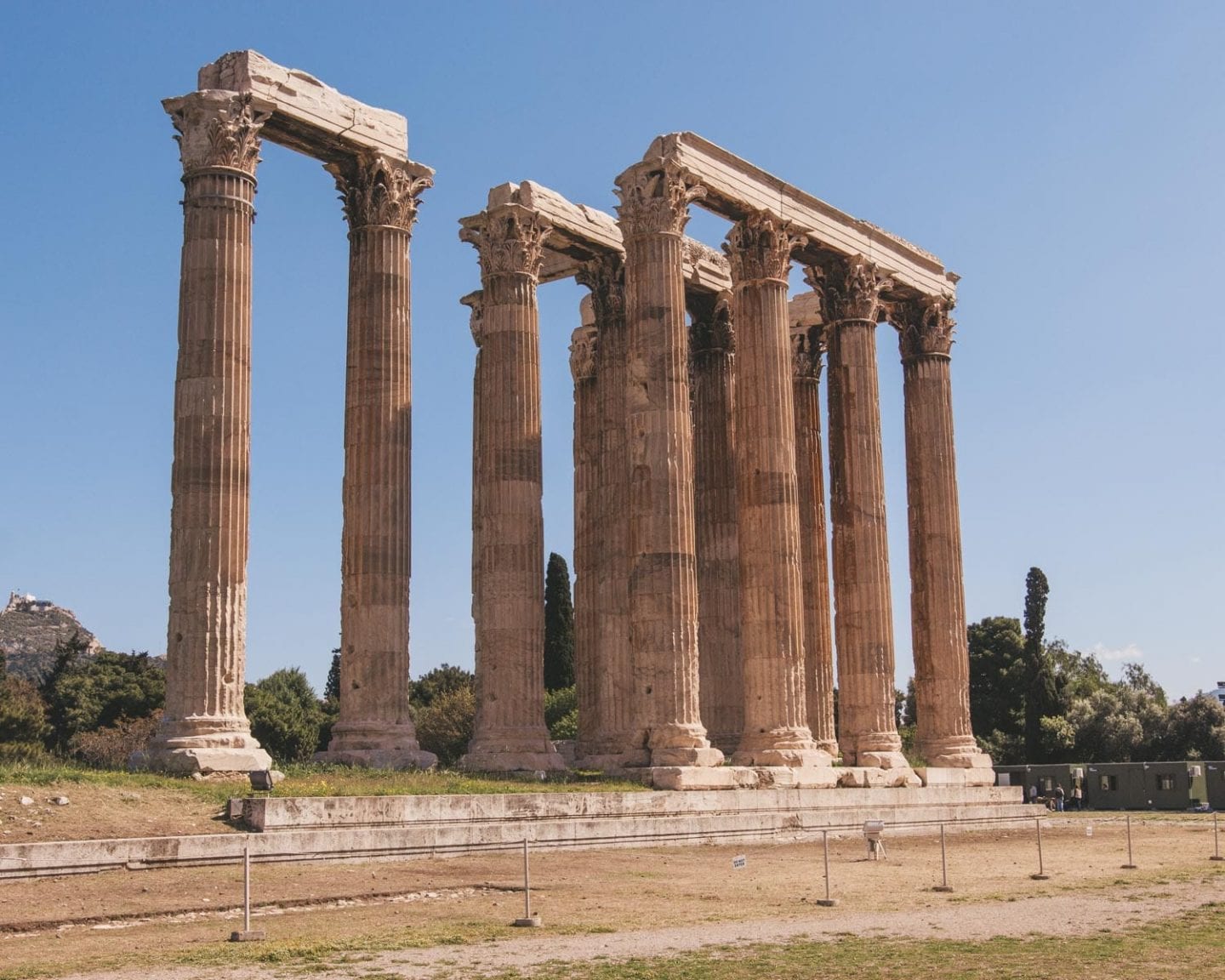 Visit the Temple of Olympian Zeus
From Plaka, it's an easy 10-minute walk to the Temple of Olympian Zeus. The ruins aren't nearly as popular as the Acropolis, but it's still one of the best places to visit in Athens.
The Temple of Olympian Zeus was once a massive temple that was built in 132 AD! Once houses 104 Corinthian-style columns there's only 15 left standing today.
You'll also find the remains of a Roman bath house, residences, and Hadrian's Arch.
Entrance Fee for the Temple of Olympian Zeus: If you've bought the combo ticket, it includes your entrance fee. Otherwise, you can buy a single ticket for EUR 6 (R96.00).
---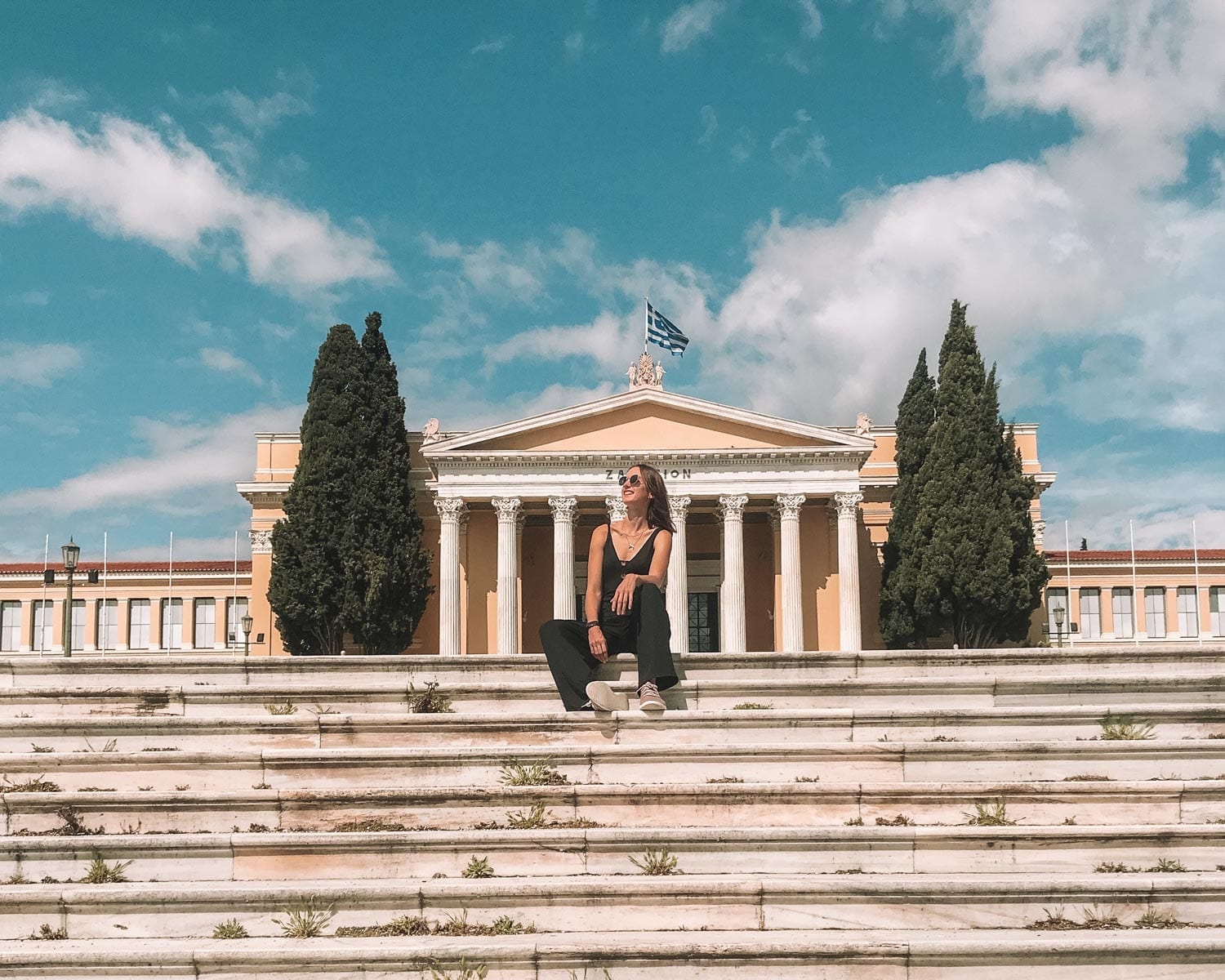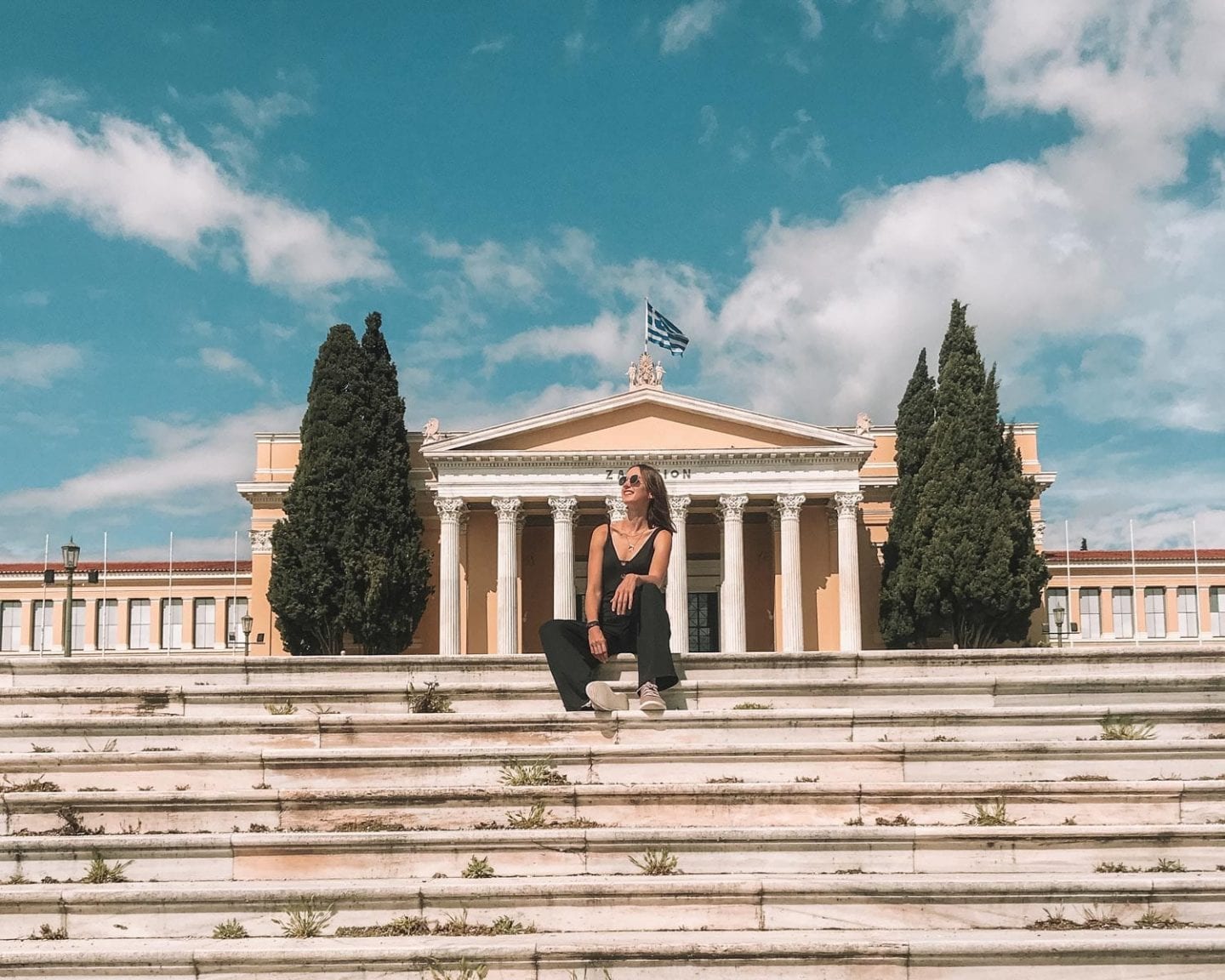 Walk Through The National Garden
Right next door to the Temple of Olympian Zeus is the National Garden. Inside you'll find Zappeio Hall which was built in the 1880s for the first modern Olympic games.
If you're interested in that side of Greek history, it's definitely worth taking a look inside. Otherwise, you can appreciate the building from the outside and make your way to the Ancient Agora for lunch.
---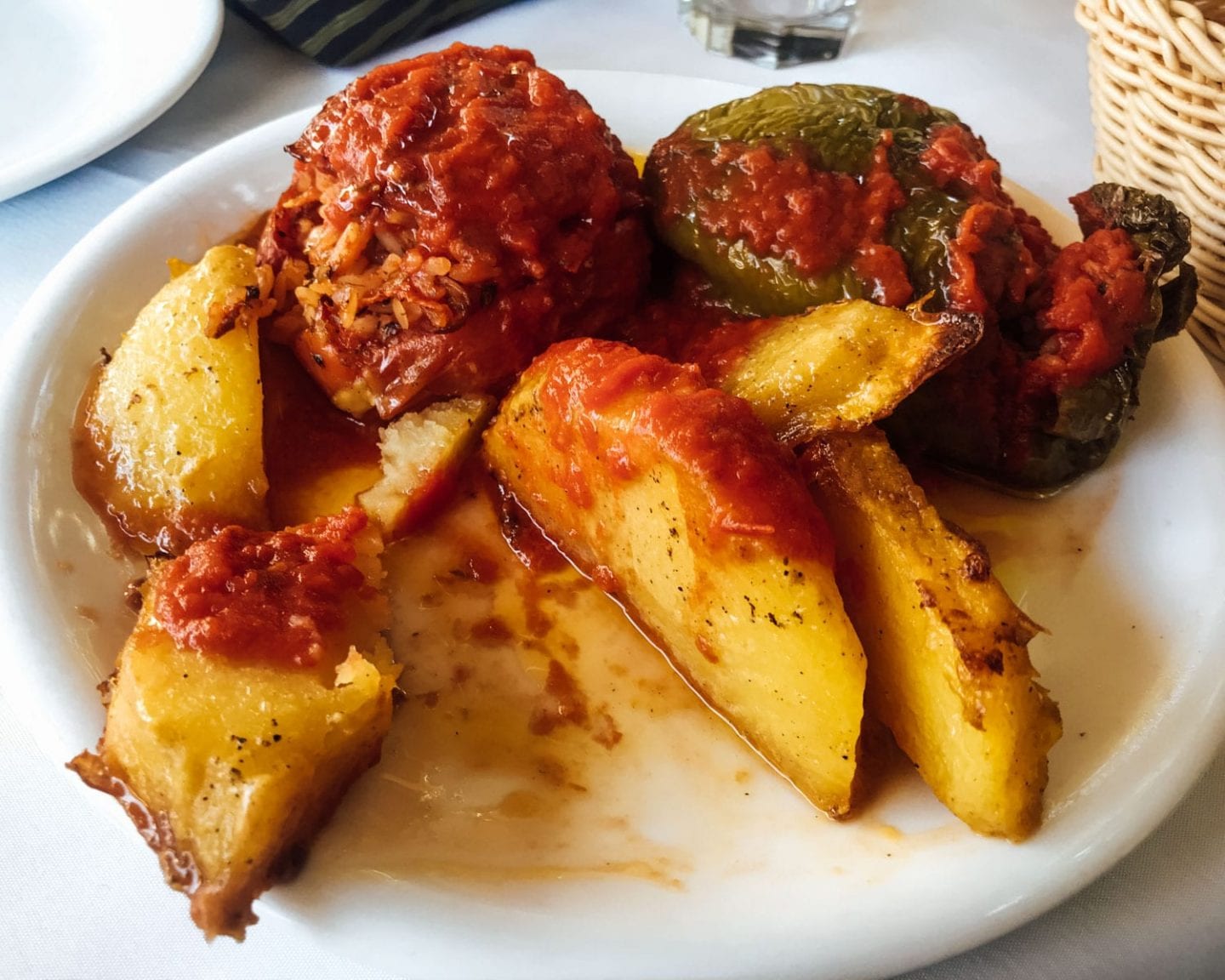 Stop for Lunch at Dia Tauta
To get from the Temple of Olympian Zeus to the Ancient Agora, you can walk to the nearest metro station. It's about a 9-minute walk, and you'll ride for two stops, getting off at the Monastiraki Metro Station.
Once you arrive, it's a short 200-meter walk to the Ancient Agora – a must see in Athens if you only have one day in the city.
Along the way, you'll find dozens of restaurants lining the road up to the entrance. I know it's a super touristy spot to have lunch, but we had some delicious food here!
We stopped at Dia Tauta, who have a ton of vegetarian and vegan options. I ordered stuffed tomatoes and peppers with rice and herbs for EUR 7.50 (R121.00) and Greek coffee for EUR 2 (R32.00).
You can also get baklava for EUR 5 (R80.00), and traditional Greek meat dishes start at EUR 10 (R161.00) .
---

Marvel at the Ancient Agora
The Ancient Agora is a massive site to explore and is one of the top things to see in Athens. The Agora was once the business and political hub of Athens and is home to the 5th century Temple of Hephaistos and Athena.
It's also where Socrates drank his fatal cup of hemlock poison while he was in prison.
History buffs can also visit the Museum of the Ancient Agora. It's housed inside the restored Stoa of Attalos and has an impressive collection of artefacts!
Entrance Fee for the Ancient Agora: If you have the combo ticket, you can walk straight in. Otherwise, a single entry ticket is EUR 8 (R129.00) per person.
---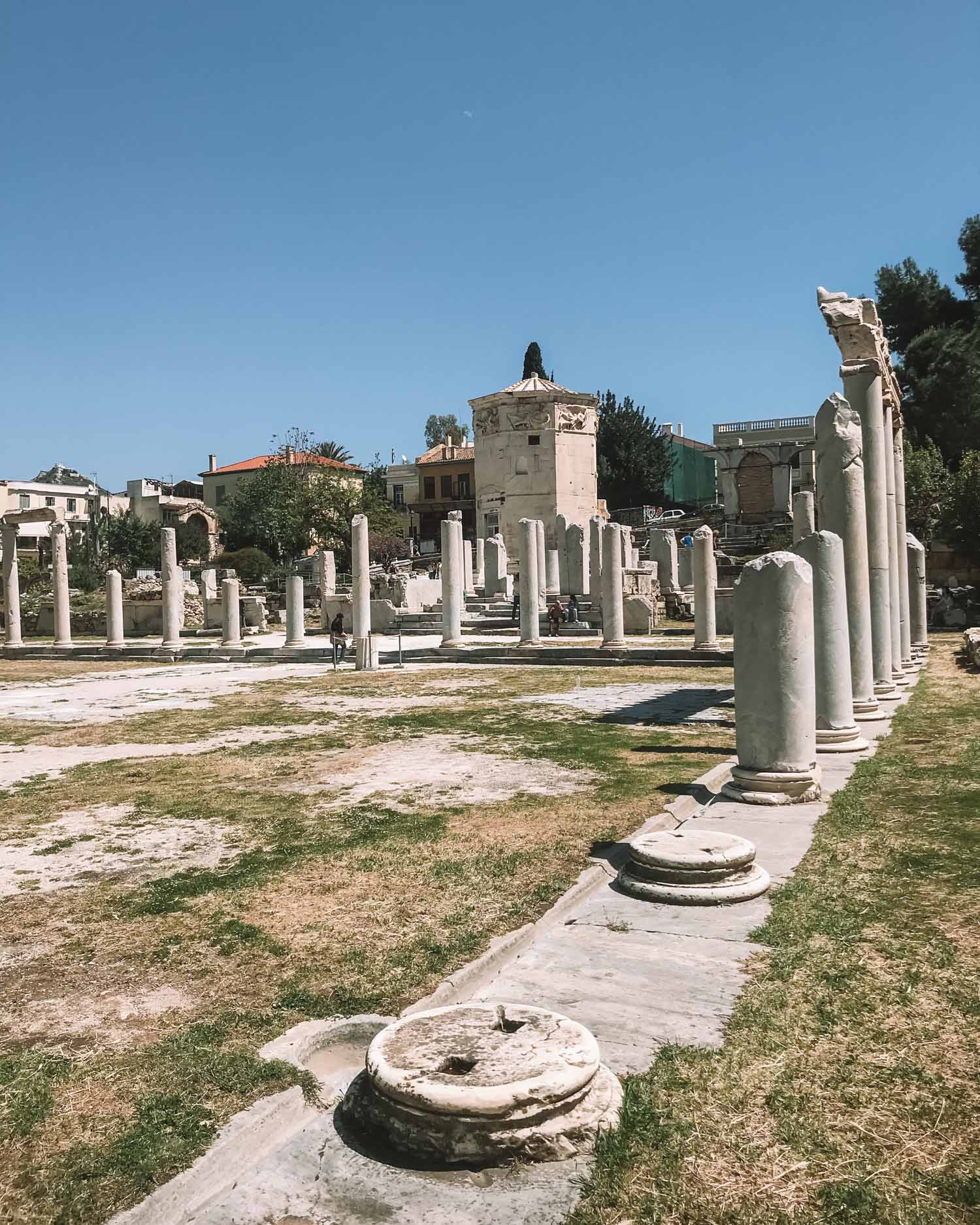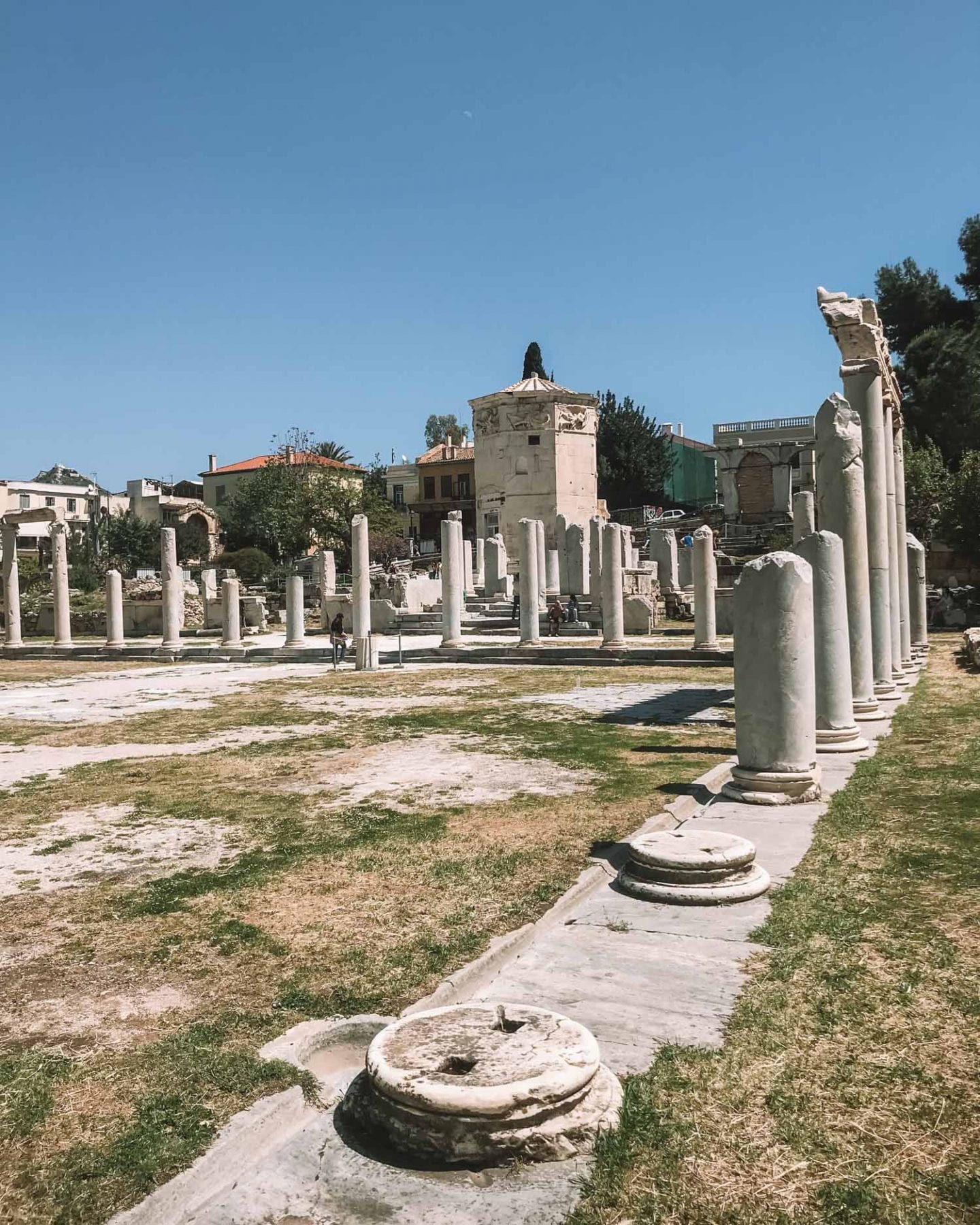 Roman Agora
Next, make your way to the Roman Agora. It's a 5-minute walk from the Ancient Agora, and the ruins date back to the 1st century.
It deserves a spot on any Athens 1 day itinerary, purely because you can see an inscription on the site that lists Julius Caesar and Augustus as the people who funded its construction!
Another interesting part of this site is the octagonal Tower of Winds. It was mainly used for astronomy purposes, and some beautiful carvings depict the "eight winds".
Entrance Fee for the Roman Agora: The combo ticket includes your entrance, or you can buy a single ticket for EUR 8 (R129.00).
---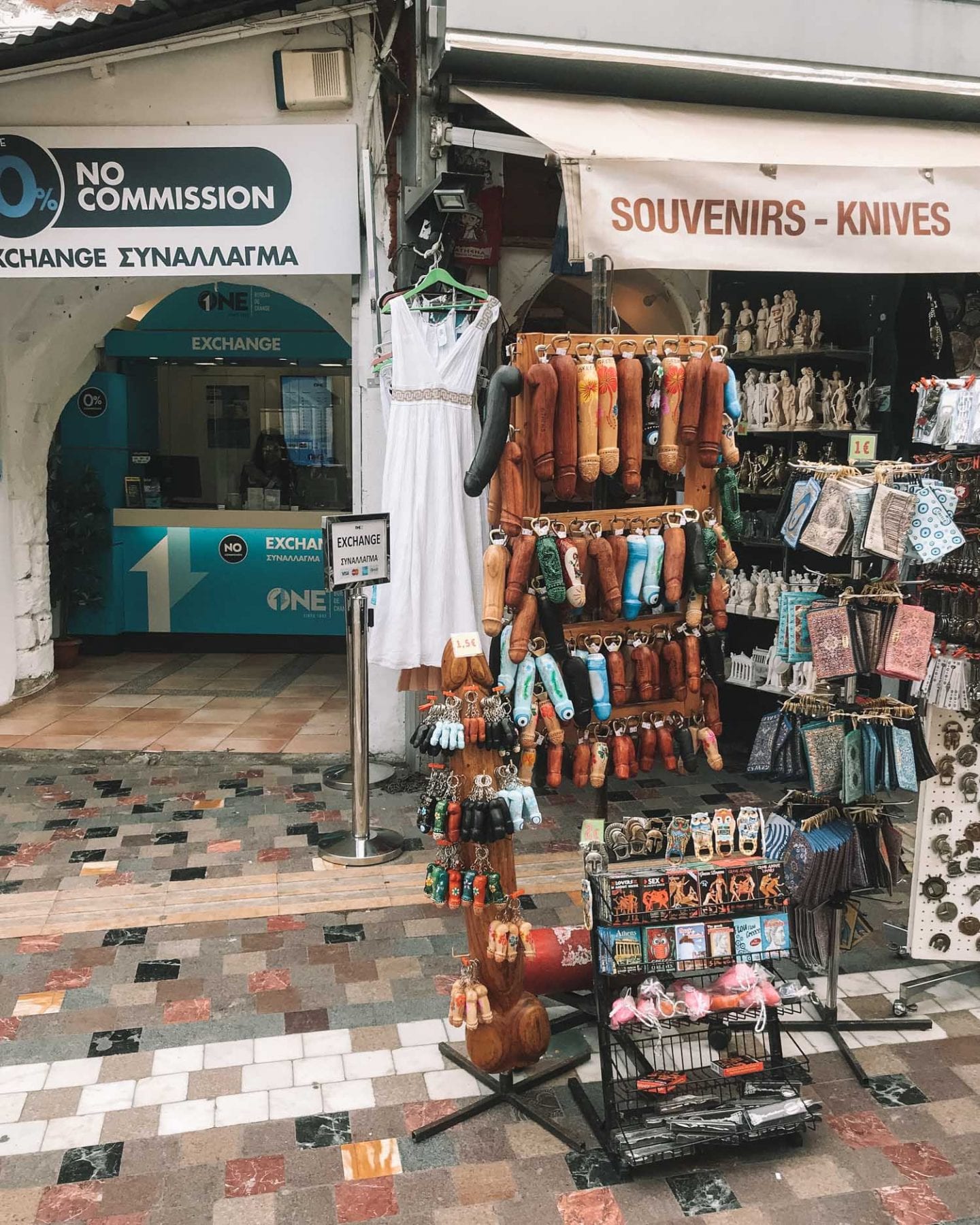 Monastiraki Flea Market
Your one day in Athens guide comes to an end at the Monastiraki Flea Market. It's about 200 metres from the Roman Agora and is a great spot to pick up a few souvenirs.
There's also a variety of giant penises made from wood on keychains. I've never seen my mom get so excited and embarrassed all at once.
Once you've browsed the shops, you can make your way back to your hotel to relax and freshen up before dinner.
---

Go for Dinner at Avocado
Avocado is a vegan restaurant in Athens and served up some of the best food I've ever had. It's definitely not the cheapest place to go, but you're paying for phenomenal food.
The restaurant also caters to gluten-free diets, and there's so much to choose from on the menu!
There are soups, sandwiches, burgers, pizzas, poke bowls, pasta and guilt-free desserts. They also have specific macro-biotic meals, fresh juices and delicious house wines.
I ordered the Luminus Vegan dish that's a fusion of flavours from Europe, South America and the Far East. I also couldn't resist trying their raw chocolate tart and ordered their poke bowl as a takeaway for breakfast.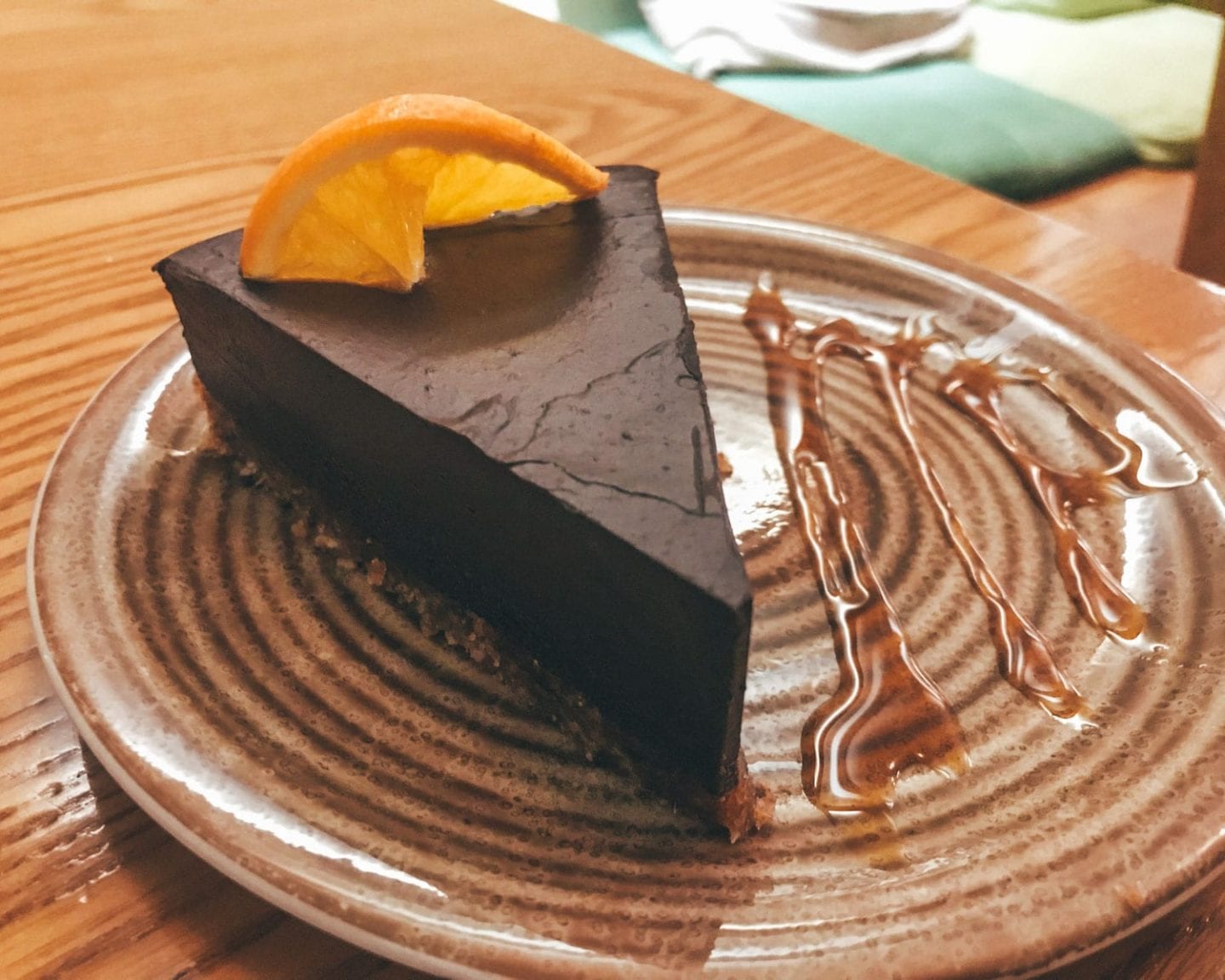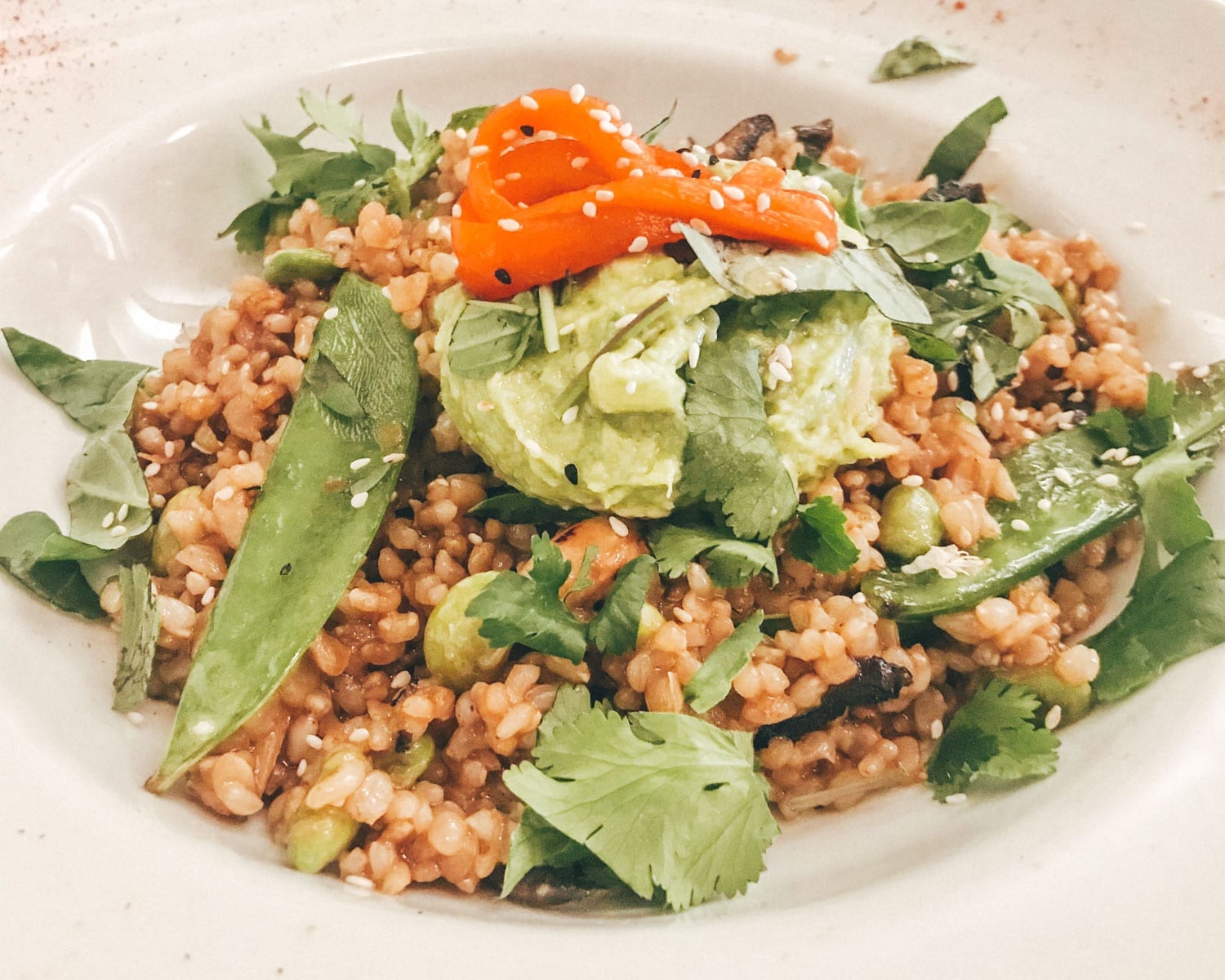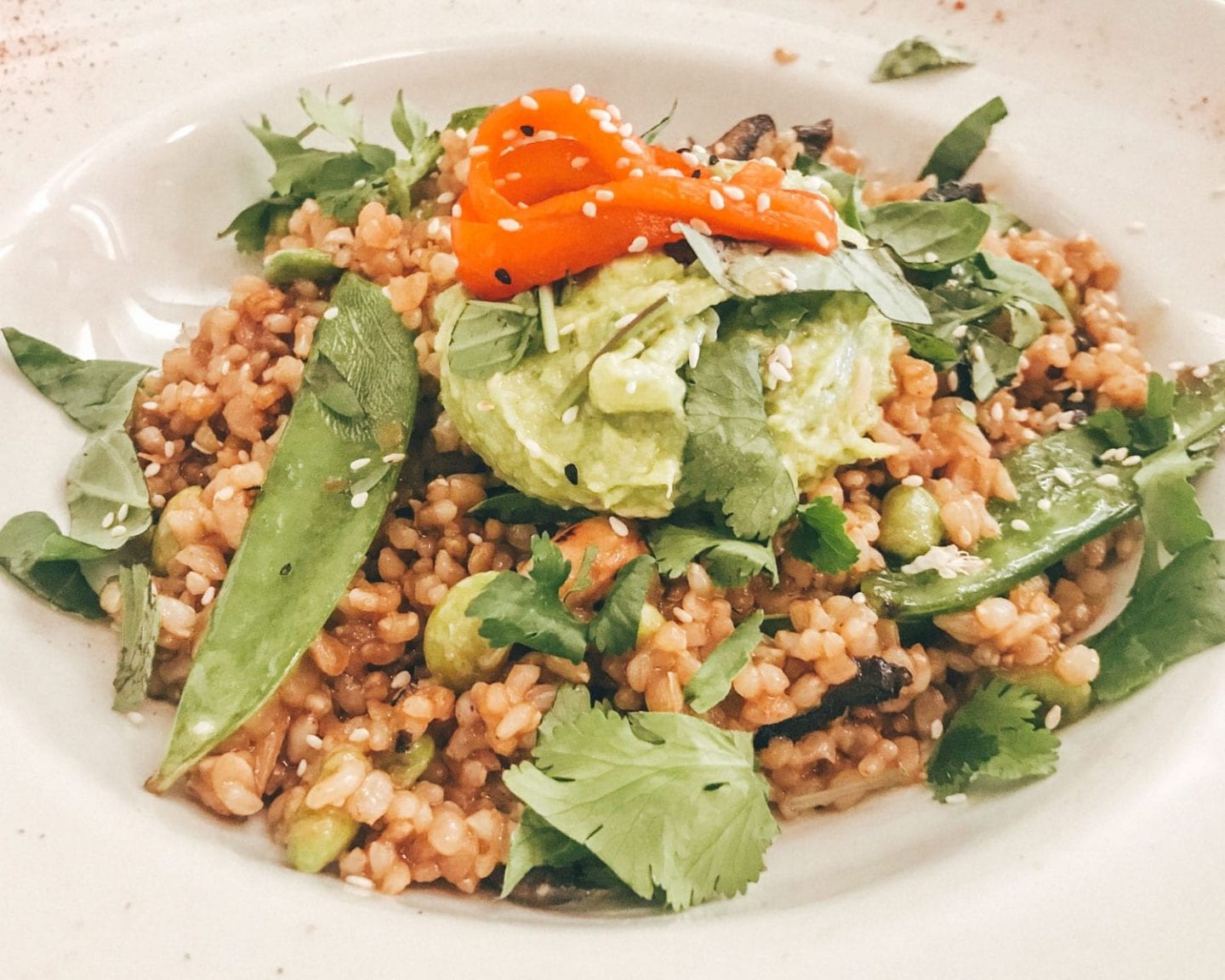 ---
You made it to the end, and you might be wondering, "Where the heck is the part about the nightlife in Athens?". Unfortunately, I was DEAD from the early start and only arriving in Athens after midnight.
But if your flight lands at a reasonable hour and you aren't slowly transitioning into a zombie, I've heard incredible things about the city's bar scene. There are rooftop bars, one of the top 50 bars in the world and a good ol' fashion Speakeasy.
Hopefully, my itinerary has inspired you and helped you decide how to spend one day in Athens!
---
Which part of my Athens in a day itinerary do you want to see the most? Is it the view from on top of the Acropolis? The delicious Greek food? Or all of the above? Let me know in the comments! I'd love to geek out on ancient history with you!
Want more Europe travel inspiration? Check out my other posts:
?If you like it, then you should put a pin on it ?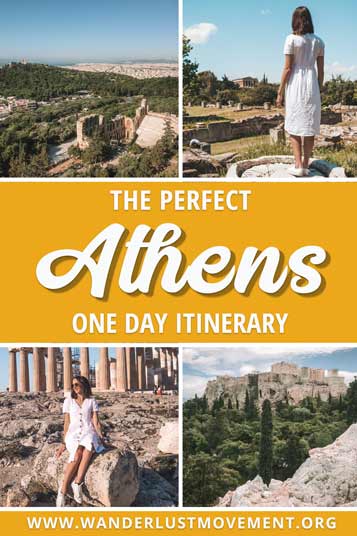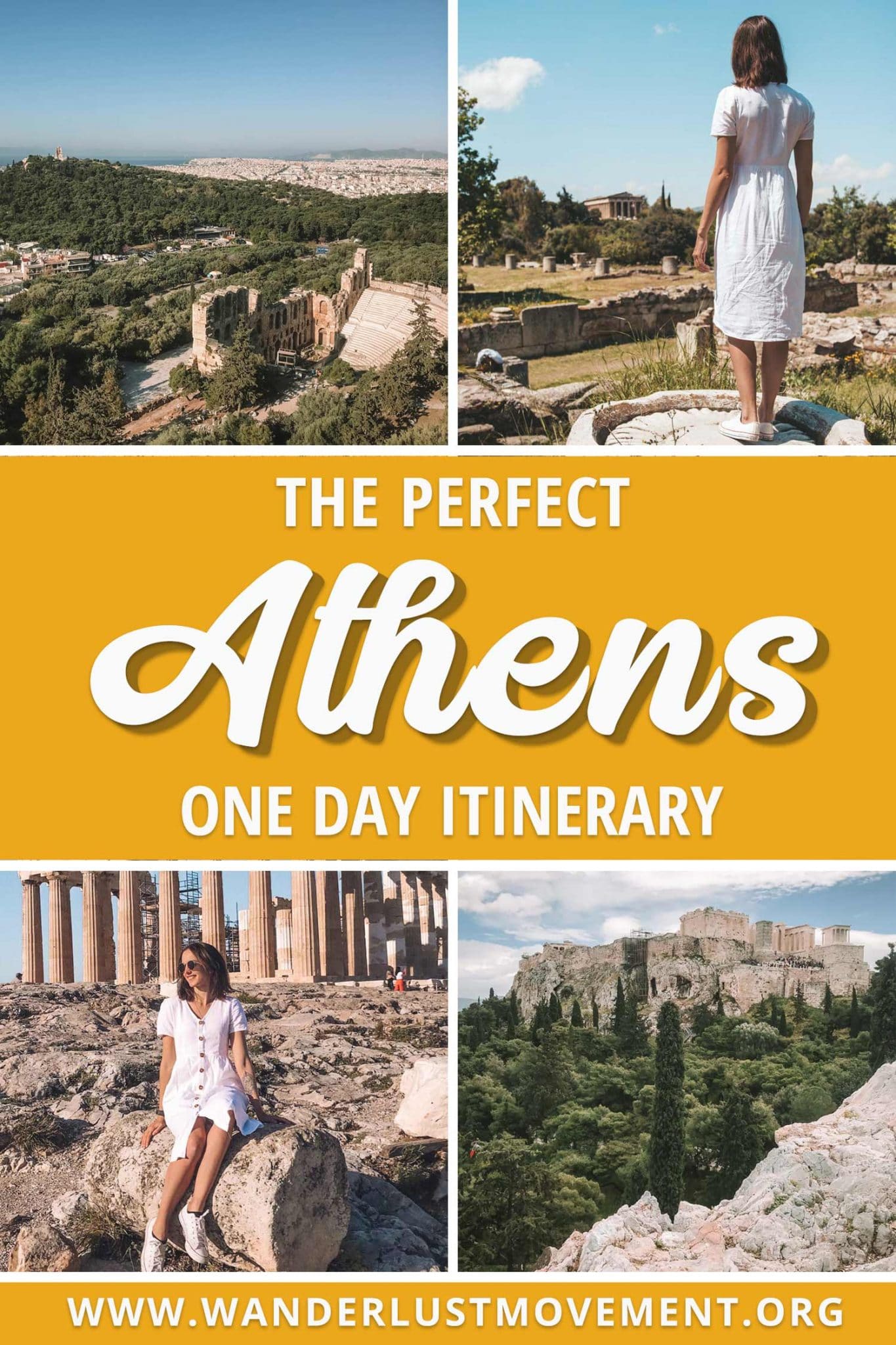 Only have one day in Athens? No problem! Here's my detailed Athens in a day itinerary that will take you past some of the city's top sights!