Last Updated on March 5, 2023 by lauren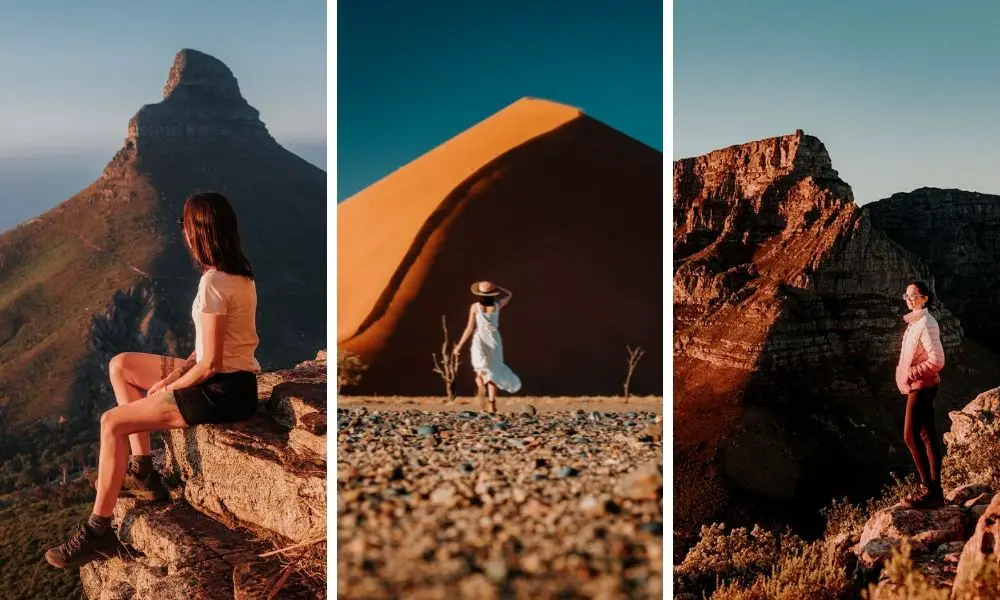 "You want me to take travel photos of myself by myself? In public!?"
A sentence I uttered way back in 2016, followed by a wave of anxiety, fear, and cold sweaty palms.
If you scroll far back enough on my Instagram feed, you'll see that my first foray into the world of solo travel photography consisted of only landscapes.
I was waaaay too terrified and shy to take photos of myself when travelling solo.
Ask someone to take my photo? The level of awkwardness and cringe is too damn high.
Do it myself with a tripod? People will stare, laugh, and I might die of embarrassment. No, I definitely will die of embarrassment.
After repeating this cycle for about a year into my solo travels, I realised something while scrolling through my gallery.
I had been to sooo many incredible places, but I wasn't in any of my photos. I was missing out on capturing memories because I was concerned about what other people thought.
Sound familiar?
If so, it's time to give your insecurities (and anyone who has made you feel small) a giant f**k you. Learning how to take better photos of yourself is not vapid, vain, or cringy.
It's empowering. It will boost your confidence. 
And when you get home from your next holiday, you're going to have banging photos of yourself instead of a suitcase of regret.
Without further adieu, I present my findings on everything I know about how to take travel photos. This is the only solo travel photography guide you'll need to master your camera and start capturing your memories like a pro. 
No Insta Husband required!
Psst…Want more solo travel photography tips? Check out these other posts:
How to Take Photos of Yourself When Travelling Solo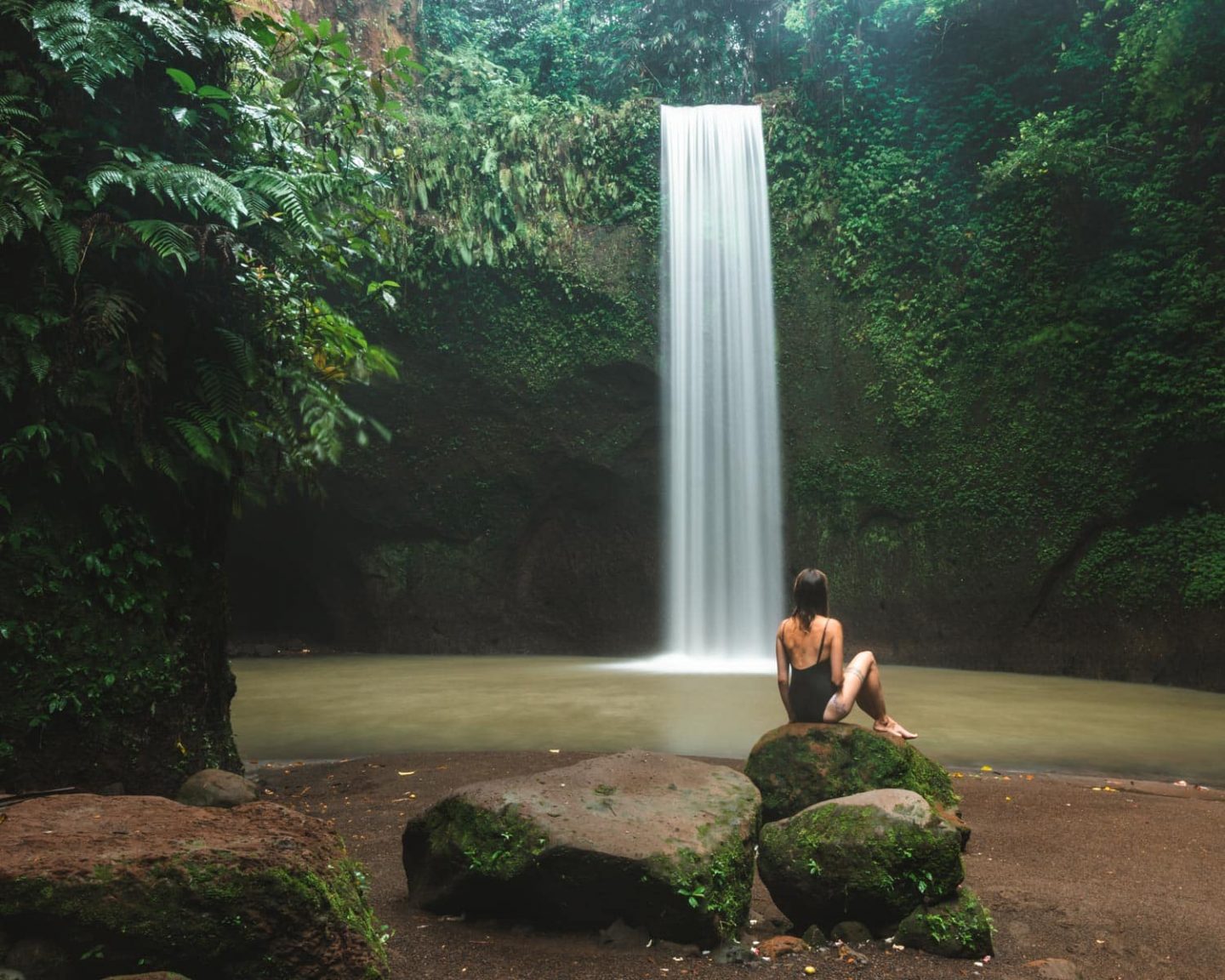 The best part about solo travel photography? There are so many methods you can use to get the perfect shot.
Below you'll find all the different gear and all my solo travel photography tips I use when travelling alone.
Choose The Best Camera for Solo Travel for Your Budget
One of the top questions I get in my DMs?
"What camera do you use?"
It's a valid question, but the answer is not as important as you think.
The best camera for solo travel is the one you have.
Let me explain.
You don't need to have the most expensive DSLR cameras to take incredible solo travel photos.
Smartphones these days are more than capable of snapping jaw-dropping pictures. Both can give you high-resolution photos as long as you know how to use them.
So whether you have a smartphone or a DSLR, take the time to watch YouTube tutorials and learn how the camera works. Your photos will improve with a basic understanding of the functions, settings, and things like an exposure triangle.
But if you're in the market, here are some of the best cameras for solo travel:
In case you're curious, I currently shoot with a Canon D80 and a Sigma Art 1.8f/s 18-35mm. 
However, it's a BULKY set-up for solo travel photography. When my next upgrade is due, I'll be moving towards a mirrorless range as I do believe a lightweight option is the best camera for solo travel.
What Camera Lens Should You Use for Solo Travel Photos?
When travelling and taking photos, you want to keep your set-up lean. You don't need five different types of lenses to get a good shot.
All that's going to do is weigh you down.
Instead, invest in a versatile wide-angle lens you can use in 80% of your shooting conditions.
What does that mean?
You want a lens with a decent range to zoom in on far-away features and zoom out to fit everything into the frame.
At the moment, I shoot with a 18-35mm lens, which I love. However, I've noticed I need a bit more focal length and don't want to lug around a second lens. So I've started saving up to upgrade to the more versatile Sigma Art 24-70mm 2.8 f/s.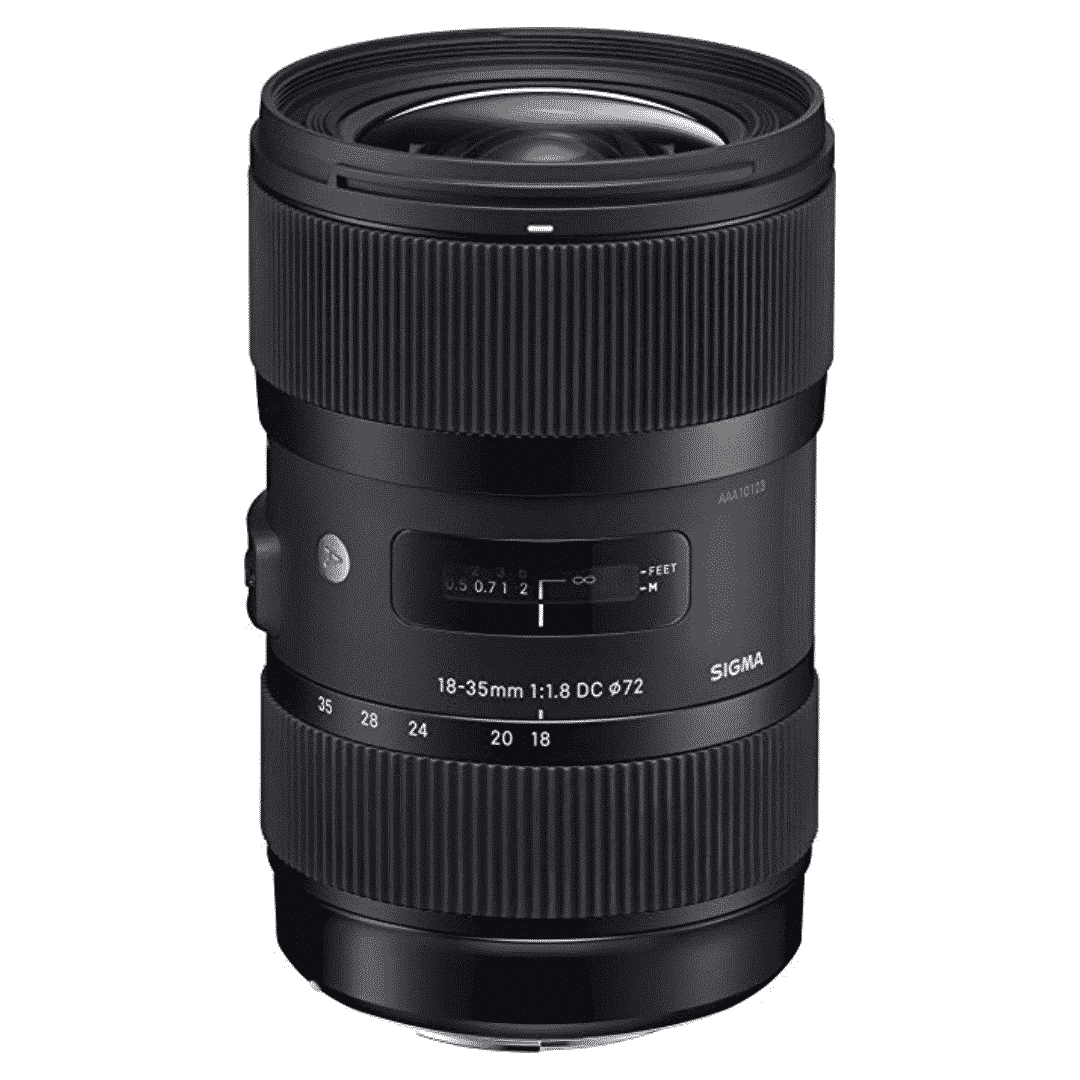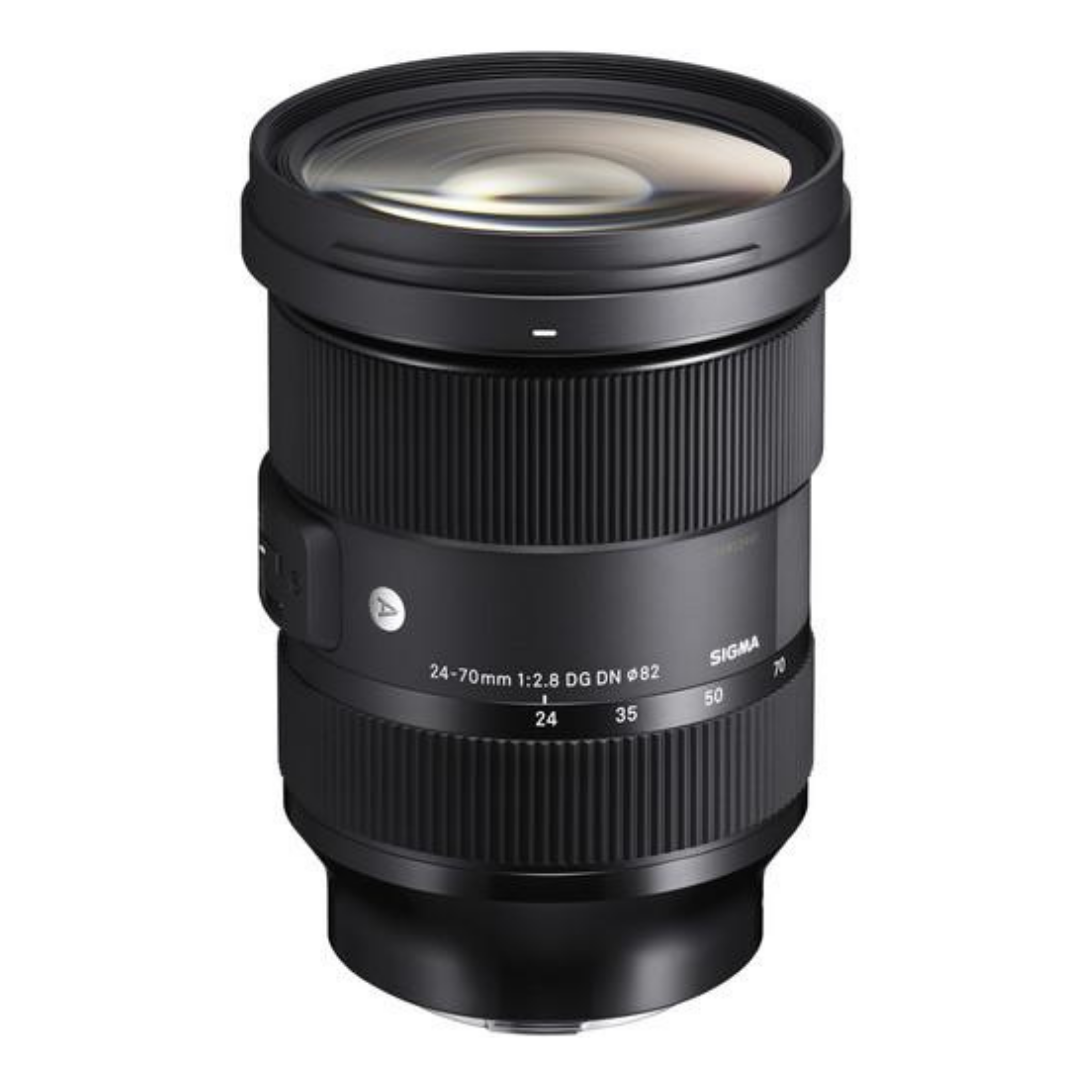 ---
Invest in a Tripod
A tripod is your BFF as a solo traveller.
It wakes up at the same time as you. It doesn't complain when you ask for "just one more photo". Most importantly, your trusty tripod won't give you blurry photos, cut off your head, or move your frame.
There's only one problem…
…Which tripod should you buy for solo travel photography?
The Best DSLR Tripod for Solo Travel Photos
I highly recommend the Manfrotto Element Traveller tripod. I bought mine in Bali, and it's incredibly lightweight, sturdy (which is super important because my lens and body weigh about 2-3kg) and packs up small.
It isn't the cheapest tripod on the market, but the quality is worth the investment.
The Best Smartphone Tripod for Solo Travel Photos
You have a few tripod options for smartphones to match your travelling style.
Want something that can fit in your handbag and requires ZERO set-up? Pick up a gorilla pod. It's a small, lightweight tripod that can grip almost any surface. While you won't have the height, you can still get the shot if there is something tall to wrap it around.
What about the best selfie stick for solo travel? The Andowl Selfie Stick is the perfect camera accessory for solo trips. It can open its feet to form a cellphone tripod, or you can extend the only upper portion into a selfie stick.
But if you want something more traditional with height, the Manfrotto Element MII Mobile is the best iPhone tripod for solo travel. It reaches up to 160 cm and folds down to 42.5 cm. Plus, you get a Bluetooth remote and a clamp to connect your phone to the tripod.
Again, Manfrotto's aren't cheap cellphone tripods, but the quality is unmatched. If it's out of your price range, Takealot has a range of more affordable brands.
And remember, you don't need top-of-the-range photography gear to take amazing pictures. As your skills improve, you'll want to invest in more high-quality equipment, but start with what you can afford.
I started with a cheap as chips Fuji stand-and-shoot camera. I only upgraded to a DSLR two years into my travels.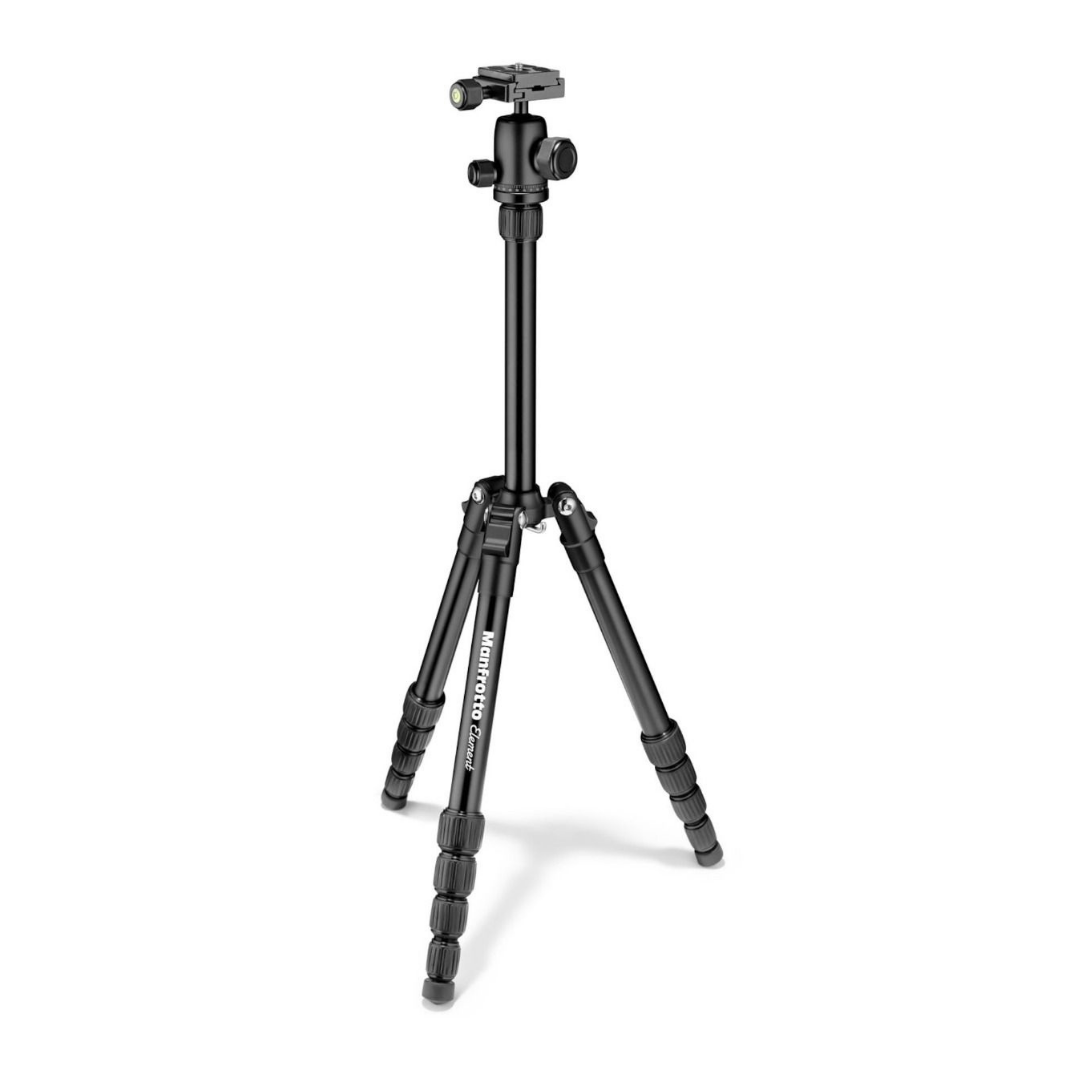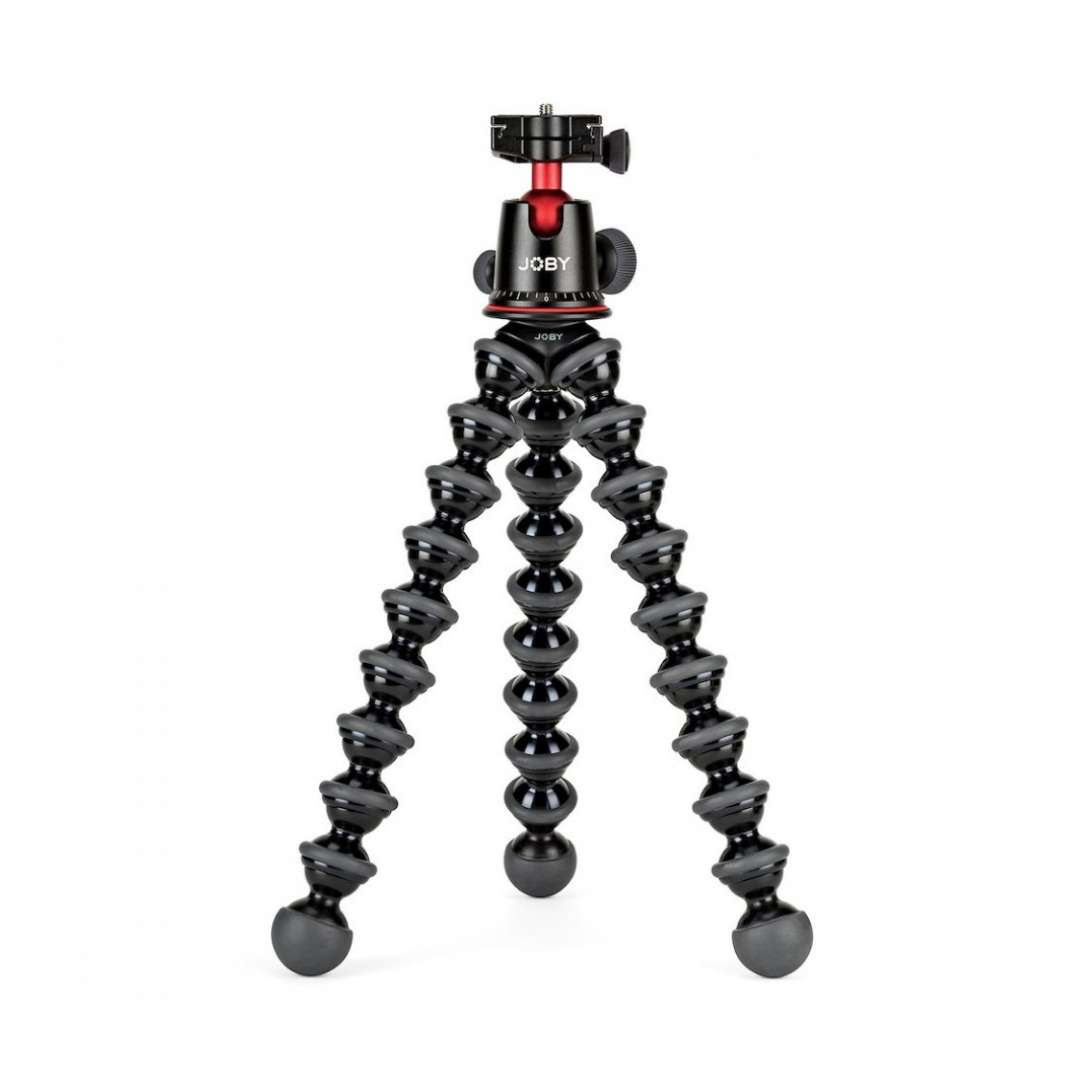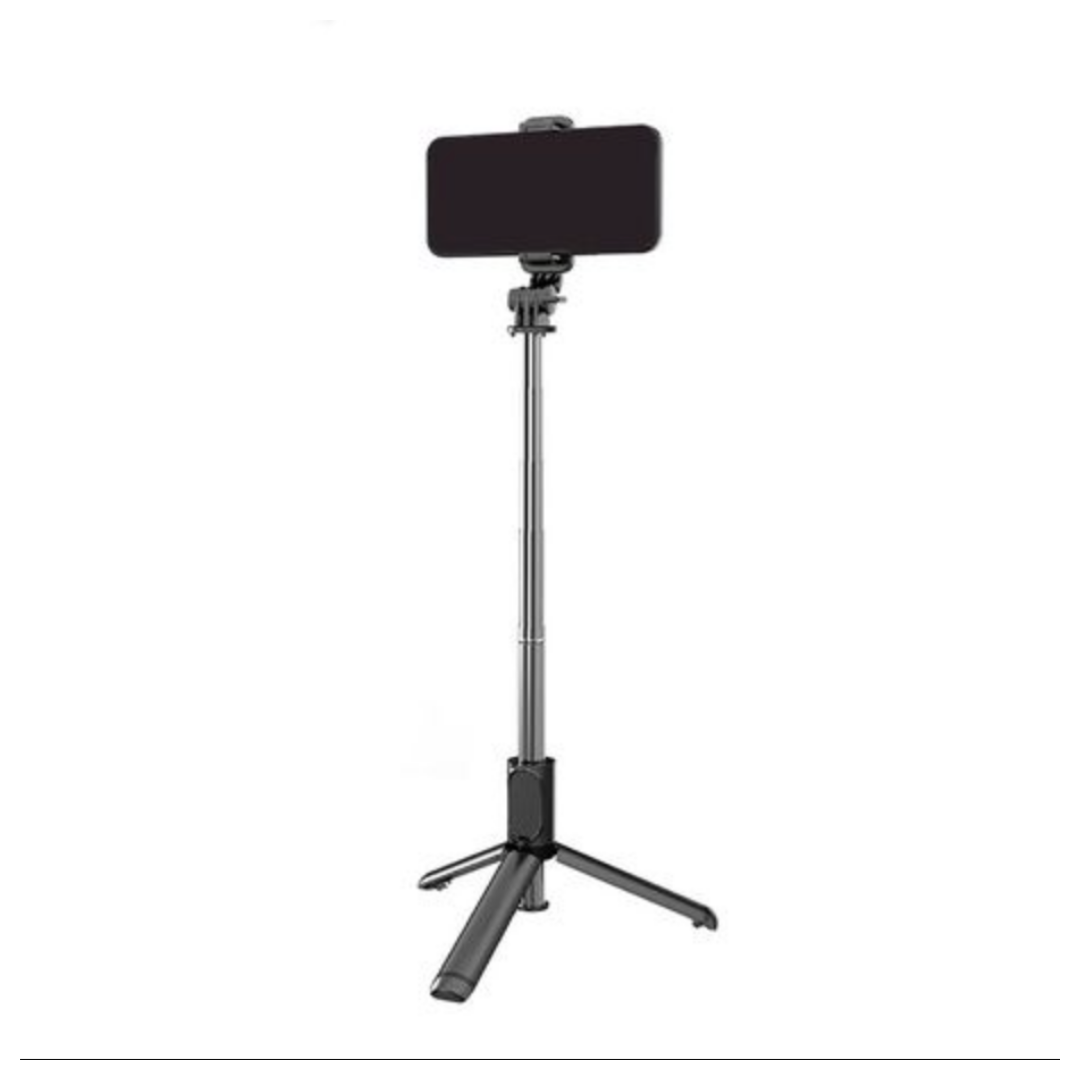 ---
Get an Attachment for Your Smart Phone
If you have a tripod for a DSLR camera, you don't need to buy a second one for your smartphone.
All you need is a cellphone attachment.
I use the LASA Tripod Phone Mount Holder Screw Rotatable Bracket. It makes it easy for me to switch between my different cameras and get the shots no matter where I am.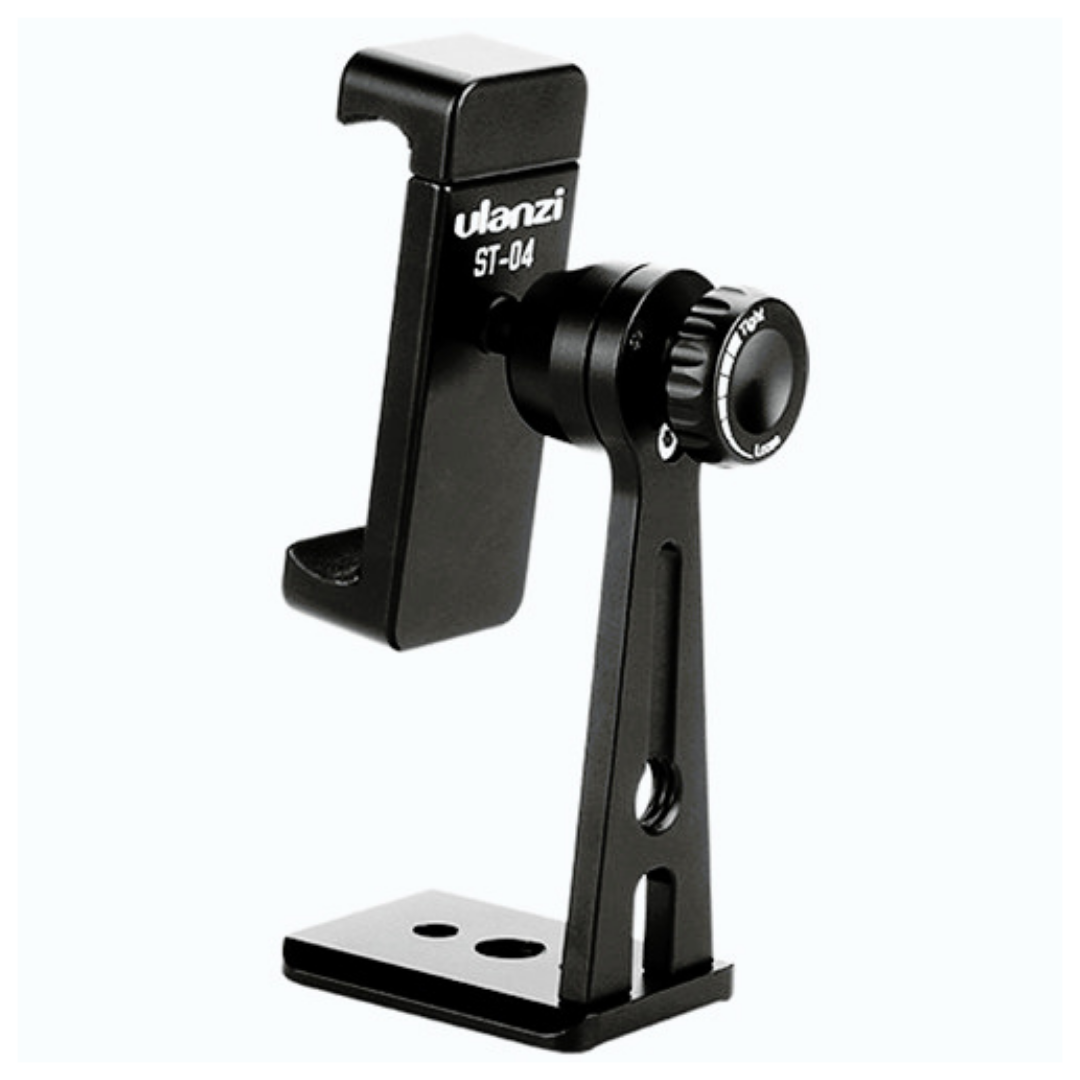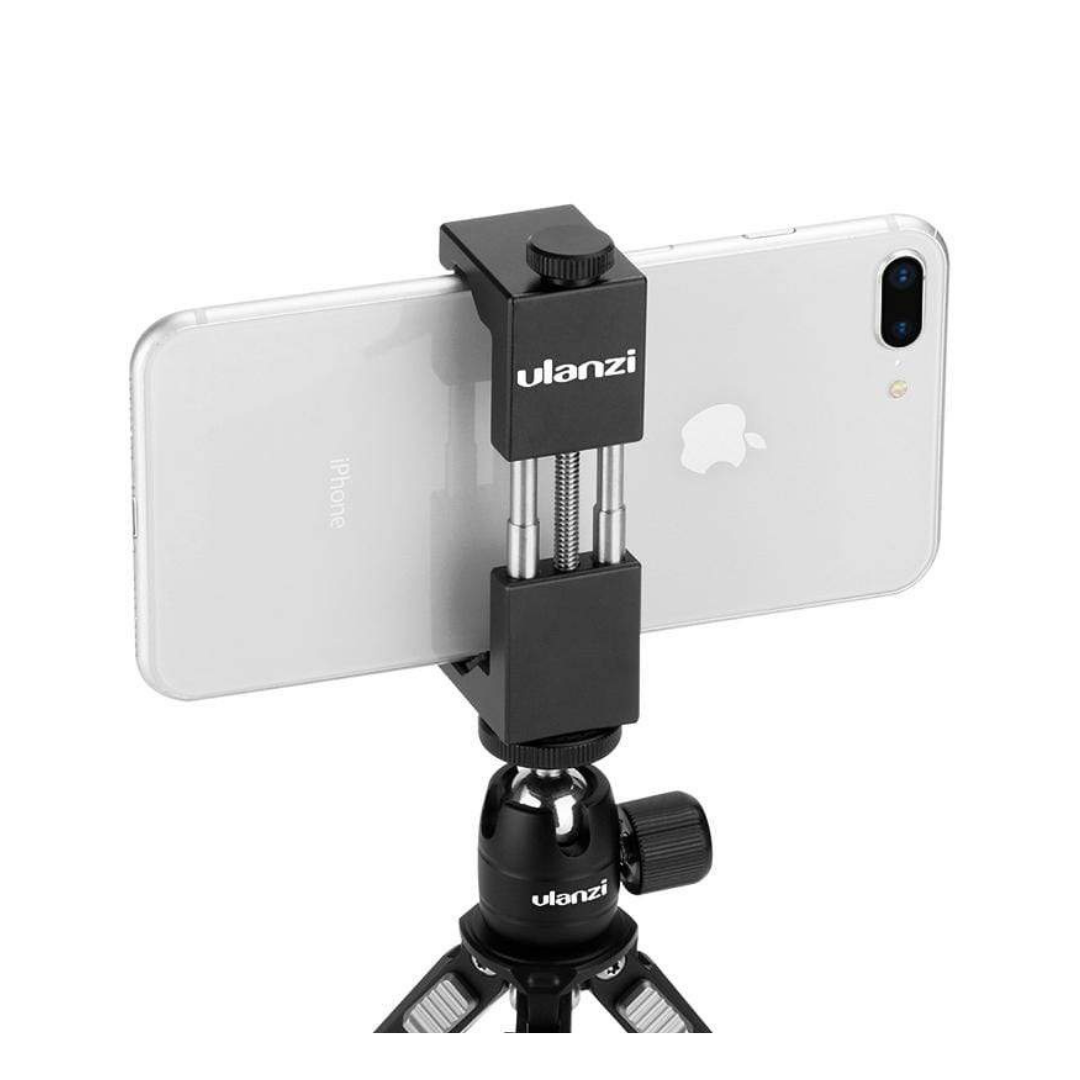 ---
Buy a Remote Bluetooth Shutter
Do you know what's a workout?
Setting up a timer and running into the frame for every. single. photo.
It's time-consuming, and it takes you out of the zone.
One of the best investments I made was buying a remote Bluetooth shutter for my DLSR and iPhone.
I use the Photographic Wireless Remote Control for Canon DSLR Cameras and this smartphone Remote Shutter.
Tip: If you don't use a Canon, search [camera brand name] + remote shutter on Takealot. But before adding it to your cart, double-check it supports your camera make!
Here are some photos I've taken with my remote shutter. You can easily hide the remote by cupping it, holding it behind your back, or concealing it in a pocket.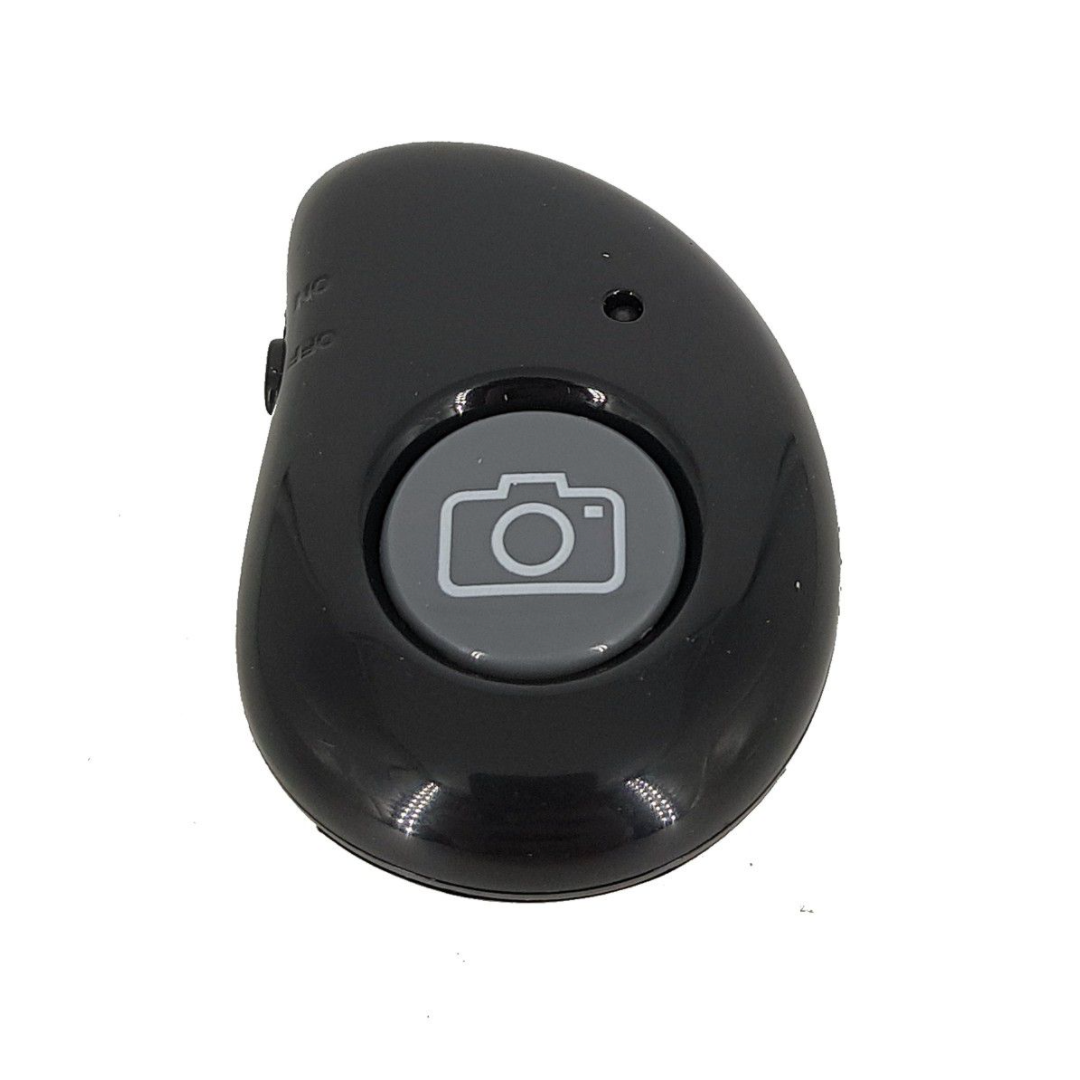 ---
Download the Camera App for Your DSLR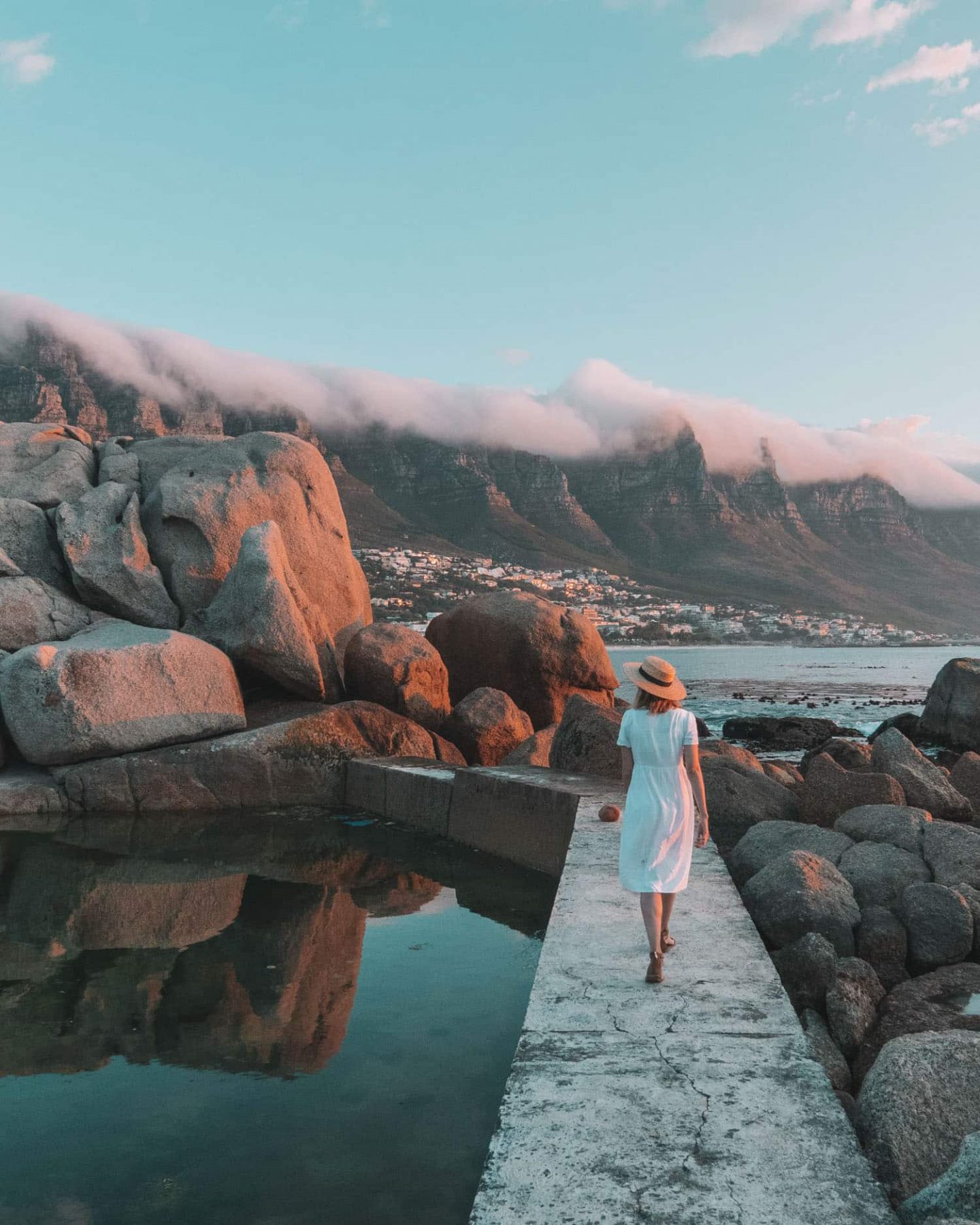 Does your DSLR have a WiFi feature?
Then there's a good chance your camera brand has an app you can use, which WILL change your life.
Do you find yourself getting frustrated with setting up a shot? Maybe it's figuring out how far or close to stand from the camera or if you need to change the angle.
Are your photos out of focus? Maybe your DLSR keeps focusing on things in the foreground or background, and it's taking you too damn long to get the perfect shot.
The camera app will solve all your solo photography woes.
You can see in real-time what your camera sees and adjust your settings like:
Focus points
ISO
Aperture
Timer 
Here are some photos I've taken with my camera app. I usually hold the phone and angle my body so you can't see it, or I put it on the floor.
---
Buy an Intervalvalometer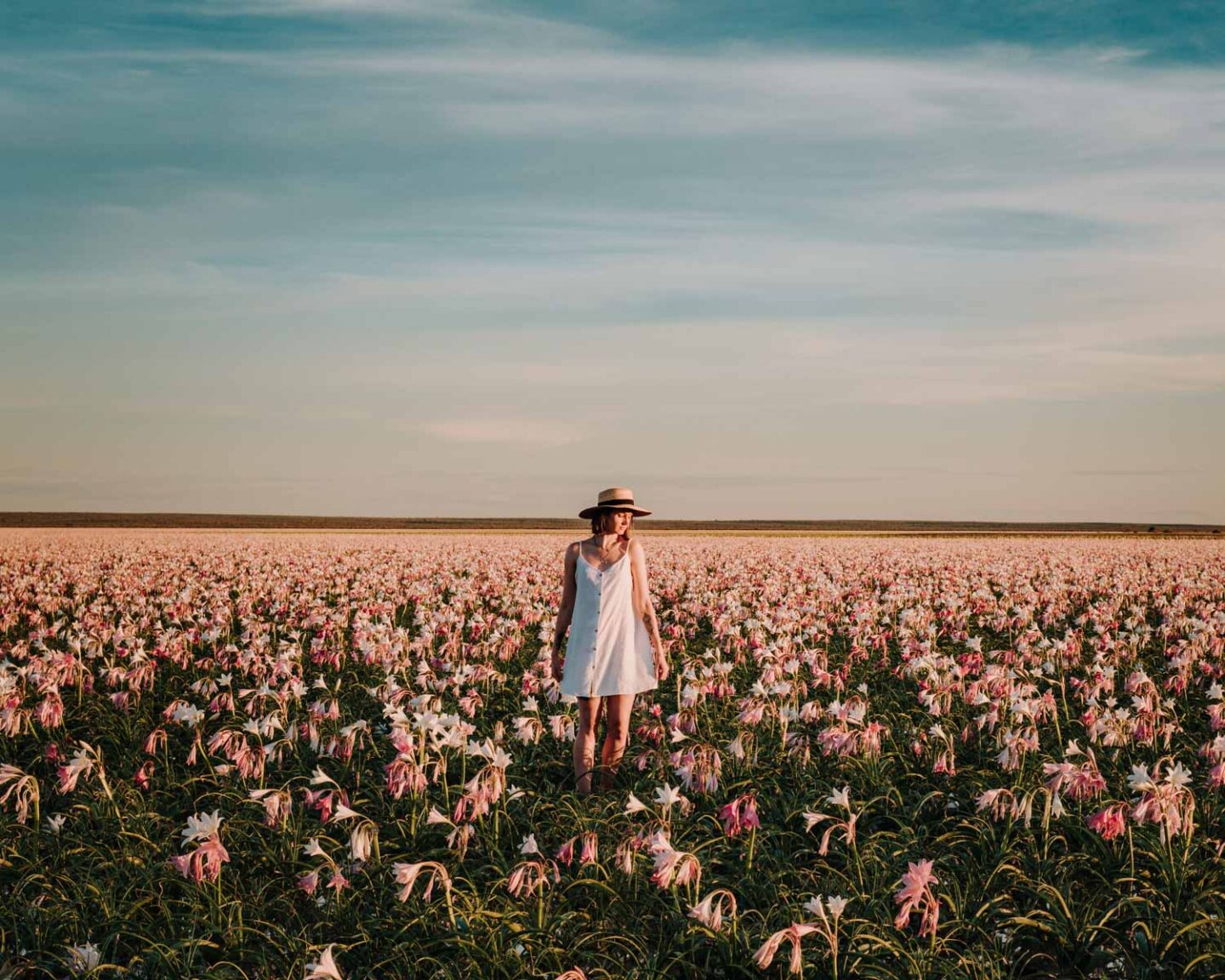 There are times when I've tried to take a photo of myself with the above methods, and it's FAILED.
Why?
I was too far away from the camera, and my phone or remote lost signal. 
As someone who lives for tiny humans in epic landscapes, I knew I needed to invest in an intervalometer.
…Errr a what now?
An intervalometer, also called an interval meter or interval timer, is a device that allows you to operate the shutter at regular intervals over a specific period.
As a solo traveller, you can set up your frame, adjust all your settings, and jump into the frame. Your camera will continue to take photos every 2 seconds, 10 seconds, or 60 seconds – it's up to you!
I love this because it lets you move around and capture a candid moment without having to remember to click a button or hide your remote. Plus, you can stand further away from the camera and get the shot.
Love taking photos of the stars? You can use your interval meter for time-lapse photography and create epic star trails!
Tip: Some cameras will have built-in interval timers. Check your camera model before deciding to invest in another gadget.
---
Start Shooting on Continuous Self-Timer
Shooting on continuous mode is a game-changer.
If you're someone like me who loves movement in your photos, this feature will help you capture that perfect candid moment.
So what is it?
It's a setting on your phone or DSLR camera that will give you 2 to 10 seconds to run into the frame and then shoot 3+ rapid-fire pictures in a row.
Basically, it's the equivalent of burst mode WITHOUT finding someone to tap the shutter button on your phone furiously.
The only downside?
You may need to run back and forth between your camera.
Here are some photos I've taken with self-timer continuous: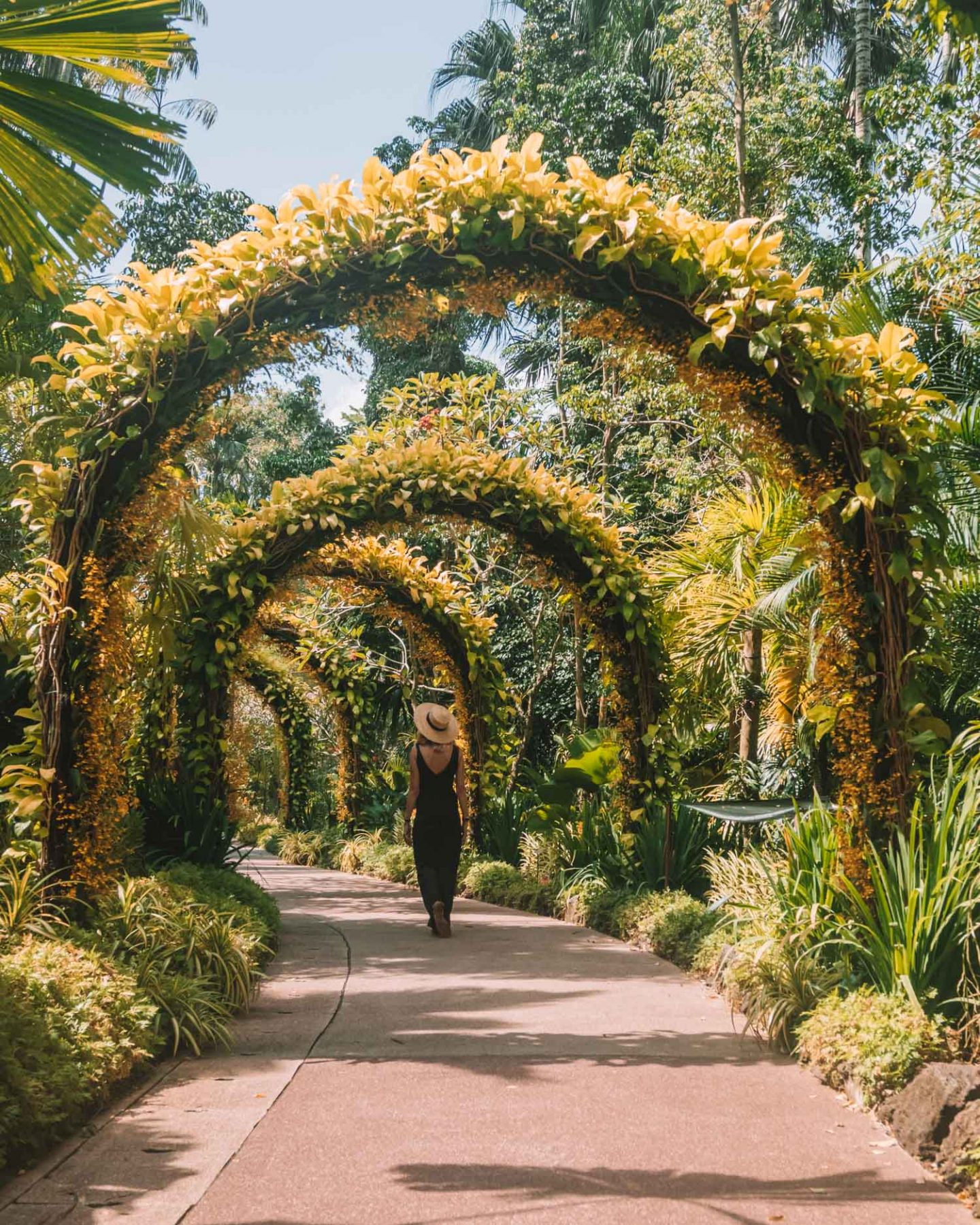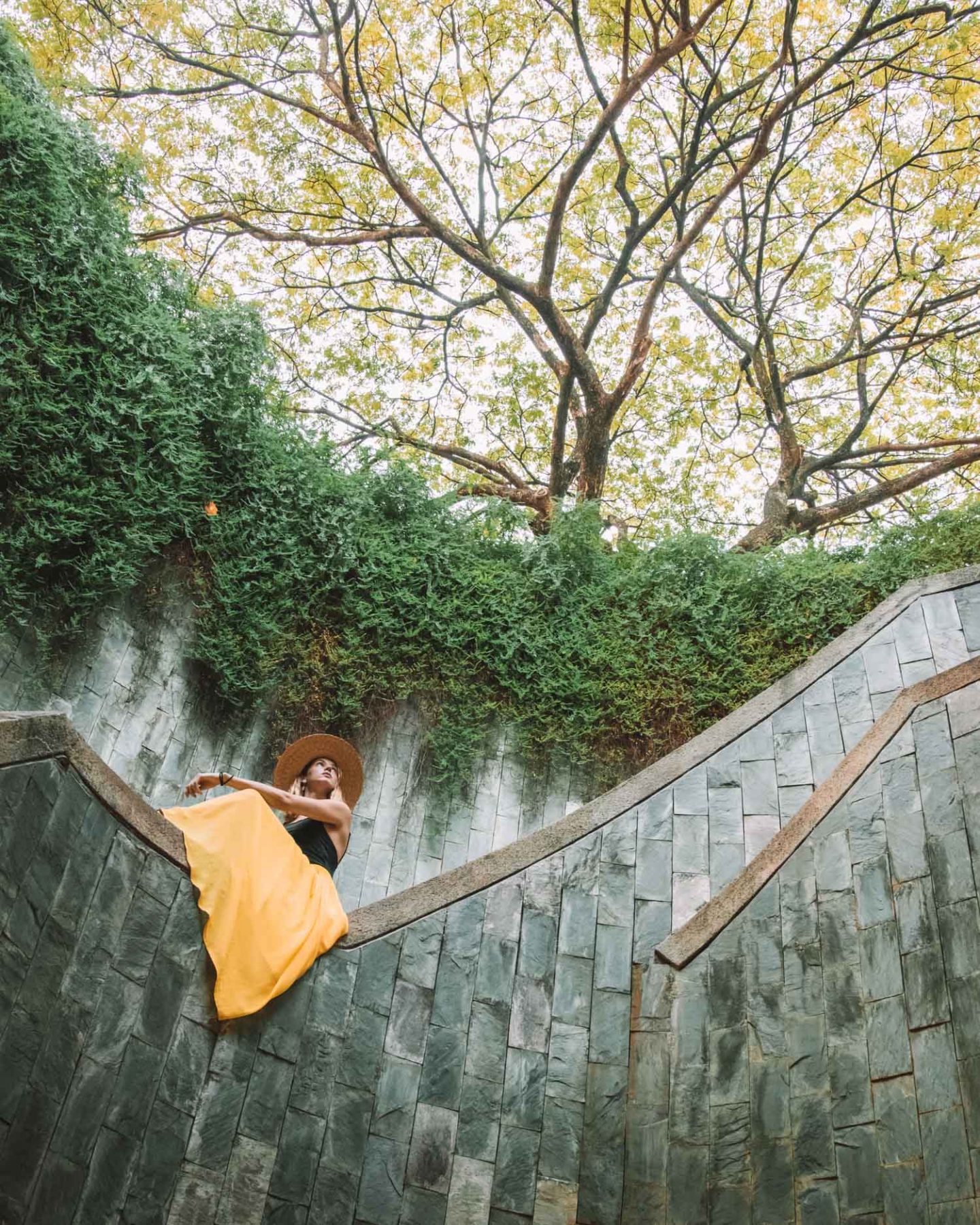 ---
Shoot on 4k Video & Take Screenshots
One of the best tips for taking travel photos by yourself in public is to shoot on 4k video.
Why?
It gives you the freedom to move around and pose without worrying about remotes or timers.
You can let the video roll, and when you're done, grab screenshots.
And bonus! You have some rad video content for TikTok or Reels.
…But what about the photo quality?
Shooting in 4k means, you're getting the equivalent of 8.8 MP in each still frame (depending on the camera you use).
Now, if you're a pro photographer, that 8.8 MP file is probably not enough, but the rest of us? Most of our images are going up on Instagram, and you're not blowing them up for canvas prints.
Do you need a DSLR to shoot in 4k? Absolutely not! Most smartphones like the iPhone 12 pro let you toggle between 4k and HD video quality.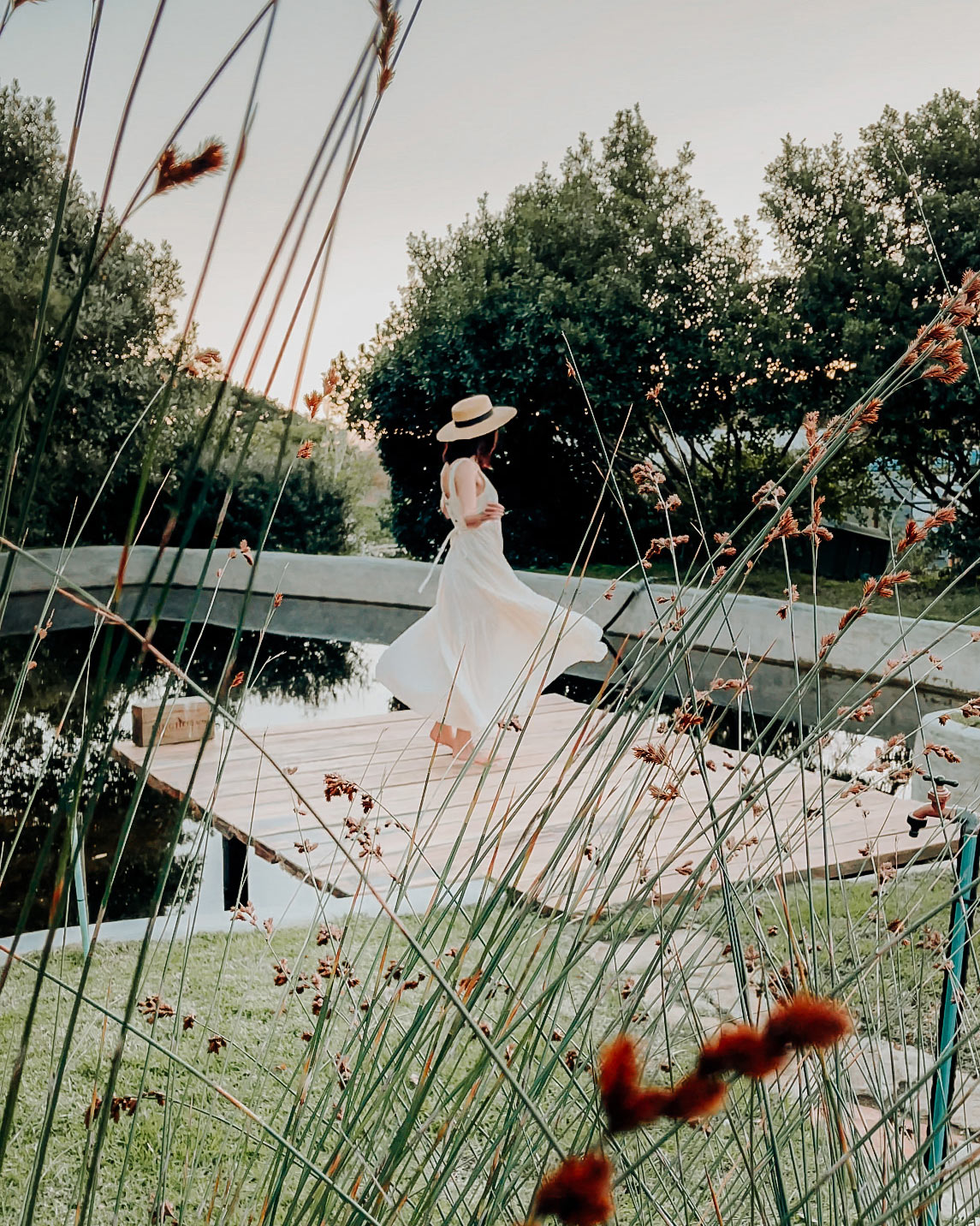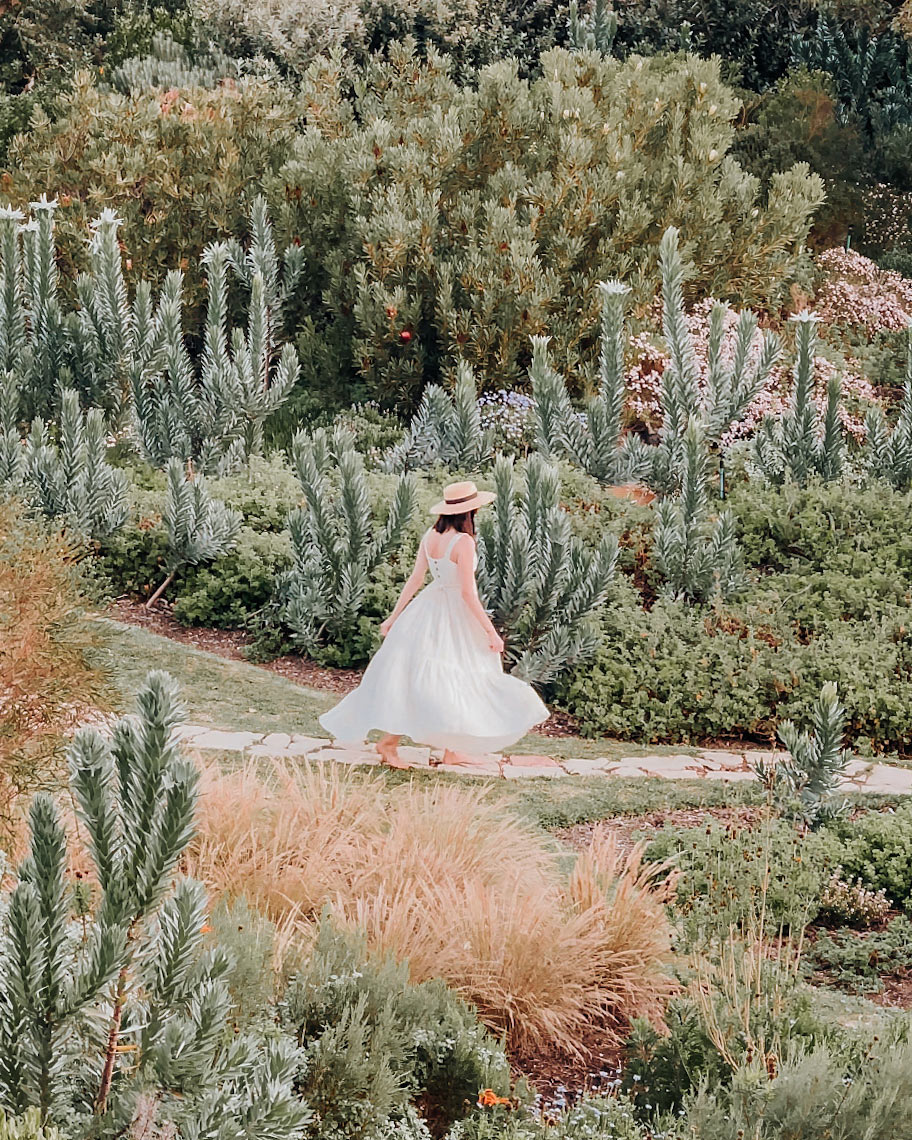 ---
How to Get Epic Travel Photos From Strangers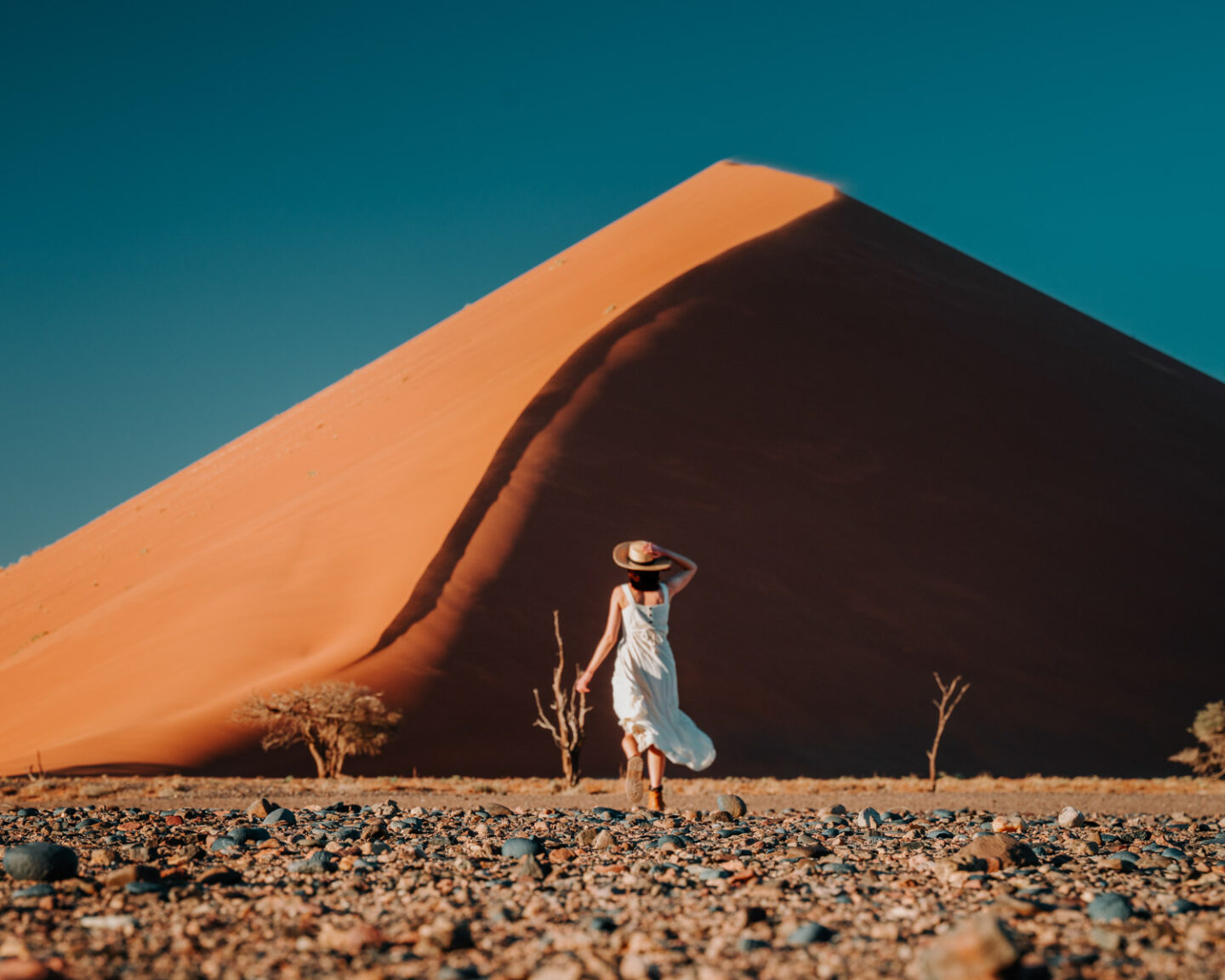 Sometimes you might need to ask a stranger to take a photo of you, or maybe you're travelling with a friend or partner.
The only problem?
9/10, you're going to get a kak photo.
How do you solve this problem? With these three tips:
Use burst mode on your phone or high-speed continuous on your DSLR: This will allow you to move around while the shutter goes off. You'll get dozens of photos to choose from instead of one blurry image you hate.
Set up the shot beforehand: I usually take an example photo to show the person and leave the gridlines on. Then I use these lines to explain where I want to be in the frame.
Lay down the laws of the land: Before going into the frame, tell the person not to move your frame and not to zoom in or use any weird features like Portrait Mode. Zooming in reduces your image quality, and the Portrait Mode on phones usually ends up blurring something it shouldn't, and it looks fake.
---
Photography Tips for Solo Travellers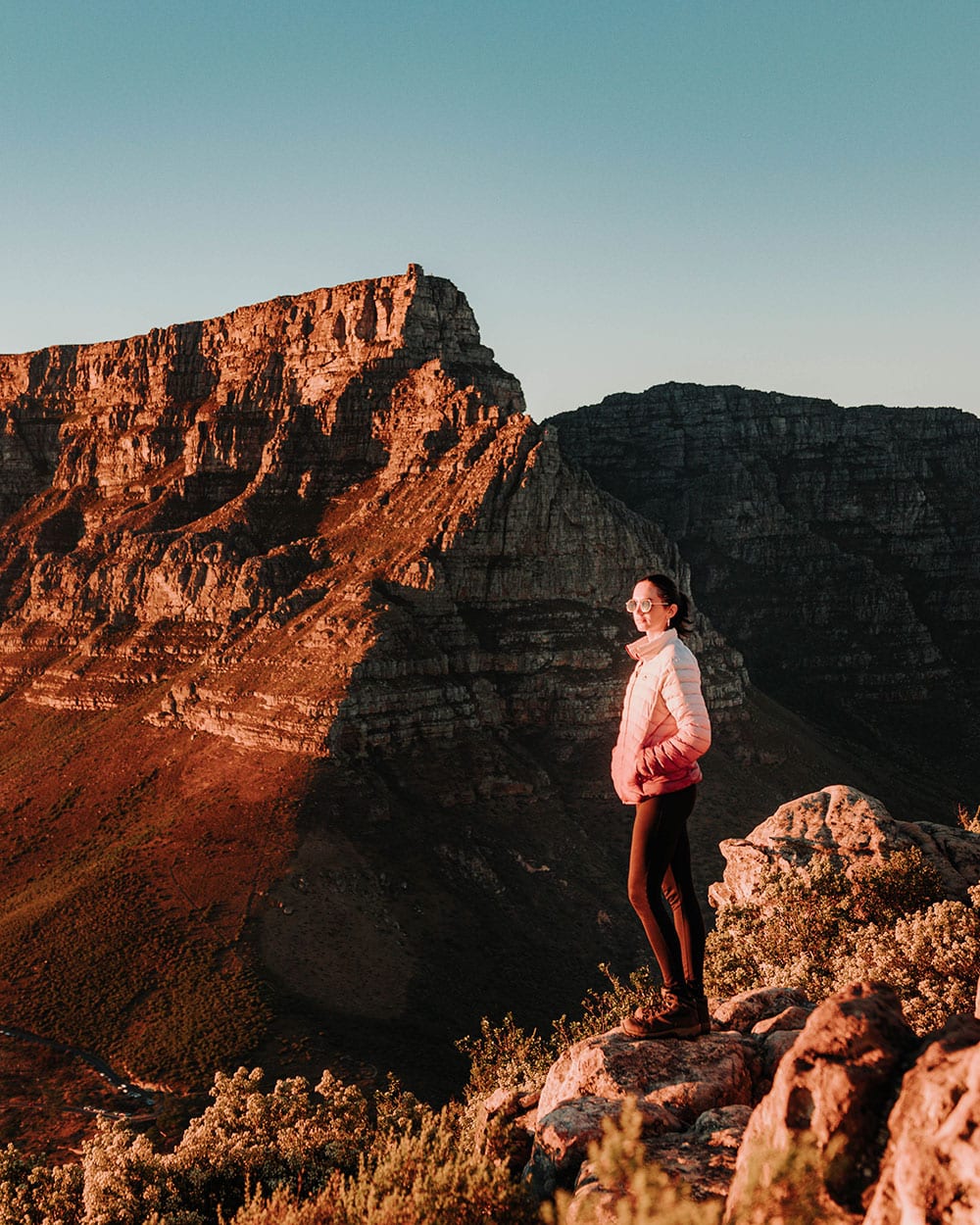 When you're learning how to take pictures when you travel alone, there are a few things you can do it nip fear and anxiety in the bud.
Go Early, Like Sunrise Early
If there's one thing that will quickly turn you into a morning person, it's photography. The more you do it, the more you're going to chase that good light, and nothing beats sunrise (sorry, sunset).
Besides the gorgeous soft light, no other humans are awake. You'll have some of the world's most beautiful natural wonders and tourist attractions all to yourself.
That deals a quick one, two punch to the horror of having people watch you take travel photos alone.
---
Shoot at Golden Hour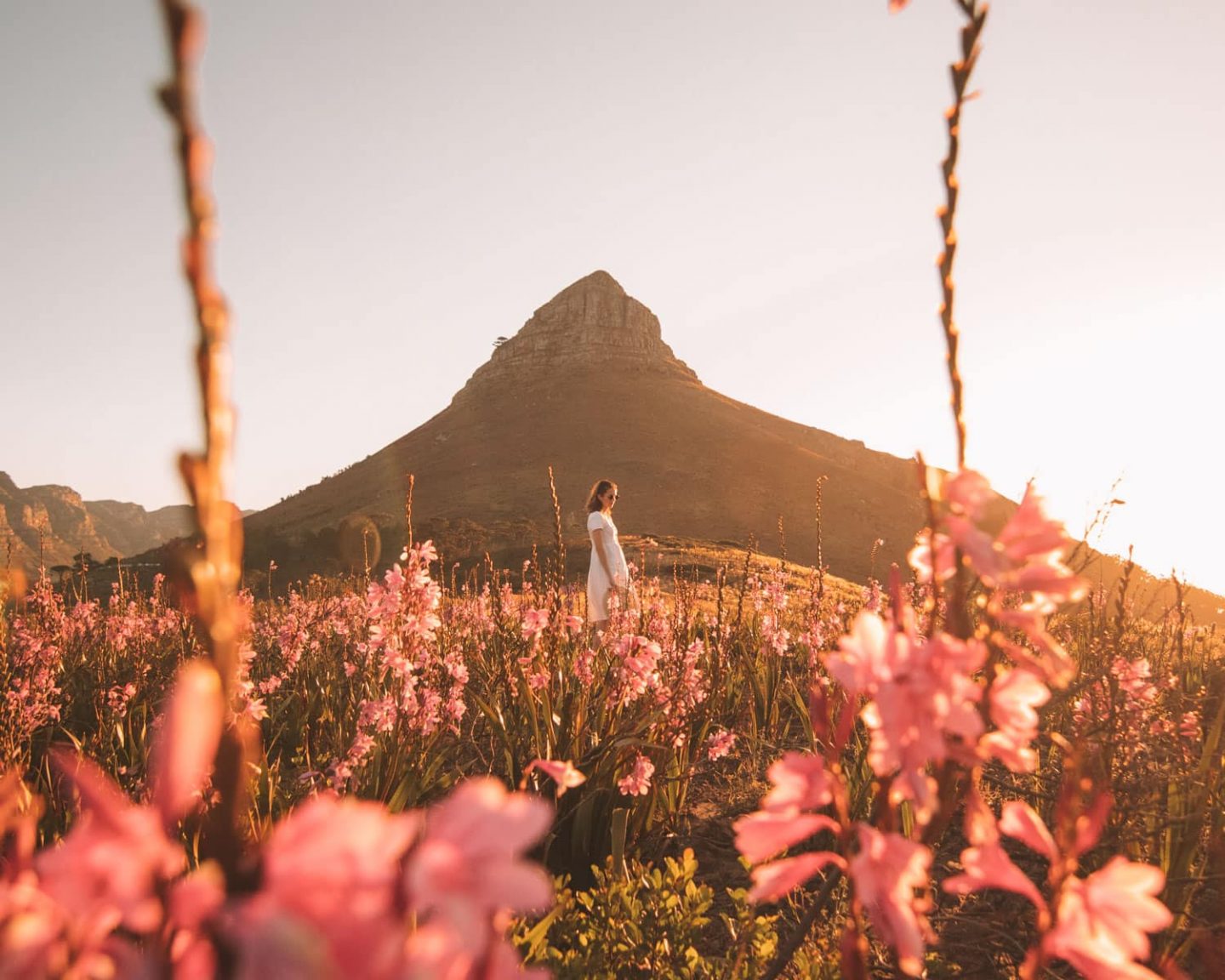 As I mentioned above, the best time for photos is between sunrise and sunset. 
An hour before the sun dips or comes over the horizon – the light is spectacular. This is known as golden hour, and I'll wake up at 4:00 every single day for it.
If you're not sure when golden hour starts, download an app called Photo Pills. It is a paid app, but if you're starting to take travel photography seriously, it's well-worth the R200.00 investment.
The quiet morning hours are my favourite for two reasons:
Fewer photo bombers
I prefer the softer light to the more intense orange you get at sunset photo shoot
---
Research Locations for Photos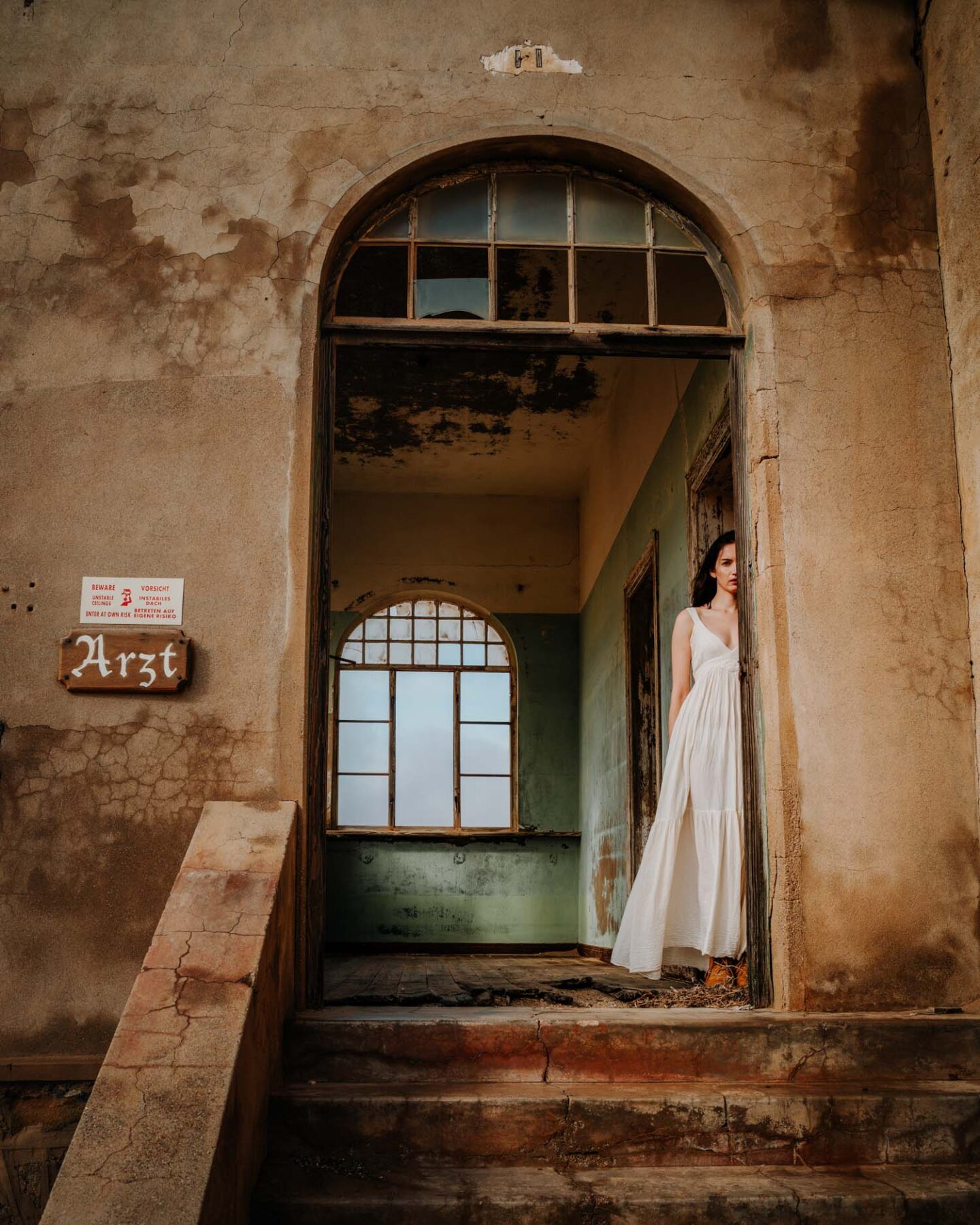 Before I go to a new destination, I spend a good chunk of time collecting reference shots.
Why go through this effort? It eliminates "I don't know what the f**k I'm doing" syndrome.
You'll know exactly what to expect from the location, what angles you like and what poses you want to try out.
I collect reference photos on Pinterest and in a folder on Instagram. The night before, I'll screenshot or download my favourites onto my phone in case I don't have data or signal at any of the photo locations.
---
Practice Your Posing At Home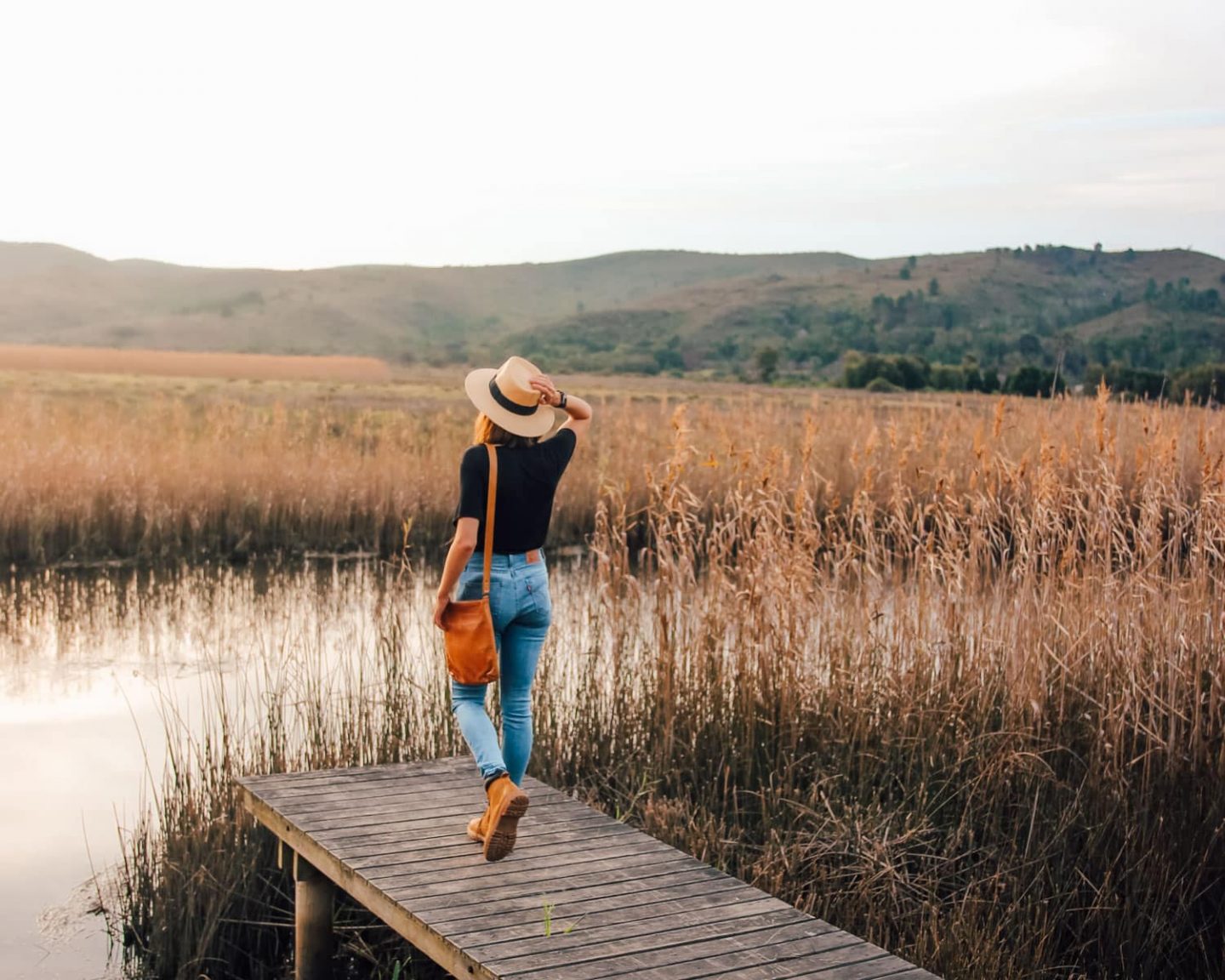 Dust off your smartphone or DSLR and have a mini photoshoot at home. Figure out what poses flatter your body the best and what movements you like in your pictures.
When it comes to shooting in the real world, you'll have a posing bank to draw from, and you'll avoid the trap of "I don't know what to do with my hands!"
If you look at my Instagram, you'll see that I reuse the same poses all the time. I have no shame in that. I like what I like, and no one expects me to drop a pose like Kendall Jenner.
---
Use Movement in Your Photos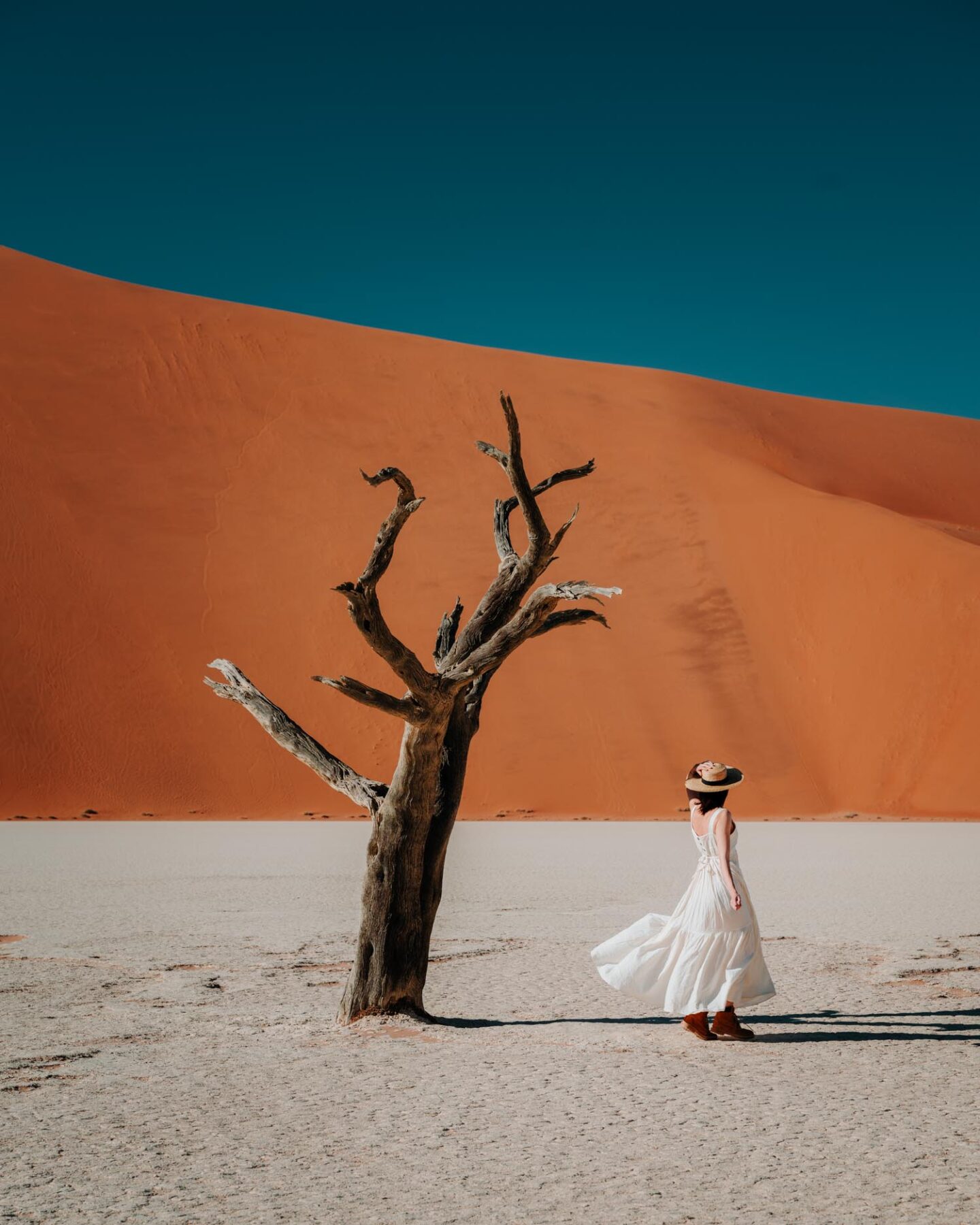 Adding movement to your photos does two things:
It makes your photo more visually appealing.
It creates beautiful candid shots (and takes the stress out of posing).
I still feel like an awkward potato in m photos unless I'm moving around. It's where I am most comfortable because I'm in the moment and not hyper-focused on what my face looks like.
---
Safety Tips for Taking Solo Travel Photos
Before you set up your camera and run into frame, here are some things to keep in mind to make sure you (and your belongings) stay out of harm's way.
Keep your valuables nearby: Don't leave your bag or jacket unattended with your passport, credit card and money. Use it as a prop or keep it out of frame without breaking your line of sight.
Listen to your spidey senses: If you're getting the "ick" feeling from being in a quiet area or the people around you – leave. Trust your intuition. A photo is never worth your safety.
Stay close to your camera: I'm usually only a few steps away from my tripod. Using a wide-angle lens helps me capture more of the screen without having to leave my camera far behind.
---
The Most Important Thing for Solo Travel Photos? Have Fun!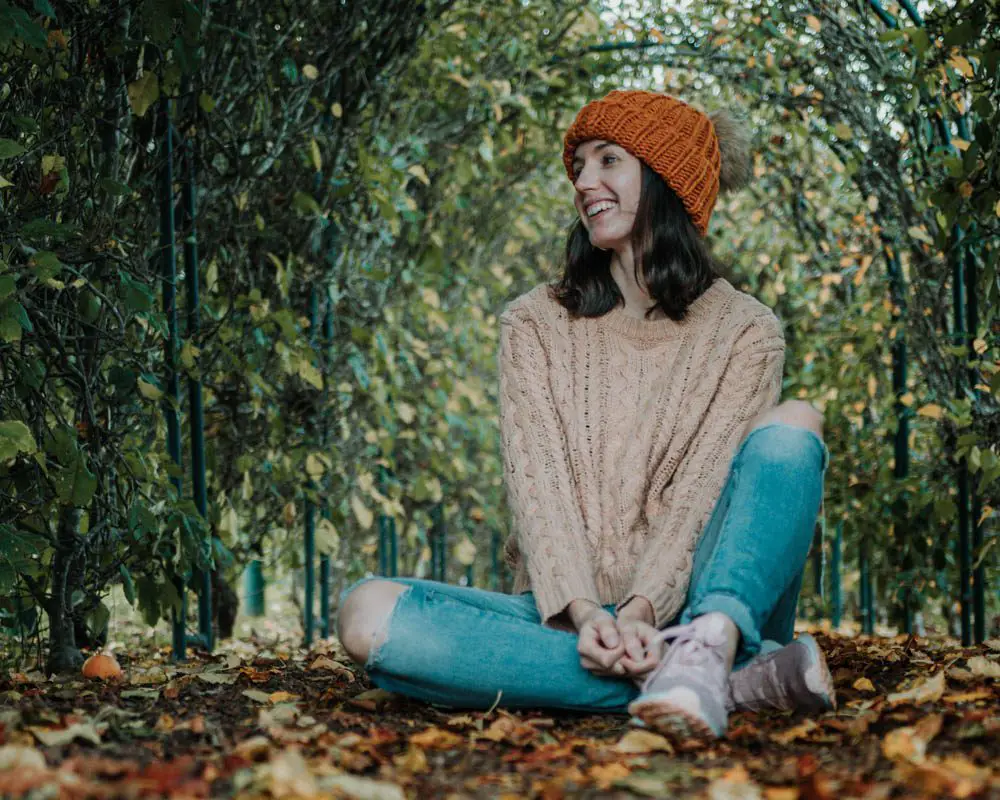 Seriously, your photos will come out 10x better if you're genuinely having fun. 
We can all pick up on stiff body language and forced smiles.
Let go and enjoy the moment. Emote the emotions you're feeling at the destination, whether it's excitement, bewilderment, or amazement.
I continuously work on this because I'm someone who lives in my head…a lot. It holds me back, and it's not a pattern I like to reward.
Remember, solo travel is fun. Keeping that mind brings me back to the present moment, and I always end up liking those images way more than the ones I'm trying really hard.
---
How to Take Travel Photos Alone: Solo Travel Photography Poses
Need some pose ideas for your next trip? Here are some tried and true tips that are easy to do and instantly make taking photos alone easier.
Try The Classic Back-to-Camera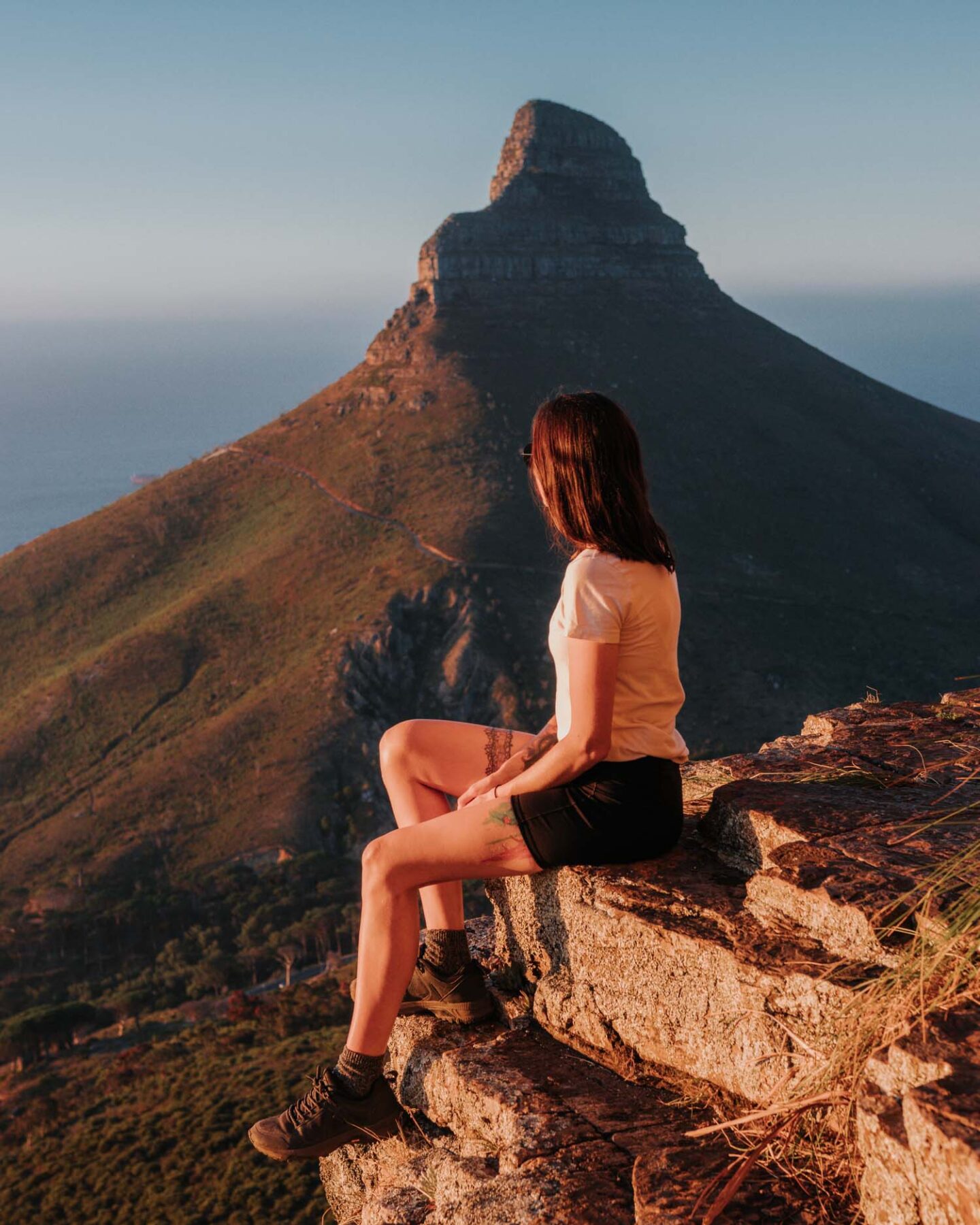 This is my all-time favourite pose. As someone with a lot of social anxiety, I feel the most comfortable looking away from the camera.
Try running away from the camera, looking to the side, or twirling on the spot.
---
Use a Prop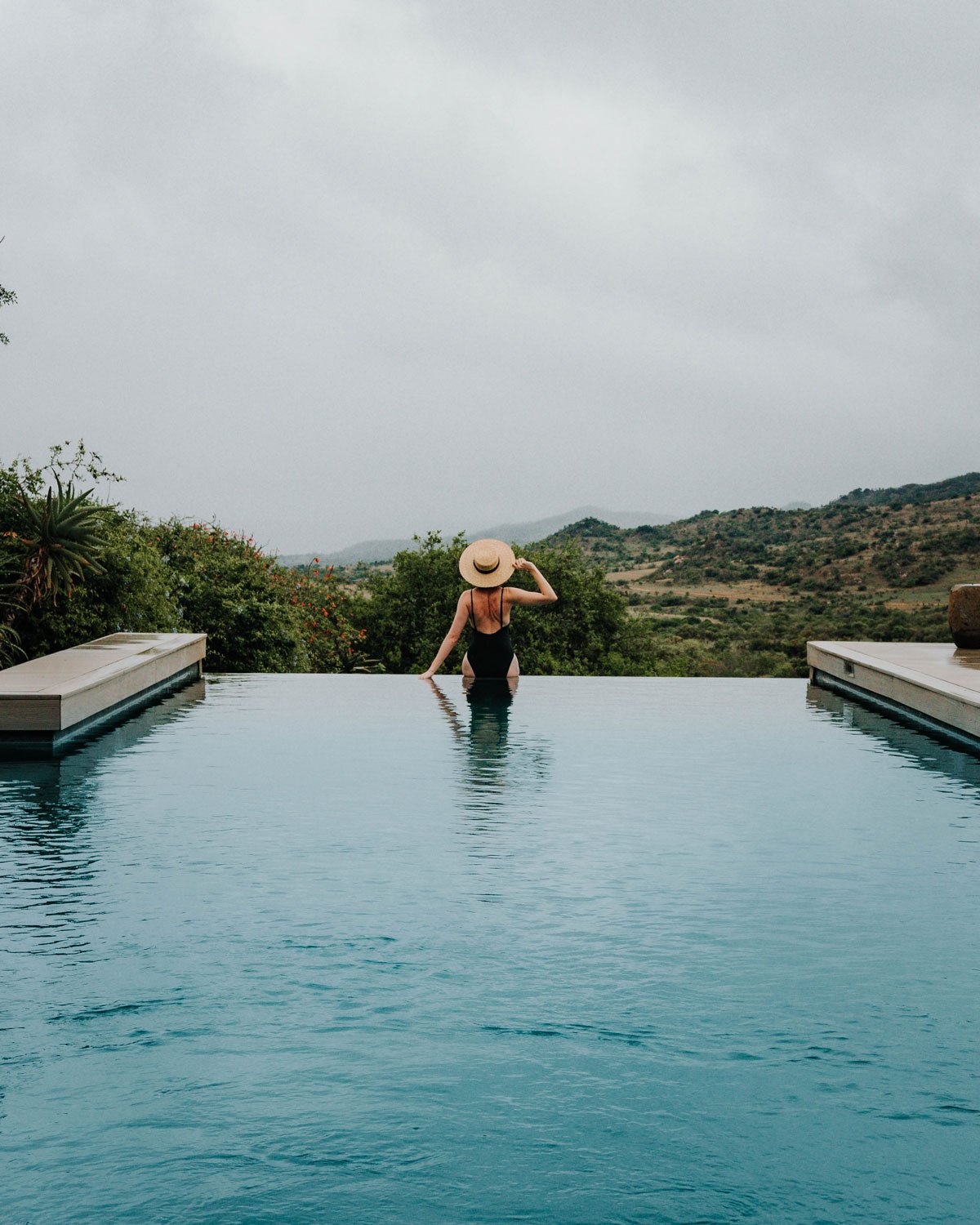 If you're a victim of the "OMG, I have hands! Now what?" pandemic, always bring a prop. It will give you something to hold or play with and take your mind off your hands doing weird things.
My go-to is a hat or playing with a flowy dress.
---
Make Triangles With Your Body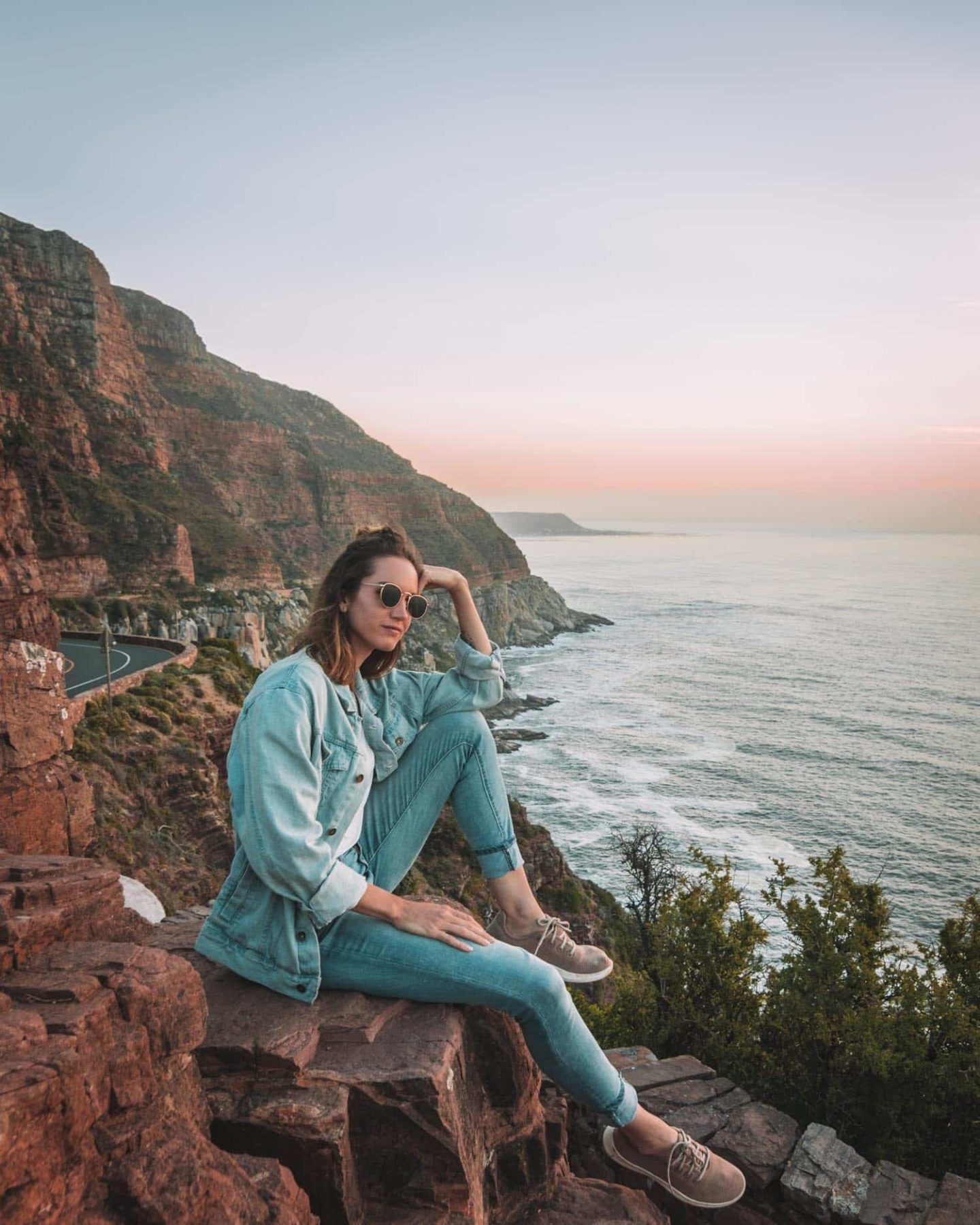 Want to *instantly* improve your posing as a solo traveller? Create triangles with your body.
Seriously.
Making shapes with your body elevates your photos, and you'll effortlessly look like a fancy model.
---
Editing Your Solo Travel Photography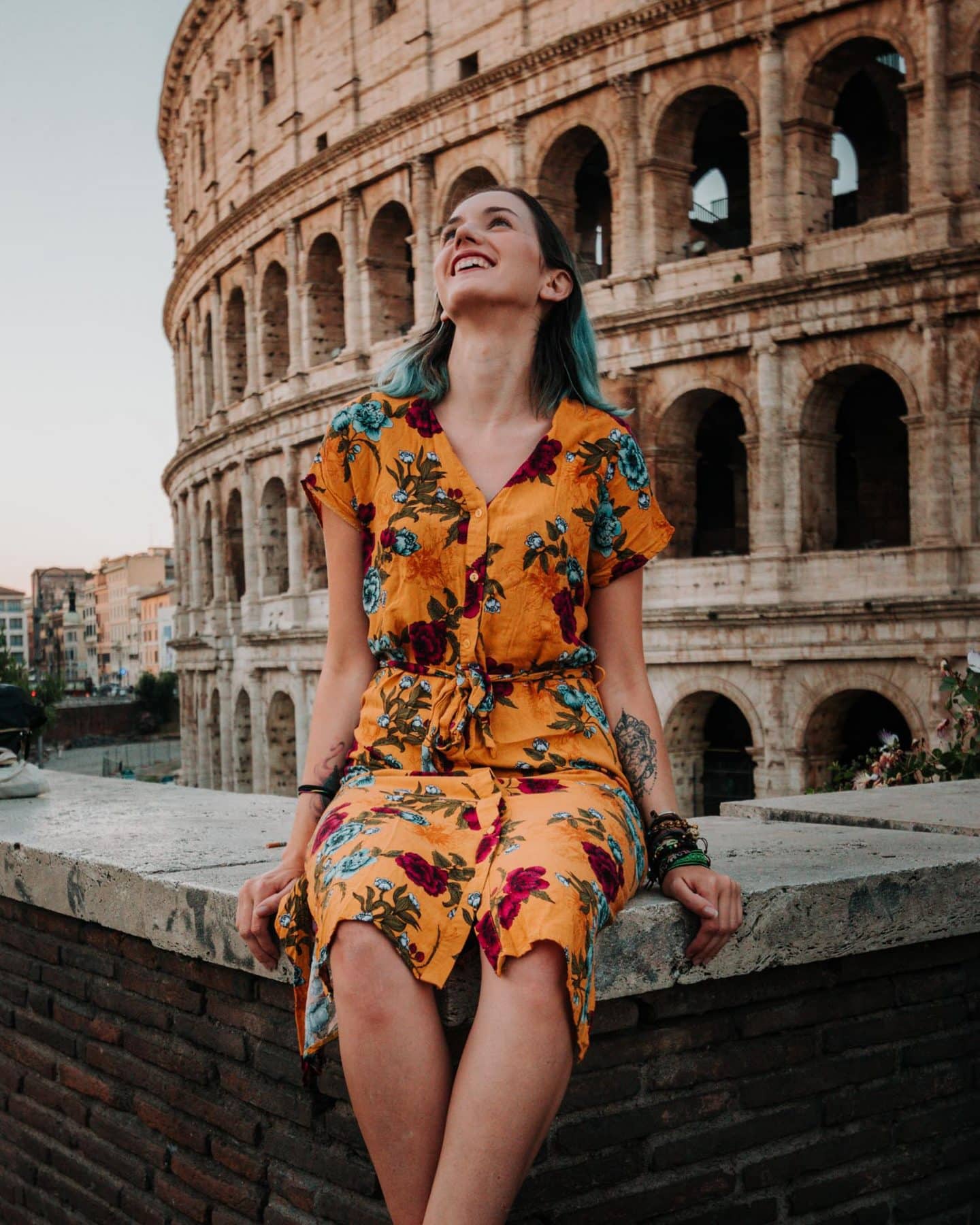 Now that you know how to take amazing travel photos, let's discuss the final and most important step: EDITING!
This is where the magic happens.
With a dash of adjusting your exposure, a sprinkle of raising your shadows, and a seasoning of a preset, you can take almost any photo from drab to fab.
My go-to editing app for my photos is Adobe Lightroom. I have the desktop version and mobile app and use photo editing preset packs to colour-grade my images.
Adobe Lightroom Mobile is free to download, but the desktop app does require a monthly subscription. However, you don't need the desktop app unless you want more control over your edits.
Some other editing options:
---
Taking Photos When Travelling Alone: Final Thoughts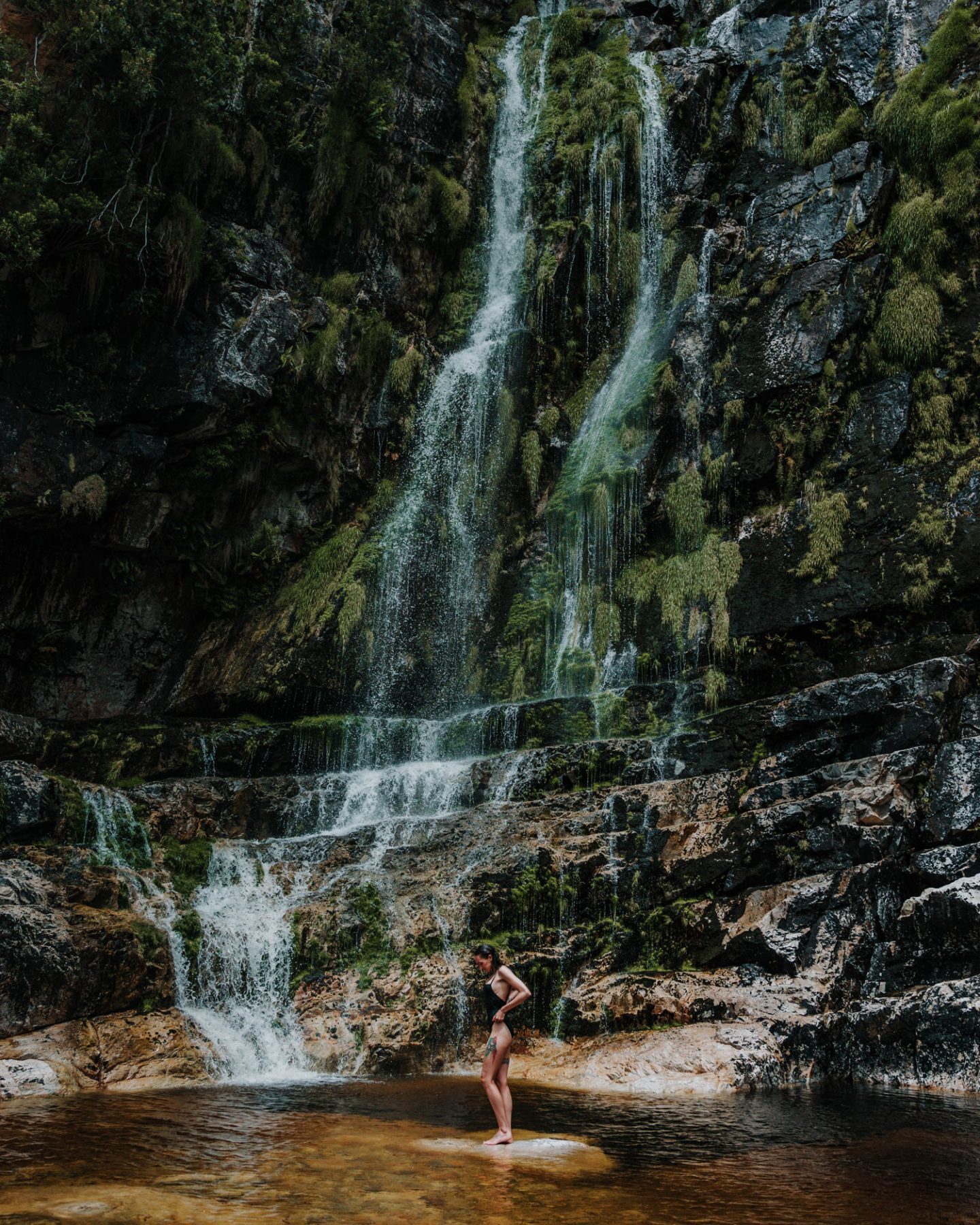 Whew!
There you have it.
All the solo travel photography tips I've picked up over the years while travelling the world.
Hopefully, you feel more confident and prepared to go out into the world and snap your dream travel photos WITHOUT having to always rely on an Insta Husband.
Got more questions about how to take travel photos of yourself or the best camera for solo travel? Did I leave out any good solo photography ideas? Hit ya gurl up in the comments and let me know! 
---
If you like it, then you better put a pin on it