Last Updated on August 2, 2020 by lauren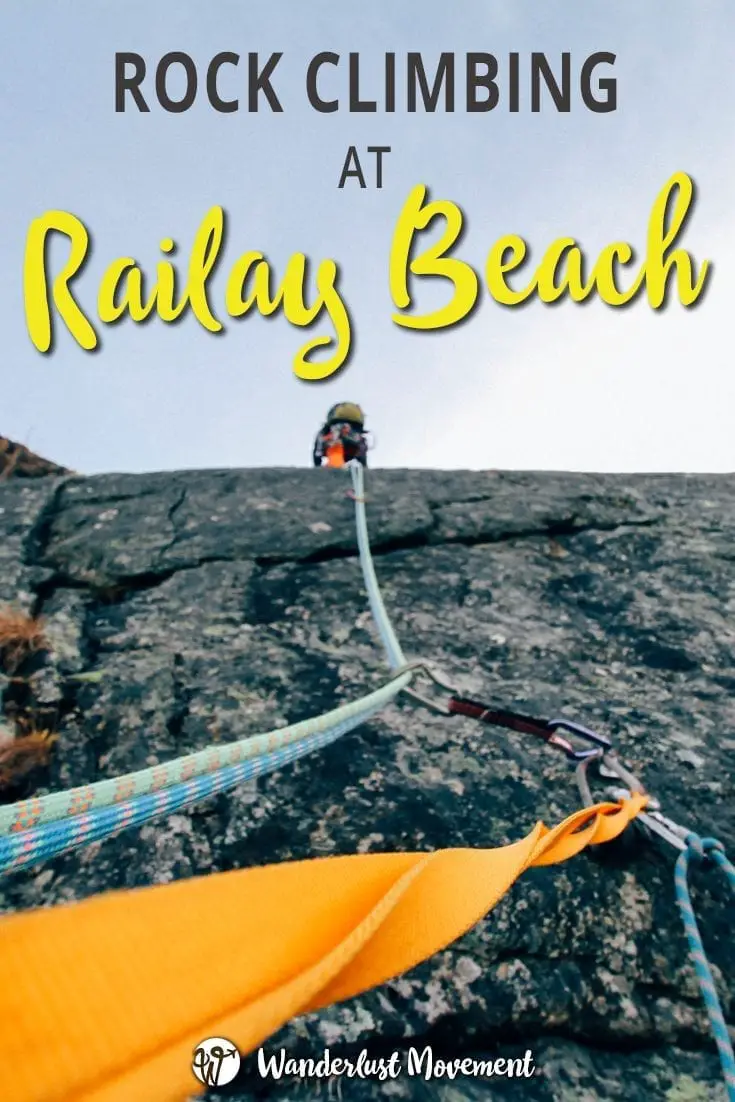 I've always been a fan of my feet being on the ground at all times. I attribute part of this to being an earth sign.
But since last year, I've been working on pushing past this fear by taking up a new sport: rock climbing.
I signed up for a membership at City Rock, and while the first few times had me clinging to the walls, refusing to let go and awkwardly trying to retrace my steps to get back down, I'm now climbing the same grade as my boyfriend.
But I had yet actually to climb any REAL rock.
So when I found out I was going to Krabi for a week in March, I jumped at the opportunity to sign up for a course.
Now, I won't lie. I thought I was pretty bad ass in the gym. Before I left, I was smashing routes that my more experienced boyfriend couldn't do. I had an ego.
I felt super confident in my abilities right up until I started my first route and realised: "Oh shit. There are no colourful rocks to tell me where to go."
If you're thinking of going rock climbing in Railay, here's my experience and why you should do it! Even if you're a craven like me.
How Much Does Rock Climbing in Railay Cost?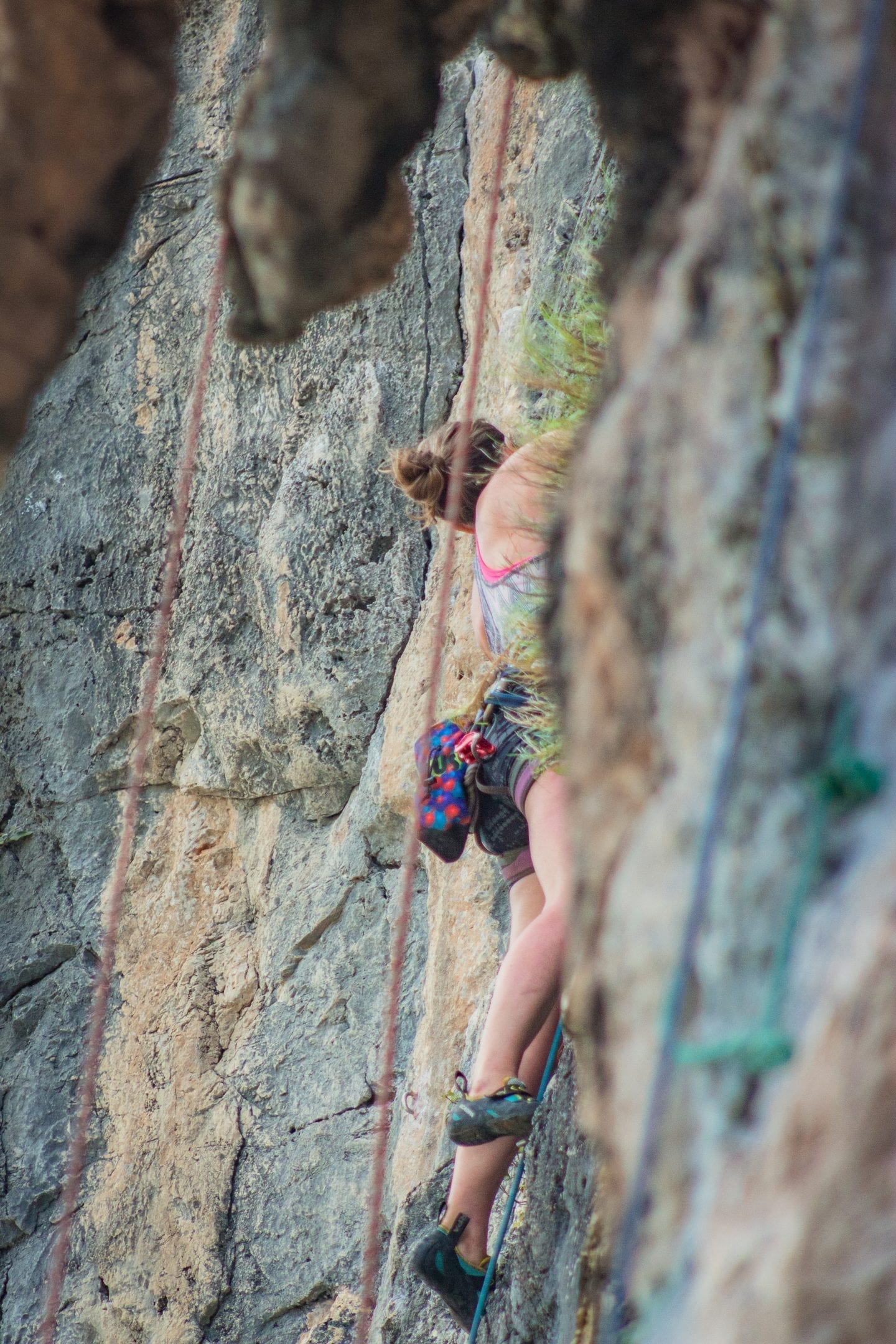 I booked my course with Krabi Rock Climbing. Located in Railay Beach, their offices are only a 5-minute walk from my hotel Rapala Rockwood Resort.
Full Day Tour:
Duration: 9:00 a.m. to 5:00 p.m.
Cost: THB 1,800 ( R700.00)
Includes: water, lunch, gear, insurance and the option to rappel from a cave.
Half Day Tour:
Duration: 09:00 a.m. to 1:00 p.m.
Cost: THB 1,000 ( R400.00)
Includes: water, lunch, gear and insurance.
If you don't want to share your guides attention with anyone else, you can also opt for private options for both tours. The half-day will cost THB 3,000 ( R1,180), and the full-day will set you back THB 4,500 (R 1,700)
I went with the full-day option because rock climbing is one of the best things to do in Railay and I wanted as much time as possible on the rock.
If you haven't done rock climbing before and you don't go to the gym a lot, I would recommend the half-day tour.
For experienced climbers, Krabi Rock Climbing offers more advanced courses such as:
Lead Climbing
Multi-Pitch Climbing
Deep Water Solo (I'd love to try this one next time!)
Beginner Railay Rock Climbing Routes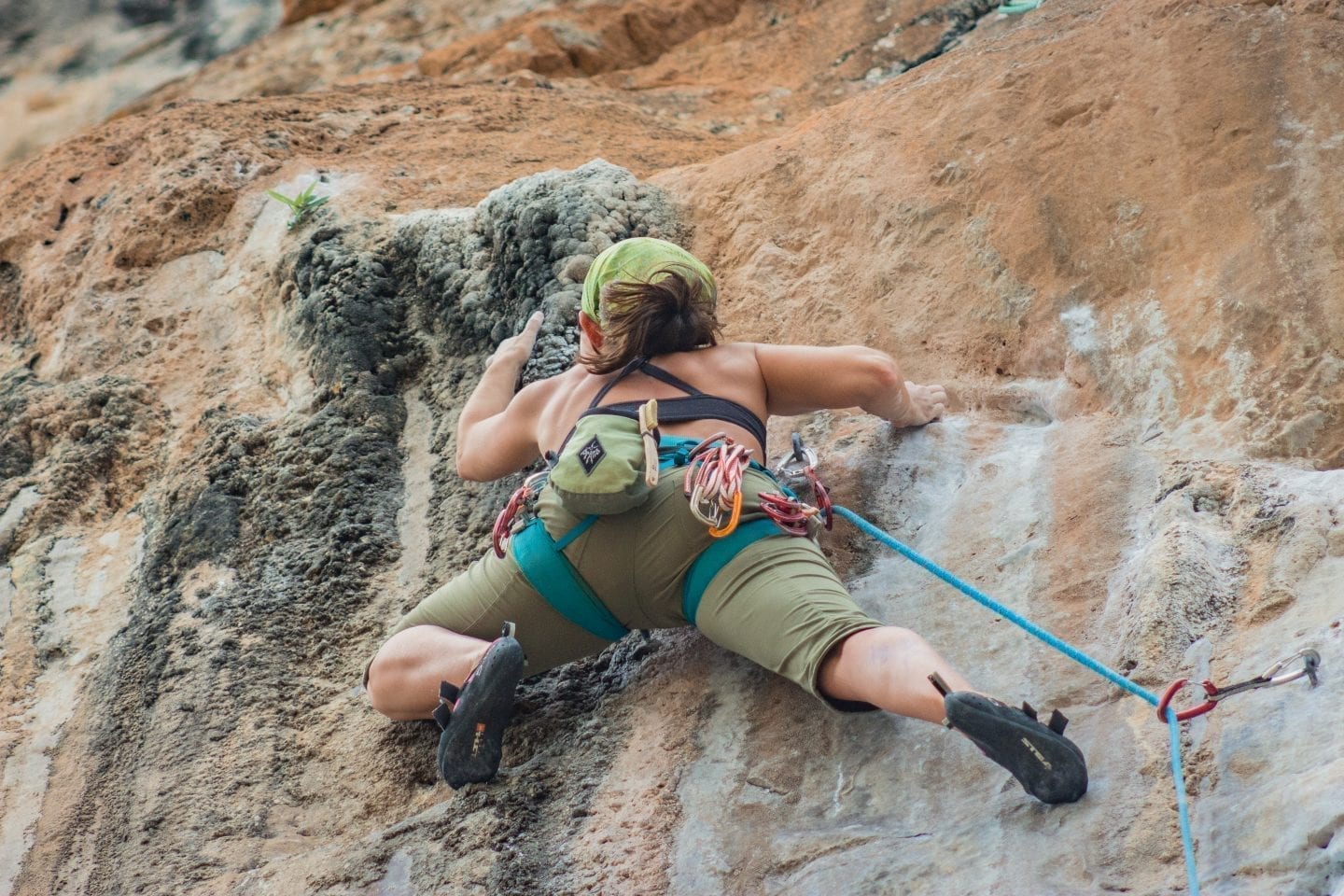 March is at the end of Thailand's high season, and Railay Beach wasn't that busy. In fact, I only had one other person join me for the morning climb. While the other schools did have more students, there was hardly any waiting time between the different routes.
1-2-3 Wall
The popular 1-2-3 Wall is perfect for beginners and intermediate climbers with stunning views of Railay's limestone cliffs and emerald waters.
I found the first few climbs to be challenging. Not because the routes were hard, but I had to get over all the mental blocks I had broken down in the gym. Being on actual rock and having to rely more on feeling for grips than seeing them was tough.
Luckily, my guide was always watching and would shout advice to help me find my footing.
There was only one route that I didn't complete. The last part involved going around some much smoother rock face and my fear kicked into overdrive. Instead of pushing past it, I found a ledge to take a photo from and signalled to come back down.
Once on the ground, I realised how close I was to finishing the climb. I felt like shit and promised myself that in the afternoon session I was going to do every single route no matter what.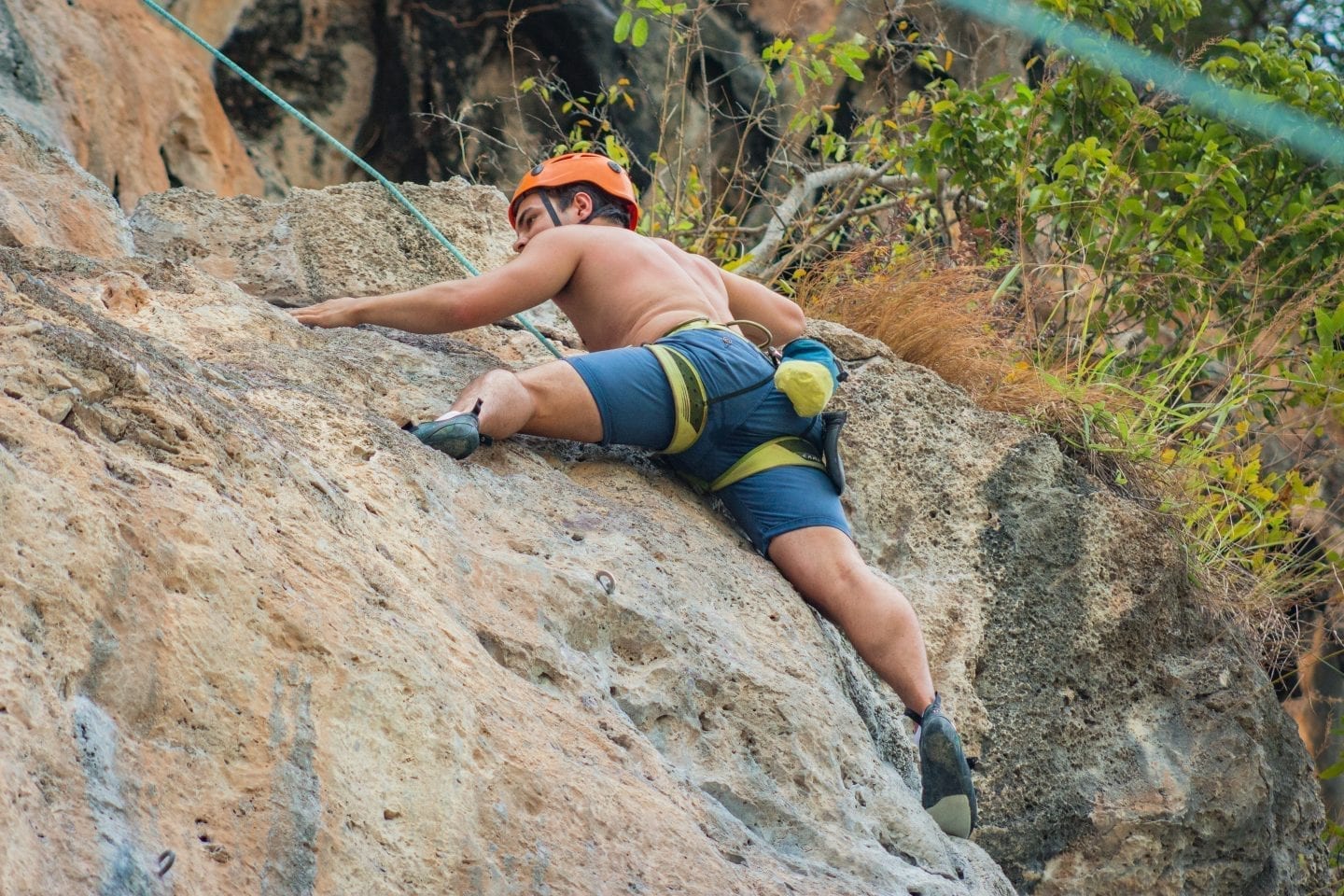 Good To Know
If you have your own gear, visit this route outside of 9:00 a.m. to 1:00 p.m. and 2:00 p.m. to 6:00 p.m. to avoid the rock climbing school crowds.
Diamond Cave Wall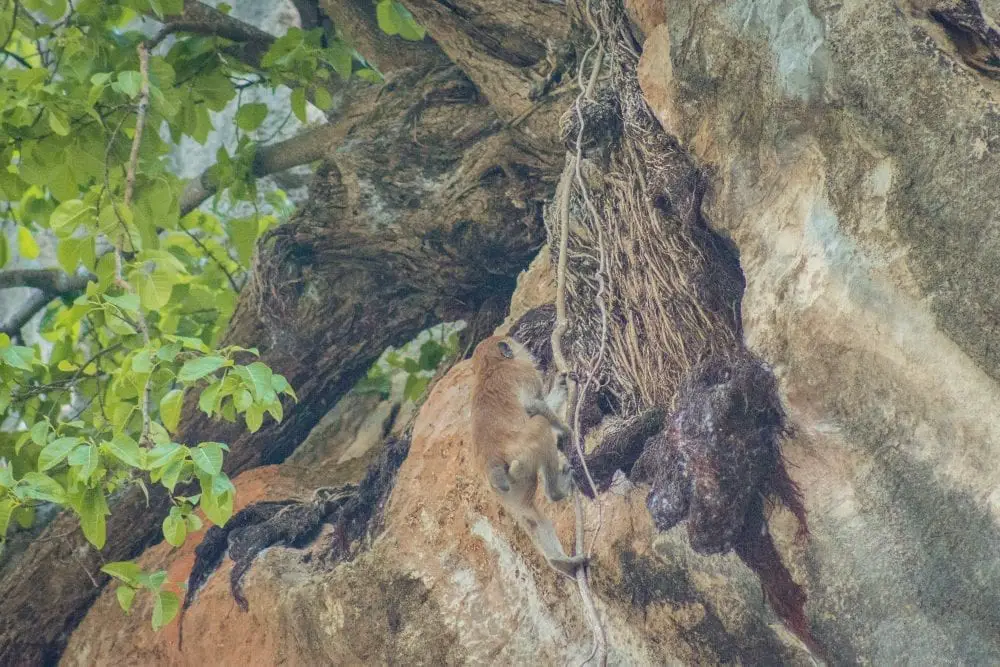 After lunch, we headed to another beginner and intermediate area. The Diamond Cave Wall has 15 routes with grades varying from 5 to 7a.
It's also home to a troop of monkeys that are more than happy to show off their climbing skills without any fancy equipment.
I was the only student for the afternoon session for the first couple of routes. We were then joined by two friends who were passing by and decided to sign up.
The climbs at this wall were by far my favourite. The views here were spectacular, the routes challenged me mentally and took me out of my comfort zone.
There were a few times when I got to the top of a route and had zero idea how I managed to get up there. I kept on wanting to throw in the towel and had to keep on pushing myself to take one more step.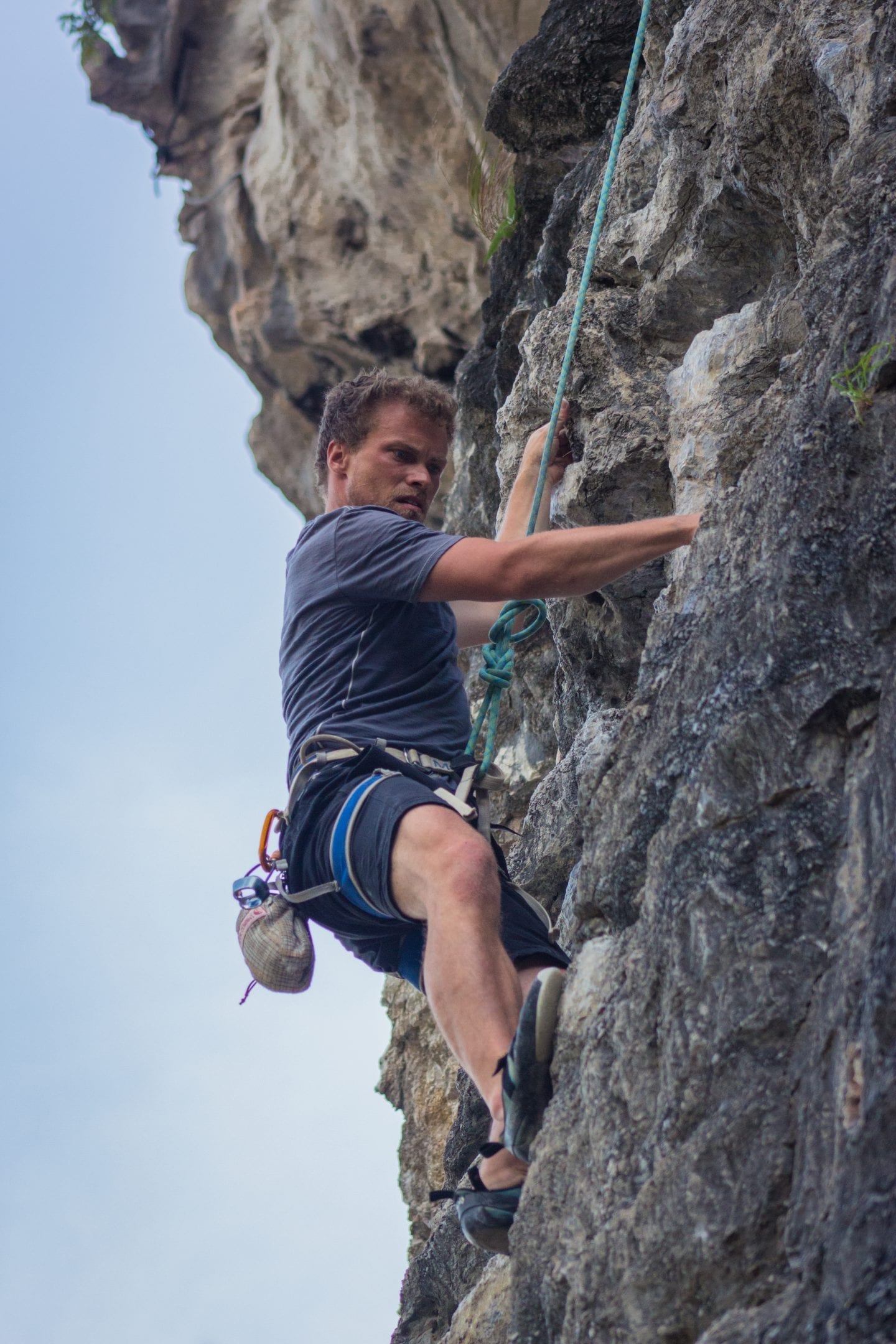 Good To Know
If you have your own gear, visit outside of the rock climbing schools hours. It will be less busy, and you won't have to wait for routes. But in general, the afternoons at Diamond Cave are a lot quieter than the mornings.
So Was Rock Climbing in Railay Worth it?
Hell yeah!

By the time we finished and started packing up, I realised I had managed to climb ten routes. It was one of those Opera aha moments where you fear gets put into perspective.

As much I was shitting bricks the entire time, I had managed to resist giving in and achieved what I set out to do.

Rock climbing in Railay was harder than I thought it would be, I hope that next time I find myself on real rock, I'll be more confident in my abilities. While I felt physically and emotionally exhausted, I loved the experience, and it's now on my list to sign up for a multi-day course and really push my body to its limits.

Have you ever been rock climbing in Railay? Where should I go next? Let me know in the comments below!

Psst…Want more Thailand travel inspiration? Check out my other posts:

Rock climbing in Railay is one of Thailand's must-do activities. With routes ranging from beginner to advanced, you'll be spoilt for choice when it comes to exploring the island's natural beauty from a different perspective.