Last Updated on February 27, 2020 by lauren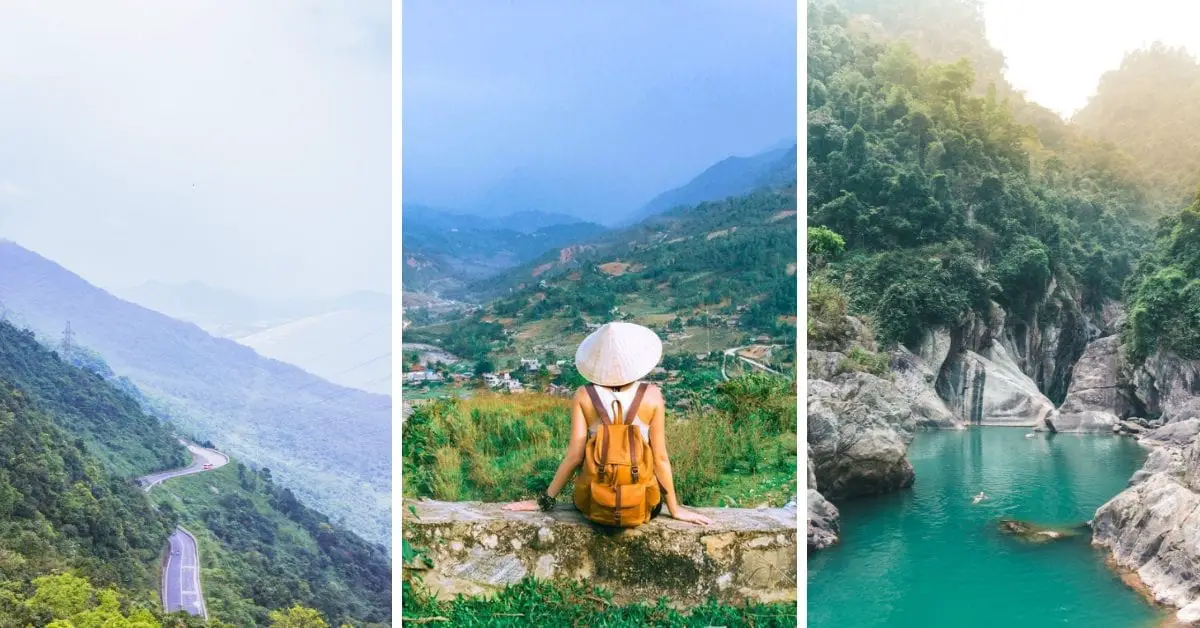 Vietnam is a massive country.
When I decided to come here spur of the moment after finding out South Africans can get a visa on arrival for Vietnam, I didn't give myself much time to put together an itinerary.
I didn't know where I wanted to go or what I wanted to see and threw myself into planning my two-week trip.
If you're short on time like me and what to experience just SOME of Vietnam's highlights, here's my complete south to north 10 day Vietnam itinerary!
Ho Chi Minh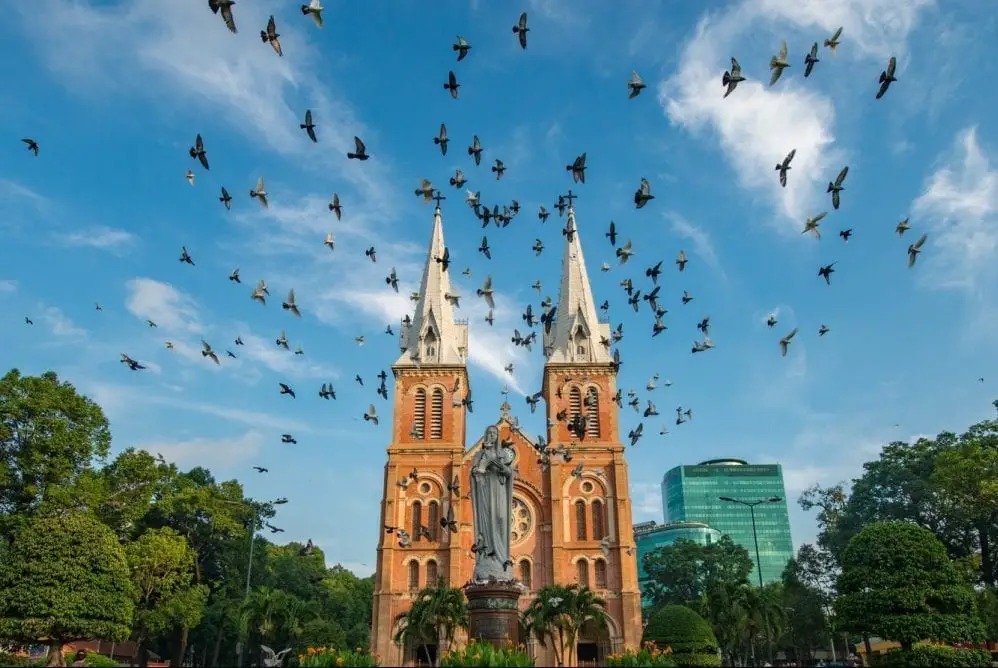 Ho Chi Minh is an assault on your senses. It's overflowing with traffic, history, and delicious food.
If you're not brave enough to hire your own motorbike, down Grab. It's Southeast Asia' answer to Uber and an affordable way to take the stress out of navigating Ho Chi Min's busy streets.
Where to Stay in Ho Chi Min
Alleyway Hostel
Located in District 1, Alleyway Hostel is close to some of Ho Chi Min's most popular attractions. It's the perfect pit stop to add to your Vietnam backpacking itinerary because you'll be a short taxi ride or walk away from the War Remnants Museum, Notre-Dam Cathedral and the Ben Thanh Market.
The hostel offers an airport shuttle, 24-hour front desk, free WiFi, complimentary Vietnamese breakfast and a tour desk.
How Much Does a Room Cost?
4-bed mixed dorm: R 108 per person per night.
6-bed female dorm: R 100 per person per night.
8-bed mixed dorm: R 89 per person per night.
Where To Eat in Ho Chi Min
Ben Tanh Street Food Market
Hands down some of the best food I had in the country came from here.
While it is geared more towards tourists and you'll find cuisines from different countries, it's still worth the visit. There's plenty of vegetarian and vegan options and if it's not too busy the free WiFi will work.
Saigon Vegan
If you want to try authentic Vietnamese dishes, but you're vegan – head here.
Saigon Vegan boasts an extensive menu ranging from pho to hot pots and even carmelized tofu. Prices for meals are between VND 40,000 to 60,000 (R 21.00 to R 32.00), and their Vietnamese ice coffee is delicious.
The Cafe Apartments on Saigon's Walking Street
Coffee lovers – welcome to your mecca.
Ho Chi Minh has an entire building full of shops ready to serve your caffeine addiction. It's easy to spend a whole day hopping from one place to the next. It's not the cheapest place in the city to grab a meal or a cup of coffee, but the prices are reasonable.
Things To Do in Ho Chi Minh
Sign Up For a Free Walking Tour
With only 10-days in Vietnam, it's not a lot of time to understand the country's complex history. One of the best ways to get to grips with the basics is to sign up for a walking tour. You'll get your bearings while learning about Ho Chi Minh's past from local university students.
The three-hour tour will take you past buildings that played a significant part in the Vietnam War, a visit to the Post Office where you can get a letter transcribed by one of the city's oldest residents and learn the art of haggling in Vietnam.
Go on a Day Trip to the Cu Chi Tunnels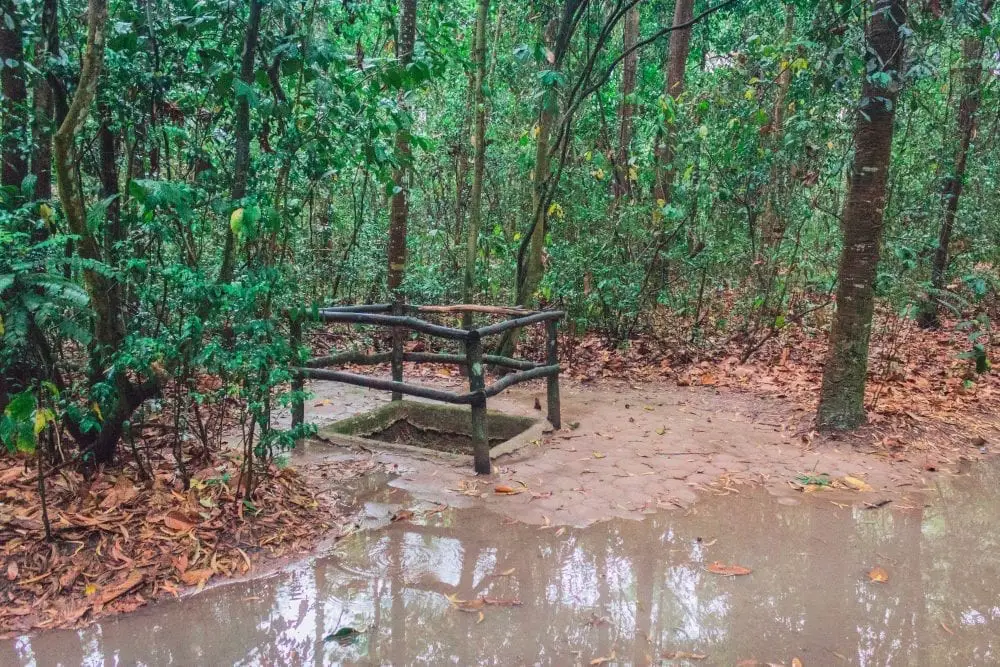 If you're a history buff like me, a trip to the Cu Chi Tunnels should be at the top of your Vietnam bucket list.
You'll be able to crawl through the tunnels (if claustrophobia doesn't get the better of you), fire a machine gun (warning: it's not cheap), sample the food the Vietnamese ate during and learn about the traps used in the war.
It's a sobering experience, especially with the gunshots going off in the distance, that puts things into perspective for what life was like as a soldier.
Suggested Time in Ho Chi Minh: 2 to 3 days
Hue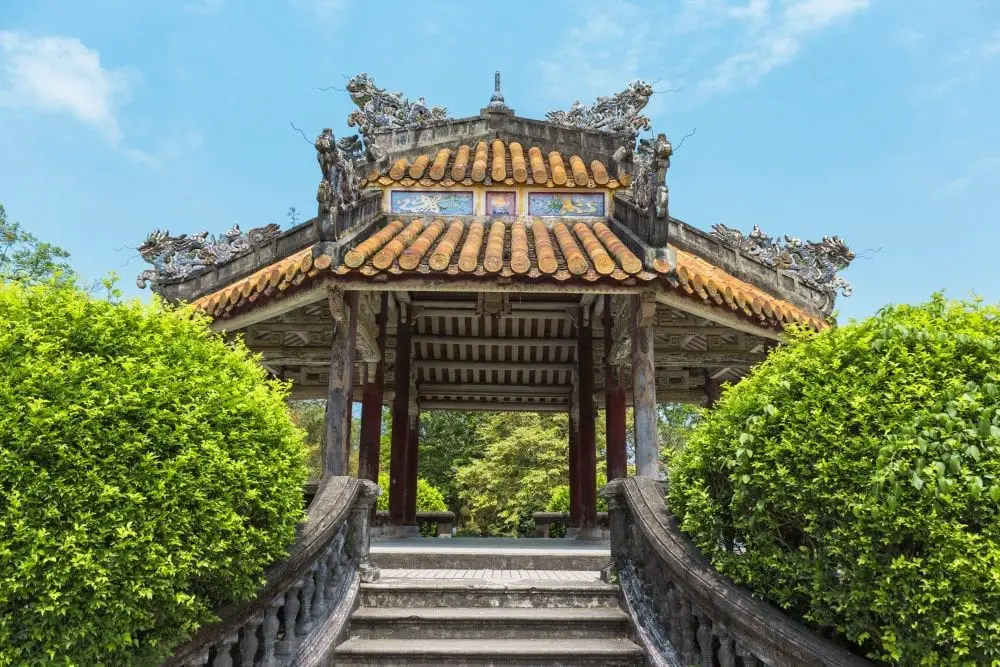 Hue is the former imperial capital of Vietnam located on the banks of the Perfume River. It's home to famous pagodas, royal tombs and a massive Citadel that's a UNESCO World Heritage Site.
The best way to get from Ho Chi Minh to Hue is to fly. While you can take a bus, you'll waste time and end up spending more time in transit than exploring Vietnam.
Where to Stay in Hue
Quan Hostel
Quan Hostel is one of the best options in the city if you want a private room on a budget. The hostel is modern, clean and even features a beautiful private pool.
There's a 24-hour front desk, airport shuttle, free WiFi and breakfast. You'll also only a few steps away from Hue's walking street, and it's many restaurants, cafes and shops.
How Much Does a Room Cost?
4-bed, 6-bed, or 8-bed dormitory room: R 76.00 per person per night.
Double room for one person: R189.00 per night.
Double room for two people: R 227.00 per night.
Twin room: R 189.00 per night.
Where To Eat in Hue
Nook Cafe & Bar
Nook Cafe is one of the best spots in Hue for digital nomads. It's hidden away down an alley and is full of quirky decor.
It's also perfect for vegans and has a delicious chickpea burger patty. There are Vietnamese and international dish options if you're craving something from home.
Dishes cost between VND 80,000 – VND 120, 000 (R 32.00 to R 65.00) and drinks are between VND 20,000 to VND 35,000 (R 10.00 to 19.00).
Shiva-Shakti Indian Restaurant
Another top vegan-friendly choice in Hue is Shiva-Shakti. The food here is delicious, but because it's international the prices are much higher than the local Vietnamese restaurants.
Give this place a skip if you're on a tight budget and there isn't room to splurge.
Things To Do in Hue
Explore the Imperial City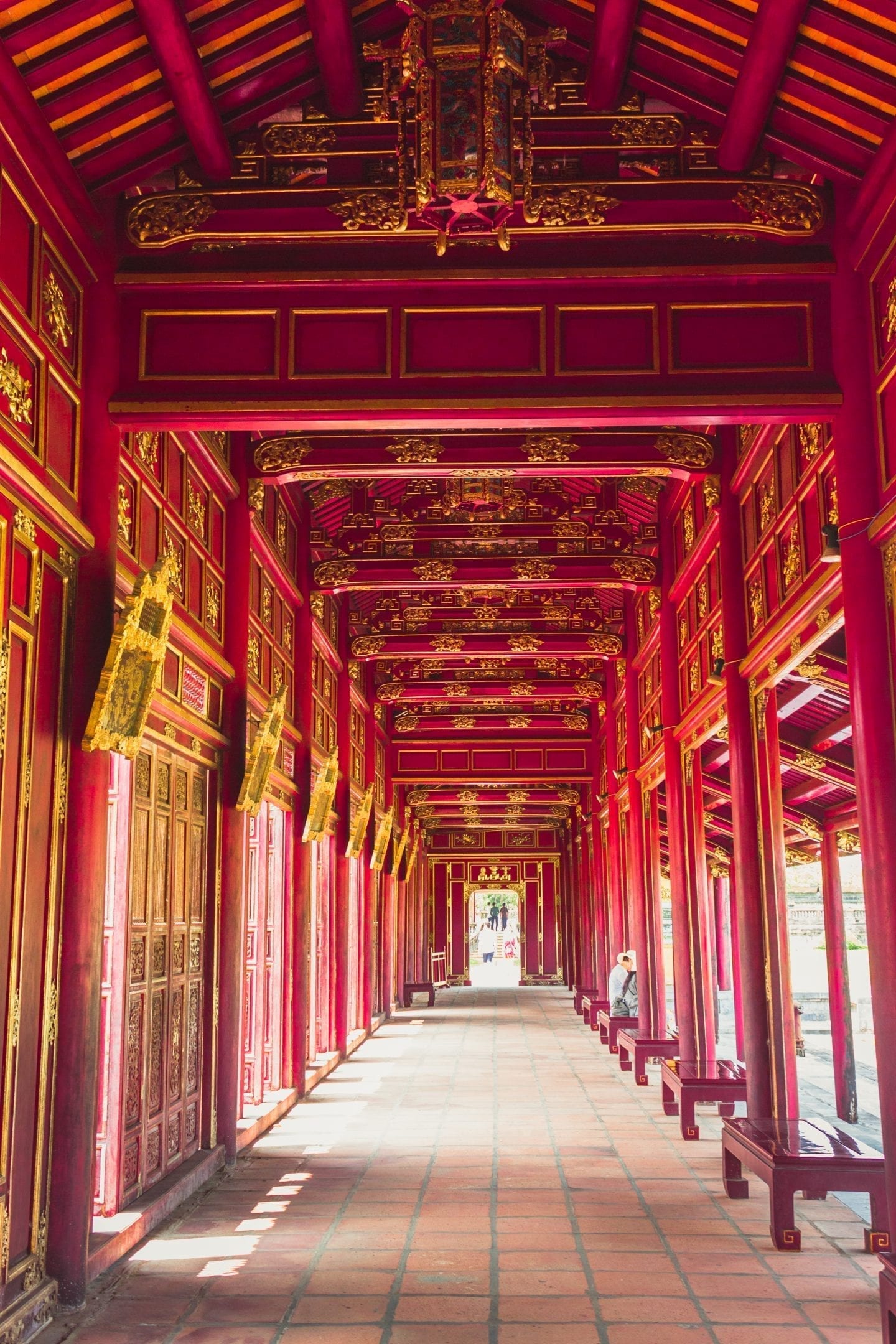 Located in the centre of the city, the complex was the residence of the Nguyen Dynasty from 1802 until 1945. During the Vietnam War, it was badly damaged, and you can still see bullet holes in the remaining ruins.
Inside the complex, you'll find the Forbidden Purple City, royal tombs, pagodas, temples, a library and a museum. If you don't know much about Vietnam's history, I'd recommend paying extra to have a guide show you around.
Entrance to the Hue Imperial Palace is VND 150,000 (R 81.00), and you'll need to buy separate tickets for the different royal tombs.
Visit the Thien Mu Pagoda
The Thien Mu Pagoda is one of Vietnam's most iconic landmarks.
It was once the home of Buddhist monk Thich Quang Duc who burned himself to death in Ho Chi Minh in protest of the persecution of Buddhists by the South Vietnamese government.
His death sparked a series of self-immolations and brought the plight of the Buddhists to the attention of the world.
Today, the pagoda houses the car that he used to drive to the city as well as a 21-metre high octagonal tower.
Hai Van Pass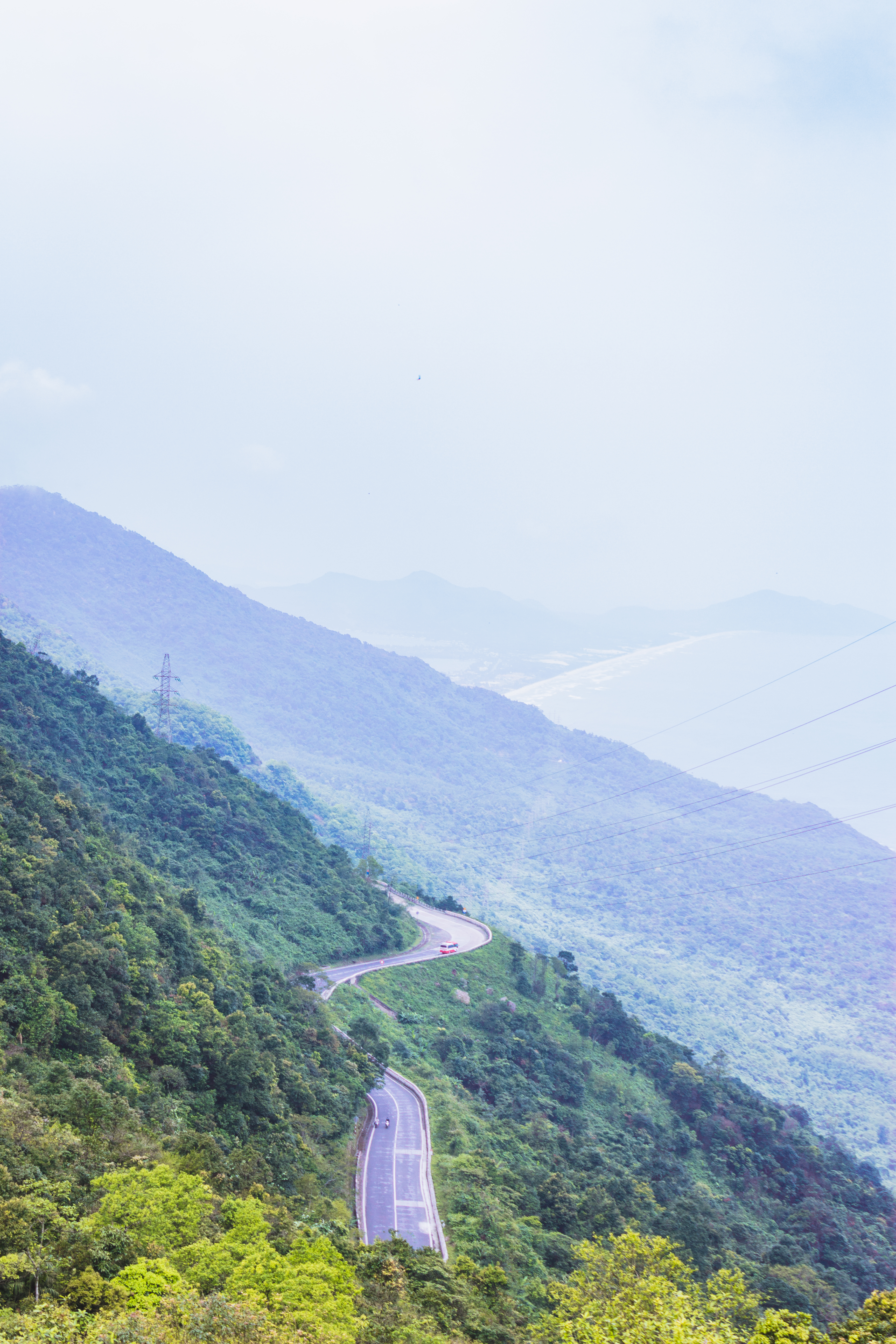 Instead of buying a bus ticket that goes straight from Hue to Hoi An, opt for one that stops along the Hai Van Pass.
You'll drive past fishing villages, the Thanh Toan covered bridge, Lang Co Beach and stop at the top of the Hai Van Pass for some epic panoramic views.
The tour bus I choose also went to the Marble Mountains, but I didn't have enough time to explore it fully.
If you want more control over your schedule during this road trip, another option is to hire a motorcycle and do it yourself.
But if you aren't confident in your abilities, you can get an Easy Rider. You can sign up for a one, two or three-day tour and your driver will navigate the roads while you sit back and enjoy one of Vietnam's most scenic drives.
Suggested Time in Hue: 2 to 3 days
Hoi An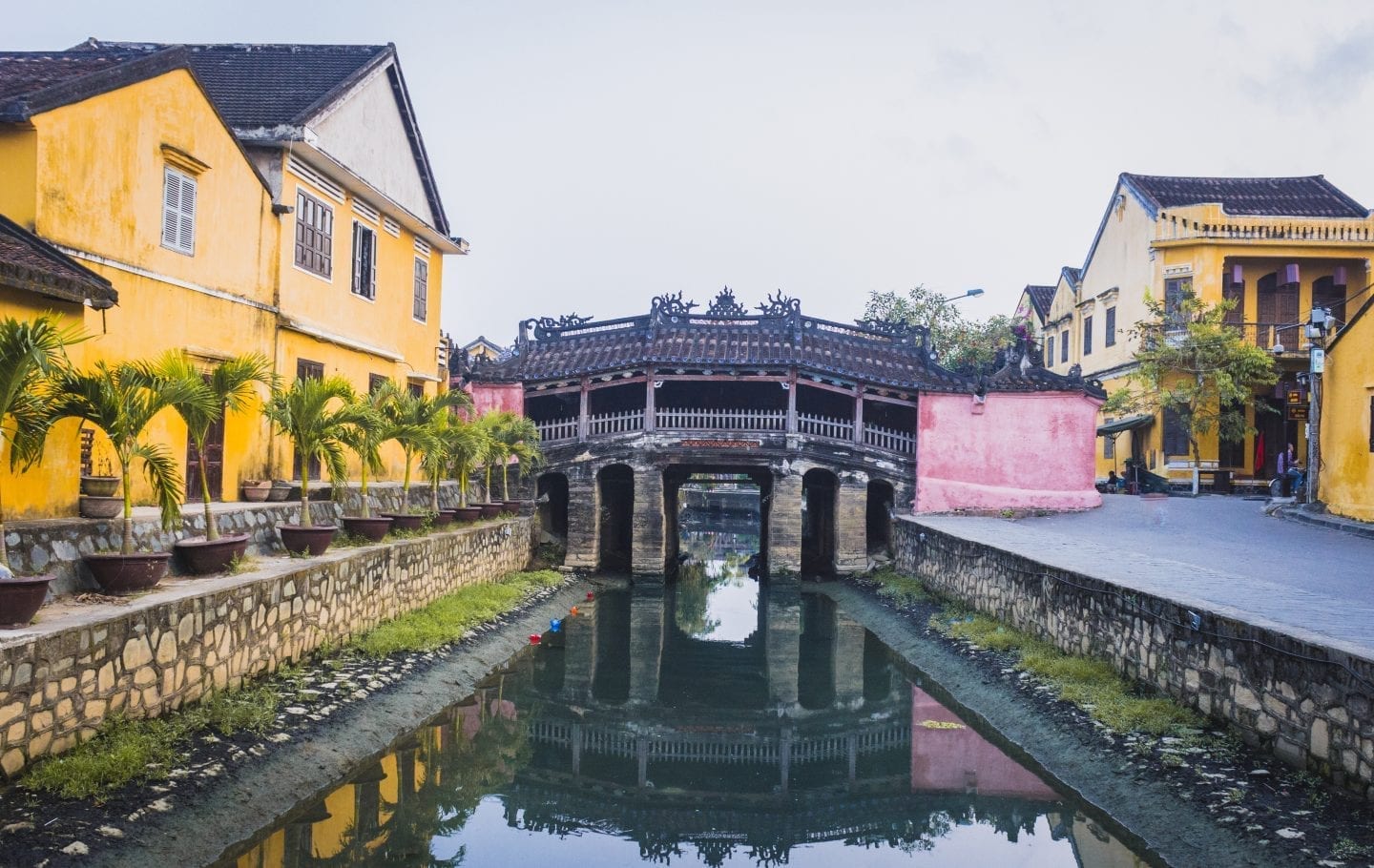 Hoi An is famous around the world for its clothes. People flock here to get skirts, dress and suits made by the city's expert tailors.
But it's also one of Vietnam's most beautiful destinations. Its ancient old town is a UNESCO Heritage Site and is home to mustard coloured walls, dozens of coffee shops and lantern-lined streets.
Where to Stay in Hoi An
Tipi Hostel
Tipi Hostel is located within walking distance of Hoi An's famous Old Town and dozens of restaurants.
But it is a very basic hostel.
I stayed in one of the private rooms, and it's the bare minimum. If you like having those extra creature comforts like a room with a view, mini-fridge etc. I wouldn't recommend staying here.
But if you're on a tight budget and sick of sleeping in a room with six other people, it's a good option. Plus, there is a free breakfast, and the hostel has a tour desk.
You'll also be able to book transportation directly from reception to nearby destinations as well as attractions.
How Much Does a Room Cost?
Double room with private bathroom: R 227.00 per night.
Budget single room: R 168.00 per night.
Single bed in a dorm: R 101 per person per night.
Where To Eat in Hoi An
Karma Waters
Karma Waters is another fantastic vegan Vietnamese restaurant. It serves authentic local and international dishes and gets all its produce from the Tra Que organic vegetable village.
It also offers a vegan Vietnamese cooking class and uses funds from the restaurant to help give back to the local community through various charitable programs.
Minh Hien Vegetarian Restaurant
If you're not a fan of mock meat, you'll love the menu at Minh Hien. It has vegetarian/vegan options of Vietnamese classics and tons of options to choose from.
While the food is delicious, the portion sizes are small, and the prices are higher compared to other restaurants.
An Lac Vegetarian Restaurant
If you're on a tight budget, look out for the smaller local vegetarian restaurants like An Lac scattered around town.
While the decor might not be as nice, and the staff won't speak English, you'll be able to pick up a plate of food for almost half the price.
Sticking to places like this during your trip to Vietnam will help keep your budget in check.
Things To Do in Hoi An
Get Something Tailor Made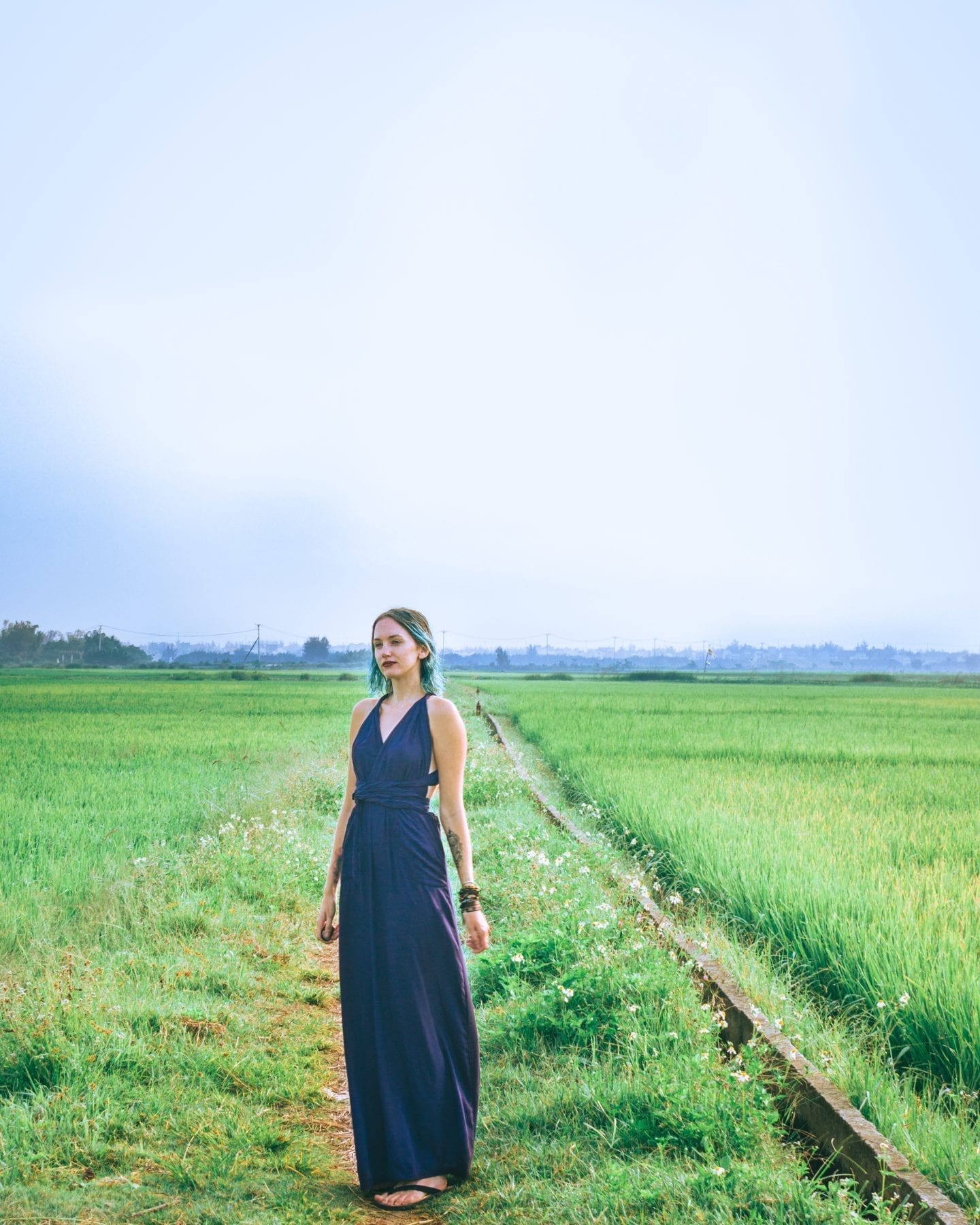 One of the things I struggle with when going shopping is finding something I like. I usually have a clear picture in my mind of what I want and won't settle for anything else.
So I used my time in Hoi An to get a dress, and a skirt made that I've had my eye on for ages, but could never find the right colour or size.
If you're thinking about doing while travelling in Vietnam, I highly recommend my tailor. She had a turn around of one day which is insane, and her prices are reasonable.
You can contact her at [email protected] or visit her store at 317 Nguyen Duy Hieu, Hoi An
Explore Old Town and See The Famous Japanese Bridge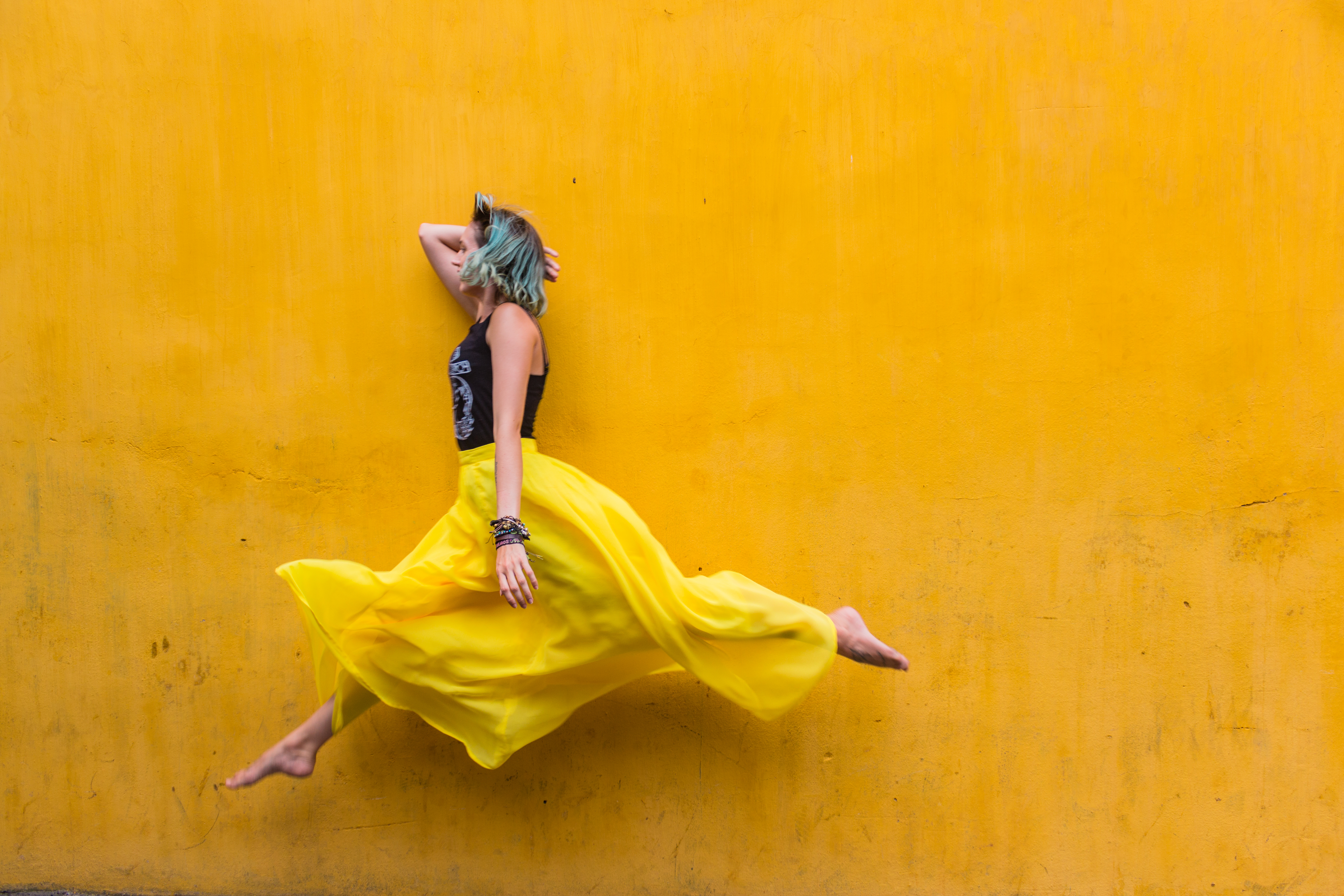 Beat the city's hectic traffic by waking up just before sunrise and walking to Old Town.
You'll get to watch Hoi An come alive and the early morning sun lights up the city's yellow buildings.
If you're a lifestyle photographer, there will be opportunities to snap vendors making their way down the streets with fruits and vegetables, or gliding down the quiet canal.
The lack of crowds also means you'll have Hoi An's Japanese bridge all to yourself. It dates back to the 18th century, and if you're early, you can cross it without paying a toll.
Go to My Son
My Son is UNESCO royal burial ground and political centre that is devoted to Hindu gods and goddesses. Built by the ancient kingdom of Champa, it deserves a spot on any history lovers Vietnam itinerary.
During the Vietnam War, the complex was bombed by the Americans as it was a known hiding place used by the Viet Cong.
Some parts of the central complex managed to survive, and others have been rebuilt over the years. My Son is an easy day trip from Hoi An and you can either join a tour or use a Grab taxi to take you there and back.
If you can, plan your trip for the later part of the afternoon. All the tour buses leave around 2:00 pm, so you won't have to contend with crowds as you wander around the ruins.
Suggested Time in Hoi An: 2-3 days
Hanoi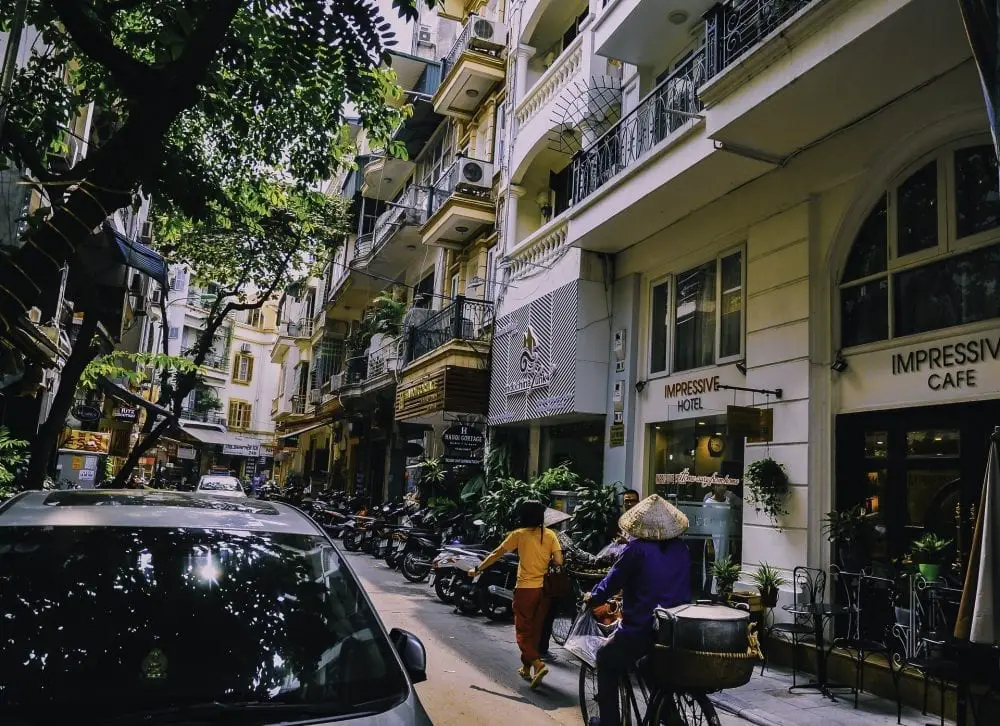 Hanoi is the capital city of Vietnam and full of delicious restaurants, interesting sights and a vibrant city life. The best way to get here from Hue is to fly. You'll save a lot of travelling time, with domestic flights costing as little as R 300 one way.
Where to Stay in Hanoi
Stay in the Old Quarter if you want to be within walking distance of the city's major attractions.
Hay Hostel
Hay Hostel is one of the most popular budget accommodation options in the old quarter.
The rooms are spacious, the lockers are large enough to fit an entire suitcase, and you get a delicious buffet breakfast. The hostel also has a tour desk and can help you book trips to Ha Long Bay, Sapa, Ninh Binh and other nearby destinations.
How Much Does a Room Cost?
Double room with private bathroom: R 266.00 per night.
Six-bed dorm room: R 70.00 per person per night.
Four-bed female dorm: R 82.00 per person per night.
Where to Eat in Hanoi
Minh Chay Vegan Restaurant
If you want to spoil yourself, go to Minh Chay. It's one of the most expensive vegan restaurants I've been to during my Vietnam trip, but the food is delicious. Prices for dishes start from VND 95,000 (R 51.00), and it's easy to rake up a bill around VND 300,000 (R 163.00) for one person.
I highly recommend trying the Rieu Veggie Hotpot or the Veggie Mixed Glass Noodles.
Bun Bo Bam Bo Restaurant
A cheap, but delicious place to eat is a staple for anyone travelling to Vietnam on a budget.
For budget travellers in Hanoi, this is the place you want to go.
The restaurant gets its name from its signature dish bun bo nam bo which is dry noodles with beef. It's served with bean sprouts, garlic, lemongrass and green mango and comes with optional sides.
The dish can be made vegetarian/vegan, and it's one of the cheapest but delicious places you can grab a meal in Hanoi. I would have spent more time here if I hadn't discovered it on my last night.
Always Cafe
Harry Potter fans, UNITE! Hanoi has it's very own Hogwarts themed cafe.
Inside you'll find everything from butterbeer, souvenirs and other magical treats. I had to stop myself from buying Voldemorts wand after loading up on a few Harry Potter inspired bracelets and necklaces.
But besides being a dangerous place for your wallet, it's a great spot for digital nomads in Hanoi who want to sit around in a wizard robe and get shit done.
Things To Do in Hanoi
Visit Hanoi's Train Street
Want to add something unusual to your itinerary? Go see Hanoi's train street!
Located in the narrow streets of the Old Quarter, is a train track for the city's high-speed trains.
Two trains use this route every day. The first one is at 3:30 p.m. and the second one at 7:30 p.m. If you want a good spot to watch all the action, try to be there around 3:00 p.m. especially if you want good light for photo-taking opportunities.
Ba Vi National Park
Escape the madness of Hanoi and go on a day trip to Ba Vi National Park. It's located two hours from the city and is famous for its three-peaked mountain. The country is full of beautiful national parks and a 10 day Vietnam itinerary wouldn't be complete without going to at least one.
If you're in the mood for a hike, you'll find an 11th-century temple at the summit of the tallest mountain. It offers sweeping views of the countryside and even natural hot springs.
Soak Up Some Culture and See a Show a the Hanoi Opera House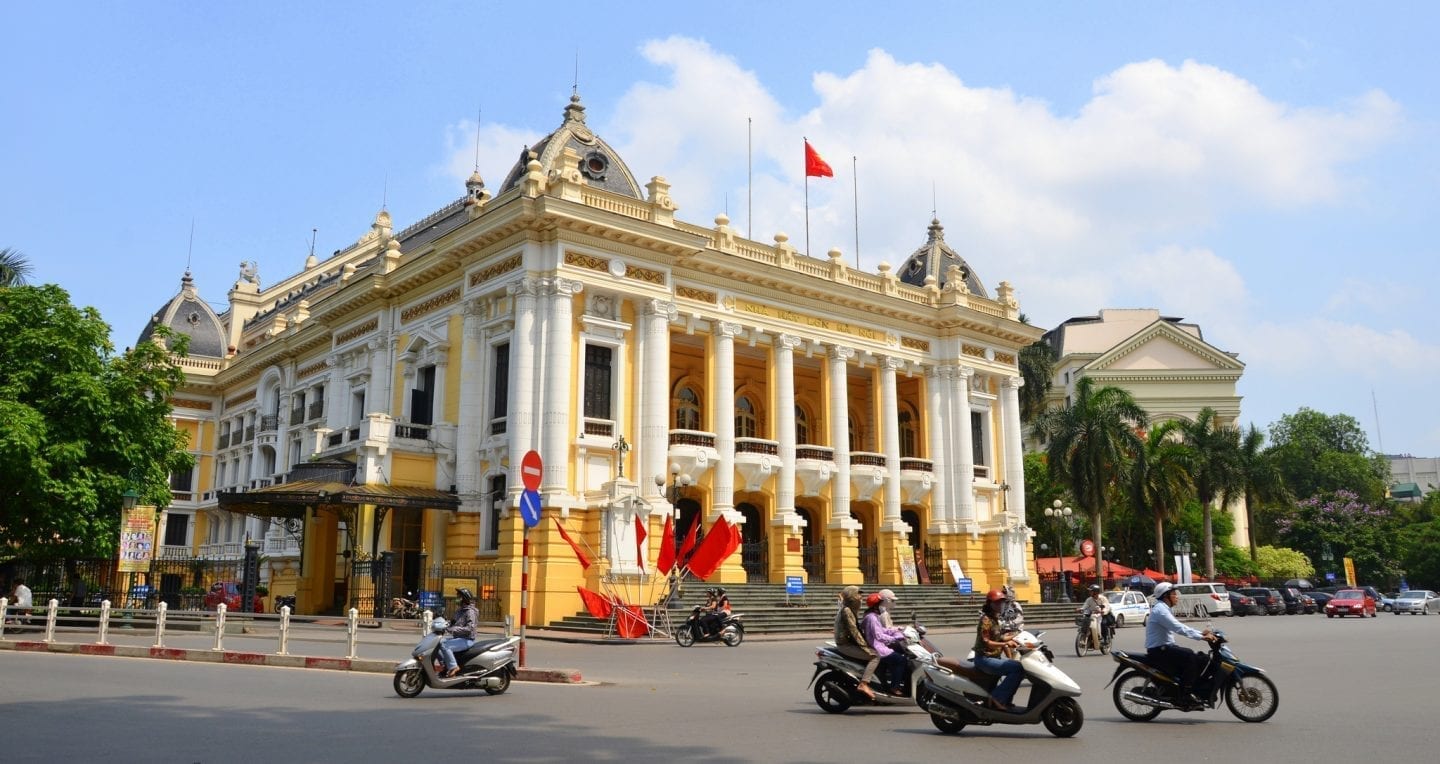 Modelled after the Paris Opera House, it's one of the most beautiful buildings in the city. It was built in 1911 and went into decline after the French left Vietnam.
Renovated in 1997, it's been welcoming visitors ever since. Tickets cost anything from VND 100,00 to VND 2,000,000 (R 54.00 to R 1,090.00), making it one of the best budget things to do in Hanoi.
If you have time for a side trip from Hanoi, book a cruise along the famous Halong Bay! You can choose from a variety of budget to luxury options and you'll sail past Vietnam's incredible limestone karsts!
Another day trip I didn't have time for (but is high on my bucket list) is Ninh Binh. It's an incredible destination with jaw-dropping natural scenery and is a great alternative to Halong Bay if you want to avoid the crowds.
Suggested Time in Hanoi: 2 days
Sapa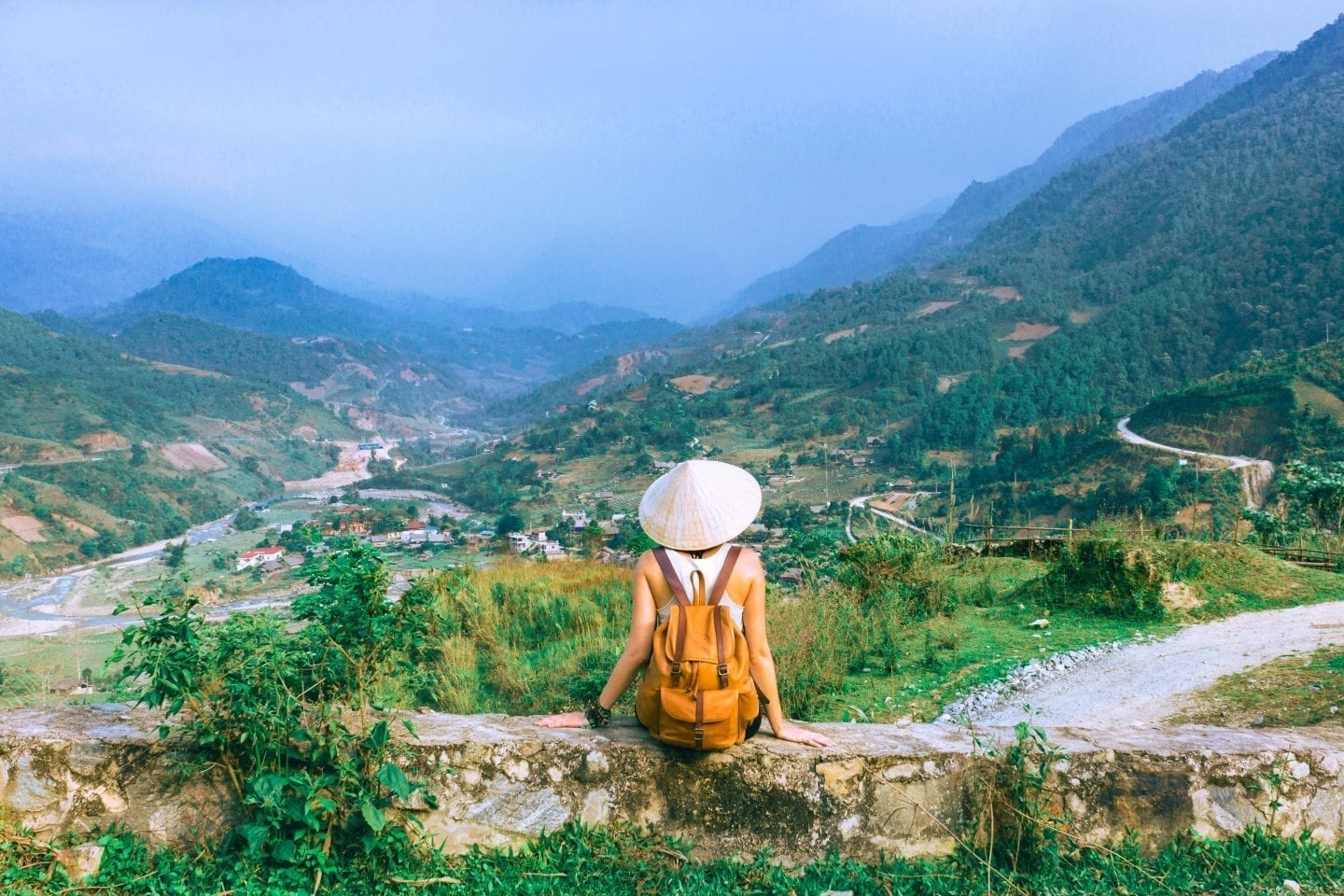 Sapa is one of the most beautiful destinations in Vietnam.
It's famous around the world for it's cascading rice terraces, hiking trails that wind through the hills and mountains and rich culture of the ethnic minorities that call this region home.
Where to Stay in Sapa
Go Sapa Hostel
If you've arrived early for your trek or homestay, Go Sapa Hostel is one of the cheapest accommodation options in the town. It's within walking distance of Sapa O'Chau and has beautiful views of the valley below.
The hostel has an on-site restaurant, laundry services, and a free breakfast every morning. It can get chilly here, even in the warm summer months so make sure you pack a few warm layers.
How Much Does a Room Cost?
Double room with private bathroom: R 184.00 per night.
Eight-bed dorm room: R 69.00 per person per night.
Six-bed dorm room: R 82.00 per person per night.
Things to Do in Sapa
Trekking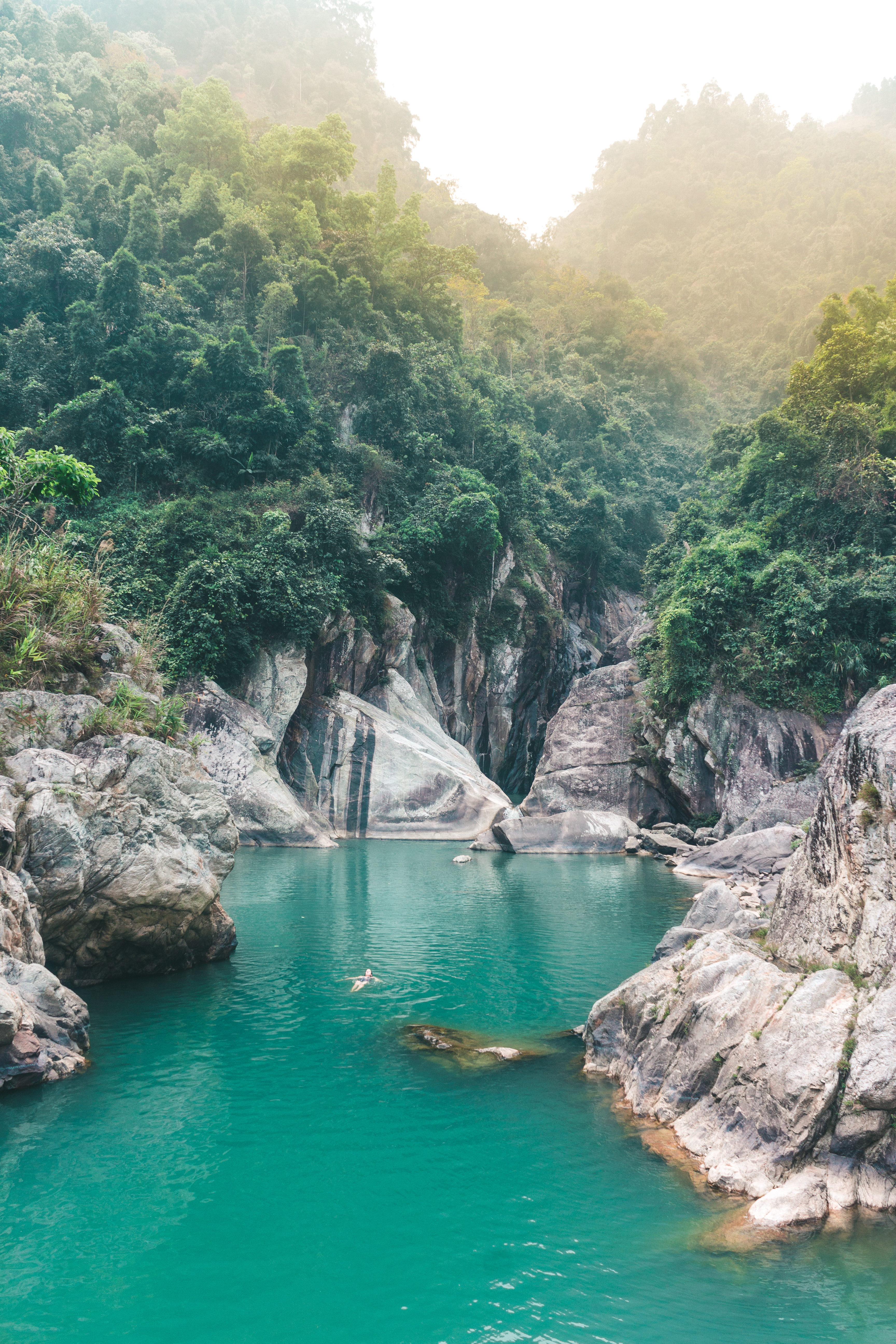 The main reason Sapa should be on your Vietnam itinerary is the trekking.
Many companies offer one day or multi-day trips throughout the region. I booked my three-day trek with Sapa O'Chau. They are the first tour company owned and operated by the region's ethnic minorities and use profits to uplift the communities.
With Sapa being relatively remote, it's a good idea to take out a travel insurance policy in case something happens to you or your gear. I recommend using World Nomads as their policies are designed for adventurous travellers and cover everything from broken gear, extreme sports and hospital trips.
Home Stays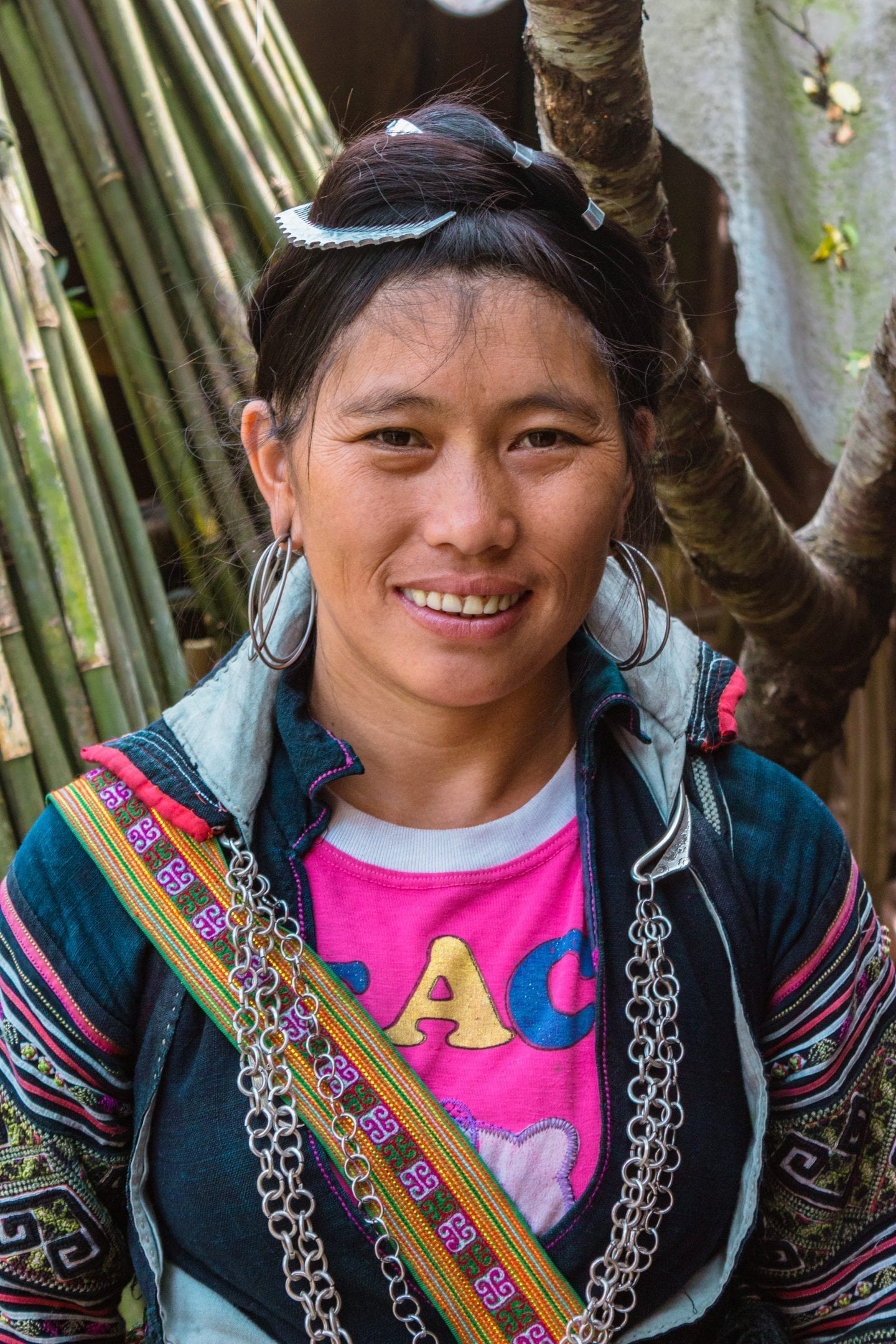 If you're curious about the hill tribes, book a homestay tour.
You'll get to stay with families from the different tribes, help prepare meals and learn about the intricacies of their culture and history in Sapa.
Suggested Time in Sapa: 2 to 3 days
Ready to Start Planning Your 10 Day Vietnam Itinerary?
Vietnam is an amazing and diverse country. There is so much to see, whether you're a history buff, a nature lover or a city slicker there will be something for you.
I hope this itinerary has given you some inspiration for your trip! Let me know in the comments below if you have any questions.
Psst…Want more Vietnam travel inspiration? Check out my other posts:
Did you find this post useful? Pin it for later on Pinterest!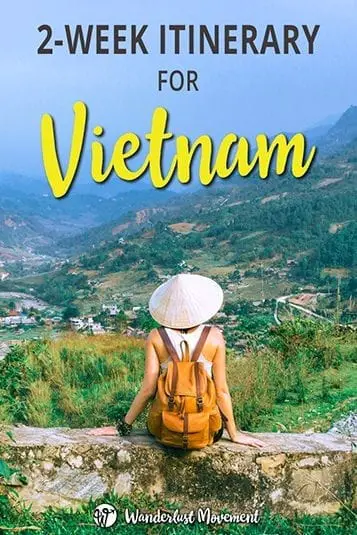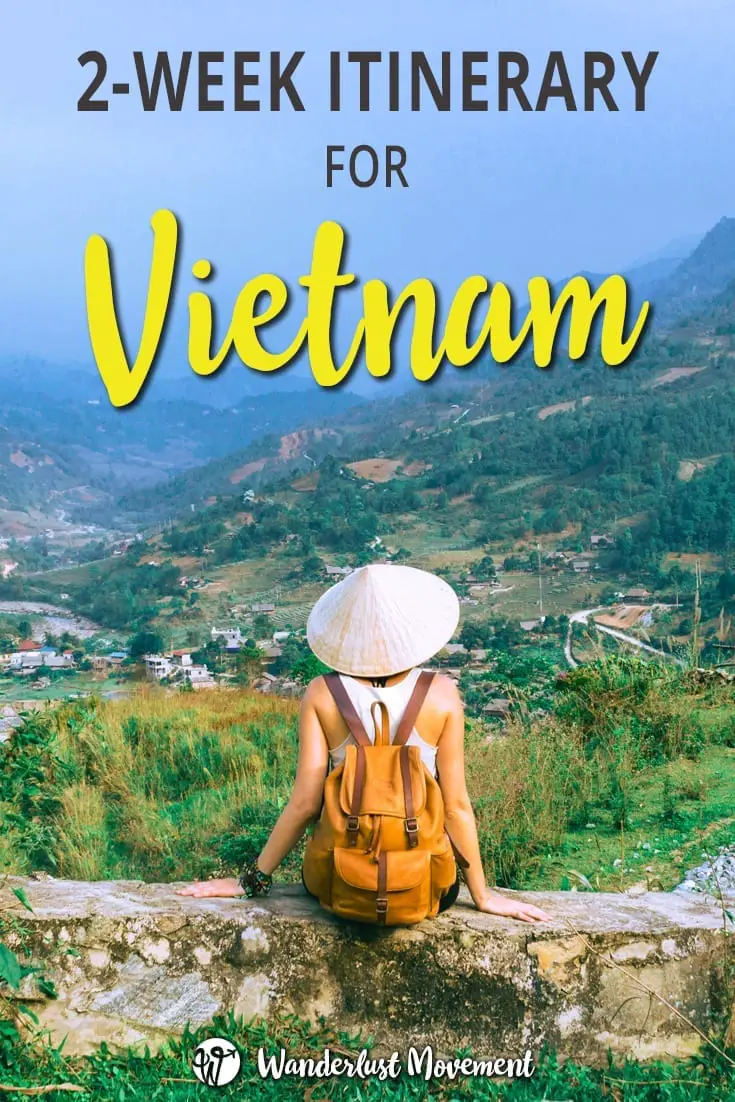 Looking for the best places to visit in Vietnam? Here's a *detailed* 10 day Vietnam itinerary that covers north, south, and central Vietnam!