You know what I hate?
Branded, ugly camera bags.
Why is it so hard to find stylish and functional camera bags for women?
Look, I understand Canon, Nikon etc. get free advertising by blowing up their logo on all the things, but who really wants that?
I don't want to advertise to the whole world that I have an expensive DLSR and lenses on me–especially when I'm travelling.
It also doesn't help that those branded bags look like they've come out of the worst product design brainstorm ever.
Is it too much to ask for practicality and something cute?
So I've been on the hunt for camera bags for women for the last month, but I started to notice a lot of the bags are made of leather. And if you've been following my blog for a while, you'll know that I'm plant-based and I try to keep the animal products in my life to a minimum.
While I would have LOVED to feature South African brands, I couldn't find any. I checked all the usual suspects: Takealot, Orms, BidorBuy etc. I googled the heck out of my fingertips and came up with nothing.
No one is selling stylish camera bags for women in South Africa. It's just more of those horrendous looking options in bore me to death colours.
But if you're not a South African reader, or you don't mind importing, I have found some stunning camera bags for women that are vegan ✔ stylish ✔ and practical ✔
Quick answer: The Best Vegan Camera Bags for Women 2018
How to Choose the Perfect Camera Bag for You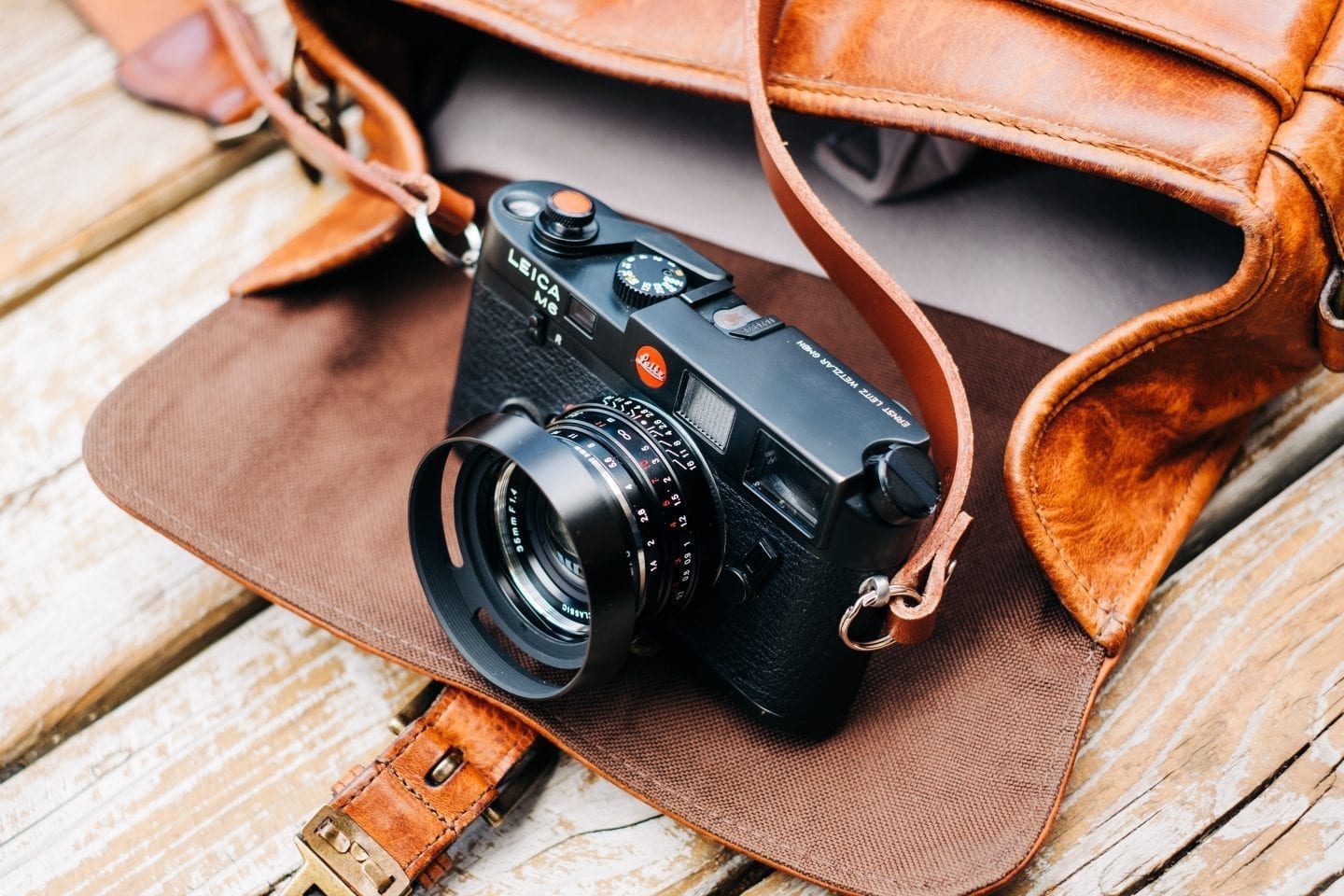 ? The Bag Size
How much space do you need from your camera bag?
Are you just starting out with a small mirrorless camera and two lenses?
Or are you packing some serious gear?
I'm talking laptops, iPads, a beast of DSLR body and Sigma lenses that make your biceps pop. If your DSLR is larger than say an entry-level Canon D700, it will be a tight or no fit with some of the smaller bags I've listed.
? The Strap Style
Are you more of a backpack or shoulder strap person?
Maybe you're someone whose needs change daily?
Choose a camera bag that's going to help you feel the most comfortable while travelling and allow you to get to your gear hassle-free.
? The Security Features
Travelling around the world or even in our hometown as it's own risks. When you throw expensive gear into the mix, security becomes a major buying factor for camera bags. Choose a bag that's going to give you complete peace of mind.
? The Design
Are you looking for something super girly or more androgynous?
Do you want bright, bold colours or something with a more neutral palette?
Do you hate tassels?
Pick a bag that's going to match your wardrobe and tastes so it can easily transition from a stylish purse to a cute camera bag.
? The Price
Price is usually the most important factor when choosing the best women's camera bag for you.
If you're looking for an investment piece that's going to last you a long time, save up and then bite the bullet. It's better for the environment to curve over-consumerism and you won't have to keep spending money every couple of months.
All of the bags I've listed double up as day bags, allowing you to get as much use out of the bag as possible.
Haven't heard of Kelly Moore bags before? Hold onto your socks because I'm about to blow you away. ?
Kelly makes the BEST vegan camera bags for women – hands down. There's a reason her products dominate Pinterest and Google's search results.
She is a queen at making a camera bag look like a purse without sacrificing functionality.
This satchel features three different carry options: cross-body, over the shoulder or you can convert the straps into a stylish camera backpack.
There's a zipper pocket, perfect for your cell phone or small items like a self-timer remote. Inside you'll find space for your 13-inch laptop, your DSLR camera body and two lenses.
☔️ Oh, and the bag is water resistant. Hell yeah.
Price: $229.00
Raise your hand if you travel with a ton of gear.
You're not alone.
I typically pack at least two lenses (and they aren't small or light), one DSLR camera body, a self-timer remote, a laptop and soon to join the family – filters.
Whew.
Is there even a big enough for all that stuff? ?
Yip!
The Jo Totes Missy camera bag has loads of space. It can fit one DSLR camera, a 15-inch laptop, one extra lens plus your wallet and other accessories you need to put in a bag.
Grab this beauty in mint or chocolate vegan leather. Wear it as a cross-body camera bay when you need to use your hands or carry it around with the shoulder straps.
Price: $119.00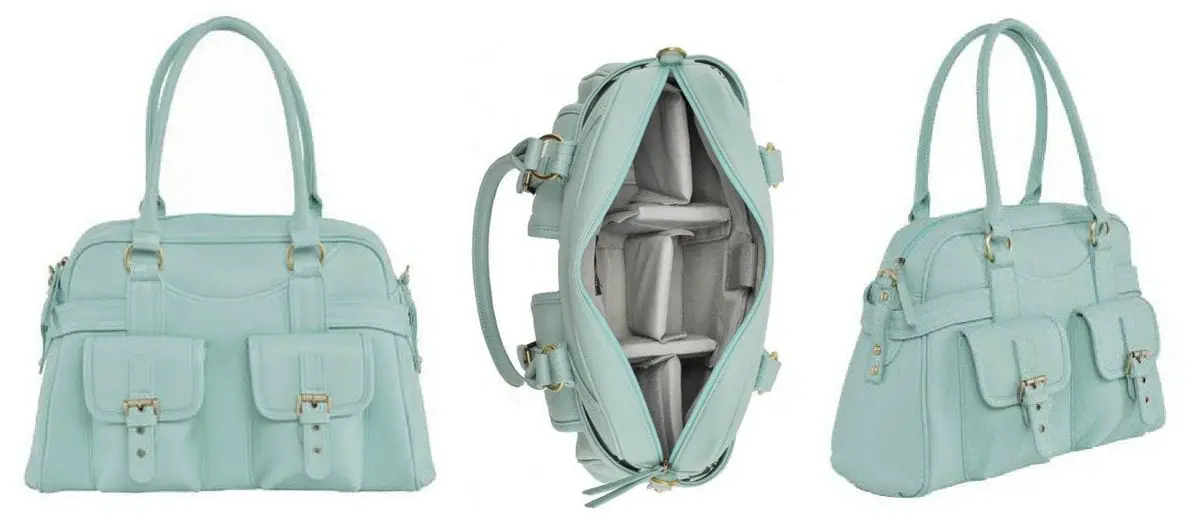 Tired of all those dull black and brown bags? Grab the Studio Lei Momi Alice camera bag!
It comes in cherry red, Caribbean green and summer yellow vegan leather that will add a pop of colour to any outfit.
It may look small, but it can fit one DSLR camera body, two lenses and an iPad. There's also plenty of space for smaller items like your wallet, car keys and other life essentials. ?
The front zipper comes with compact slots for your SD and credit cards. The built-in padding will ensure your gear is protected as you explore and there are four padded adjustable dividers for maximum customisation.
But what I love about this range of Lei Momi camera bags for women is that it's water resistant. This is an essential feature if you're a photographer who loves to be outdoors.
I've lost count of the number of times I've unexpectedly got caught in a downpour without a raincoat to protect my bag. It's a stressful situation to be in and it's easily avoidable by investing in a women's camera bag that's waterproof. ?
Price: $159.00
Searching for the ultimate messenger style bag for all your camera gear? ?
Meet the Koolertron Vintage Bag.
It's a fashionable choice for women who love that old world aesthetic. The bag fits one DSLR camera body, two to three lenses and has smaller pockets for items like your smartphone.
But it's NOT the bag for you if you want to carry extra equipment around. It is a snug fit, and there isn't room for an iPad or a laptop.
The Koolertron also comes with an adjustable strap that is padded – an excellent choice if you struggle with finding a bag that doesn't dig into your shoulders.
Another major selling point is its removable liner and dividers, making it easy to convert into an everyday bag at a whim. ?
Price: $40.00
Oh, you know knew there was going to be more than one Kelly Moore bag on this list. In fact, there are three.
Yes, I am a fangirl. ?
But can you blame me?
I'm living in a country that's deprived of cute camera bags for women. Kelly Moore is my mecca. ?
The Austin is touted as the best vegan camera bag for under USD 100.
It's a bucket bag style that doesn't seem like it will hold much, but looks are deceiving. It includes three compartments for a DSLR camera body, one lens and accessories. If you own a small tablet or notebook, you can fit it in along the sides of the padded divider.
It's the perfect option for someone just getting into photography.
It boasts a lightweight frame (ideal for roaming the streets of Rome for hours on end) and is an unsuspecting chic camera bag.
It comes with a magnetic tab and drawstring closure, making it easy to whip out your camera and get the shot. Both straps are removable, and the bag can be worn over your shoulders or cross-body.
Price: $99.00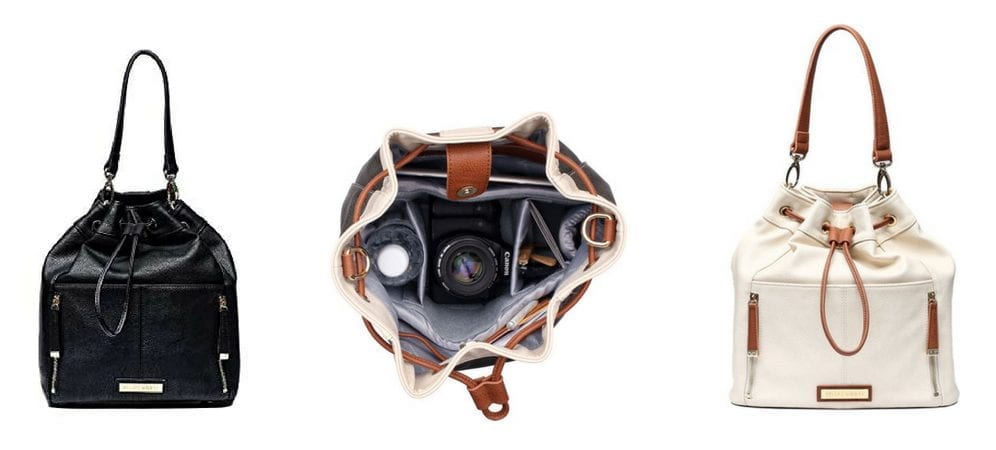 If you want a bag that can grow with your photography collection, buy the Miyagi backpack. ?
It comes with detachable camera inserts so you can customise the bag to your daily gear needs.
Whether you need to go light or heavy for your next adventure, everything you need can fit inside this stylish vegan camera backpack. ?
The Miyagi can comfortably hold a DJI Mavic Air drone, a DSLR camera body and an additional two lenses.
There's also a padded compartment for a 15-inch laptop and a small anti-theft pocket for your phone, cash and other valuable belongings.
The bag is made from vegan leather, it's water-resistant and is designed to mimic the classic Japanese Randoseru backpack. It's perfect for the women out there who want something more sleek, minimalistic and androgynous.
Price: $148.00 – $168.00
Life is too short for boring camera bags. ?
Show off your vibrant personality with Sim Camera's Koi Collection.
The bags are handmade, come with high-density foam padding to protect your gear and are available in a range of bright colours.
I'm torn between the blue and yellow options!
Inside you'll find plenty of pockets for organisation and more than enough room for your DSLR camera, lenses and other accessories.
If you're worried about theft, the Koi vegan camera bag has your back. It features a top zipper and a clasp for the flap to make it extra hard for wandering hands to find their way into your bag. ?
This is the last Kelly Moore vegan camera bag on this list – I promise!
But her inclusion on this list is vital. ❗️
Whether I'm jet-setting to Vietnam for two-weeks or backpacking around South Africa, I like to travel ultra-light.
The Luna tickets all the boxes for minimalist travellers. It won't weigh you down and comes with seven pockets to help keep all your kit and other accessories organised on the go. ?
There's even a slit pocket under the flap that's PERFECT for your passport, money and anything else you want to keep out of pickpockets grubby fingers. ?
Inside the padded interior, your camera body and lens are protected from any bumps as you go about exploring. There's also space for your iPad or travel diary on either side of the divider.
Price: $179.00

Not all of us want a super girly backpack.
Sometimes a simple, modern but aesthetically pleasing camera bag is all you need.
And that's what you can expect from the roll top rucksack. It's perfect for photographers who hike or go camping often and want to blend into their natural surroundings. ?
This camera backpack for women comes in a range of colours: maroon, black, grey, blue and even floral.
You'll be able to fit a 15-inch laptop inside the bags padded sleeve. It features interior, exterior and two side pockets for all your smaller accessories.
The roll-top fastening can be done in multiple ways, and the bag is made from 100% organic materials. ?
As it is a homemade item from Etsy, you can also get custom personalisation. It's a great gift idea or a way to promote your blog or Instagram as you trot around the globe.
I'm rounding off my list with another Jo Totes bag. ?
The Gracie is spacious, comes in gorgeous colours and doesn't even whisper "tourist".
Inside you'll find a zippered iPad pocket, as well as a smaller one for your phone or keys. The bag comes with four removable Velcro pads so you can customise the layout to your needs.
One thing is for sure, you won't have a problem fitting your DSLR and all the lenses you need. It's a camera bag for hoarders or indecisive people who like options. ?
Lots of options.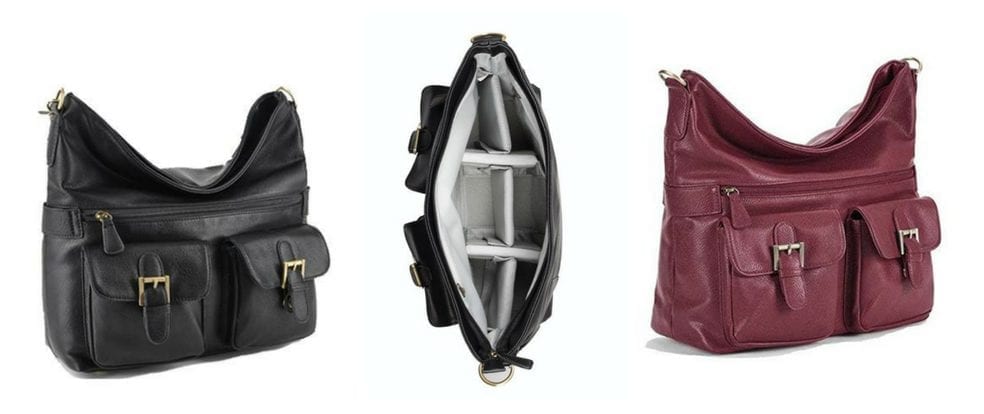 Which of these DSLR camera bags for women do you want to add to your collection? Sound off in the comments below!
Psst…Did you find this post useful? Save it for later on Pinterest!