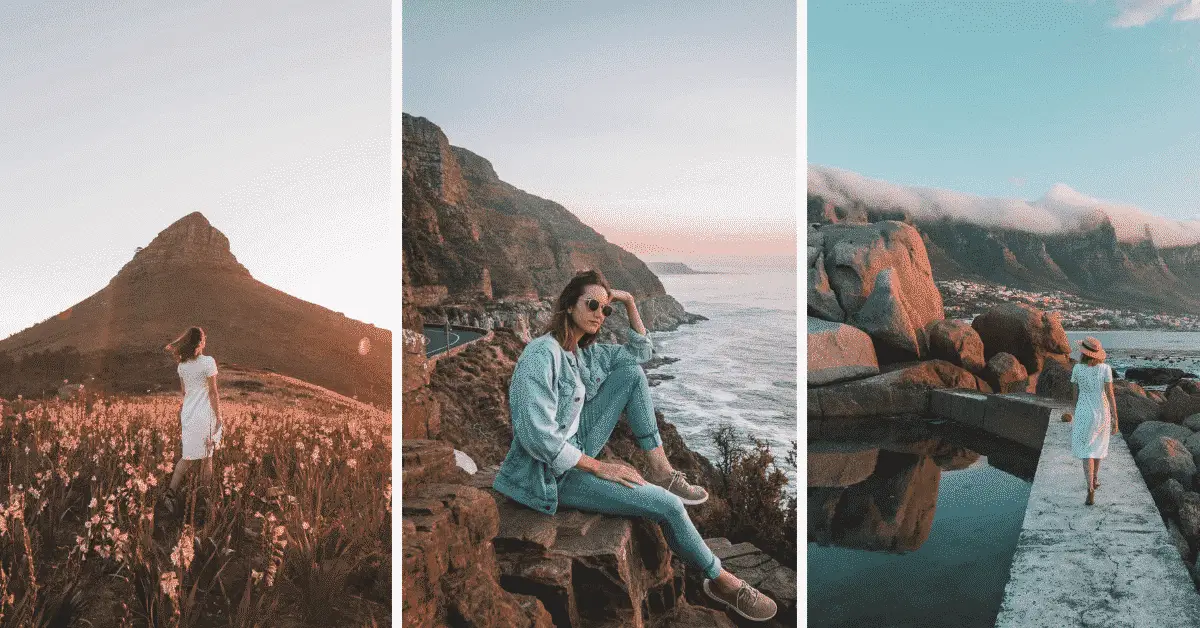 I'M CO-HOSTING AN OVERNIGHT HIKE TO CAPE POINT FROM THE 23-24 APR 2021. GET ALL THE DETAILS HERE.
Cape Town is an Instagrammer's dream destination. It's home to some of the world's most breathtaking natural beauty and more than enough killer spots to keep your feed swoon-worthy for days.
Since moving down to Cape Town in 2014, I've taken my time exploring the city and its surrounds. But after working abroad for almost a year in 2016, I realised how little I had actually seen compared to the tourists that flock to our shores every year.
Here are some of the most Instagrammable places in Cape Town that every first-time visitor (and local) should visit at least once!
1. Table Mountain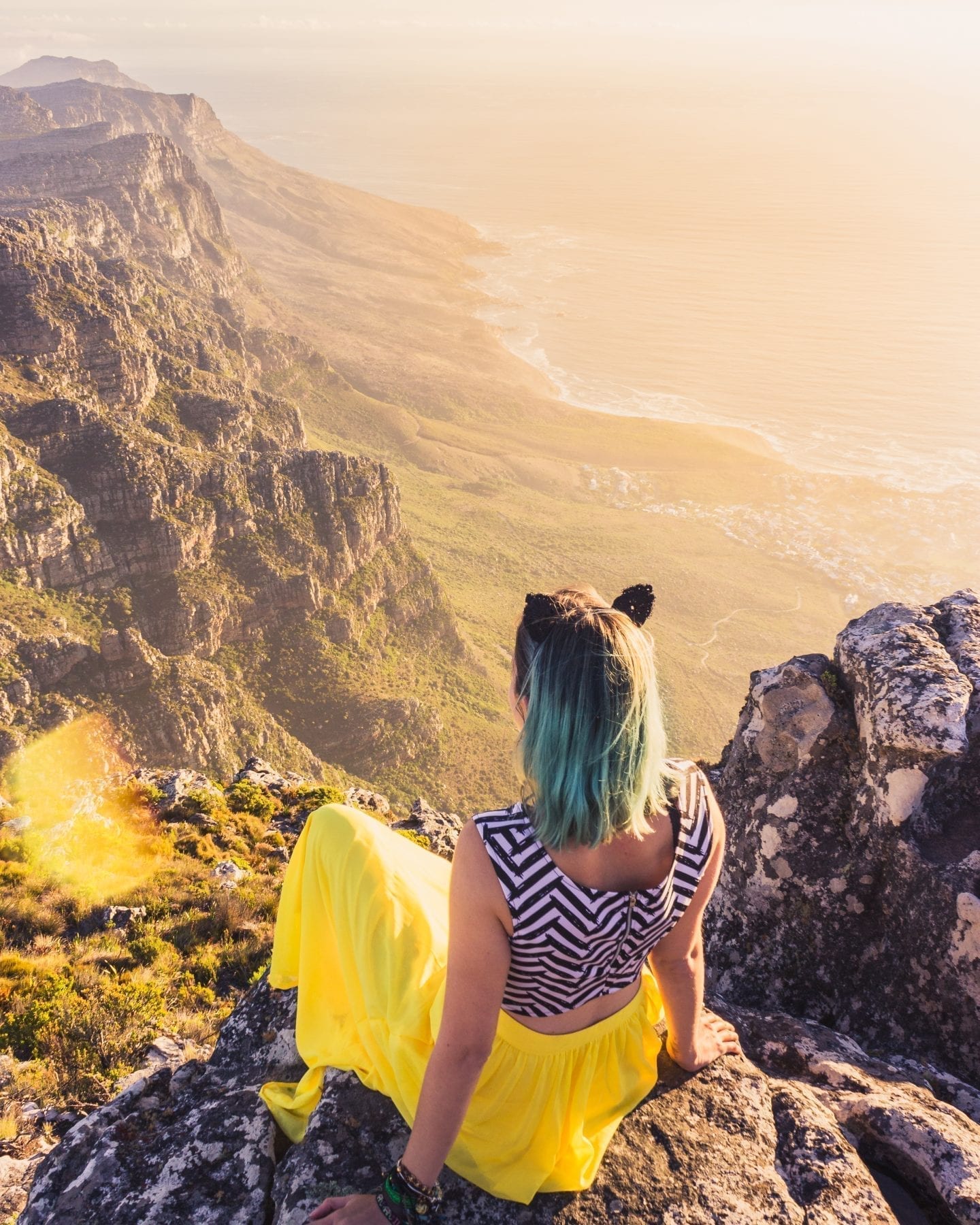 No visit to Cape Town would be complete without a gram on top of the city's legendary mountain – or at least a shot of it in the background.
If you're not up to the hike or afraid of heights, head to Blouberg Beach for sunset. It's one of the most Instagrammable places in Cape Town for that iconic skyline shot.
Read More: The Perfect Cape Town Itinerary for One Incredible Week
---
2. Lions Head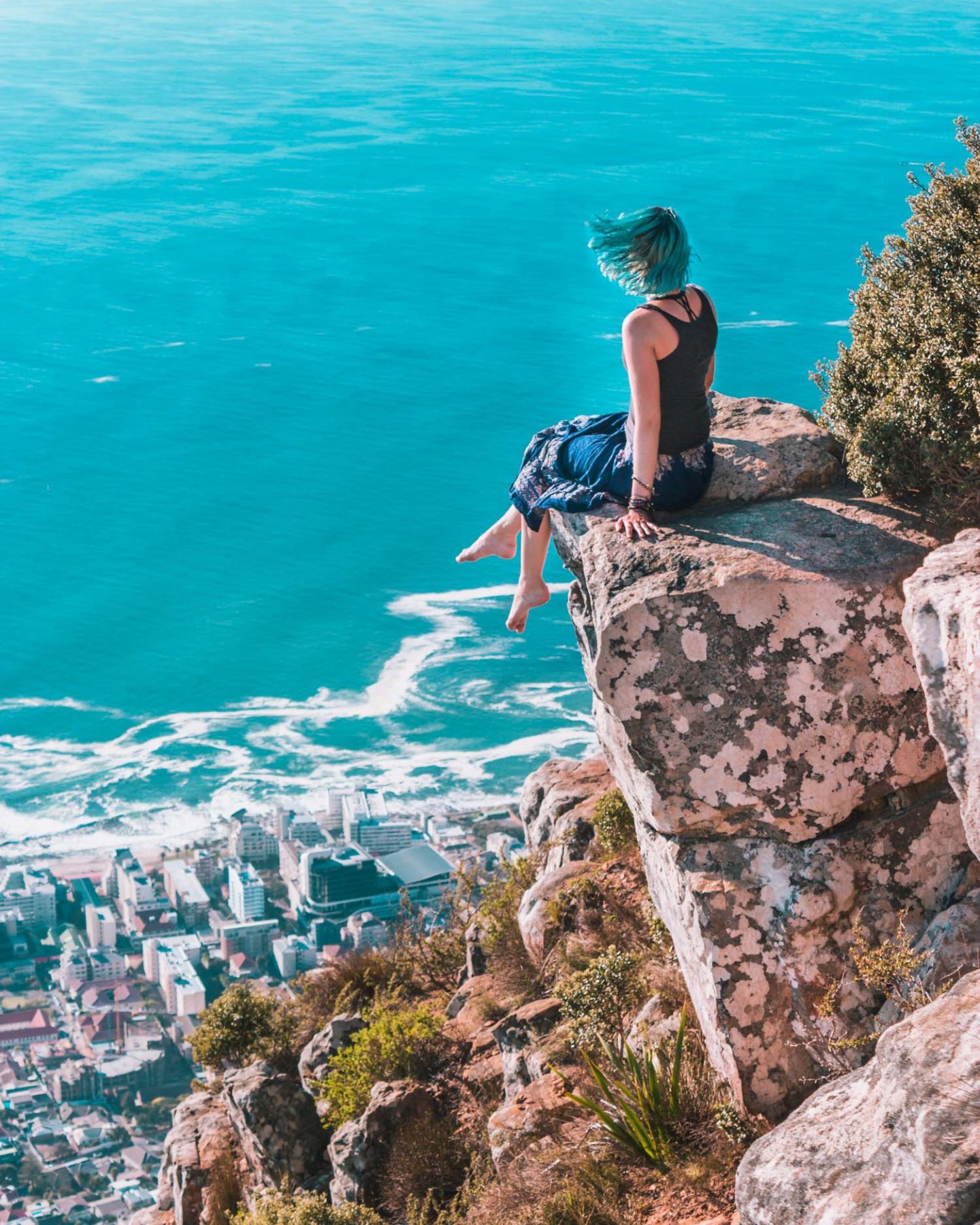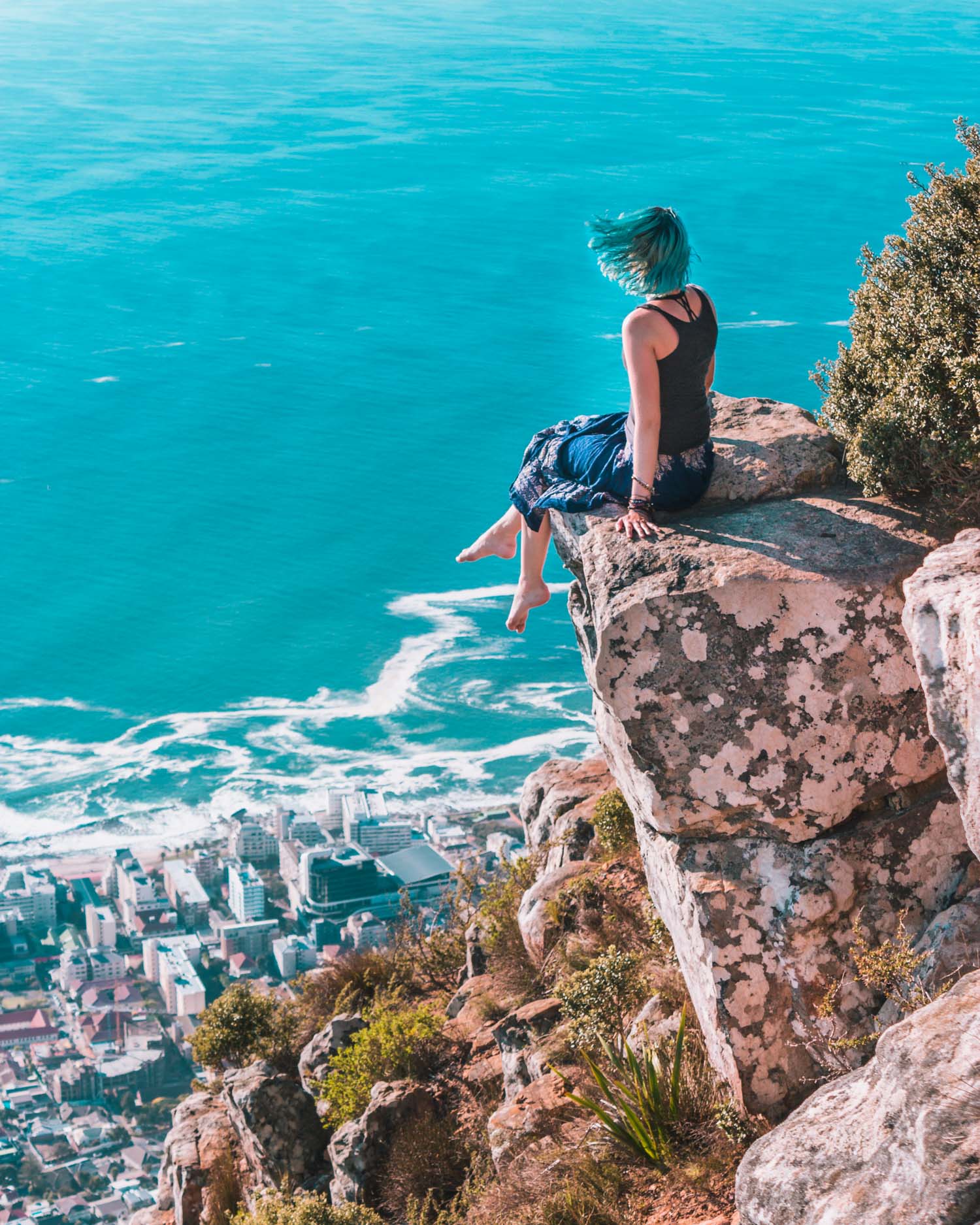 Another right of passage is hiking Lion's Head.
If you're in town at the right time, I highly recommend joining the locals for the full moon hike. You'll be in prime position for an epic sunset, and if you're lucky, there will be a few paragliders in the sky as well. Combined with the iconic views of the city below, the two-hour hike is by far one of the best places in Cape Town for Instagram photos.
Just be sure to pack warm clothes for when the temperature drops and a torch to help you safely get down the mountain in the dark.
Read More: Lion's Head Hike in Cape Town: Full Hiking Guide
---
3. Kloofs Corner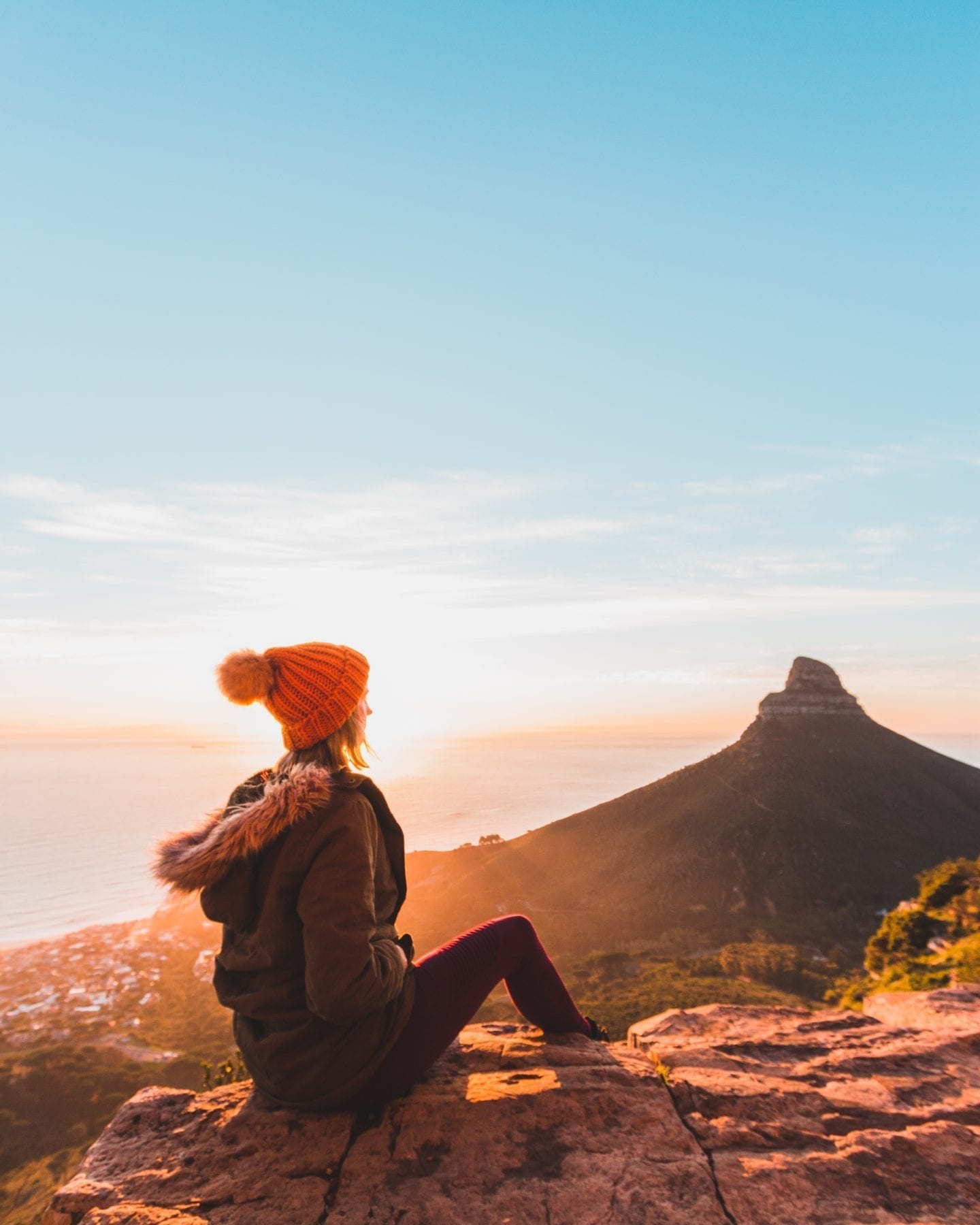 Not in the mood for a two-hour trek up to Lion's Head?
Take the lazy way out and hike up to Kloof's Corner and explore one of the most Instagrammable places in Cape Town. It's a quick 20-minute walk and will give you a birds-eye view of Camps Bay below and Lion's Head in the distance.
You get bonus points if you make it up here when the clouds are low!
Read More: 45 Awesome Things to Do in Cape Town: A (Hella Long) Local's Guide
---
4. Cape Point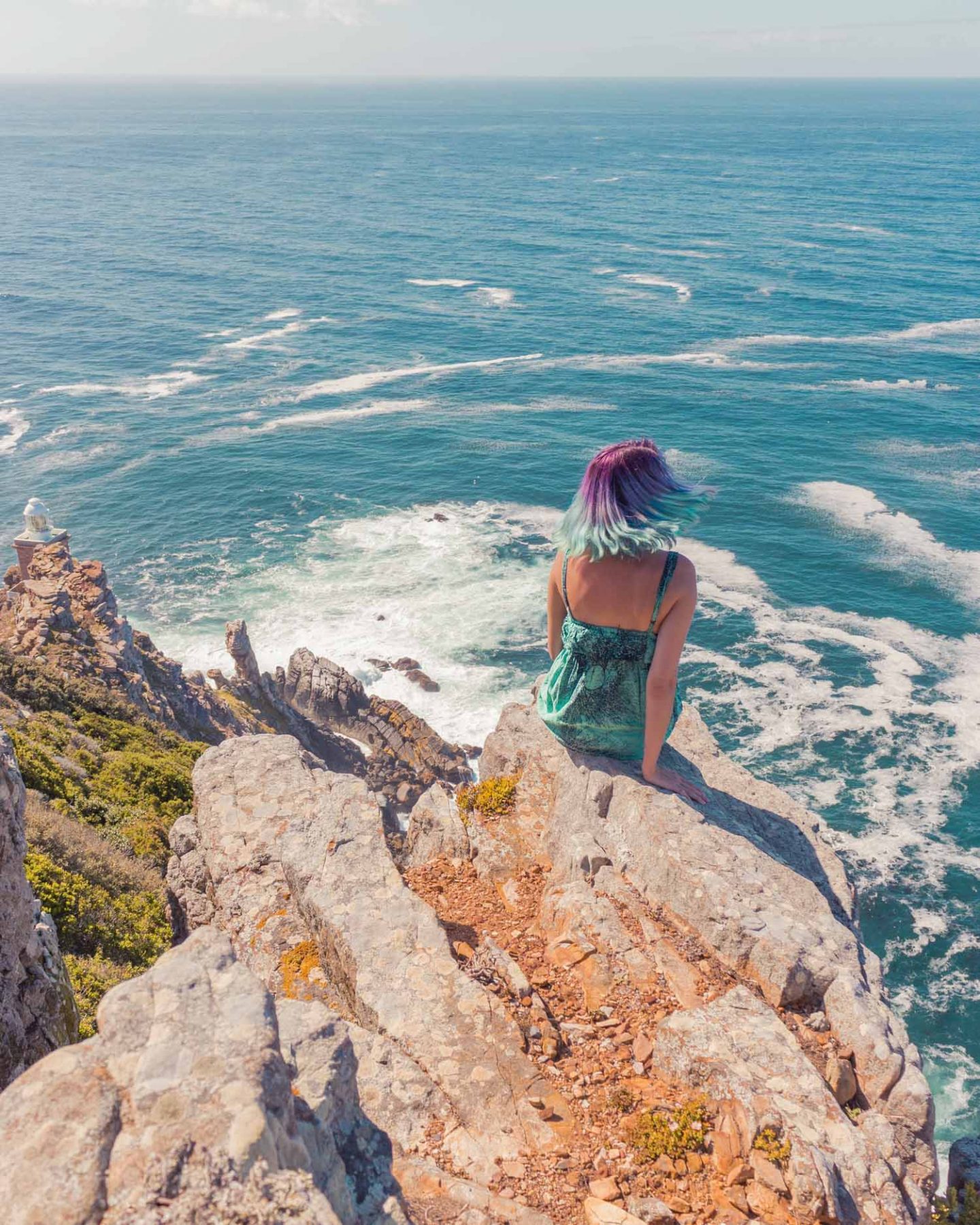 Cape Point is worth the 30 to 40-minute drive. It boasts multiple day and overnight hikes that will satisfy any nature lover's wanderlust.
If you only have a few hours here, make your way to the Dias Lookout. You'll get super close to the point, and there are loads of photo opportunities on the way. But if you have some more time, explore the other trails or opt for one of the overnight hikes. The sheer number of photo options makes this one of the best Instagram spots in Cape Town.
Top tip: Get to Cape Point first thing in the morning. You'll miss the busloads of tourists that start arriving around 10:00 a.m., and you'll be able to get your shots without having to contend with the crowds.
Read More: 12+ Best Hiking Trails in Cape Town With Jaw-Dropping Views
---
5. West Coast National Park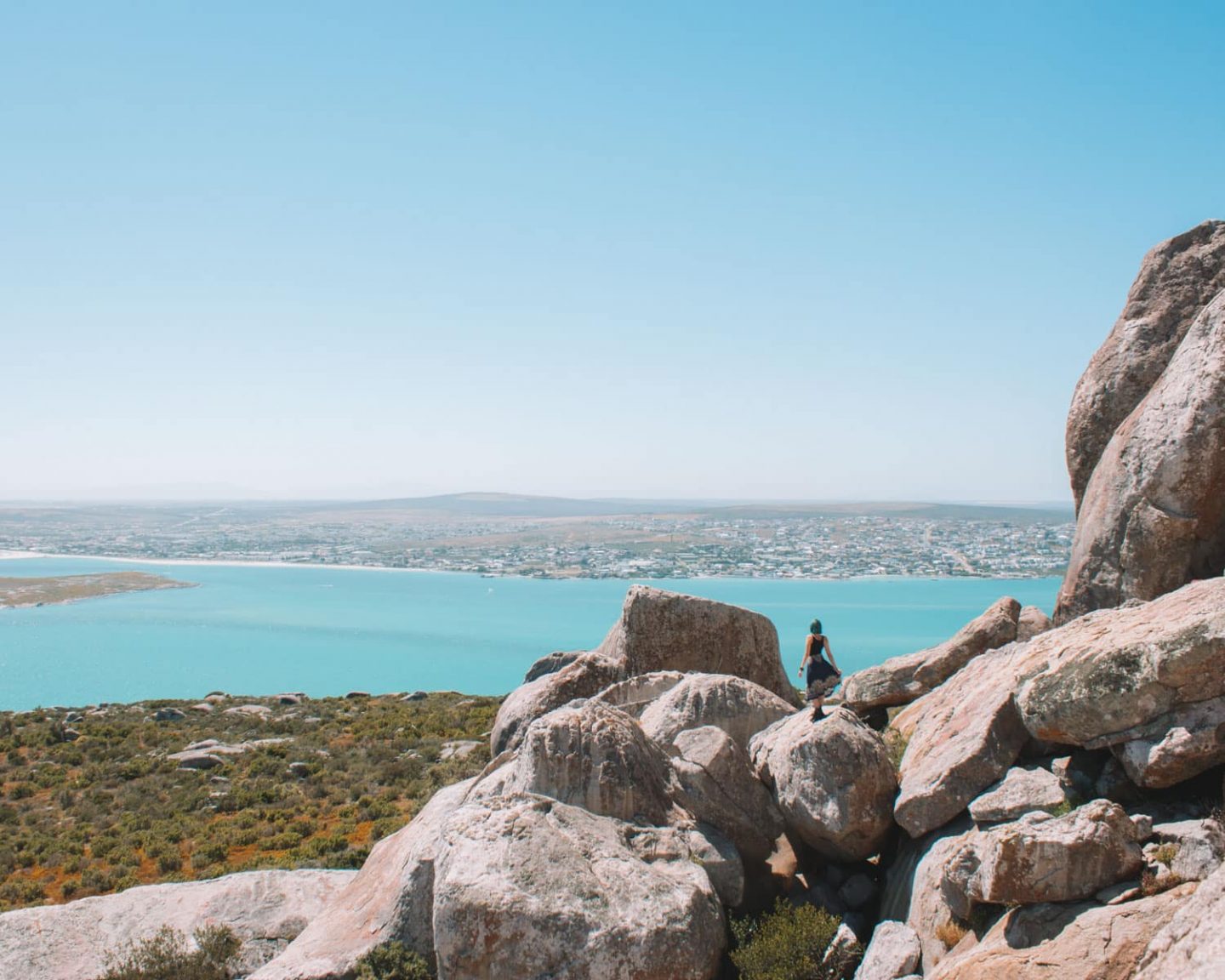 The West Coast National Park is one of the most Instagrammable places in Cape Town. Sorta.
Technically it's just outside of the city, but it still counts in my books.
If you can, plan your visit around the wildflowers in September. The park has a section called Postberg that is only open during this month, and it is Instagram heaven.
You'll find white, purple, pink and yellow flowers blooming for as far as the eye can see. Plus there are a few zebra, gemsbok and tortoises to keep an eye out for as well.
Pack a picnic and spend a good few hours chilling at the beautiful Kraalbaai or climbing boulders like me.
Read More: 15+ Irresistible Day Trips from Cape Town
---
6. Canola Fields in Caledon
Another springtime photo op that should not be missed in Cape Town is the canola fields in Caledon.
Located only an hour outside of the city, you'll find huge fields of yellow flowers. Some will be on private property while others are easily accessed from the side of the road.
There are also a few nearby wine farms that have their own fields. Once you're done getting your shots, you can head indoors for lunch or a tasting.
Read More: 10 of the Best Things to do in Cape Town in Winter
---
7. Kirstenbosch Botanical Gardens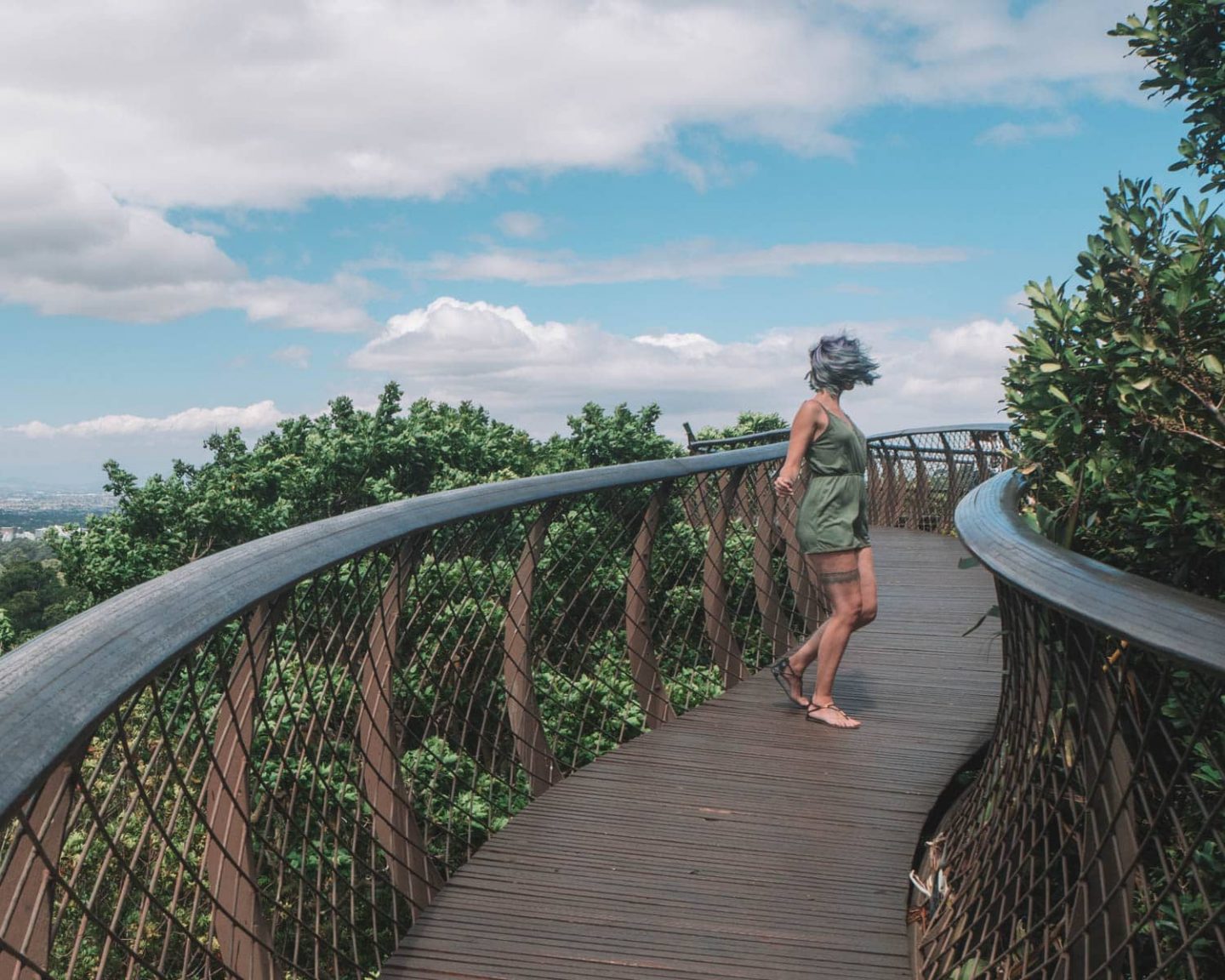 No matter what time of year you visit Kirstenbosch, you'll always find dozens of Instagram photo spots around each corner.
From its famous Boomslang walkway to the massive enchanted forest tree, you can easily spend an entire day walking around and filling up multiple memory cards.
If you want that picture without the crowds, get here first thing in the morning. You'll have the walkway all to yourself, and you won't have to wait for people to get out of your shot.
---
8. Boulders Beach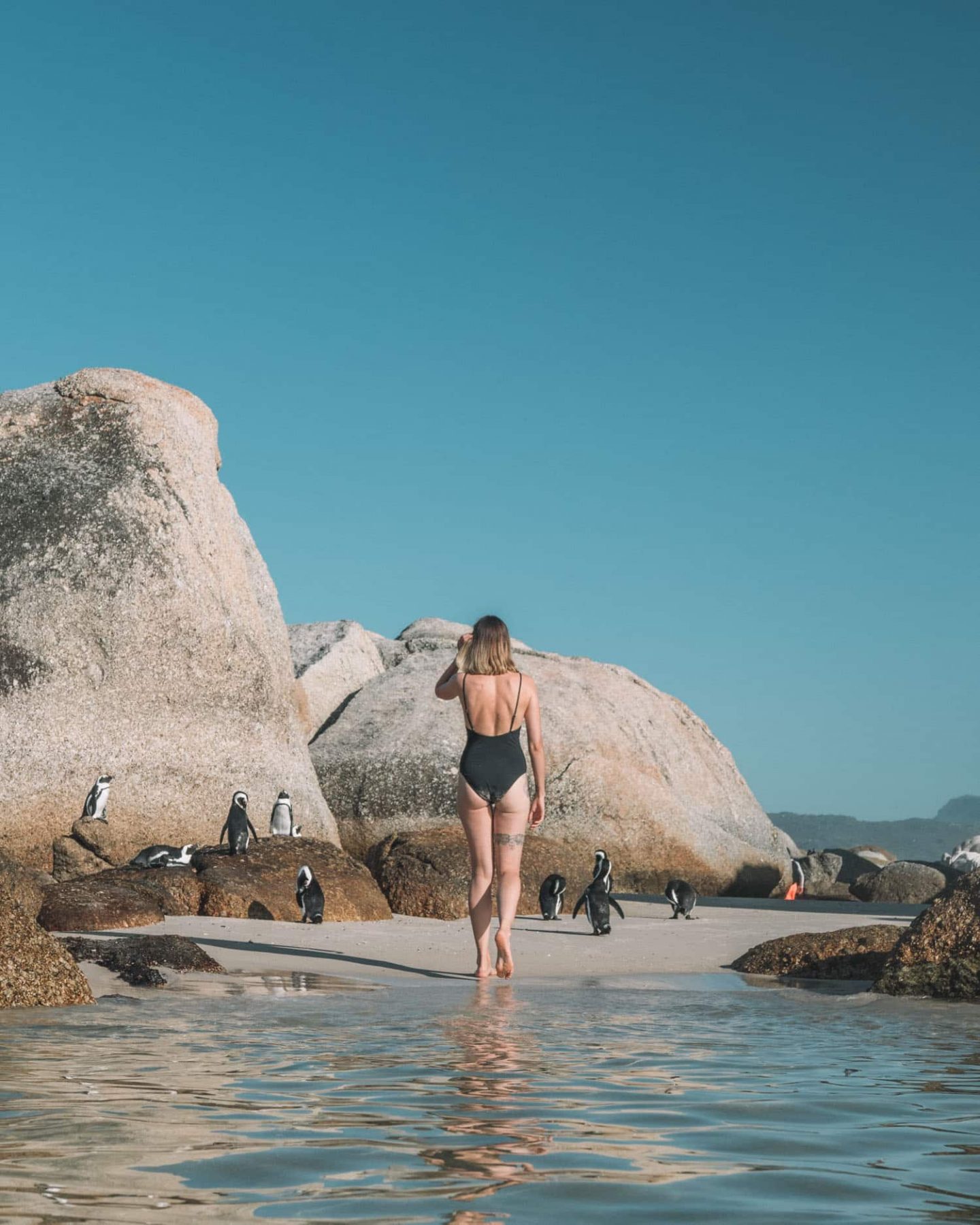 One of the first places I take my friends visiting Cape Town is Boulders Beach.
I mean, who doesn't want to spend a few hours taking photos of penguins and swimming with them in the ocean?
Entrance is only R 50 for South African residents and gets you access to a private beach. If you don't want to pay to go inside, the penguins often waddle out into the parking lot, but you'll be missing out on a ton of cuteness and Insta-worthy shots.
Read More: How to Swim With Penguins at Boulders Beach in Cape Town
---
9. Oudeschip Shipwreck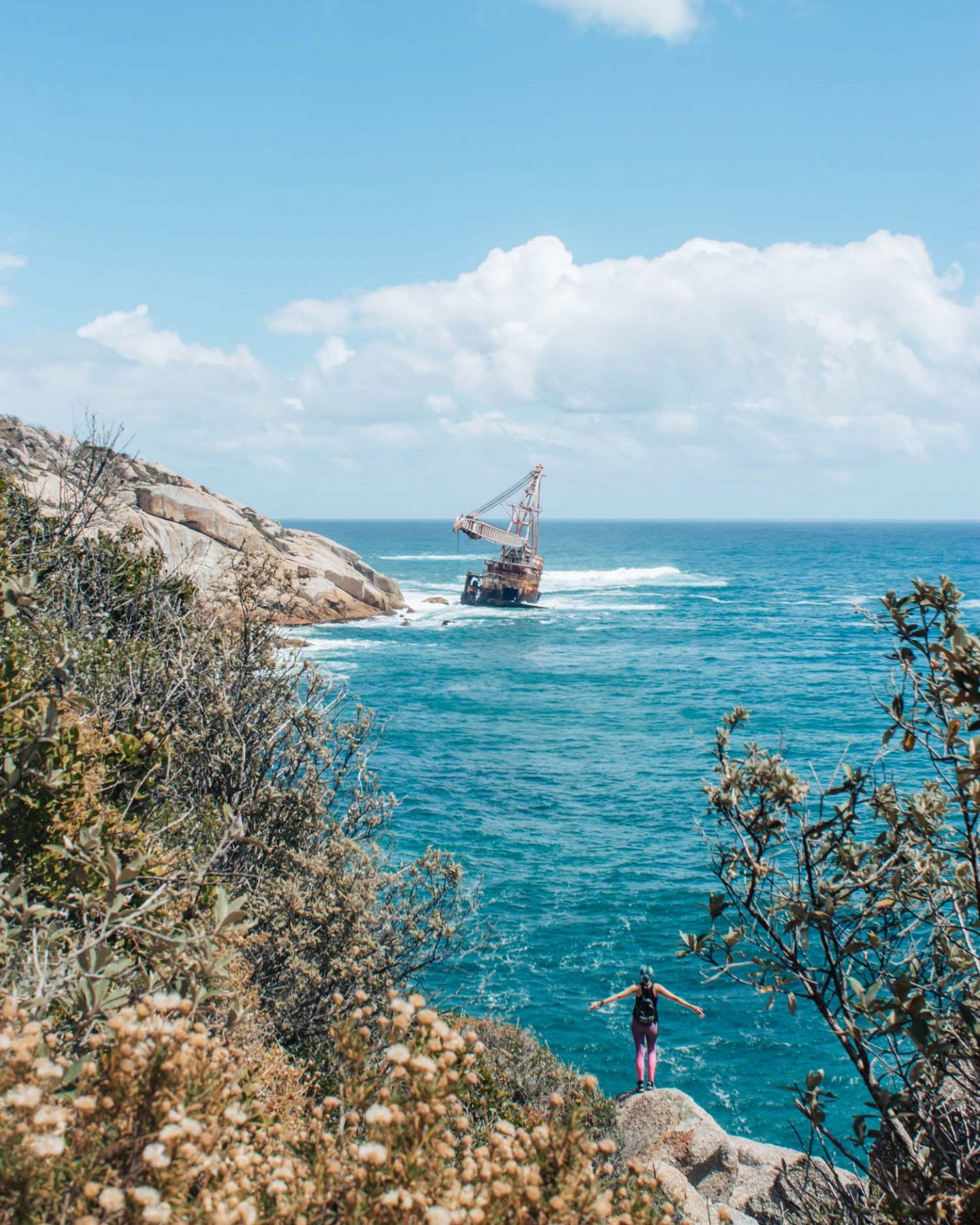 The Sandy Bay Shipwreck Trail is hands down one of my favourite hikes in Cape Town.
The hike begins at Sandy Bay, the city's unofficial nudist beach. Although, I saw more surfers than exhibitionists the last time I was here.
If you want to make it to the shipwreck, you'll need to plan your hike with the low tide. Life of Mike has a super detailed blog post about how to get there without getting lost.
But even if you just admire the ship from afar, it still makes for epic photos and deserves a spot on any "most Instagrammable places in Cape Town" list.
---
10. Wally's Cave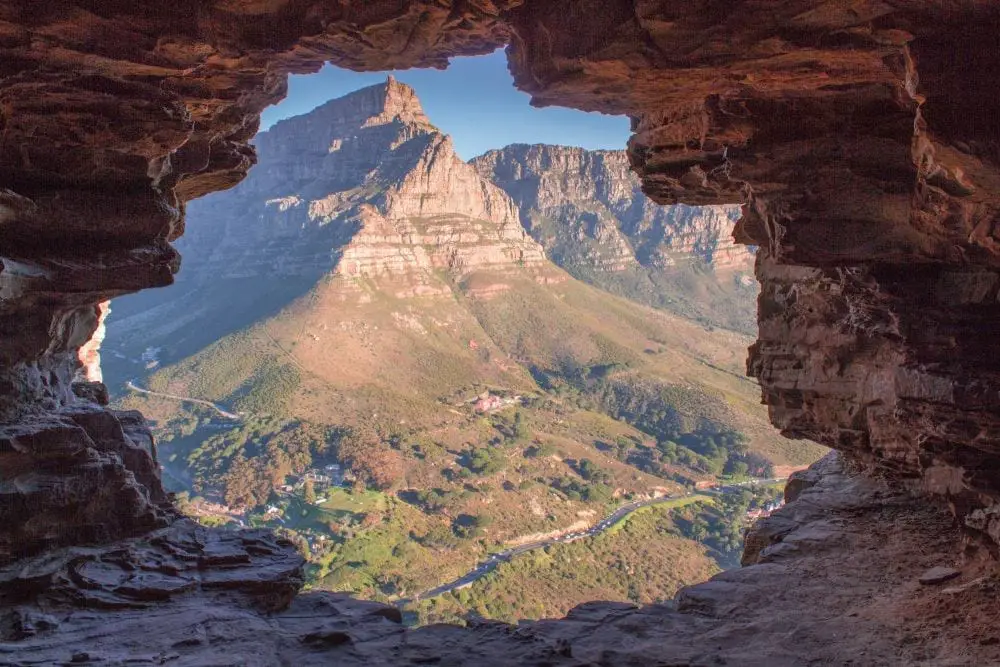 So I have a thing with caves. There is something about them that makes me feel like an adventurous pirate staking out a place to hide my buried treasure.
Wally's Cave is one of my favourite Instagram spots in Cape Town. It makes for a place to watch the sunset or a rest stop on the way to the top of Lion's Head.
Please note: Wally's Cave is closed to hikers at the moment. Please check out the Lion's Head Instagram page for updates on when the trail will be open again to the public.
---
11. Babylonstoren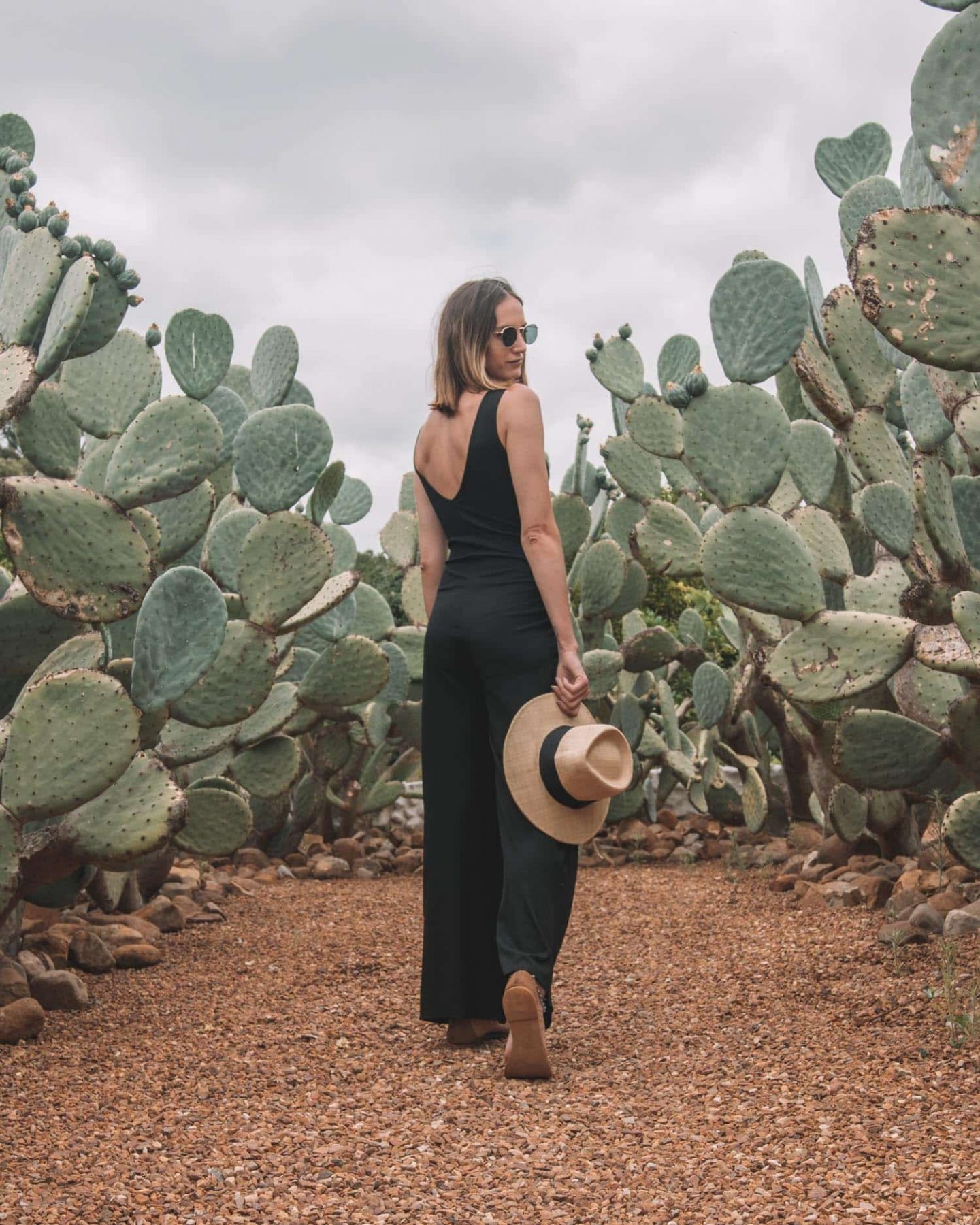 Babylonstoren is a wine farm located in the Franschhoek Valley – one of the most beautiful places in Cape Town.
But besides its award-winning fermented grapes, its magnificent garden makes it one of the best photo spots in Cape Town.
The most popular section is the giant cacti maze.
If you want the best light and to avoid the harsh shadows, plan to arrive here in the late afternoon. There is an R20.00 entrance fee, and the wine tasting is under R 50.00 if you want to get a little day drunk beforehand.
---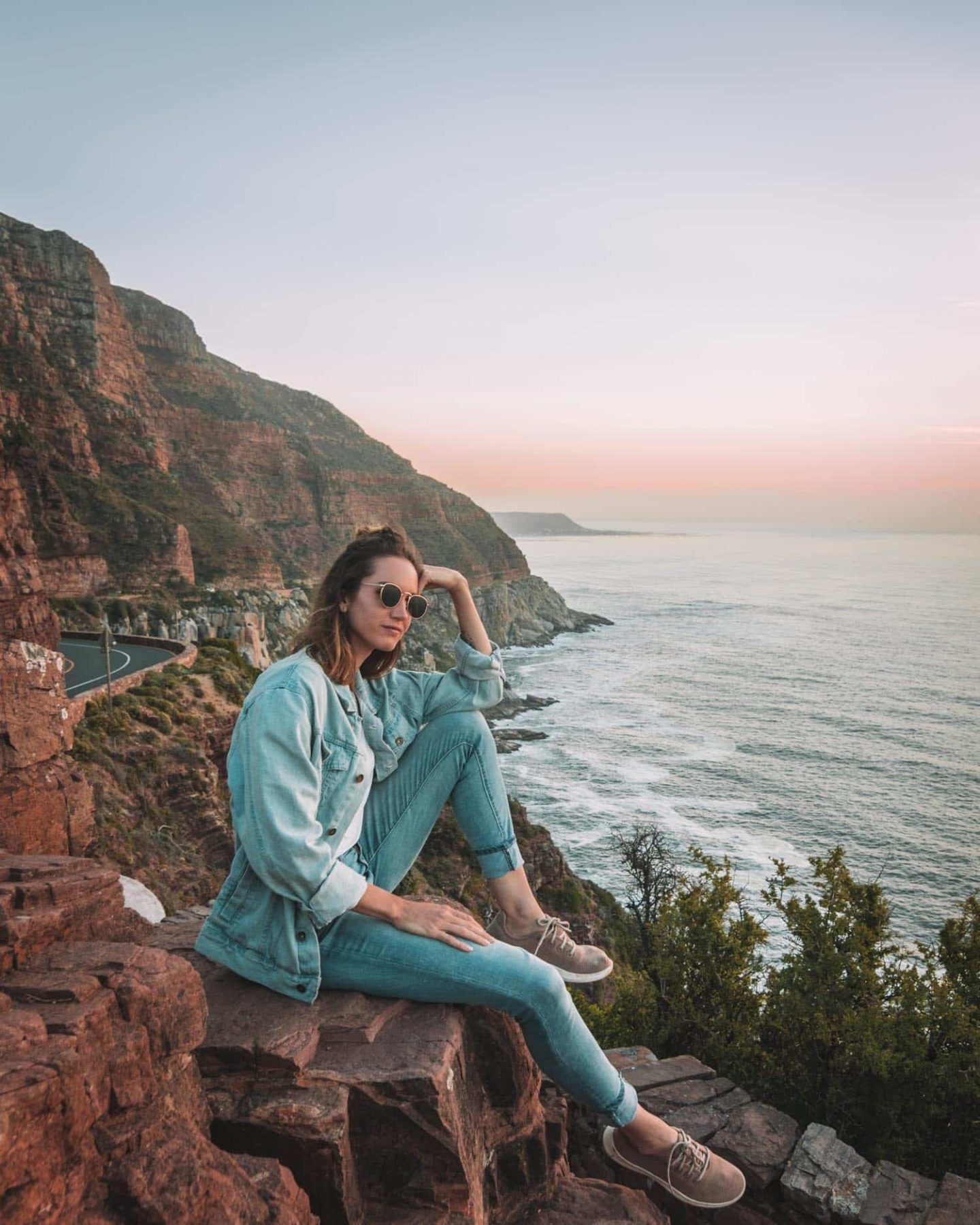 12. Chapman's Peak
Chapman's Peak is one of South Africa's most scenic drives.
But it's also home to a hidden cave (perfect for sunset missions).
There are loads of Instagram-worthy spots on the way, giving you plenty of opportunities to snag some killer photos for your feed.
I highly recommend packing a picnic, heading down to the cave and watching the day go out in style.
Safety tip: It can get REALLY windy at Chapman's Peak. Do not head down to the cave or get close to the edge of the cliff if the wind is strong. We have enough rock art in South Africa and are good without your contribution.
---
13. St James Beach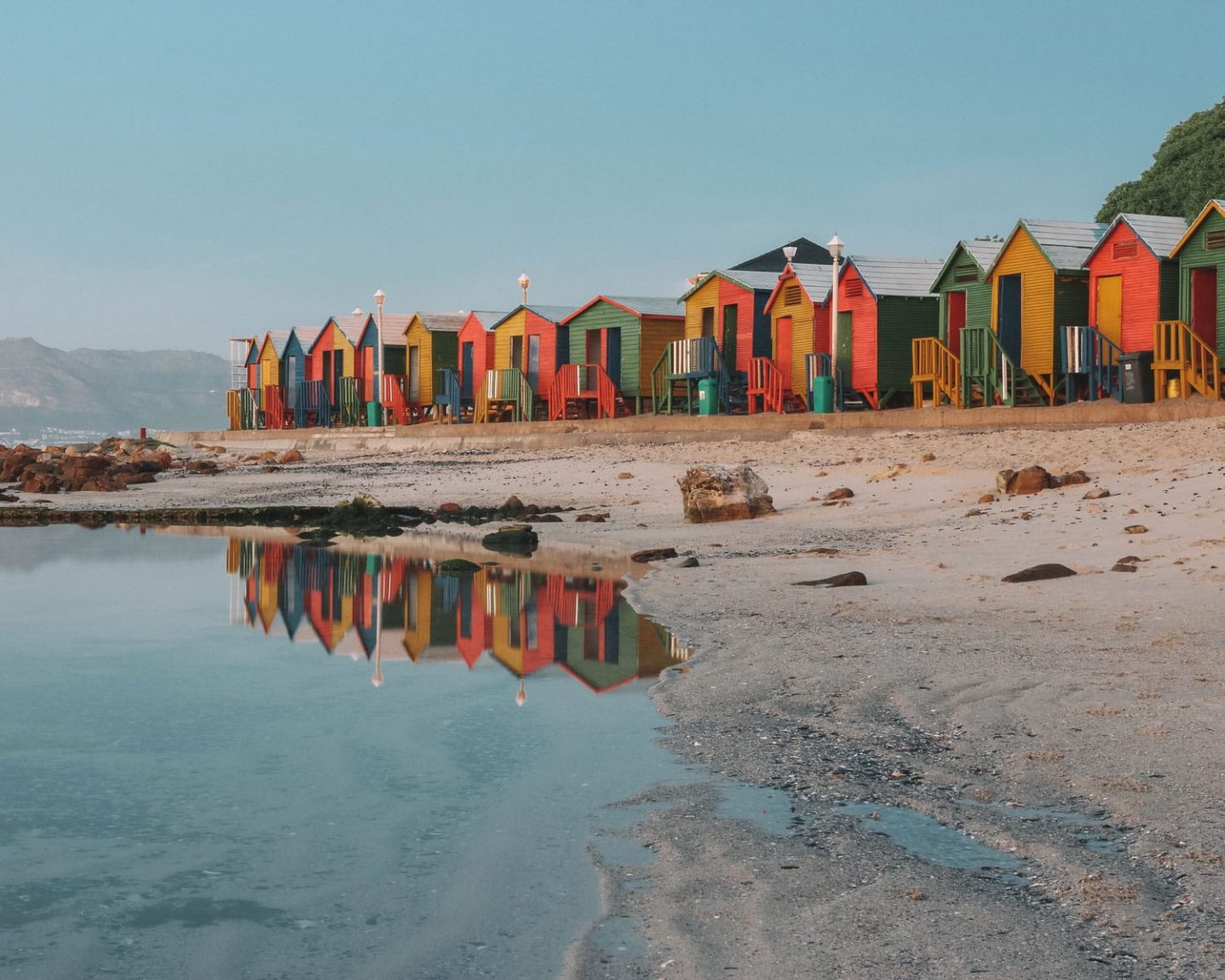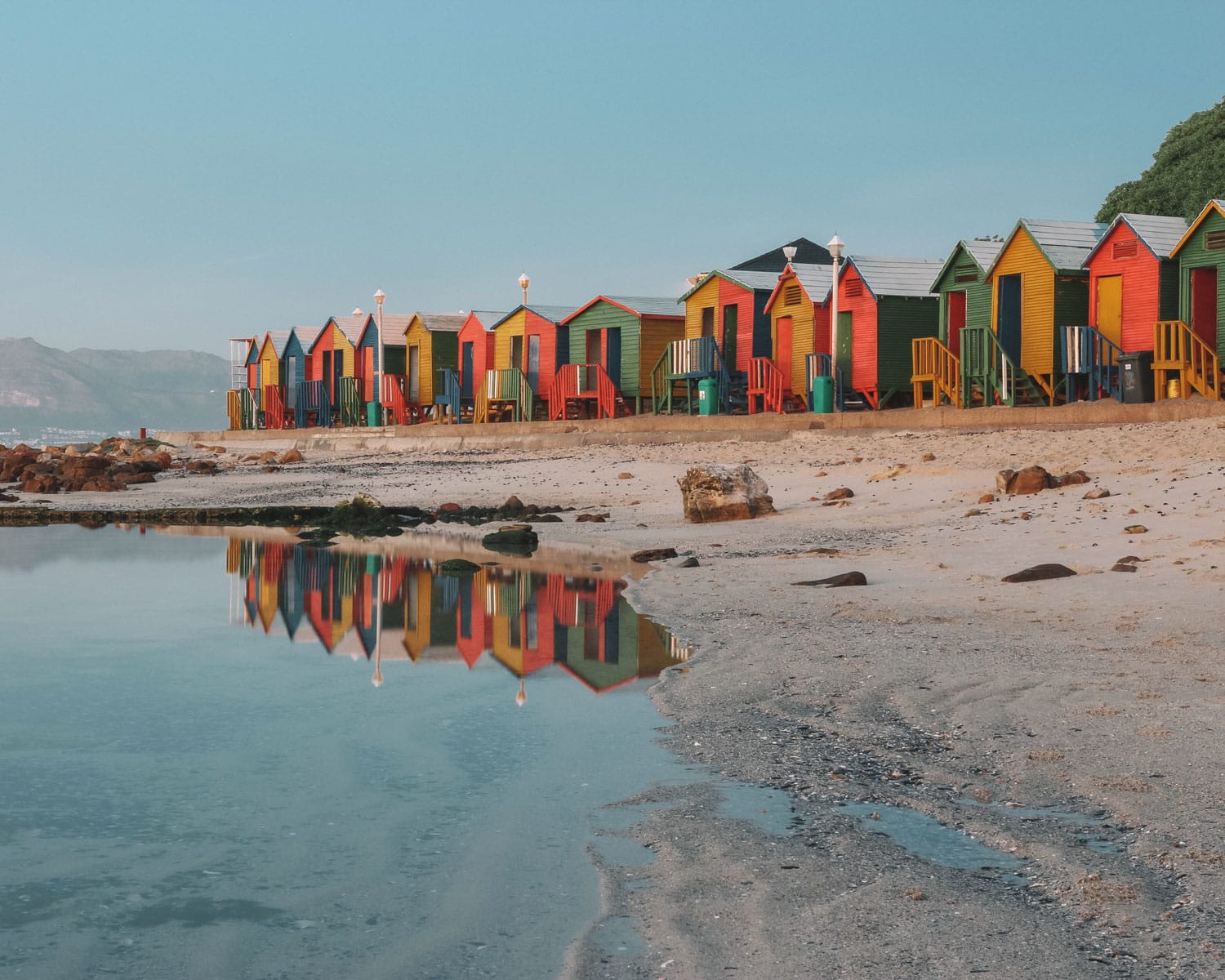 Kalk Bay, St James and Muizenberg are filled with some of the most Instagrammable places in Cape Town.
Whether you want to capture some shots of surfers tackling the waves or get in a few lifestyle shots at the harbour, you'll be spoilt for choice.
One of my favourites is the colourful beach houses of St James Beach.
If you wake up in time for sunrise, you'll most likely run into a dozen Instagrammer early birds on the beach planning their perfect shot.
Read More: Where to Stay in Cape Town: A Guide to the Best Neighbourhoods
---
14. Table Bay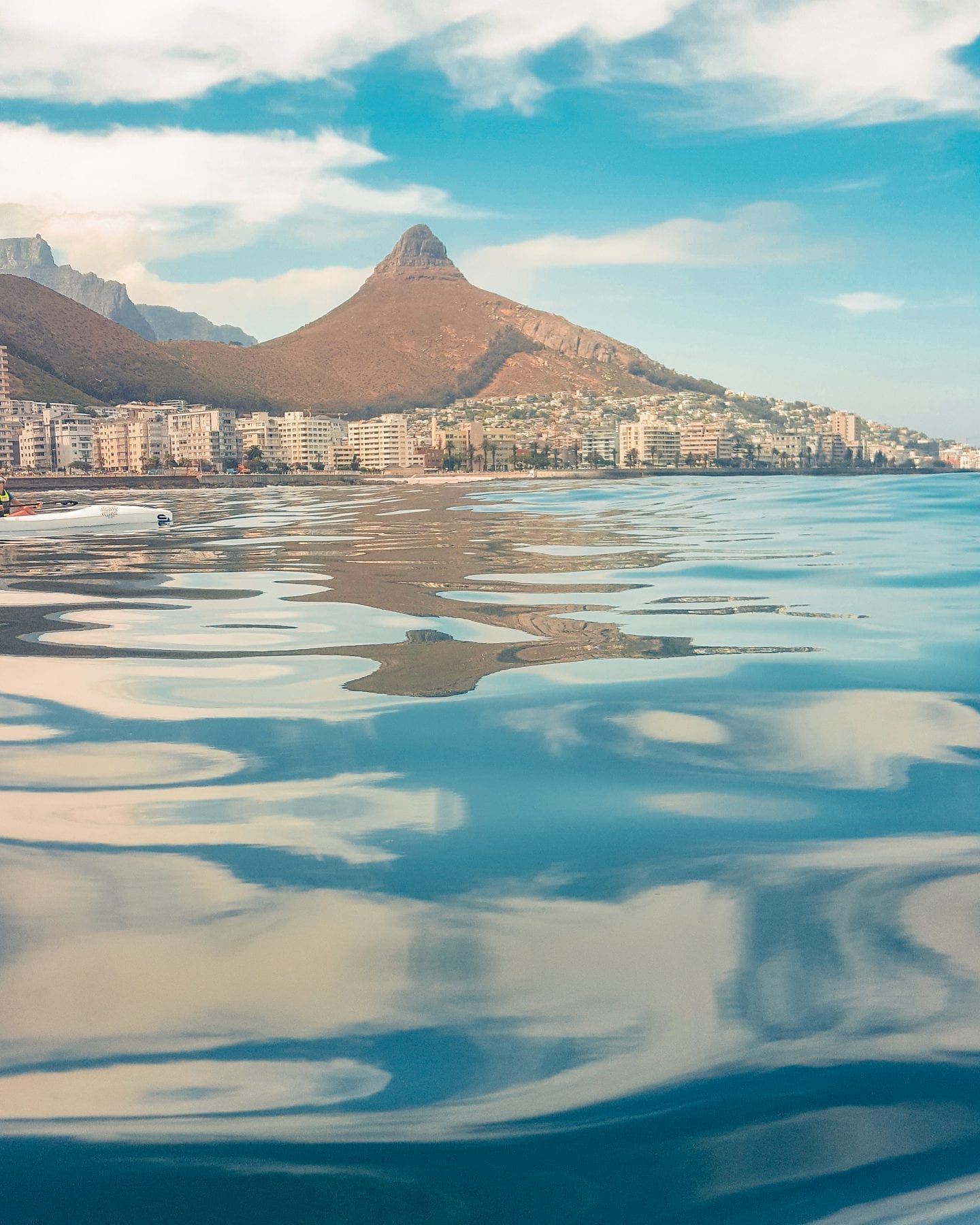 Another epic way to take in Cape Town's views is to hire a kayak and paddle your way to Table Bay.
But the best part is that you won't just have the natural beauty to admire, you'll have a chance to get up close to Cape Town's marine life.
Dolphins, whales and sunfish are frequently spotted close to the bay especially first thing in the morning.
If your phone isn't waterproof, keep it in a dry bag while you're paddling or bring a GoPro.
There are quite a few companies offering kayaking tours in the bay at the moment. I recommend Atlantic Outlook. It's run by one of South Africa's biggest Instagrammers, Ben Brown, and the tour lasts for two hours.
---
15. Kasteelpoort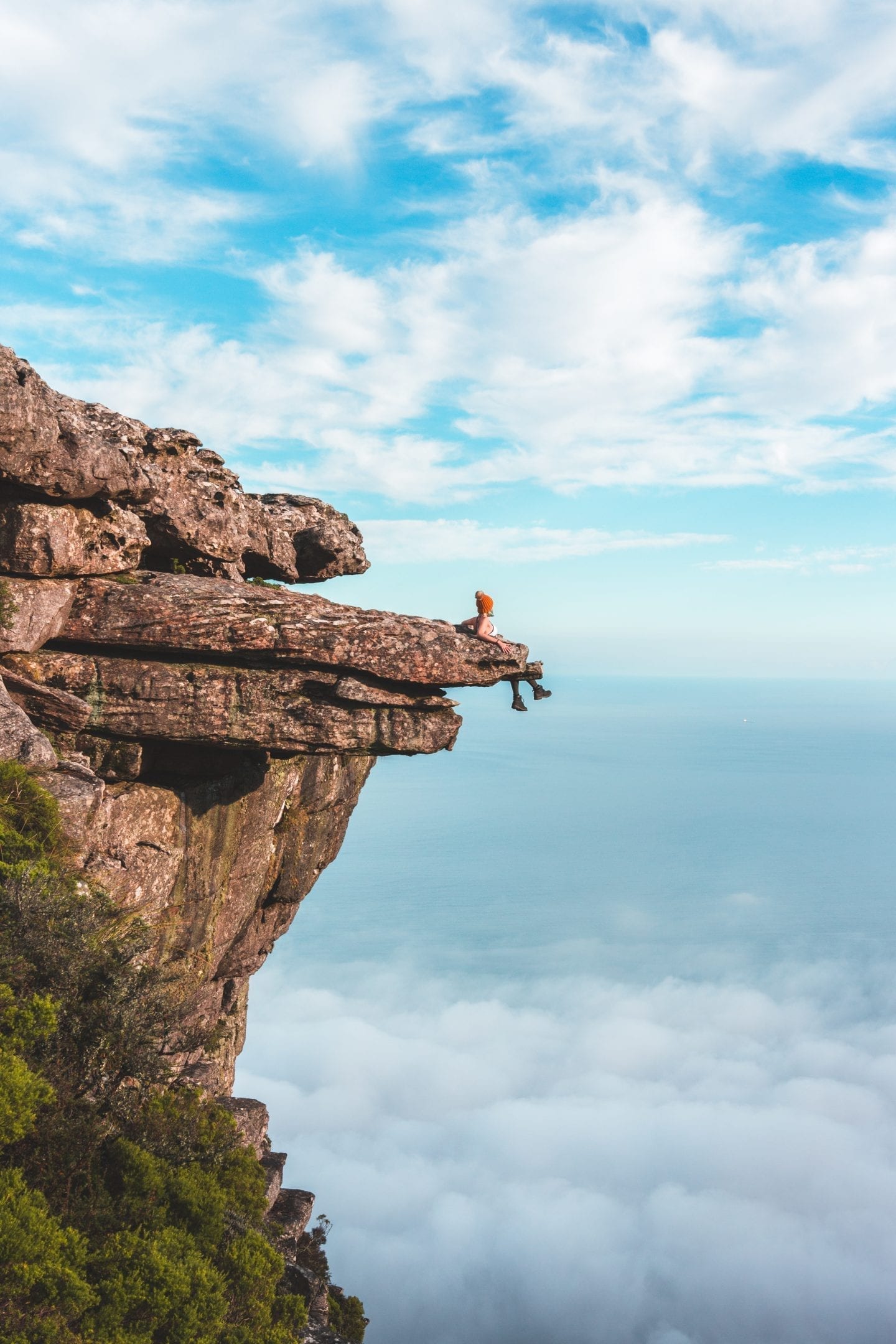 Kasteelpoort is the famous "surfboard rock".
I know, I know it LOOKS terrifying.
But it is safer than it looks.
It's not the easiest hike up Table Mountain, but the views are 100% worth it.
Once you're up there, you can make your way to the cable car station or carry on towards the Tranquility Tracks.
BONUS: Your glutes will amazing by the time you hike back down, but they might require an ice pack.
---
16. Bo Kaap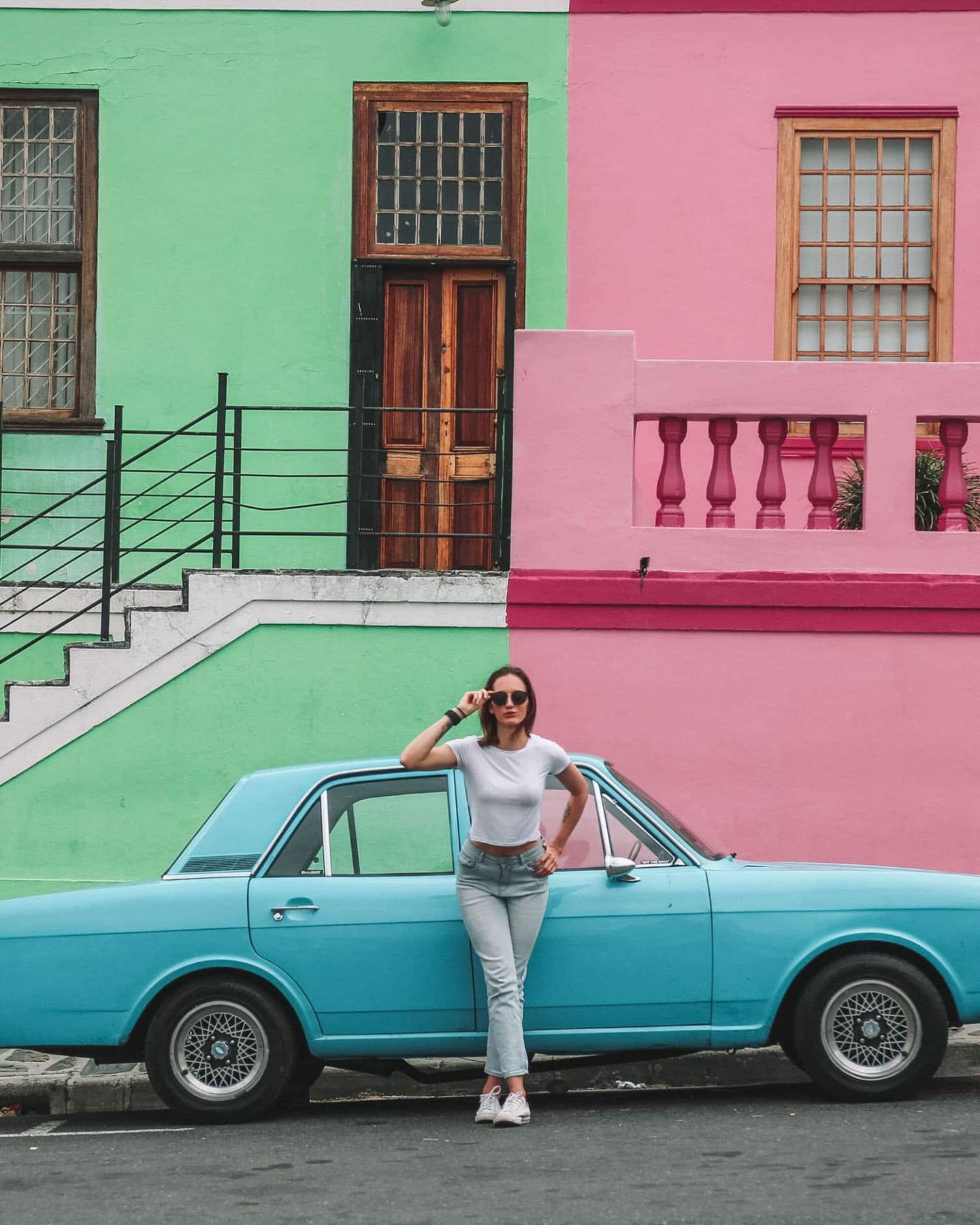 The colourful Bo Kaap neighbourhood is a must-visit for first-time visitors to Cape Town. Situated on a hill in the city centre, the Cape Malay people have decorated their houses in vibrant colours of pink, yellow, blue and orange.
There's also a local who has an Insta-worthy power blue convertible that's usually parked outside one of the houses on the main road.
If you do come to take photos here, please be respectful of the locals. It is their homes, and they don't appreciate tourists taking pictures of them or going onto their property.
---
17. Maiden's Cove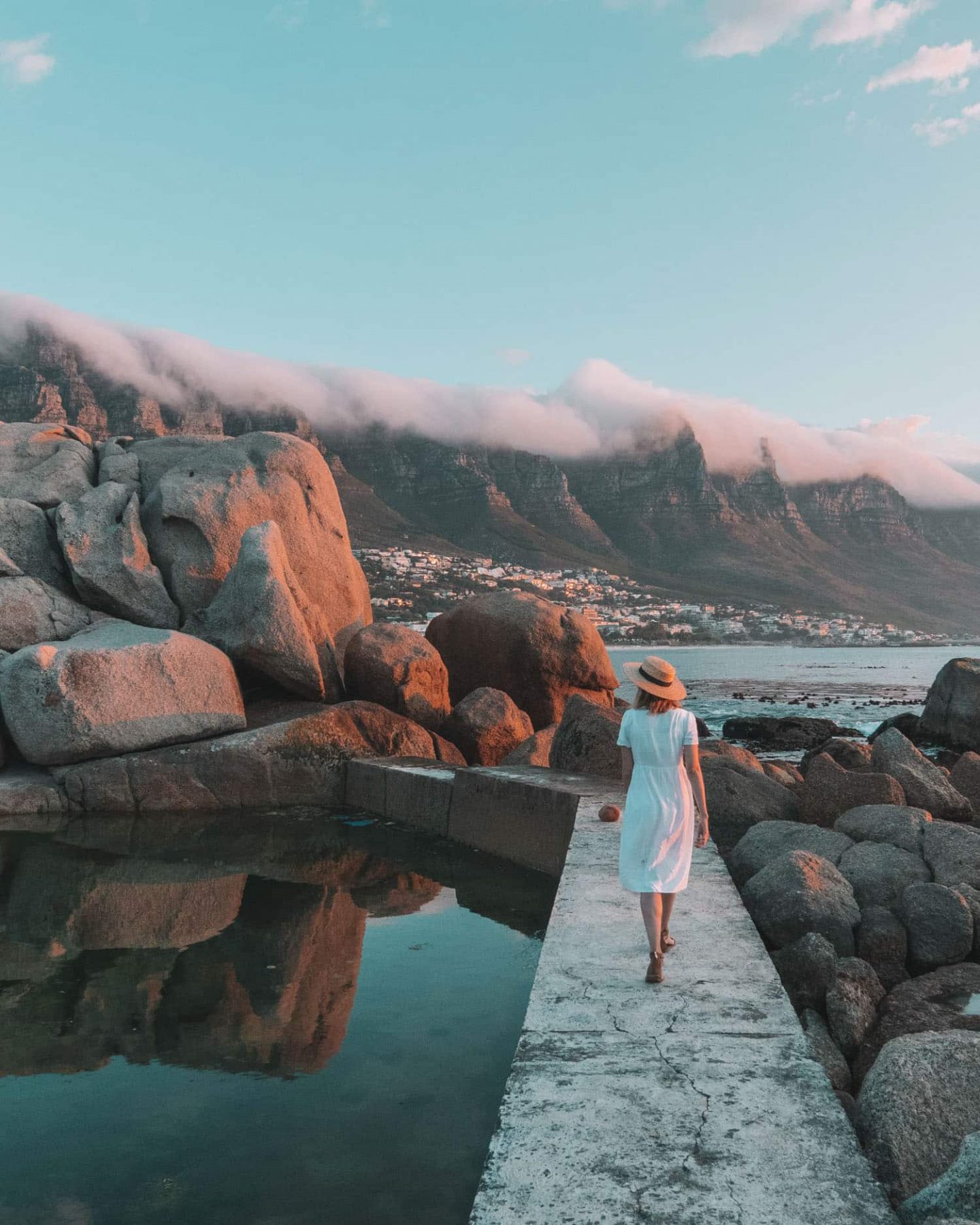 Maiden's Cove is one of the best sunset spots in Cape Town. The tidal pools are beautiful, and you can get some stunning reflection photos when the water is still.
It's one of the best places to take photos in Cape Town – plus you can fly your drone here!
---
18. Clifton 2nd Beach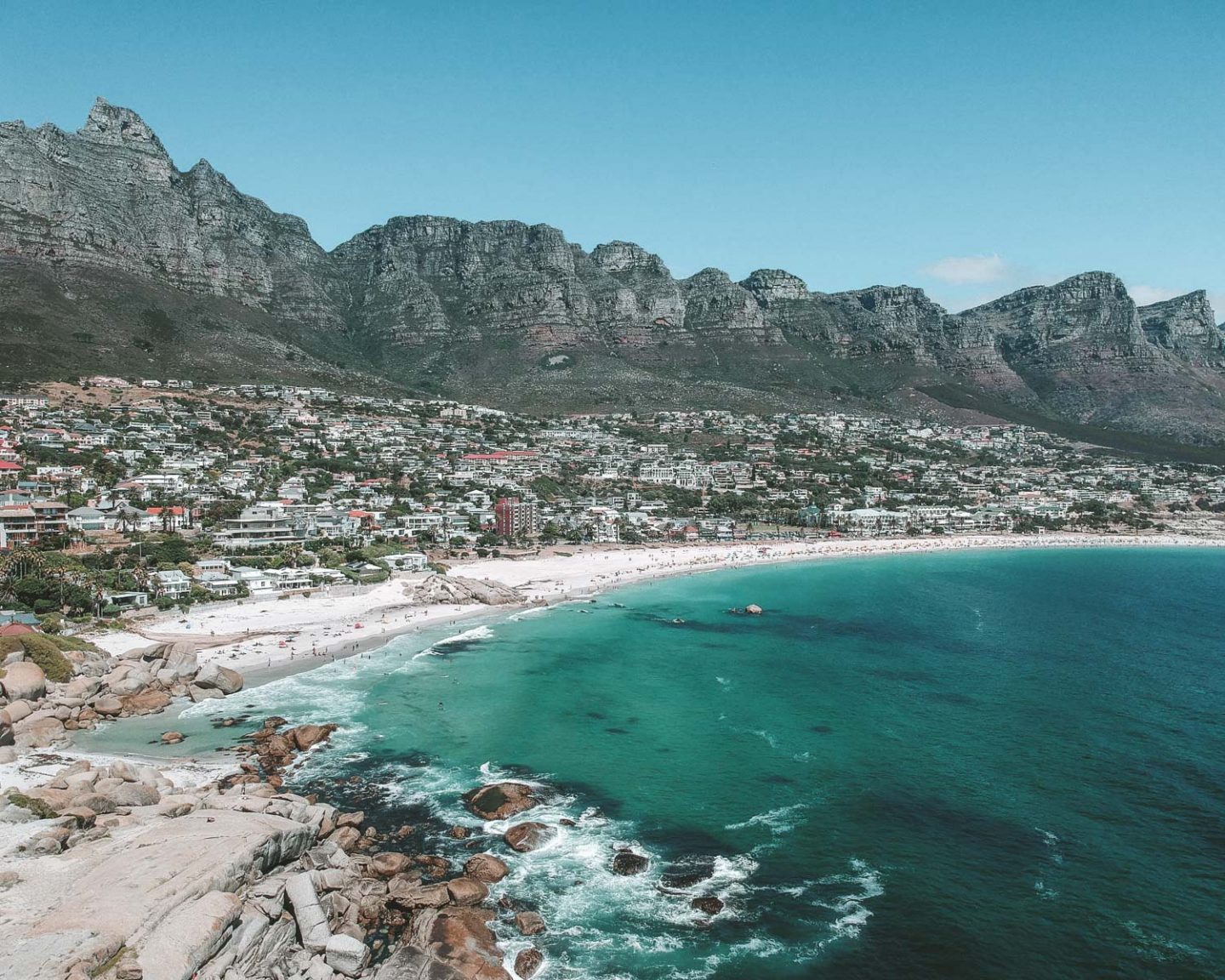 Can you even say you have Cape Towned if you haven't spent a day at Clifton 2nd Beach?
It's one of the best places to take pictures in Cape Town and is full of Insta-worthy photo ops.
From the fire shows on the beach to the ridiculously good-looking sunsets, it's hard for Clifton 2nd ever to disappoint.
Of course, Cape Town has many more Instagrammable locations. It's almost impossible to run out of spots that deserve a spot on your feed, and that's one of the reasons why I love this city so much.
---
19. Woodstock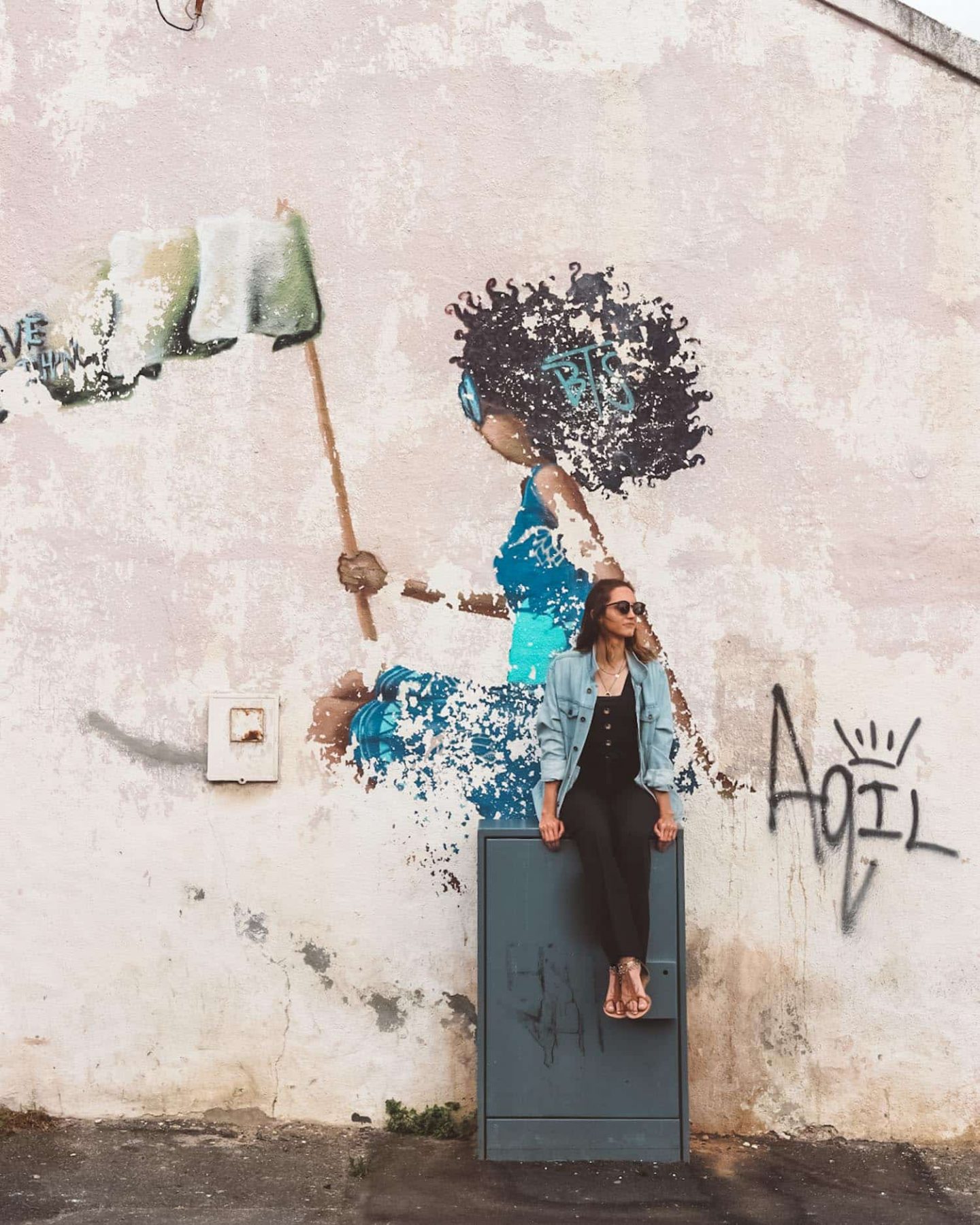 Woodstock is an artsy neighbourhood a few minutes away from the CBD. It's home to the famous Neighbourhood Goods Market and plenty of trendy coffee shops.
But around almost every corner, you can catch glimpses of the areas incredible street art.
The best way to see the artworks is to go on a guided tour. It's not safe to wander around by yourself with a camera (you'll scream tourist), but a guide can tell you the meaning behind each piece and take you to Woodstock's best murals.
---
20. Signal Hill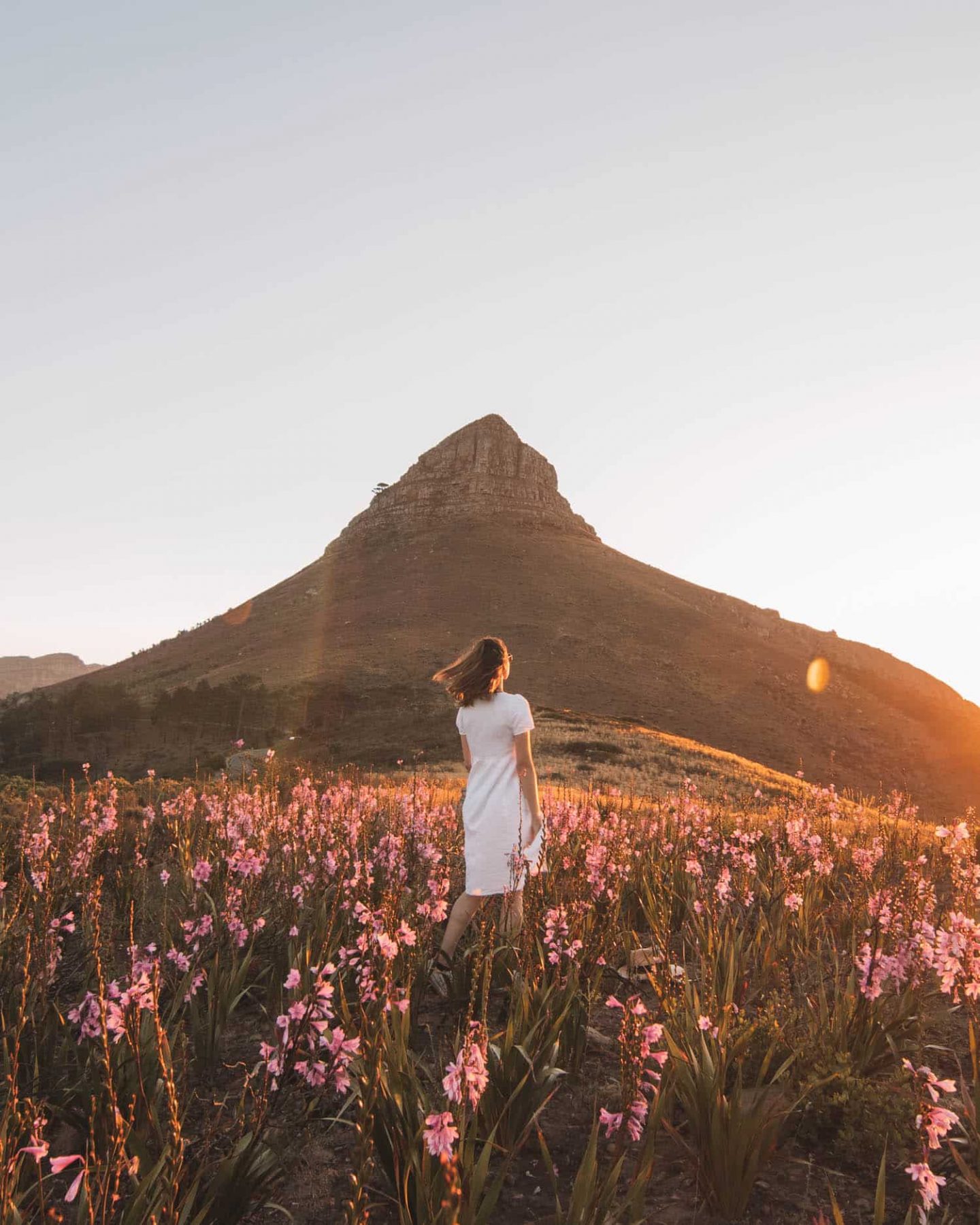 Want an epic sunset spot in Cape Town without the hike? Drive up to Signal Hill.
It's on the same road as Lion's Head and offers spectacular views of the city below and Cape Town's impressive mountain range.
---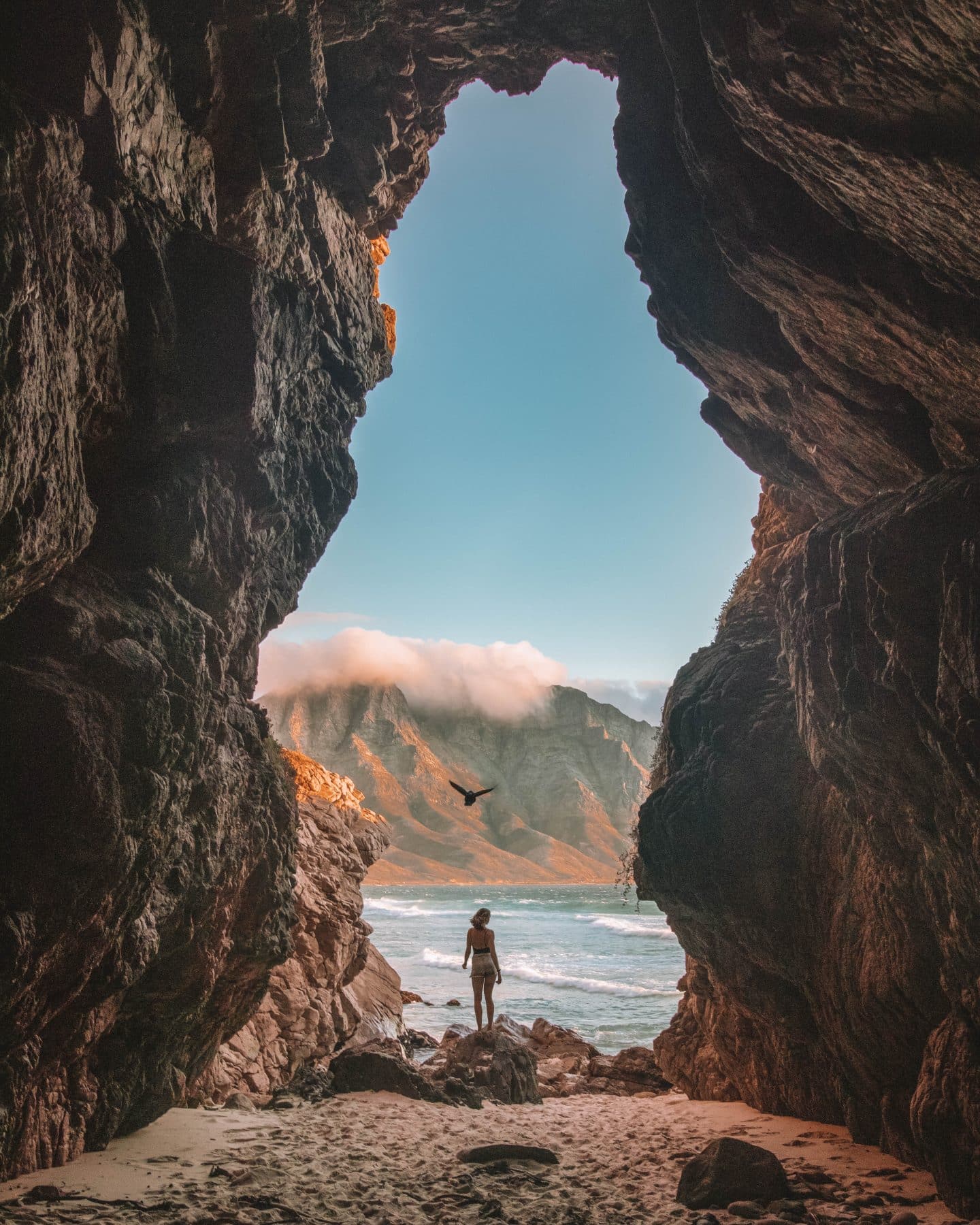 21. Kogel Bay
Kogel Bay is an hour from the city centre, but it's worth the drive!
It's an incredible sunset or sunrise Instagram spot in Cape Town, and it's a favourite with the local landscape photographers.
If you want to visit the cave, you'll need to time your visit with low-tide. Once you walk down the steps from the parking lot, turn right and walk to the end of the beach.
You'll go around some rock and voila! There's the cave!
Bring a flashlight if you want to explore – it's quite a deep cave and home to bats.
---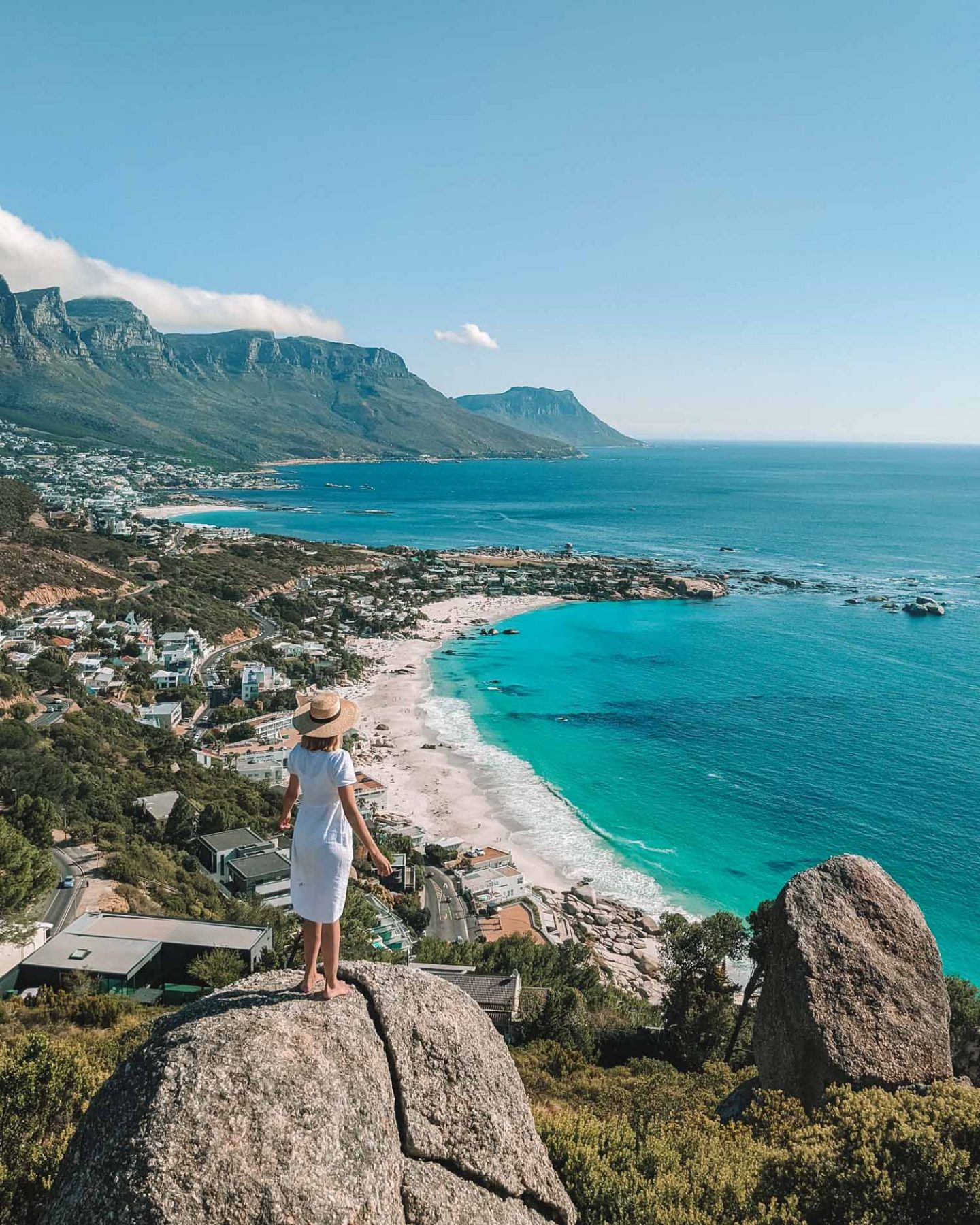 22. Camps Bay
Looking for an epic sunset spot over Camps Bay? Head to "The Rock" viewpoint on Google Maps.
Parking is limited. Get here early or take an Uber to avoid the hassle of getting out later.
When you arrive, follow a small path to the giant rocks. Bring some drinks and enjoy breathtaking views over one of the most beautiful beaches in Cape Town.
---
What are your most Instagrammable places in Cape Town? Let's discuss in the comments below!
---
Want more Cape Town travel inspiration? Check out my other posts:
Did you find this post useful? Save it for later on Pinterest!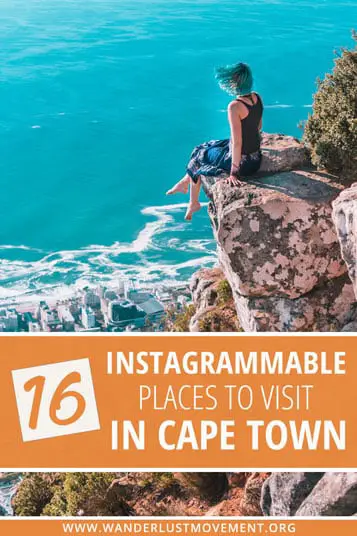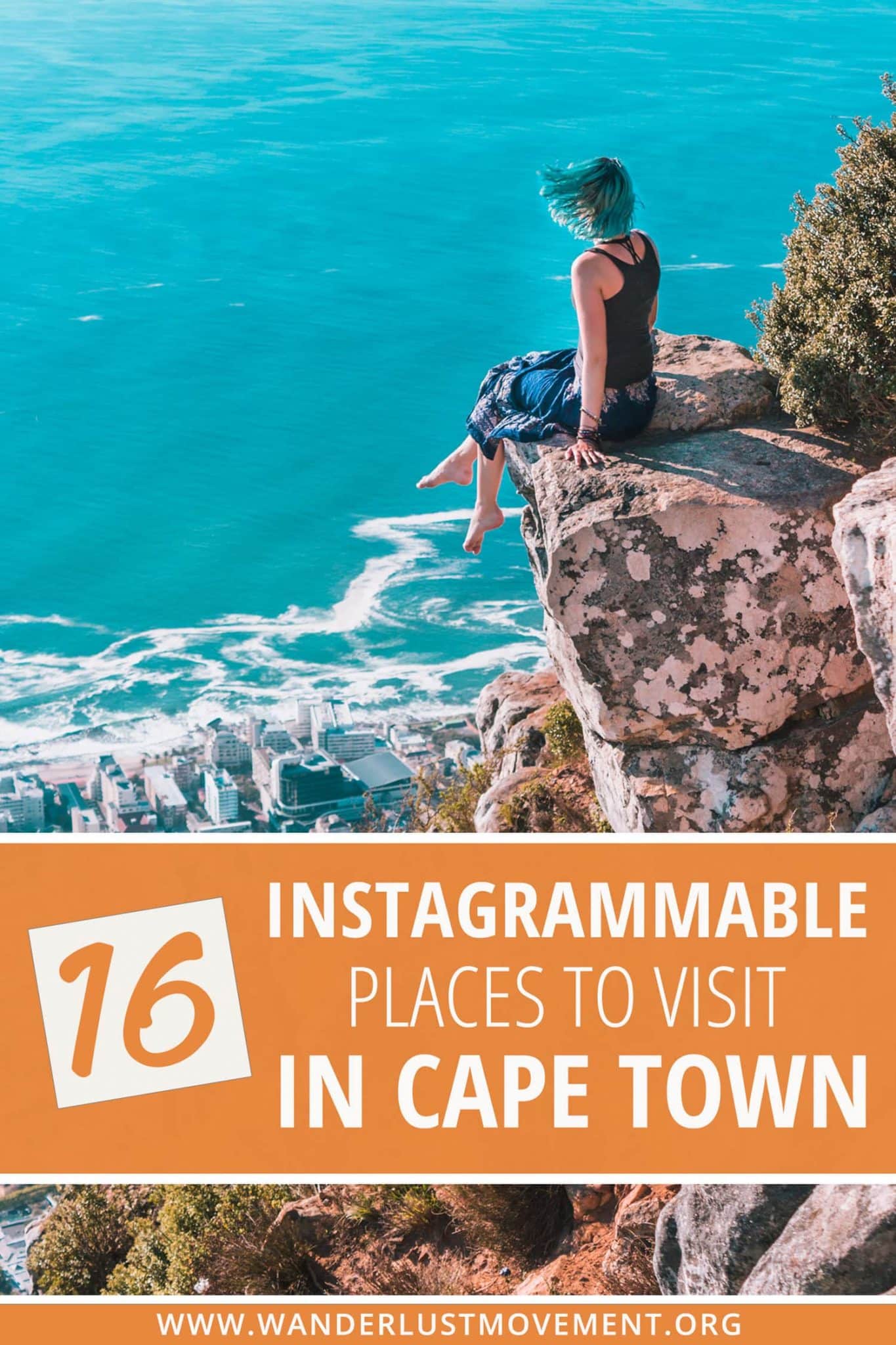 Looking for the most Instagrammable places in Cape Town? From cute penguins to epic viewpoints, Cape Town has it all! No filter necessary.