Last Updated on February 26, 2021 by lauren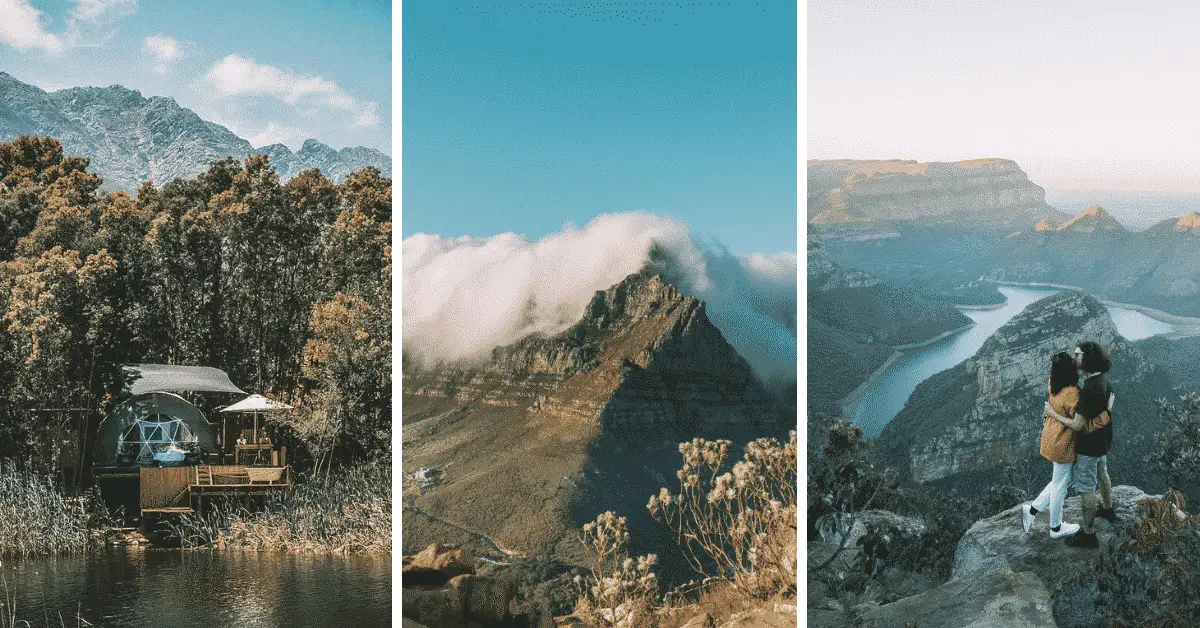 Ah, Valentine's Day.
That time of year where public areas transform into a sea of pink and red hues, roses and heart-shaped boxes overtake grocery stores, and everyone is scrambling to find dates or fill their Newsfeeds with virtual PDA.
Sooo with the big V Day coming up in just over four weeks, and it still being Januworry, the odds are (unless you're a superhuman type A), you haven't even thought about where you want to go with your hun bun.
Don't worry. I am here to help!
I've done my romance homework. I've prepared mentally by watching Noah Centino movies and physically by eating two slabs of chocolate.
Get ready to swoon!
Here are some of the most loved-up destinations to visit on Valentine's Day in South Africa!
Cape Town: The Crowd Pleaser
You can't go wrong with Valentine's Day in the Mother City.
She's got your back no matter what your date likes.
• Woo your boo with champagne sunsets on top of Table Mountain
• Splurge on a private villa in Camps Bay or stay at the exclusive Tintswalo Atlantic
• Cuddle up with a movie at the Pink Flamingo Rooftop Cinema in the middle of the CBD
• Go on a romantic cruise around Table Bay
• Kayak past dolphins, sunfish and whales before dining at one of the top restaurants in the city
If you've left your V Day planning to the last minute and you've started stress eating, Cape Town is a quick and easy win.
Read More: 45 Awesome Things to Do in Cape Town: A (Hella Long) Local's Guide
---
Plettenberg Bay: The Luxe Nature Lover's Getaway
Does your beau (or you), love nature with some pampering?
Drive down to the exquisite Garden Route and visit one of my favourite town's in South Africa, Plettenberg Bay.
Stay at Emily Moon River Lodge and max out your credit card on luxury accommodation, delicious food and incredible views of the Bitou River.
Cool off in their TWO gorgeous swimming pools, get day drunk on G&T's and get your nature on with a romantic kayak trip at sunset.
If you want more privacy (or a more affordable option) book a night or three at the Fountain Shack. It's a remote cottage nestled inside Robberg Nature Reserve with sweeping views of the Indian Ocean and the Robberg Peninsula.
Only reachable on foot, it's the intimate Valenday's Day in South Africa destination of your dreams!
Read More: An Epic One Week Garden Route Itinerary (Detailed)
---
Knysna: The Perfect Place to Propose
I don't know what it is about treehouses, but I find them incredibly romantic, and Knysna is home to one of the best in South Africa.
Teniqua Treetops is the ultimate romantic eco-friendly getaway. Curl up next to the heater with your partner, sip on some hot chocolate and soak up each others company.
Or squeeze into the bathtub which overlooks the breathtaking gorge below and go ham with the bubble bath.
You'll have privacy you need to reconnect with one another, nowhere to hide when you accidentally fart and all the ambience for an unforgettable proposal.
Trust me.
My friend did it, and he got a yes.
Read More: Staying at Teniqua Treetops in Knysna
---
Blyde River: The Scenic Road Trip
It is no easy feat to convince my boyfriend to get in front of the camera.
The fact that the beauty of Blyde River Canyon lured him out from behind the lens is testament enough to the romance of the Panorama Route.
While the weather is dicey here (you want to study that weather report before you book your accommodation or you're going to spend Valentine's Day in the clouds – literally) if the sun is out, hop into your car for a swoon-worthy road trip.
You can have picnics at the base of waterfalls, watch the sunset over some of South Africa's most breathtaking landscapes and stay at affordable or bougie as hell accommodation.
Read More: The Best of the Panorama Route South Africa: 2-Day Itinerary
---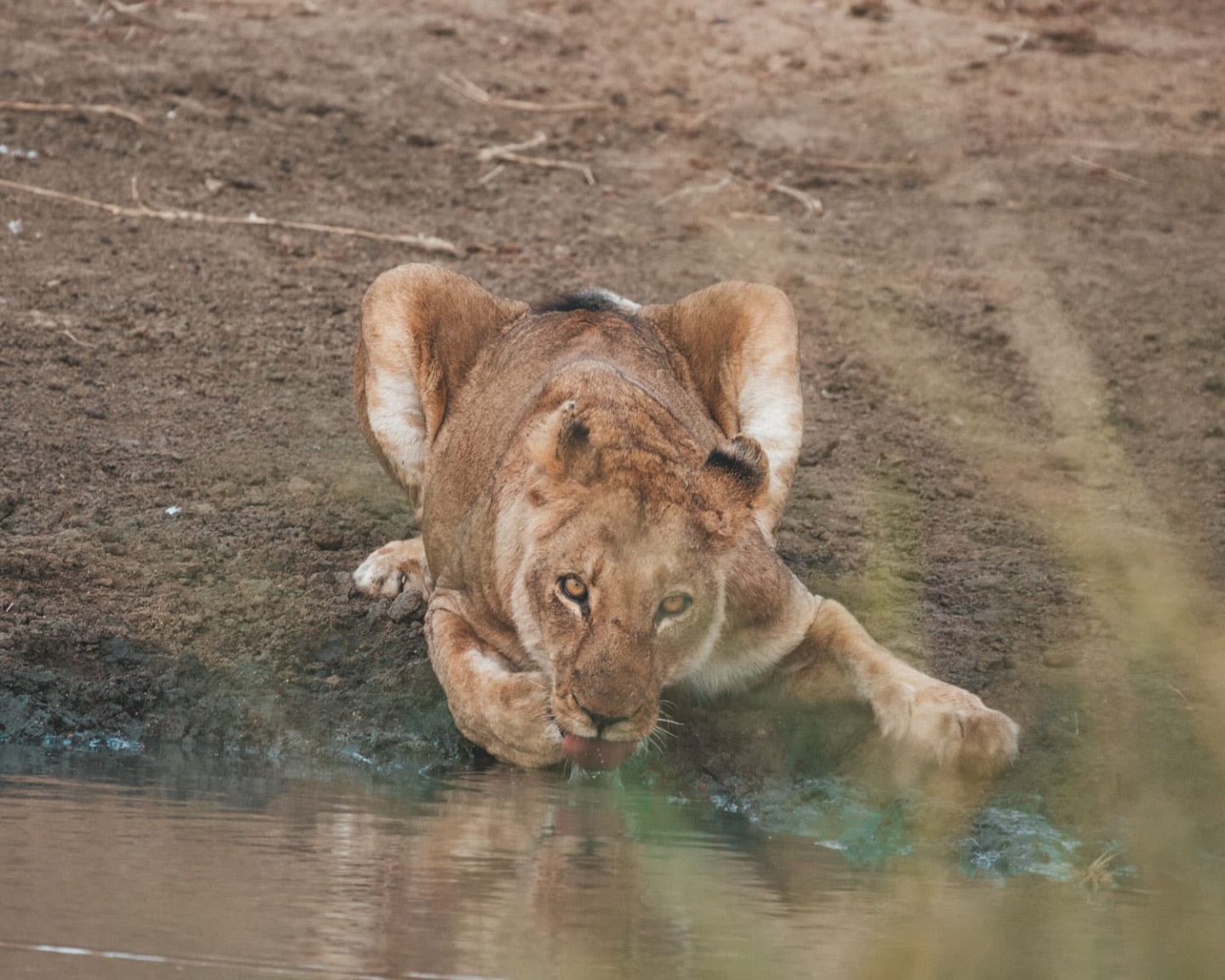 Kruger National Park: The Romantic Bush Escape
It doesn't have to be your honeymoon to plan a ridiculously romantic trip to the Kruger. With its plethora of game lodges ranging from budget to ballin', you can afford the safari Valentine's Day of your dreams.
Couples on a budget can choose to stay in one of the self-catering chalets and go on a self-drive through the park or book a private tour.
But if you're searching for the ultimate in luxury and privacy, Kruger National Park has a collection of lodges which ooze opulence and sensational views of the bush.
• Stay at the Lion Sands Ivory Lodge and Treehouses and sleep with the stars above you
• Spoil yourselves with outdoor champagne baths (Yes, this is a thing!)
• Dine on delicious cuisine
• Cool off at your private pool with elephants in the distance
Read More: Visiting Kruger National Park: Everything You Need to Know
---
Cape Winelands: The Day Drunk Getaway
Valentine's Day in South Africa doesn't need to be over the top. Keep things simple with a weekend trip to the Cape Winelands.
Hop on abroad the Franschhoek Wine Tram and get day drunk at the wine farms. Buy a few of your favourite vintages, go out to dinner or order in Uber Eats and binge watch Netflix.
Here are some of my favourite wine farms which have amenities like restaurants, boutique accommodation and spas.
Romantic Wine Farms in Franschhoek
Boschendal***
Babylonstoren
Romantic Wine Farms in Stellenbosch
Neethlingshof***
Waterkloof Wines
Lanzerac Wine Estate
Romantic Wine Farms in Constantia
Beau Constantia***
Constantia Glen
Romantic Wine Farms in Elgin
***Highly recommend
---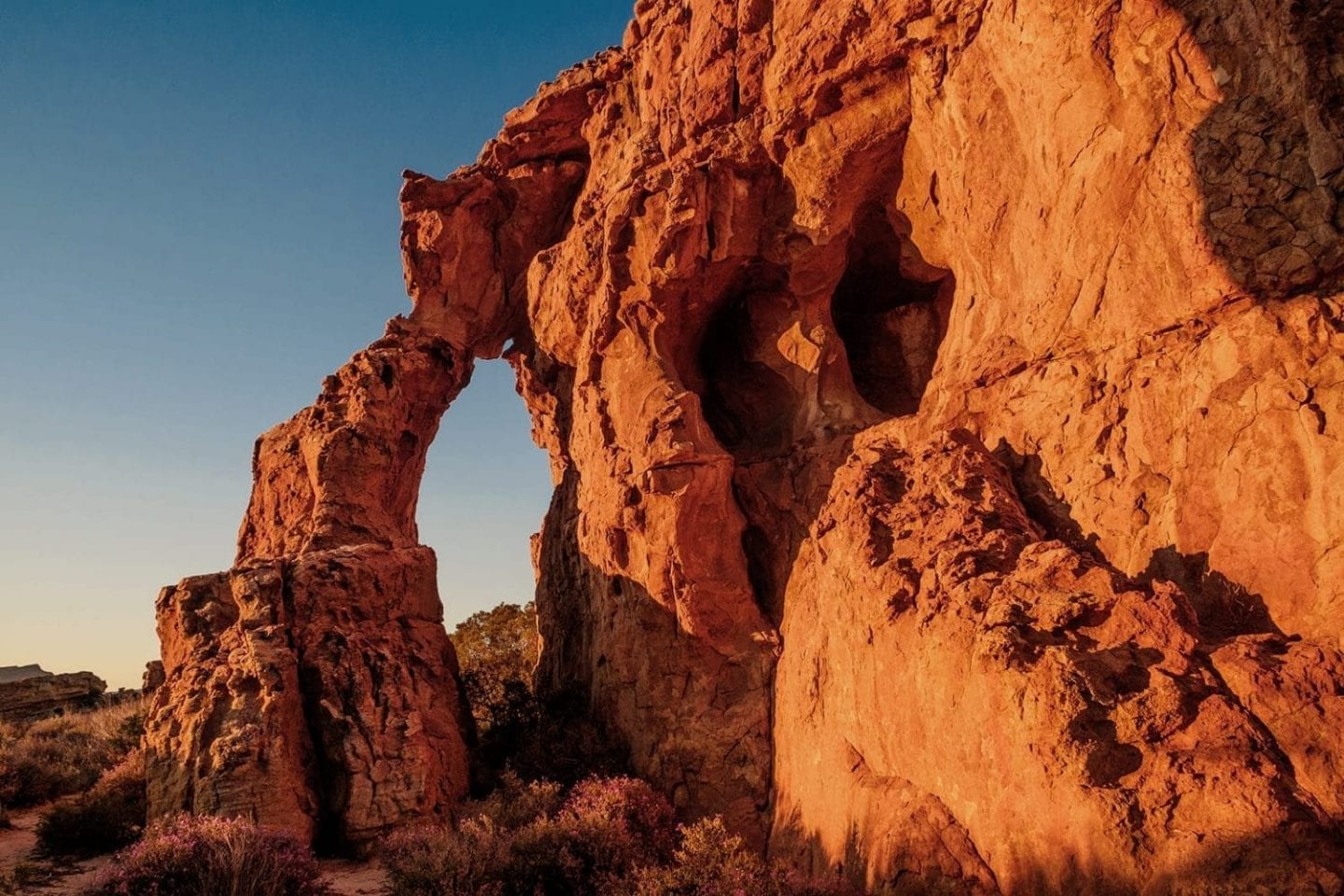 Cederberg: The Digital Detox
Are you and your boo ruled by Whatsapp notifications, email alerts and cat videos on YouTube?
Force yourself into rehab with a romantic digital detox in the Cederberg.
Located 200 km from Cape Town, it's one of the most beautiful parts of the Western Cape.
You can spend your weekend exploring the otherworldly landscape with one of the various hikes (try to get a permit for Wolfberg Arch!), camping underneath the stars and walking past San rock paintings en route to Stadsaal Caves.
And if you both love space, pack your camera and tripod. The Cederberg is one of the best places to take pictures of the night sky!
Read More: How to Photograph the Milky Way (Step by Step!)
---
Drakensberg: The Hiking Escape
Want to escape Johannesburg for Valentine's Day? Drive down to the breathtaking Drakensberg Mountain Range.
Nestled amongst the towering peaks are boutique lodges, the highest waterfall in Africa and a wonderful lack of Wi-Fi.
Is your partner hinting at a romantic getaway that involves their passport? Take them over the Lesotho border and straight to Afriski.
While there won't be any snow, you can go hiking, mountain biking or tackle 4×4 trails.
But if you want to impress your date with jawdropping views and a sunrise they'll never forget, drive up to the top of Sani Pass by Sani Pass Backpackers.
You can walk on top of the escarpment at sunrise and watch dawn break over the valley below.
It's mother fluffin' magical.
Read More: The Best Drakensberg Hikes That'll Take Your Breath Away
---
View this post on Instagram
Tulbagh: The Geodome Experience
La Bruyere Farm are the proud owners of the successful experimental stay in Tulbagh, the Geodome.
Nestled against the Witzenburg mountain range, it screams romance.
Wake up surround entirely by trees without another human being in sight. Float down the river and cool off from the heat of the day.
Cook up a storm in the fully equipped kitchen and watch the sunset over the valley from your private deck.
It's what all romantic getaways aspire to be.
Read More: The Most Secluded & Romantic Airbnbs in South Africa
---
Umzumbe: The Stay-in-a-Freaking-Glass-Treehouse
Fun fact: My first date with Greg was a week-long road trip down the East Coast of South Africa.
Our first stop? Umzumbe.
I had recently started my backpacking trip from the Drakensberg to Cape Town and convinced Greg to drive all the way from Johannesburg to the South Coast when I showed him a picture of Mantis and Moon's glass treehouses.
Talk about romantic energy!
Plus, it only costs R 750.00 to spend a night surrounded by the jungle as you fall asleep to the sound of the ocean in the distance.
It's the ultimate Valentine's Day getaway on a budget.
Read More: The Ultimate South Africa Bucket List: 40+ Amazing Places to Visit
---
Where are you whisking your boo away to for Valentine's Day? Got any romantic recs I should check out? Hit ya gurl up in the comments!
Psst…Want more South Africa travel inspiration for your romantic rendezvous this Valentine's Day? Check out my other posts:
🎶 If you like it, then you should put a pin on it! 🎶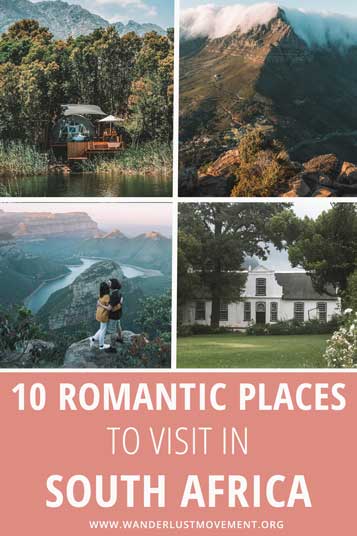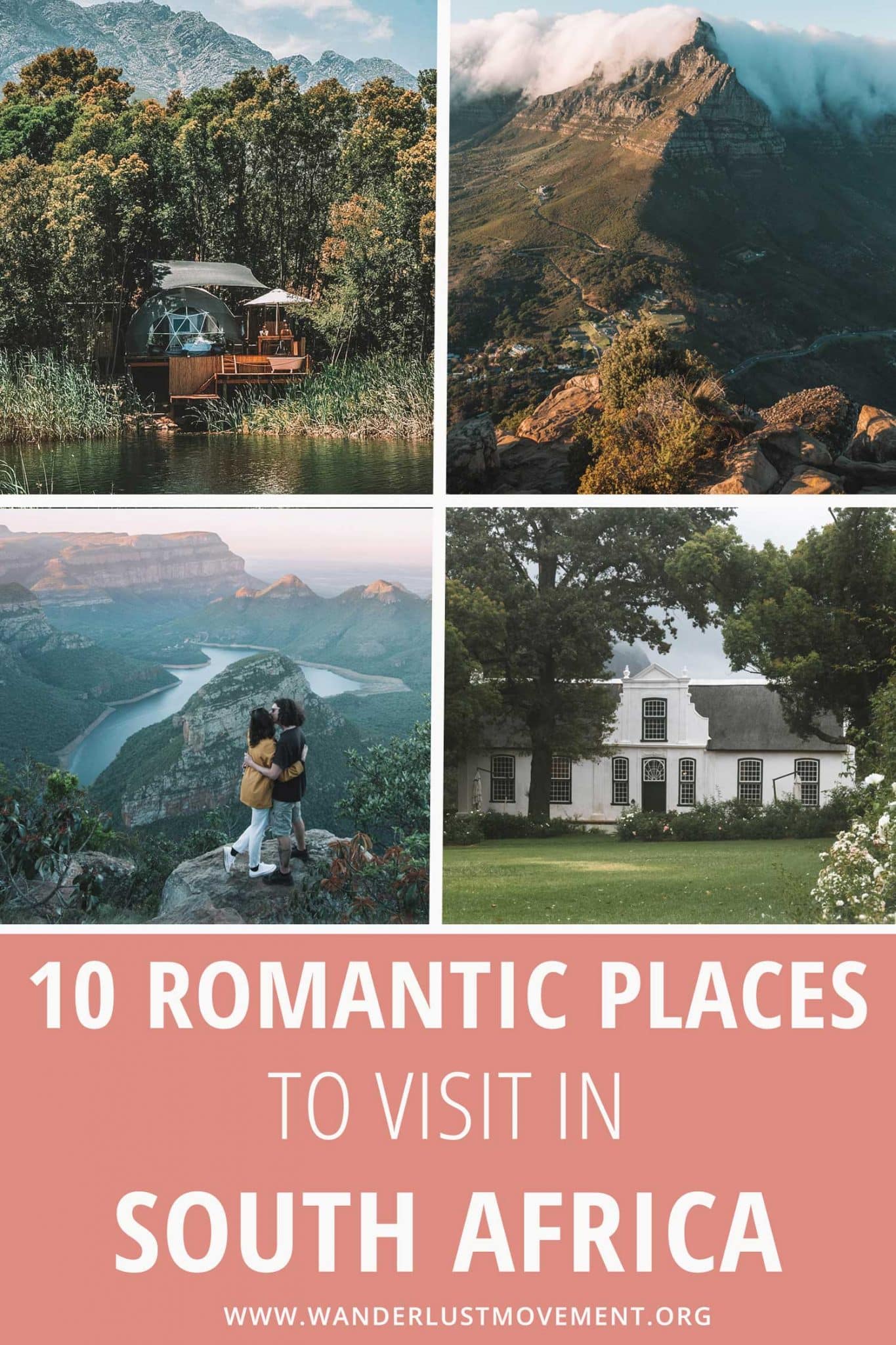 Want to spoil your beau with a getaway to somewhere new? Here are some of the most romantic destinations in South Africa perfect for Valentine's Day!