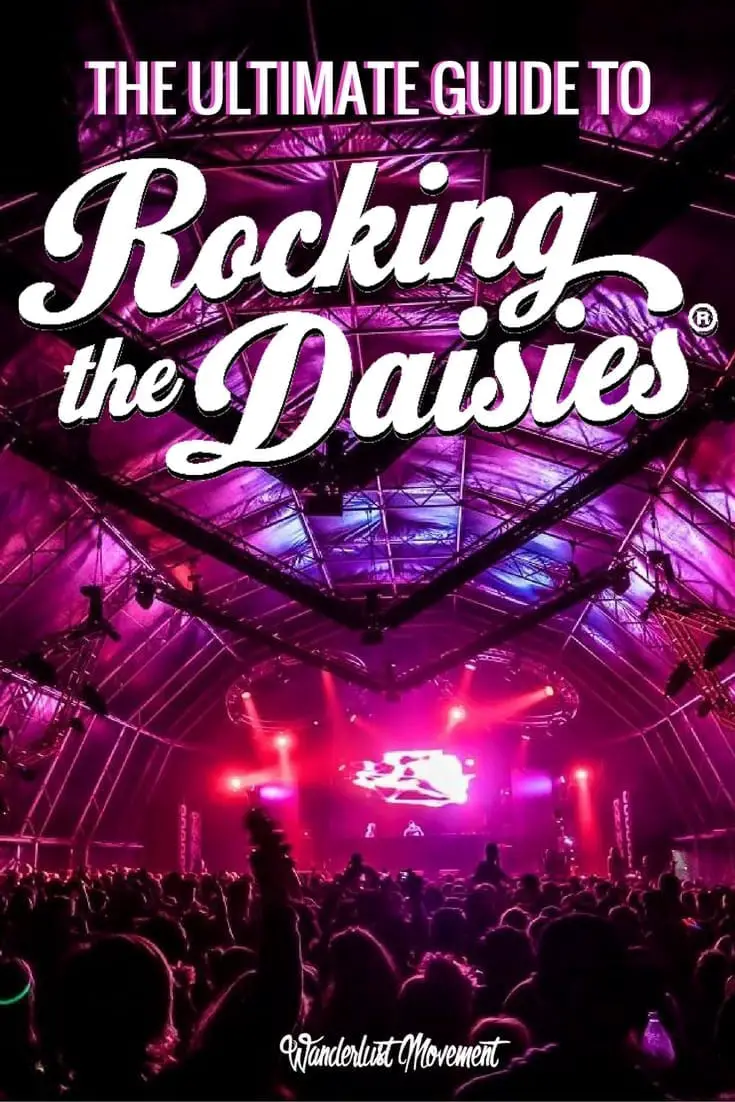 Festival season has officially kicked off in South Africa! In a months time Cape Townians will be making their way down to Cloof Wine Estate for 4 epic days at one of the country's biggest music festivals – Rocking The Daises!
Incorporating comedy, art, film and a variety of multi-faceted, multi-sensory experiences, festival goers can expect a premier music event like no other.
Since it's humble beginnings 11 years ago, RTD has gone from a small one-day local fest to a major player in the music scene bringing some of the biggest local and international names to the Western Cape's shores. It is also one of the country's most responsible events, with a huge emphasis on social responsibility and environmental sustainability.
If this year will be your first trip down to Darling, here is everything you need to know to survive Rocking The Daisies while making a minimal impact and getting to Sunday in more or less one piece.
Get your flower crowns, unpack your spring wardrobe and prepare yourself for one hell of a party!
Where To Buy Tickets
If you haven't bought your tickets yet, you best get out that credit card and get one before they are all gone. Phases 1 and 2 are sold out and tickets for phase 3 are selling out fast.
Walking The Daises R 500.00
– Full Weekend Pass
– Option to camp
– Entertainment and activities along the way
– Plant trees and clean up the environment
Cycling The Daisies R 600.00
– Includes Full Weekend Pass
– Option to camp
– Goodie bag with snacks
– Opportunity to support local communities en route
– Offset your carbon emissions
Phase 3 Tickets: R 995.00
– Full Weekend Pass
– Option to camp
Grab your Rocking The Daisies tickets straight from Nu Tickets with just a few clicks and couple of seconds of finger bashing.
Tickets for the festival usually sell out well in advance. If you miss out on getting a ticket, make sure to check out the Facebook event to see if you can get your hands on a ticket from somebody who can no longer go.
Where To Stay
Apart from general camping, Rocking The Daisies has some incredible glamping options that set it apart from other music festivals in SA.
While some of the accommodation options have already started to sell out, there are still some left to help you live your best life at this year's fest.
Glamping in Daisyland
Daisyland Explorer Tent Village
2 man Explorer: R4450

4 man Explorer: R5950

Access to backstage bar

Mattresses

Private showers and toilet

Daily healthy breakfast and refreshments

A separate and convenient parking area
Daisyland Honeycomb Suites
Price for 2 people: R4950
Access to backstage bar
Inclusive breakfast
Private bathrooms and showers
A separate and convenient parking area
Daisyland Tipi Village
4 man Tipi tent: R 5950
Access to backstage bar
Mattresses
Private bathrooms and toilets
Daily Healthy breakfast and refreshments
A separate and convenient parking area
Daisyland Greenfields
Price for 2 people: R2450
Mattresses
Private bathrooms and toilets
A separate and convenient parking area
Visit the RTD site to book your glamping accommodation options or to find out more information about camping options.
How To Get To Rocking The Daisies
Getting to Rocking The Daisies is on of the best parts of the festival. It's eco-friendly options are all part of the charm and one of the many reasons why it has racked up so many sustainability awards of the years.
Walking to Daisies
Arguably the best way to experience the festival, walking to daisies is something that you have to try at least once. Starting on the 5th of October in Blouberg, festival-goers will walk over 65km before arriving at Cloof Wine Estate in Darling. 
In between clocking up those pedometer points, the two-day journey will also include workshops, beach cleans, yoga classes, live music and an experience with the Mamre Community. The walk is fully catered and all your luggage will be transported to the festival for you.
All you need to do is smile, pick up some shit and wander your way to this year's festival!

Photo by: Jonx Pillemer
Cycling to Daisies
In the spirit of encouraging festival goers to reduce their carbon footprint, cycling to daisies was born. Cyclists will set off from Cape Town city centre on the 7th of October and peddle their hearts for out for 80km all the way to arrive in Darling on the same day.
All your luggage will be transported to the festival for you and will be available for collection at the secure "Bike Park". There will be three refreshment points along the route and if you don't have your own bike, RTD can help you pre-book a pair of wheels.
Busing to Daisies
If walking to cycling to daisies is not in your foreseeable future, you can still help offset your carbon emissions by taking a bus.
Rocking The Daisies is offering return tickets with various departure dates, as well as one-way rides to help you get to and from the festival while making a difference.
Thursday:
V&A Waterfront to Cloof, one way – R100
Cape Town International Airport to Cloof, one way – R100
V&A Waterfront to Cloof, return – R180
Cape Town International Airport to Cloof, return – R180
Friday:
V&A Waterfront to Cloof, one way – R100
Cape Town International Airport to Cloof, one way – R100
V&A Waterfront to Cloof, return – R180
Cape Town International Airport to Cloof, return – R180
Sunday:
Cloof to V&A Waterfront, one way – R100
Cloof to Cape Town International Airport, one way – R100
Buy your busing to daisies tickets over here.
Lift Sharing
Going to daisies, but don't have your own wheels to get you there?  Get there the eco-friendly way!
RTD has teamed up with Copilot SA to help you get to the festival with fans heading the same way. Register as a driver or a passenger, pay for the ride and get priority parking if you arrive with four or more in the car.
Driving Directions to Rocking The Daisies
Whether you are lift sharing or getting there with your own wheels, here is how to get to this year's festival from Cape Town:
Take N7 to Malmesbury. Follow signs for Darling. Turn left off the main road, after brief double back, turn right at T-junction (onto R315). Cross one railway line and after about 10km you'll cross a 2nd railway line. Immediately after this turn left in front of Darling Cellars, following signs to Cloof along the dirt road.
GPS coordinates for Cloof Wine Estate: Latitude = -33.4799 Longitude = 18.5251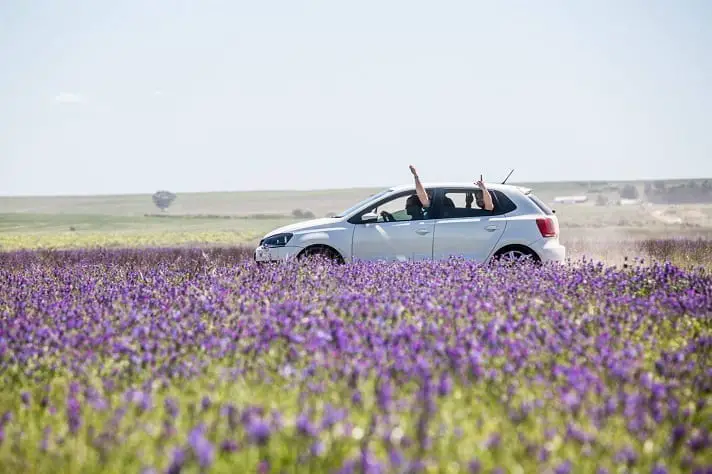 Photo by: Jonx Pillemer
What To Bring
Besides the obvious things like petrol, food, money and booze there are a few essential you will need to add to your Rocking The Daisies packing list.
CAMPING ESSENTIALS:
✓ A Tent – unless you are glamping it up.
✓ Blankets or sleeping bags in case you aren't drunk enough to feel the temperature drop.
✓ Camper chairs or blankets to chill out on.
✓ Gazebo – this is optional, but it's always nice to have if you don't grab a spot under some trees.
✓ Flashlights – a shiny beacon to help you find your way back to your tent.
✓ Hammer – some of the camping grounds are as hard as concrete.
✓ Rubbish bags to keep your campsite clean from waste.
PERSONAL HYGIENE:
✓ Wet wipes
✓ Dry shampoo
✓ Hand sanitizer
✓ Toilet paper
✓ Toothbrush and toothpaste
OTHER IMPORTANT ESSENTIALS:
✓ Water
✓ Sunblock
✓ Wellington boots
✓ Raincoat
✓ Sunglasses
✓ Hat
✓ Cooler box
✓ Ice
✓ Headache pills
✓ Cellphone car charger or a portable charger
✓ Your festival ticket
✓ Proof of ID to get into the festival
It's also important to keep in mind that you will need to carry all your gear from the car to the campsite and back – so pack light!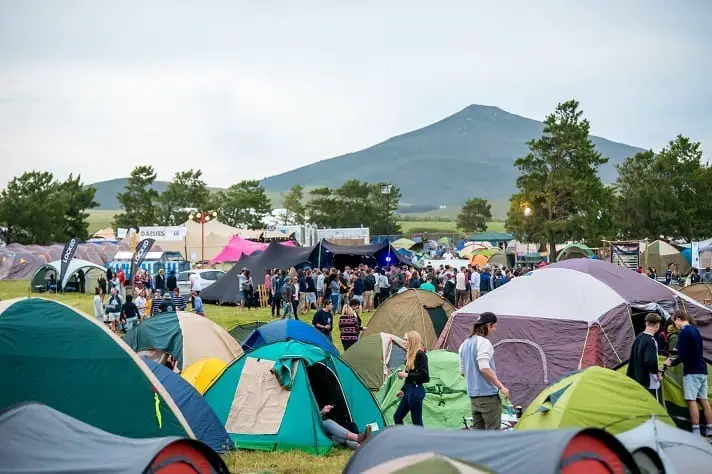 Photo by: Julian Graham
What To Eat
Being a festival in Cape Town and with Cape Townians known for their foodie tendencies, it's no wonder that daisies has some of the best festival stall food.
From gourmet boerie rolls to delicious healthy fast food, you'll find it hard to not keeping stuffing your face if you are anything like me. The food stalls aren't the cheapest as it isn't your average festival food, so if you are planning to buy all your meals at the fest, make sure you have a big enough budget.
And if you do plan to braai, remember that daisies is a green festival so don't bring stuff that is going to create a lot of waste. Keep your impact to a minimum and support the sustainability initiatives that help to keep the venue beautiful before, during and after the festival.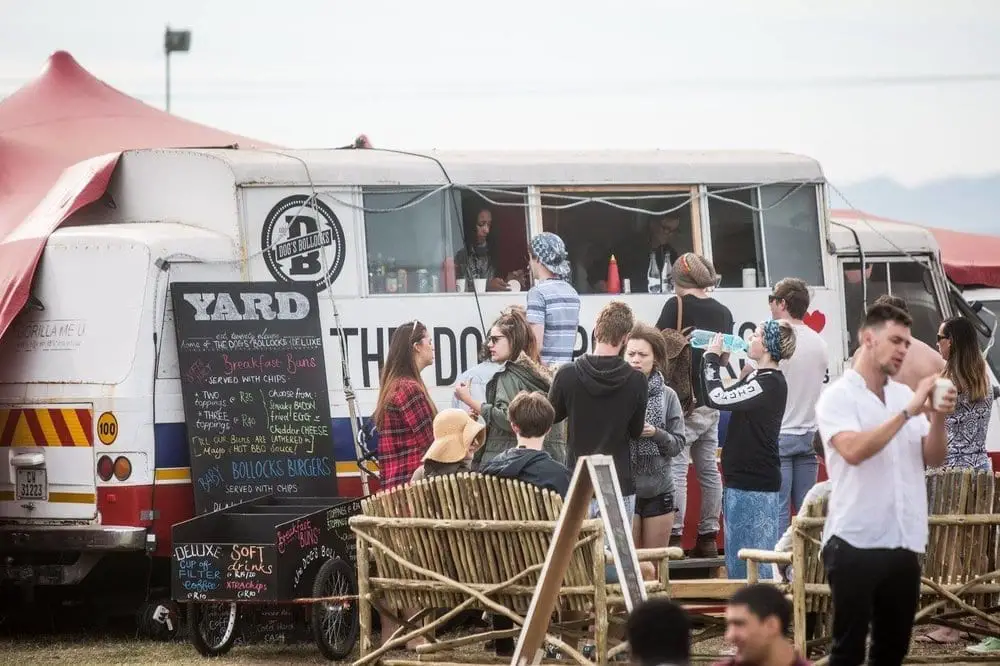 Photo by: Jonx Pillemer
What To Wear
As one of the world's fashion capitals, it's no wonder that Cape Townians use RTD to unleash their inner fashionista. But it's also a chance for you to get weird and break out that ridiculously cool outfit that just wouldn't fit in anywhere else.
Here are some things to keep in mind when packing your outfit of the days for daisies:
Pack a bikini or swim trunks to cool off in the dam.
Flip flops, sandals or ankle boots.
Light, breathable fabrics.
Warm hoodie for the chilly nights.
Daisy crowns
Metallic tattoos
Check out my Pinterest board for some Rocking The Daisies outfit inspiration!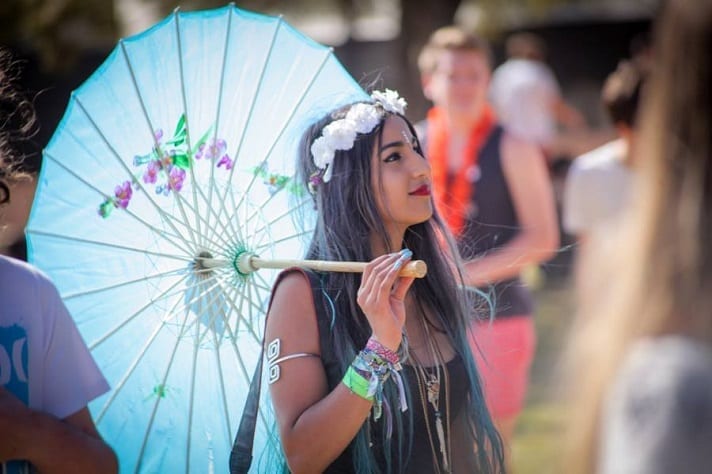 Photo by: Mik Motala
Let It Go!
But pace yourself. You are at a festival, not a club. Don't go party so hard on your first night that you spend the following day dying inside your tent. Think of all the awesome jams you will miss all because you can't handle your booze.
And lastly, don't forget to keep a lookout for this year's official RTD app! Keep up to date with the lineup, earmark your favourites acts that you just can't miss and have the festival map available whenever you need it.
Be sure to check out the official RTD website for more details on what to expect from the festival's 11th year!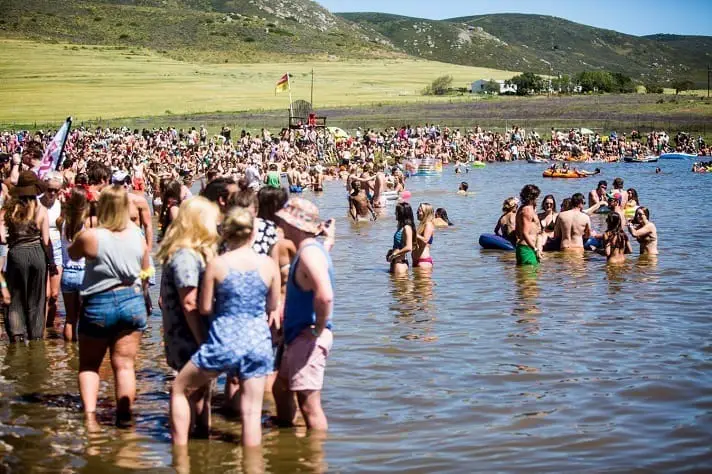 Psst…Want more music festival inspiration? Check out my other posts: