Last Updated on October 11, 2022 by lauren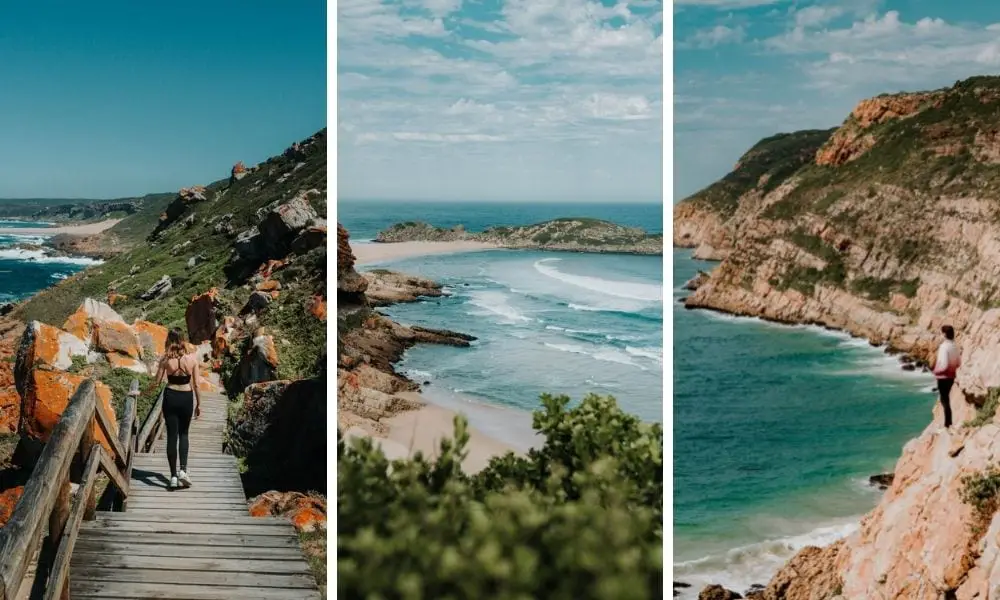 With its rugged, picturesque cliffs, sparkling Atlantic Ocean views, and scenic hiking trails, Robberg Nature Reserve is one of South Africa's most beautiful destinations.
A bold claim that I 100% stand behind.
Only a short detour from Plettenberg Bay, it's a must-visit for any nature-loving traveller road trippin' along the Garden Route.
The reserve is home to some of the best Garden Route hikes and somehow gets better looking as the years roll on.
I've been to the Robberg Peninsula at least 10x in the last two years, and every single time I'm flabbergasted by its beauty.
If you're lucky to find yourself in Plettenberg Bay with a pair of hiking shoes, and you're itching for an unforgettable adventure, here's everything you need to know about Robberg Nature Reserve!
Psst…Want more Garden Route travel tips? Check out these other posts:
Where is Robberg Nature Reserve?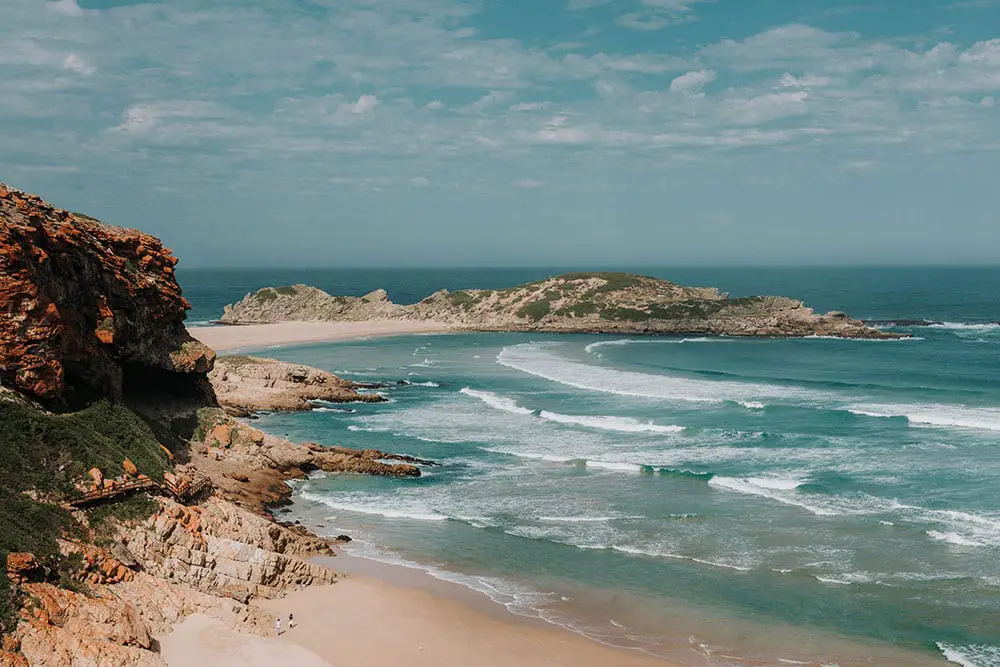 The Robberg Nature Reserve is 8km south of Plettenberg Bay, South Africa. A serene coastal town, home to delicious eateries, beach bars, and incredible boutique hotels.
Located at the tip of the Peninsula, the reserve's spectacular natural beauty is only matched by its historical importance: Robberg is a National Monument and World Heritage Site. 
Rocks from the Robberg Peninsula date back to the break-up of Gondwanaland (how wild!), and there's evidence of Stone Age inhabitation inside a few of the caves.
---
How to Get to Plettenberg Bay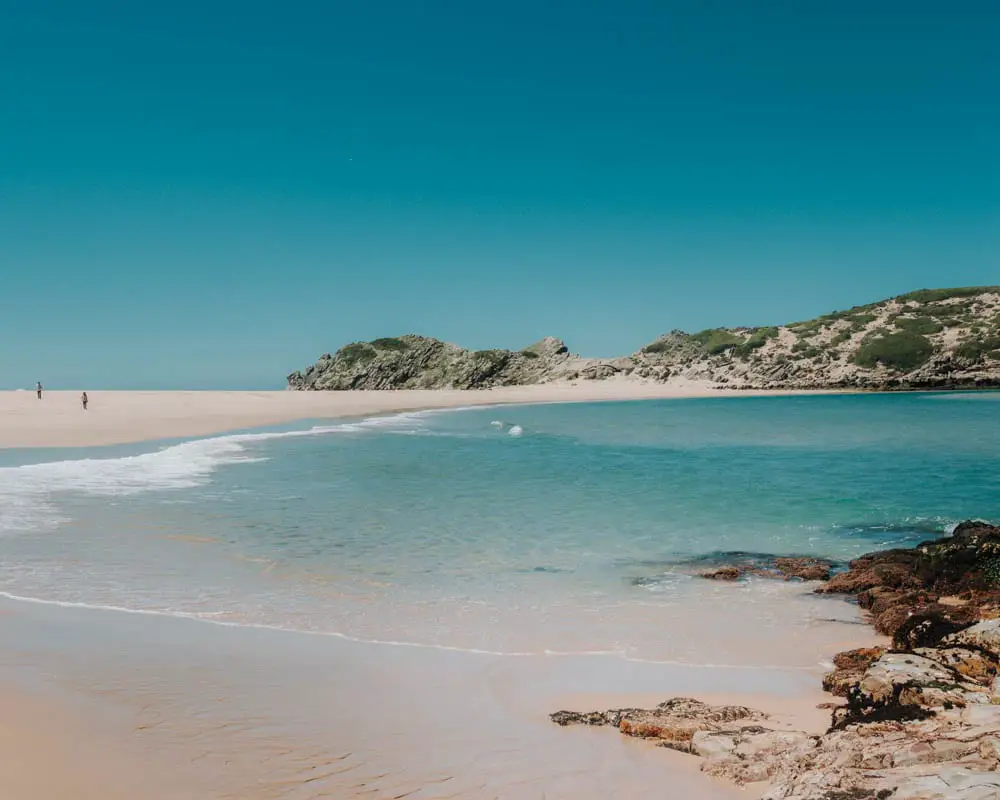 Want to make a road trip out of your trip? Drive to Plettenberg Bay from Cape Town along the N2. You'll drive past some of the most beautiful roads in South Africa, but it's a loooong drive. Plett is about 5-hours away, so make sure you have your playlists and podcasts ready to go!
But if you're short on time, the quickest way to get to Plett is to fly. There are 2-3 flights a week from OR Tambo International (JHB) and Plettenberg Bay Airport (PBZ). The airport is only a 10-minute drive from the town centre, with airline CemAir operating the flights.
There are also direct flights available to George Airport from most major cities in South Africa. At George Airport, you can hire a car and make the 1hr 30 min drive to the reserve along the N2.
Read More: How To Book Cheap Flights From South Africa To Your Dream Destination
---
Robberg Nature Reserve FAQ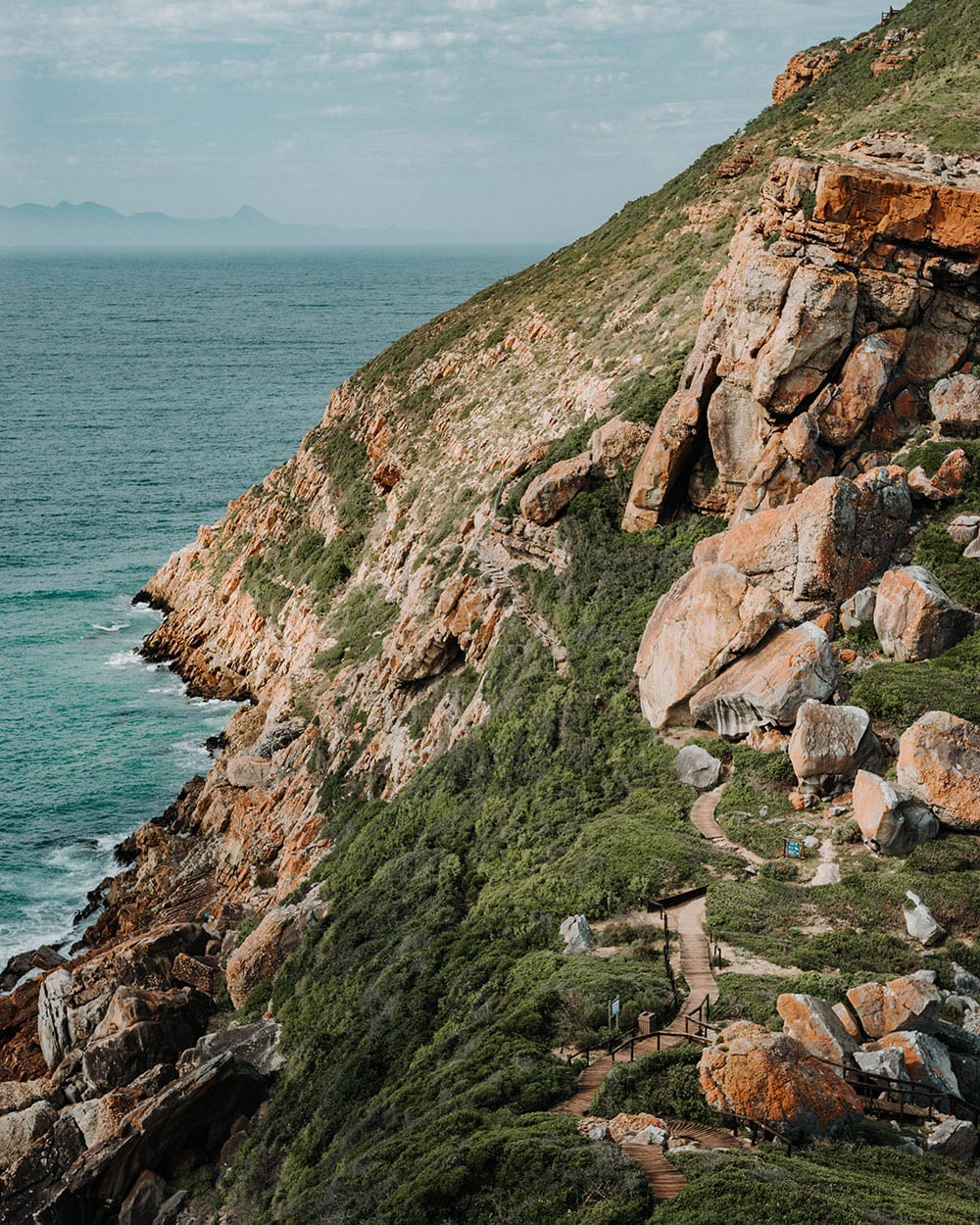 What are the opening times for Robberg Nature Reserve?  The reserve is open from 7 am to 8 pm and from November to April 8 am to 6 pm from May to October.
What is the entrance fee for Robberg Nature Reserve Entrance Fee?  There is an entrance fee of R50.00 per person for South Africans. You can pay via cash or card, and Wild Card holders get in for free. 
When is the best time to visit Robberg Nature Reserve? The best time to visit Robberg is during sunrise and sunset. The light on the landscape is gorgeous, and you'll have a hard time taking a bad photo. In the summer months, you won't be able to get inside for sunrise, but in the winter, the gates open as the sky starts to change colour, and it's magnificent!
Is Robberg Nature Reserve dog-friendly? No, dogs are not allowed inside the reserve, except for service dogs.
Is Robberg safe? Yes, but you need to keep a lookout for the wildlife. Snakes are commonly spotted in the reserve, and you'll want to stick to the path to avoid accidentally standing on one. Always remember to lock your car before starting your Robberg hike!
Read More: 10+ Incredible Things to Do in Plettenberg Bay [WARNING: High FOMO Levels]
---
Robberg Nature Reserve Hikes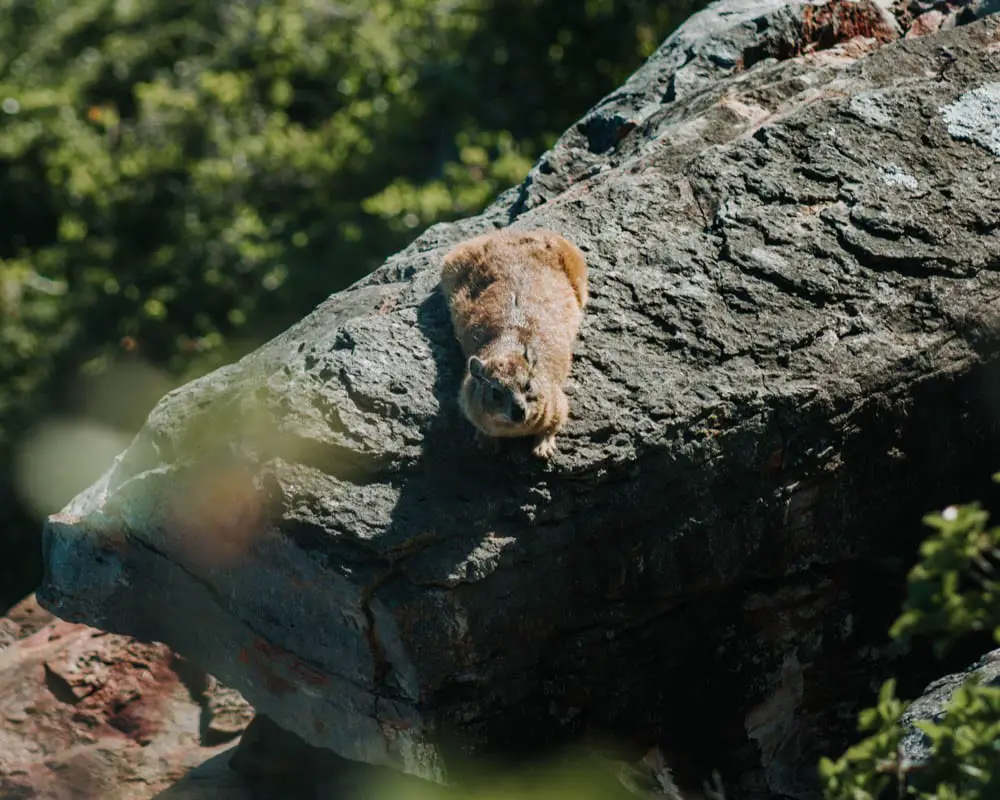 One of the best things to do in Robberg is hiking through the reserve. Even if you're not that into nature walks, it's worth it for views like this: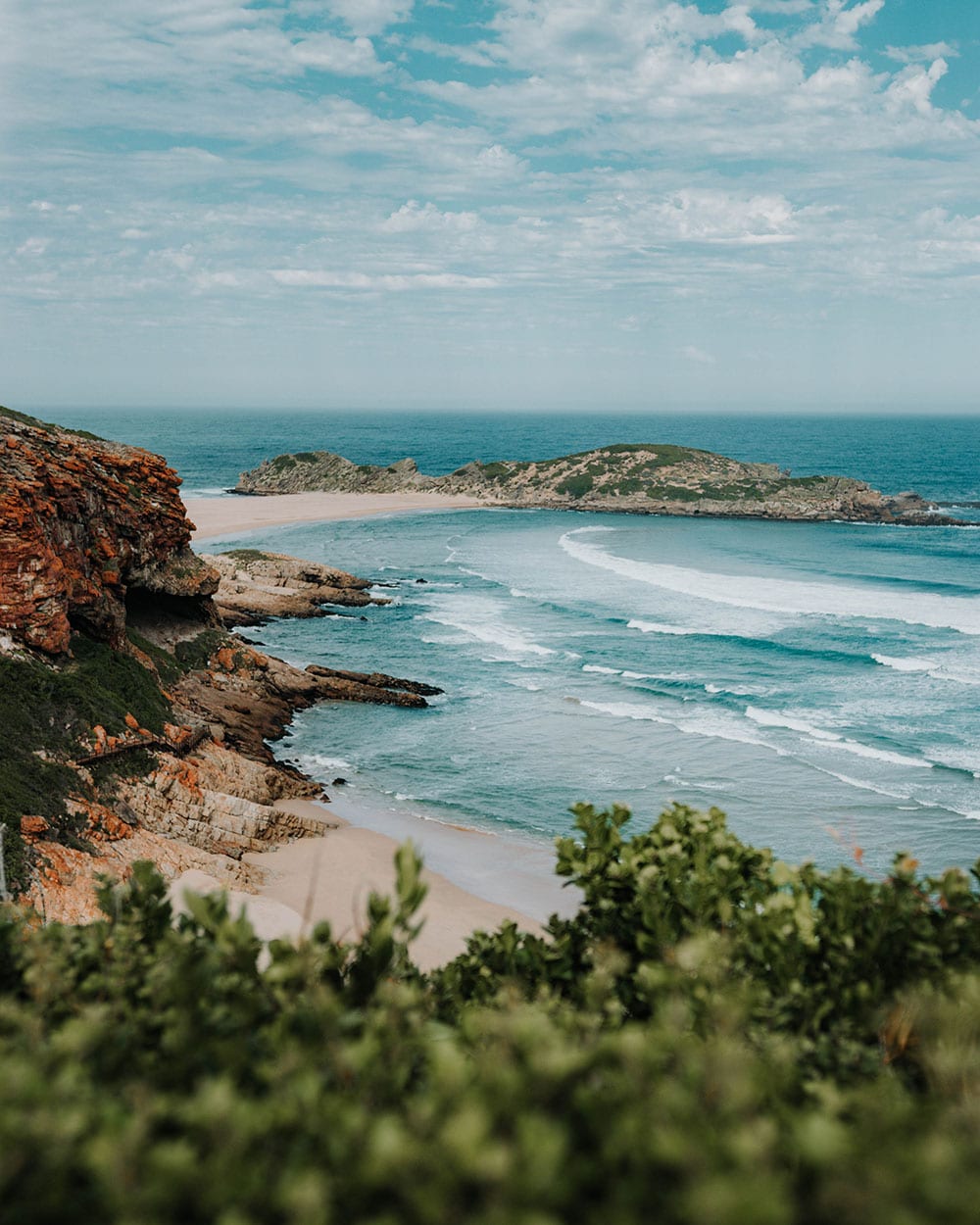 So how long does it take to hike Robberg? There are three hikes to tackle, with the longest taking 4 to 5 hours to complete and the shortest only a casual 30-minute stroll.
See? There's something for everyone, no matter your fitness level! You'll even have time to braai at one of the spots across from the parking lot.
Each trail begins at the same point and follows along the Northern side of the Peninsula. You have a chance to opt-out twice before you reach the point of no return and have to complete the entire 11km loop around the reserve.
Here's what to expect from the Robberg hiking trails:
Gap Circuit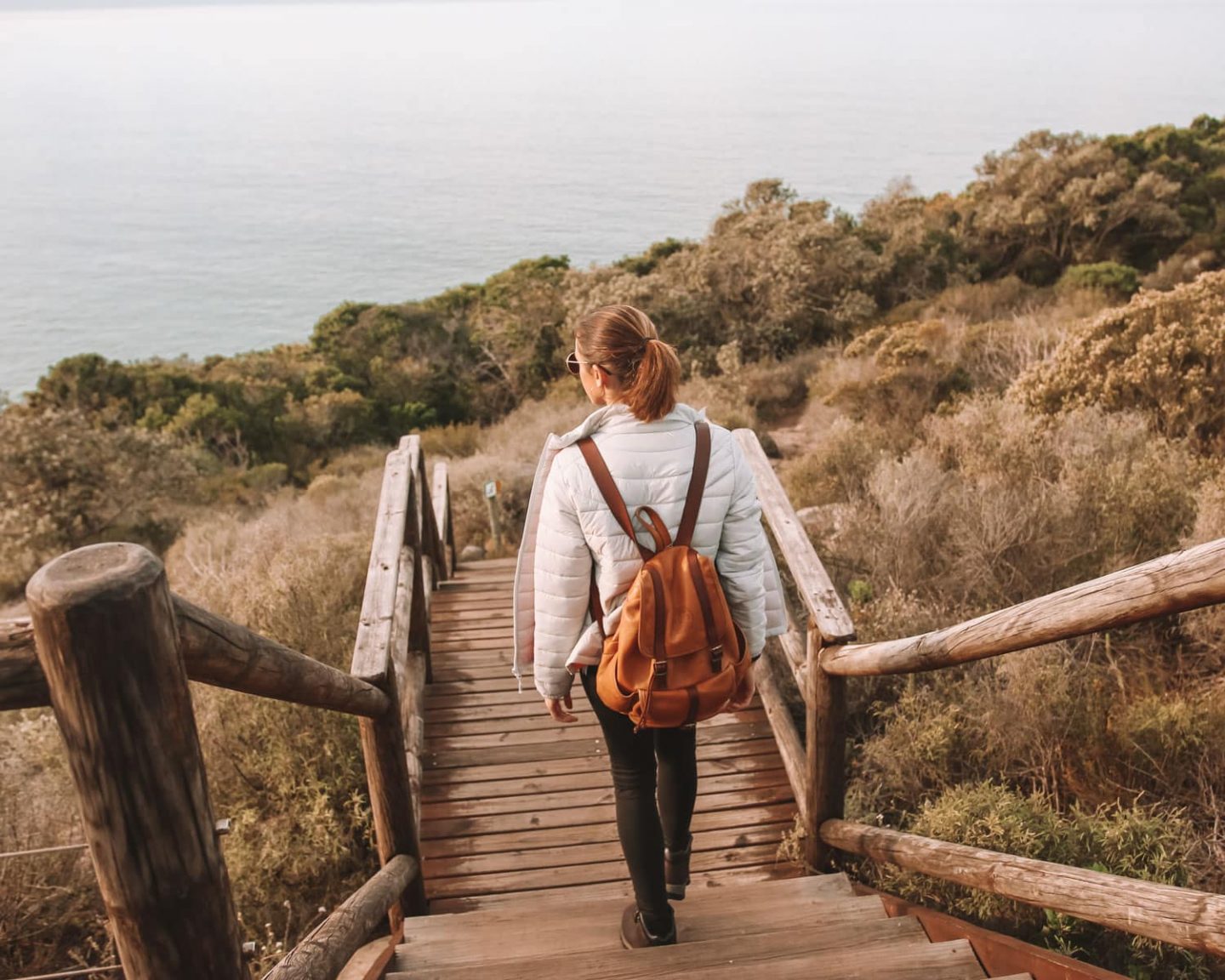 Trail distance: 2.1km
Estimated time: 30 minutes
The Gap Circuit is the easiest and shortest of the three Robberg hikes. Starting from the parking lot, you'll pass a few lookout points over the ocean and Plett in the distance.
You'll also get to see a mudstone cleft – a historical site that shows evidence of the breaking up of the prehistoric supercontinent Gondwanaland 120 million years ago. 
I'd recommend this hiking trail if you're short on time, want to watch the sunrise or sunset, and take some gorgeous photos. 
Note: There is a bench area before you turn right to exit the trail back to the parking lot. If you keep going straight, you'll continue on the loop around the reserve.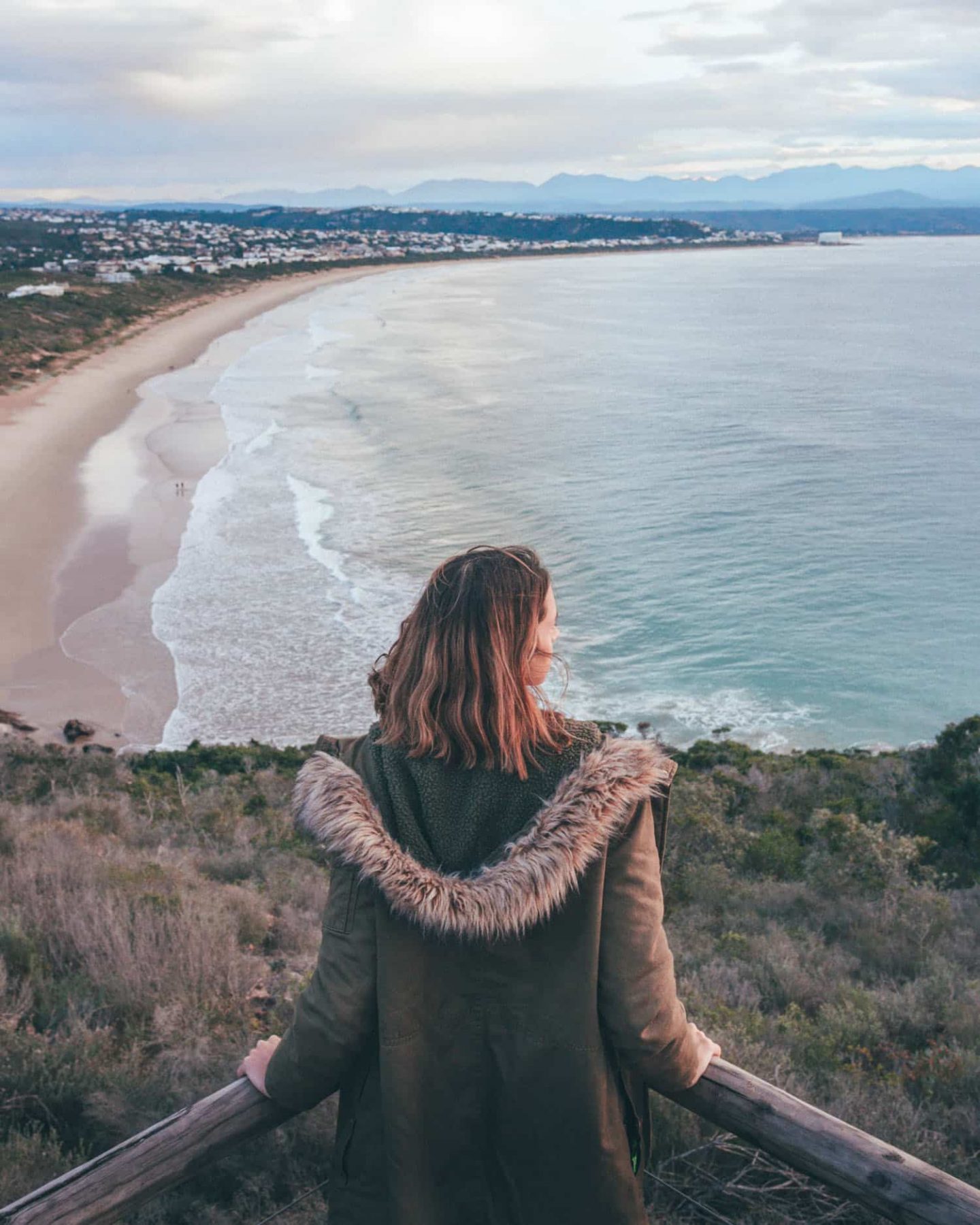 ---
Witsand Circuit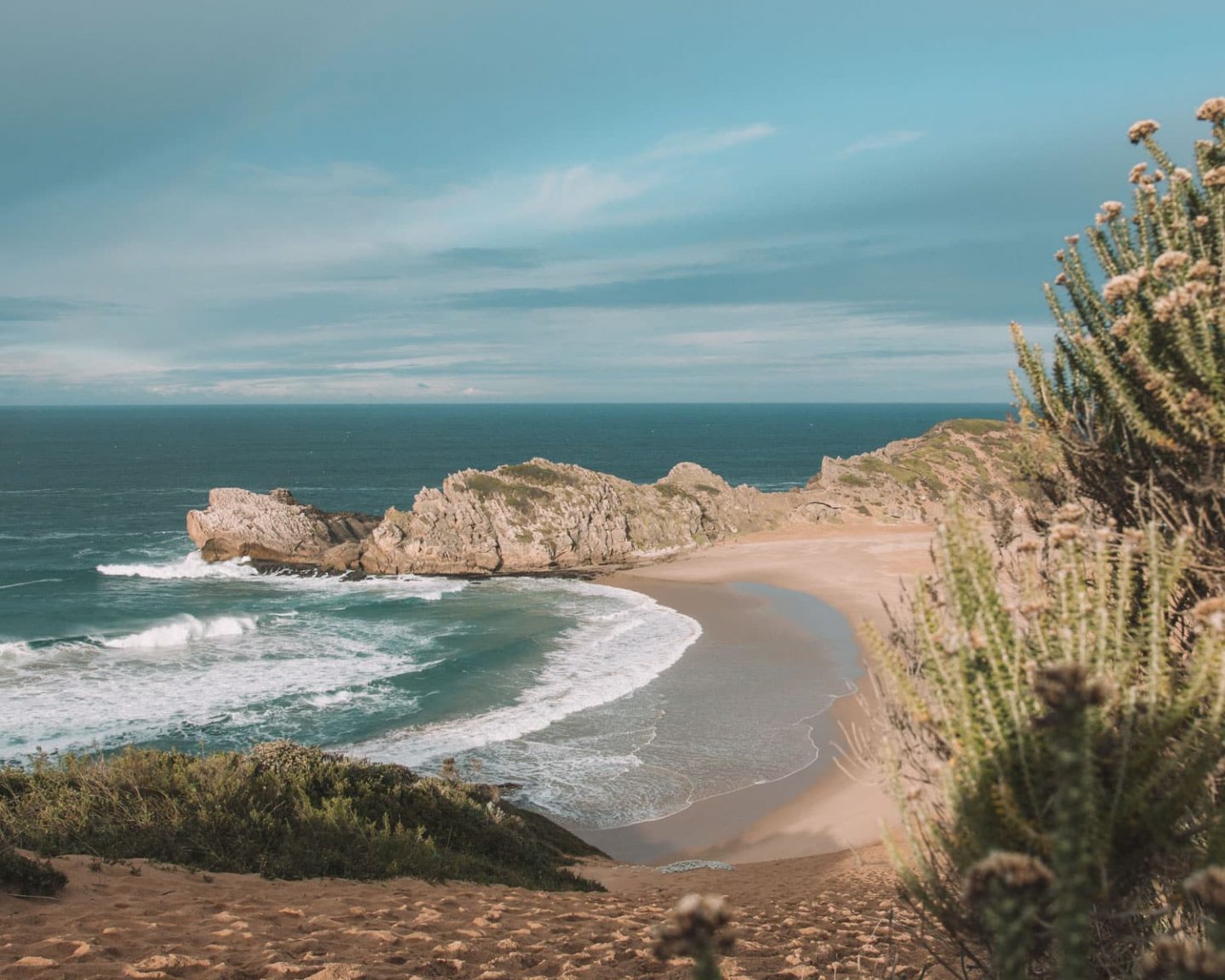 Trail distance: 5.5km
Estimated time: 2 hours
The Witsand Circuit is my favourite Robberg hiking trail. If you have time for a longer hike, your camera roll will thank you.
The trail passes the resident seal colony. It takes you up to dizzying heights and past the massive Witsand sand dune.
From there, you'll head down the sand to the beach and loop back to the parking lot.
It's a total eyegasm.
Tip: Keep an eye out for great white sharks! Hikers can often see them lurking around the seals from the birds-eye view vantage points.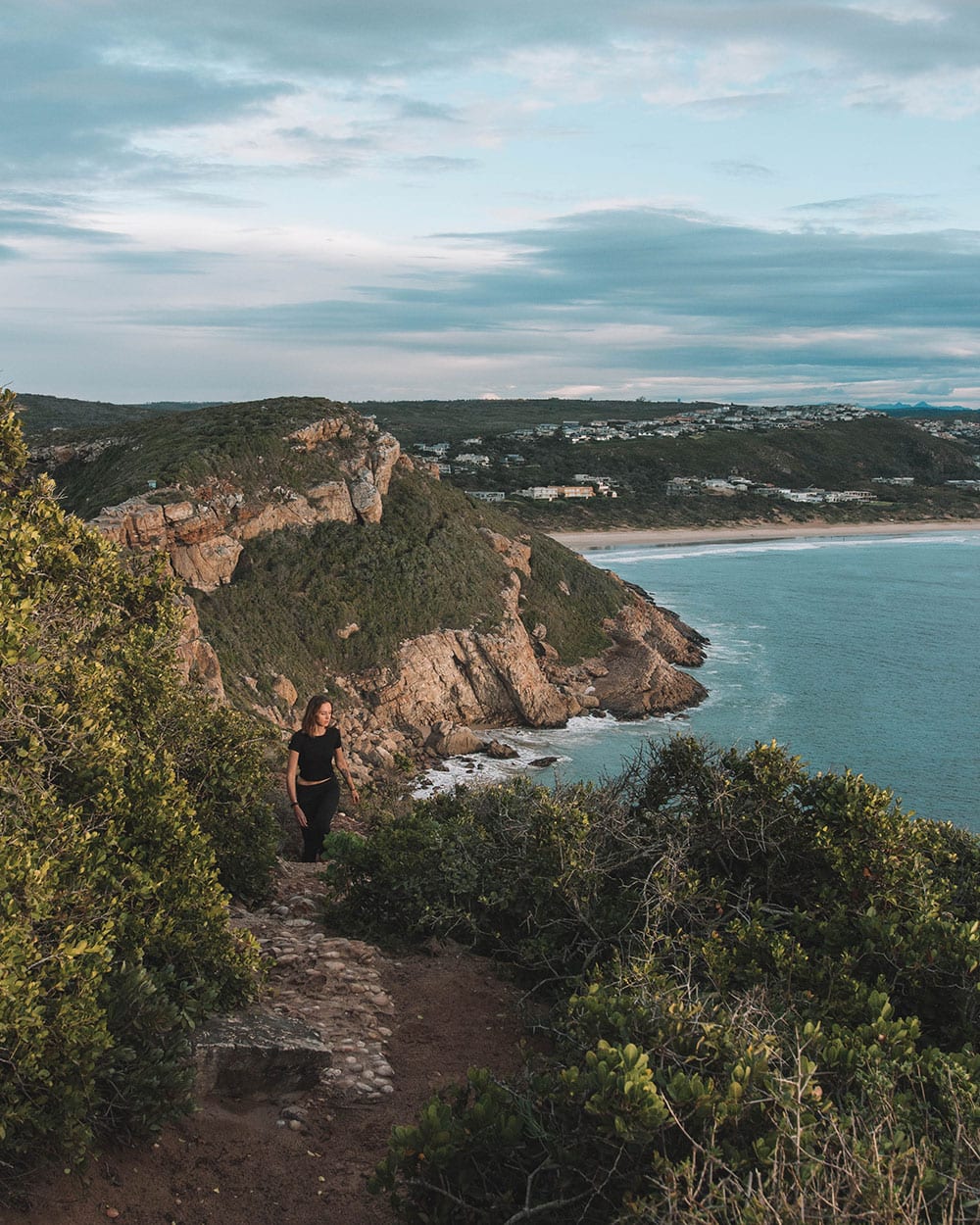 ---
Point Circuit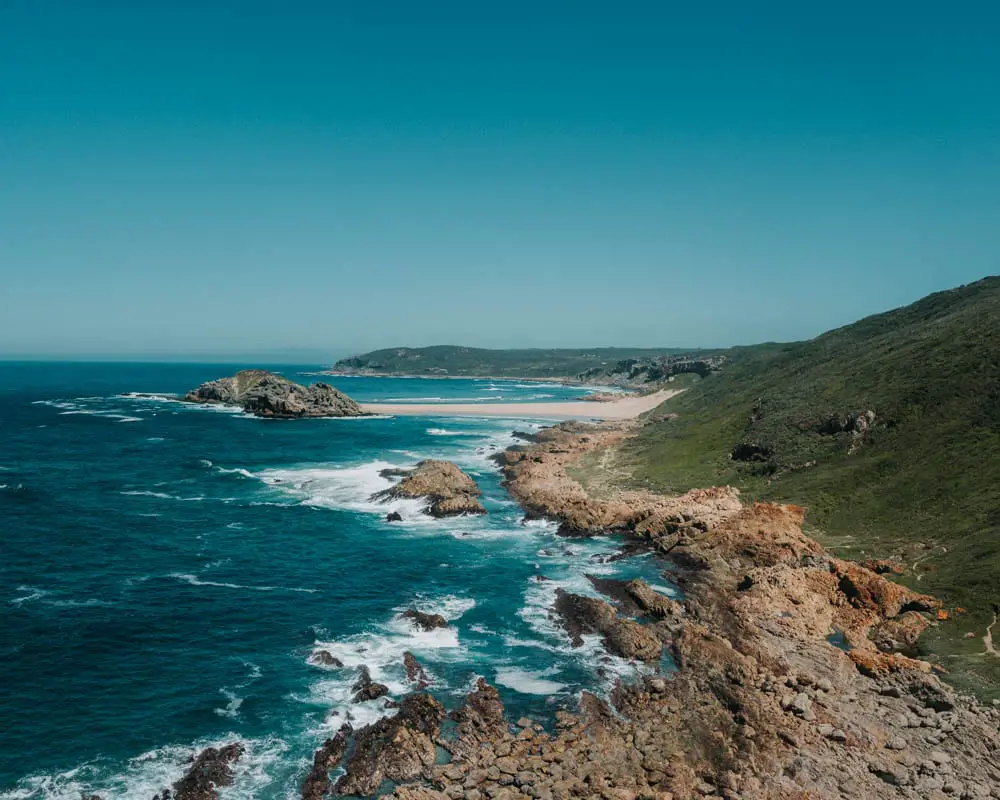 Trail distance: 9.2km
Estimated time: 4 hours
The Point Circuit is the longest and hardest of the Robberg hikes, but the views are worth setting your glutes on fire.
The terrain varies from cliff-hugging paths to walking along sand dunes and climbing rocks.
For bird lovers, you'll want to bring your binoculars. The Point Circuit trail is where you'll catch glimpses of gannets, cormorants, and terns. 
But if you're not used to walking long distances, I'd give this one a miss. 
Tip: Start the hike as soon as the reserve opens to avoid turning into a muddle of sweat in the midday heat.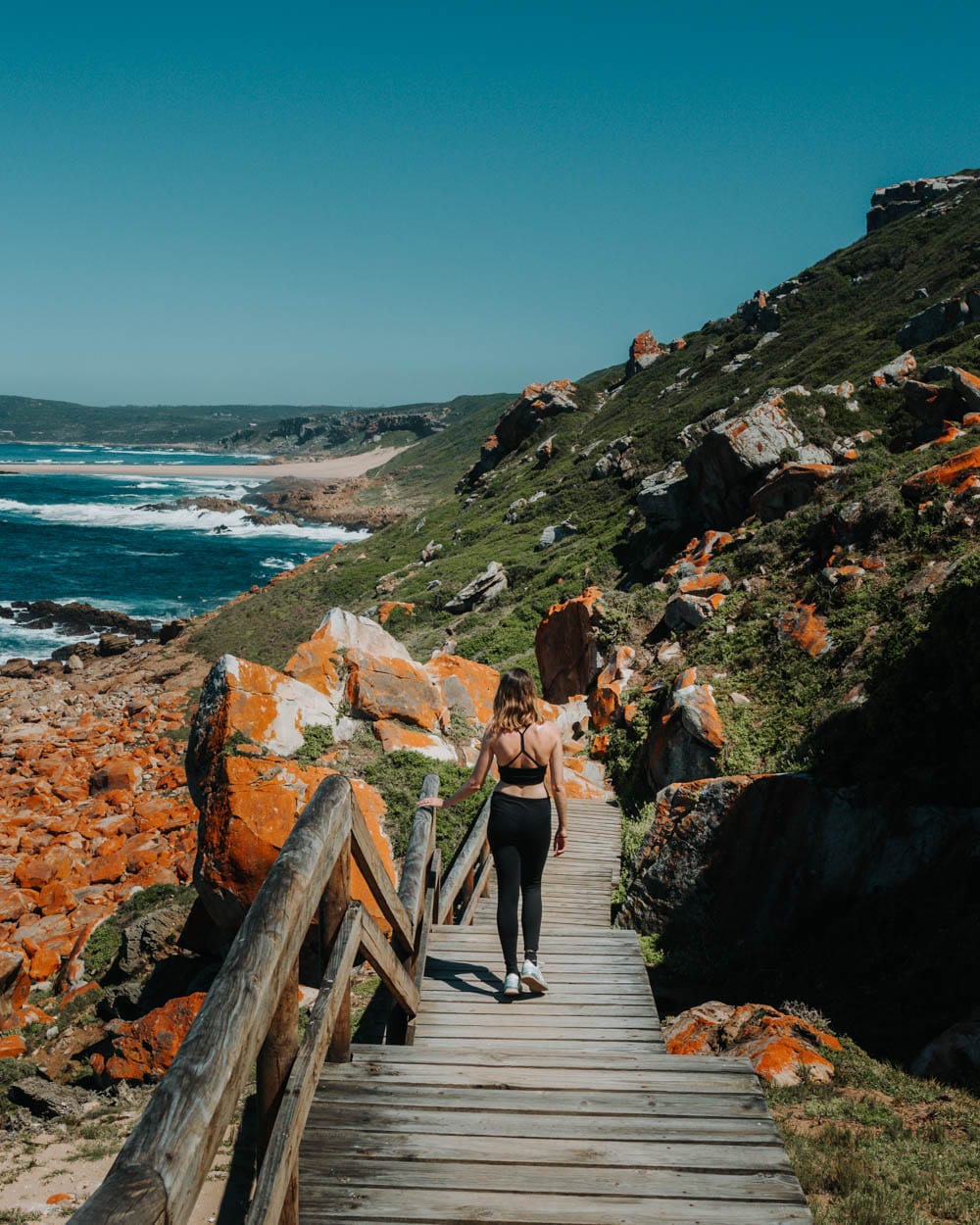 Read More: 10+ Spectacular Multi-Day Hiking Trails in the Western Cape
---
What to Pack for Hiking in Robberg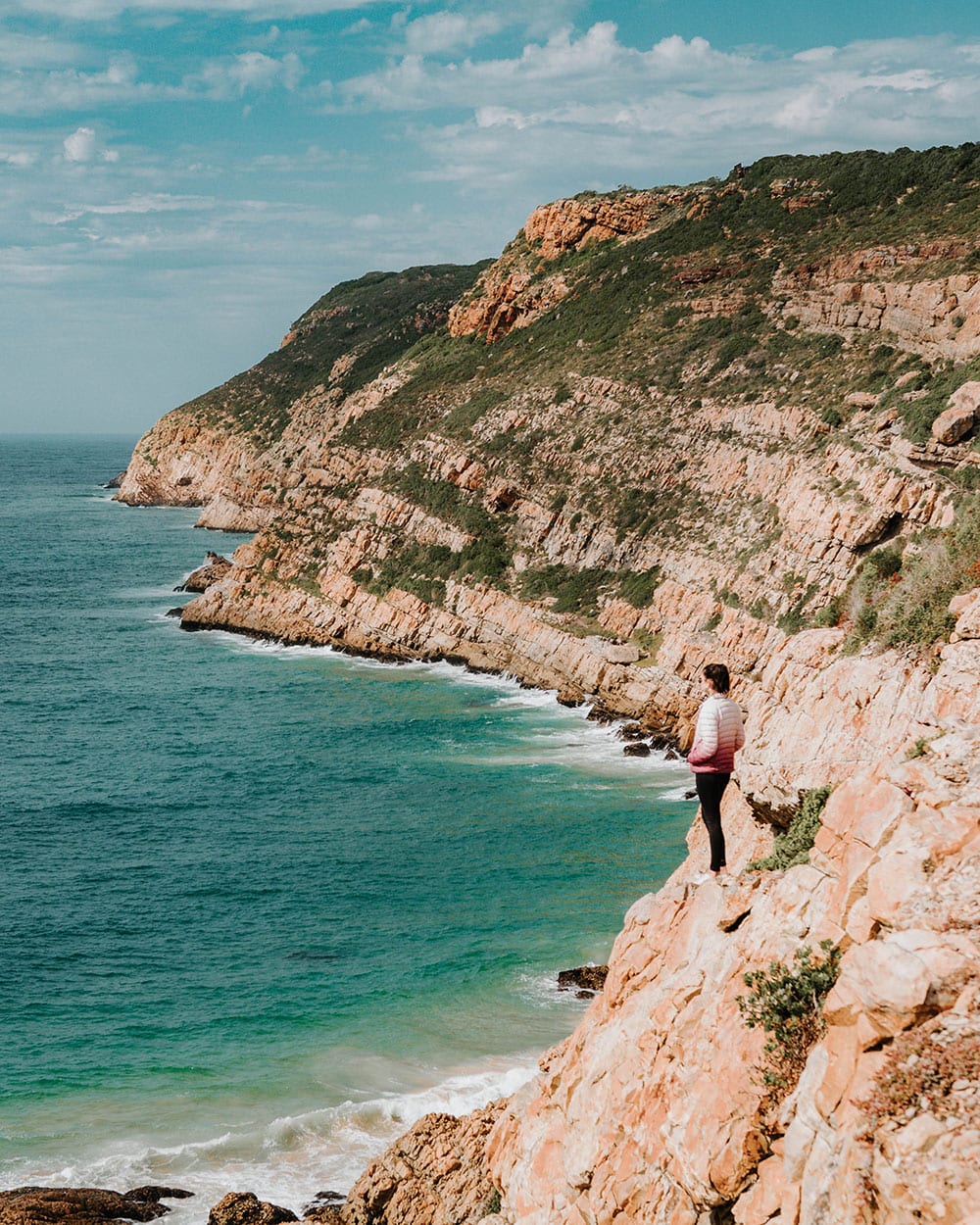 Small backpack: Bring a small day backpack for your water, food, sun protection, and camera. I use this one from Rowdy for day hikes in Robberg.
Hiking shoes: You don't need proper hiking boots for Robberg. Trail running shoes will also work. As long as you have shoes with good grip and are comfortable for long distances, you'll be okay.
Water: There are no water points on the Robberg hiking trails. Make sure to bring 1-2 litres of water. I use a Hydroflask to keep my water cool.
Food: Even if you're doing the short Gap Circuit Robberg hike, pack snacks. You can stop and have a picnic with a view, and it's essential to make sure you're getting in sugar, salt, and protein when hiking.
Warm jacket: Plett holds the crown for unpredictable weather. Always pack a lightweight jacket (I use a down jacket or a windbreaker from K-Way ) that you can fit in your day pack.
Camera: Don't leave your smartphone or DSLR camera at home. You'll want to capture the phenomenal scenery!
Sun protection (sunglasses, hat, sunscreen): There isn't much shade whilst hiking Robberg. Protect your skin from sun damage and pre-mature aging by lathering on a high SPF sunscreen (I love this Cetaphil one for oily skin), wearing a hat, and UV sunglasses.
 Map (you get one when you pay): When you pay your entrance fee, you will get a Robberg Nature Reserve map. Don't leave it in the car. Keep it in your bag if you're not familiar with the trails.
Read More: 45+ Hiking Essentials: The Ultimate Hiking Packing List for Beginners
---
Other Things to Do in Robberg Nature Reserve
Robberg doesn't only have spectacular hiking trails. Here are some of the other things to do while you're exploring the reserve.
Whale Watching: The best time to see whales along the Robberg Peninsula is between June and November. You might spot these gentle giants while hiking or at one of the viewpoints. But if you want to get up close with these majestic creatures, book a private charter whale watching experience.
Nelson Bay Cave: Calling all history buffs! Make sure you visit the Robberg Nature Reserve cave. The Nelson Bay Cave was excavated in the 1960s and showed the diet of early humans. You can access the cave from inside the reserve (you'll see a sign as you drive in).
Go For a Swim: Although you will have to hike to get to the beaches in Robberg, it's the perfect way to spend a few hours on a hot summer's day. Just don't go out too far, as the currents here are strong.
Have a Braai and Picnic: Embrace your inner South African and plan to spend the entire day at Robberg. Grab a braai spot, explore the reserve until the food is ready, and stay until sunset. 
Read More: An Epic One Week Garden Route Itinerary (Detailed)
---
Robberg Nature Reserve Accommodation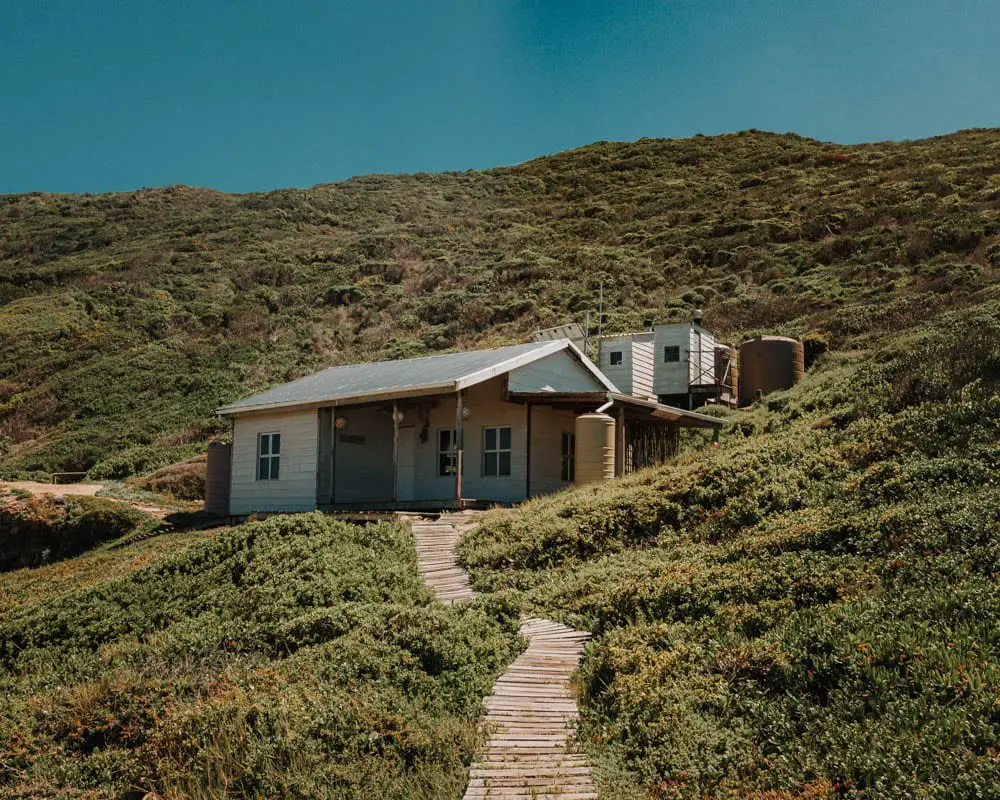 Want to stay INSIDE Robberg Nature Reserve?
Book a night or three at the Fountain Shack. It's a self-catering wooden cabin that's completely off the grid and boasts incredible views of the Robberg Peninsula.
How Many Does the Fountain Shack Sleep? The Fountain Shack can sleep eight people in four double bunk beds.
How To Get to the Fountain Shack: The Fountain Shack is not reachable by car. You'll need to hike the 4km with all your stuff to the hut. You can also use the Witsand Circuit or the Point Circuit trails to get here if you don't mind a longer trek.
What To Bring: You'll need to pack food, firelighters, torches or headlamps, sleeping bags, insect repellent, warm clothes, biodegradable toilet paper, extra firewood, and drinking water.
Amenities at the Fountain Shack:
Fully equipped kitchen with a gas cooker.
Solar power for electricity.
Limited hot water for showering.
Each bunk bed has a mattress, sheets, and pillows.
Enviro Loo and an outside shower.
---
Robberg Hike: The Final Word
See? I told you.
Robberg Nature Resere is a STUNNER.
If you find yourself along the Garden Route, stop here to experience the creme-de-la-creme of Plettenberg Bay hiking trails.
Choose a Robberg hike that suites your fitness level, and spend a few hours soaking up South Africa's epic natural scenery.
Is Robberg Nature Reserve on your bucket list? Go any hiking tips for fellow travellers? Hit ya gurl up in the comments below!
---
If you like it, then you should put a pin on it!