Last Updated on October 10, 2020 by lauren
Travelling by train in India is by far one of the cheapest ways to experience this huge country. Not only is it a great way to interact with the locals, but it will also give you the chance to watch the lush green terrain rush past as you get a glimpse of the day-to-day life in small villages and big cities.
I had my first experience of India train travel when I visited the South of India in February. My friend and I spent two weeks travelling from the east to west coast and back again. By the end of it, I had developed a deep appreciation for train travel and a undying hate for night buses.
Here is a quick guide to everything you need to know about exploring South India by Train!
How to Buy Train Tickets in South India
Travelling by train to India means a lack of spontaneity to a certain degree. You won't be able to just rock up and board a train. You'll be required to make a seat reservation for long-distance train journeys.
Book Online
The best way to buy tickets for train travel in south India is online. Tickets do tend to book up as quickly as 90 days in advance, so it's best to lock in those travel plans ASAP.
There are two websites where you can buy tickets from, the official IRCTC site and ClearTrip. I prefer to use ClearTrip as it is a lot easier to navigate and simpler to understand. Even though you do end up paying a wee little service fee on top – it's worth it. The site also has a few nifty tools like Seat Availability Calendar. It gives you an indication of IRCTC seat availability for a range of dates across the different train classes, so you can find the best date and train to travel.
There's an App for That
ClearTrip has also recently launched an Android, Windows and Apple iStore app! And it does more than just allow you to book your tickets with a swipe of your finger, check ticket availability or see if your train is running on time. It also gives you updates on what is happening in the city you are travelling to, ideas on what to eat curated especially for you and a list of over 15,000+ things to do!
---
How to Book tickets at the Station
Sometimes life gets in the way, and booking online is not possible. This was the case for me when I tried to book tickets from Kerala to Goa. If you find yourself in a similar predicament, you can try going down to the station to book RAC, get yourself Waitlisted Tickets or try to grab yourself one of the Foreign Tourist quota seats.
What is the Foreign Tourist (FT) Quota?
Many of the trains in India have a quota of seats or berths only available to foreign tourists and IndRail pass holders. This can be a lifesaver when a train is fully booked, and you like to plan your trips last minute. The train offering the FT quota may still have a few berths available within a day or two of departure, making it possible to travel around at short notice.
But isn't foolproof and you might not get the class you want. The FT quota is only 200 trains out of the 9,000 trains a day, and the quota might be as small as 2 seats and no bigger than 12.
Four of us tried to get the FT quota for tickets to Goa, but only two in our group managed to get tickets. This caused my friend and me to throw our travel plans out the window and decide to make a mission down the east coast of India. Which in hindsight I am glad happened because the quota tickets were in second class and I'm a motherfucking princess.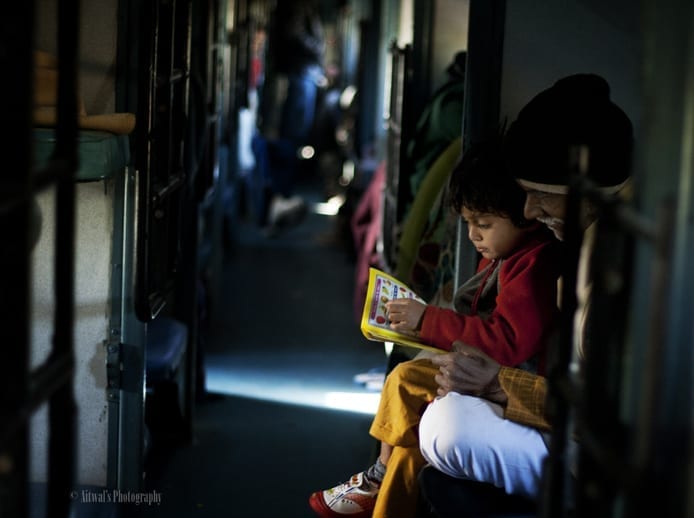 Photo by: Pushparaj Aitwa
What Are Reservation Against Cancellation (RAC) and Waitlisted Tickets?
Due to how fast train tickets sell out online, the Indian Railways sells tickets in three different categories:
Confirmed Reservation (CNF)
Reservation Against Cancellation (RAC)
Waitlist (WL)
With a RAC ticket, you will still be allowed to board the train and travel, but you won't have a specific seat or berth number. If one of the confirmed ticket holders cancels before departure, you will be then promoted to CNF with a confirmed seat or berth. In the worst-case scenario, no one cancels, and you might have to share a berth with someone and not get a comfortable night's sleep.
A waitlist ticket means you cannot travel until you promoted from WL to RAC. But, if you have a low-numbered WL ticket, you stand a good chance of being bumped up to RAC. And if you don't get onto the train because your number is too high, your money will be refunded.
To see if your status has been changed, you can check online. Just head on over to either Indian Rail or ClearTrip and enter your PNR number found on your ticket.
---
Choosing your Class
When booking train tickets in south India, you can choose between five different classes. The main differences between each class have to do with how much you value your personal space, privacy and comfort.
Second Class
If you are okay with getting up close and personal with the locals to save a few rupees, you should be able to survive second class without any problems. The cars are packed with as many people as possible, seats are not assigned, and for overnight journeys, there is no berth to pull down to catch some shut-eye.
Hell, you should count yourself lucky if you manage to get a seat to sit on.
There is also no AC, so brace yourself for a couple of hours of sweaty bodies bumping up against one another. Just think of it like Britney Spears's I'm a Slave 4 U music video, but less sexy.
Photo by: Brian Holsclaw
Sleeper Class
For just a few more rupees, you can experience the comforts of stretching out on a berth, and personal space to make your night just a little bit more comfortable. Bedding is not included so be sure to pack a sleeping bag or a blanket –especially if you are travelling during winter when it gets colder at night.
It is the way most Indians travel, so you will have plenty of opportunities to have a chat with your bunkmates and get to know the locals. The big bonus of choosing sleeper class is that you get a better view of the countryside then the AC coaches, which makes up for the fact that there is no air conditioning.
AC Tiers 1 to 3
For many foreign travellers, the price of this class isn't going to put a HUGE dent in your budget, so if you aren't looking to rough it or just want privacy – this is the class for you. I choose to travel on AC 3 for all my routes in India, and I loved it!
The different tiers are broken up with varying degrees of segregation and creature comforts. Here you will find air-con, complimentary bread rolls, bedding and the option to choose non-vegetarian or vegetarian for your meals.
I only had positive experiences during my train rides and luckily got to chat with some very interesting locals. The one nun I met even went out of her way to make sure we got off at the right station.
All the feels right there.
---
Train Schedule and Fares in South India
It is pretty easy to check the train timetable and fares for south India. All you need is an internet connection. If Indian Rail or Indian Railways is a bit too bewildering for you, ClearTrip once again comes to save the day. Seat 61 has a great resource for helping you understand the Indian Rail websites and navigating through the confusion.

Example of fares on ClearTrip for my route from Chennai to Mysore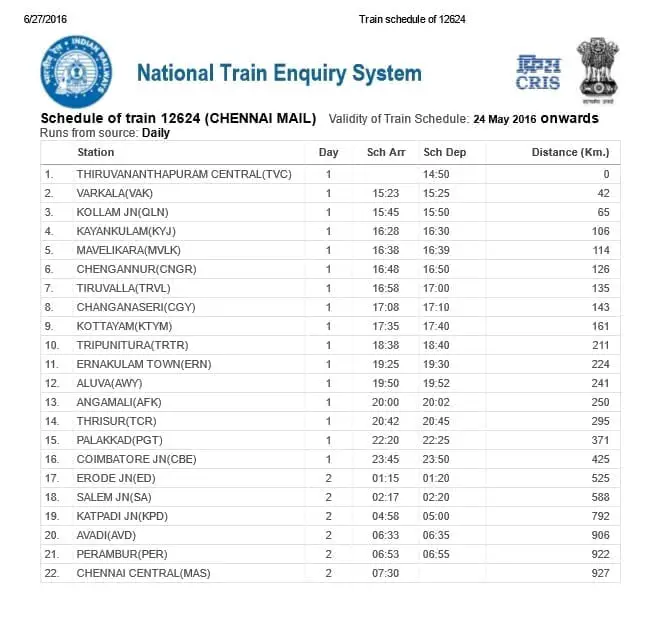 Schedule of the night train we took from Thiruvananthapuram to Chennai
---
What to expect on your journey
How Safe is Train Travel in South India? –
I know there are some horror stories that go around about how "unsafe" train travel in India can be (usually aimed at female travellers), but if you keep your wits about you as you would do anywhere else in the world, I doubt you'll have any problems.
If you are a solo female traveller and worried about your safety, try to book the top bunk on the A3 class. No one is going to be able to get to you without disturbing the people below and everyone else below you.
I slept on the middle bunk because my friend is an ass and grew really long legs that kept on getting in passengers faces as they walked past. Needless to say, I had no problems, and the locals did their best to look after us.
Getting Off at the Right Stop
If you are on a train that has multiple stops, make sure to set an alarm on your phone to ensure you get off at the right stop. This is especially important if you are on a night train and need to get off along the route before the train reaches its final destination.
How to Keep Your Bags Safe
There have been cases of bags being stolen or cut open on trains. To avoid this happening to you, there are three things you can do:
Buy locks for your zippers and secure your bag to the seat with a chain and a lock.
Sleep with your bag underneath your pillow.
Hide your valuables on you or inside your pillowcase.
What To Bring With You on The Train
Looking outside the window will only hold your attention for so long. If you are taking a long-distance train pack the following to help keep you entertained and more comfortable during your journey:
Book
Laptop
iPod
Cell phone
Phone Charger (yes there are power points in A3!)
Earplugs
Your tickets
Passport
Toilet paper
Snacks
Hand sanitiser
Sheet or sarong to sleep on
Eye mask
Water to stay hydrated
Money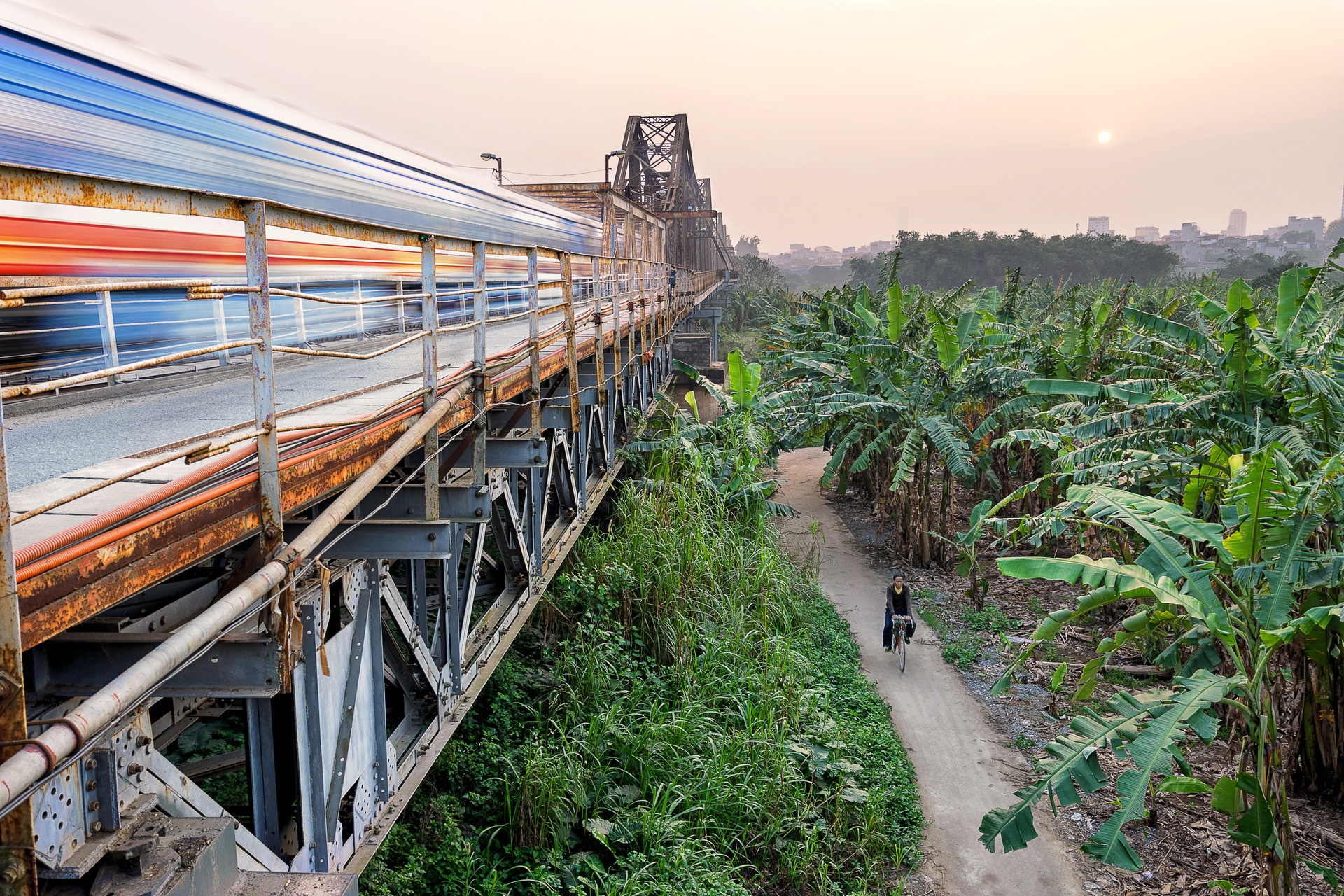 Overall, train travel in India is an easy and interesting experience! Be sure to do a bit of pre-planning beforehand and enjoy the ride!