Last Updated on December 4, 2020 by lauren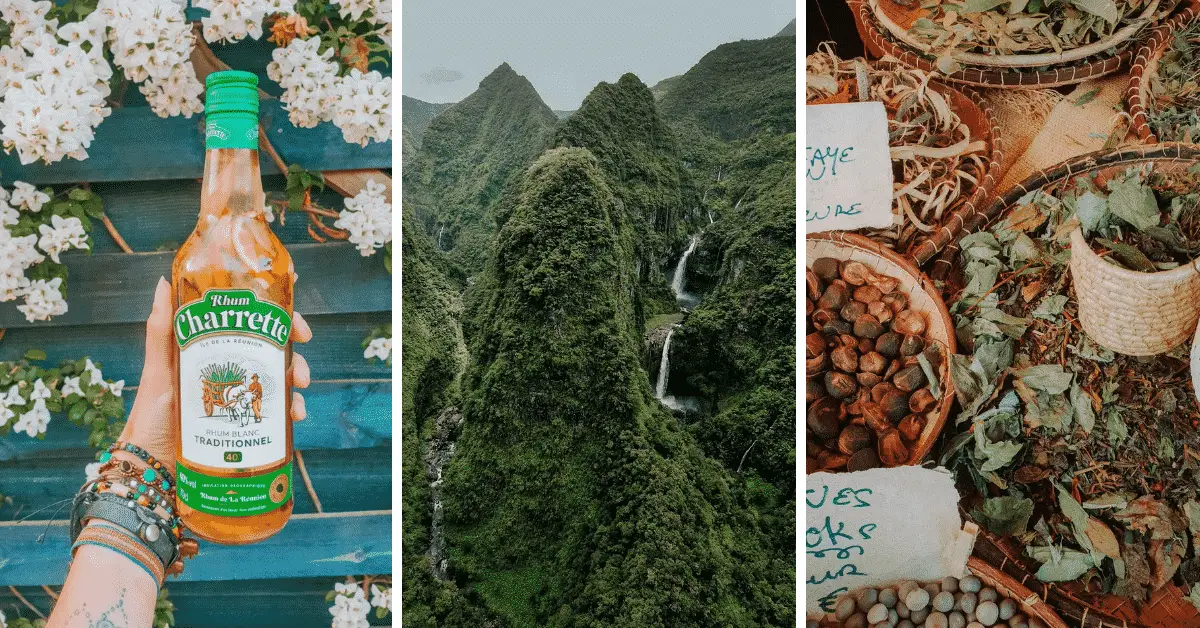 I've done a lot of thinking lately, and I'm ready to confess.
Of all the guilty pleasures in my life (Keeping Up With The Kardashians, caffeine, not wearing pants during Zoom calls and eating an entire baguette in a single sitting), I'd say that my love affair with rum might be at the top of the list.
So when I visited Reunion Island for a week in 2018 – I met my mecca.
I indulged (maybe a little too much) in freshly baked croissants, 1.50 EUR cafe au lattes on the beach, and delightful amounts of Rhum Arrangé – the island's signature drink.
And the best thing about Reunion Island's rum? Not only do restaurants and distilleries peddle their own concoctions (meaning you can almost never have the same recipe twice), you can also get creative and make your own!
Where else in the world can you leave a holiday destination with a one-of-a-kind drink?!
C'est très magnifique!
If you're a foodie and rum connoisseur like me, you're in the right place! This guide will walk you through everything you need to know about Reunion Island's delicious Rhum Arrangé, it's history and how to whip up your own brew!
Psst…Want more Reunion Island travel inspiration? Check out these other posts:
The History of Rum on Reunion Island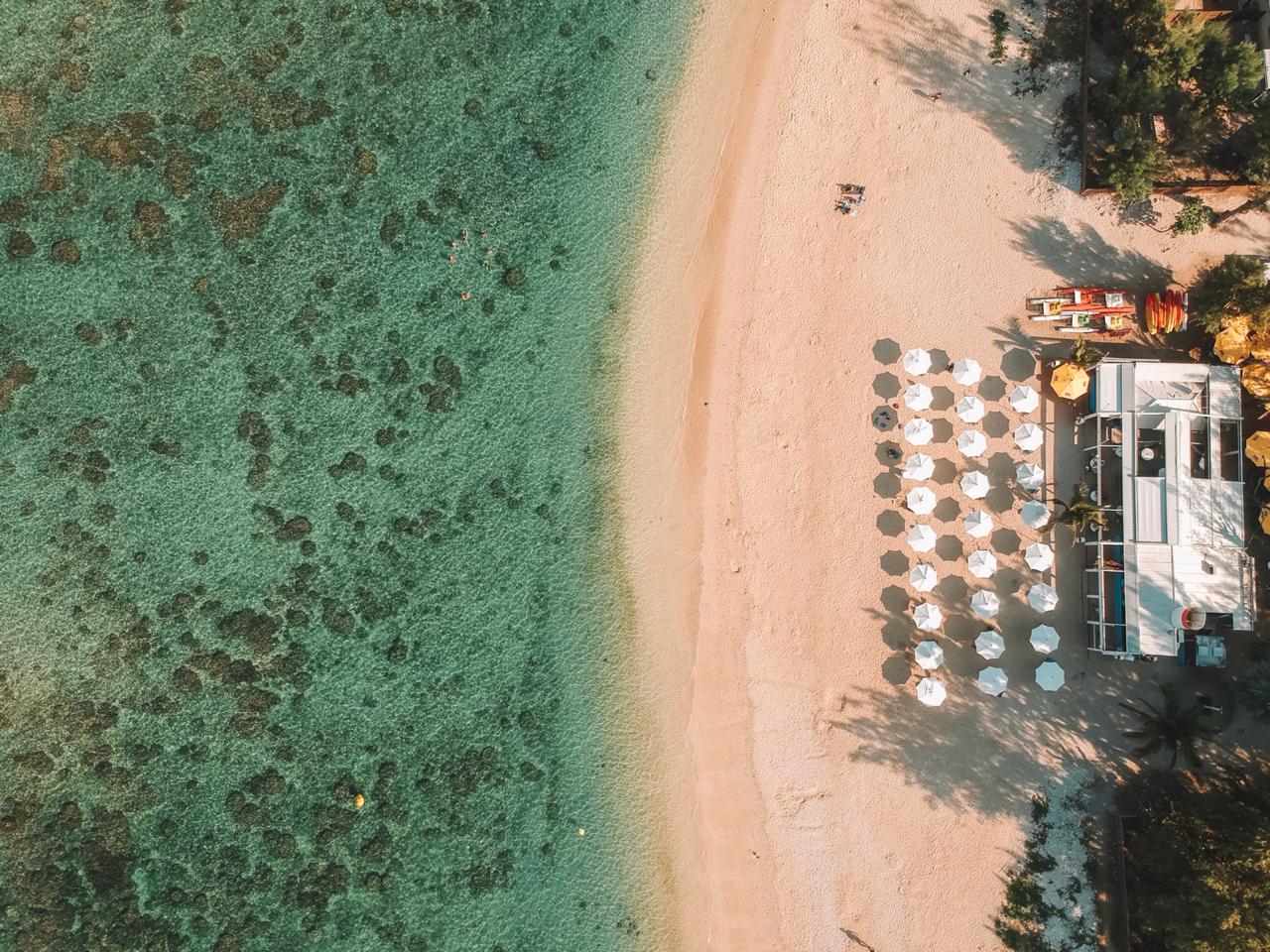 No matter how long you spend on Reunion Island, you're bound to run into some Rhum Arrangé (mulled rum) along the way.
Whether it's offered to you at a local restaurant at the end of your meal or you spy a bottle in the shops, it's intrinsically tied into the island's French-Creole culture and history.
It's a Reunion tradition dating back to the 17th-century when rum became a by-product of the sugar industry. Since then, the locals have produced aromatic bottles of rum alongside the island's other flagship products sugar and vanilla.
Over the decades, it's become the aperitif of choice and a delicious way to indulge in Reunion's unique culture and history.
---
So…What Exactly is Rhum Arrangé?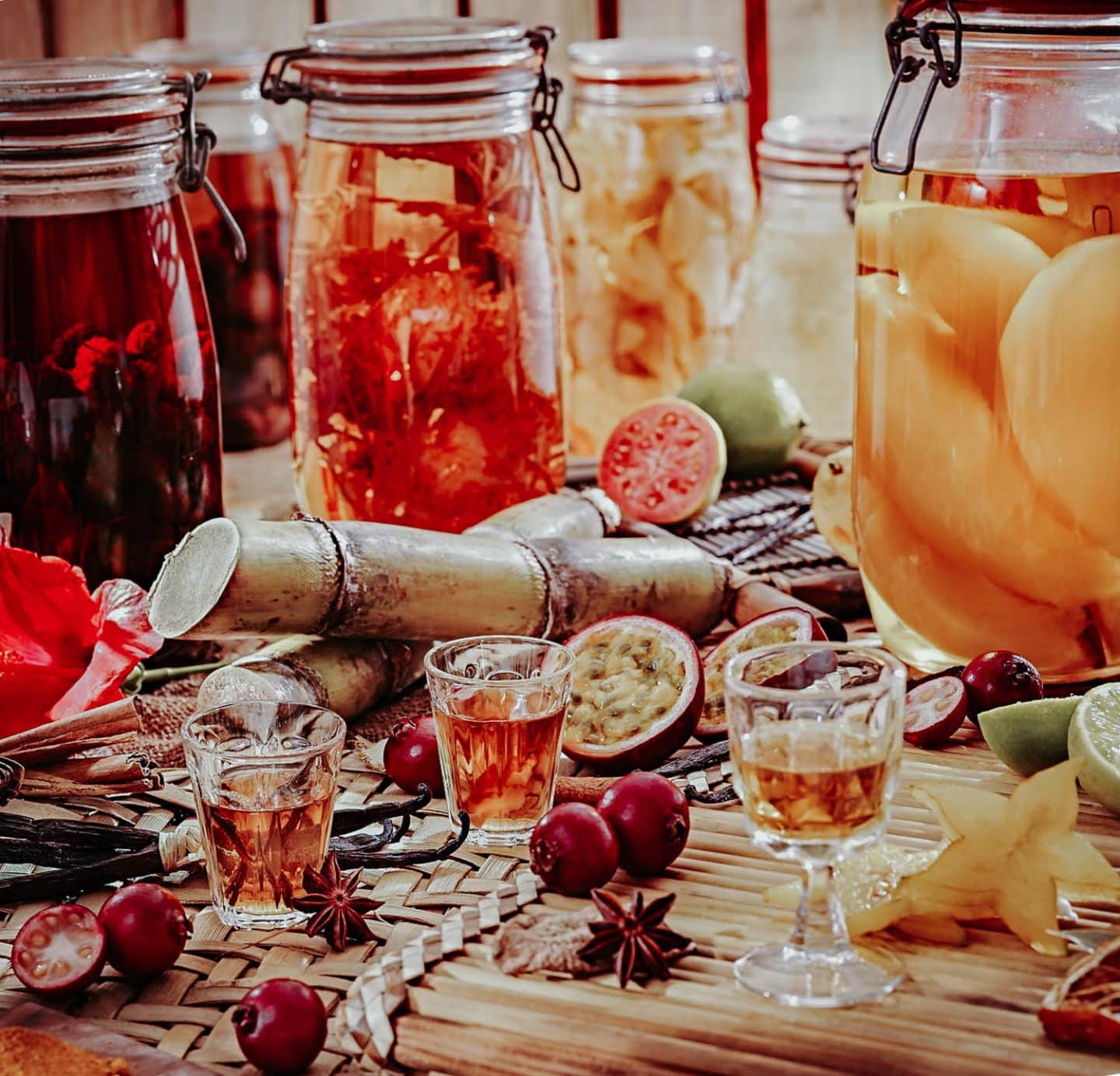 Rhum Arrangé is Reunion Island's rum speciality. It's white rum spiced with aromatics like vanilla or cinnamon sticks.
The exact ingredients? Well, that all depends on where you are, the spices available and the "humeur du moment".
There is no rule of rum when it comes to the recipe, and that's part of the drink's charm. 
Families on the island pass down their signature concoction through the generations, intrinsically tying the drink to Reunion's culture.
In short, it's not another 'cocktail' you can find anywhere else on Earth. When you travel to Reunion Island, and you're offered a glass of Rhum Arrangé from a local, you'll never taste the same mixture twice.
(Unless you're buying bottles from the liquor store. More on this down below).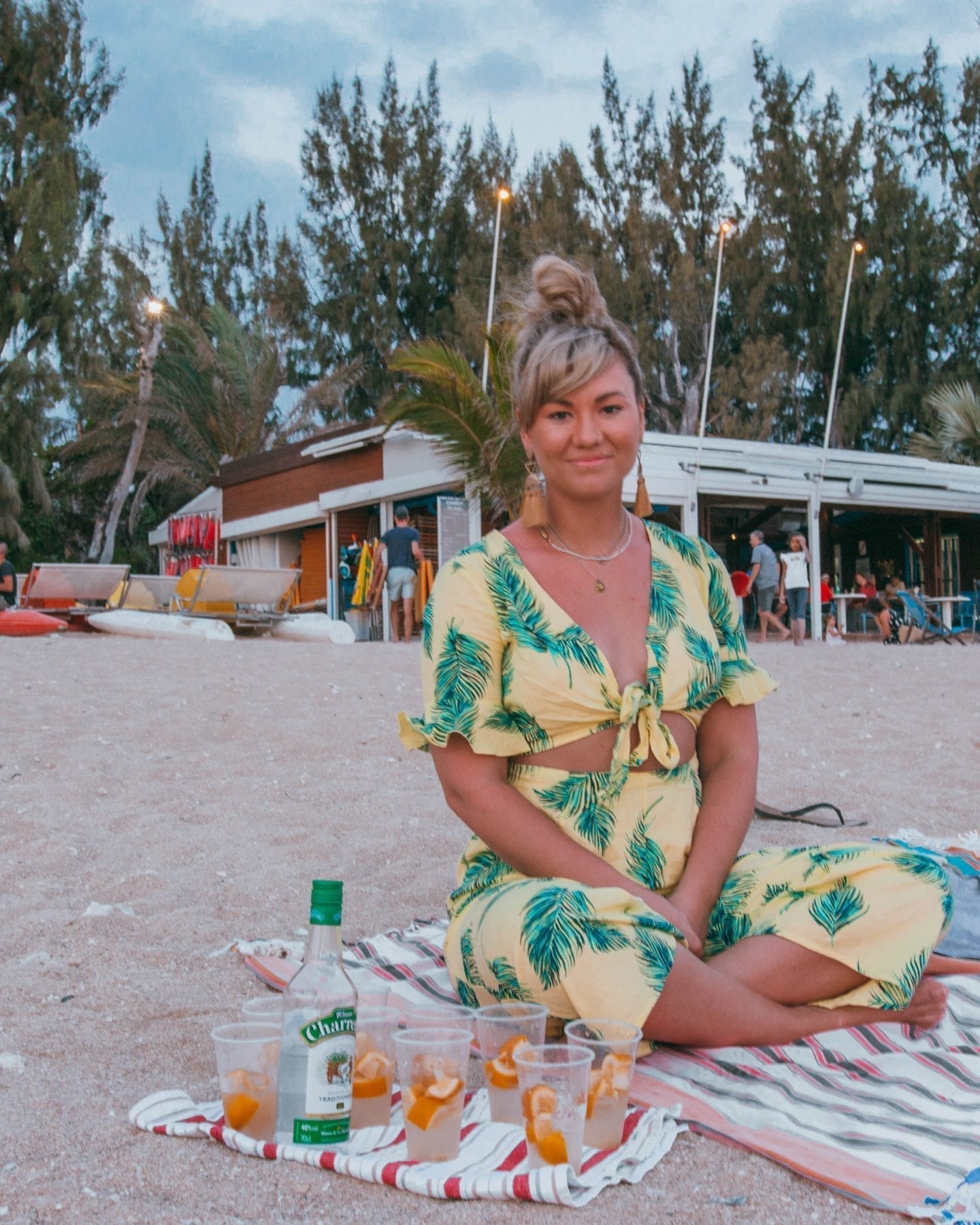 ---
Where to Find Rhum Arrangé in Reunion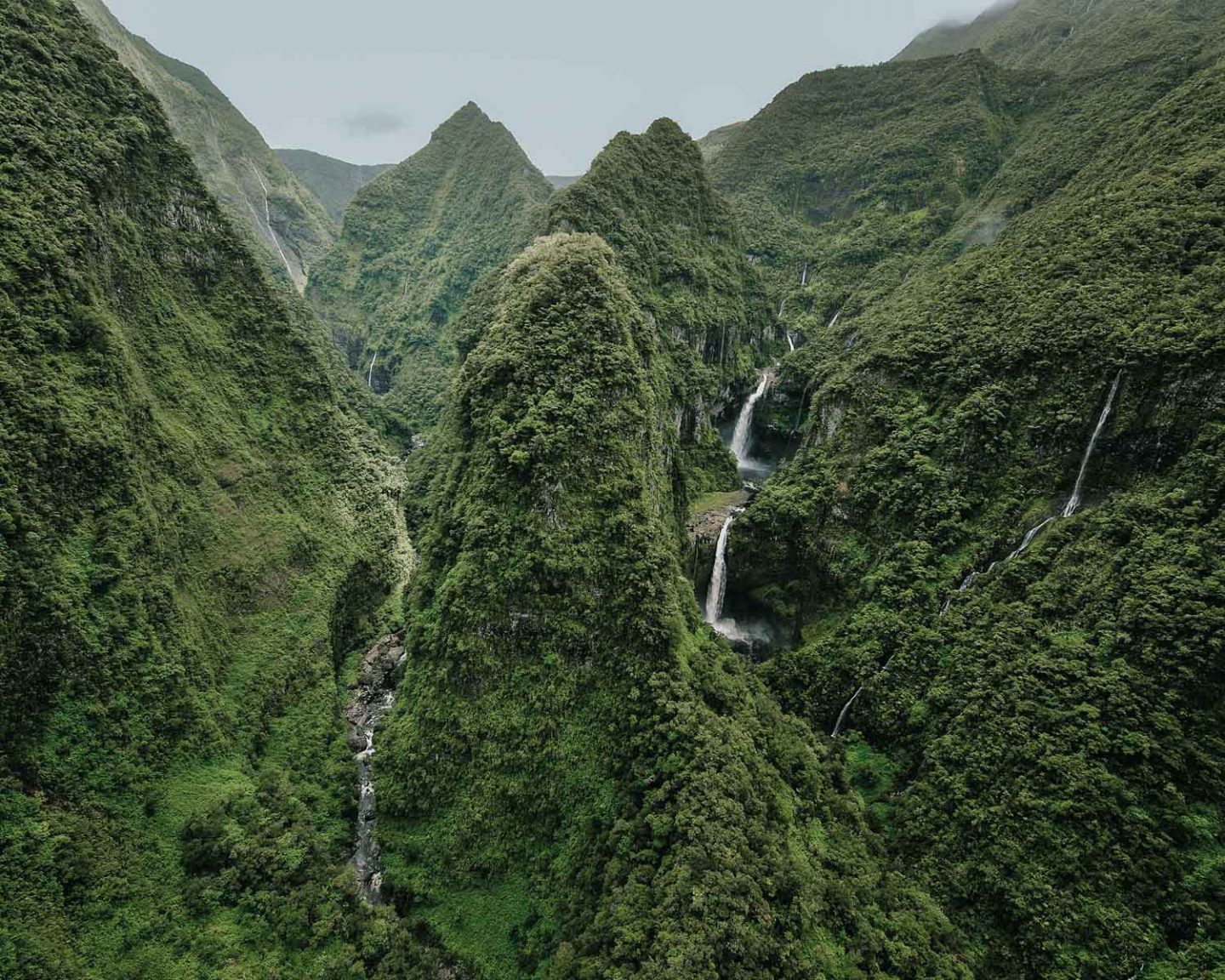 Besides local restaurants and shops, the best place to get an education is to rum on over to Reunion's distilleries.
There are three operating on the island which dominate the local rum scene:
Isautier Distillery in Saint-Pierre.
Savanna Distillery in Saint- André. 
Distillerie la Rivière du Mât in Saint-Benoît.
Everyone has their favourite, but if you're a true rum connoisseur, you should try them all for yourself to see. ?
Reunion Island tourism can help you organise a tour to one (or all three distilleries) where you can take a deep dive into the history, culture and production while tantalising your tastebuds.
If you're short on time, head to the Isatier Distillery. It's the island's oldest family distillery founded in 1845 and home to the only rum museum on the island, Saga du Rhum.
---
How to Make Your Own Rhum Arrangé for Your Trip to Reunion Island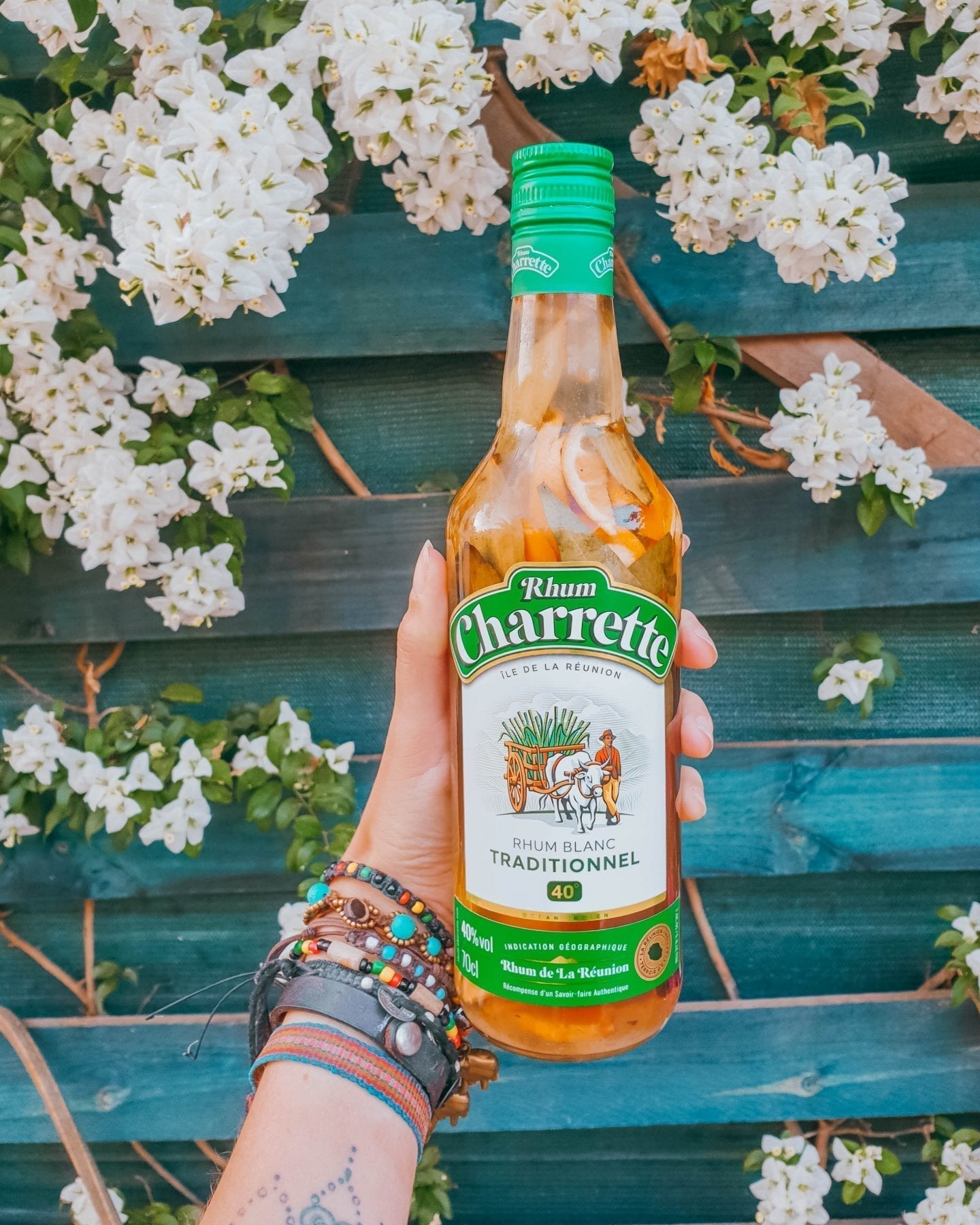 While there is a science to making a good bottle of Rhum Arrangé, it's easier to understand than grade 12 maths.
Whether you want to make a bottle of Rhum Arrangé as a souvenir from your trip to Reunion Island, or you want to travel virtually at home (*shakes fist at 2020*), here's how to prepare the island's signature drink for yourself.
Step 1: Buy a 1-litre bottle of Reunion Island rum.
Step 2: Collect a flavourful assortment of ingredients to "spice" your drink. You can use vanilla pods, cinnamon sticks, coffee, pineapple, ginger, bois bandé, or even chilli. Get creative and go wild!
Step 3: Add sugar cubes, but don't feel shy here. The sugar helps spread the taste of the other ingredients. So this is not a time to be conservative. Lastly, only use QUALITY sugar or your Rhum Arrangé will come out lacklustre.
Step 4: Once your masterpiece is complete, seal up your bottle of rum and wait 3 to 6 months before your first sip. Yip. You read that right. Creating your signature blend of Rhum Arrangé requires A LOT of patience, but it's worth it, I promise.
Step 5: Open up the bottle, strain, and pour the rum over a base of ice cubes. Sit back, enjoy and reminisce over your trip to the Ultimate Island.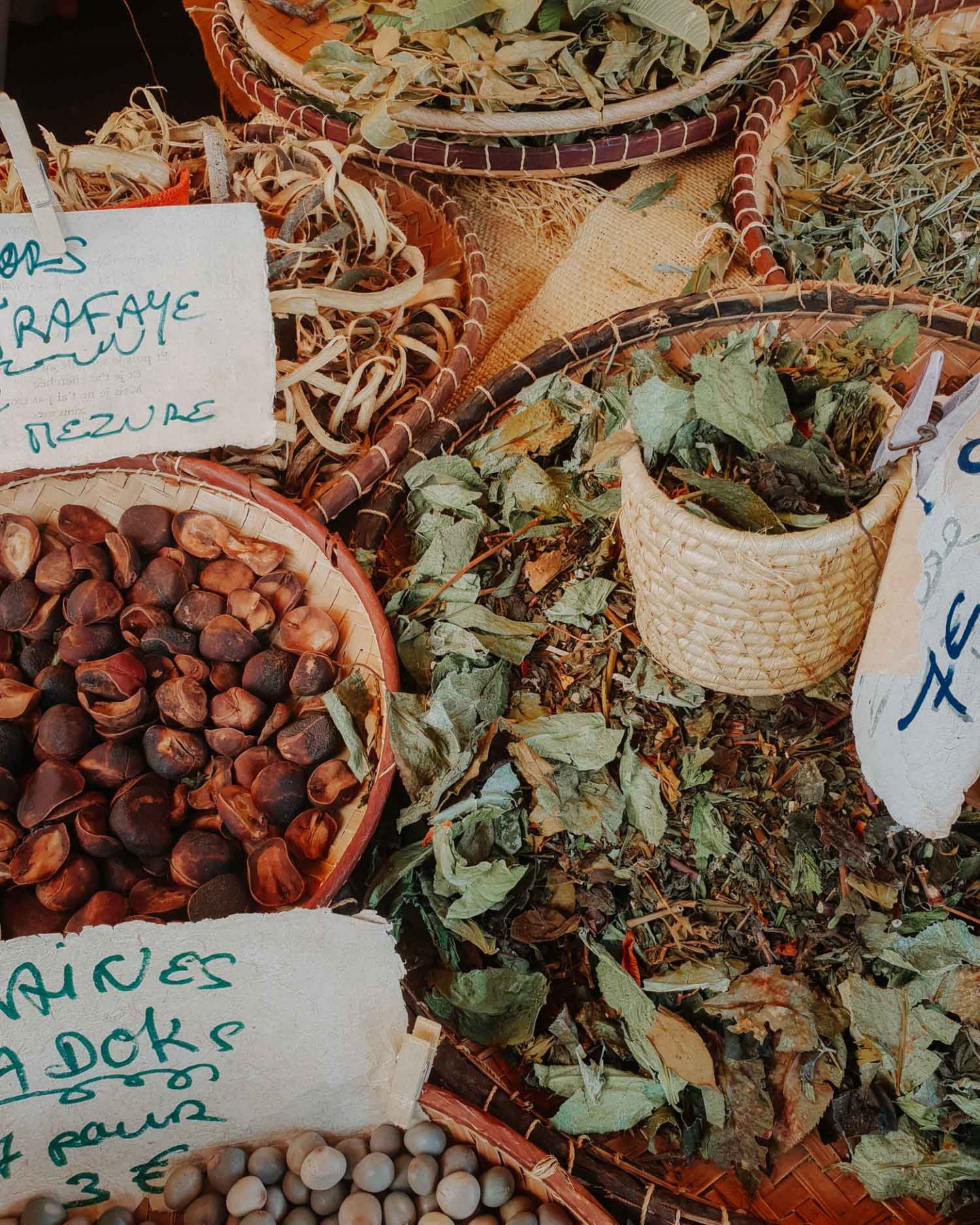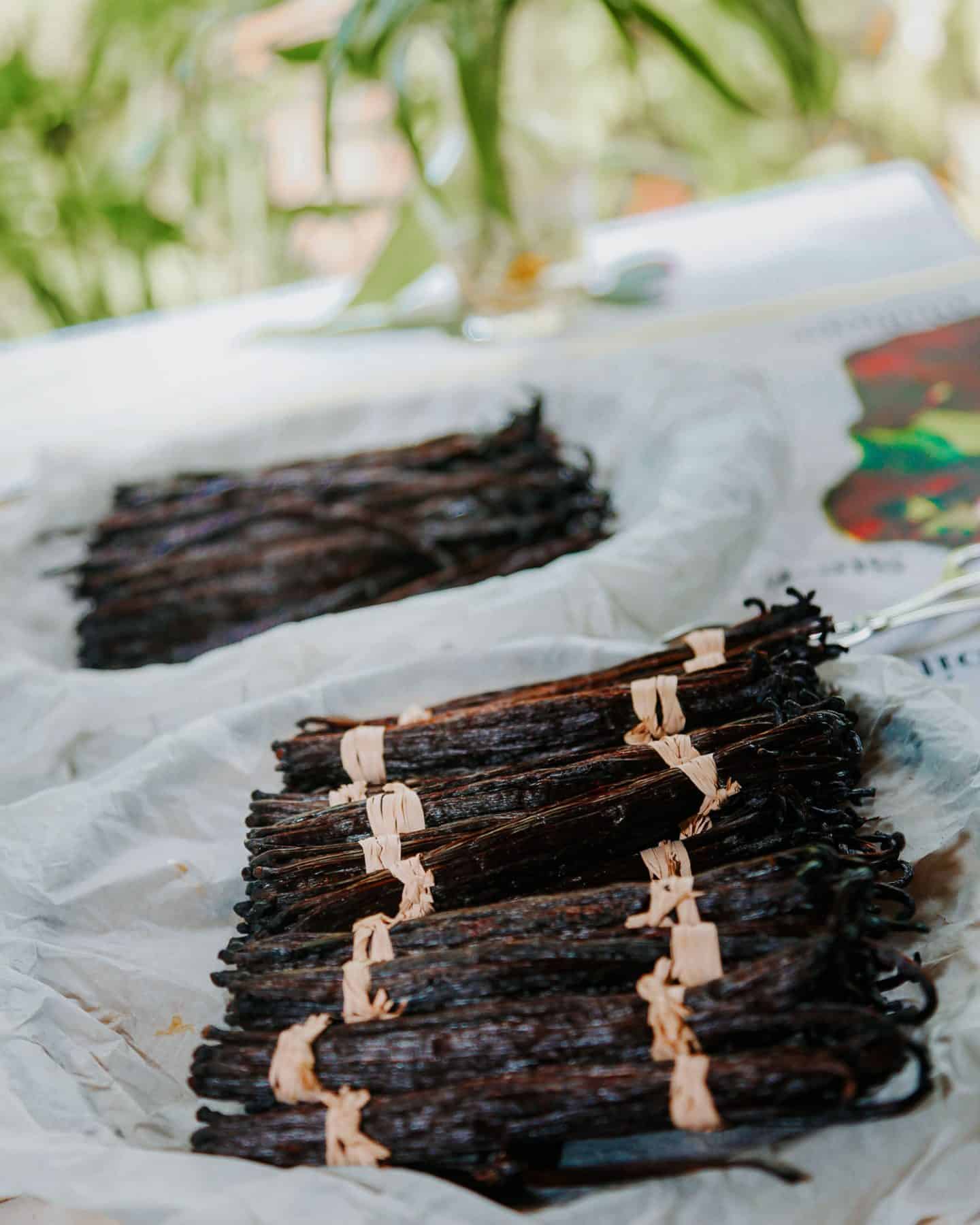 ---
Soooo…What Happens If You Don't Trust Your Brewing Skills?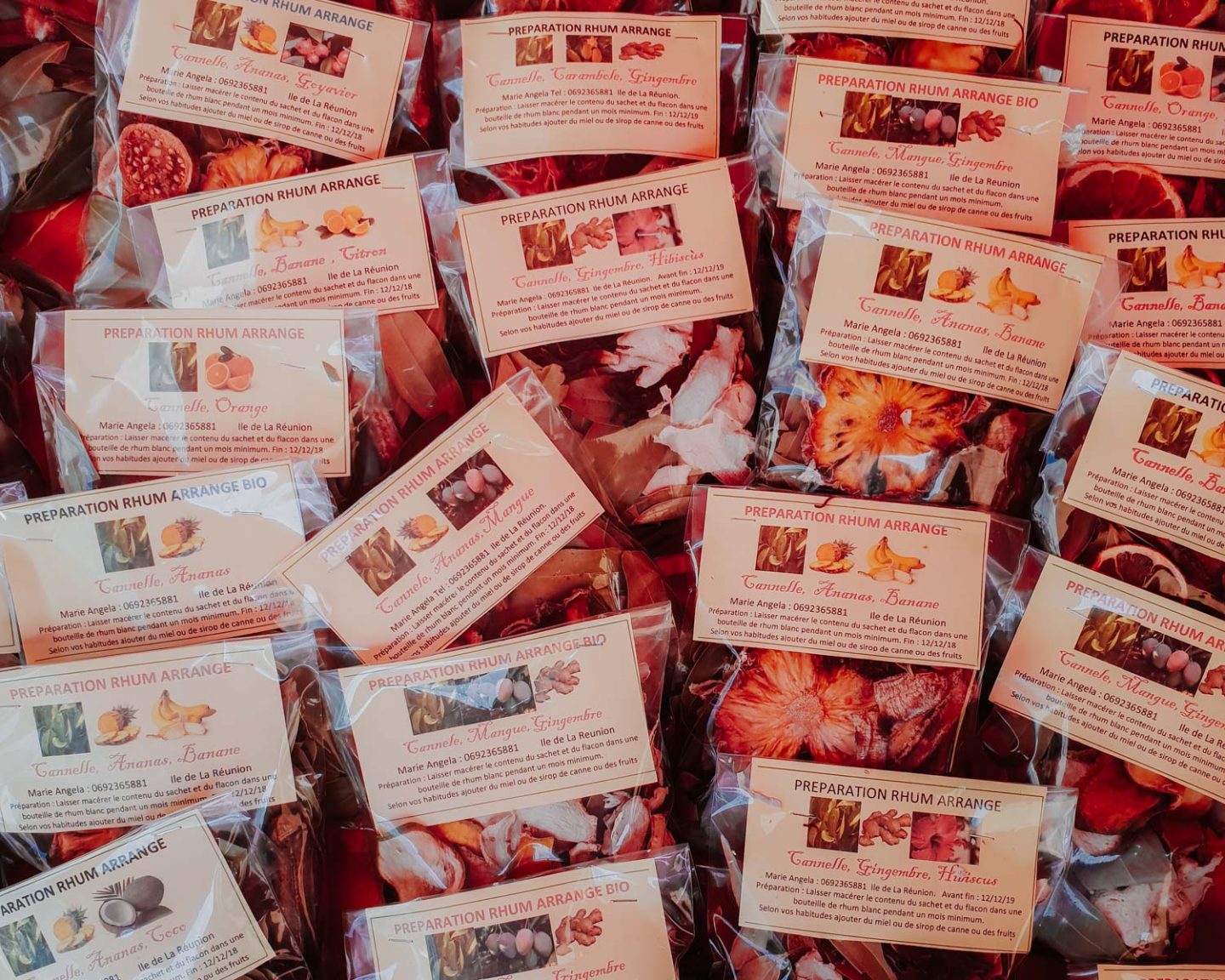 Head to the local markets! 
Saint Paul's Market on the West Coast has vendors selling pouches with everything you need to create the perfect Rhum Arrangé.
Or you can take the easy route, and buy a premade bottle from the liquor stores or the distilleries. 
The Isautier Distillery sells a range of delightful recipes such as:
Guava-rooibos
Banana flambe
Christmas arrange (can confirm it does in fact taste like Christmas)
Coffee-vanilla
Vanilla-citrus
Read More: Reunion Island Itinerary: How to See the Best of Reunion Island in One Week
---
Rum on Down to Reunion Island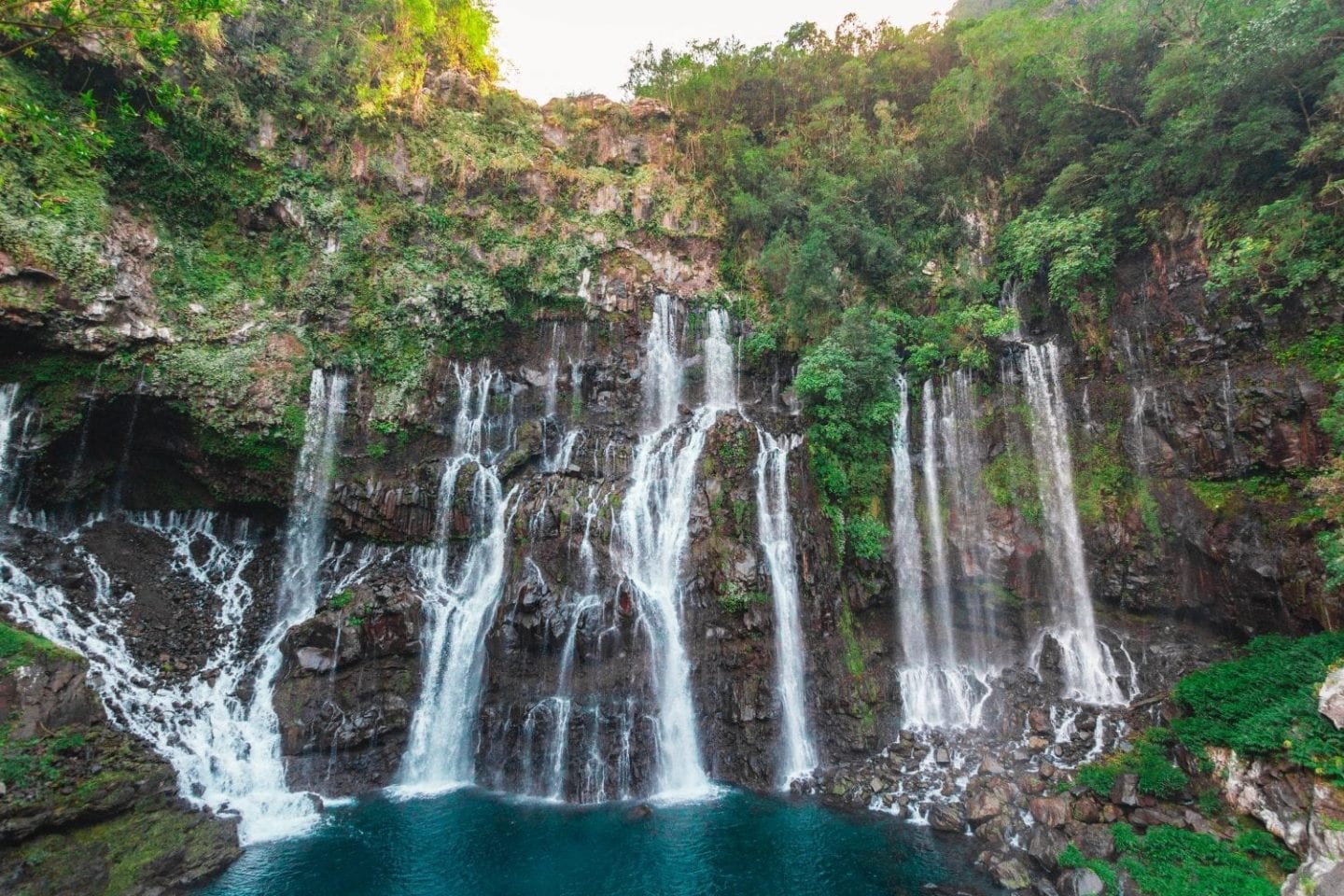 Located in the Mascarene Archipelago, Reunion Island is only a 4-hour hop, skip and direct flight from South Africa.
It's a fascinating VISA-FREE destination for South African foodies – without the hefty price tag of mainland Europe.
To book a rum distillery experience and other delicious food tours on Reunion Island, visit www.reunion.fr.
For further information, contact the Reunion Island Tourism Board South African Office at [email protected]
? If you like it, then you should put a pin on it! ?