Last Updated on February 13, 2021 by Taylor
On the hunt for the best gifts for hikers?
(You know, besides trail mix)
Contrary to popular belief, hikers aren't tough people to for.
While it can stump you at first, there are plenty of practical and cool hiking gifts that every outdoors lover would love to receive.
Luckily for you, this post is a peek into the ultimate wish list for hikers. Whether you're shopping for the casual day hiker or the avid multi-day trekker who disappears into the wilderness for days at a time.
Here's my roundup of hiking gifts for every budget!
Psst: Looking for more gift guides? Check out my other posts:
Hiking and Camping Gear Gifts
We hikers are practical people. So it should come to no surprise that the best hiking gifts are often the ones we can use time and time again in the wilderness.
Osprey Backpack
With my Otter Trail trip coming up in January, I've finally invested in an Osprey backpack! If you're looking for a hiking gift which will win you tons of points this festive season, you can't go wrong with one of these packs.
The Osprey Exos 58L is a unisex option that will go with any adventure. If you're shopping for a day hiker, the Osprey Tempest 20L is a winner.
But my favourite Osprey backpack for week-long treks is the Osprey Aura AG 65L! I'm obsessed with forest green colour, but it comes in a range of shades like red, grey and blue.
---
Hiking Boots
Next on the holy grail of hiking gifts is boots! It's one of the most important items for anyone spending a couple of hours trekking outdoors. For casual hikers, gift the Hawkwell Women's Lace-Up or the Danner Women's Mountain Light Cascade Hiking Boot.
If you're buying a gift for a multi-day hiker, opt for the Merrell Forestbound Mid or the Keen Targhee 3 Mid WP Woman's Boot.
For South African shoppers who want something more affordable and no import fees, Hitec's Altitude V Ultra are an option. I've been using my pair for day and multi-day hikes. They're also waterproof, come with a sock liner, slow-recovery foam for extra comfort and have amazing grip.
---
Sleeping Bag
When I first started hiking and camping, I didn't realise how important it was to invest in a quality sleeping bag. I learnt my lesson the hard way when I spent the night on top of Tugela Falls, and I wasn't prepared for the temperature drop.
If you know the hiker in your life is in the same boot as me and you want to splurge, the Western Mountaineering Apache MF 15F Degree Down Sleeping Bag is top of the range.
For something more affordable, but still a quality buy, pick up the Nemo Rave 15 Sleeping Bag or First Ascent Amplify Down Sleeping Bag.
---
Trekking Poles
Trekking poles are the perfect gifts for hikers tackling strenuous trails or those who have weak knees.
If you know someone who is planning to complete their first multi-day trek next year (hint hint), you'll win Christmas for sure.
---
Puffer Jacket
I'm a wimp when it comes to anything below 20 degrees, so a puffer jacket is never far from my pack. If your friend also struggles with self-insulation, they'll appreciate a warm puffer jacket for Christmas.
The Arc'teryx Cerium LT Down Jacket is incredibly lightweight and made from ethically sourced goose down. You can easily layer it with other jackets in winter and compresses into a tiny ball!
An alternative for South African shoppers is the Hi-Tec Insulated Jacket. I own the white Lady Neva Jacket, and it's kept me warm throughout our winter road trip across South Africa.
For something a warmer and in-line with Arc'teryx standards, I'd suggest the First Ascent Ladies Arctic Down Parka. It's made from breathable Microtex exterior, and thermal efficient 650 down fill power.
---
Gifts for Hikers Under $25
You don't need to make it rain dollar, dollar bills to find a present your hike will love. Here are some of the best wallet-friendly gifts!
Hydroflask
One of the best cheap gifts for hikers is a hydroflask. It's an invaluable gift your friend will be using for those hot summer hikes and winter treks into the mountains.
The original Hydroflask comes in a variety of colours but is on the pricer side. For something well under $25, the Iron Flask Sports Water Bottle does the job.
It will keep your drinks hot or cold and comes with three different lid styles.
---
Headlamp
You'd be surprised how often you need a headlamp. I've started keeping mine in my handbag/backpack for all my trips.
It's helped light my way for astrophotography missions, pack my bags at 4 am in hostels and get me back safely to my tent at festivals.
The Petzl Actik Headlamp is a premium option, but the Petzel Tikka Headlamp is much cheaper. If you're shopping from South Africa, you can find both on Takealot.
---
Buff
Buffs are one of the most versatile pieces for a hiker. You can use it has a neck warmer, sun protector, a headband, a pillow cover or a trance party accessory.
If you're buying a present for someone who hikes in the summer a lot, look for a lightweight version with UV protection.
For the adventurous travellers who hike into alpine conditions, the thicker merino wool or thermonet buffs are excellent options for cold weather conditions.
---
Hiking Socks
I know what you're thinking – nobody wants to receive socks as a gift.
But you're wrong!
For hikers, socks are a crucial tool. The wrong pair can give you blisters, sweaty feet and a lovely post-hike odour.
Gift your hiker a pair this festive season that's durable, comfortable and stink-proof.
---
Enamel Mugs
At a loss for what to buy? You can't wrong with an enamel mug for adventurers! They're perfect for the outdoors and look great in the kitchen.
Plus, you don't have to worry about it breaking.
---
Gifts for Day Hikers
For noobs or those who aren't a fan of sleeping in the wilderness, here's a quick gift guide for day hikers. (But these all make excellent gifts for multi-day trekkers and once-a-year-if-the-stars-are-aligned hikers).
Lightweight Wind Jacket
A lightweight wind jacket is a hiking essential. It's super easy to pack down into your bag, which will keep you dry from light rain, annoying mosquitos at bay and provide some additional warmth.
I wish it were easier to get Arc'teryx products in South Africa! I love the colour range for their Squamish Hooded Jacket.
A cheaper alternative is the Hi-Tec Desna Light Jacket. Kyle used it on our South Africa road trip earlier this year, and I regret not getting one for myself.
---
Polarised Sunglasses
You can't have too many sunglasses.
They're like socks – always disappearing into the void.
If you're shopping from South Africa, Escape Society is my favourite brand at the moment. I have about three pairs from them, and I'm forever resisting the urge to get more.
---
Lightweight Hammock
There's nothing better than setting up a hammock after a strenuous hike and enjoying the view. When shopping for one as a gift, you want to make sure it's super packable and lightweight.
For South Africans, get the First Ascent Lightweight Hammock and if you're shopping on Amazon, check out the ENO SingleNest Hammock.
---
National Parks Pass 
If you're buying a gift for an American, the National Parks Pass is a fantastic gift for hikers. It covers the entrance fee to more than 2,000 sites across the country.
For South African hikers, you can gift avid hikers a Wild Card. It will give the holder unlimited access to more than 80 parks and reserves in South Africa.
Gifts for Multi-Day Hikers
Friends with an avid hiker ey? You must constantly be pulling bugs or twigs out of their hair. Whether you want to gift yourself peace of mind by gifting them better gear, or you want to make their treks easier, here are some useful gift ideas!
Scrubba Wash Bag
Scrubba reached out to me a few months ago and gifted me one of their mini wash bags. I can't wait to try it out on my multi-day hike through the Garden Route.
It's eco-friendly, uses no electricity and allows you to dispose of greywater away from clean water sources.
But it's also a versatile gift you can use anywhere. As a carry-on only traveller, I know I'll be using it in my hotel rooms a lot.
---
Lightweight Tent
Does your hiker need to upgrade their tenting situation?
The Big Agnes Copper Spur UL Classic Backpacking Tent is an investment, but worth it for someone who wants to a lightweight, function and great looking tent. Plus, who wouldn't want to wake up and see the views while still lying in bed?
A more affordable option is The North Face Sequoia 3 Person Tent, but it's a bit heavier.
---
Sit Pad
If you're buying gifts for a hiker who has everything, give them a great day at camp with a sit pad. After a long day of trekking, they can roll it out and use it as seating or roll it up for a pillow at night.
---
Microfiber Travel Towel
When you're hiking in the wilderness for days (or weeks), chances are a dip in a river is going to be necessary. A microfiber travel towel fits easily in packs and dries quickly so you won't have to worry about it making the whole bag damp.
---
LifeStraw Water Filter
I've been using my LifeStraw since 2016. It's an amazing invention which allows you to drink from the dirtiest puddle safely.
The best part?
It only weighs 20z and takes up hardly any space. It's the perfect gift for hikers who trek deep into the wilderness and don't always have access to clean water.
---
Stove
A stove is a perfect gift for a day hiker whos going to tackle their first over-night trail in 2020. The Jetboil MiniMo Stove can boil water in under 2-minutes, it's lightweight, compact and can simmer.
Other lightweight options include the MSR PocketRocket 2 Stove and the Naturehike Ultralight Mini Camp Stove.
---
Tech Gifts for Hikers
Who doesn't love receiving a fancy new gadget for Christmas? Here are tech gift ideas for hikers they'll love!
Garmin inReach
If you're worried about your loved one trekking into the mountains, the Garmin inReach is a great gift for safety. You can use it to send and receive text messages, SOS signals, weather forecasts and the device has a built-in GPS tracker.
It will give you both peace of mind on longer treks and more risky hikes.
Solar Powered Portable Charger
Using GPS for trail maps + taking photos = instant low battery in the middle of nowhere.
Help your loved one stay safe and always have access to their device with the Goal Zero Venture 30 Recharger. It's waterproof, solar-powered and has dual highspeed USB ports.
---
Fitbit Charge 3
I'll admit. It took me a while to get on the fitness tracker train, but I'm here and totally obsessed! I bought my first Fitbit last year, and I get such a kick from using it while working out.
It's helped me see how much (or little) I move through the day, motivates me when I'm inactive for long periods and tracks how intense my hikes were on my body.
The Charge 3 is also swim-proof, water-resistant, tracks your sleep and syncs up to apps on your phone for weather, text and call updates.
---
iPhone Lens and Tripod
With the rise of iPhone photography, hikers don't need to lug around an expensive DSLR to take amazing photos.
Some of the best gifts you can buy are these smartphone iPhone lenses and a tripod.
The super wide-angle is perfect for getting shots of epic landscapes and gushing waterfalls!
---
GoPro 7
If it's your goal to go the extra mile this holiday season, splash out on one of the best outdoor travel gifts money can buy. You can do no wrong by gifting a hiker a GoPro 7.
The latest version comes with super high-quality photo and video capabilities, the app will help you edit your clips seamlessly, and it automatically detects when you're in the water and adjusts the shooting settings.
And don't even get me started on its HyperSmooth stabilisation feature. You could be running down a mountain, and you'll still get smooth, gimbal-like video – without the gimbal.
---
Which item are you most excited to buy for yourself or a friend? Let me know in the comments below!
?If you like it then you should put a pin on it?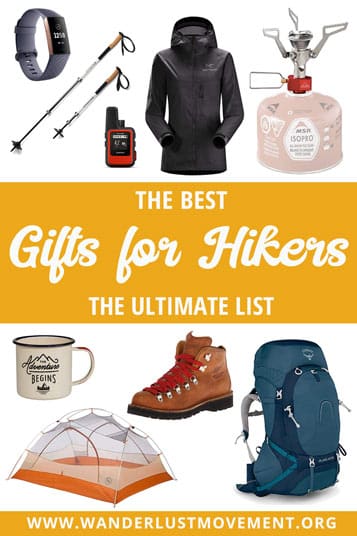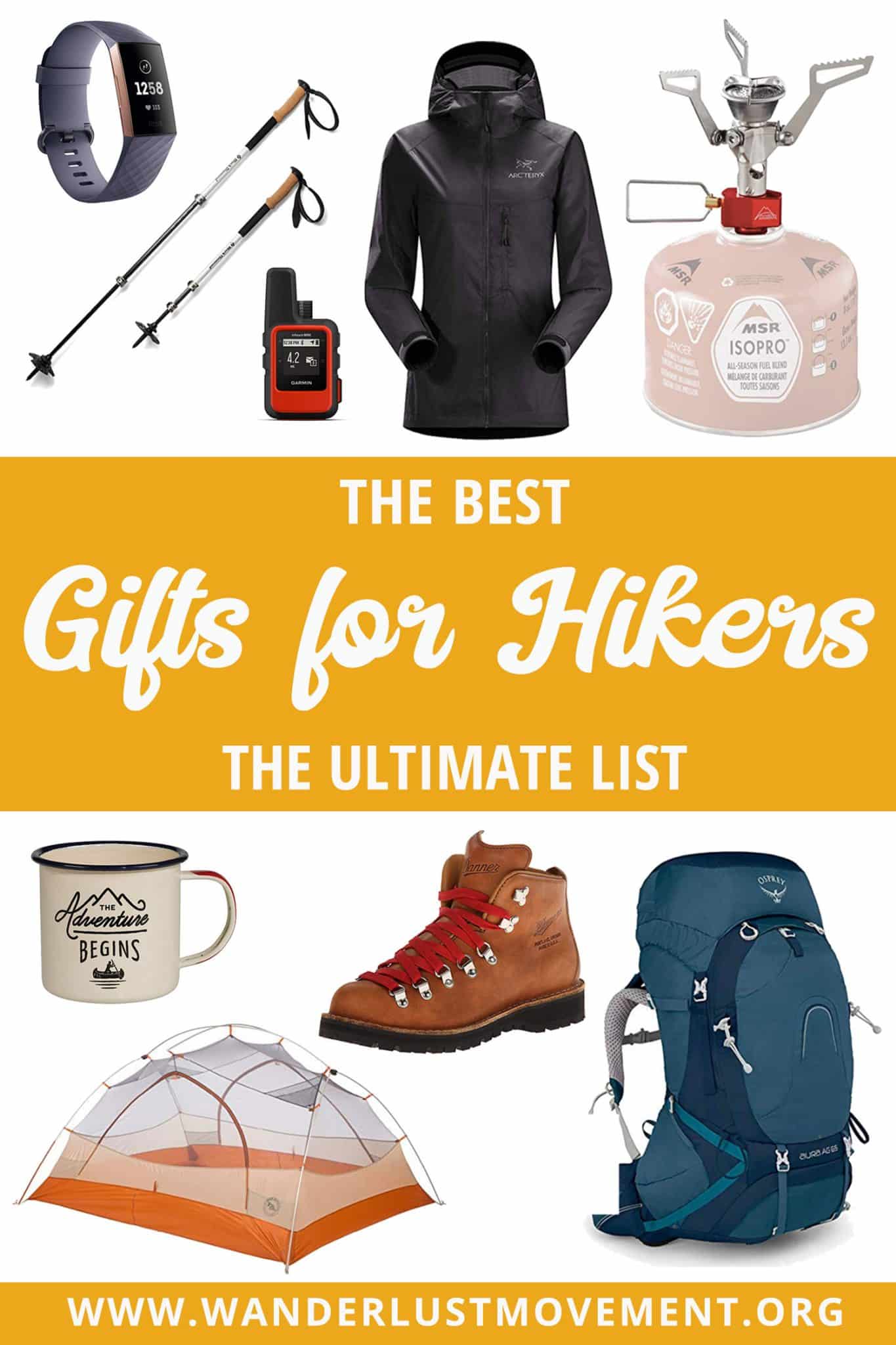 The best gifts for hikers for every budget! Splurge on big-ticket items or gift a hiker with a practical gift without breaking the bank.