Last Updated on April 7, 2021 by Taylor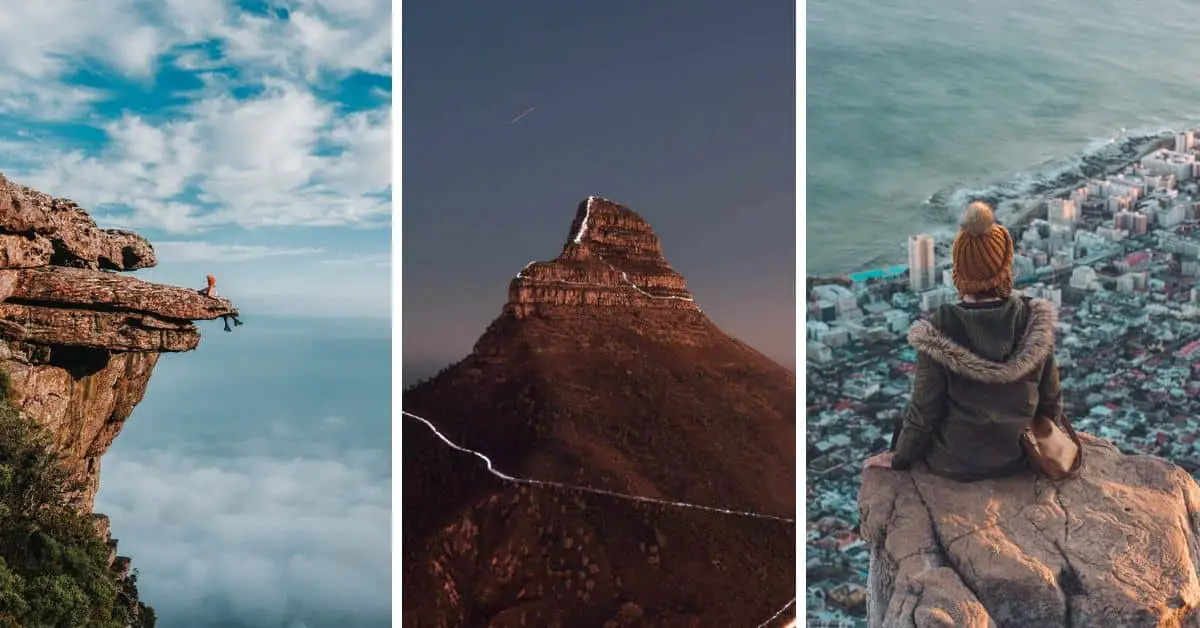 A lot of people will tell you that Cape Town is a ridiculously good-looking city.
And those people are preaching the truth!
With its rainbow-hued houses of the Bo-Kaap, stunning beaches and towering Table Mountain – the Mother City has it all.
But the star attraction? Cape Town's hiking trails.
With most only a short drive from the city and ZERO entrance fees, it's super easy to get into nature and experience the views that have landed Cape Town on "most beautiful cities of the world" lists for years.
With lockdown regulations easing up, it's time to get out into the wilderness and soak up the Mother City's natural beauty.
Here are 12 of the best hikes in Cape Town!
Psst…Want more Cape Town travel tips and inspiration? Check out these other posts:
---
Tips for Hiking in Cape Town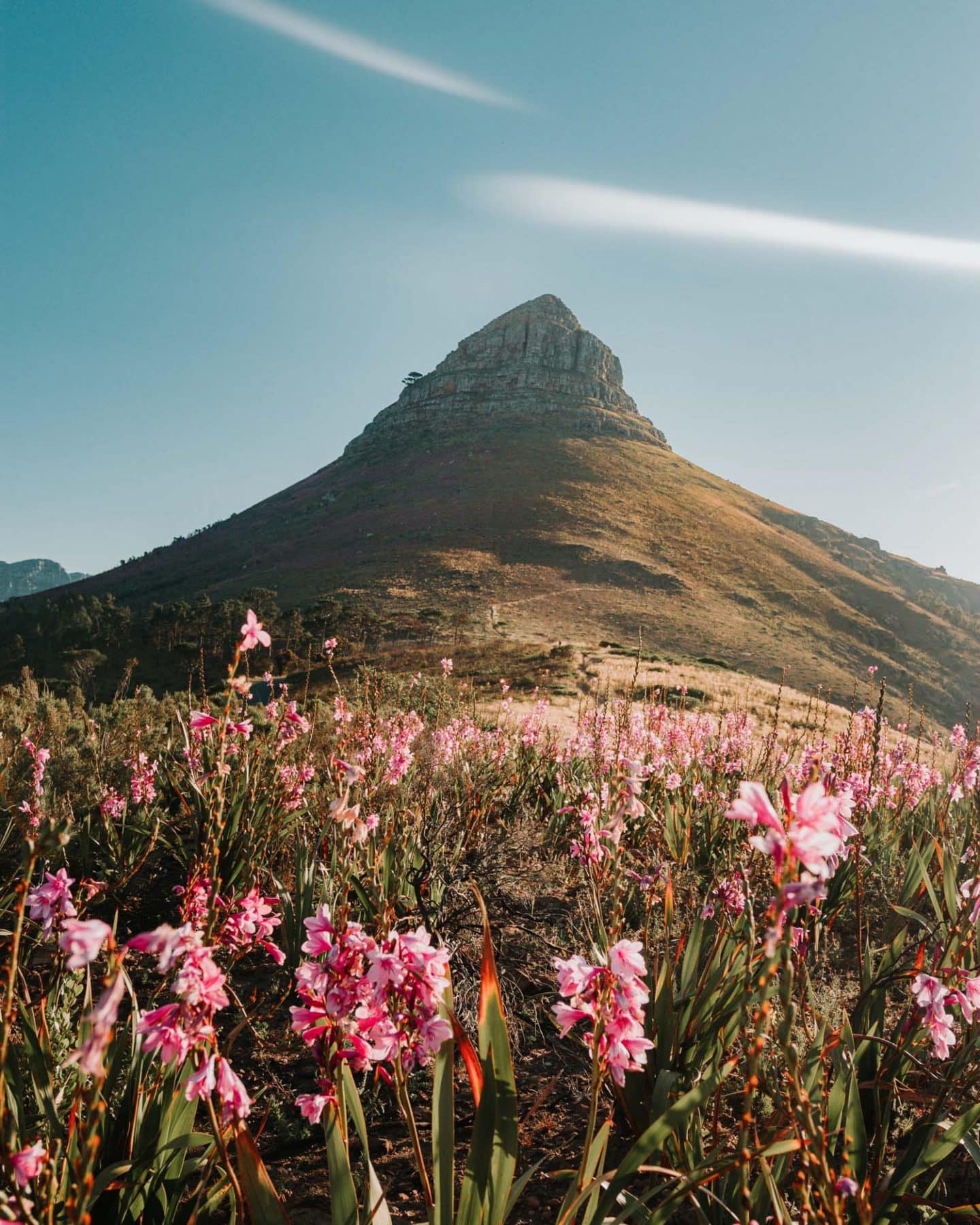 Leave No Trace: Don't leave your trash behind. Practice leave no trace guidelines. Bring a bag for all your rubbish and pick up any you find on your way. It's an easy way to make sure Cape Town's wilderness is kept in a pristine condition.


Stay on the Trail: Whether you're doing a day or multi-day hike in Cape Town, make sure you stay on the marked trails at all times. If you venture off into the bush, it's damaging for the city's indigenous fynbos and can also lead to erosion and harming the natural environment.


Safety: Cape Town does have a reputation of muggings on the mountain. Stay safe by hiking in groups, leaving valuables at home (or insuring them) and bringing along self-defence items like pepper spray. I would also recommend only hiking with people you know and to avoid strangers on the trail as you don't know their intentions.


WildCard: While most hiking trails in Cape Town are free, some have an entrance fee. South Africans can buy a yearly WildCard membership that will give you free and unlimited access to unlimited entry to 80+ National Parks, Reserves and Resorts.
Read More: 10+ Spectacular Multi-Day Hiking Trails In The Western Cape
---
What to Pack for Hikes in Cape Town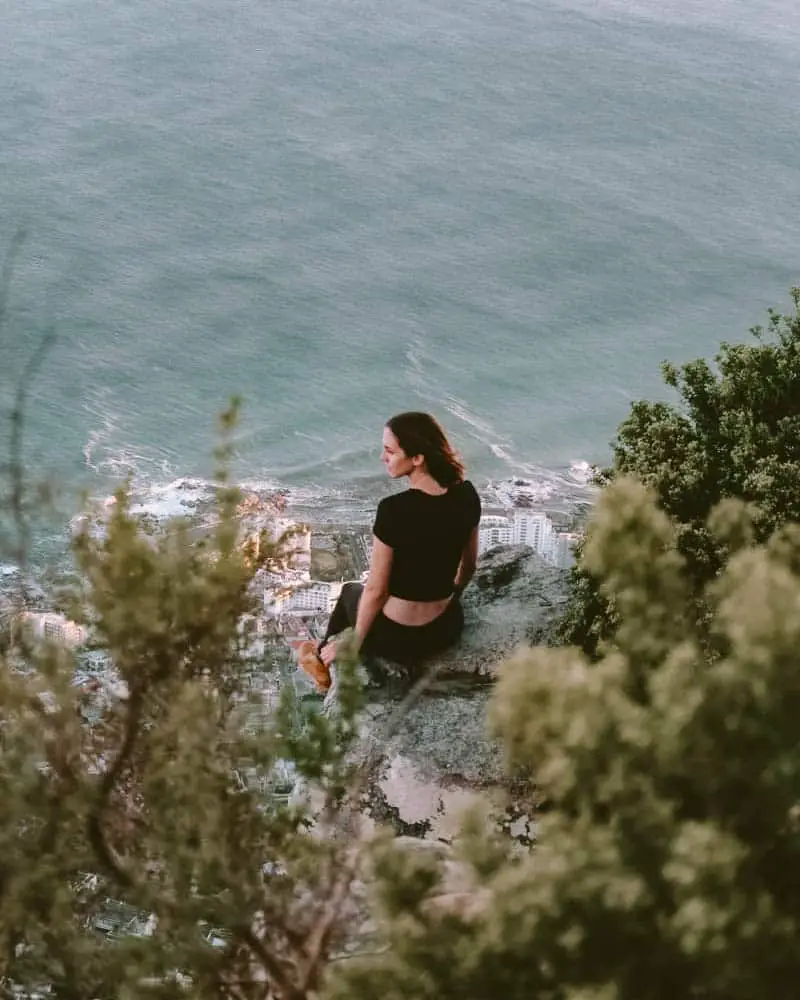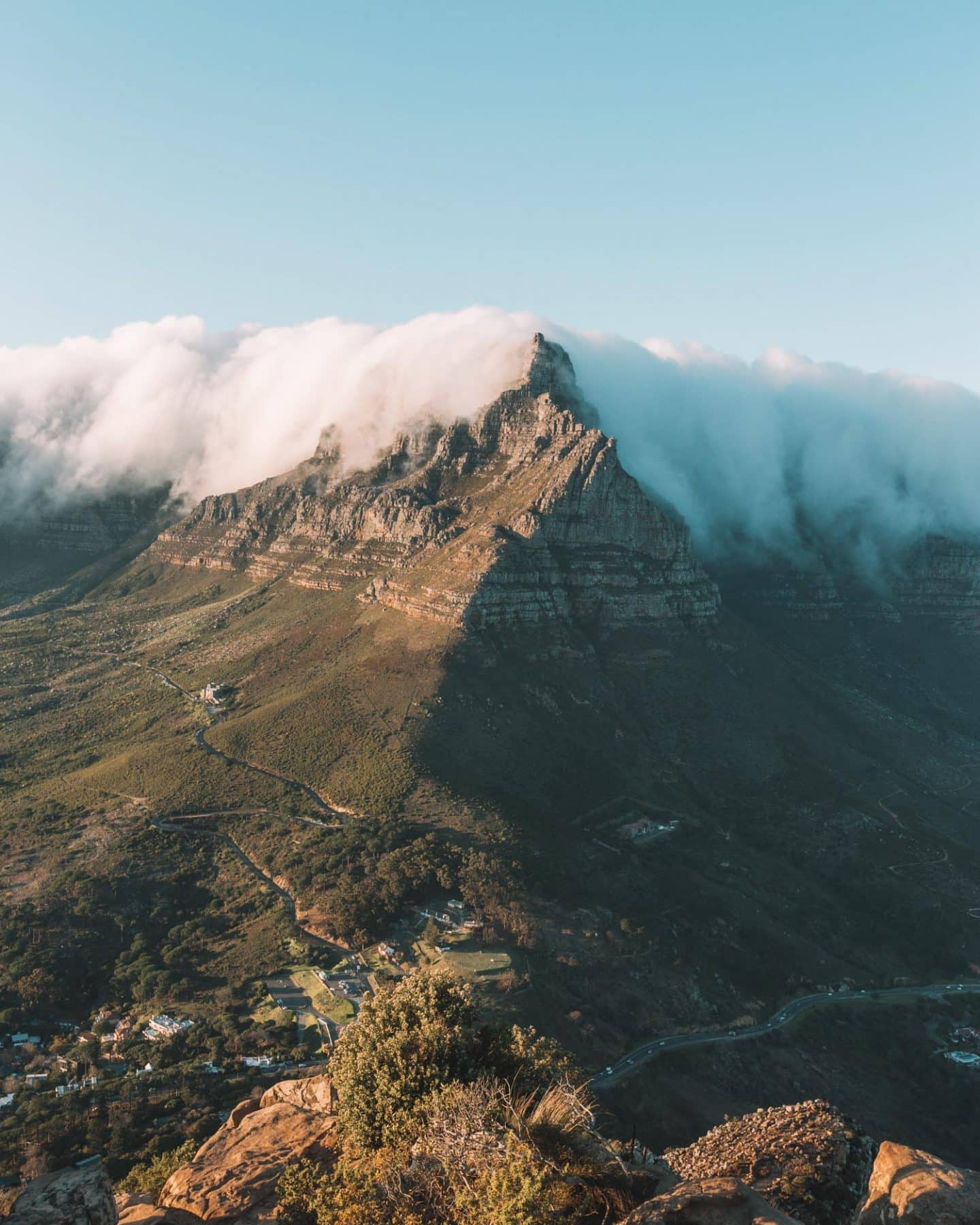 Before you go hiking in Cape Town, these are some absolute must-have day hiking essentials.
Good Pair of Hiking Shoes: I prefer hiking in trail runners because they're more light-weight than heavy-duty hiking boots. Make sure you wear ones with good grip!


Pack LOTS of Water: Most of the hikes in Cape Town won't have a place for you to fill up your bottle with potable water. Make sure you bring enough for the duration of your hike. It's always better to have extra than run out. I like Hydro Flasks because it keeps your water ice-cold and it's easy to clip onto your bag.


Bring Rain Gear: Even if you start hiking on a clear, sunny day Cape Town's weather is temperamental. I always pack a dry bag to protect my camera equipment and other valuables.


Warm Jacket: While the base of Table Mountain might be warm, once you reach the top – it's a different story. Always pack a light-weight jacket – especially if you're staying at the top of Lion's Head for sunset.


Headlamp: A headlamp is only necessary for sunset hikes up Kloof Corner or Lion's Head or if you're starting your hike before dawn. A good headlamp will help light your way and keep your hands free.


Hiking Snacks: Always bring snacks even if it's a short 20-minute hike up Kloof Corner. My favourite hiking snacks are bananas, apples, pretzels and roasted chickpeas.
Small First Aid Kit: You never know what might happen on the mountain. Make sure you're prepared by bringing along a small first aid kit that includes all the basics.


Sun Protection: Most of the hikes on this list are exposed. Before you start, slather on high SPF sunscreen and don't forget to use an SPF chapstick. Sunglasses and a cap also go a long way in protecting your eyes and face from the sun.
---
The Best Hiking Trails in Cape Town
Kasteelpoort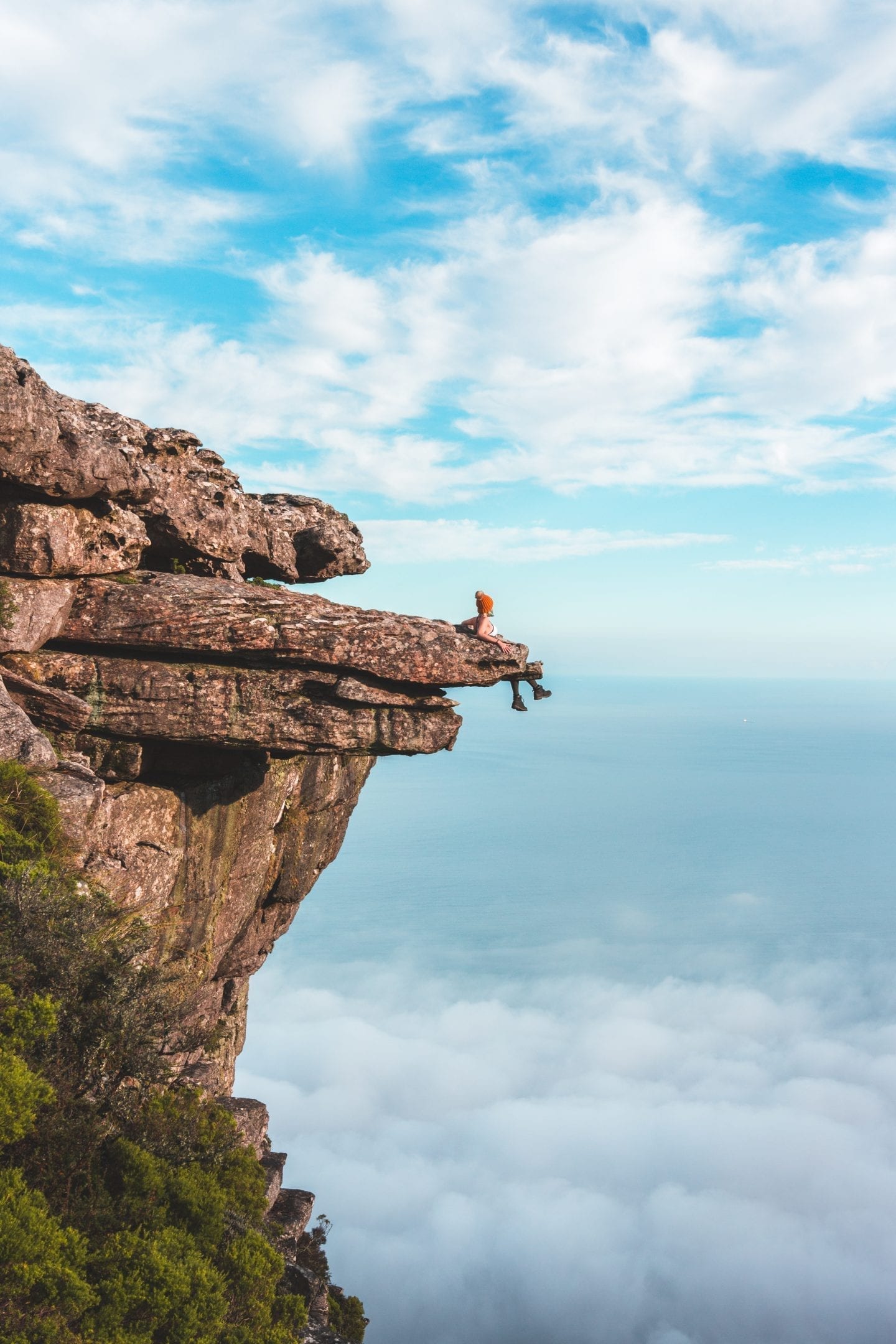 A lot of people (Cape Townians included) are obsessed with the Kasteelpoort hike. It's a steep walk that brings you to the top of Table Mountain, and it rewards you with some of the best views of Cape Town.
The highlight of the hike? Diving board rock.
The brave can perch in a make shift seat or simply stand near the edge with the clouds beneath you.
If you're not feeling up to hiking back down the mountain, you can walk over to the Cable Car and glide down the slopes of Table Mountain without breaking a sweat.
Please DO NOT go onto diving board rock on a windy day!
Starting point – You have two options: Start with the Pipe Track (it will add 45-60 minutes onto your hike) or park at Theresa Road and walk up the Jeep Track to the Pipe Track. If you go with the latter, take a left once you're on the Pipe Track to get on the Kasteelspoort trail.
Duration – 3-5 hours one way with breaks.
Difficulty – The climb gets pretty steep and the trail will whip your ass. Your glutes will be on fiiiiiire. The trail also isn't in the best of condition, so wear hiking shoes with good grip and take your time.
Best time to go – Start the hike after sunrise to reach the top of Table Mountain before the heat of the day kicks in.
Read More: The Best Gifts for Hikers: The Ultimate List for Every Budget
---
Lion's Head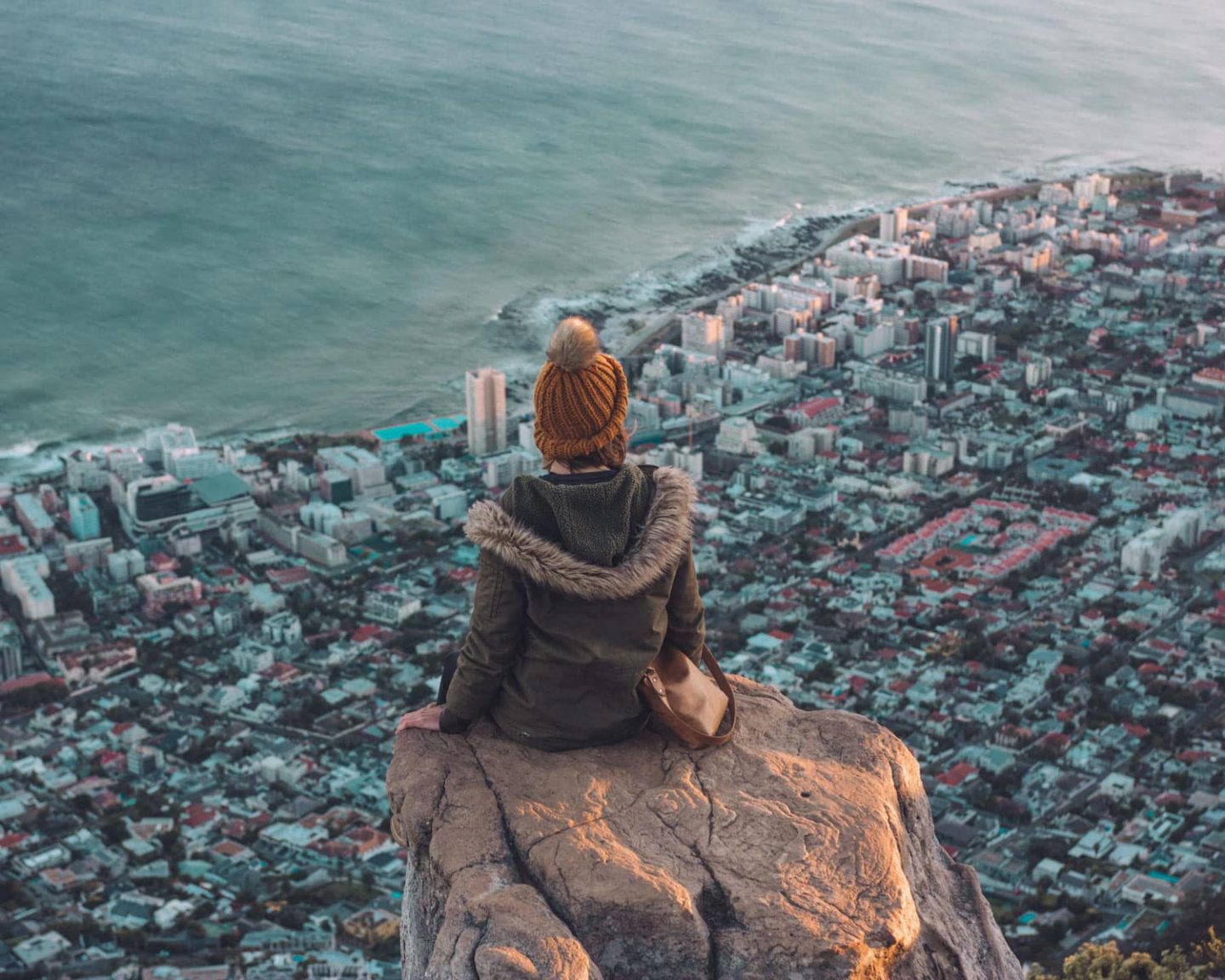 The Lion's Head hike is a rite of passage.
Whether you're a local or a tourist – have you truly experienced Cape Town without hiking the city's most popular trail?
This picture-perfect spot has spectacular views of the Mother City. Plus, it's a short hike that will take you no more than two hours one way. Bring a picnic to enjoy at the top and soak up the views alongside allllll the locals, who can't resist Lion's Head themselves.
For a unique experience, you can hike Lion's Head for the full moon rise. It does get quite busy as it's one of the best things to do in Cape Town, and you will need a torch or headlamp to get down the mountain safely.
Duration – 2 hours to go up with breaks.
Difficulty – Lion's Head is one of the best easy hiking trails in Cape Town. It's doable for all fitness levels. But if you have a fear of fights, skip the chain ladders and continue walking around the mountain to reach the top.
Best time to go – Go for sunset for an incredible end to the day or hike up for sunrise if you want to avoid the crowds.
Read More: Lion's Head Hike in Cape Town: Full Hiking Guide
---
Kloof Corner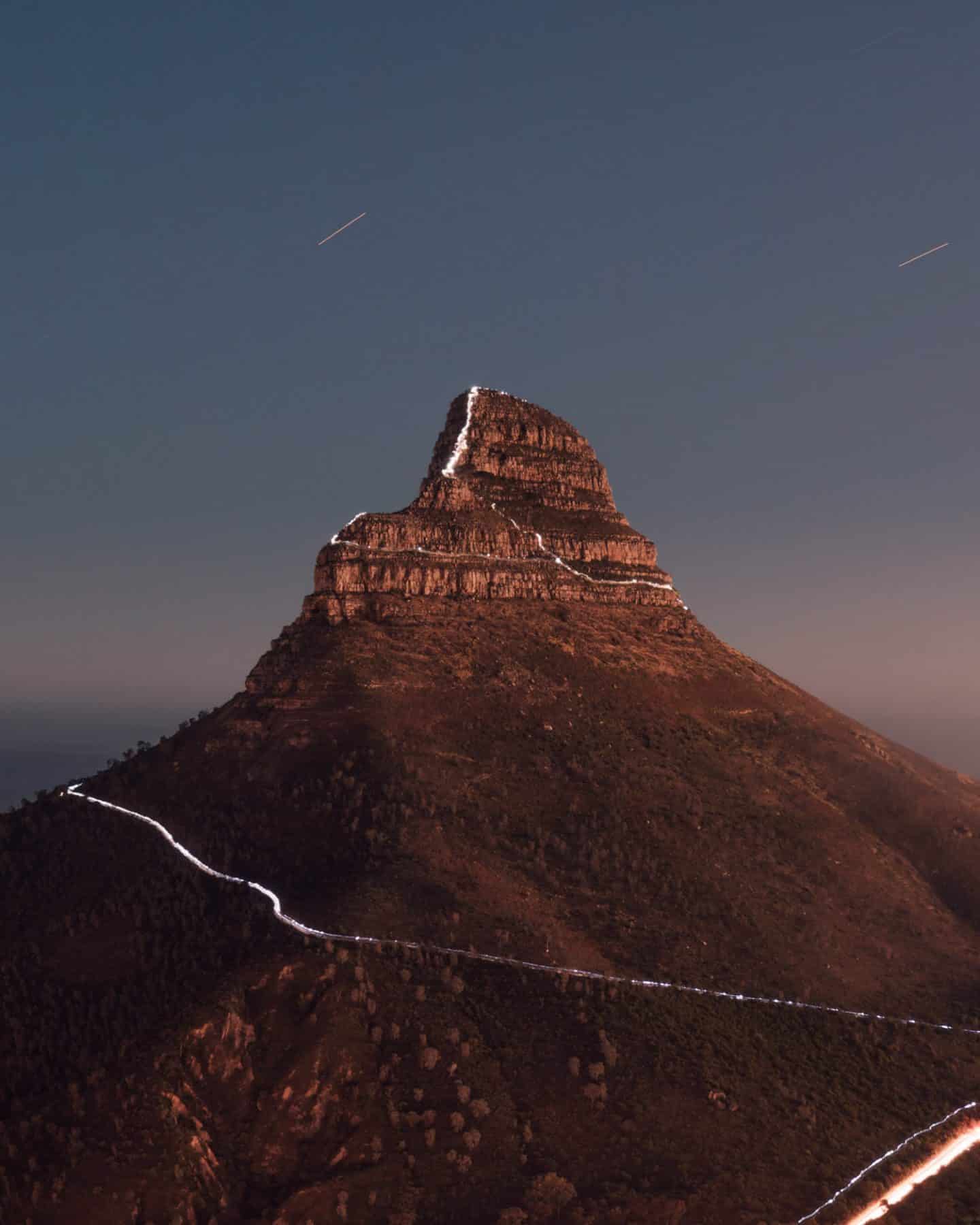 Don't have a lot of time (or feeling a little bit lazy) but still want to take advantage of Cape Town's epic views? Hike up Kloof Corner.
It's a firm favourite with locals who want to avoid the crowds flocking to Lion's Head. Plus, it's a quick 20-minute Table Mountain hike.
If you're into photography like me, go up to Kloof Corner during the full-moon. You can practice your long-exposure skills and get a dope photo of all the hikers coming down Lion's Head.
Duration – 20-minutes one way.
Difficulty – Kloof Corner is an easy climb (which is why it's one of the best Table Mountain hikes), but there are steep steps near the top that will make your question your life decisions.
Best time to go – Pack some snacks and drinks and find a spot at the top for sunset. If you want the spot to yourself, come for sunrise.
---
Little Lion's Head
Little Lion's Head is an easy hike in Cape Town with incredible views over the Mother City.
To gain access to the trail, you'll need to buzz the intercom at the top of Valley View Drive. From there, follow the tarred road until you see a mast. With your back to the mast, you'll see the start of trail winding up the ridge to the summit.
While the hike is straight forward, don't attempt it without hiking shoes. Puff adders live in the bushes, and the last 100 metres involves some easy scrambling.
If you want to stay for sunset, bring a headlamp and make sure you are out of the gate before closing time!
Duration – 20-minutes one way.
Difficulty – It's an easy hike, but not the best option for a windy day.
Best time to go – Anytime! Pack some snacks and have a picnic with 360 views of Hout Bay, Sandy Bay and Llandudno.


Opening Hours – Summer (6 am to 8 pm) Winter (8 am to 6:30 pm)
---
Devil's Peak
Devil's Peak isn't as popular as the other hikes up Table Mountain, but does it deserve a spot on your Cape Town hiking bucket list?
Hell yes!
If you make it to the top, you'll have 360 degree views of the City Bowl and Lion's Head.
Devil's Peak also serves as a backdrop for one of Cape Town's famous folktales. According to legend, Dutch sea captain Jan van Hunks challenges the devil to a pipe-smoking contest on the mountain one day. Whenever the "table cloth" rolls in over Table Mountain, Jan and the devil are at it again.
Safety Tip: The wind at the summit can be super powerful. Don't get too close to the edges in case a gust of air pushes you off the mountain.
Starting point – Tafelberg Road. It is just after the start of the Platteklip Gorge Trail.
Duration – 4 hours for a round trip.
Difficulty – Devil's Peal isn't a difficult hike, but several other trails intersect it, so it's a good idea to go with someone who knows the way or use a map.
Best time to go – Anytime! Although I would opt for the morning to avoid the midday heat.
---
Cape Point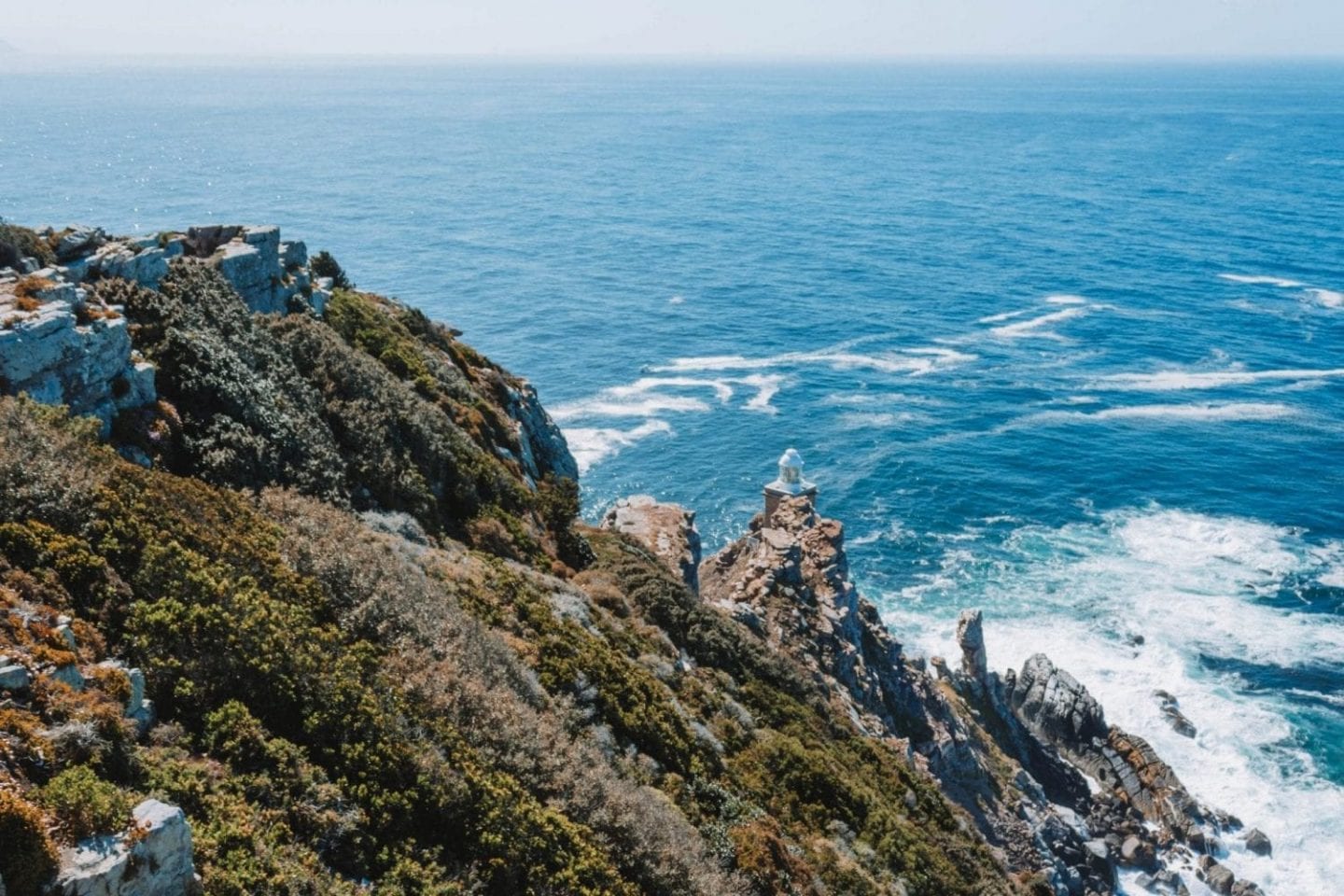 Cape Point has no shortage of spectacular views!
Cape Point is a phenomenal hiking destination in Cape Town. You've got a rugged coastline, shipwrecks, pristine beaches and fascinating historical landmarks.
The only downside? It's not free.
Locals and internationals will need to pay an entrance fee to enter the national park. But if you're a Wild Card holder, you'll get in for free!
Day Hikes at Cape Point
Lighthouse Keepers Trail: 2km (1-hour return)
Cape of Good Hope Trail: 3.5km (2-3 hours return)
Antoniesgat Trail: 3.5km (2-3 hours return)
Gifkommetjie: 5.5km (2-hours return)
Kanonkop: 5.5km (3-hours return)
Phyllisia Circuit: 7km (3-hours return)
Thomas T. Tucker Shipwreck Trail: 3km – 5km depending on the route you take
Sirkelsvlei Shipwreck Trail: 7.5km (3-hours)
Over-Night Hikes at Cape Point
Cape of Good Hope Trail: 2 days, 1-night trail (33.8km)
The Hoerikwaggo Trail: 5 days, 4-night trail (75km)
Read More: Road Trippin' to Cape Point
---
Chapman's Peak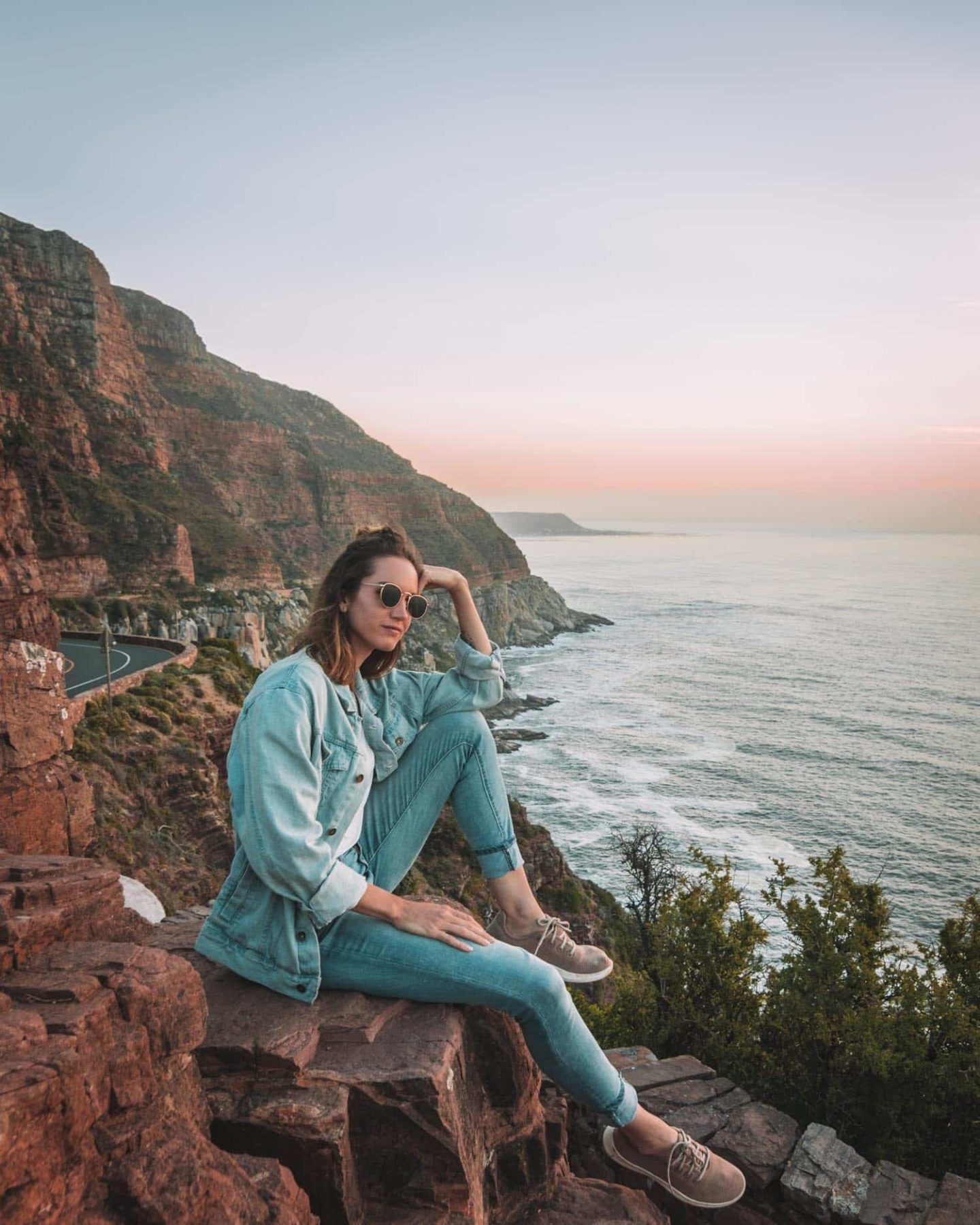 Chapman's Peak is one of the most beautiful places in Cape Town. Travellers and locals flock here for mind-boggling sunsets over the Cape Peninsula and Hout Bay.
If you want to soak up the area's natural beauty, put on your hiking shoes and get a unique perspective. The Chapman's Peak hike rewards you with phenomenal 360-degree views of the peninsula!
Starting point – Drive to the last checkpoint before the main viewpoint on Chapman's Drive (coming from Hout Bay). You'll see a large parking area and a green SANParks signpost at the start of the trail.
Difficulty – There is a lot of uphill and it is a steep hike with a bit of scrambling.
Best time to go – Anytime! But this route is stunning in the spring or summer when you can stay a bit later for sunset.
---
Platteklip Gorge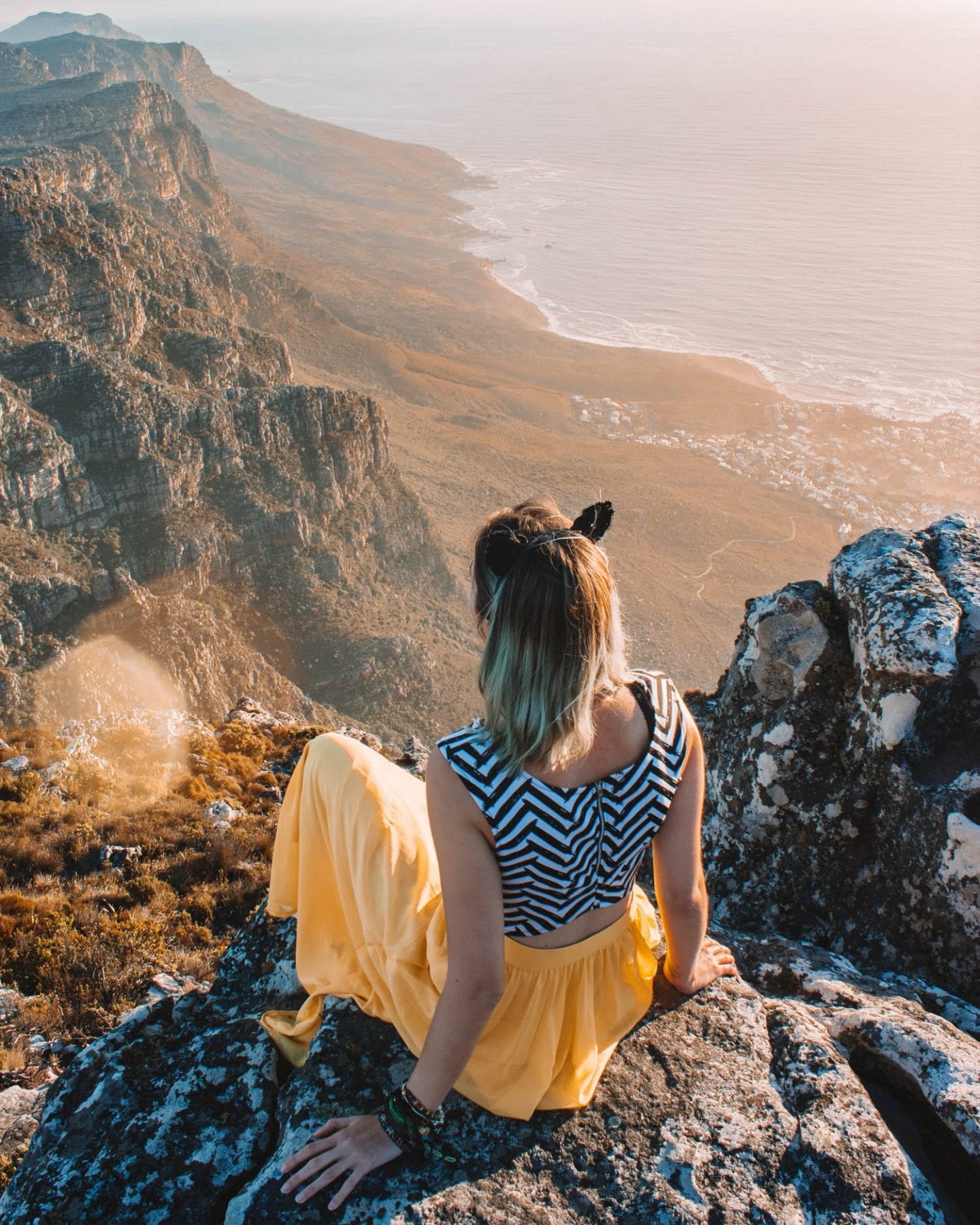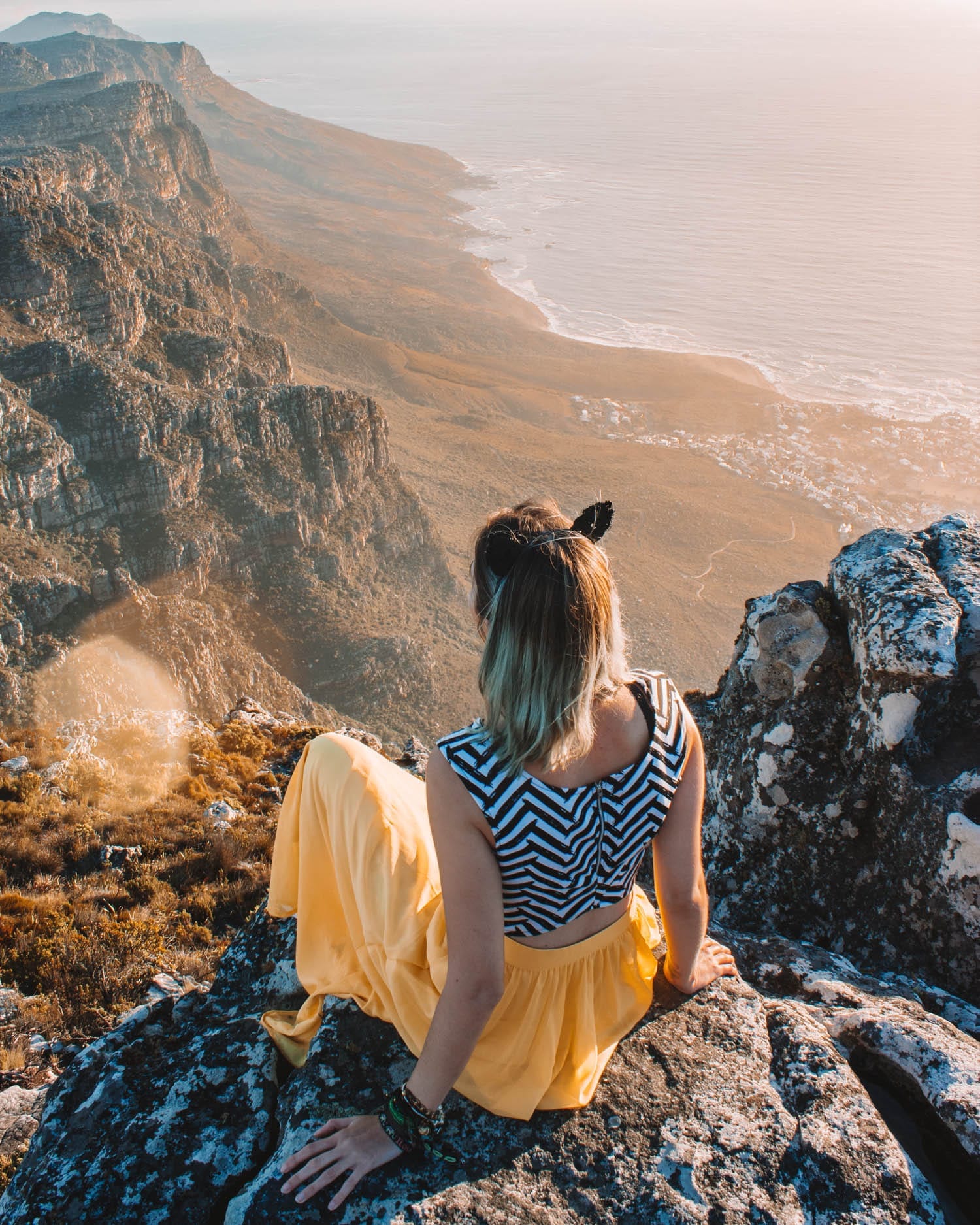 Platteklip Gorge is one of the *easiest* hikes to the top of Table Mountain.
While it is a pretty direct route to the top, the giant stairs that led to the top of the mountain might make you to cry.
If you reach the summit (like I did) and you realise your legs aren't going to take you back down, you can grab a ride down to the parking lot with the Cable Car.
But I promise you, the views at the top are worth the sweat and tears. You'll have panoramic views of the City Bowl, 12 Apostles, Lions Head and Signal Hill.
Duration – 2-3 hours one way.
Difficulty – It's a straight-forward hike, but the route is steep.
Best time to go – Early in the morning when it's cooler or in the late afternoon if you want to stay for sunset.
---
Oudeschip Ship Wreck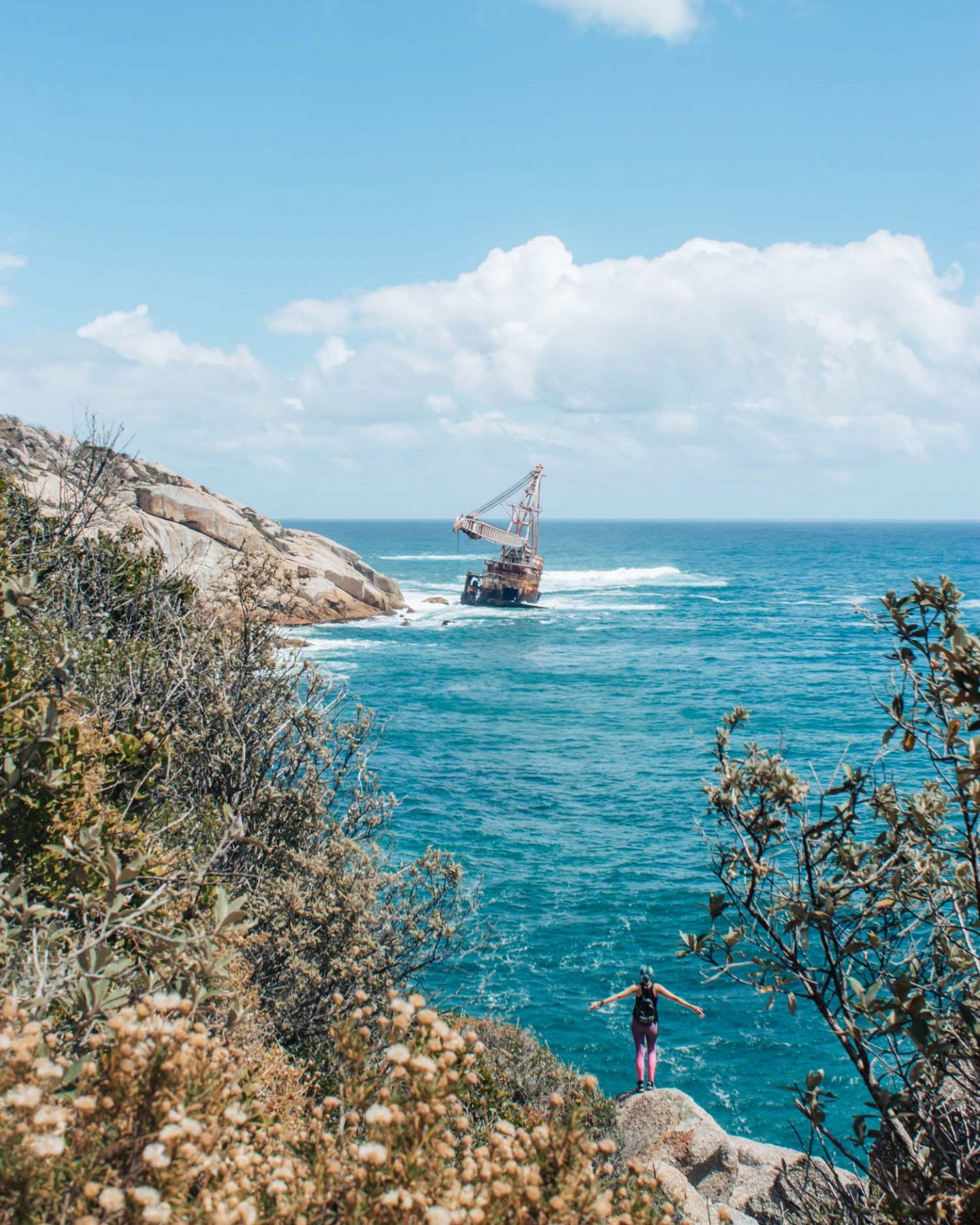 Nudist, shipwrecks, jaw-dropping views of Cape Town – the Oudeschip hike has it all!
*record scratch*
"Naked people!?" You yell at your screen.
Yup. The Oudeschip trail winds past Sandy Bay which is the unofficial nudist beach of Cape Town. It's also the unofficial place where you can find hippies tripping balls on mushrooms.
But once you make it past that section, you'll likely have the entire trail to yourself. Which is great for photos (no photobombers FTW!), but you shouldn't attempt this hike alone or without pepper spray (muggings are common on this route).
Oudeschip is also one of those hikes that requires pre-planning. You can only access the island where the shipwreck is during low tide. Use Tide Forecast for an accurate 7-day forecast.
Duration – 9 km (3.5 hours there and back)
Difficulty – Oudeschip is one of the easiest hikes in Cape Town. It's flat most of the way with gentle inclines and descents. There is hardly any shade though, so pack extra water and sun protection.
Best time to go – Low tide! Otherwise, you won't be able to finish the hike.
---
Skeleton Gorge
Searching for hikes in Cape Town with waterfalls? Or want to have a beach day on a mountain?
Make your way up Skeleton Gorge! It's a Table Mountain walk that will take you through a lush ravine, indigenous forest and then to a "beach" at the top of the mountain.
The hike starts within Kirstenbosch Botanical Gardens (you can knock out two Instagrammable locations in Cape Town at once), but it's not the best choice if you're looking for a casual stroll.
There's rock scrambling, and the route is long and strenuous. But on the plus side, it's not every day you get to go to the beach on top of Table Mountain!
Duration – 4-hours one-way
Difficulty – It's a strenuous hike and not the best option if your fitness level is below average.
---
Pipe Track
What I love about the Pipe Track hike in Cape Town is that you don't need to break a sweat and scramble up rocks for stunning views of the city.
It's one of the best hiking trails in Cape Town for beginners!
Located on the Western slopes of Table Mountain, you'll walk along a relatively flat path past views of Camps Bay, Clifton and the dramatic Twelve Apostles Mountain Range.
Difficulty – It's an easy hike for all fitness levels

Best Time to Go – Come here for a sunset walk!
---
India Venster
The India Fester is a firm favourite with landscape photographers.
Why?
Because it's the best place to snap that iconic shot of low clouds swirling around the base of Lion's Head.
But the hike not for the faint of heart. India Vester is notorious for its scrambling!
IMPORTANT: It's not safe to go down the same way you came up. The fastest way to get off the mountain is to take the cablecar, or you can descend via Platteklip Gorge or Kasteelpoort.
Tip: Keep an eye out for the  Himalayan goats that live on the mountain!
Starting point – To the right of the cableway station on Table Mountain
Duration – 2 to 4 hours one way
Difficulty – It will put your fitness level to the test -prepare to sweat and lunge your heart out.

Best Time to Go – As long as the weather is clear and the winds aren't strong, anytime is good! If you want to get a shot of the low cloud, use a weather app to plan your hike.
---
Hiking Trails Around Cape Town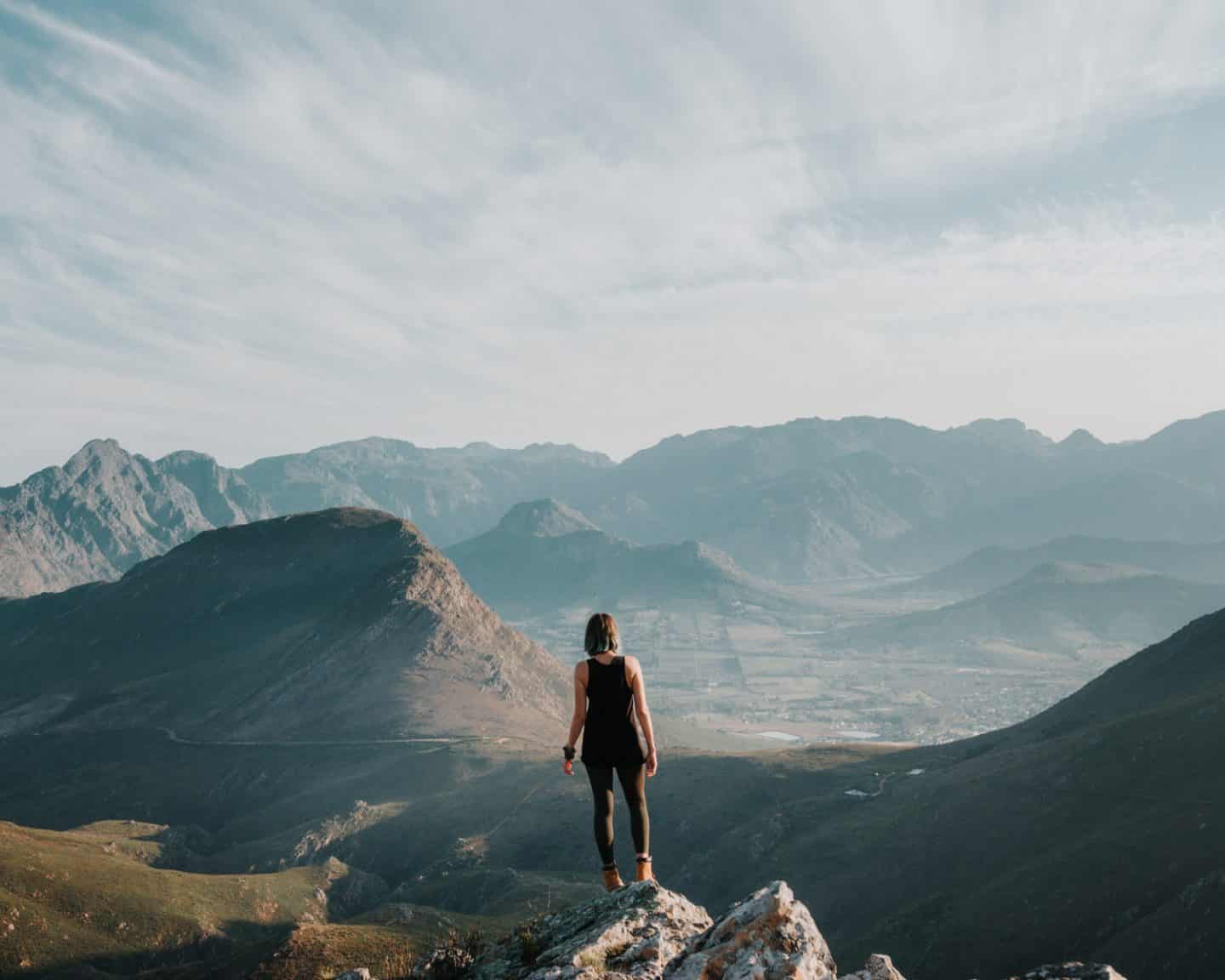 Conquered all of the best hiking trails in Cape Town? Looking for some adventure outside of the city limits? Here are some hiking trails around the city you should absolutely check out!
Jonkershoek Nature Reserve in Stellenbosch
Mont Rochelle Nature Reserve in Franschhoek

Kalk Bay hikes (Echo Valley, Boomslang Caves, Elsies Peak)
Kogelberg Biosphere Reserve (1hr 30-minutes from Cape Town)
---
Which Cape Town hikes are you adding to your bucket list? Did I leave out your favourite trail? Hit ya gurl up in the comments!
---
? If you like it, then you should put a pin on it! ?