Last Updated on October 28, 2020 by lauren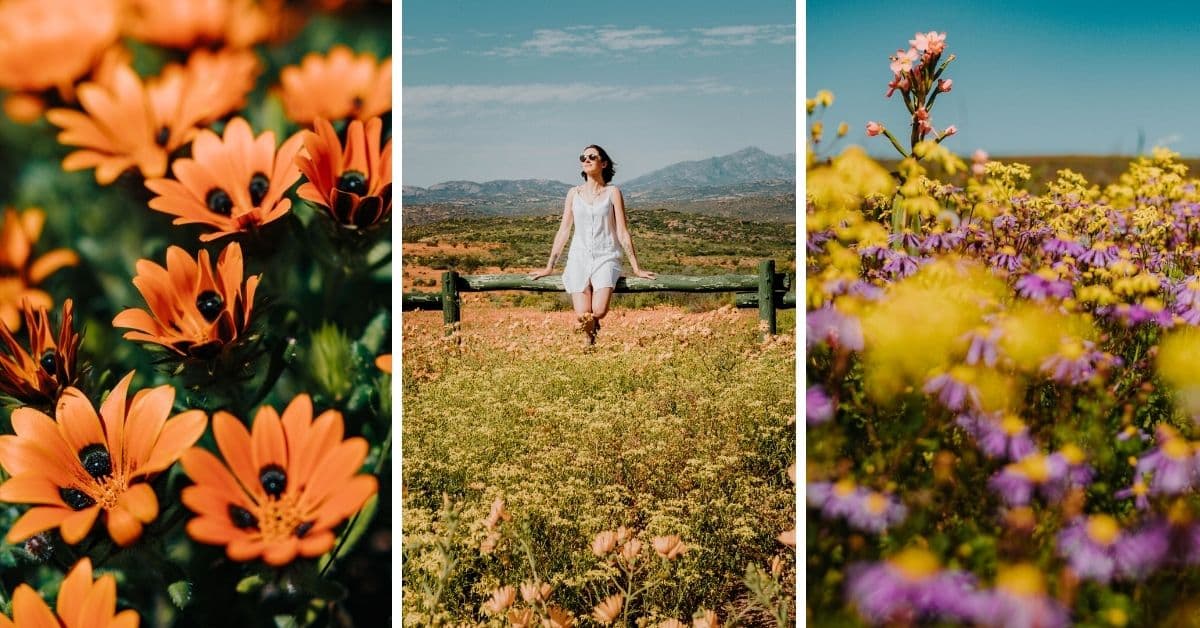 Ladies and gentlemen, I present to you the GREATEST wildflower show on Earth!
Namaqualand is a natural wonderland that's sat on my South Africa bucket list for yeeeeeears.
And with the world descending into chaos in 2020, for a second it looked like I'd have to put my daydreams of rolling around in daisies on hold.
Le sigh.
Luckily, lockdown restrictions lifted in time for Carmen, Melanie and I to hop into our Ford Everest and put foot to reach Namaqualand in time for festivities.
With 3,500 flora species found nowhere else in the world, Namaqua doesn't come to play. 
The dull, arid region erupts into a sea of colour for as far as the eye can see.
And the result?
One of the best road trips in South Africa!
In this comprehensive guide, I'm spilling the seeds on everything you need to know for your Namaqualand flower viewing trip, from mistakes to avoid, how to get there, where to find the best displays of Namaqualand flowers and more!
Psst…Want more South Africa road trip inspiration? Check out these other posts:
Best Time to Visit Namaqualand for Flower Season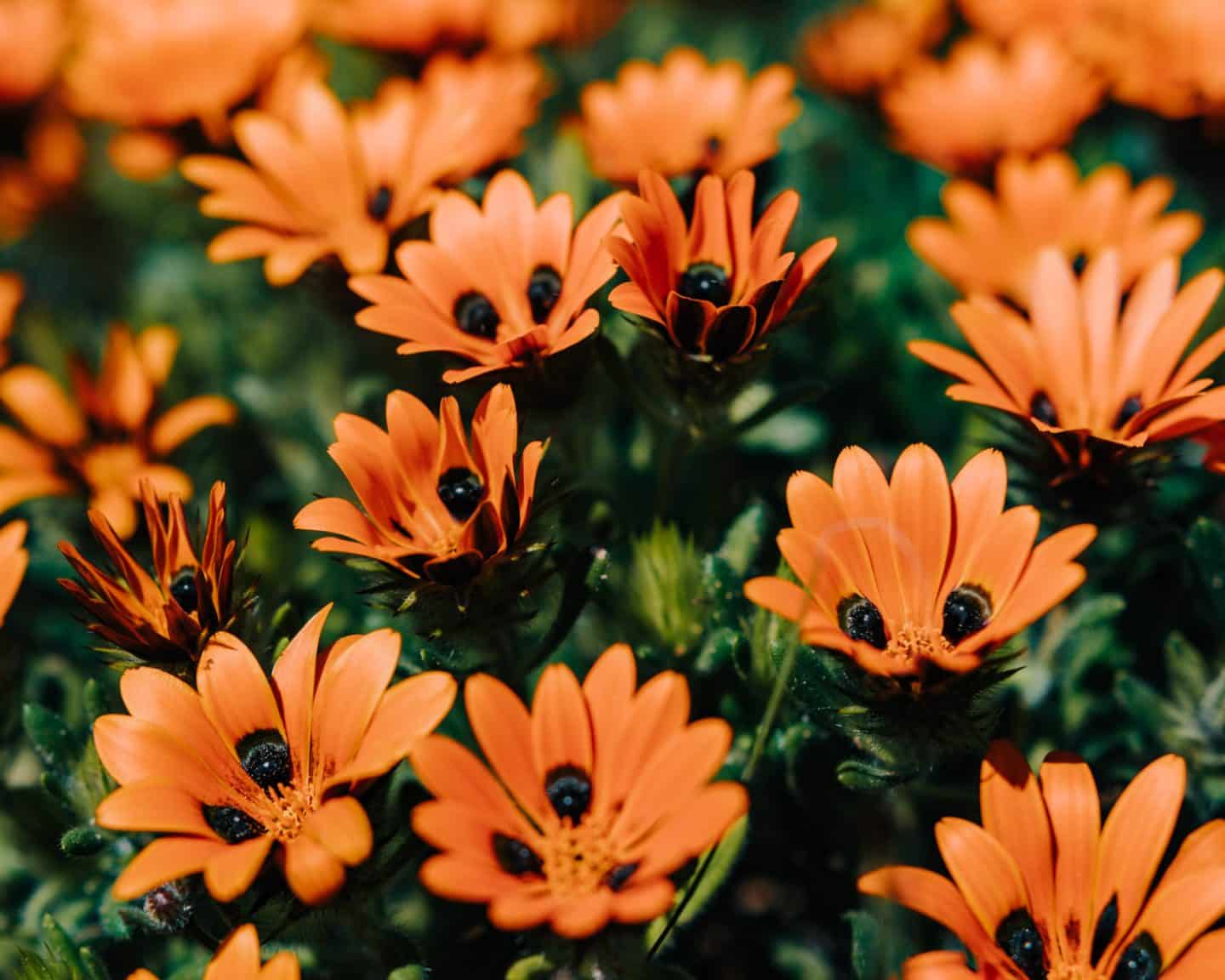 Without a doubt, the best time to visit Namaqualand and see the blooming wildflowers is between August and September.
But that's not a hard rule. It all depends on the weather.
When the rains arrive in the arid Northern Cape region, the desert landscape transforms into a kaleidoscope of colour.
If you can, time your trip to Namaqualand the week after a rainstorm. As long as the skies are clear, you'll see the wildflowers out in full force!
Another thing you need to watch out for is a cold front. When windy Cape Town sends up icy winds and frost, it marks the end of wildflower season, and you'll have to wait around for another 356 days.
We got extremely lucky and had outlandishly sunshiny good weather. It made our flower hunting easy as pie, and we didn't have to look too hard to find layers upon layers of rainbow-hued flowers.
---
How to Get to Namaqualand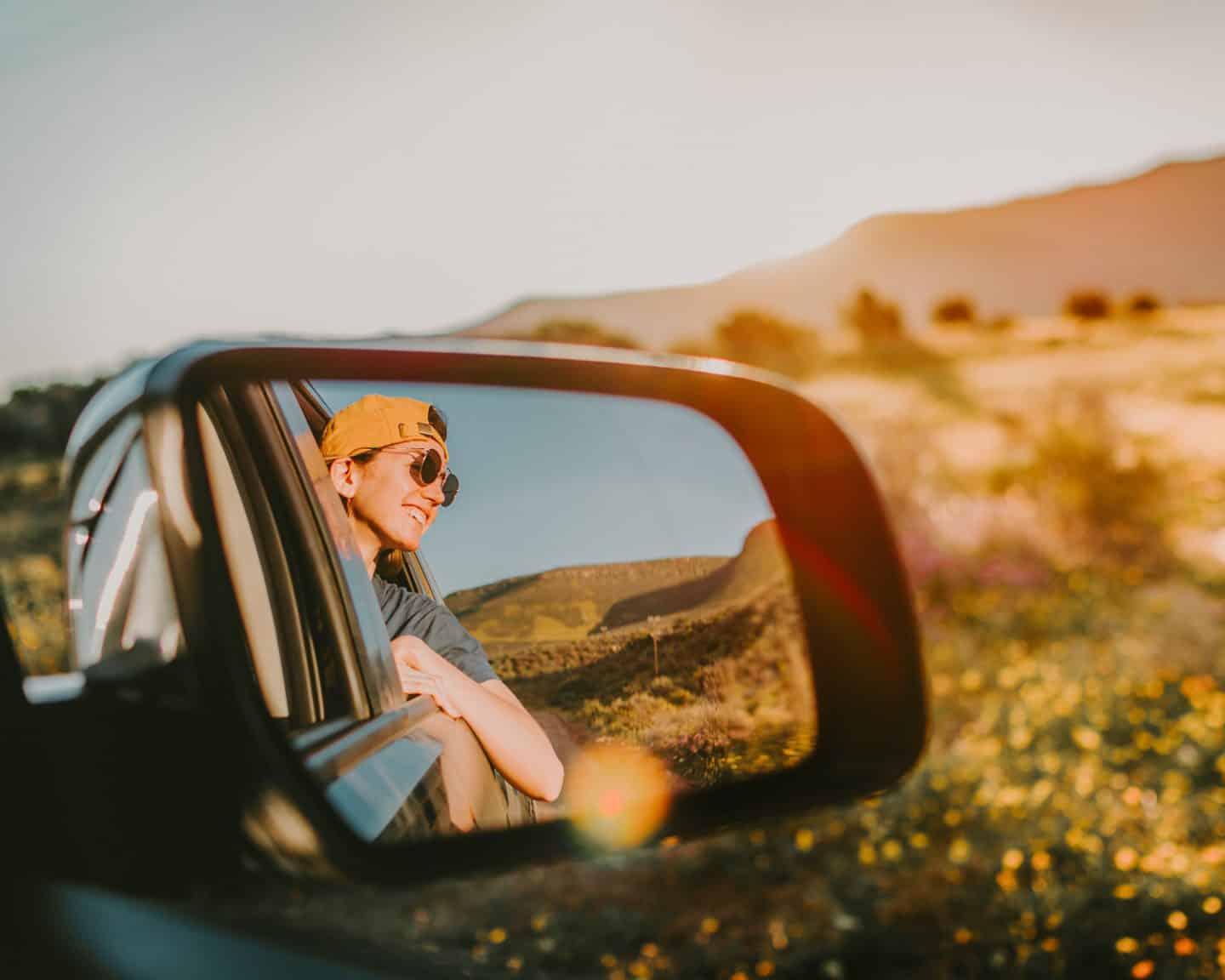 Before we jump into the best spots for frolicking with wildflowers in Namaqualand, how the heck do you get there?
And more importantly, WHERE exactly is this holy land of wildflowers?
Namaqualand is a desert region of the Northern Cape in South Africa, covering a whopping 440,000 square kilometres ?.
One of the best things about planning a Namaqualand road trip is that it's incredibly easy to reach (as long as you don't mind long drives).
Rent a Car 
The best way to get to Namaqualand is to hire a car. I would recommend our trusty Ford Everest if you want to tackle the 4×4 routes and sand dunes.
Otherwise, a 2WD is perfect if you're sticking to paved roads.
Here's how long it will take you to reach Namaqua National Park from South Africa's three biggest cities:
Drive time from Johannesburg to Namaqualand: 12h 40 min (1,215km).
Drive time from Cape Town to Namaqualand: 5h 32 min (533km).
Drive time from Durban to Namaqualand: 15h 56min (1,617km).
Day Trips & Tours
Not keen to rent a car and get stuck as the designated driver? Sign up for a day trip or multi-day tour from Cape Town.
You won't reach Namaqua National Park, but you can still see oodles of wildflowers along the West Coast and the Cederberg.
Getting to Namaqualand From Elsewhere in South Africa
Getting to Namaqualand from other South African cities is pretty simple. Catch a flight to Cape Town International Airport (CPT) and rent a car.
You'll dramatically cut down your travelling time and have more space in your itinerary to cover yourself with daisies.
---
Best Places to See Flowers in Namaqualand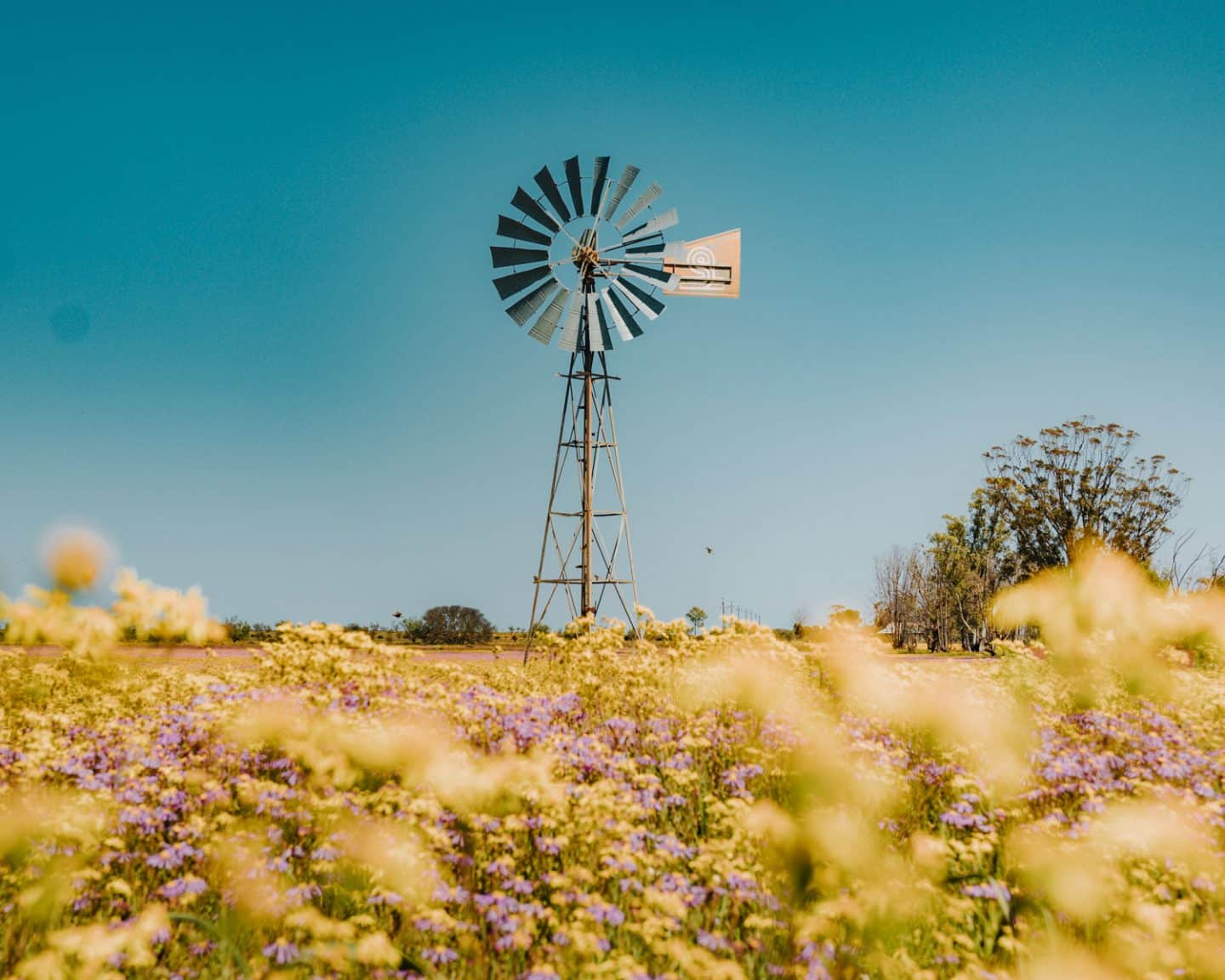 The thing about Namaqualand is it's ridiculously good looking. From the south to the north, the region is full of Insta-worthy spots where you can photograph and drool over every petal.
While it's pretty hard to take a bad photo with wildflowers blooming as far as the eye can see, here are a few locations to keep on your radar:
Nieuwoudtville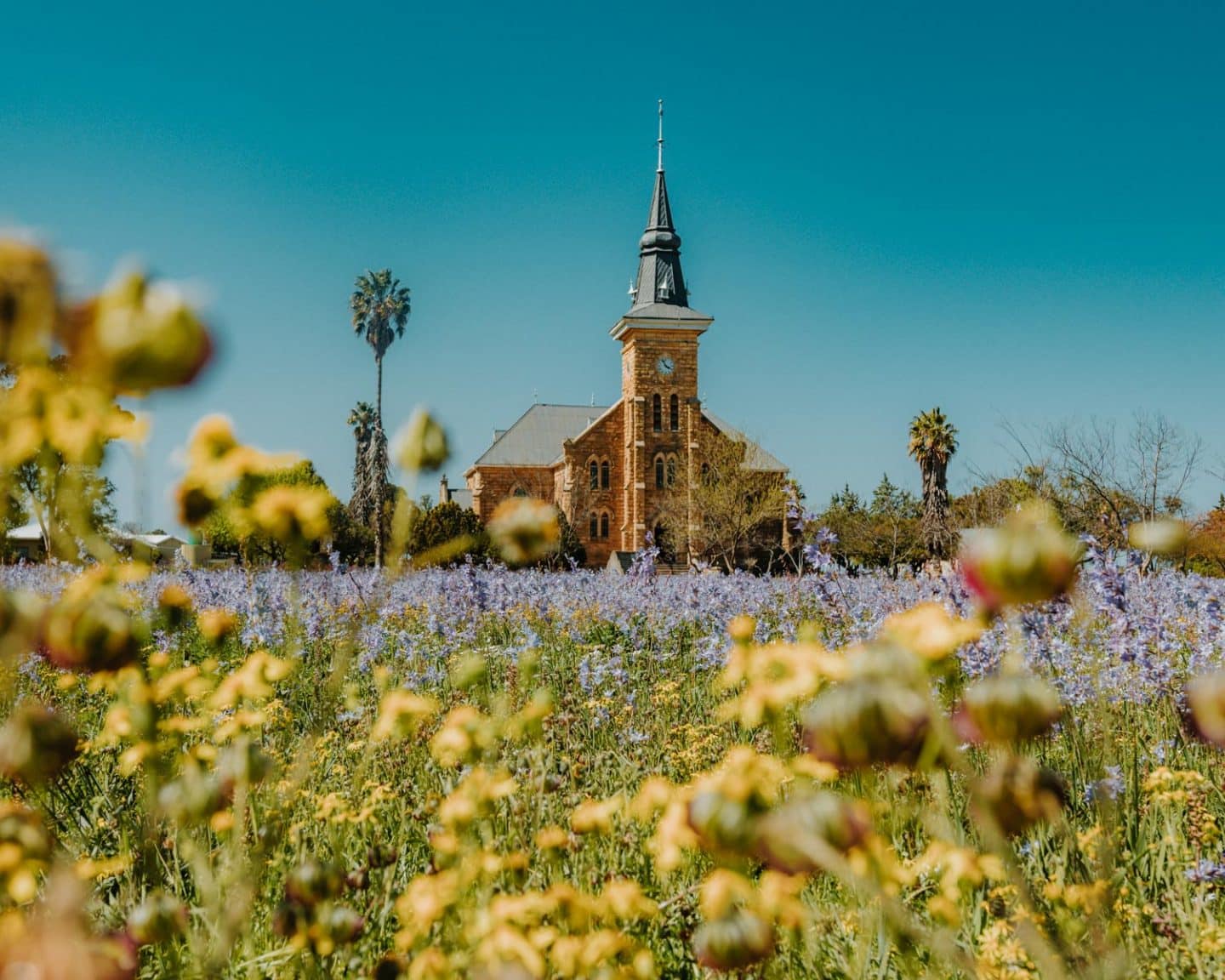 Hands down, Nieuwoudtville is one of the best places to see flowers in Namaqualand. Only a 1hr 40min drive from Cape Town, you can spend days frolicking in all the different fields around the town.
Hantam National Botanical Gardens
At the Hantam National Botanical Gardens (aka the most photogenic spot in Niewoudtville), there are dozens of walking trails winding in between the flower beds.
Some of the trails are as short as 15-minutes, or you can tackle a massive 3-hour circuit and overdose on candy-coloured wildflowers.
NOTE: Attention to all drone pilots! Charge up those batteries and take to the skies! You can fly here without breaking the law. 
Entrance: R25.00
Opening Hours for Flower Season (August to October): Monday to Sunday from 8:00 to 17:00
More Blooming Flower Routes in Nieuwoudtville to Check-Out: 
Nieuwoudtville Flower Reserve
Matjiesfontein Flower Route
Papkuilsfontein Flower Route
The Rondekop/Naressie Route 
'Trekpad'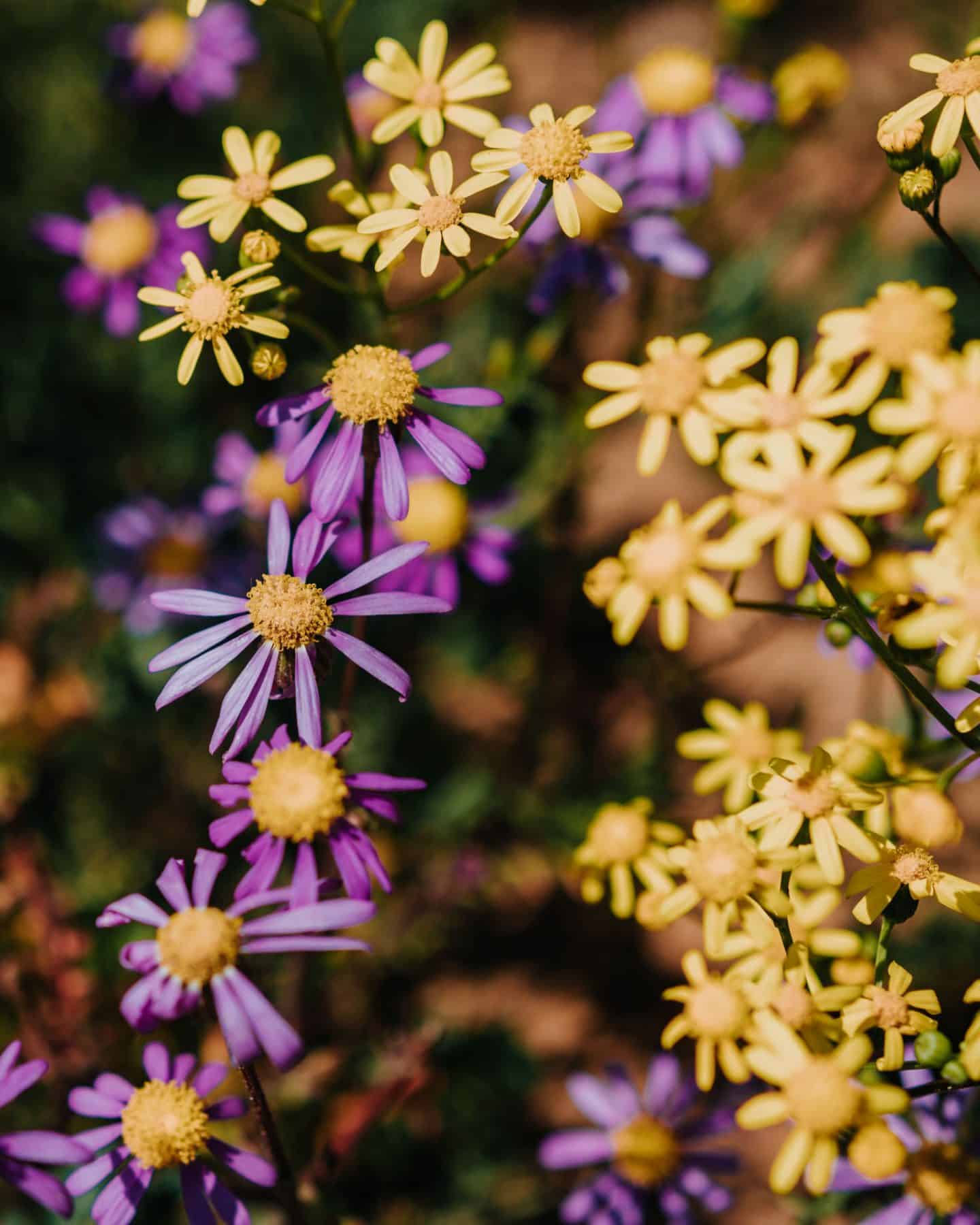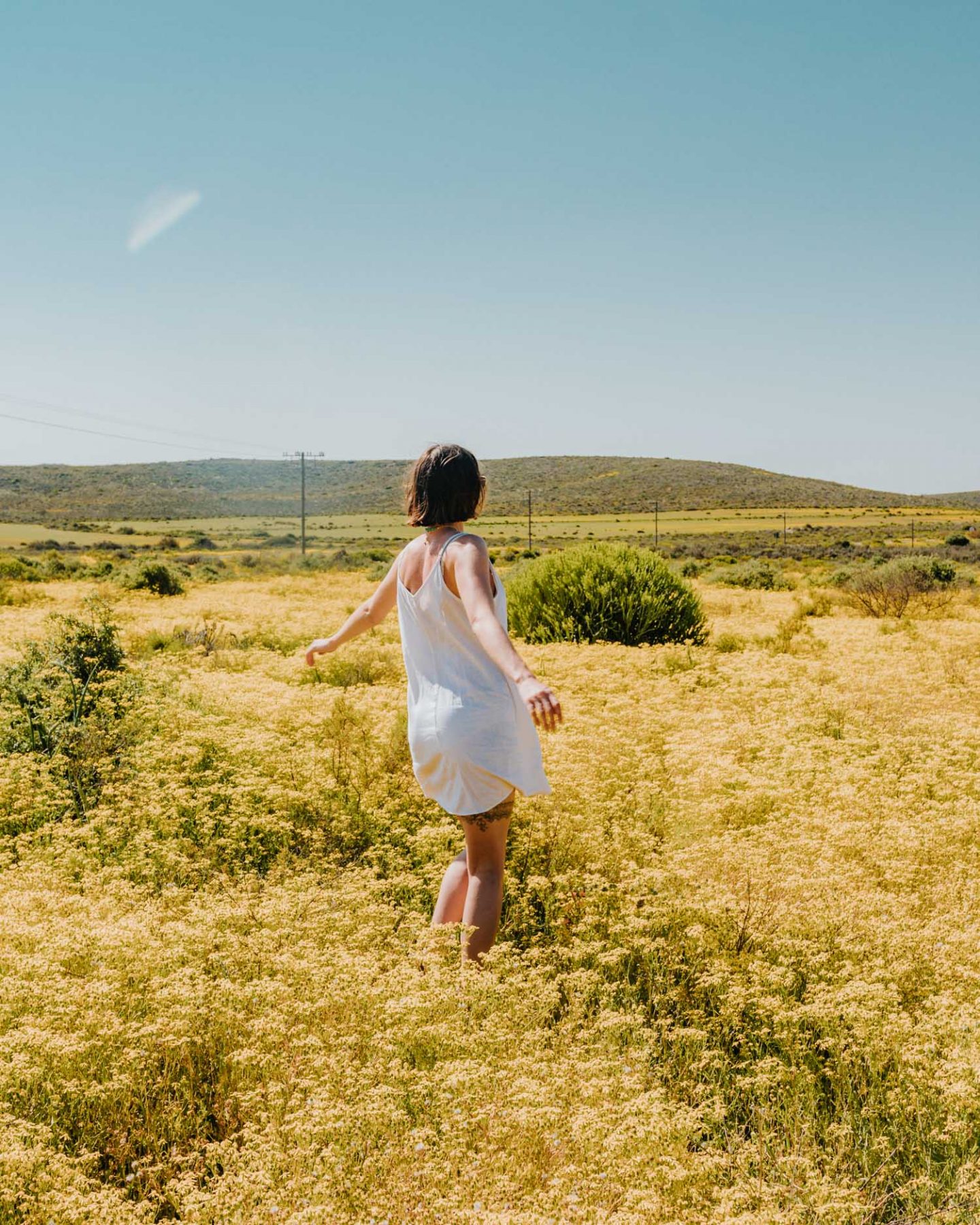 ---
Biedouw Valley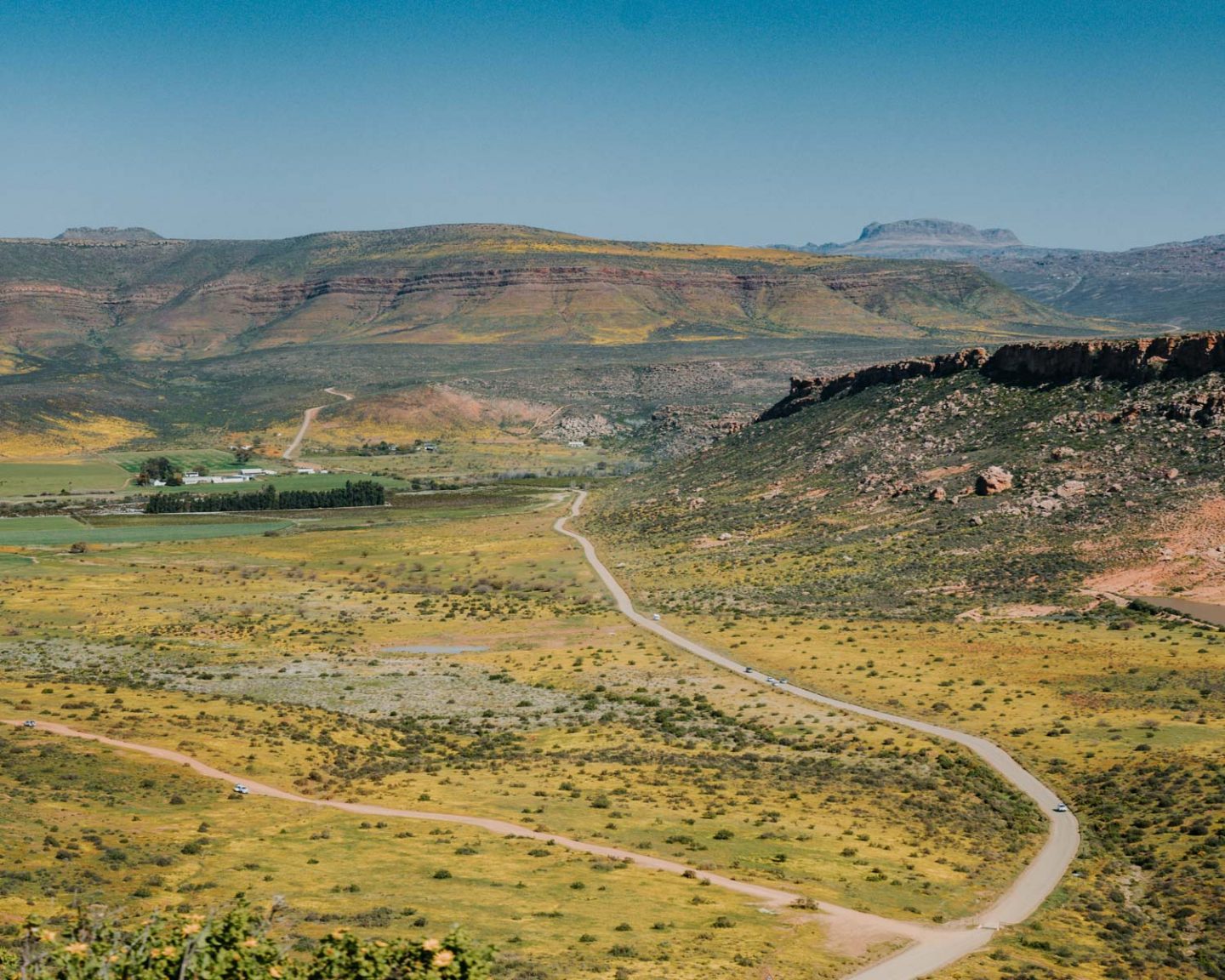 Want to escape civilisation for a day or maybe a week? Come on down to Biedouw Valley.
It's only 3h 20min drive from Cape Town, making it a doable day trip or the perfect weekend getaway.
Before you reach your accommodation for the night, you'll drive along the scenic Biedouw Valley Pass (R364). It's a stunning road that cuts throw the eastern edge of the Cederberg Mountains.
Brace yourself for a bird's eye view of the flowers as you come down the pass!
I would highly recommend camping or staying in a chalet at Enjo Nature Farm. The property sits right on the Biedouw River, and it comes with a private wildflower field!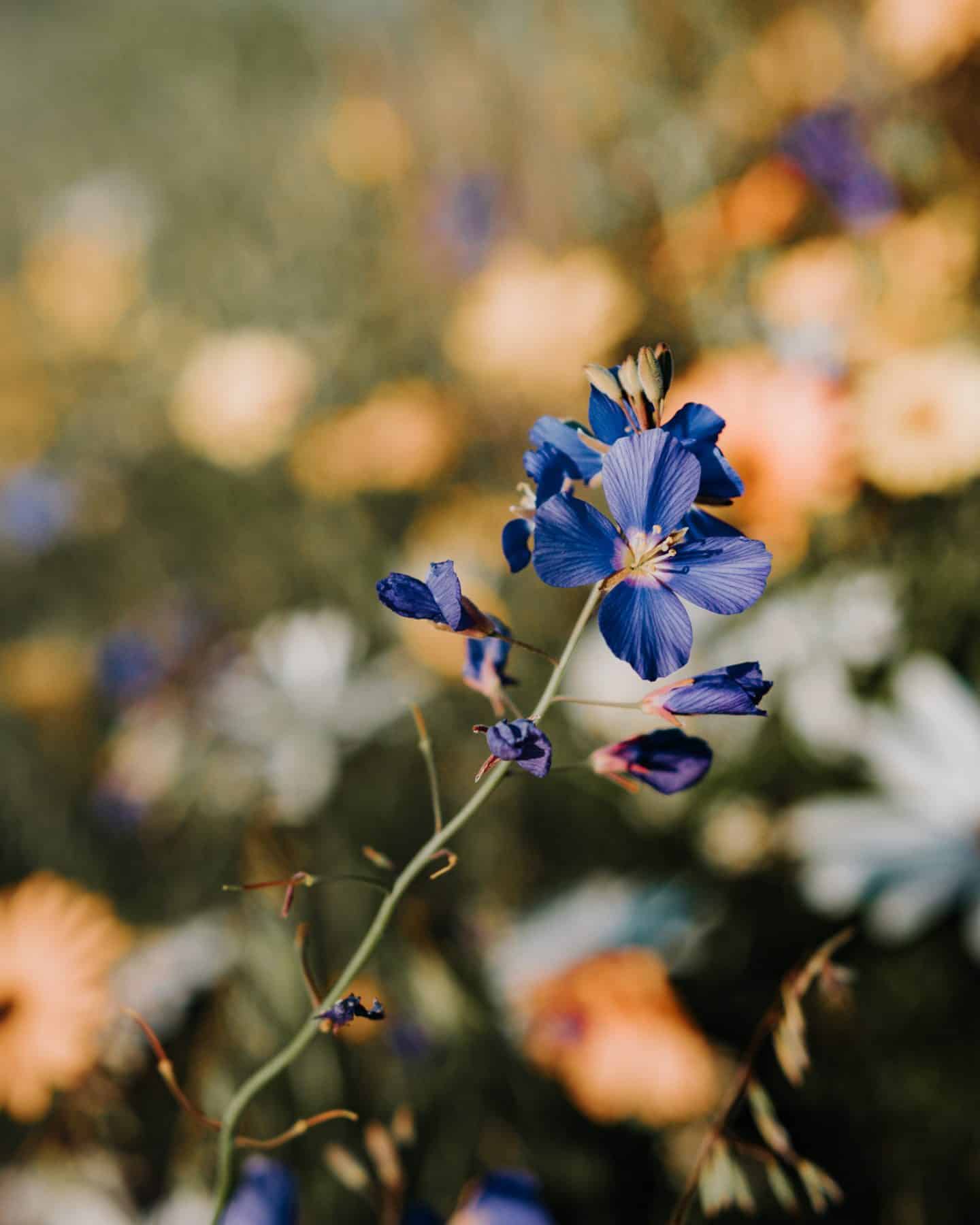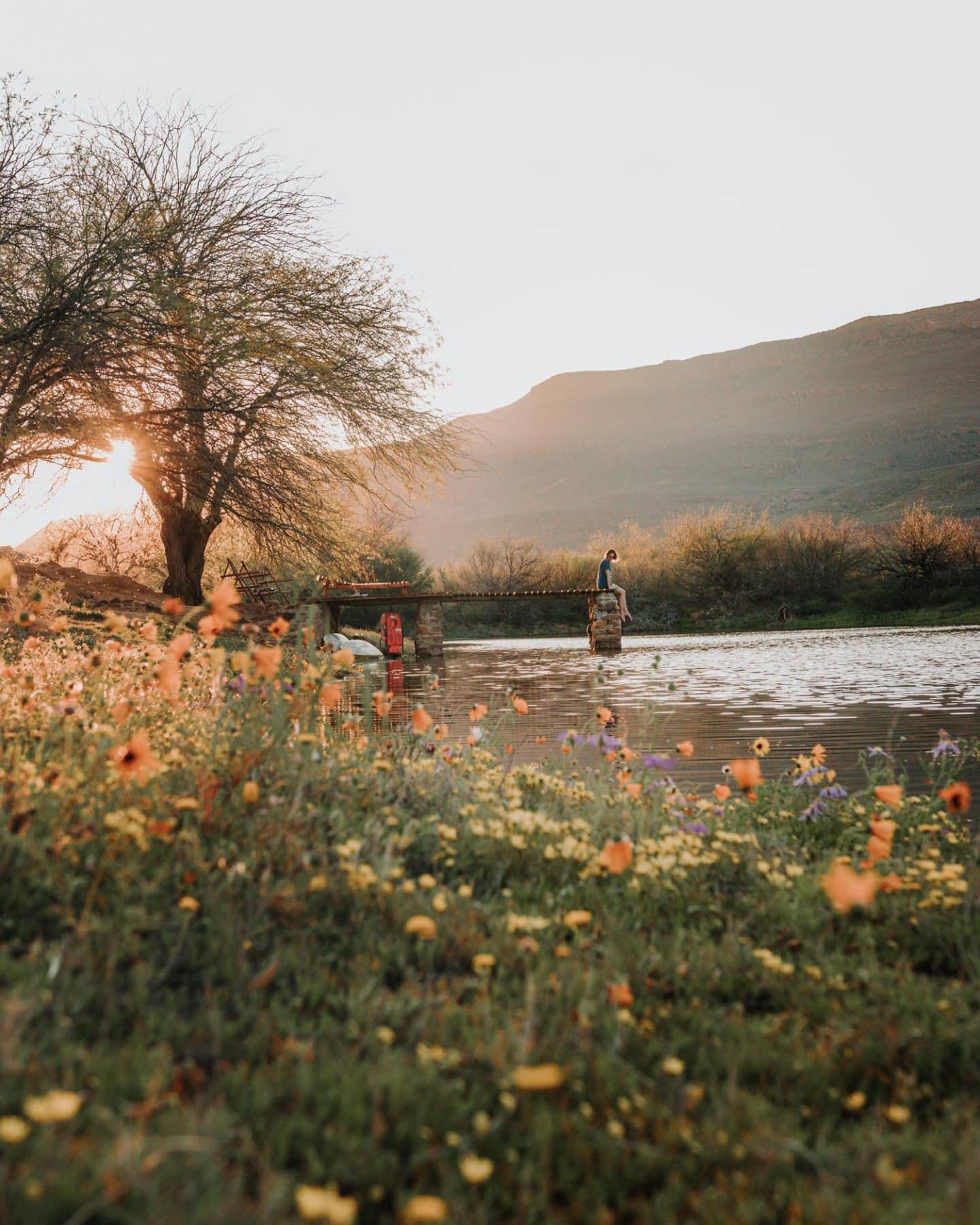 ---
Namaqua National Park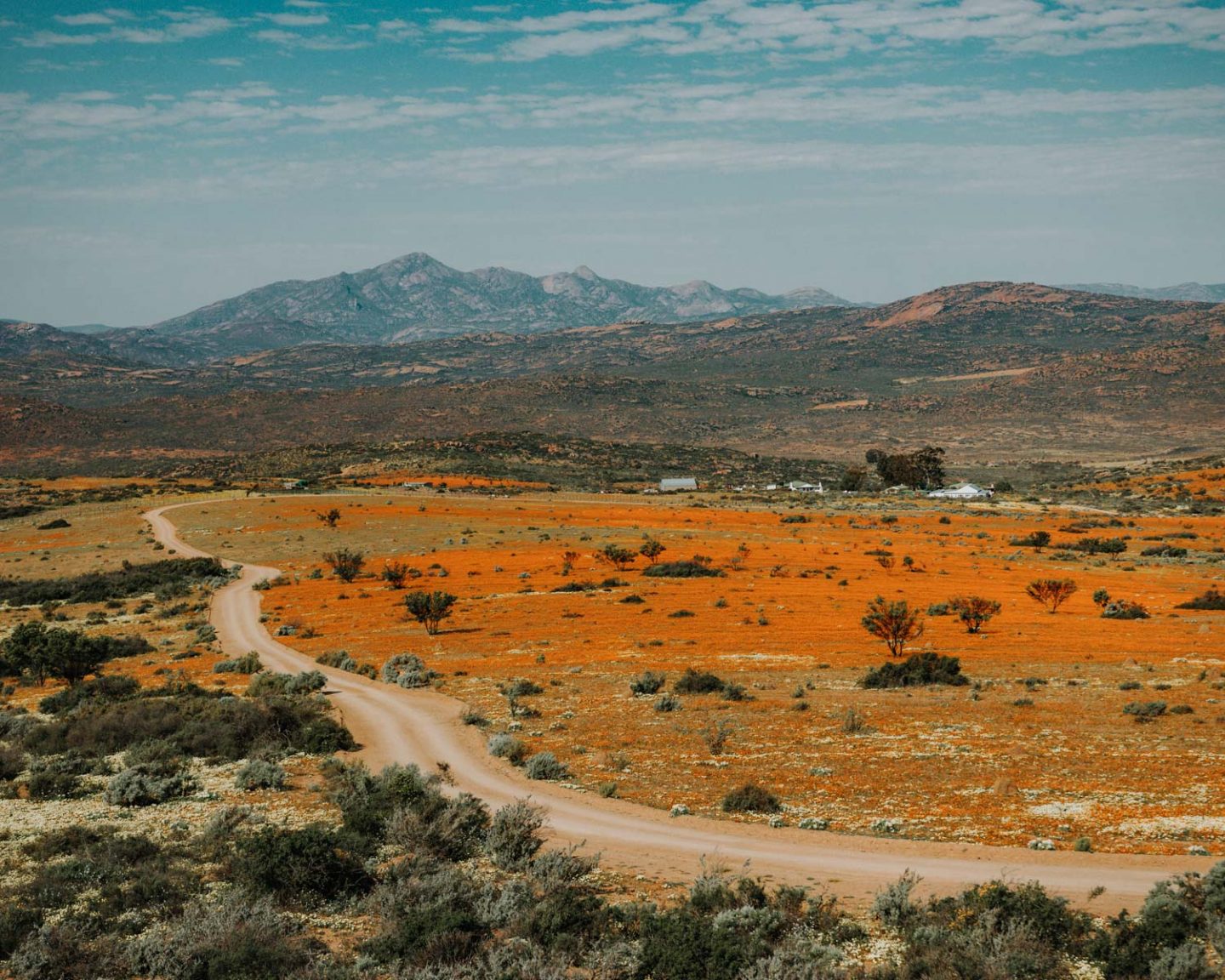 Namaqua National Park is the holy grail of wildflowers in South Africa.
It's a biodiversity hotspot with the highest concentration of succulents in the world and more than 1,000 types of flowers that found nowhere else on Earth.
Each year, the northern region of the park erupts into a display of highlighter yellow and neon orange flowers.
It's the best place to see Namaqualand flowers – if you don't mind the drive.
Much like the Hantam Botanical Gardens, the national park has walking trails that wind around the fields of flowers with plenty of photo opportunities.
Look out for the windmills! There is one at the start of a walking path near the parking lot.
There's also a fun photo opp in front of the picnic area next to reception. Follow the path, sit on the wooden fence, and towering yellow flowers surround you!
For incredible Namaqualand accommodation (that's super affordable as well), camp in the south region of the park. The sites are remote and next to a dramatic coastline.
Entrance Fee: R46.00 for South Africans | R92.00 for SADC Nationals | R92.00 for Internationals
Opening Hours: 08:00 to 17:00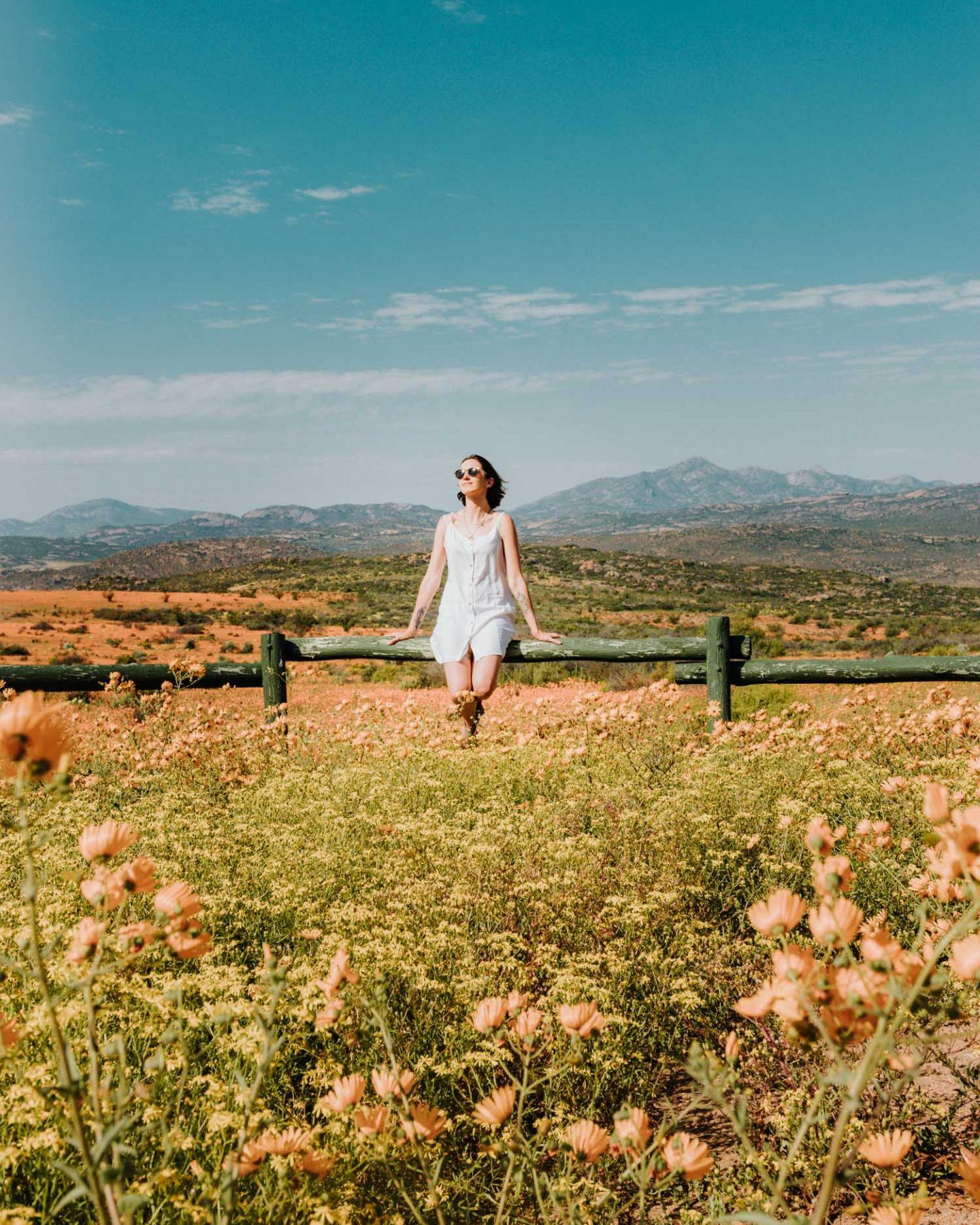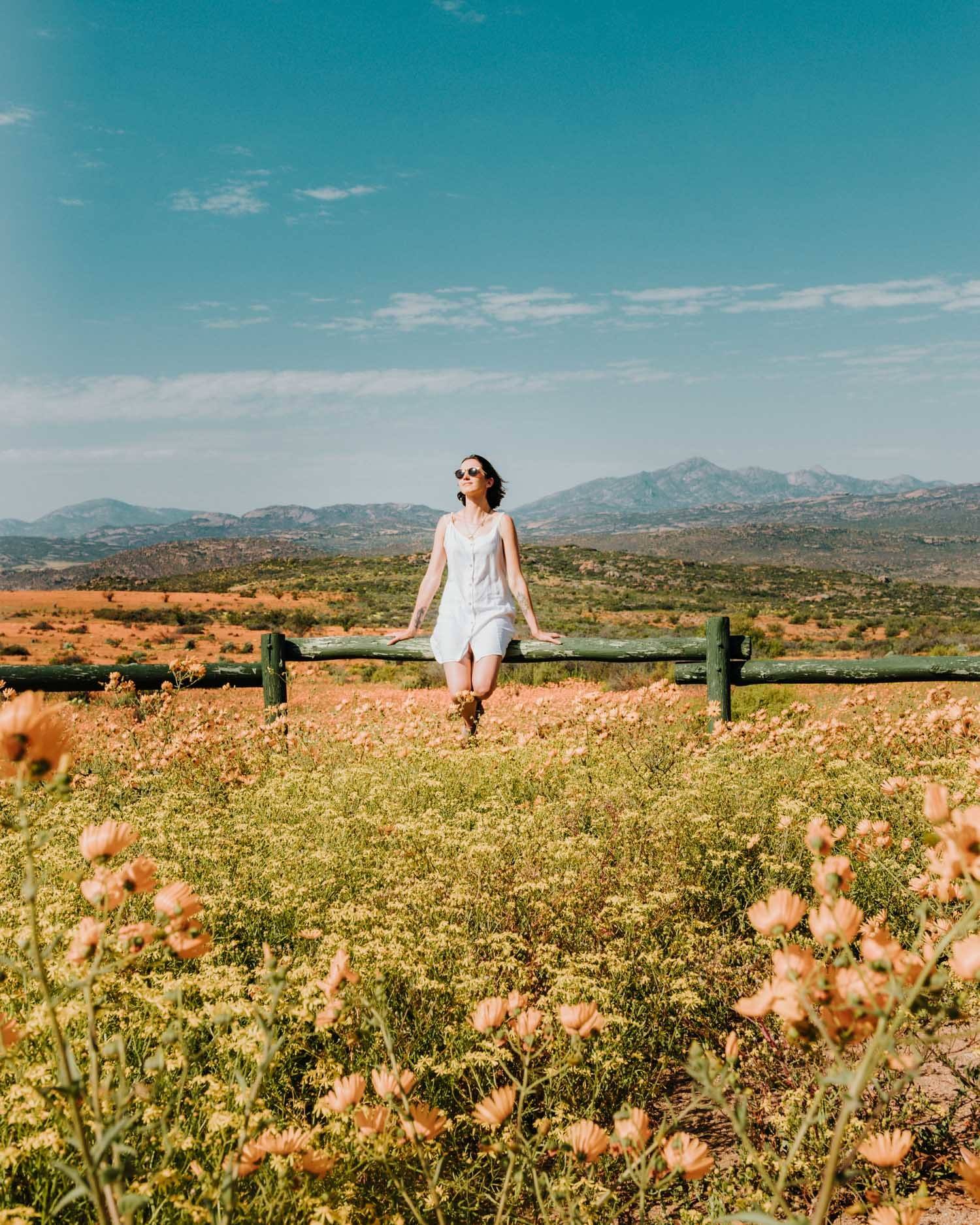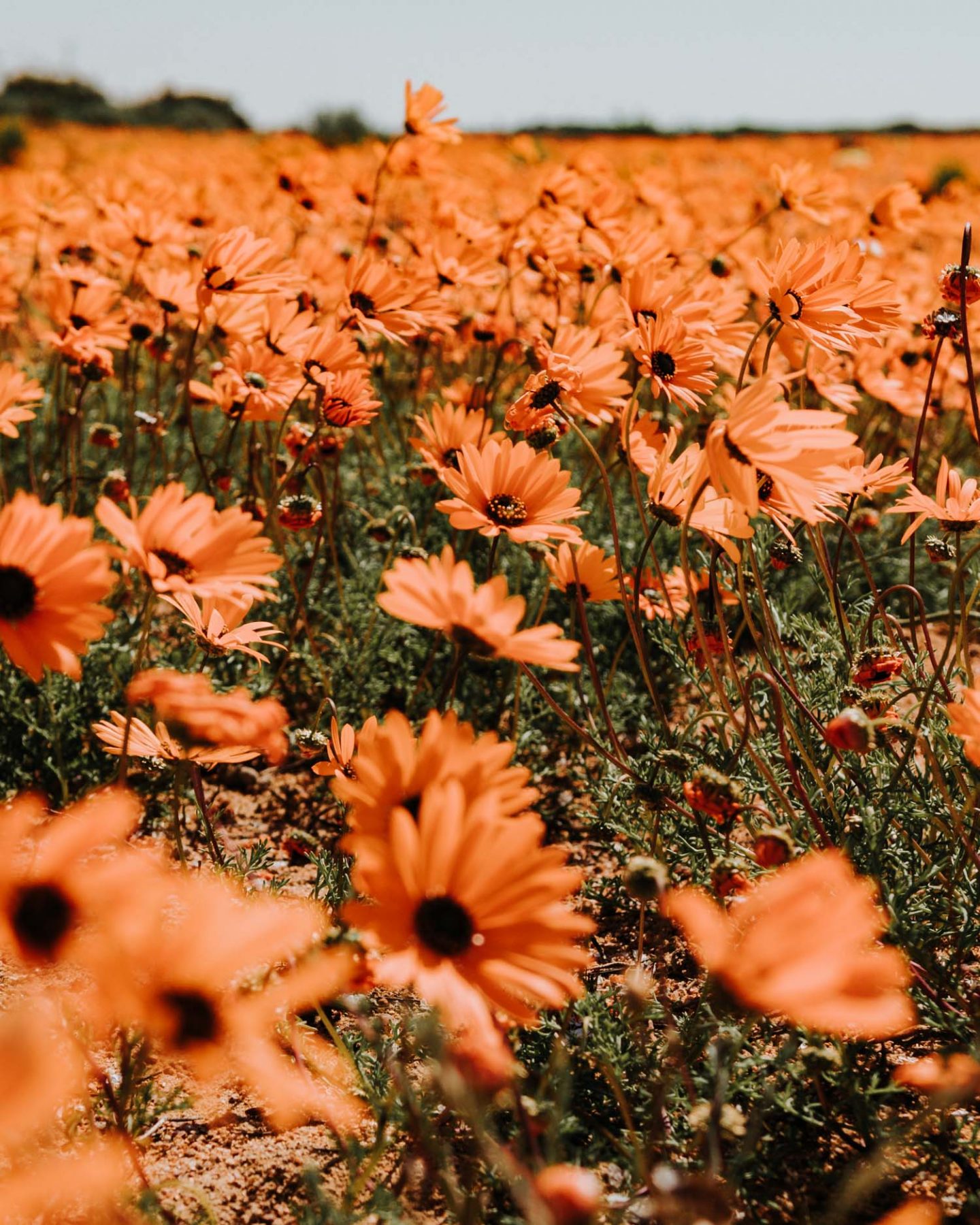 ---
Springbok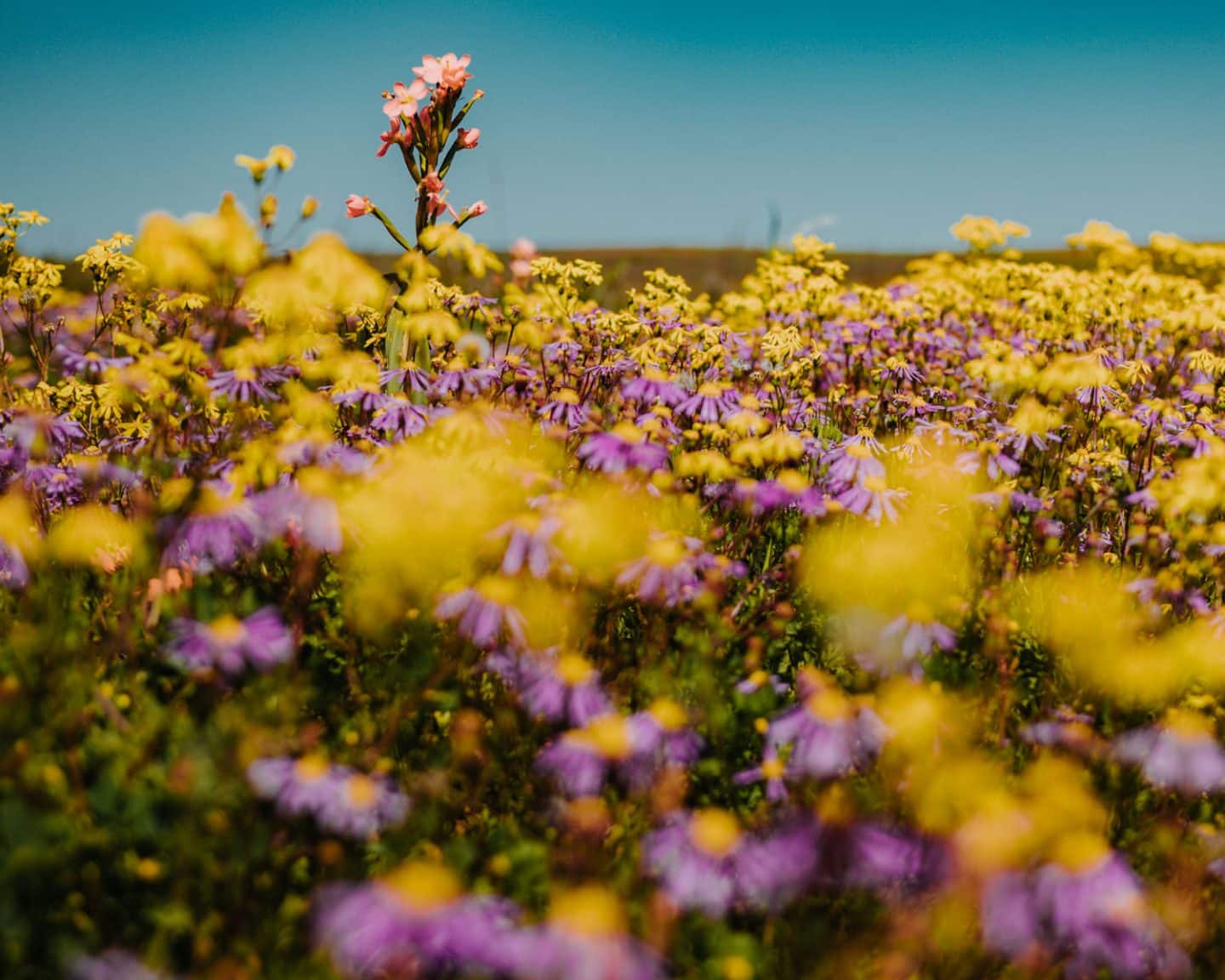 We didn't get a chance to go inside Goegap Nature Reserve (the rain caught up with us ?).
But if you're in town for Namaqua National Park, drive an hour to Springbok and visit the famous 12,000-hectare wildflower reserve.
Inside is the 4,500 hectare Hester Malan Flower Garden. It has a 17-km loop for you to explore and see an astounding amount of Namakwa succulents and wildflowers.
And if you're getting sick of the car, hop out and explore the Ian Myers Nature Walks. There are several circular trails inside the Goegap Reserve which will you get you up close and personal with the blooming splendour.
NOTE: There are camping spots and chalets inside the reserve! ?

Entrance Fee: R30.00

Opening Hours: 08:00 to 16:30 
---
Postberg in West Coast National Park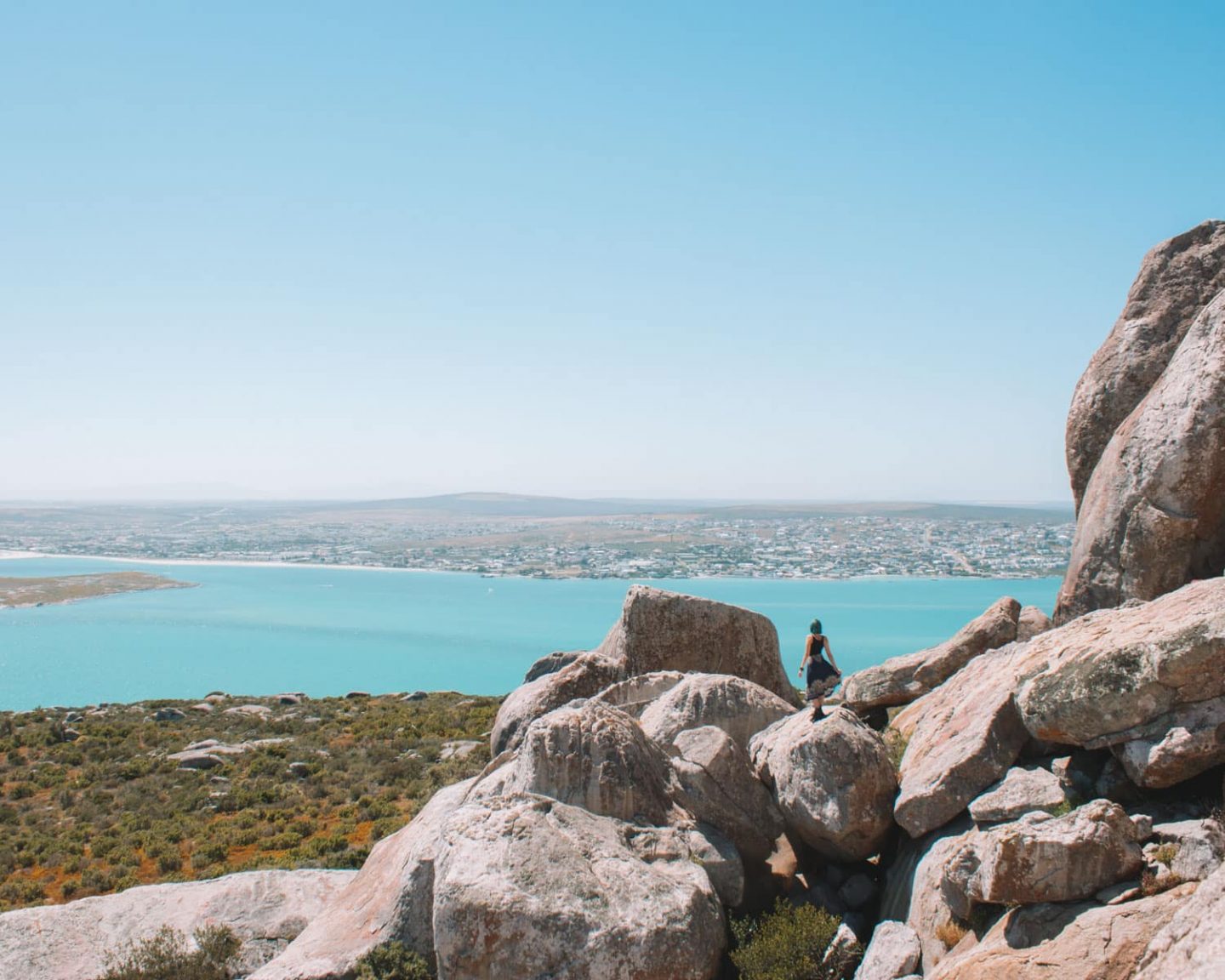 It's no secret Cape Townians HATE driving.
If you're a Joburg girl like me, you'll know the pains of trying to get your Cape Town friends to visit you if you live more than 10-15 minutes away.
So if you're not up for a 3-hour+ drive to see the Namaqualand daisies, take a drive up to West Coast National Park.
It's a 1-hour drive from the Mother City and serves up spectacular views of sparkling blue a** water and colourful daisies.
During wildflower season, the Postberg section of the park is open to the public. 
It's one of the best places to sing "Daisies" by Katy Perry at the top of your lungs as your skip, hop and dance around the wildflowers (while sticking to the paths of course).
The only downside? West Coast National Park is super popular during flower season.
If you want to beat the crowds, set those alarm clocks! There's often a line of cars waiting to get in from 9:00 or 10:00(especially on the weekends).
NOTE: Keep an eye out for zebras, tortoises and more Pokemon that call the park home!

Entrance Fee: R64.00 for South Africans| R96.00 for SADC nationals | R96.00 for internationals

Opening Hours: 10:00 to 16:00
Read More: A Local's Guide to 45+ Awesome Things to Do in Cape Town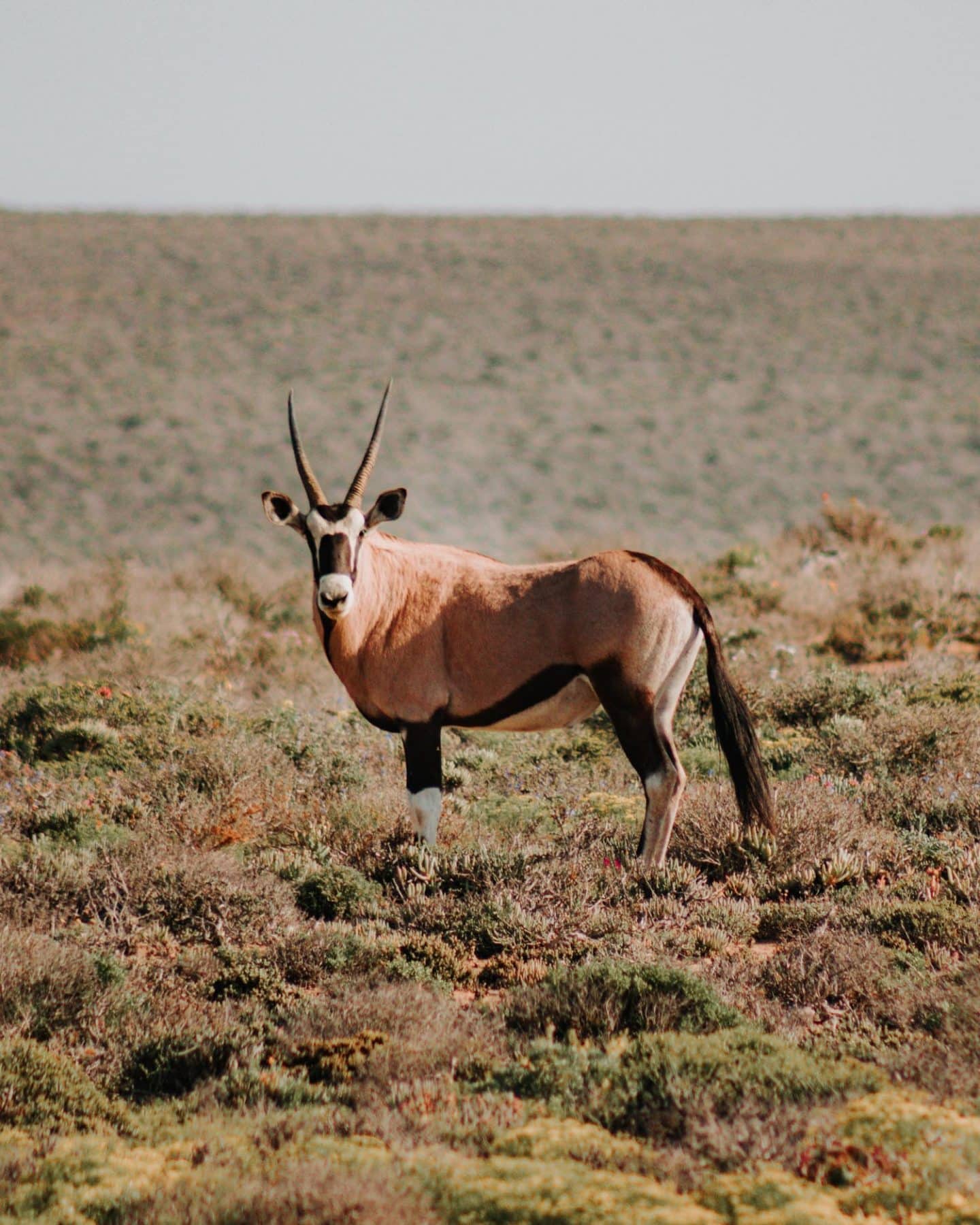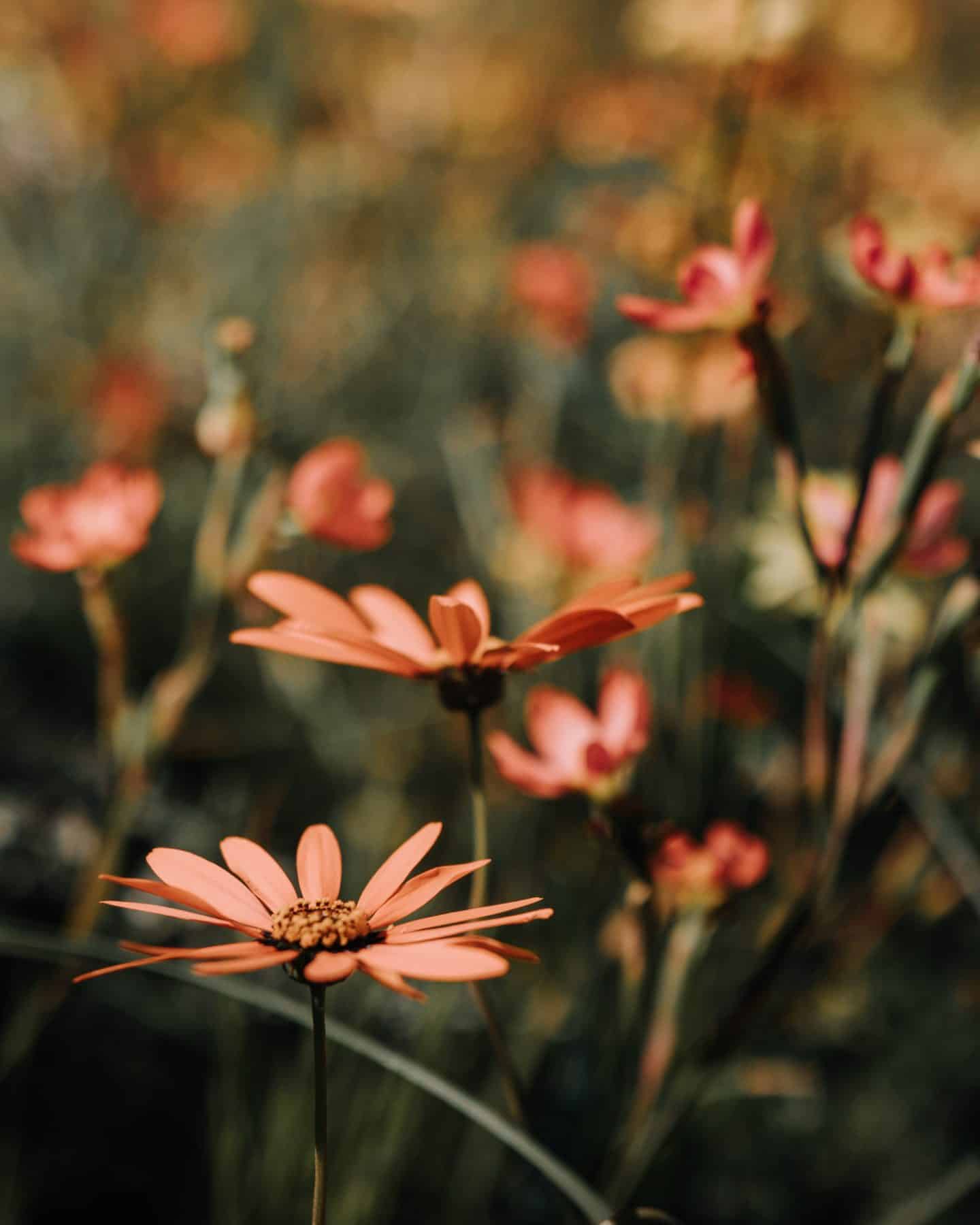 ---
Darling Flower Route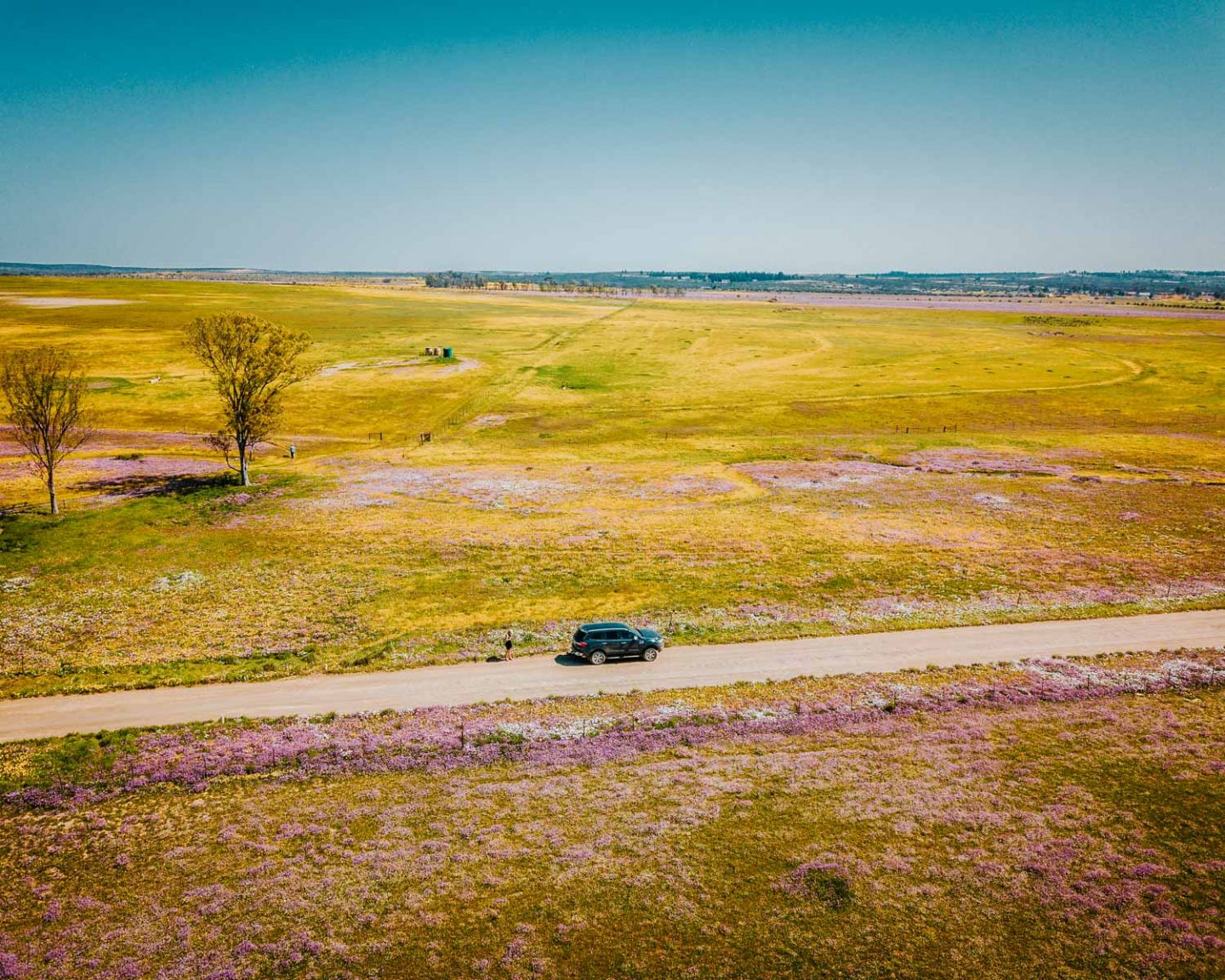 Once you're done exploring West Coast National Park, hop on over to Darling. 
It's a 39-minutes drive and en-route back to the city.
Time your trip with the specular Darling Wildflower Show. It's been an annual tradition since 1917.
If you'd rather wander through the wildflower reserves, here are a few to add to your itinerary:
Darling Flower Reserves
Contreberg Nature Reserve
Darling Renosterveld Reserve
Darling Groenkloof Reserve
Oudepost Wildflower Reserve
Tienie Versfeld Nature Reserve
Waylands Wildflower Reserve
Yzerfontein Urban Conservancy 
---
Clanwilliam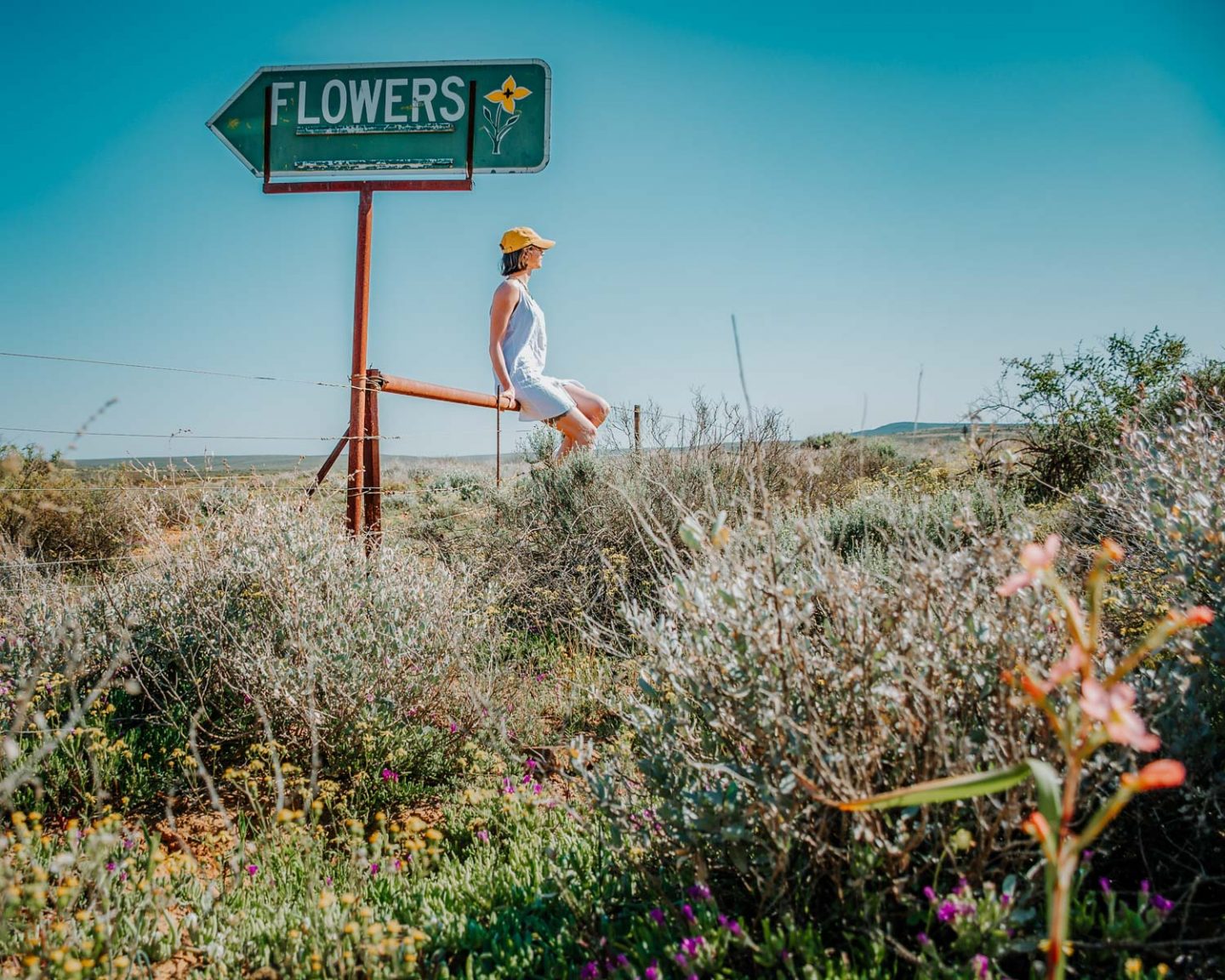 Another little town you should add to your wildflower itinerary is Clanwilliam.
It's 2h 30min from Cape Town, and you squeeze in a visit here while on your way back from Nieuwoudtville.
Clanwilliam's crowning gem is the Ramskop Wildflower Garden. It houses a staggering 350+ species of wildflowers!
As you wander from one flower to the next, you'll have spectacular views of Clanwilliam Dam and the mesmerising Cederberg Mountains in the distance.
If you plan your visit for August, you can also attend the Clanwilliam Flower Show! It exhibits over 400 species giving you the chance to see virtually every wildflower species in one area.
---
Namaqualand Flowers Map
Want all these flower spots in one convenient spot on all your devices? Here's the ONLY map you need to track down those daisies and photograph them in all their rainbow glory!
---
Mistakes to Avoid When Seeing the Namaqualand flowers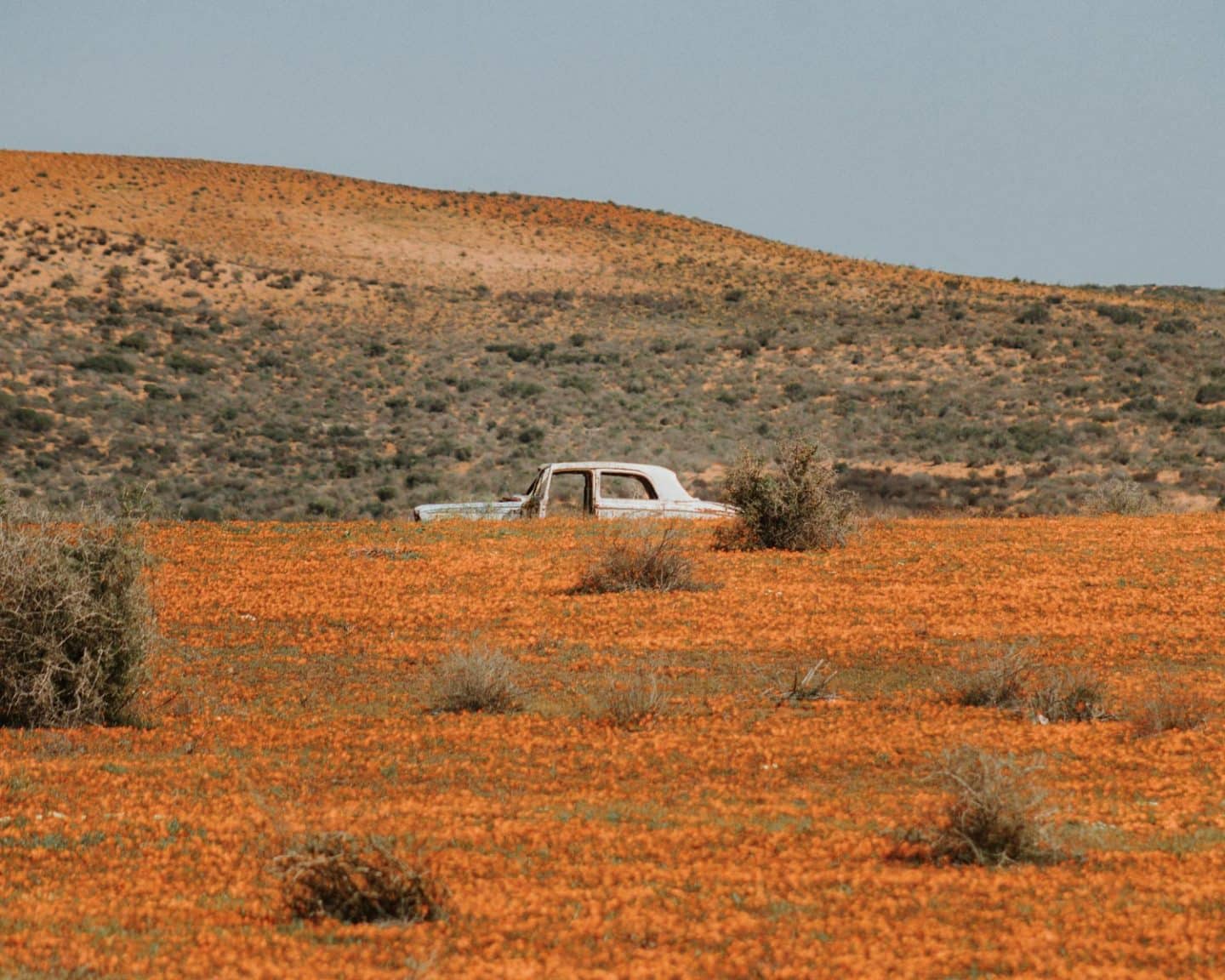 Wildflower season in Namaqualand is an incredible once-in-a-lifetime experience IF you plan properly and avoid these newbie mistakes.
Assuming You'll See the Flowers the Whole Day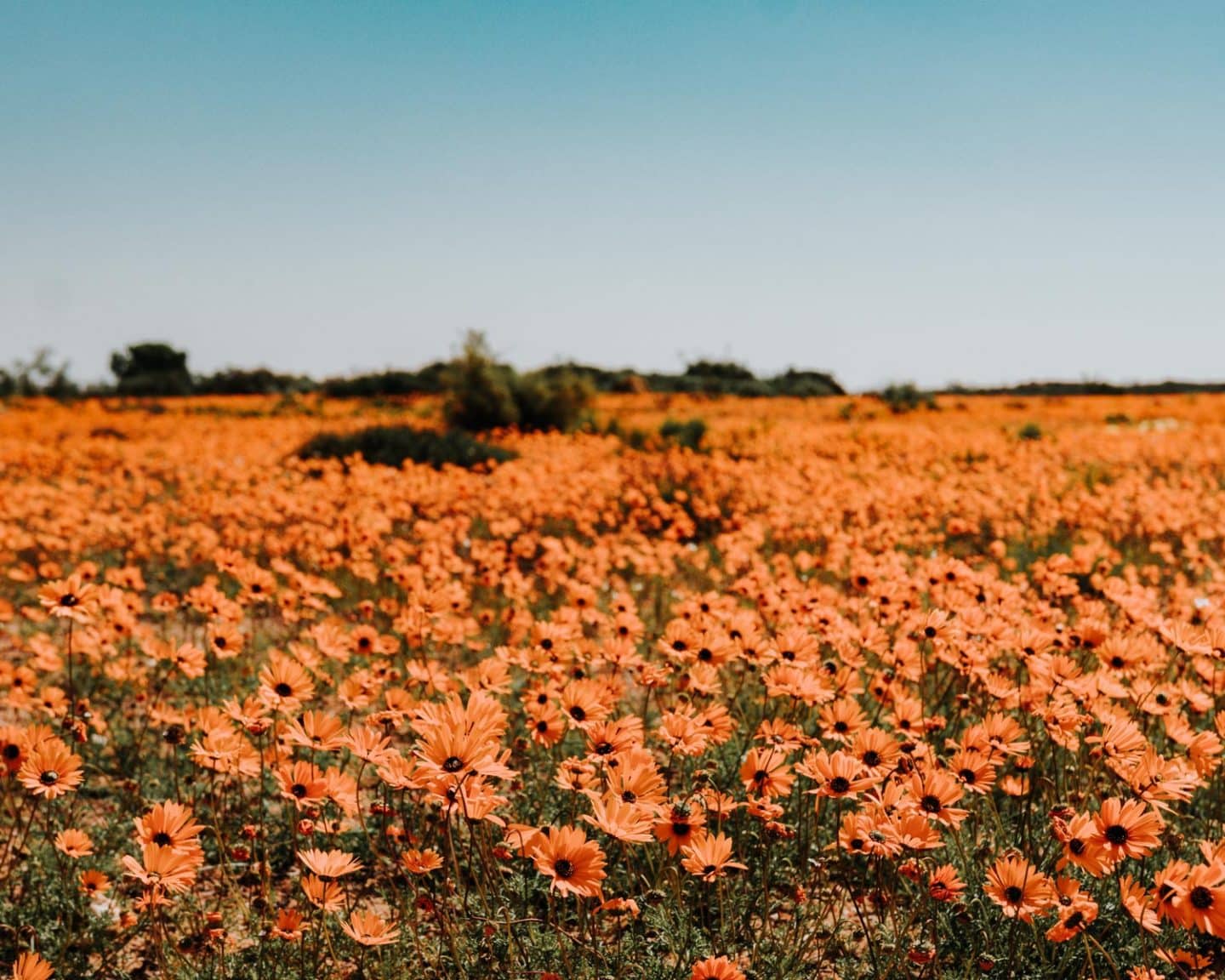 There's a common misconception out there that you can see the endless sea of wildflowers as soon as the sun pops over the horizon. 
This is not the case at all!
You need clear skies as well as dry, sunny weather. The day temperature needs to be around 18°C minimum, and the flowers only open from 10:30 am to 16:00 (the warmest part of the day).
If it's rainy or overcast, you'll need to scrap your flower hunting plans for another day.
Not Driving With The Sun Behind You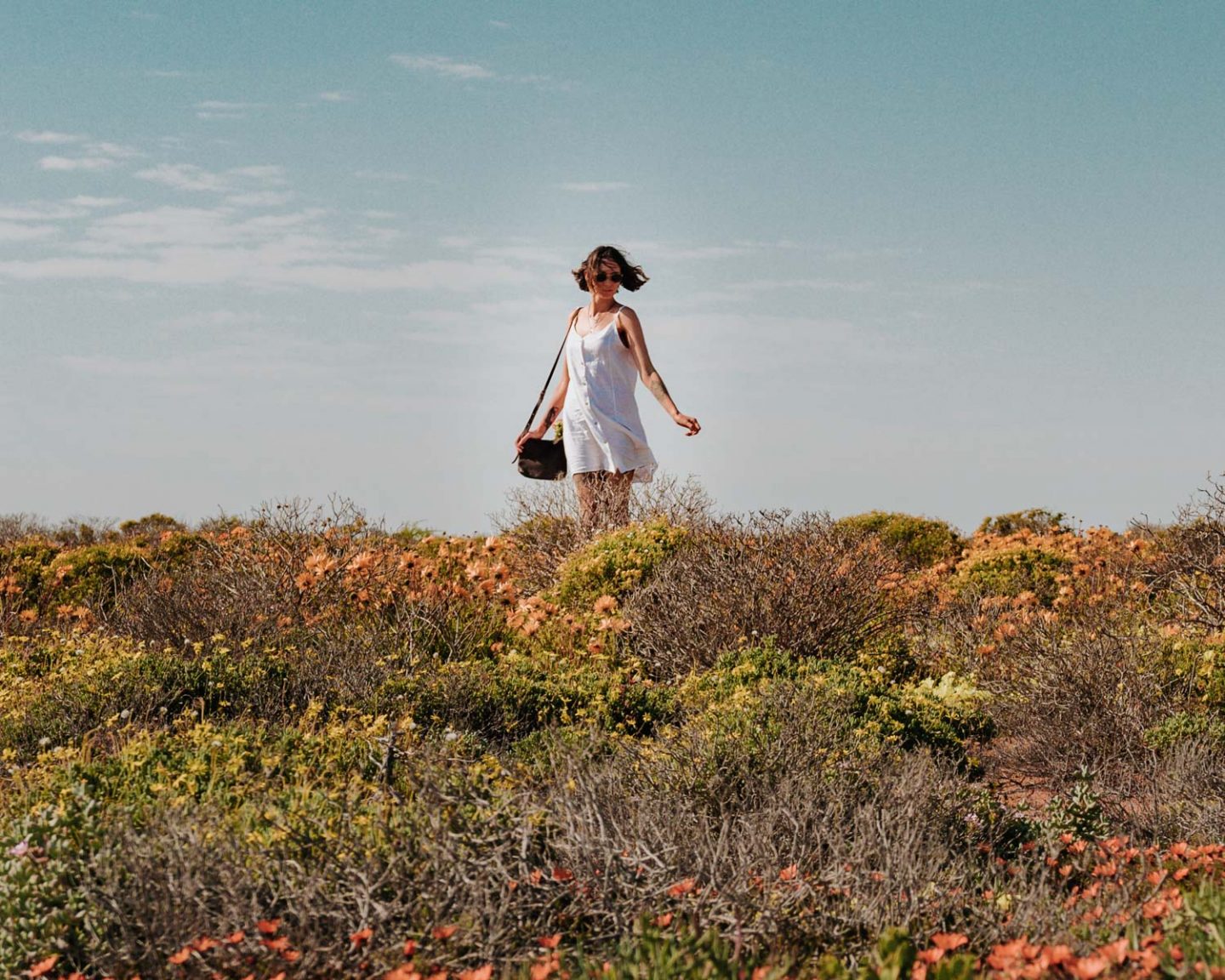 This is a rookie mistake I made way back in 2017 when I drove up the West Coast.
The flowers LOVE the sun and will follow it as it moves across the sky.
So if you're driving with the sun in the wrong direction, there's a good chance you "won't see" the flowers because they aren't facing you.
When planning your route, try to travel in a westerly direction in the morning. During mid-day travel south and then switch to an easterly route for the afternoon.
Starting With The North Section of Namaqualand at the End of the Season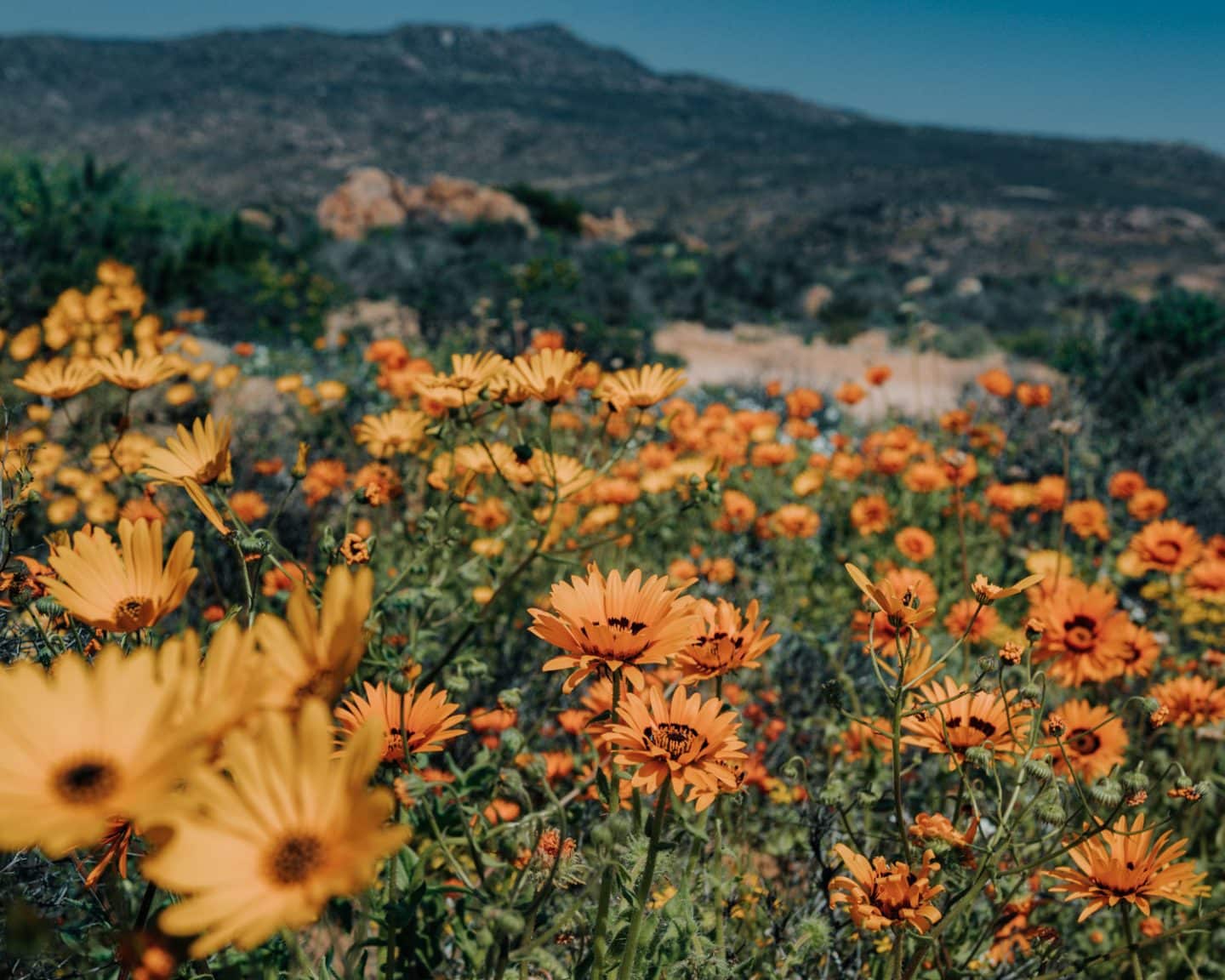 The northern section of Namaqualand starts blooming as early as late July/early August.
If you have your heart set on visiting Namaqua National Park, you might miss all the flower action if you leave it for late September.
To avoid driving all that way to see an arid desert, start with the northern early in the season. Then take your time travelling south towards Nieuwoudville, Cedarberg and the West Coast.
The southerly section is usually a show-stopper from late August/early September.
Picking or Trampling on The Namaqualand Flowers
Don't pick the flowers mkay. 
Don't walk on them either.
You're only ruining the magical display for yourself, everyone else and South Africa's biodiversity.
Do you really want to be that d*ck responsible for ruining our endemic flower species found NOWHERE else on Earth?
Keep on the paths and leave the flowers to see another day.
Not Grabbing a Map
Want to camp in the south section of Namaqua National Park? Don't leave reception without a map.
The cellphone signal isn't great and if your GPS decides to peace out, you'll need to rely on your internal navigation skills to get out of the park.
Another option is to download the Tracks4Africa app. It works even when you have zero bars on your phone, and we used it more than once during our Namaqualand road trip.
Not Booking Your Namaqualand Trip in Advance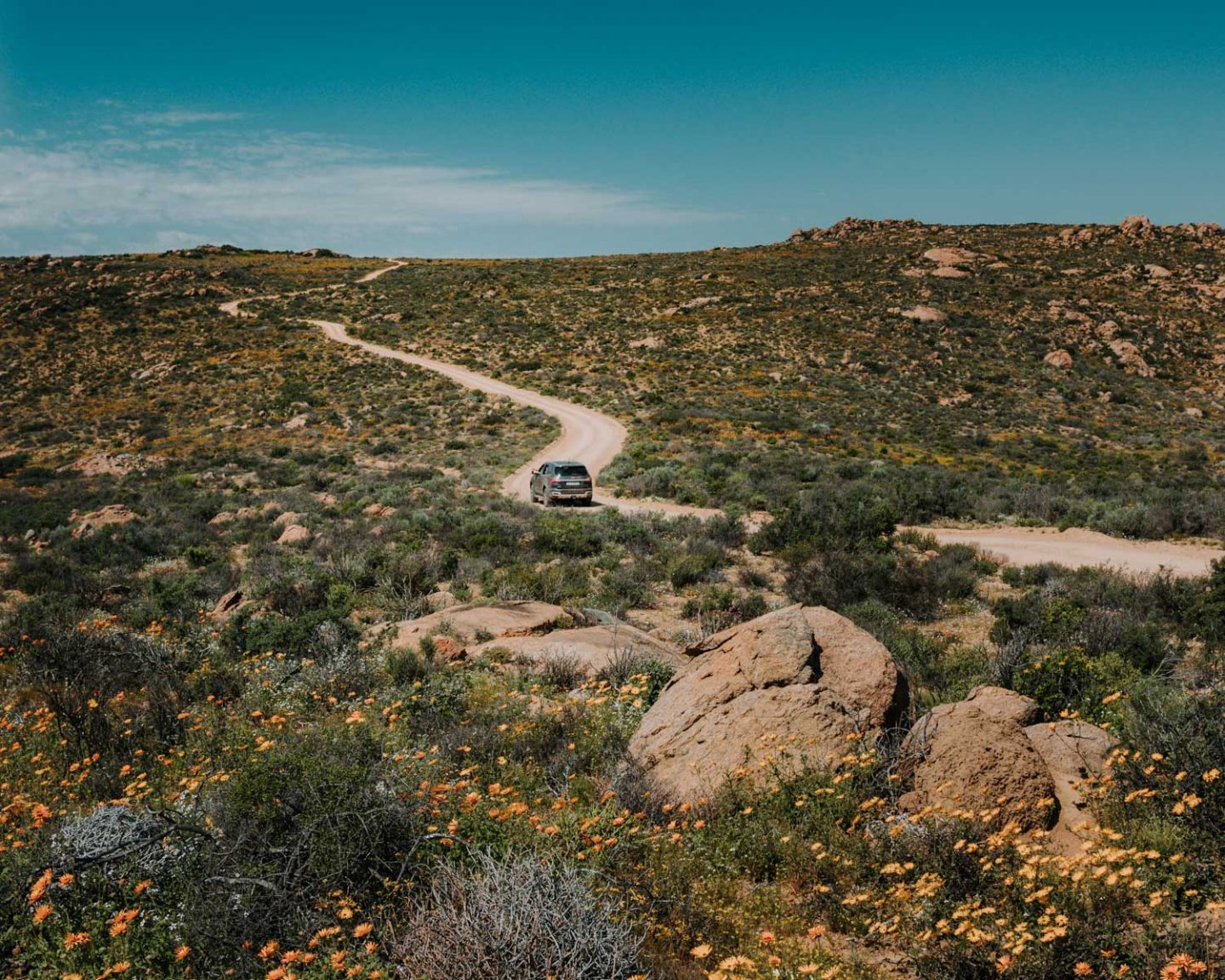 Without mincing words, Namaqualand is the greatest wildflower show on Earth.
With a title like that, you can bet it attracts flower-hungry travellers of every age, size and nationality.
Don't leave your trip planning to the last minute. You'll get left with the crappy accommodation or possibly none at all.
Some peeps are so serious about their flower-hunting, camp spots inside Namaqua National Park book out six months to a year in advance!
Dressing for the Weather Back Home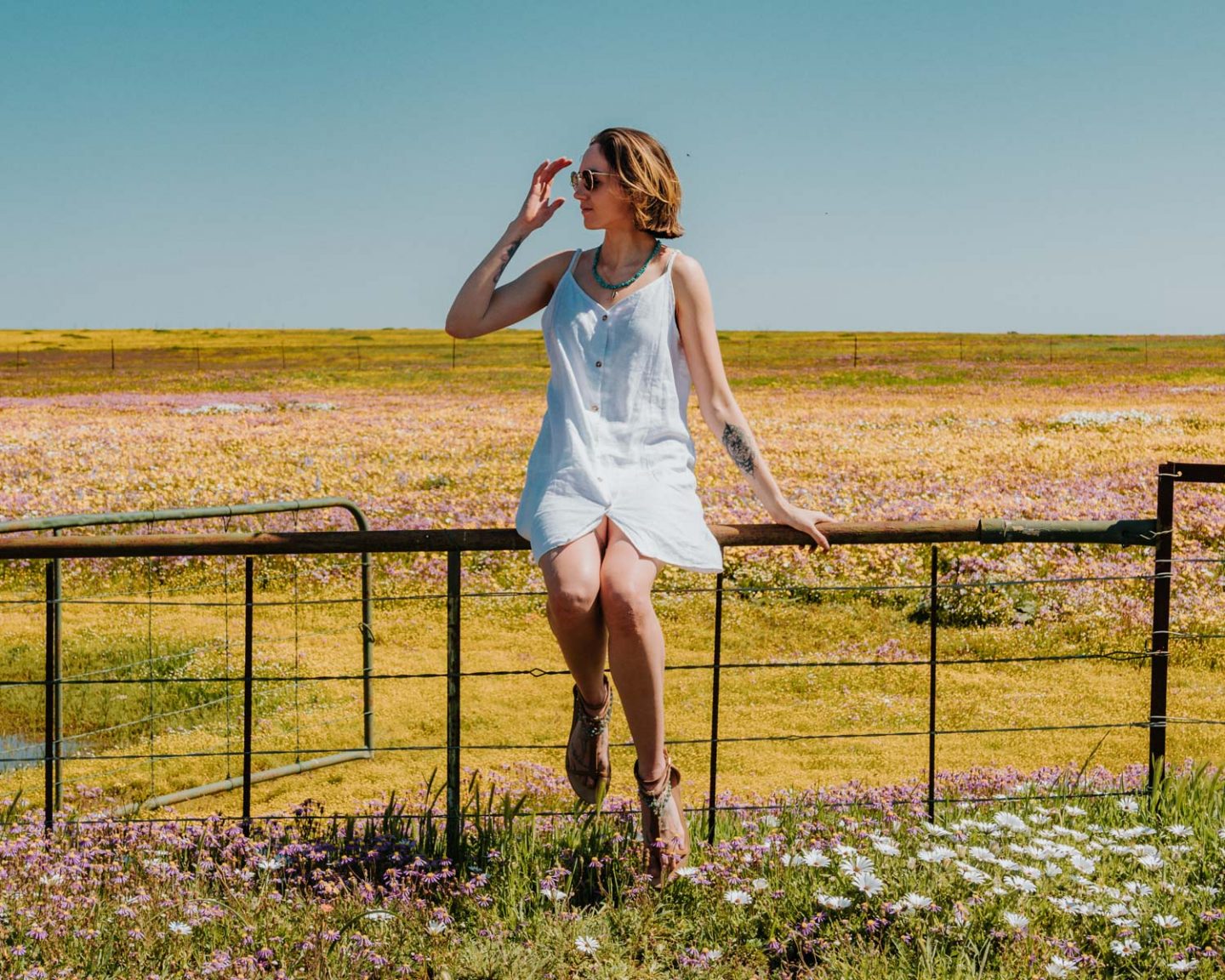 On a sunny day, the temperatures in Namaqualand can reach a scorching 40°C.
Meanwhile, in Cape Town or Johannesburg, we are shivering our butts off as the final cold front of winter keeps us glued to our heaters.
The key to exploring Namaqualand (and not overheating or shivering once the sun sunsets) is layers. You want to pack warm layers for the cool mornings and evenings and your best, breathable fabrics for the sweltering heat of the day.
Oh, and don't leave your flip flops at home. Your feet will thank you.
---
Namaqualand Wildflowers Road Trip Budget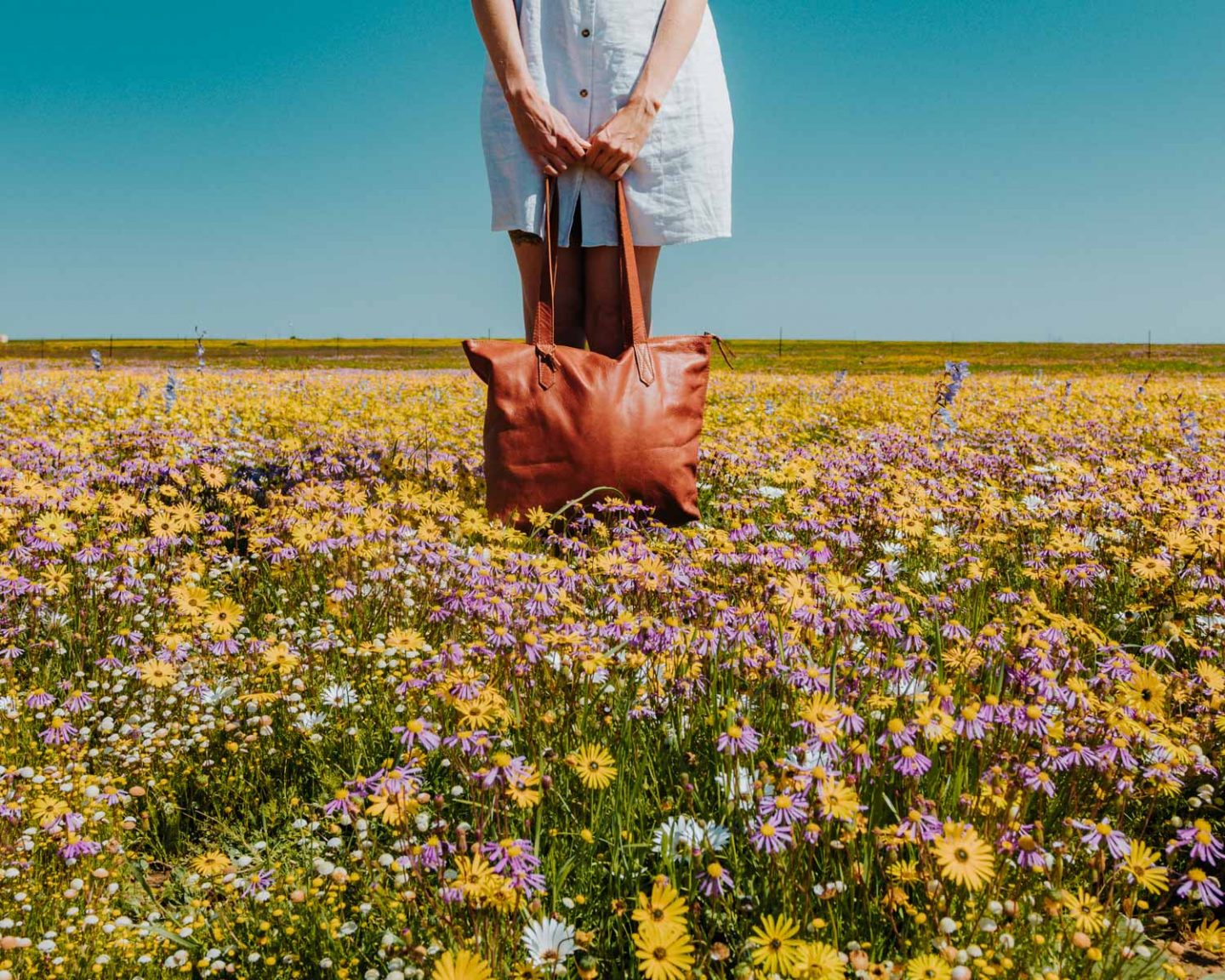 Think a road trip to Namaqualand is expensive?
I'm here to tell you, nay-nay. You're wrong, my friend.
It's cheaper than some return tickets between Cape Town and Johannesburg.
Here's a breakdown of our coasts for our week-long road trip through Namaqualand:
Accommodation: We spent R6319.00 for three people on hotels and campsites. Each of us spent R2,106 for seven nights of lodging.
Food: A total of R2,629 was spent feeding us for the week. That comes to R876.33 per person.
Petrol: Our Ford Everest used Diesel, and that massive tank went along way! In total, we spent R3832.30 on petrol and split the cost three ways. We each paid R1,277.00.
Activities: From museum visits to national park fees, we spent R504.00 in total on activities. That comes to a measly R 168.00 per person!
In total, our week-long Namaqualand road trip cost us R13,284.30!
Which means the three of us only paid R4428.00 each! Not bad at all.
---
Got any questions about visiting the Namaqualand flowers for the first time? Hit ya gurl up in the comments below!
---
? If you like it, then you should put a pin on it! ?