Last Updated on February 25, 2021 by Taylor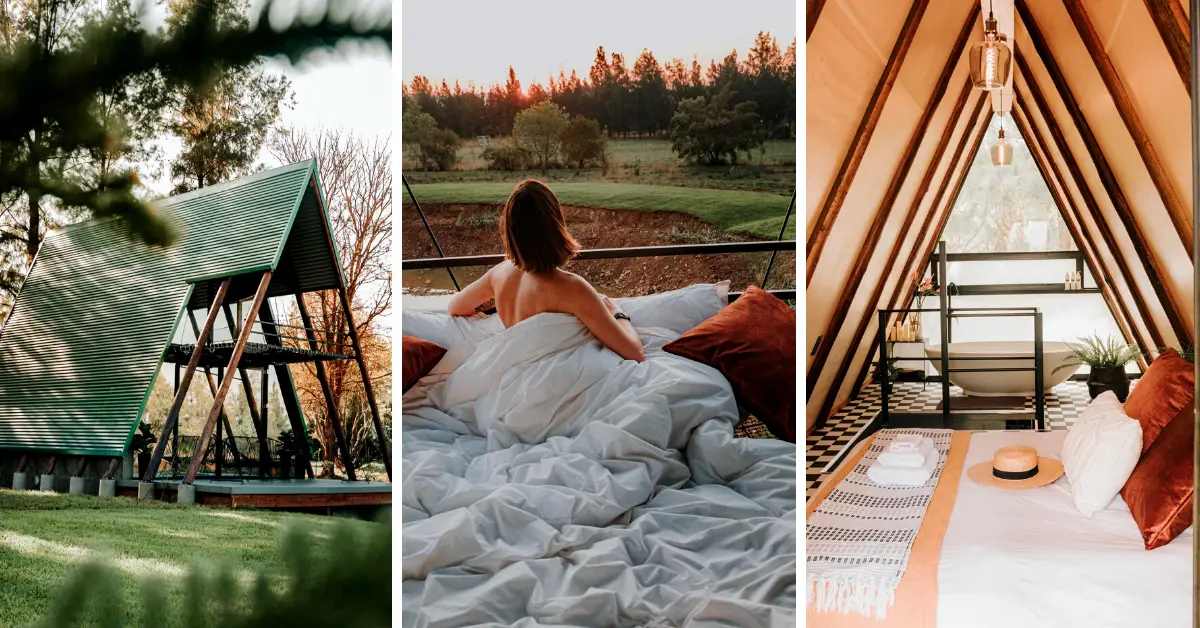 With lockdown regulations easing up in South Africa, I've been on the hunt for cheeky workcations.
I'm not one for working in coffee shops, but bespoke accommodation far, far away from traffic jams and noisy neighbours?
You don't need to ask me twice.
Now, Johannesburg is one of the biggest cities in South Africa, so guesthouses themselves aren't exactly rare.
What IS rare is finding unique accommodation that breaks away from the norm (I'm looking at you dollies, floral prints and dark wood floors, cupboards, and headboards galore) that won't cost you an entire month's salary for one night.
Introducing… Rosemary Hill Farm's latest bespoke creation – CabinVille! A collection of 3 pods and 1 A-frame cabin set on the banks of a human-made dam.
These luxury time capsules have everything you need for a staycation retreat into nature. Facing west, you're in prime position to watch the farm's spectacular sunsets and within walking distance of the cafe's delicious treats.
So if you've got a romantic getaway on the cards (or you want an excuse to leave your house), and you don't want to leave the Gauteng province, read on for a full review of CabinVille.
Psst…Want more accommodation inspiration in South Africa? Check out these other posts:
Rosemary Hill: An Introduction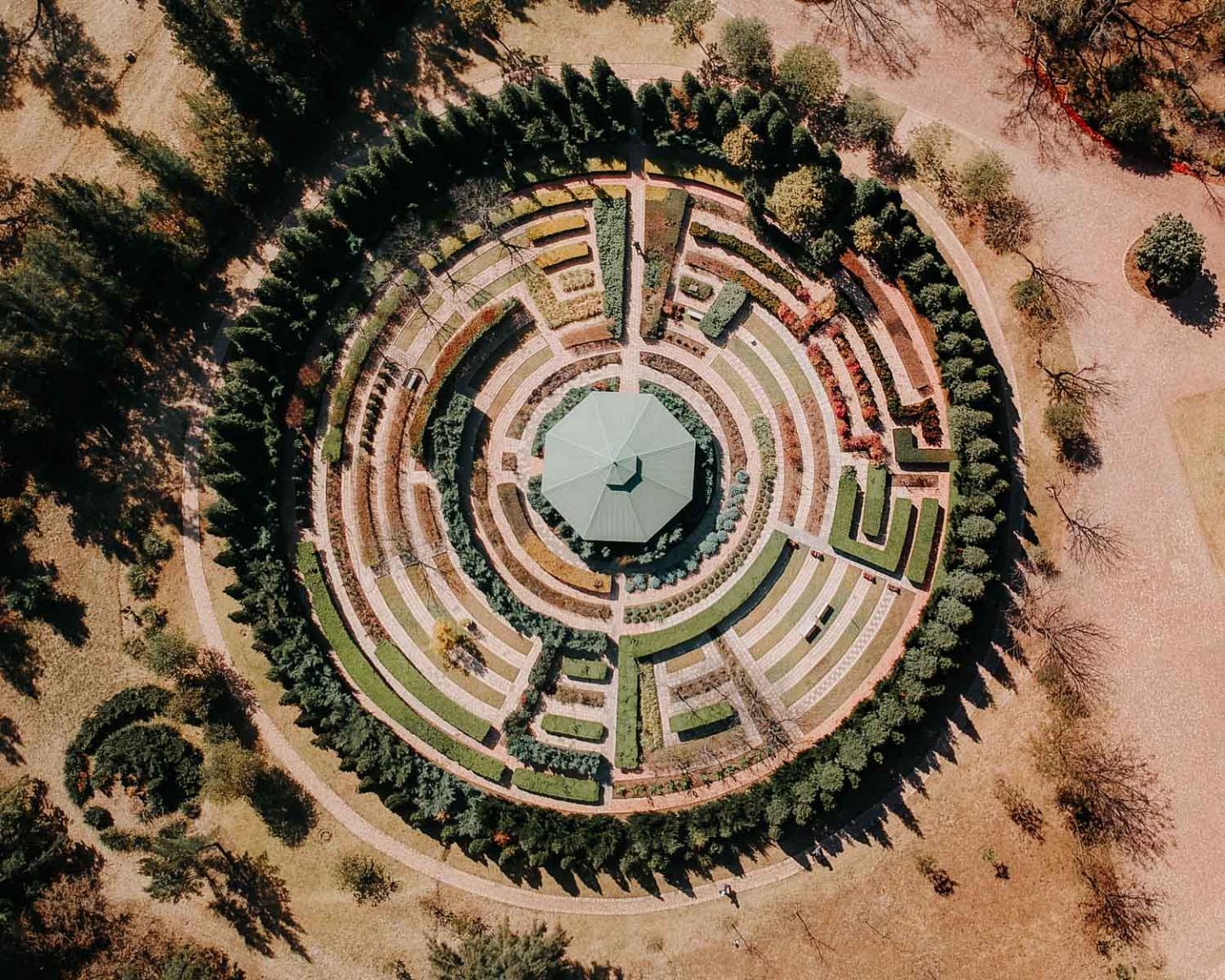 Located on the eastern outskirts of Pretoria on a sprawling organic farm, Rosemary Hill is a popular day-trip and wedding destination for locals.
With 33km of biking trails, a bustling coffee shops and even an Acrobranch, it's the perfect backdrop for a romantic weekender or an excuse to pad your waistline with their famous pumpkin pie.
Offering up more than ten different types of rooms, all of which are expertly designed, you'll find something for your tastes and group size.
But besides its good looks, and delicious food Rosemary Hill has a heavy focus on sustainability and social responsibility. Most of the vegetables used in the kitchen are grown on the farm, all takeaway containers are bio-degradable, and every day 140 children receive a nutritious meal from the farm.
What more could you want from a guesthouse?
---
Location, Location, Location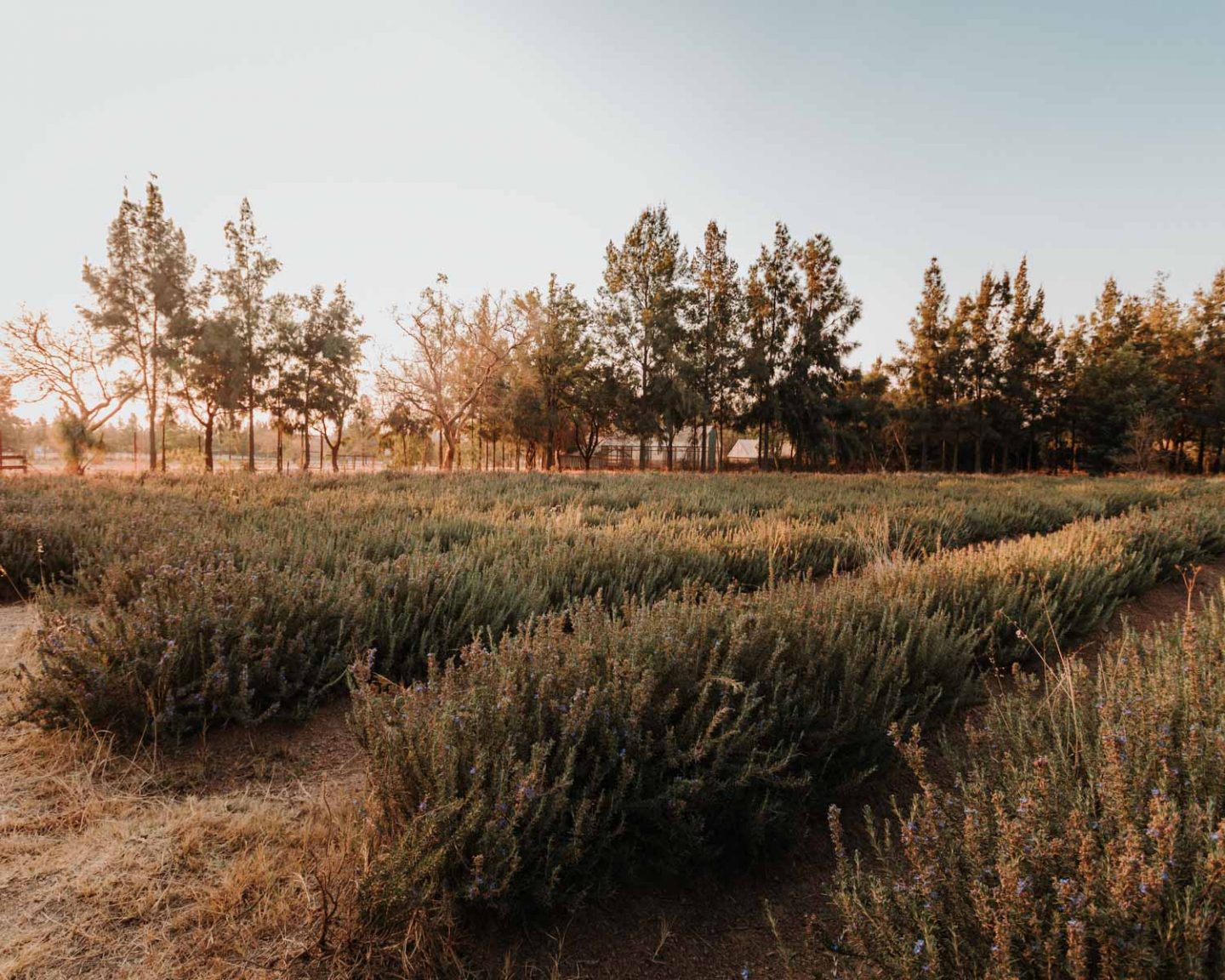 Of course, when planning a weekend away, one of the most important considerations when choosing a place to stay is the location.
When it comes to Rosemary Hill Farm, the guesthouse IS the location.
You don't book a night here to strategically place yourself near the top sights of Pretoria.
Nay, nay.
You come here to get away from it all and leave the twinkling city lights far, far away.
And there's plenty to keep you busy as well:
Go on horseback rides in the morning.
Tackle the mountain bike trails that zigzag across the nearby farms.
Try Acrobranching for the first time.
Book a high tea or picnic experience.
Buy a photoshoot package and explore the farm's most scenic locations.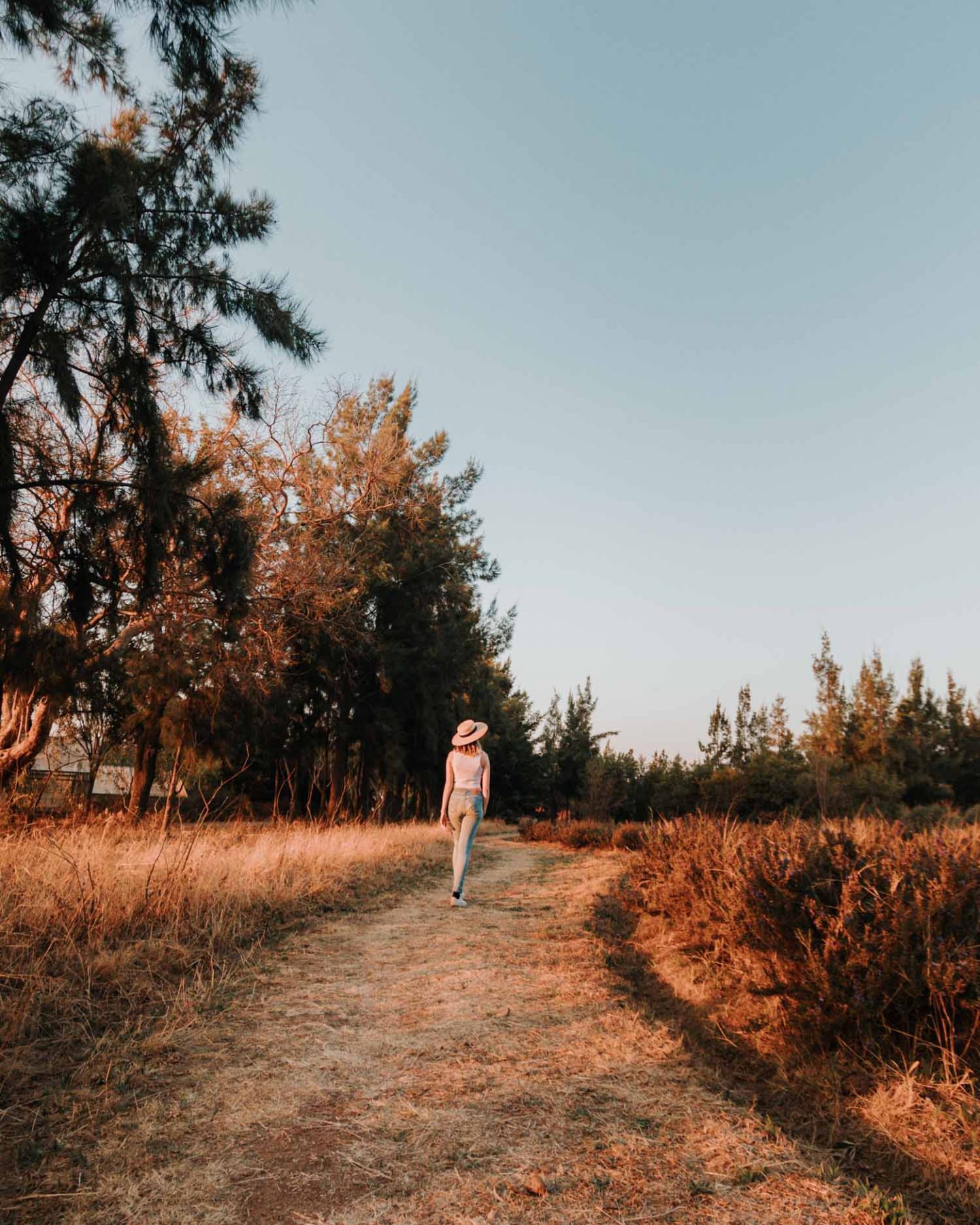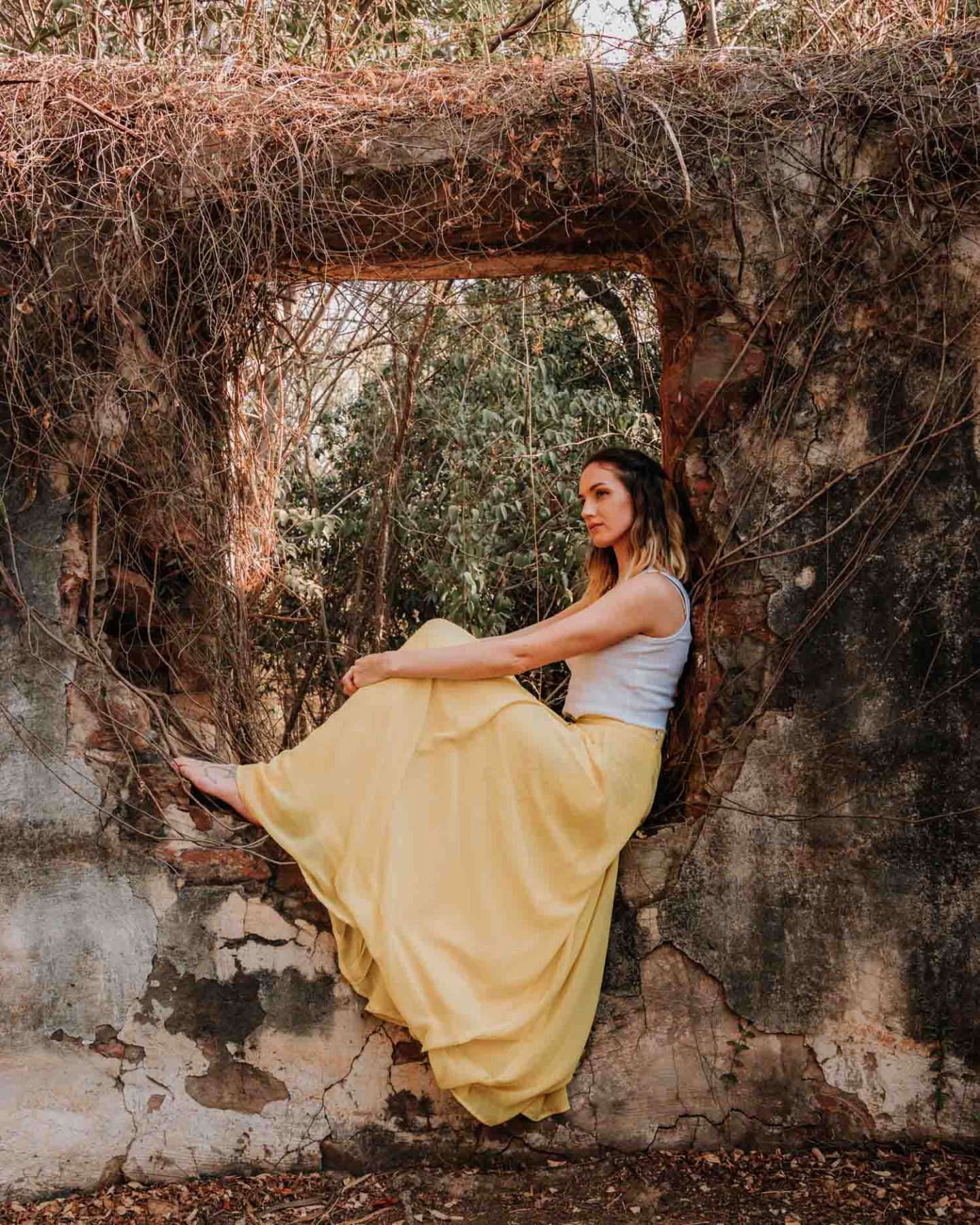 ---
The Cabin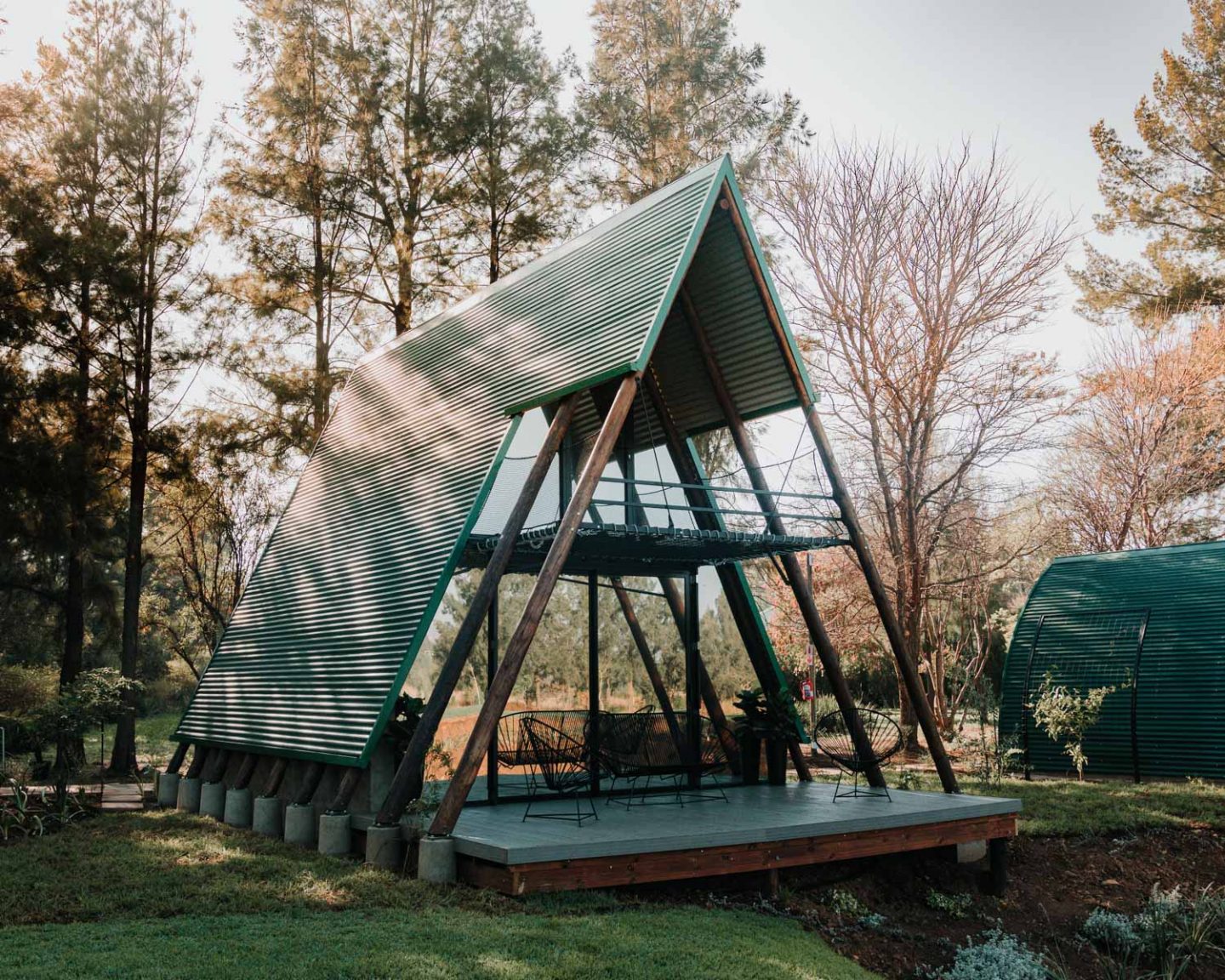 I had the pleasure of spending two nights at the spectacular A-Frame cabin. It's the only one of its kind on the property and comes with a swoon-worthy hammock bed.
The best seat in the house to watch the sunset! I think I squealed a bit when I first saw it.
And while standing on it for the first time did give me a spike of adrenaline, I can confirm it is 100% safe.
Downstairs, the cabin feels less like a typical hotel room and more like a trendy apartment with a bit of a 70's flair. There's a comfortable couch (I spent many happy hours here typing away during my staycation) and a private patio with deck furniture.
The kitchen storage space fits underneath the staircase, and you'll find every pot, pan, spoon or knife you'll need to whip a meal. 
And I'm not just saying that. 
Anything I needed (a chopping board, wine opener, a magazine rack) popped out of there like I had put my hand inside Hermione's beaded handbag from Deathly Hallows.
Then there's the massive bathtub upstairs. Light a few candles, pour a glass of wine, and go wild with the bubble bath. It's super romantic with more than enough room for two. (wink)
As like all the other rooms at Rosemary Hill, you also get a complimentary meal voucher for breakfast, tea, coffee, milk and a brownie on your pillow.
Read More: How To Book Cheap Flights From South Africa To Your Dream Destination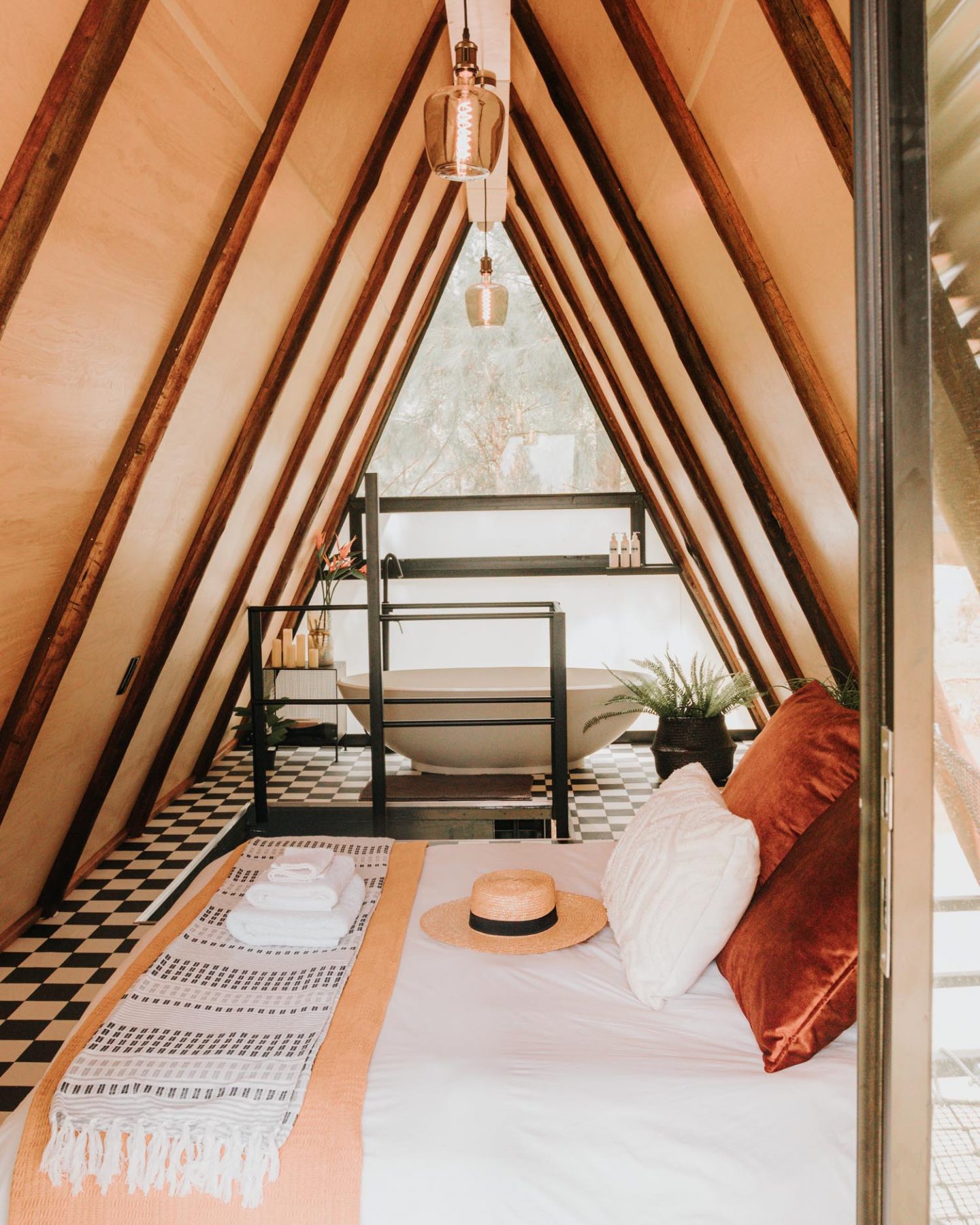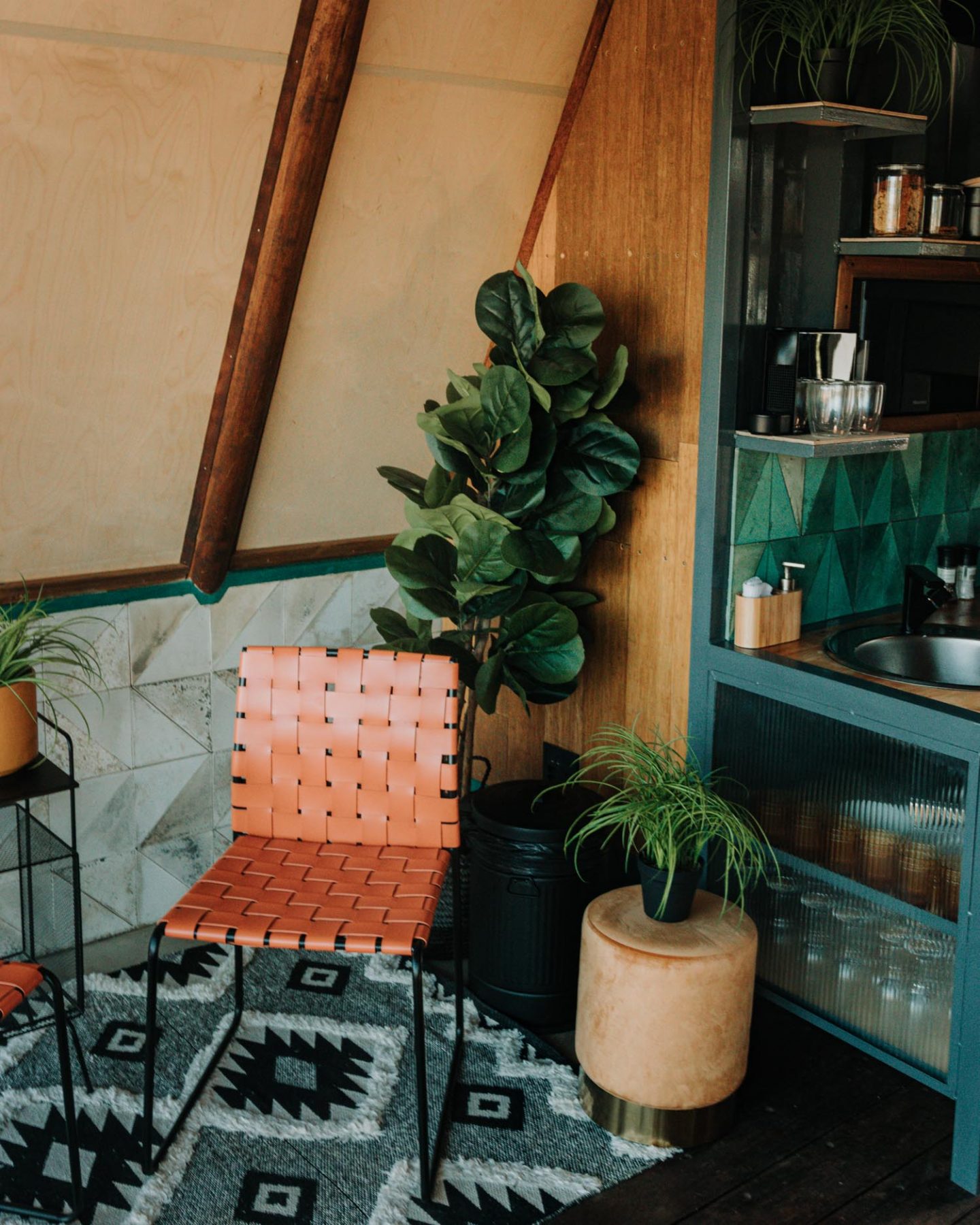 ---
Sunset Picnics at Rosemary Hill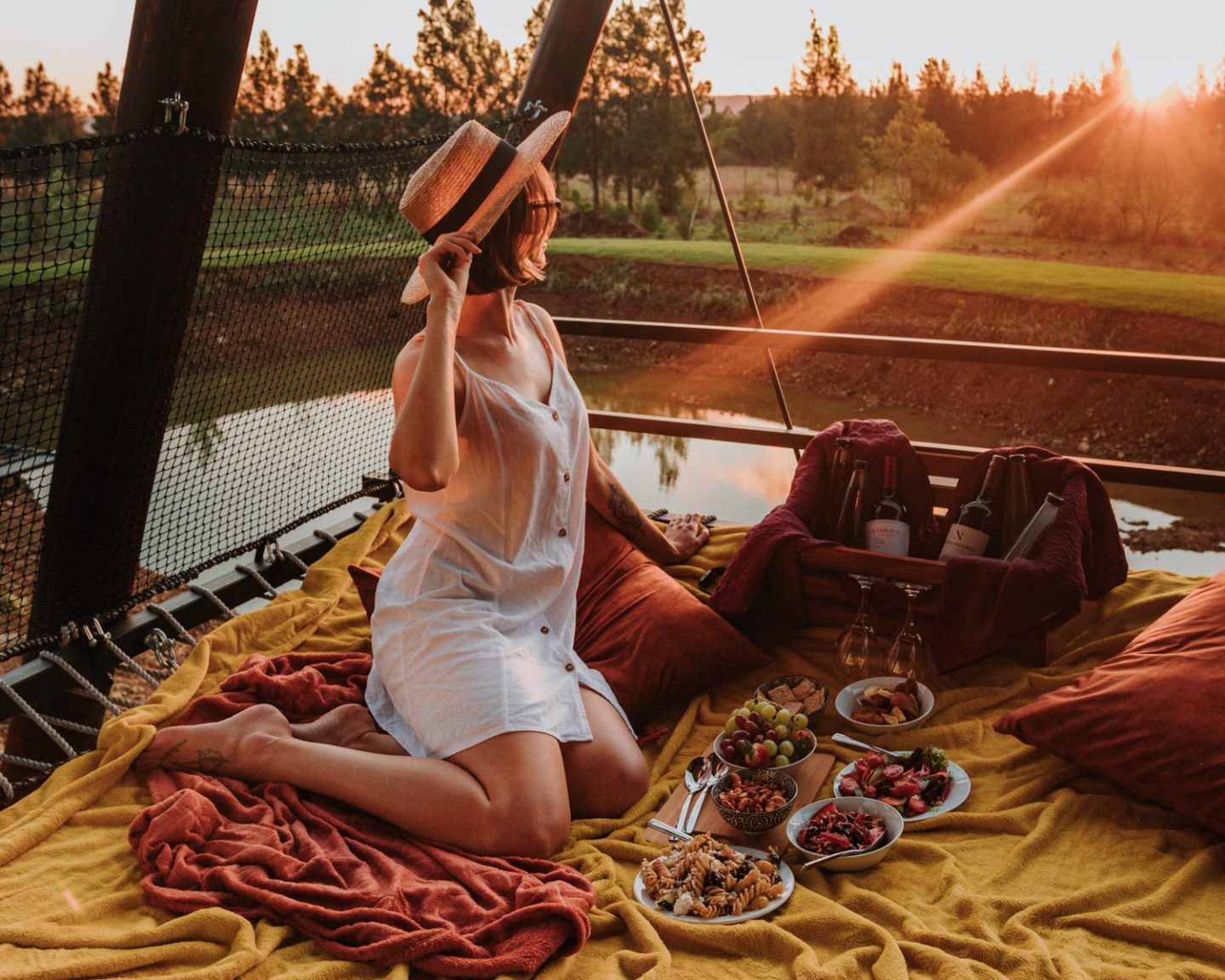 One of my favourite things about Rosemary Hill (besides the views and unique accommodation) is the food.
I actually got to meet the chef during my second stay, and there are some exciting gastronomy plans in the works! Keep your hungry stomachs to the floor – it's going to be mouthwatering!
But in the meantime, I would highly recommend booking a picnic to enjoy your cabin. Jina and I set ours up on the hammock bed, and I could not think of a more delicious way to end the day!
The picnic comes with a ridiculous amount of food (I had seconds and thirds for lunch the next day) and is tailored to your dietary preferences.
Some of the treats you can expect inside your basket:
An assortment of nuts
A pasta salad with black olives (the way to my heart) and feta
A wrap (mine had hashbrowns inside! Another loophole into my good books)
Fresh fruit
Crackers
A salad
Ice cold water and lemonade
More brownies and a fruit parfait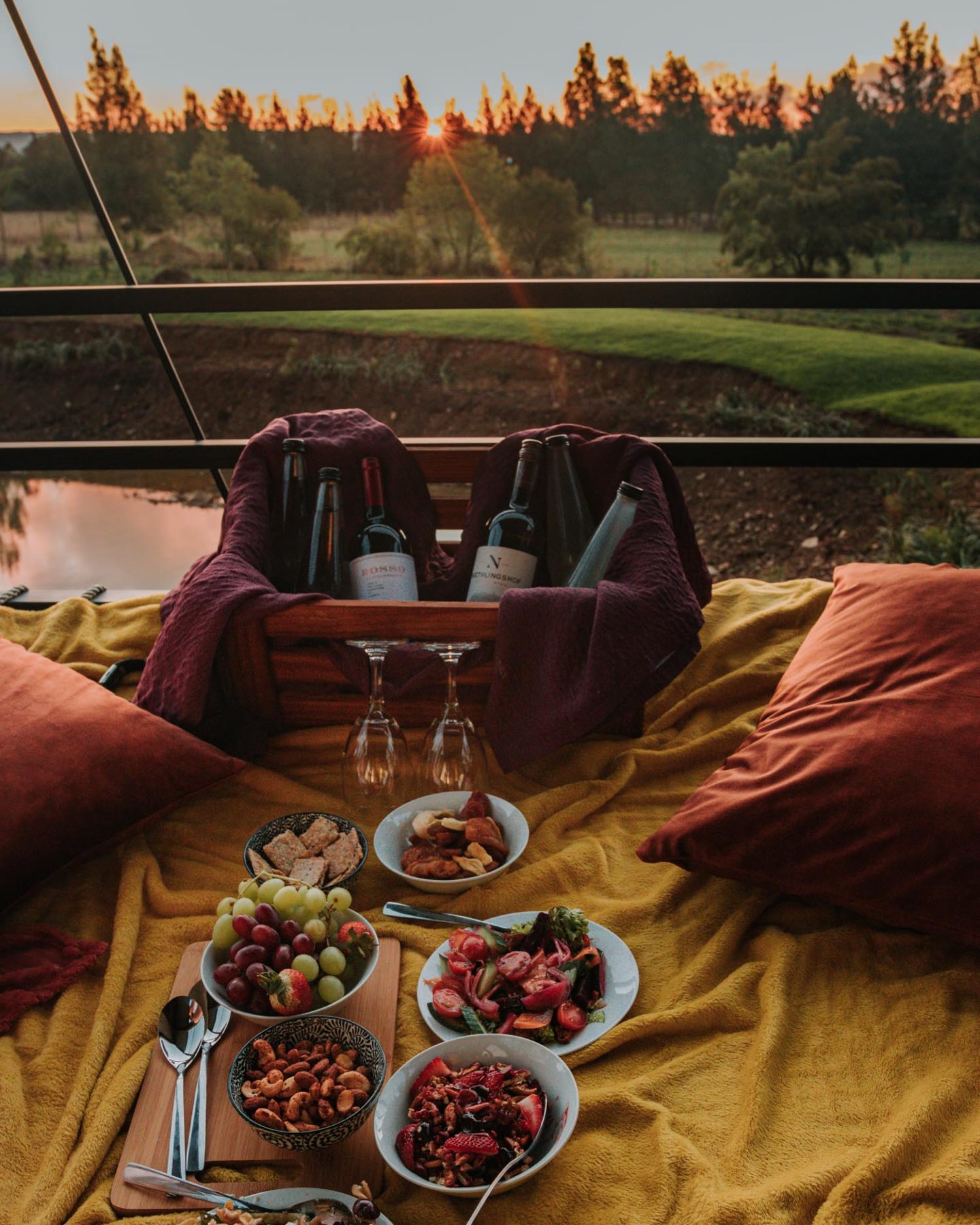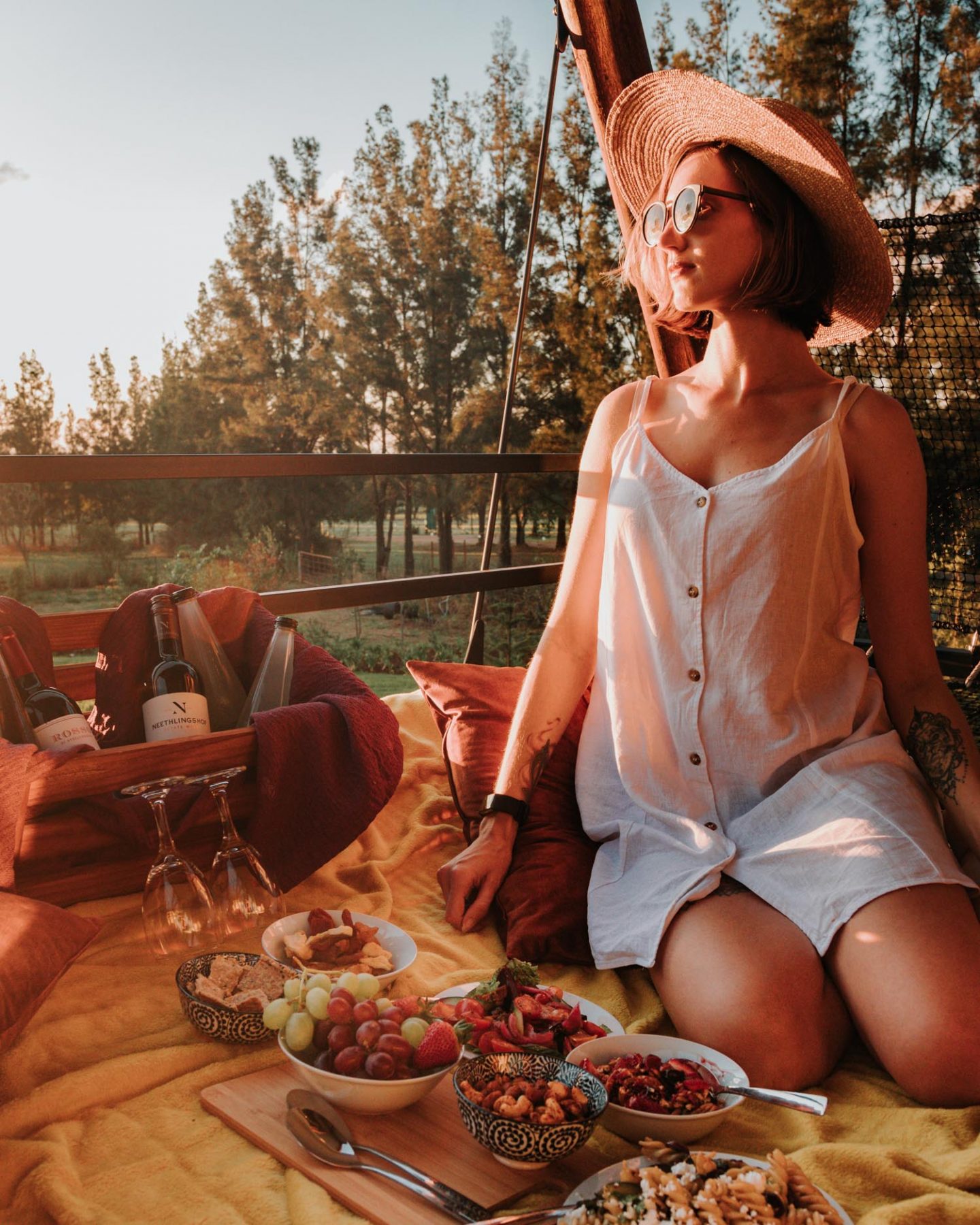 ---
Breakfast at Rosemary Hill Farm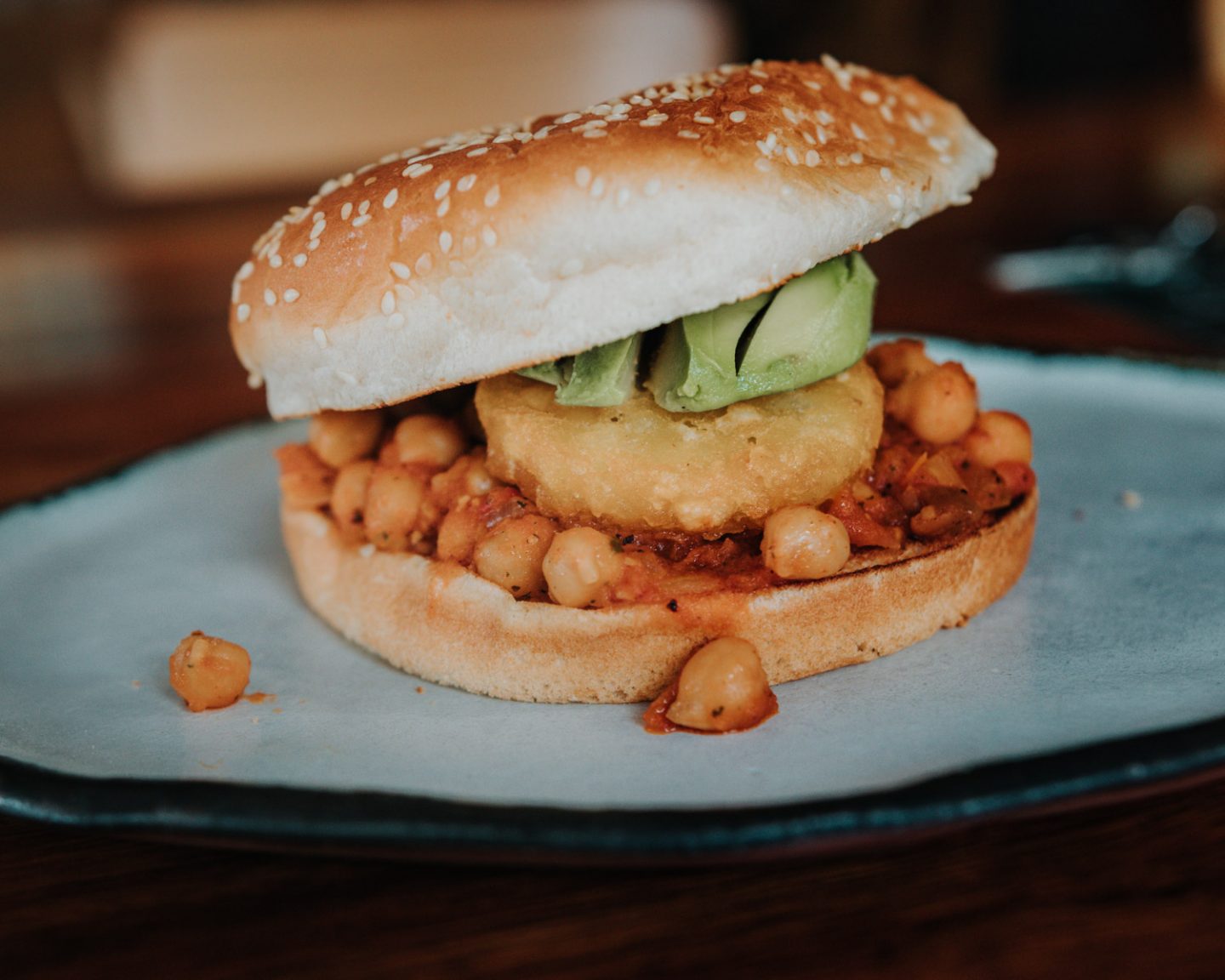 When it comes to breakfast at Rosemary Hill, you can feast on a variety of options (vegans you too!) at the nearby cafe.
Your voucher entitles you to one meal and non-alcoholic drink on the menu. 
I had the vegan hashbrown, avocado, chickpea bun two days in a row because it was that GOOD!
If you're obsessed with coffee like me – don't miss out on the cappuccino! It's DELICIOUS, and plant-based milk options are a thing – so there's no reason not to gulp it down like a fiend.
While you're eating breakfast, take a few minutes to walk around the cafe. You can purchase freshly baked croissants, lemon meringue pies, and an assortment of other baked goods.
Top Tip: Check your breakfast card for when breakfast starts and ends. The weekday and weekend times do differ.
---
CabinVille at Rosemary Hill: The Final Word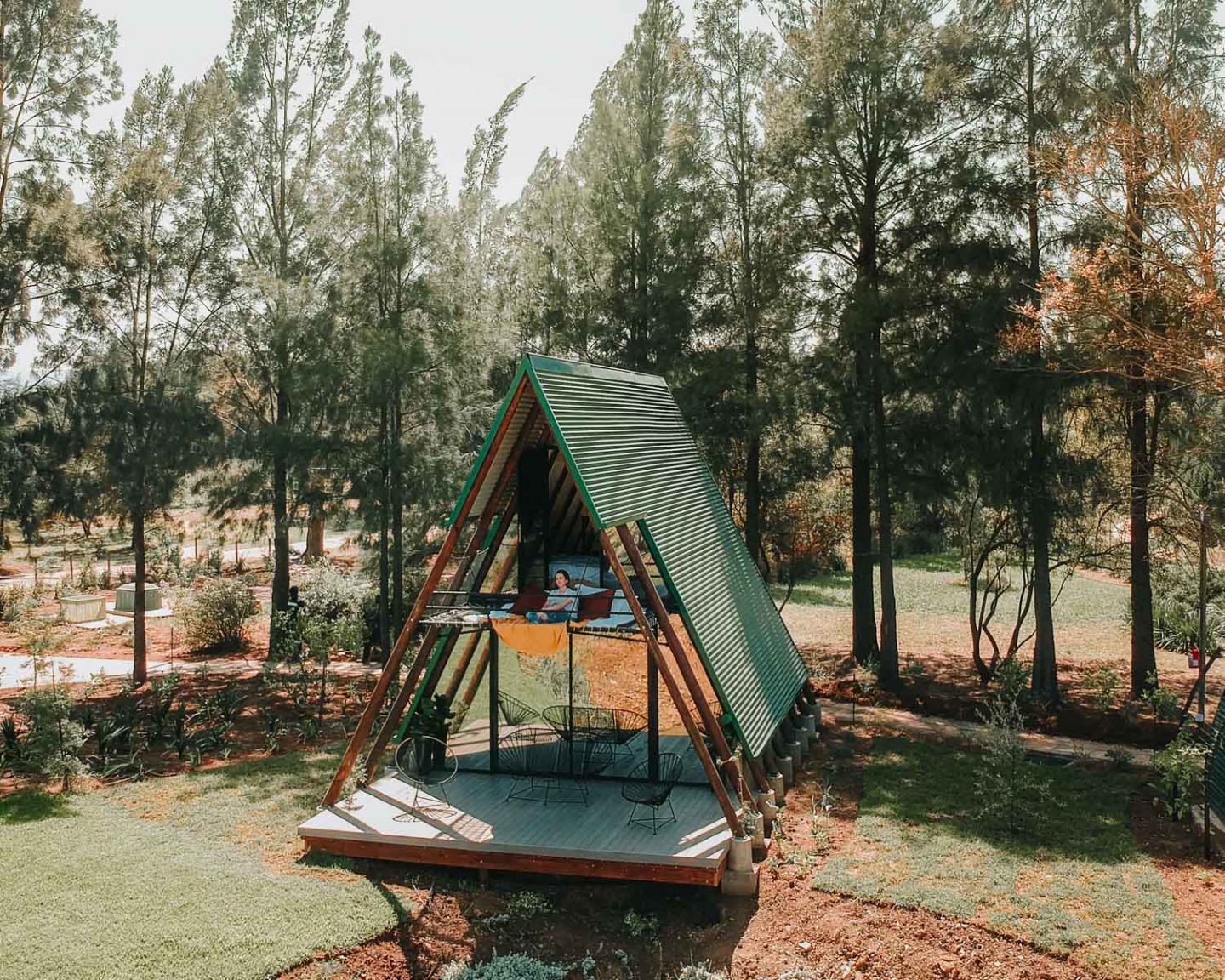 So, clearly, my love affair with Rosemary Hill Farm is going strong.
If you're a Joburg girl like me, and you're itching to leave the house, grab your partner, group of friends, or go solo (fellow introverts ensemble!) and spend a night or two away from the city.
It's perfect for travellers who want to fall asleep to the sounds of nature, unwind and stay in total comfort.
Honestly, it's amazing I found the willpower to leave this place!
12/10 would recommend.
Thank you to Rosemary Hill Farm for inviting me to their property! As always, all opinions are my own.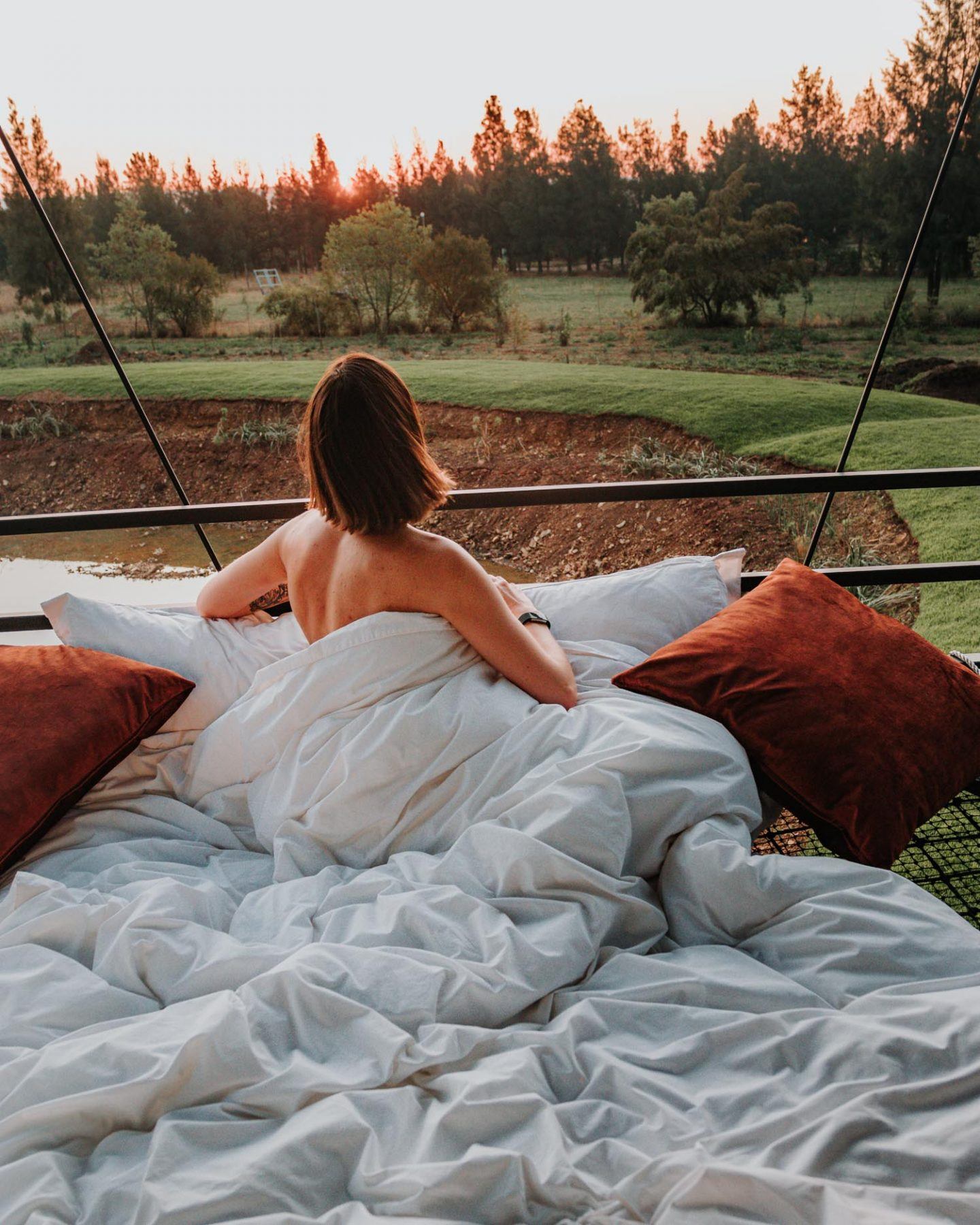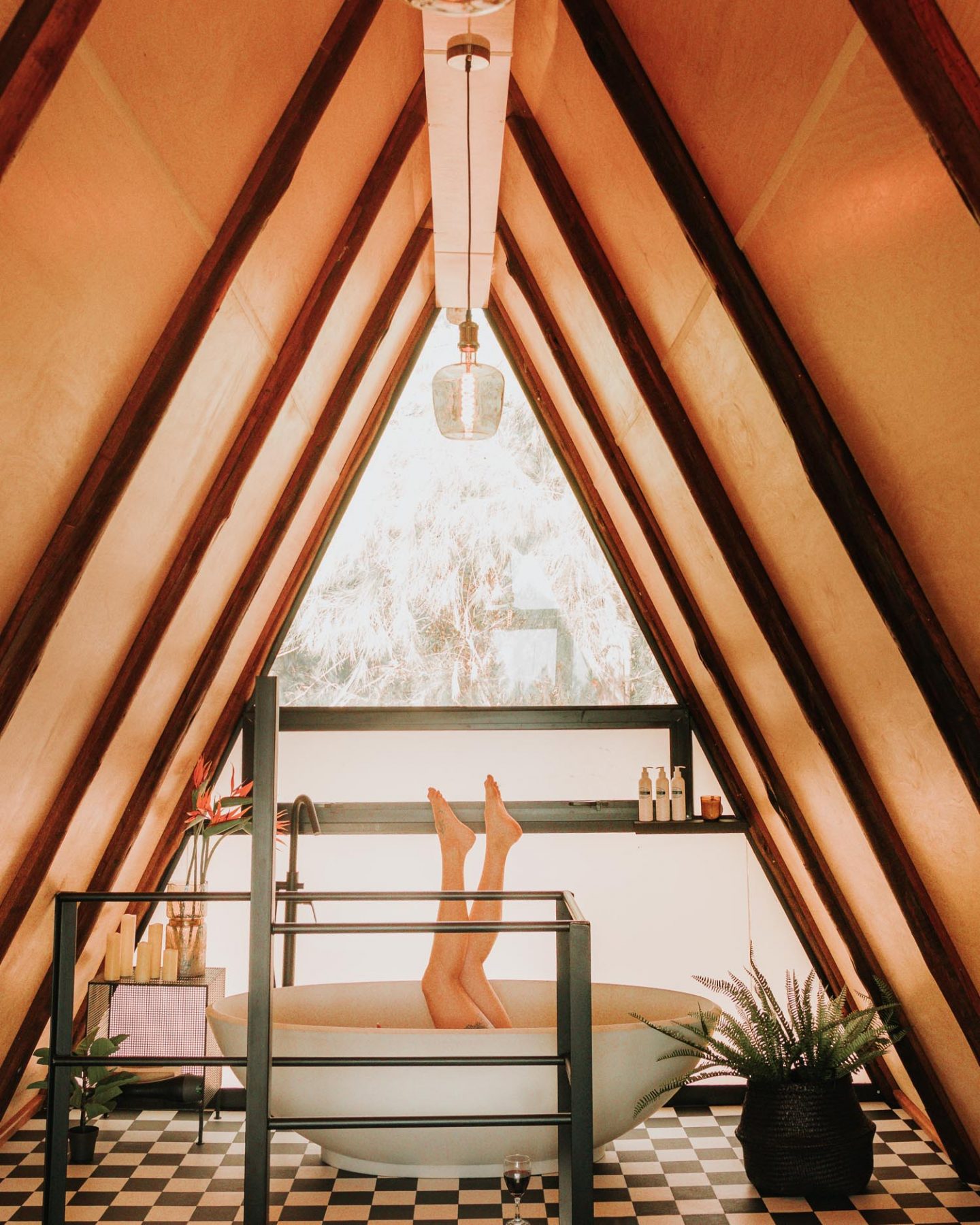 ---
 If you like it, then you should put a pin on it!