In June, I spent two days in George and fell hard for this part of the Garden Route.
First, there is a Typo (a necessity), and second, it's only a short drive from some of the best things to do in the area whether it's hiking the first 6km of the Otter Trail, exploring Robberg Nature Reserve or relaxing on some of South Africa's most beautiful beaches.
While in town, I spent a night at the beautiful Whispering Oaks Guesthouse. It's super central to everything in George, and the guesthouse is the embodiment of affordable luxury.
For travellers flying into Geroge on business or those road trippin' up the Garden Route, spend a night or three here. It won't disappoint!
Here's what it's like staying at Whispering Oaks in George, South Africa!
How to Get to Whispering Oaks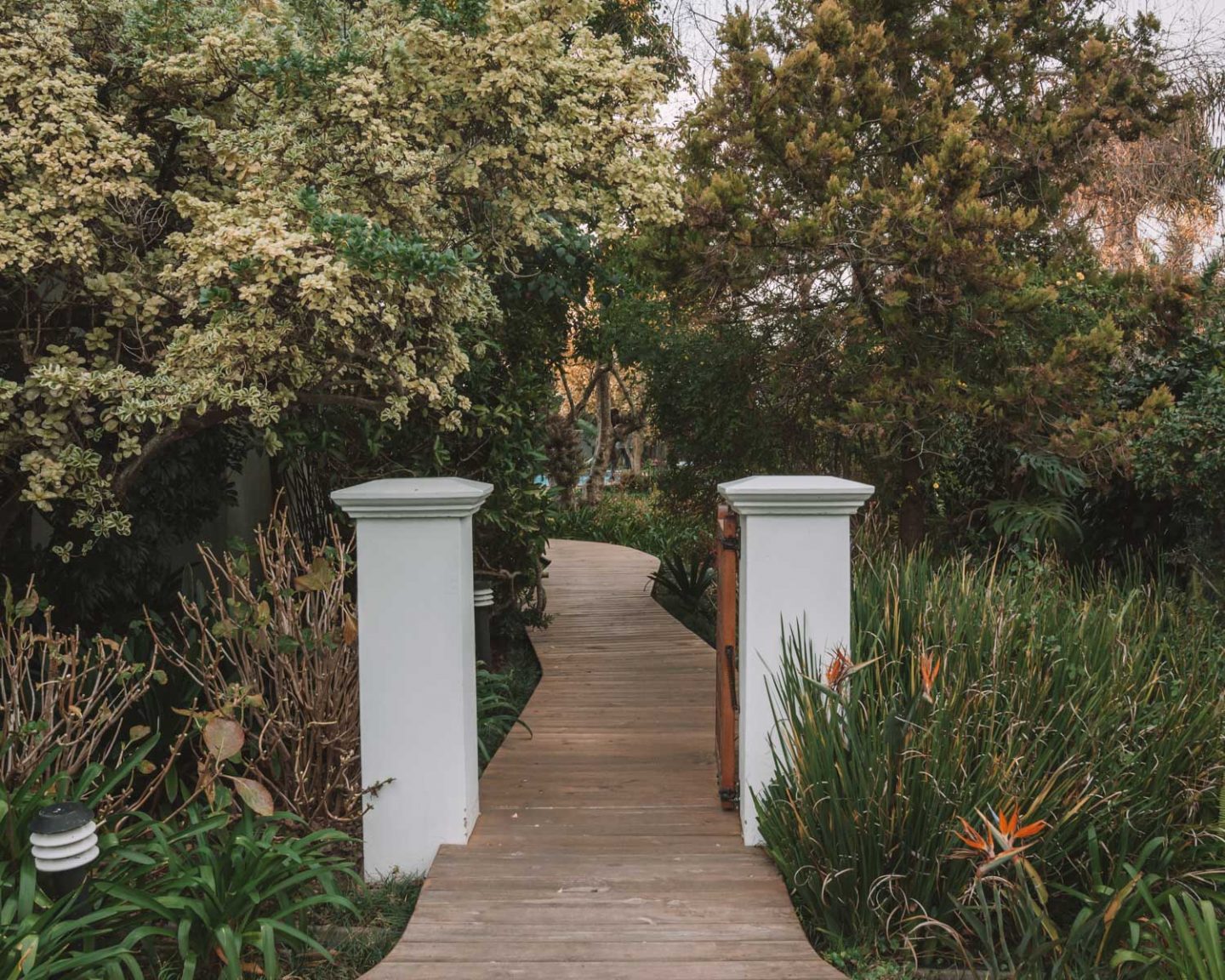 Whispering Oaks is situated in George, a 4h 36min drive from Cape Town along the N2. It's one of the best places to base yourself to explore the Garden Route.
You'll be 1h 30 minutes from Plettenberg Bay, 55 minutes from Knysna, 18-minutes from Wilderness and 2-hours from Tsitsikamma National Park.
If you're travelling from Johannesburg, Cape Town or Durban, you can also fly direct into George Airport.
To find the best deals on local flights in South Africa, I recommend using TravelStart. You can compare airfares from multiple local carriers, and the website has exclusive sales to help you get the best deal for your next holiday or business trip.
---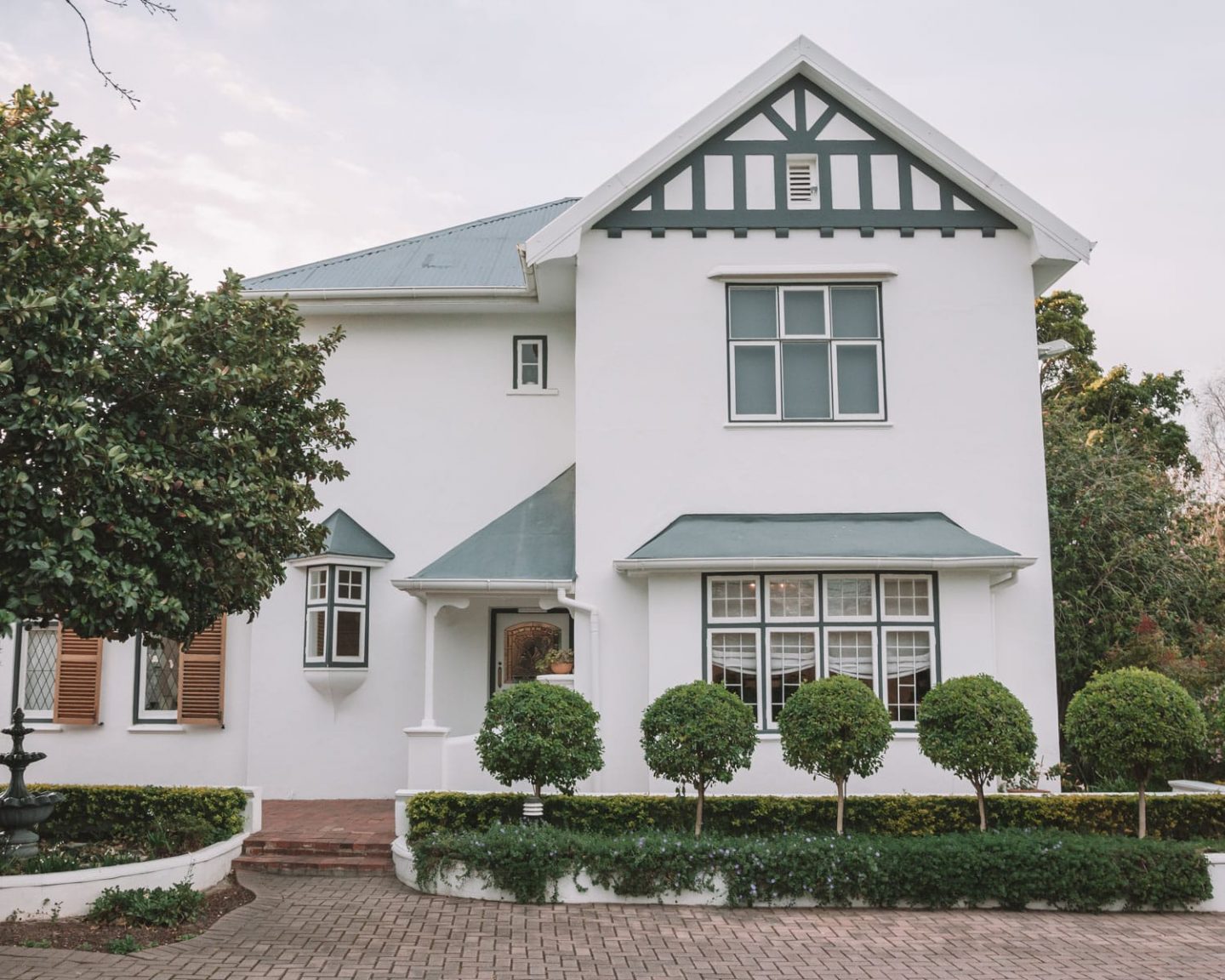 About The Property
Whispering Oaks is a gorgeous guest house situated along Caledon Street in George. It's only a short drive from the Garden Route Mall, the well-known George Golf Course, and Wilderness Beach.
You'll be within walking distance of the Botanical Garden and some of the best restaurants in the city!
The guest house has started by Michael and his wife, Nelleke. Both have used their unique talents (Michael is passionate about renovations and woodwork, and Nelleke is a fantastic chef and food stylist) to create a unique space for business and leisure travellers visiting the Garden Route.
---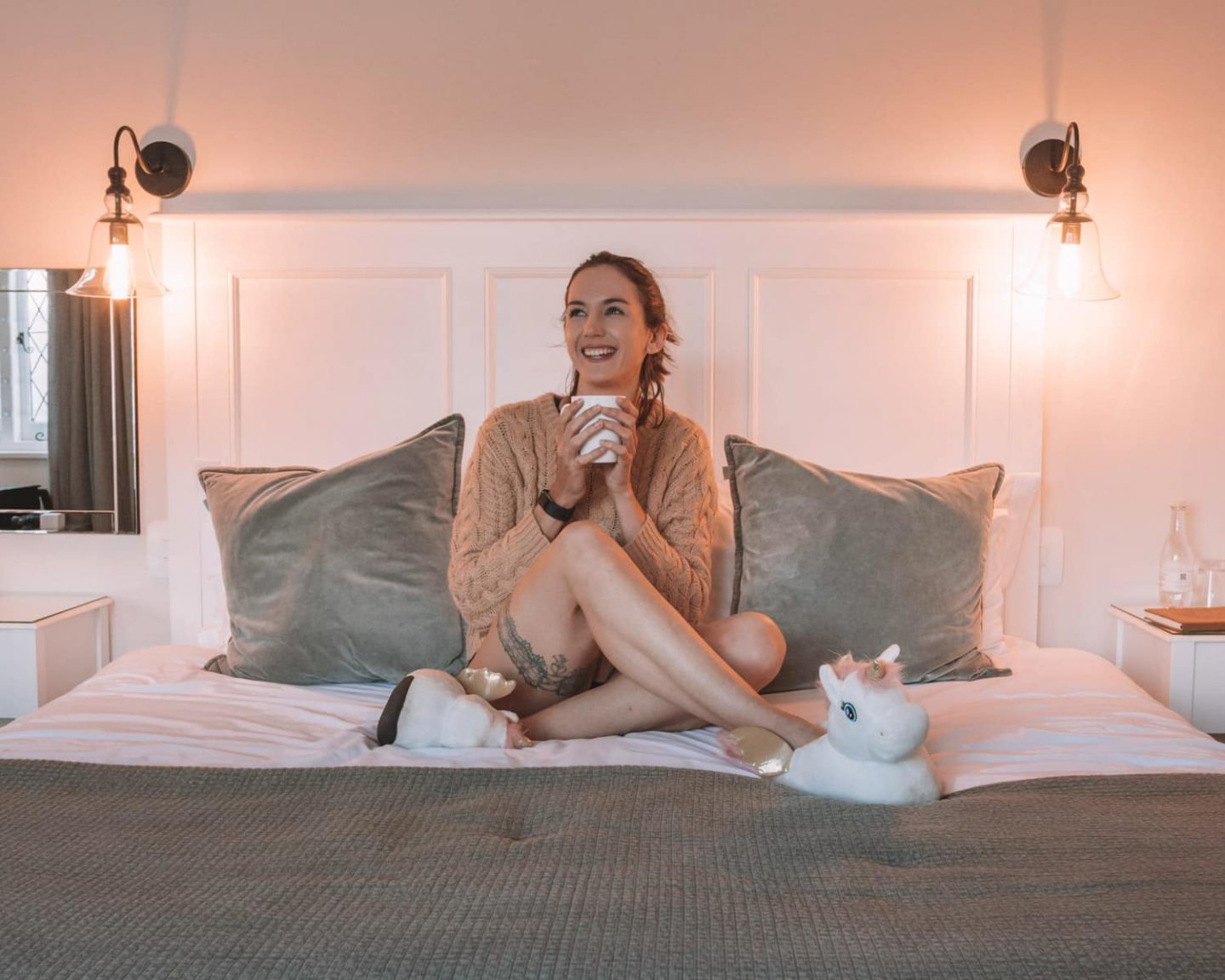 The Rooms at Whispering Oaks
The guesthouse has seven beautifully decorated rooms. Whether you're travelling to George for work, or you're exploring the Garden Route, there's a room option to suit your needs and price tag.
You can choose to stay in:
• Large Family Room: It sleeps four and comes with a private balcony and bathroom.
• Luxury and Standard Single Rooms: These are perfect for business or solo travellers.
• Large Double Rooms: Stay here if you want gigantic extra length bed!
• Twin Room: For friends or family that want a private kitchen.
• Double Room: Ideal for travelling couples or solo travellers that want a private kitchen.
I stayed in the Luxury Room 2 and absolutely loved it! The bed could have easily fit 4 of me and the design finishes in the room, and private ensuite bathroom are stunning.
I love the colour palette Whispering Oaks used in this room. It felt spacious, there was more than enough natural light, and each decor item felt intentional.
One of my highlights from this room was the desk area. As a travelling freelancer, it's a design element that I really appreciate as I hate working from my bed or with my laptop on my lap.
Here's what you can expect to find in the Luxury Room 2 at Whispering Oaks:
• Private entrance
• Private ensuite bathroom with a shower, underfloor heating and a heated towel rail
• Tea and coffee station as well a microwave and mini-fridge
• Extra length king-sized bed
• A flat-screen TV with DSTV
• Complimentary toiletries
• A clothing rail and a chest of draws
• Free Wi-Fi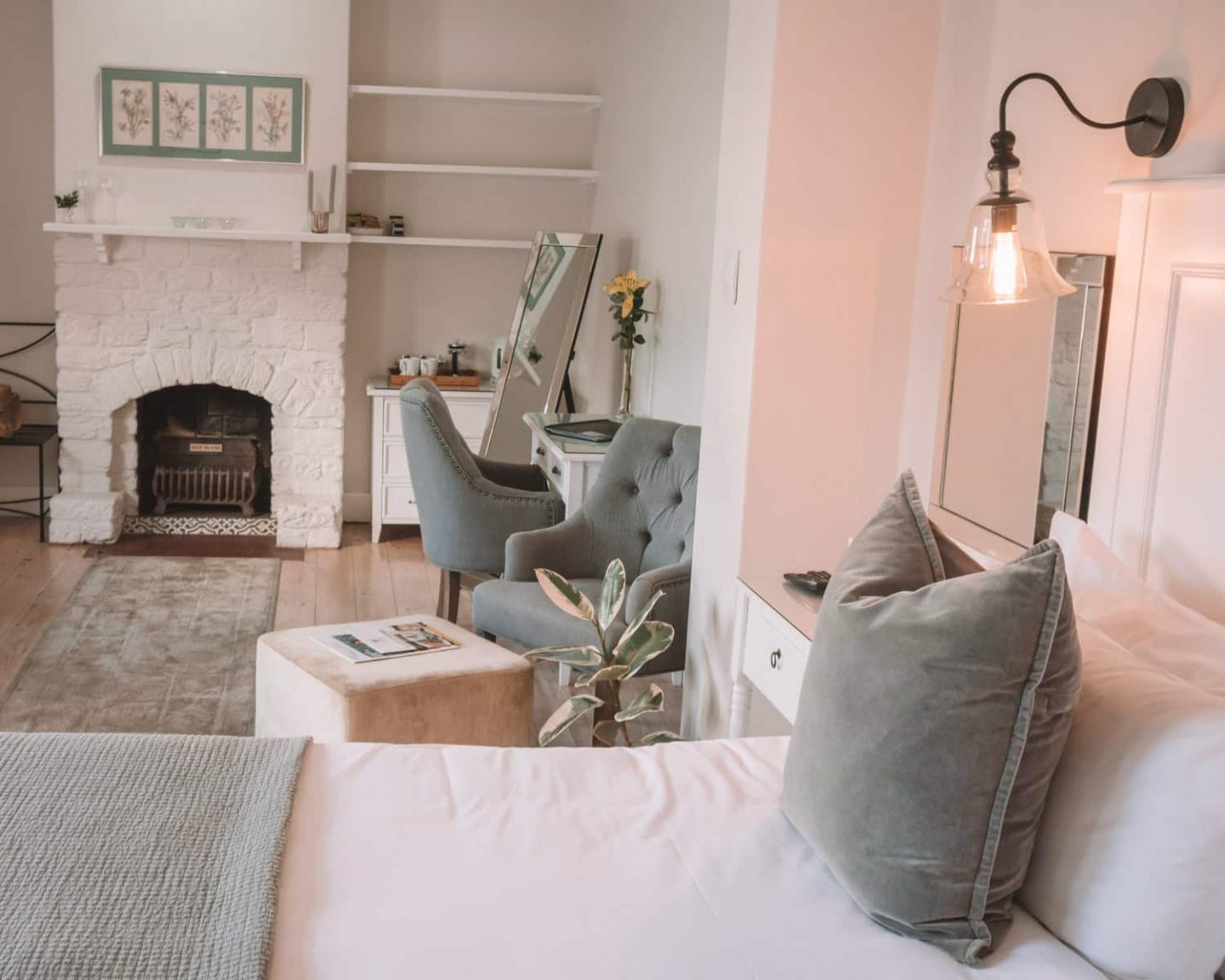 ---
Food + Drink
Whispering Oaks doesn't have an on-site restaurant, but you can order a decadent breakfast for only R100! I'm also happy to report that the guesthouse does cater to dietary requirements.
For my breakfast, I was treated to:
• A fresh fruit bowl.
• Home-made oats made with soy milk and berry compote.
• Vegan breakfast wrap.
For non-vegans, the winter breakfast menu included:
• Omelettes with ham, cheese and mushroom.
• Frech toast with cinnamon and apple compote or bacon and caramelised banana.
• An English Breakfast with eggs, bacon, sauteed onions and baby tomatoes.
There is also a breakfast station that has fresh bread (brown and white), a range of cereals, preservatives, Nutella, honey and five different types of teas!
---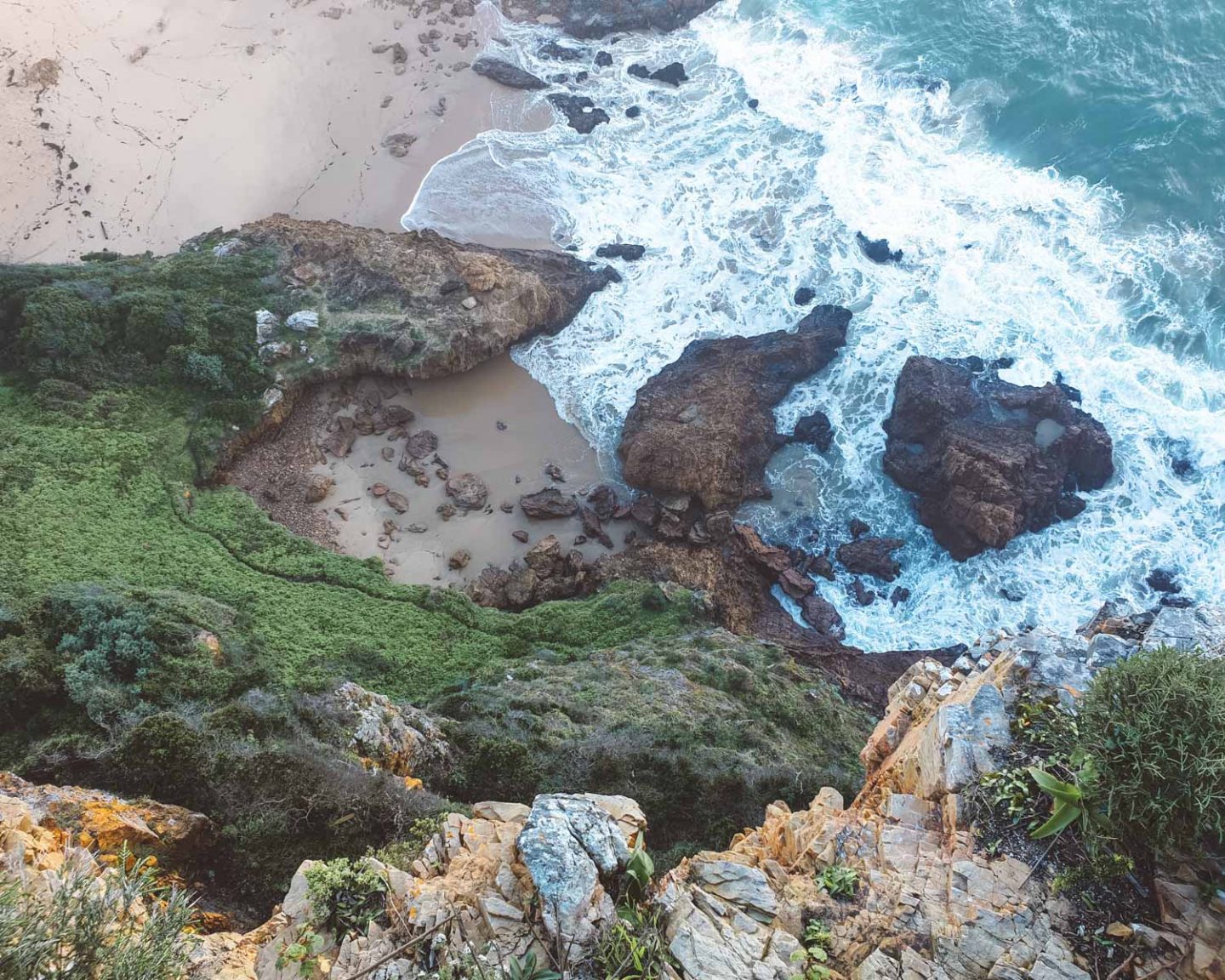 What to Do in George
Botanical Gardens: The Botanical Gardens are only a short walk from Whispering Oaks. You can join guided tours around the gardens if you want to learn more about the flora that exists in the Garden Route. There are also walking trails for all levels and mountain bike tracks.
The Seven Passes Drive: The Seven Passes Drive is an iconic road in South Africa. It stretches between Knysna and George for 75km and passes forests and breathtaking gorges.
Wilderness & Vic Bay Beach: Victoria Bay Beach is the closest beach to George and has an excellent swell for surfers. Another popular option is Wilderness Beach. It's only a 20-minute drive from George, and it's a beautiful spot for sunrise or sunset stroll.
Day Trips from George
Birds of Eden: Birds of Eden is the world's largest free-flight aviary and bird sanctuary in Plettenberg Bay. It's only a 1h 40-minute drive from George and is one of the best things to do along the Garden Route.
Robberg Nature Reserve: While you're in Plett, don't miss out on visiting Robberg! The day hikes through the reserve are breathtaking, and if you're lucky, you might spot Great White Sharks, seals and migrating whales.
Knysna Heads: On your way back from Plett, stop at The Heads in Knysna for sunset. It's free, and you can walk to the various lookout points. If you're visiting the Garden Route in the winter (June to August), you might see whales!
---
What I Think of Whispering Oaks
Whispering Oaks is one of the best places to stay in George. The set up in the rooms are ideal for freelancers or people travelling to the city on business.
For couples, you'll have the privacy you need for a romantic getaway in South Africa and the rooms are decked out with all modern conveniences. The staff are incredibly helpful and will go out of their way to make your stay comfortable!
The amount of value you get for your money also sets Whispering Oaks apart from other guesthouses in the area. The rooms are luxuriously furnished, you have all the comfort amenities you could want, and you're ideally located to explore so much of George and the Garden Route.
Thank you for Whispering Oaks for inviting me to their property! As always, all opinions are my own.
---
Psst…Want more South Africa travel inspiration? Check out my other posts:
Did you find this post useful? Save it for later on Pinterest!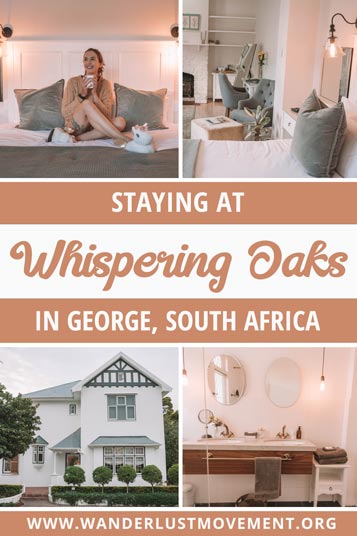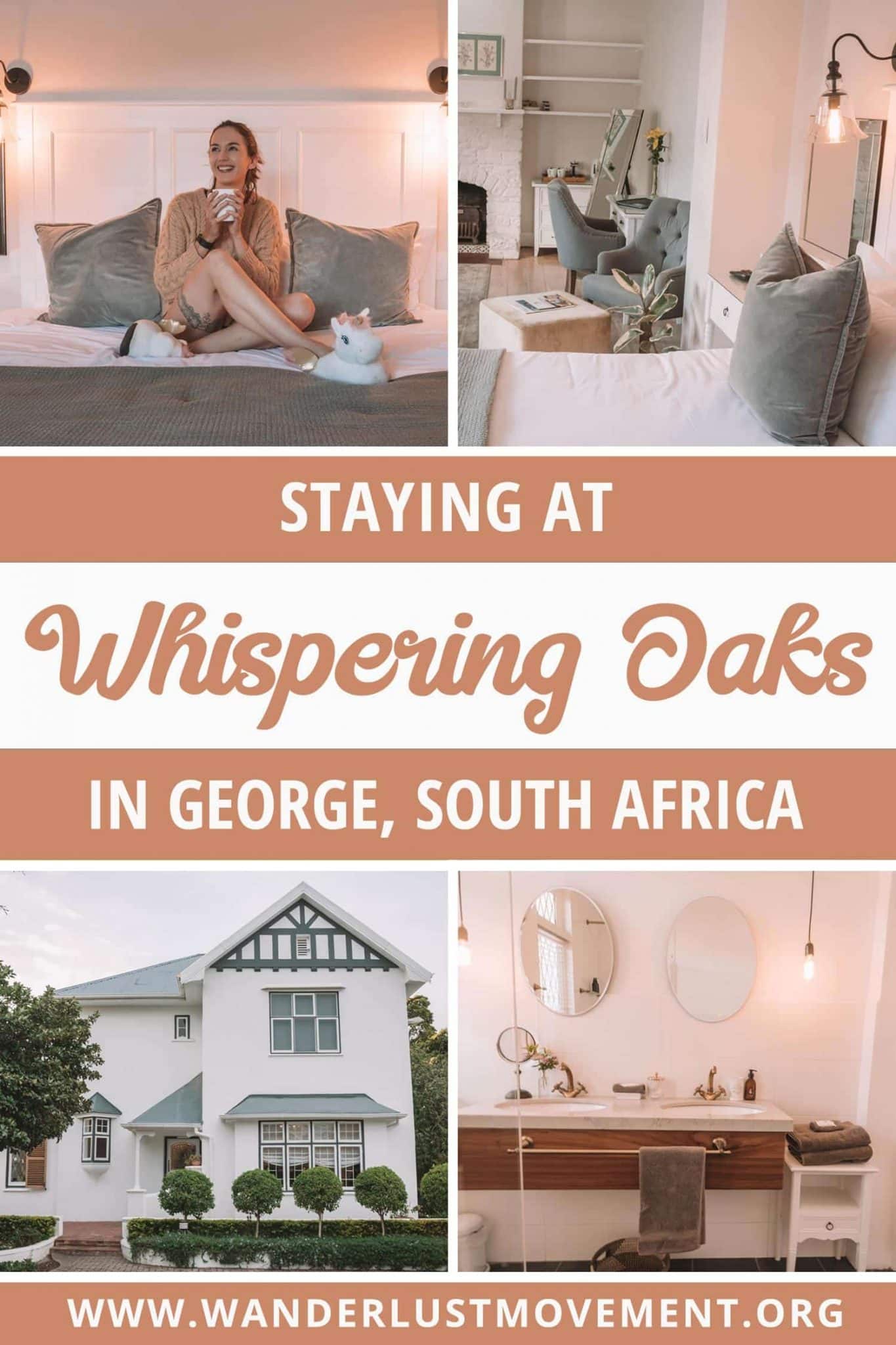 Whispering Oaks Guesthouse in George, South Africa is one of the best places to stay if you're planning a Garden Route road trip!