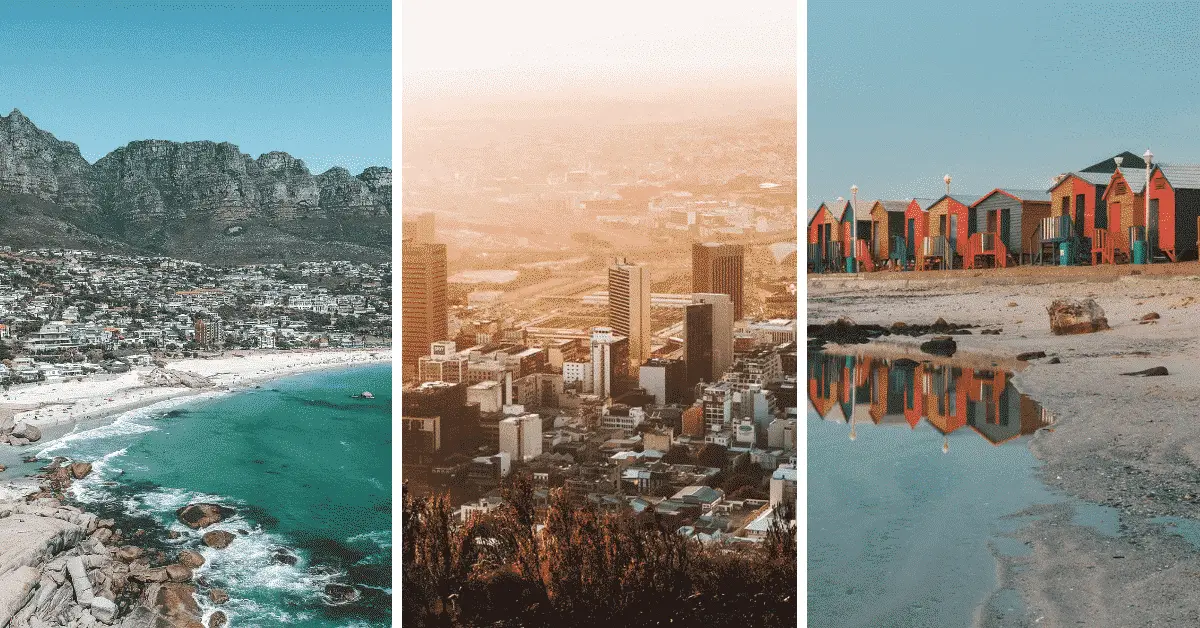 I first moved to Cape Town in 2014. I quit my job in Johannesburg and two weeks later I boarded a one-way flight to the Mother City.
It's the best impulsive decision I've ever made.
Within a month, I had my dream job at the time (a social media manager) and I was living in the hippie paradise of Noordhoek. I quickly learnt, that as much as I liked seeing horses every day (and not sitting in traffic), living there was not the best decision for my social life.
I had to drive 40-minutes to get into the city. I was painstakingly far from Cape Town's top attractions and a large portion of my intern salary went to petrol.
Eventually, I quit that job and moved closer to the city.
It was the wisest decision I made.
I spent far less money on petrol, I got to know Cape Town like the back of my hand and started making friends.
So when it comes to figuring out where to stay in Cape Town, I know that it's something that can make or break your experience. With so many different neighbourhoods to choose from, where you decide to base yourself will dictate the type of holiday you'll have in the city.
Despite Cape Town's small size, it can take hours to get around with public transportation thanks to the ridiculous amount of traffic (especially in the busy summer months).
Basing yourself in the right spot can mean the difference of walking to some of the city's top cafes, restaurants and hiking trails or spending your holiday stuck in traffic with long commutes.
Here's my guide on where to stay in Cape Town!
Cape Town Travel Tips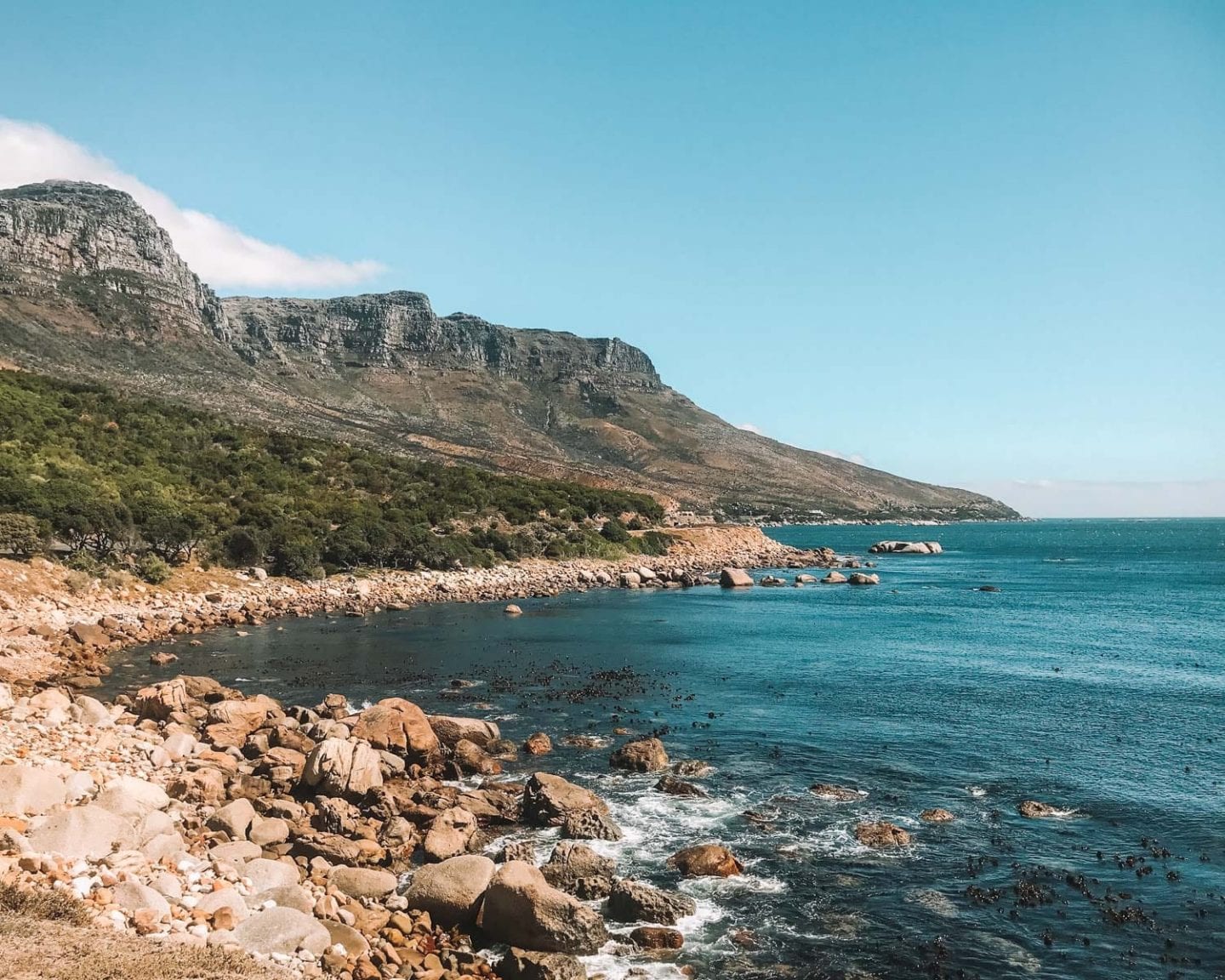 Use Uber or MyCiti to Get Around: You only need to rent a car if you're planning day trips to Cape Point or the Winelands. For innercity exploring, you can use the local MyCiti bus or Uber. The ride-sharing service is the fastest way to get around, and it's safe and reliable.
Prepare Yourself for 4 Seasons in a Day: Whether you're visiting Cape Town in the winter or summer, the temperature can change at a drop of the hat. Always keep a warm jacket in your bag and dress in layers.
Don't Walk Around By Yourself at Night: If you're going bar-hopping, stay with the crowds and don't go wandering by yourself down alleyways. It's also wise to call an Uber instead of walking back to your hotel, no matter how close it is.
Don't Hike By Yourself: Unless you're going to an extremely popular trail like Lion's Head, you should always hike in a large group. Muggings are common on the less populated trails especially by Hout Bay, Devil's Peak and Chapman's Peak.
Read More: 45 Awesome Things to Do in Cape Town: A (Hella Long) Local's Guide
---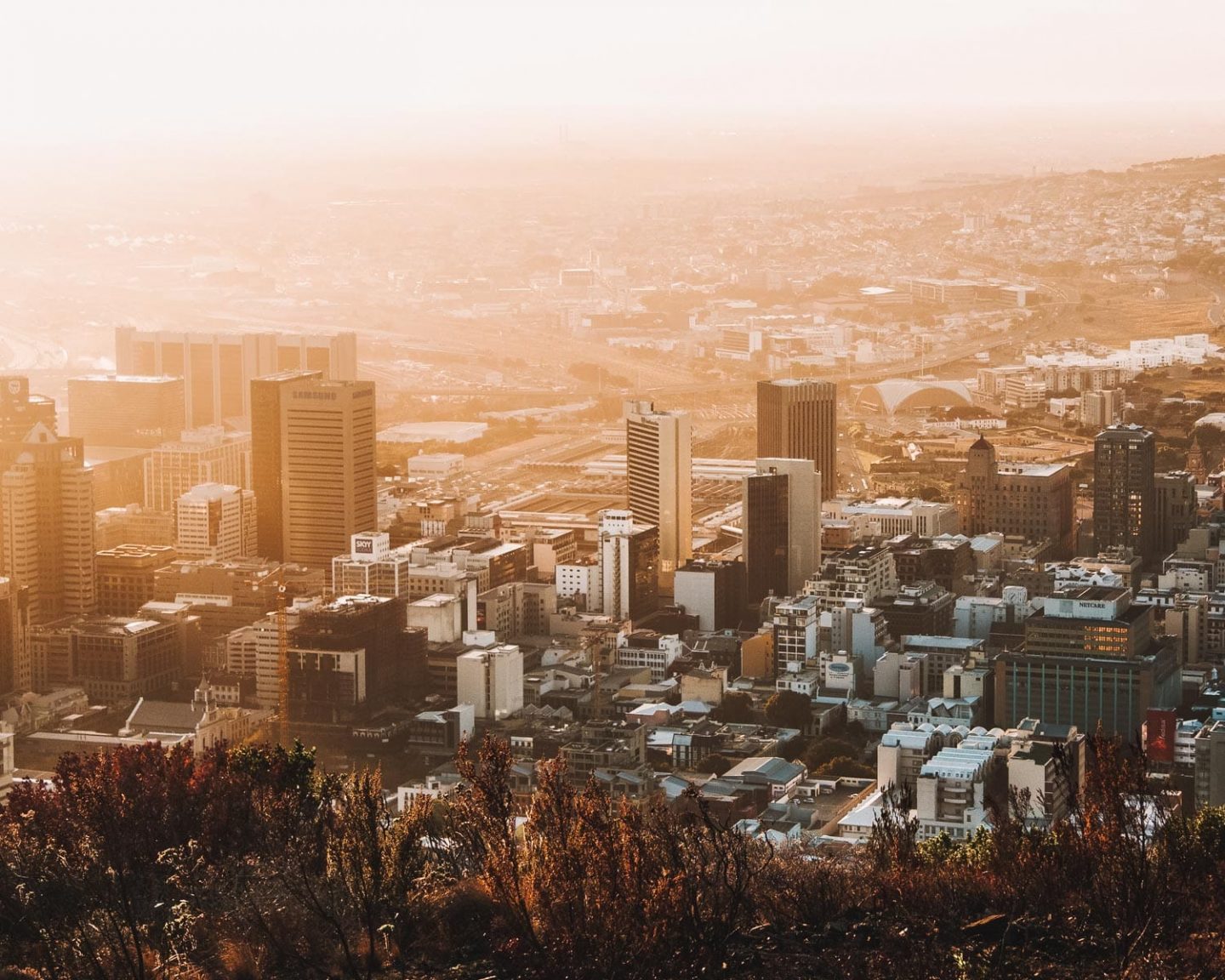 The Best Areas to Stay in Cape Town
City Bowl
The City Bowl and the surrounding areas are one of the most popular places to stay in Cape Town. It's the heart of the city and where you'll find delicious restaurants, quirky cafes and dozens of bars and clubs.
The area is made of some of the most sought after neighbourhoods in Cape Town: De Waterfront, Gardens, Oranjezicht, Vredehoek and the CBD. It's centrally located, close to public transportation and there's plenty to see all within walking distance of your hotel.
If you're visiting Cape Town for work, the City Bowl is where you'll find most of the city's offices. Staying close to the CBD means you'll get to miss the morning commute and save yourself literal hours trying to get out of the city.
Top Nearby Attractions: District Six Museum, Long Street, Fugard Theatre, Lions Head, Table Mountain, Labia Theatre
Where to Stay in the City Bowl
• Gorgeous George: Gorgeous George is one of the newest boutique hotels to open in the city. It boasts a gorgeous rooftop bar with a bar and chill house Sunday Sessions. There's also a delicious restaurant that serves breakfast, lunch and dinner, and the hotel is decked out with incredible decor. If you love quirky meets industrial, you'll fall hard for GG!
• The Grand Daddy Hotel: The Grand Daddy Hotel is an experience that you won't find anywhere else in Cape Town. You can stay in airstream trailers on a rooftop and soak up the 360-degree city views. Guests can also book for their super-popular Pink Flamingo open-air cinema. It's one of the best things to do in Cape Town!
• Once in Cape Town: For budget travellers travelling to Cape Town, you won't regret spending a night or two at Once in Cape Town. The backpackers has a downstairs bar, and you're a 5-minute Uber drive from Long Street and the bars along Kloof Street.
• Silo Hotel: The Silo Hotel is one of the most Instagrammable hotels in Cape Town. You've probably seen it's famous windows pop up on your feed at least once. It's considered the creme de la creme of the city's luxury accommodation scene. It's located at the V&A Waterfront and built on top of the Zeitz Museum of Contemporary Art Africa (Africa's largest collection of contemporary African art).
Read More: 18 Most Instagrammable Places in Cape Town
---
Sea Point
Sea Point is one of the most beautiful neighbourhoods in Cape Town. I'd love to live here if the rent wasn't so damn high for shoebox apartments.
If you're wondering where to stay in Cape Town for a laidback vibe, Sea Point is one of the best areas in the city. The streets are lined with palm trees, and you can take your pick of sidewalk cafes and eateries.
The neighbourhood is also quite central to top attractions in Cape Town. Although, you'll want to avoid catching the bus or driving in and out of the area between 7-10 AM and 3-6 PM.
The traffic is a nightmare, and it can take you hours to get from Sea Point to Milnerton (a nearby suburb that's only 15-20 minutes away).
Top Nearby Attractions: Mojo Market, Sea Point Promenade, Sea Kayaking, Mouille Point, Lions Head, Signal Hill
Where to Stay in Sea Point
• Glen Boutique Hotel & Spa: Glen Boutique Hotel & Spa is the best option for travellers visiting Cape Town for work. You can choose to stay at the hotel or one of the nearby apartments, and there is an on-site gym. A full English breakfast is included, and if you need a car, you can hire one from the property.
• Mojo Hotel & Hostel: For backpackers visiting Cape Town, it doesn't get better than Mojo Hotel. Not only is there a delicious food market attached to the hotel, but it's one of the best value for money accommodation options in the city. You'll be within walking distance of the Sea Point Promenade and a short Uber ride away from the V&A Waterfront or Table Mountain National Park.
• President Hotel: Looking to splurge a bit on your trip to Cape Town? The President Hotel is a luxurious pick in Sea Point that features an infinity pool, a terrace bar with panoramic views of Lion's Head and other amenities like a fitness centre, spa and a full English breakfast.
Read More: Lion's Head Hike in Cape Town: Full Hiking Guide
---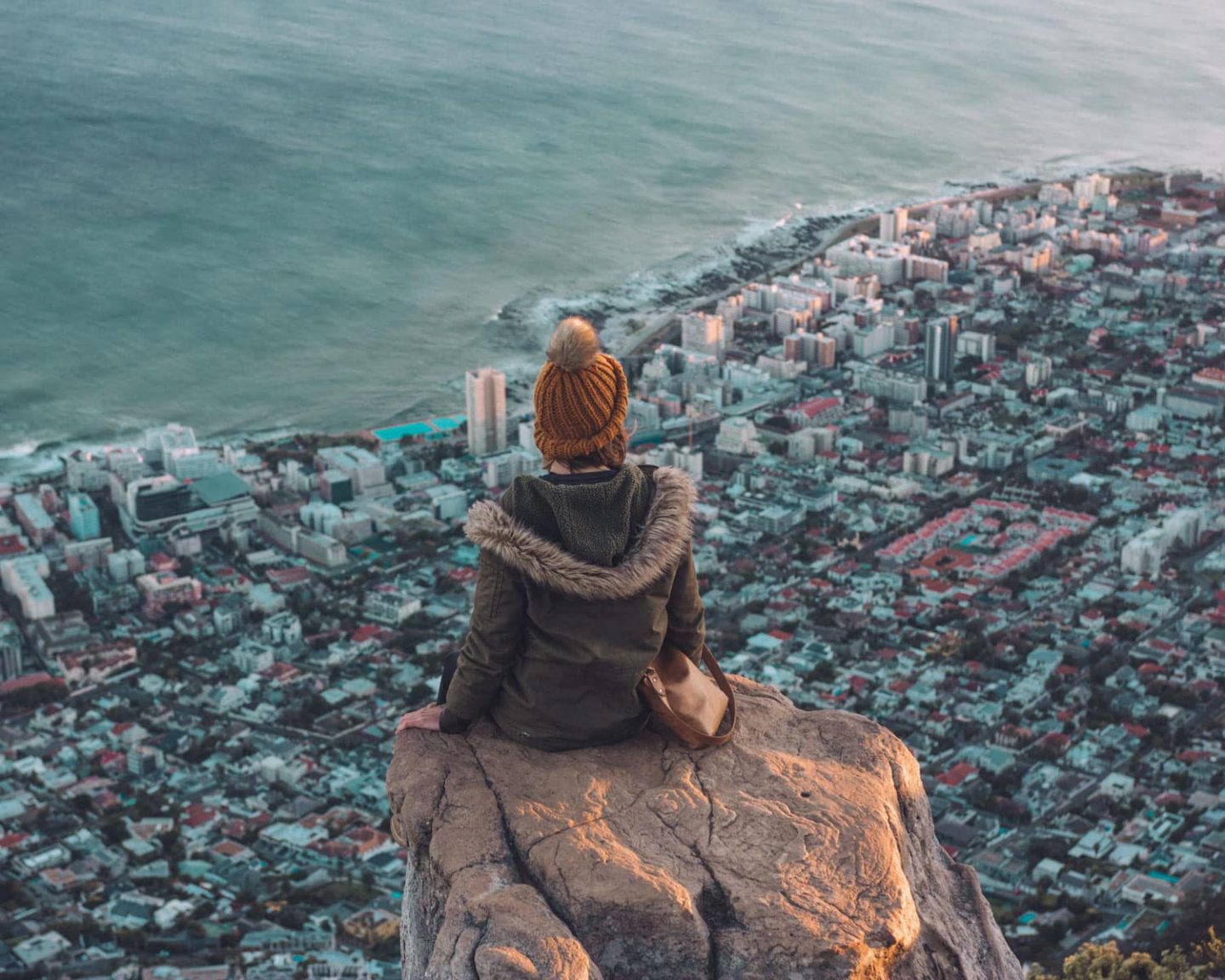 Green Point
Green Point is the oldest neighbourhood in Cape Town. It's tucked away underneath Table Mountain and is nestled between the CBD and Sea Point.
If you're visiting the city to attend a concert at Green Point Stadium, it's worth booking a hotel here. You can walk from your accommodation to the event, and you don't have to worry about all the inevitable traffic jams or trying to find your Uber.
Sea Point has long been an LGBTQ+ suburb in Cape Town. You'll find some of the best gay bars and clubs around the De Waterkant (a sub-district of Green Point).
Top Nearby Attractions: Bo-Kaap Museum, Signal Hill, Cape Quarter, De Waterkant, Cape Wheel, Green Point Lighthouse, Zeitz Museum of Contemporary Art
Where to Stay in Green Point
• Never@Home: Never@Home is one of my favourite hotels in Cape Town. It has everything from a games room, a library, a gorgeous outside area and affordable private or shared accommodation options.
• The Tree House Boutique Hotel: If you're searching for a unique stay in Cape Town, book a night at the Tree House Boutique Hotel. You won't find anything mainstream about the design, and it's situated amongst trees and panoramic views of the city. It's conveniently located within walking distance of the Bo-Kaap, the V&A Waterfront, the Cape Quarter and the CBD.
• Sugar Hotel: The Sugar Hotel is a uber luxe stay in Green Point. It's perfect for business travellers who want to stay close to Cape Town's Convention Center and within walking distance of the Cape Quarter. There's a private plunge pool, and you can pick a room with a view of the Waterfront or Signal Hill
Read More: 12+ Best Hiking Trails in Cape Town With Jaw-Dropping Views
---
Woodstock
Woodstock is one of the quirkiest neighbourhoods in Cape Town. It's a trendy hub for creatives, foodies, and people who love industrial design apartments, street art and a good cup of coffee.
It's home to some of my favourite eateries, such as the Neighbourhood Goods Market and one of the top fine dining restaurants in South Africa, The Test Kitchen.
Whether you stay here or not, I highly recommend signing up for a GUIDED street art tour. Please don't attempt to do it by yourself.
Not all parts of Woodstock are safe and flashing around your expensive camera will attract attention.
Top Nearby Attractions: Neighbourhood Goods Market, Street Art Tours, HintHunt, The Pot Luck Club, The TapRoom, Dress Me Up
Where to Stay in Woodstock
• Private Apartments: Woodstock is the type of area where you'll want to stay in an apartment rather than a hotel. There are quite a few to choose from on Booking.com.
• Wish U Were Here: For budget travellers, the apartments are a little bit pricey. You can save money by staying at the Wish U Were Here backpackers. It's located in the heart of Woodstock, and you can stay in dorms or beautifully decorated private rooms.
---

Bloubergstrand
For laidback vibes, excellent surfing and loads of wind for kitesurfing, Bloubergstrand is the best place to stay in Cape Town.
The only downside is that it's going to take you at least 20-minutes (or longer) to get into town from here if you're renting a car, using Uber or MyCiti buses.
I'd only recommend staying here if:
• It's not your first time in Cape Town
• You're super into your watersports
• You don't mind the extra cost of commuting into town
By staying Blouberg side, you'll also be only a 50-minute drive from the incredible West Coast National Park. Don't miss exploring this side of the Western Cape if you're visiting in September when the wildflowers are in bloom!
Top Nearby Attractions: Sunset Beach, Blouberg Beach, West Coast National Park, Blue Peter Restaurant, Big Bay Beach
Where to Stay in Bloubergstrand
• Private Apartments: Bloubergstrand is another neighbourhood in Cape Town that has some incredible apartments to rent. I think a lot of them outshine the hotels in the area and give you better value and incredible views.
• 5 Options Guest House: If you're not looking to rent an apartment for your trip to Cape Town, 5 Options Guest House is one of the best guest houses in Bloubergstrand. The decor is gorgeous, the price includes breakfast, and it's 450m from Blouberg Beach.
---

Muizenberg & Kalk Bay
When I first moved to Cape Town in 2014, I spent two years living in Kalk Bay. It's one of my favourite places to explore although, it's technically not in Cape Town.
Muizenberg and Kalk Bay are two seaside suburbs on the East Coast. Both are a scenic 30-minute drive from Cape Town's CBD.
The surf on this side of the coast is excellent, and Muizenberg Beach is one of the best places to learn how to ride some waves.
Kalk Bay is a quirky little spot and holds a special place in my heart. The streets are lined with boutique shops, homemade ice cream, excellent cafes, bakeries and bars.
Once again, Kalk Bay and Muizenberg are only good options if it's not your first time in Cape Town or you don't mind commuting to the West Coast to see the top sights.
Top Nearby Attractions: Boulders Beach, Simons Town, St James Beach, Muizenberg Beach, Cape Point, Brass Bell, Cape 2 Cuba
Where to Stay in Muizenberg & Kalk Bay
• The Muize: The Muize is one of the top hotels in Muizenberg. It's hella affordable, beautifully decorated, breakfast is included, and you're only 250m from Muizenberg Beach. It doesn't get much better than that!
• Harbour Views: For accommodation in Kalk Bay, private apartments are your best bet. You'll get better value for money, and wake up to some beautiful sunrises over the bay. Harbour Views is 250m from Kalk Bay Tidal Pools, and you're within walking distance of the Echo Valley Trail! It's one of my favourite hikes in the area, but please only go in a group.
Read More: 14 of the Best Things To Do in Kalk Bay
---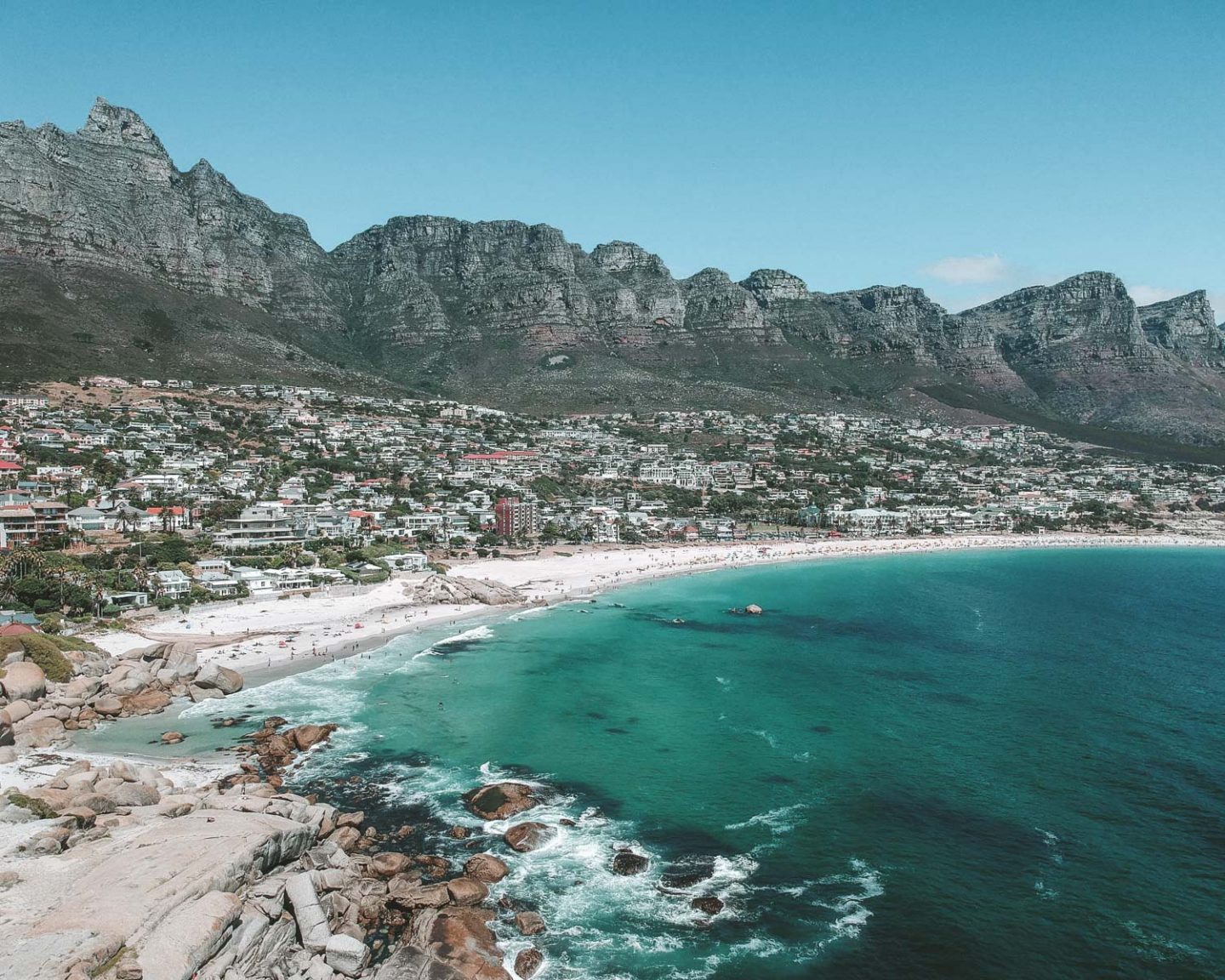 Where Not to Stay in Cape Town
Now that I've geeked out about my favourite areas to stay in Cape Town, here are some of the neighbourhoods I think you should skip.
All these places do deserve a spot on your Cape Town itinerary, but I don't think they are the best areas to base yourself.
Camps Bay & Clifton
You should only stay in Camps Bay or Clifton if you love beautiful beaches and you have a lot of money.
It's insanely expensive to live here, eat here (I'm looking at you Cafe Caprice) and it has a rep for being the hub of Cape Town's pretentious attitude.
That being said, you should still visit both areas.
Spend a day or two soaking up the views on Clifton 2nd Beach, ordering a pizza from Col'Cacchio's to your towel on Camps Bay Beach and partying the night away at Dizzy's or Caprice.
Just don't stay here.
---
Hout Bay
Hout Bay isn't the best place to stay in Cape Town for first-time travellers. It's far from the main sights and you're going rack up some expensive Uber rides getting to and from town.
Another thing to keep in mind is that you might drive past the township before you get to the more affluent area of Hout Bay. It can be a bit of a culture shock as it's not something that you would see if you stick to Cape Town's more touristy areas.
Personally, I also think there are better hotels closer to the city.
That being said, you should visit Hout Bay for day trips. Some of the top sights include the famous Chapman's Peak drive and swimming with seals!
---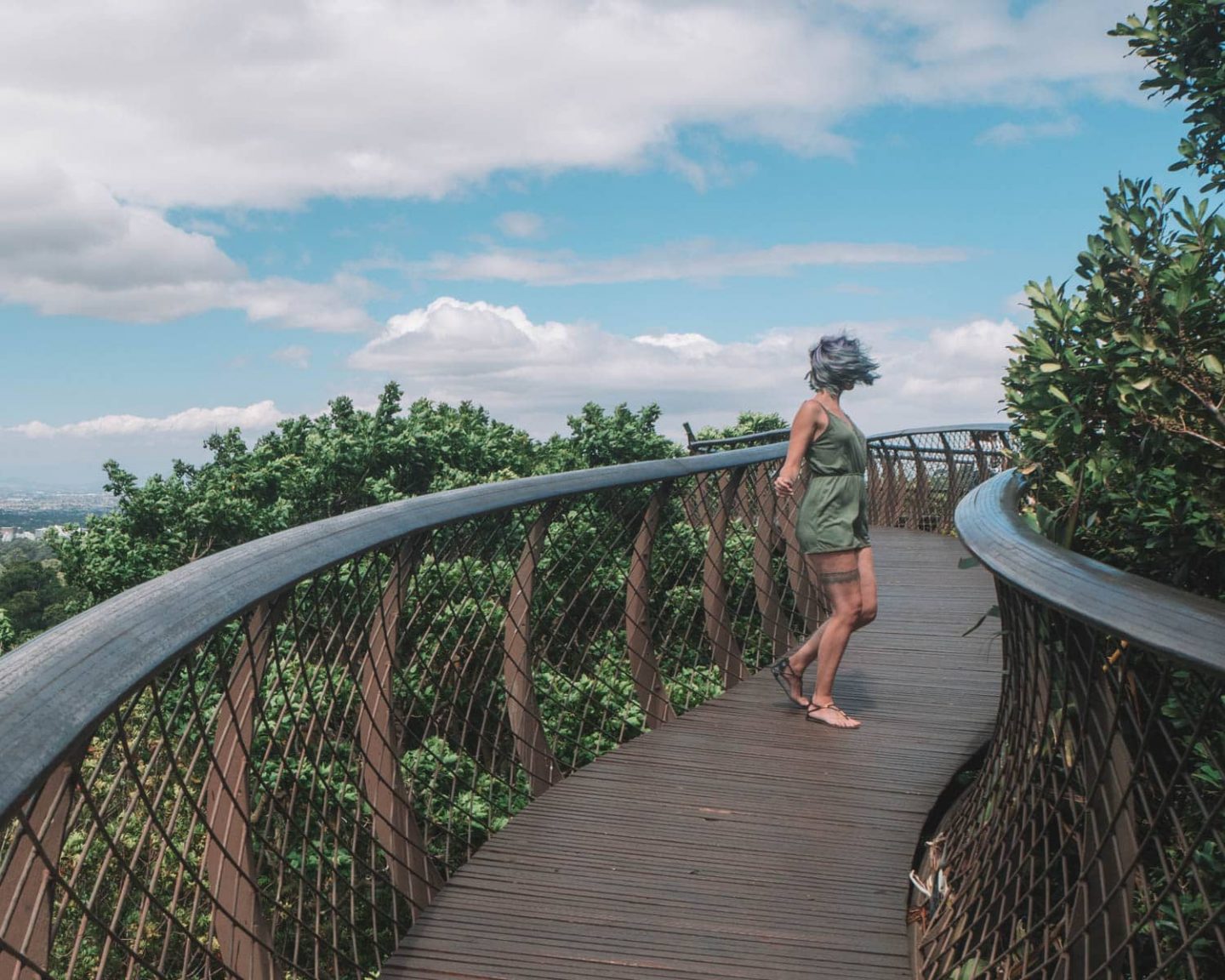 Southern Suburbs
The Southern Suburbs are an incredible place to stay in Cape Town if you're a local. However, for travellers, you don't want to base yourself here unless you need to be in the area.
You're going to need to hire a car, as the MyCiti bus routes don't include this area (yet). Traffic is also a nightmare to and from the Southern Suburbs and you won't be close to the main attractions.
I've also heard a few travellers complain about staying around the "green belt" of Constantia. It's a beautiful part of Cape Town, but there is a problem with break-ins because the properties there are easier to access from the mountain.
However, you should still include the Southern Suburbs in your itinerary. It's where you'll find Kirstenbosch Botanical Gardens, Newlands Forest and delicious eateries!
The Southern Suburbs include the following areas: Rosebank, Rondebosch, Observatory (known as Obs), Mowbray, Pinelands, Claremont, Kenilworth, Newlands, Bishopscourt and Wynberg
Read More: The Perfect Cape Town Itinerary for One Incredible Week
---
Where to Stay in Cape Town: Summary
You've made it the end of a 3,000-word post! If you're starting to see double and need another cup of coffee, here's a quick summary of this post:
• The Best Areas to Stay in Cape Town: I recommend staying in the City Bowl, Green Point, Sea Point, Woodstock, Blouberg or Muizenberg
• The Best Hotels in Cape Town: My top hotel picks are Gorgeous George, The Grand Daddy Hotel or the Silo Hotel.
---
You're all set to finalise your accommodation for Cape Town! Hopefully, this post cleared up where you should base yourself (and what areas you should avoid).
Do you have any questions about where to stay in Cape Town? Want to fight me on my Camps Bay opinions? Hit ya gurl up in the comments below!
---
Psst…Want some more Cape Town travel inspiration to help you plan your trip? Check out my other posts:
Did you find this post useful? Save it for later on Pinterest!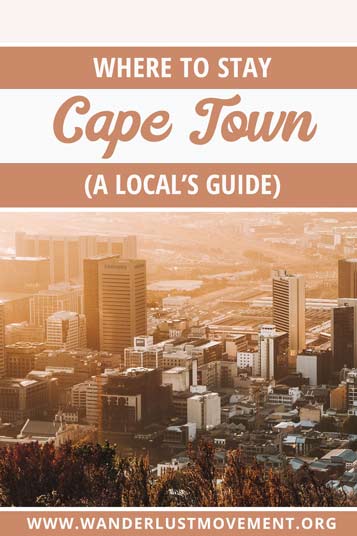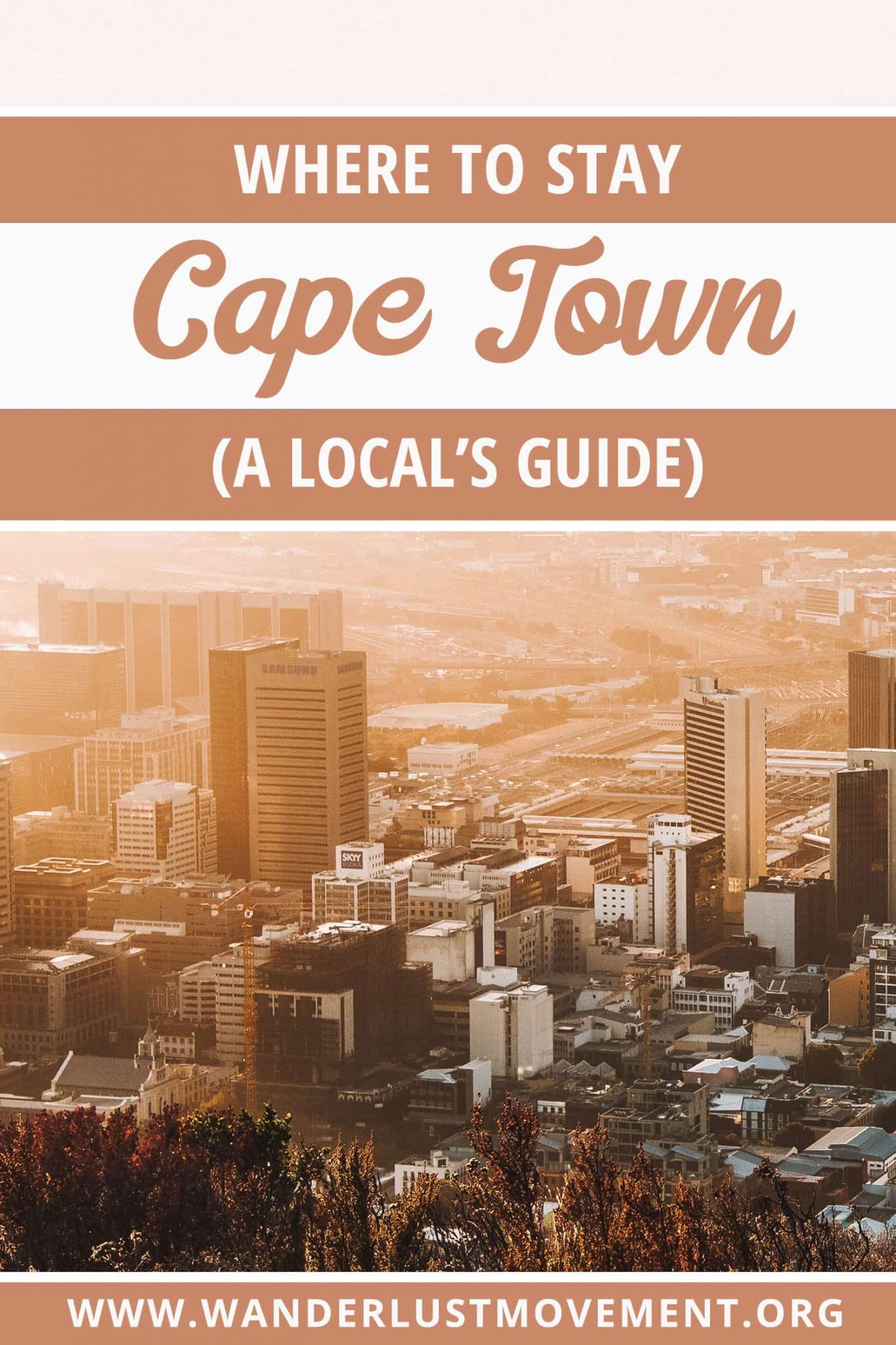 Not sure where to stay in Cape Town? Find out the best areas for travellers (& which ones you should avoid) as well as the top hotels!