Last Updated on February 12, 2021 by Taylor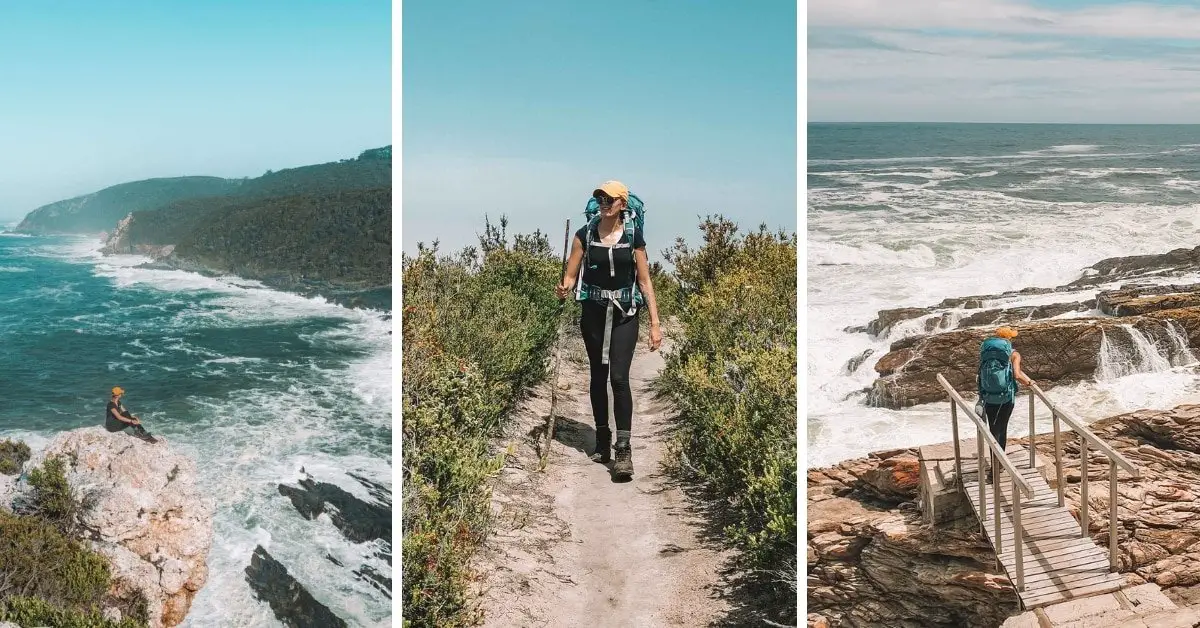 I had nine months to prepare for the Otter Trail.
Nine months to put together a packing list and acquire all that was needed. At first glance, it looks like I did a pretty good job.
I bought:
• A fancy new Osprey backpack
• A hydration pack
• A beast pair of hiking shoes
When it came to food, I spent hours online reading blogs from plant-based hikers to make sure I had a nutritious eating plan.
Yet, essentials like a "mug for coffee" didn't cross my mind.
Moral of the story?
Get yourself a friend like Jina who will let you drink out of her bowl so you can get your daily caffeine fix. ?
So if you've bought your Otter Trail permit and you want to make sure you've packed EVERYTHING, you're in the right place.
I've typed up my entire Otter Trail packing list as well as all the things I forgot to put in my bag that I actually needed.
Psst…Check out my Hiking The Otter Trail in South Africa: Absolutely Everything You Need to Know post if you want a breakdown on what to expect before, during and after the hike.
Otter Trail Packing List
What to Wear
Sweat Wicking Shirt
For multi-day hikes like the Otter Trail, you can't go wrong with a sweat-wicking shirt.
But if you don't have room in your budget for new clothes, pack a shirt that's not cotton.
Cotton soaks up your sweat (and you will sweat buckets on the trail ?), meaning you're going to get uncomfortable pretty fast.
Look for fabrics that will dry quickly and choose a top that has sleeves. Leave those tank tops at home unless you're going for the newly chaffed look.
BONUS: Grab a long-sleeve shirt with UPF 50+ sun protection. It's a lifesaver if you're one of those people who burns by simply looking at the sun.
Leggings & Shorts
I know other hiking guides will tell you to buy a real pair of hiking pants, but I love my leggings. I recently purchased a pair from Boody Wear. It's an Australian brand based in South Africa that makes clothes out of sustainable bamboo.
I also splurged on their active shorts! I love working out in them, and the fabric is so soft and comfortable.
One thing to keep in mind is that the leggings don't have that epic waist suction other activewear brands offer. It sits on your hips, and I would have loved them more if they made me look snatched and came up to my waist.
Waterproof Jacket
The Garden Route's weather is unpredictable and changes fast. Pack a light-weight waterproof jacket even if there is a 100% chance of no rain.
Insulated Jacket
I am a wimp when it comes to being cold, so I brought my Hi-Tec insulated jacket. It's lightweight, packs small, and I ended up using it on Day 4 when some cold weather rolled in.
Base Layers
Base layers are only essential to your Otter Trail packing list if you run cold and you're hiking in the colder months. You can also use them as pyjamas if you need extra warmth in the evenings.
Sports Bra and Underwear
While shopping up a storm on Boody Wear, I noticed their bamboo underwear range (moisture-wicking caught my eye). I bought a three-pack of bras and underwear and wore them for the hike.
As someone who doesn't need a lot of support, I can get away with not wearing a sports bra. If you're in the market for new underwear, look for moisture-wicking and quick-drying options.
Hiking Boots
For 5-day hikes like the Otter Trail, I'd recommend investing in a good pair of hiking boots rather than shoes.
Hiking boots are more bulky and heavy, but they're waterproof and provide better ankle support and grip, which is essential after a long day of trekking.
I used my Hi-Tech Altitude V Ultra's for the trail and loved them!
They kept my feet dry when we crossed small streams; I had excellent grip when rock scrambling and only got a tiny blister on my baby toe towards the end of the hike.
Wool Socks
You can't go wrong with a pair of wool socks for day hikes or five-day treks through the wilderness. Wool is quick-drying and can help prevent blisters from forming on your feet.
Trust me, the last thing you want on the Otter Trail is one of those suckers. It's not fun.
Sunglasses
It's always a good idea to bring a pair of UV sunglasses on multi-day hikes to protect your eyes.
Hat
Hats will make you look adorable in your Otter Trail photos, but they also serve a purpose. Bring along a wide-brimmed hat or a cap to help with sun protection in the day.
If you're hiking the Otter Trail in the winter months (June to August), pack a beanie to keep your head warm in the evening and early mornings.
I bought my cap from a local South African brand, Stoked (and I got gifted some of their jewellery!)
Swimsuit
Your swimsuit is your best friend after hiking for 4 to 6 hours a day and crossing the Bloukrans River.
Flip Flops
Few things can compete with the bliss of taking off your hiking shoes after a gruelling 14 km trail.
Bring a pair of flip flops to walk around camp (there are a lot of stones) or a pair of sandals if it's cold and you want to wear socks.
Read More: Hiking The Otter Trail in South Africa: Absolutely Everything You Need to Know
---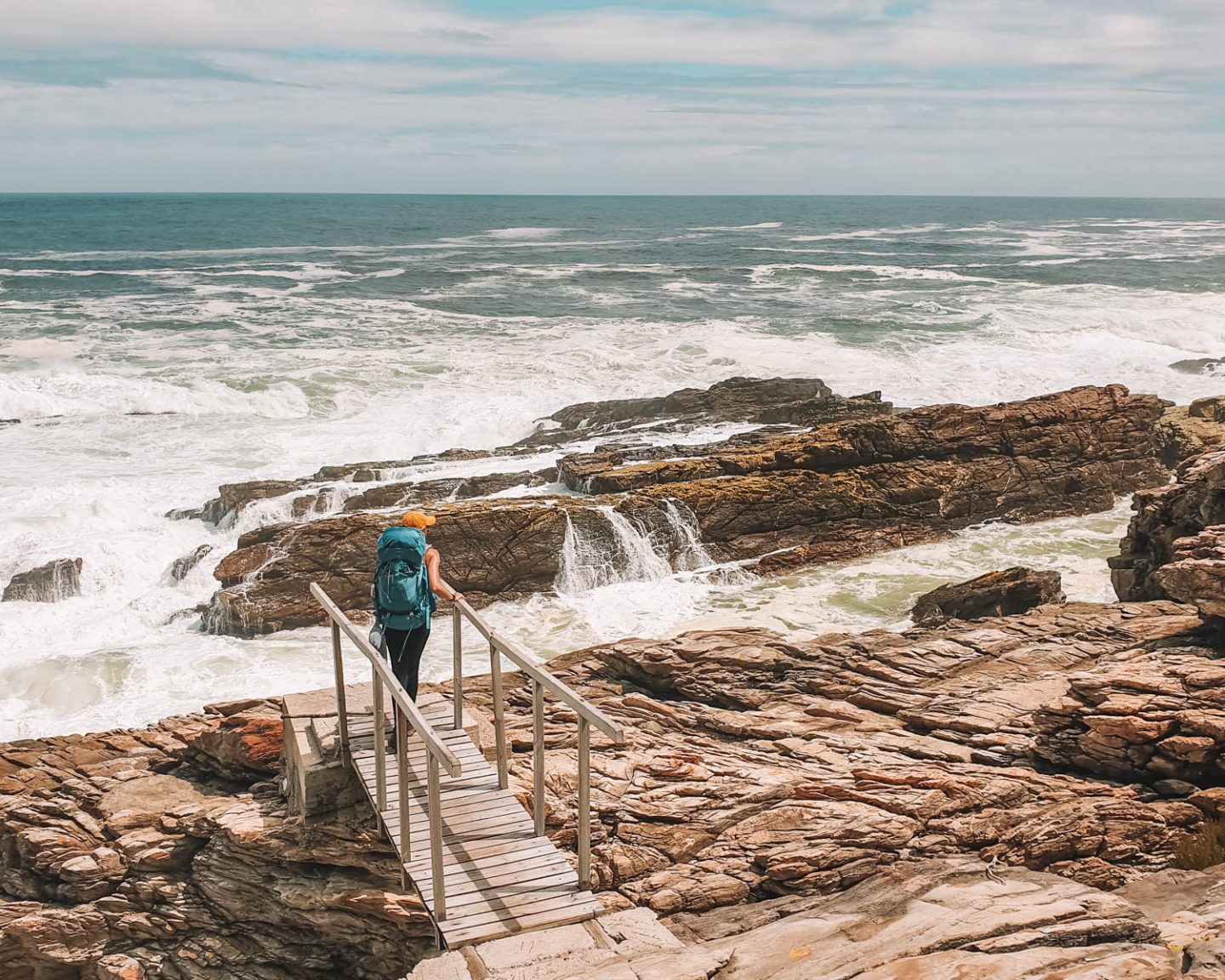 Otter Trail Gear
Multi-Day Backpack
Your backpack is the most important piece of gear for the Otter Trail hike. If you don't have the proper support and it's not fitted to your body, you will put a lot of strain on your back and shoulders.
What backpack size for the Otter Trail should you get? Anywhere from 40-65L.
I invested in the Osprey Aura 65L. It's one of the top multi-day backpacks and is specially designed for women's bodies.
Plus, it comes with a rain cover!
Trekking Poles
Trekking poles are a lifesaver on the Otter Trail, but it's not a necessity. If you can't afford a pair, you can rent some out from Scuttle, or you can find a stick as I did.
Whatever you use, the extra support and stability will go a long way in helping you cross the uneven terrain and conquer the steep inclines and declines.
Survival Bag
You'll need to buy a survival bag from Outdoor Warehouse for the Bloukrans crossing. It will keep your pack dry(ish) as you float it along the river to get to the other side.
Water Bladder
Staying hydrated is essential when your hiking for hours each day. You don't want to get stuck on the trail with an empty water bottle (especially since the river water is not potable for days 1-3).
I highly recommend investing in a water bladder for the Otter Trail. It can hold 2-3 litres of water and is designed to sit close to your mouth, making it more accessible than a water bottle.
Water Filter and Tablets
Day 4 of the Otter Trail is an epic 14km trek across Tsitsikamma National Park. There is a high chance you're going to run out of water before you reach the Oakhurst Hut.
Luckily, there is river water on day 4 is drinkable. But it's a good idea to bring a water filter and tablets to make sure you don't get sick.
Head Lamp
There is no electricity at the camps, and you'll need to use a headlamp once the sun goes down.
While you could use a torch, a headlamp is an essential piece of hiking equipment if you have to wake up before sunrise to cross the Bloukrans River at low tide.
Sleeping Bag
If you've made an Otter Trail booking for the summer months (December to February), you don't need to worry about getting a super-insulated sleeping bag.
But if you get cold easily or you're hiking in winter, I'd recommend hiring or buying a higher quality bag.
I used the K-Way Printed Adventurer Sleeping Bag, and it was perfect!
Pillow
I decided to bring the neck pillow I use for long-haul flights. It wasn't the best idea, but it did its job for the most part.
If you would like a more comfortable nights sleep, buy an inflatable pillow. It's super compact when not inflated and won't weigh down your pack.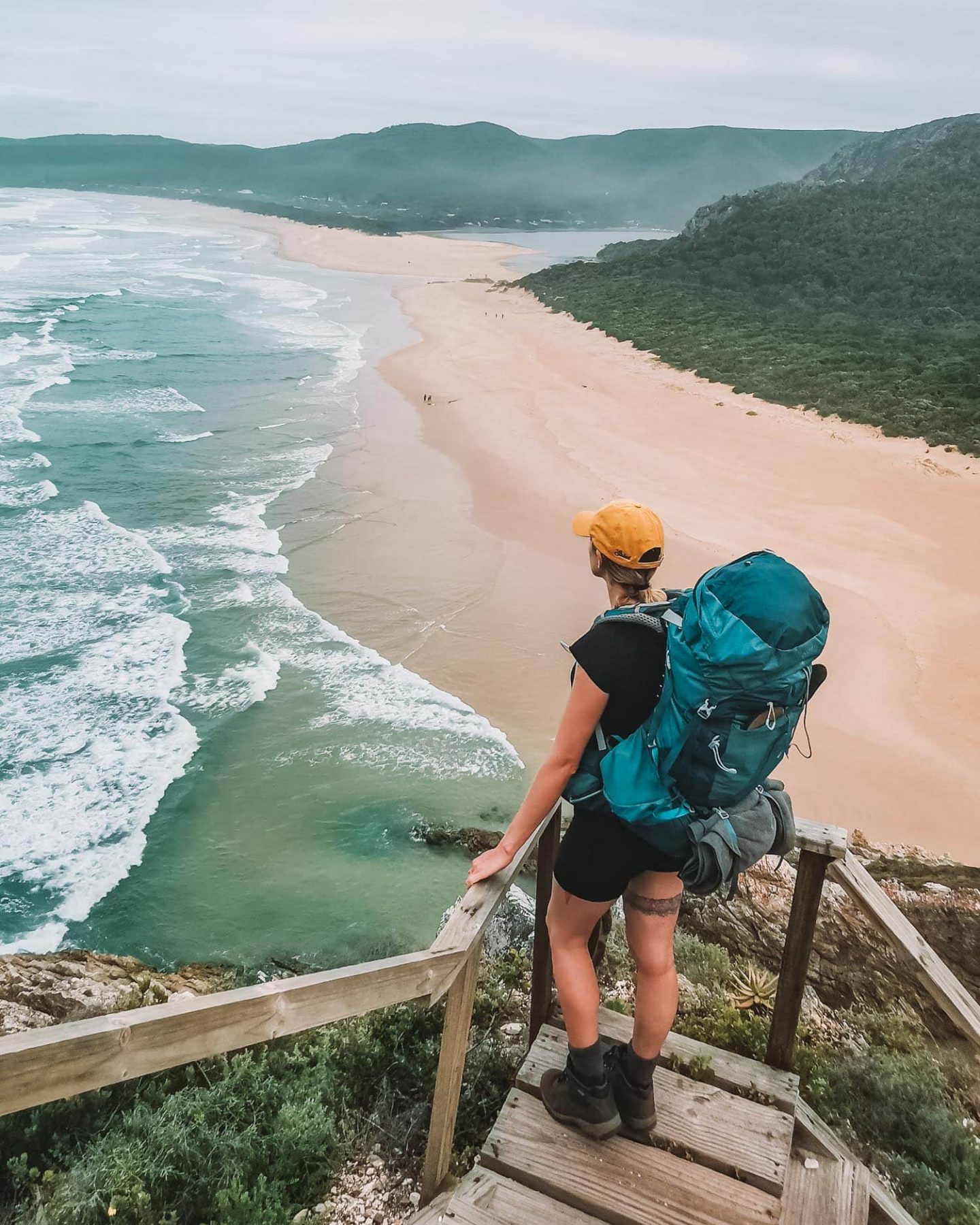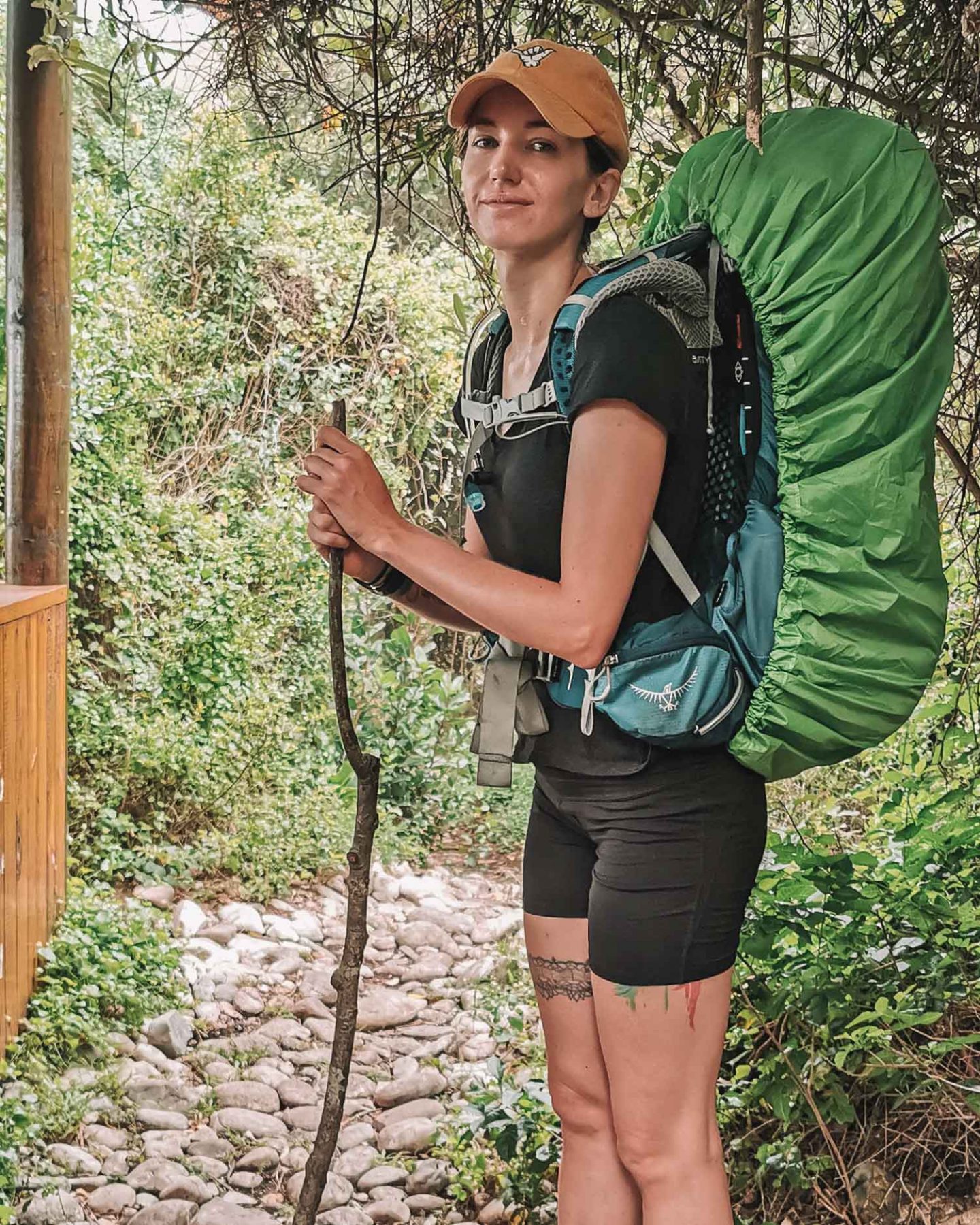 Quick Drying Towel
You'll need a towel for those icy showers and dips in the ocean and rivers. Avoid bringing your bath towel (it's heavy and will take up too much space).
You want a microfiber towel that's lightweight, compact and quick drying.
Camera
The best camera for the Otter Trail is the one you have.
If you're a serious landscape photographer or blogger, bring your DSLR and lenses. I packed my Canon 80D and only used my Sigma Art 18-35m lens.
As it was a mission to get my DSLR out my back each time I wanted to take a quick picture, I kept my smartphone in the front pocket of my backpack.
If you have a small, lightweight camera like an Olympus, you could probably get away with keeping it around your neck.
Tripod
A tripod isn't necessary for the Otter Trail. It's mainly for landscape photographers who want crisp sunset pictures, Milky Way shots or long exposures.
Portable Charger
Keep your phone on aeroplane mode while you hike and charge it in the evening with a portable charger.
Dry Bag
Since I travel with expensive gear in my backpack like my camera, I packed a dry bag. It will keep everything nice and dry in case it rains and for the Bloukrans River crossing.
Read More: The Best Gifts for Hikers: The Ultimate List for Every Budget
---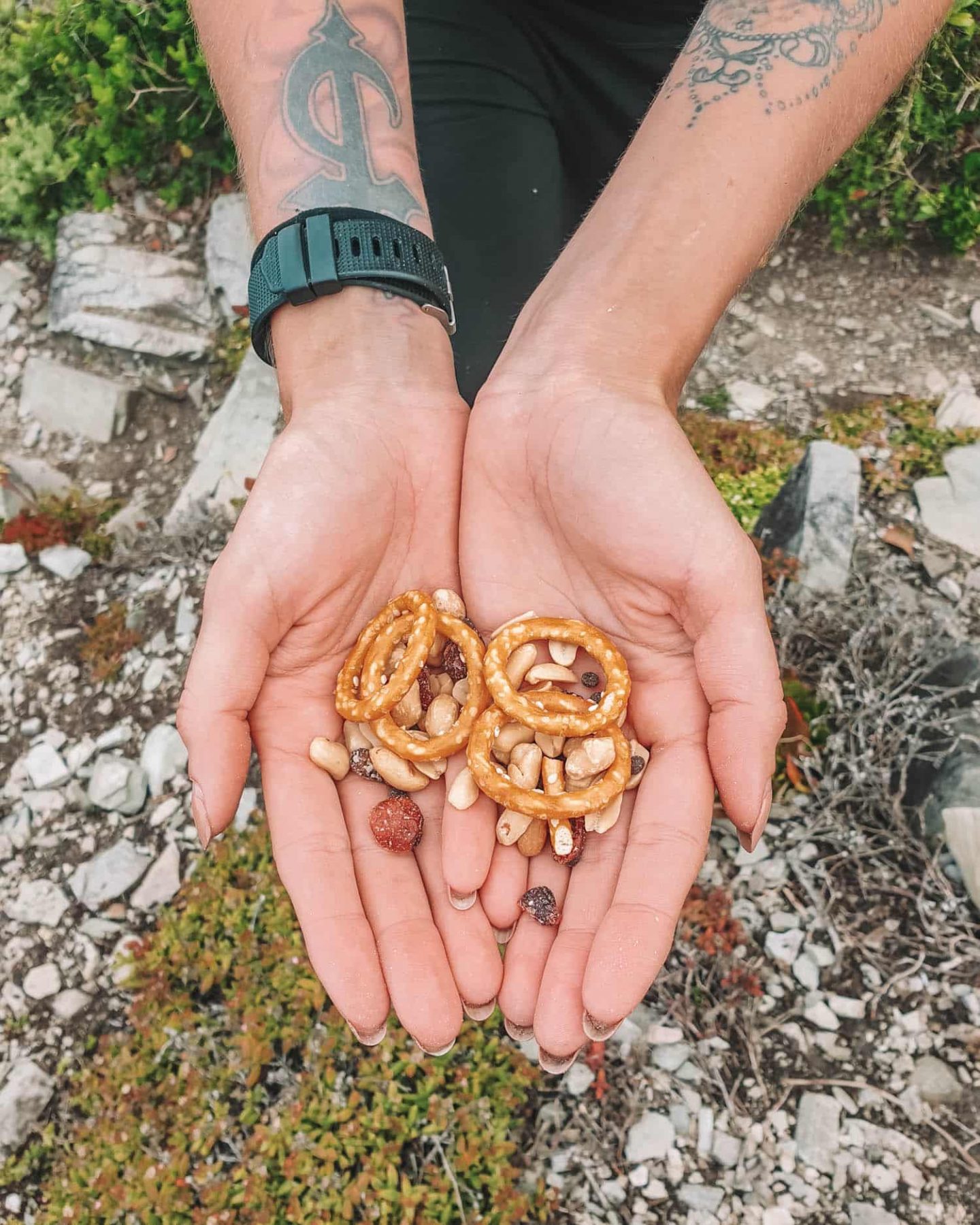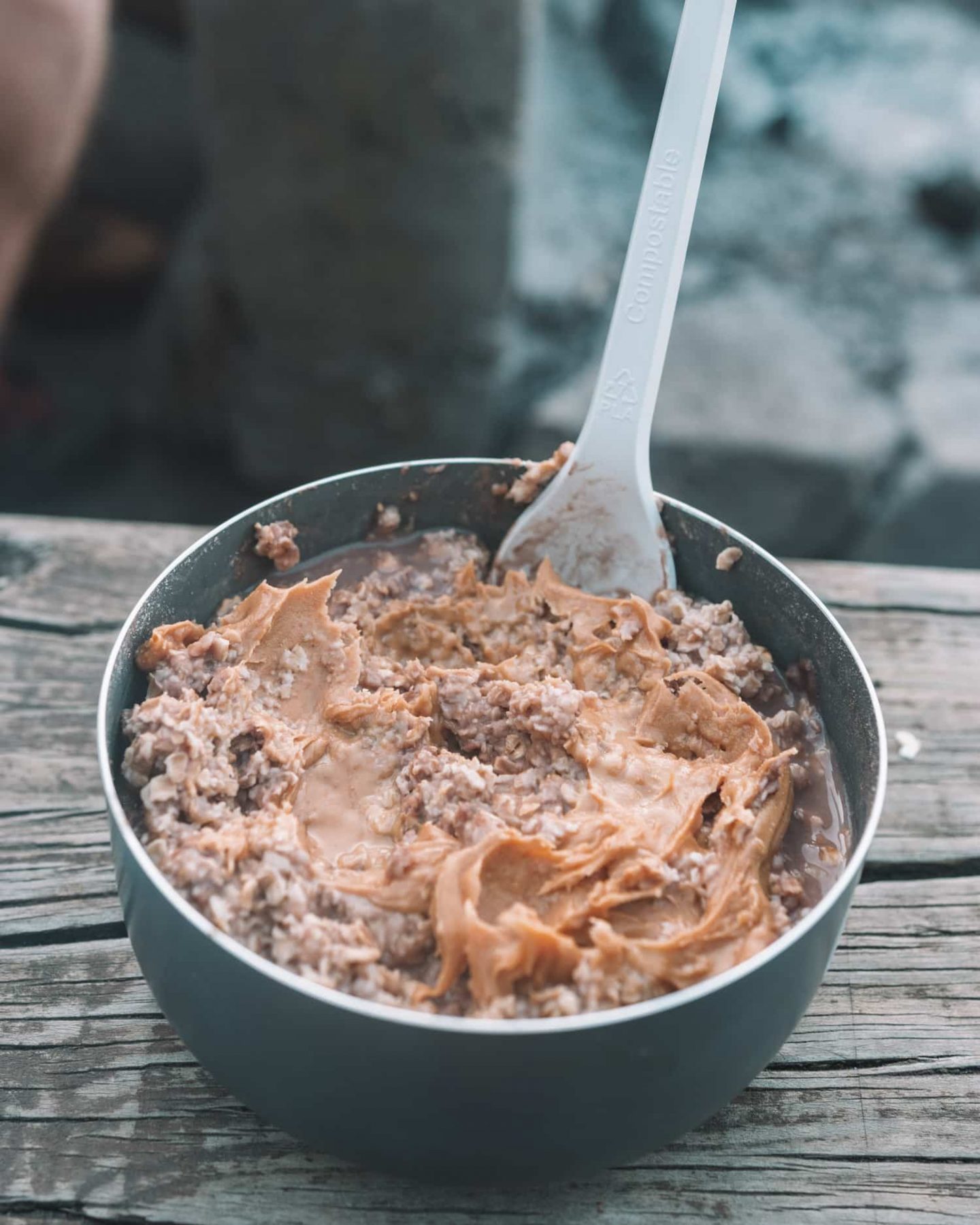 What Food to Pack
When packing food for the Otter Trail, you want to make sure your meal plan includes carbohydrates, protein, salt and sugar.
• Protein will help your body repair muscles and recover from the strenuous exercise.
• Carbohydrates are your main energy source and will improve endurance and delay fatigue
• Sugar will give you a much-needed energy boost
• Salt helps you replace what you sweat out
Breakfast
I had the same thing for breakfast every single day, and I loved it! It gave me a ton of energy and kept me satiated.
• Instant Oats: I bought a pack of 10 instant Jungle Oats. I usually eat two sachets as a single serving.
• Peanut Butter: You can buy peanut butter sachets from Woolworths. It's light-weight and helps you get in protein and sugar!
• Protein Powder: I brought a few scoops of my vegan protein powder to mix in with my oats every day.
• Chia Seeds: Chia seeds are a source of fibre, protein, antioxidants and omega-3 fatty acids.
Snacks
We had regular snack breaks instead of stopping for lunch.
• Homemade Granola Bars: I found a delicious 5-ingredient recipe. It's made up of dates, peanut butter, oats, peanuts and syrup. The best part? It's a no-bake recipe!
• Roasted Chickpeas: Chickpeas are an easy and delicious way for hiking vegetarians and vegans to sneak in some protein.
• Homemade Trail Mix: I made a packet of trail mix for each day of the hike which included pretzels, salted peanuts, dried cranberries and dark chocolate drops.
• Apples: I packed four small apples for the hike.
Dinner
Again, I had the same thing for dinner every single night. I don't have a problem eating like this (I do it at home to eliminate decision fatigue), but I know some people need variety to survive.
• Rice Noodles: I got a pack of five rice noodles from Woolworths.
• Backcountry Dehydrated Vegetables: You can pick these hydrated food packs from Outdoor Warehouse, but they are expensive.
• Smash: I did bring a couple of small Smash sachets just in case I wanted an after-dinner snack.
• Sauce: Woolworths sells small sauce sachets you can bring along to make your food less bland.
Drinks
• Hot Chocolate & Mini Marshmallows: My reward for completing each day of hiking was a massive bowl (that's not a typo) of hot chocolate and marshmallows. It does wonders for motivation.
• Coffee or Tea: I cannot function without proper coffee in the mornings. I have a problem with caffeine withdrawal (I've been trying to cut back to 2-3 cups a day), and instant coffee doesn't hit the spot.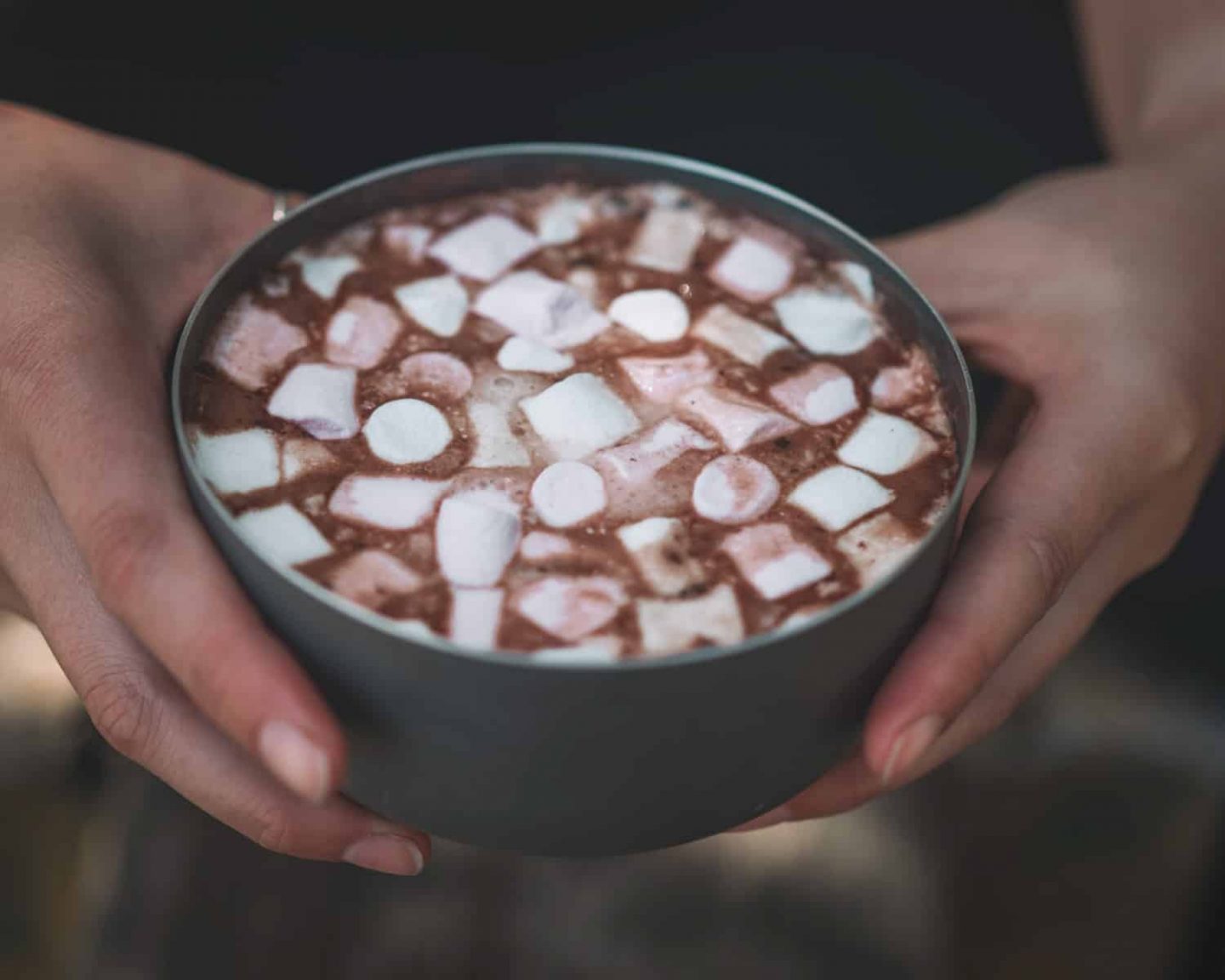 ---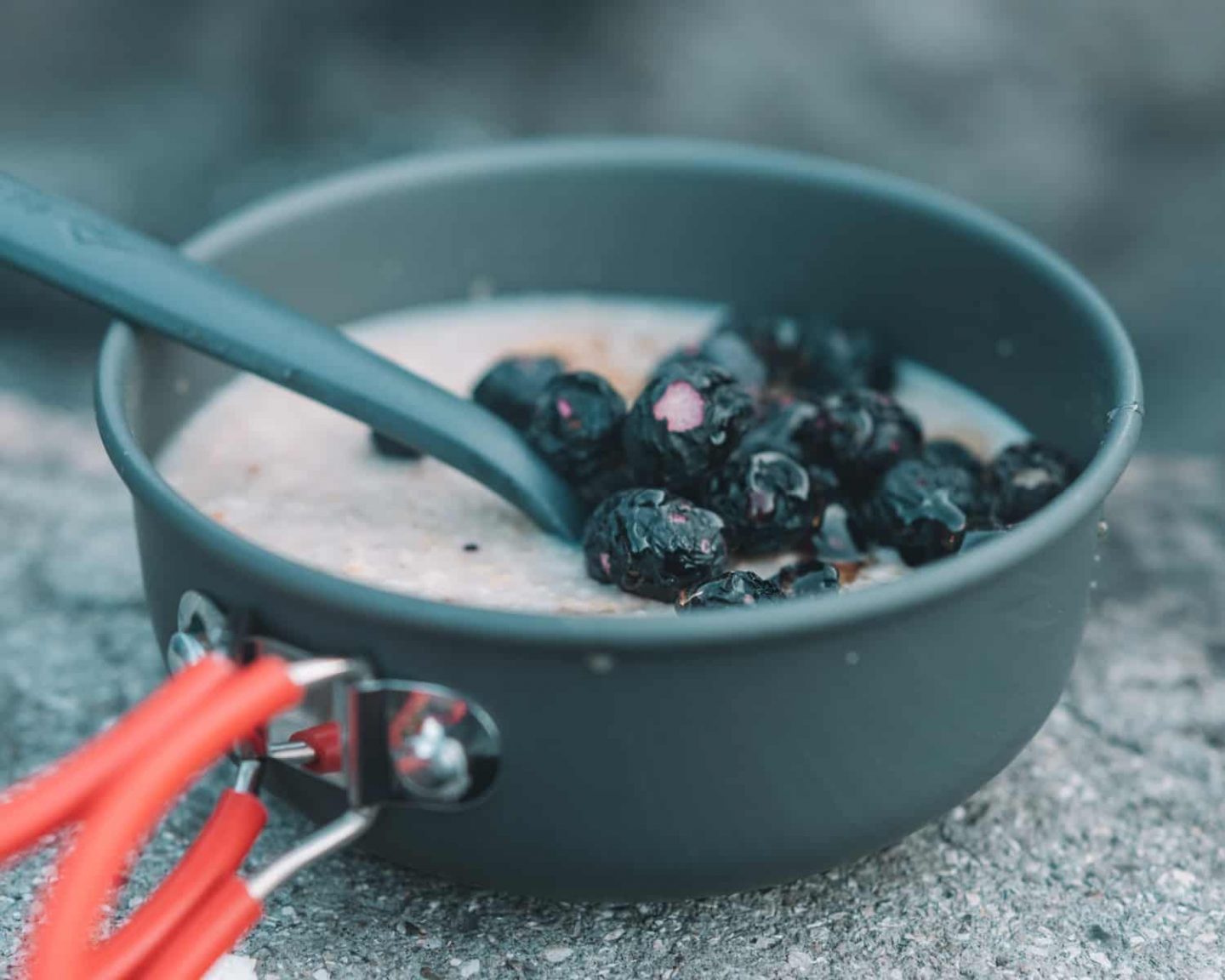 Kitchen Equipment
Jet Boil and Fuel
Hear me out.
A Jet Boil isn't the cheapest thing to buy, but if you hike often, it's a nifty little device that will boil your water quickly.
Plus, it's small, and you can double it up as a cup for your morning coffee or a bowl for dinner.
Spork
Instead of bringing multiple utensils as I did, buy a spork.
Mug
Bring an enamel mug you can clip to the outside of your pack.
Knife
Make sure one person in your group has a knife you can use to cut rope, cable ties or difficult pasta packets.
Firestarters and Lighter
At each hut, you'll find some wood you can use for a braai. However, you'll need to bring firestarters and a lighter if you want to sit around a roaring campfire.
Coffee Plunger
For all my fellow caffeine addicts.
Washing Liquid
Bring a small bottle of washing liquid as well as a sponge and a cloth.
---
Otter Trail Hygiene
Toothpaste and Toothbrush
Keep your hike mates happy by looking after your oral hygiene.
Hairbrush and Dry Shampoo
Instead of lugging around shampoo and conditioner, bring a travel-sized bottle of dry shampoo. Or you can rock the sleek, oily hair ponytail for the next couple of days.
Medications
If you need to take any medications, bring enough to last you the full five days. Leave the full bottles at home to keep your bag light.
Toilet Paper
There isn't toilet paper at the huts or along the route. If you forget to bring, you'll need to use leaves. I shared my roll with a friend, and it lasted us the full five-days.
Sunscreen
Okay, sunscreen with an SPF 50+ needs to go in your bag. It's an essential item to protect your skin from the sun, and you will burn without it.
Eco Soap and Deodorant
For the brave that love nothing better than a cold shower, use eco-friendly soap at the Otter Trail huts. It's better for the environment, and you can pick some up at Outdoor Warehouse or Cape Union Mart.
Scrubba Washing Bag
To save precious space in your bag, you can opt to wash your clothes every day instead of packing five outfits. If you do, I recommend a small, portable washing bag like Scrubba.
All you need to do is fill it up with water, pop in your clothes, washing liquid, seal it up and use the bags bumpy inside to scrub your clothes clean.
Moon Cup
Cut down on sanitary waste by using a moon cup for the Otter Trail. It's super affordable, and there's a range to choose from on Takealot. Plus, it's better for the environment in the long-term.
Mosquito Repellent
The mosquitos are vicious. On Day 5, Carmen had a swarm following her for 3km! Don't leave home without some mosquito repellent and lather up at dawn and dusk.
Read More: 20 Eco-Friendly Gift Ideas for Travellers
---
Otter Trail Safety
First Aid Kit
A first aid kit is a staple as you never know what injuries you might pick up on the Otter Trail.
During our five days, people in my group unexpectedly cut themselves, got blisters and needed plasters to make it to the end.
Deep Heat was also a staple used by EVERYONE.
---
Woo-hoo! You're fully prepared to tackle one of the best hikes in South Africa!
Got any questions about what to pack for the Otter Trail? Did I miss anything? Hit ya gurl up in the comments!
---
Psst…Want more hiking or South Africa travel inspiration? Check out my other posts:
? If you like it, then you should put a pin on it! ?
Without a detailed Otter Trail packing list to run through, the hike will kick your butt. (P.S. Don't leave home without number #22!)