Last Updated on September 6, 2020 by lauren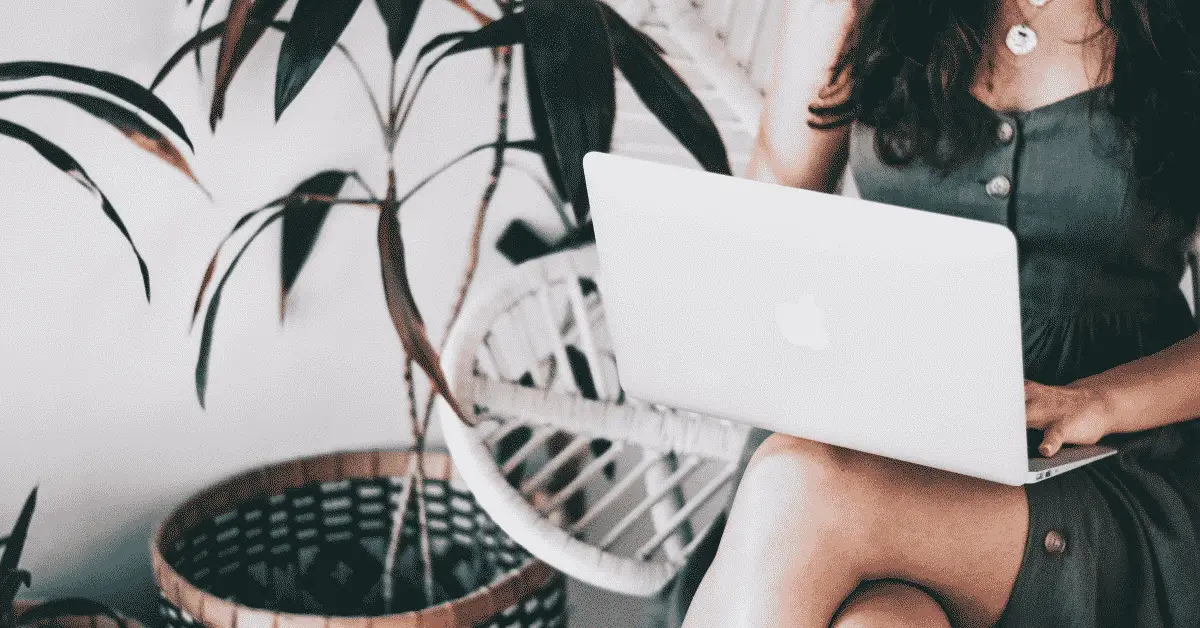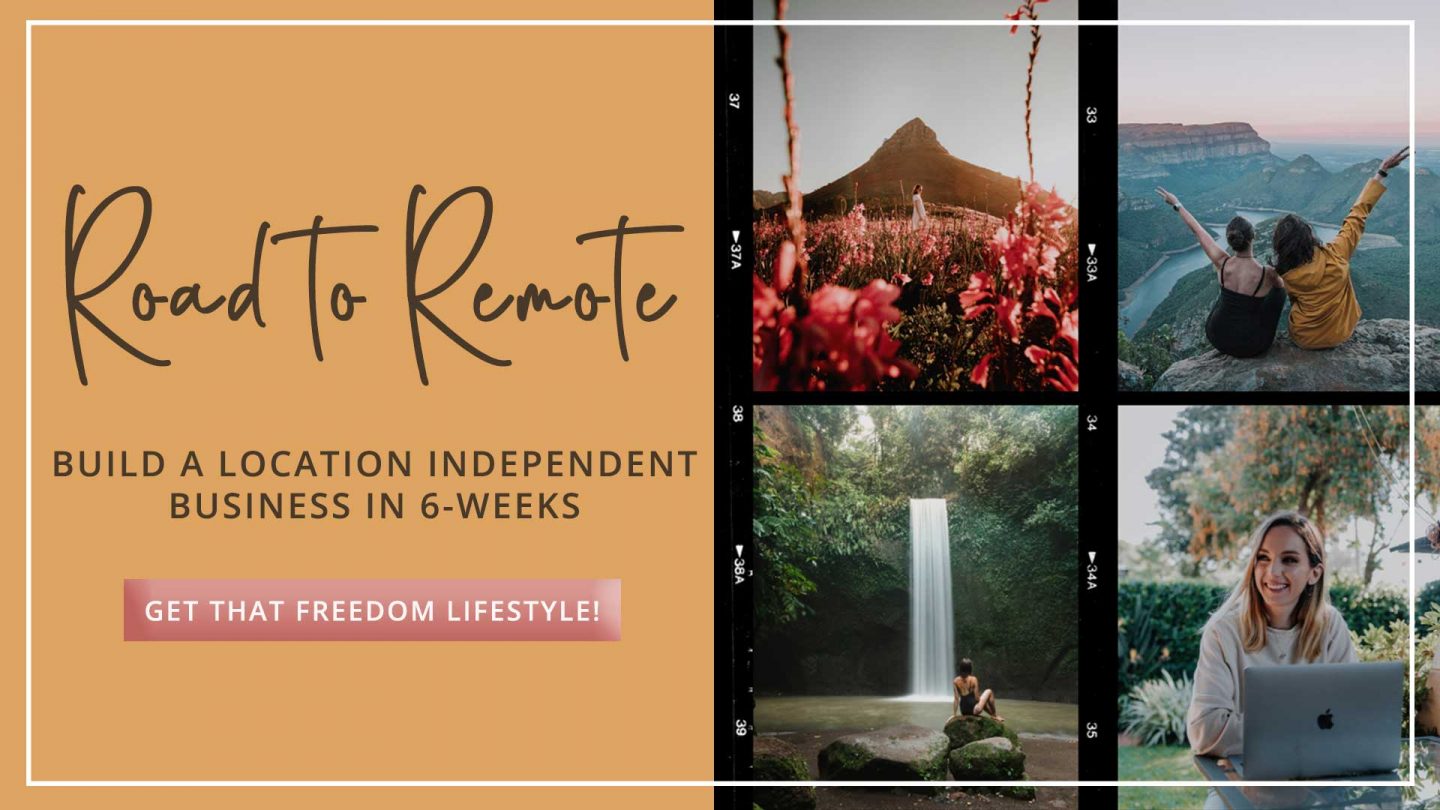 "So what exactly do you do?"  
"Where do you live?"
"What do you mean you don't have a house?"
These are some of the questions people ask me within the first 15-minutes of meeting me.
It's usually followed up by statements like:
"Oh, you're a starving artist.."
"It can't be easy making money that way."
And usually, it ends with mass confusion after I explain I'm a freelance writer who doesn't write books or articles for magazines.
It opens up a whole can of worms about blogging for business, SEO, social media and digital marketing.
I don't mind discussing what I do, but there's a lot of ways I bring home the bacon each month. If you want to get into the nitty-gritty, we could spend hours geeking out about all the wondrous ways to make money online and achieve location independence.
But if you're short on time and want a brief overview, or you're super curious about the different income streams you can start milking, here is every single way I earn money as a digital nomad. ???
Freelance Writing
A lot of people think my blog is my bread and butter, that it's my biggest source of income and helps me live a location independent lifestyle. 
But it couldn't be farther from the truth.
While it's always a goal for me to grow my passive income through Wanderlust Movement, my full-time freelancing writing business is my main source of dollar, dollar bills ya'll.
After coming back to South Africa from a six-month stint teaching English in Thailand, I didn't want to go back into a corporate gig. So I opened up my laptop, logged onto UpWork and started applying for freelance writing gigs.
For my first couple of months, I was breaking even, and it was tough. The stress levels were high because I had debit orders and no guaranteed paycheck at the end of the month.
Luckily, things always worked out.
Despite the few mental breakdowns, clients not paying on time (or at all), figuring out taxes and struggling to find a work/life balance, I've grown my freelance writing business to a stable six-figure annual income.
Feeling the call to take on the world of freelance writing and join our caffeinated ranks?
I'm a massive fan of Creative Revolt. Jordan taught me so much about starting an online business, and I've used her Killer Cold Emailing and Fuck Yeah Freelance Blogging courses to land gigs that pay anywhere from $200-400 per post.
Read More: Freelance Writing for Beginners: How to Ditch Your Desk and Travel the World
---
Social Media Management
Social Media Management is the first thing I ever did to earn money online. While in Thailand, I didn't want to figure out how to send money from my Thai bank account to South Africa.
So I picked up two small social media clients and made enough ka-ching to cover all of my debit orders back home.
Fast forward to 2020, and I've started using the strong Pinterest strategy I created for Wanderlust Movement to manage brand's Pinterest accounts.
For a set monthly fee, I manage every aspect of their account from uploading pins, implementing a keyword strategy, using Tailwind to increase reach, finding relevant group boards and completing daily pin threads on Facebook.
Read More: The Best 40+ Sites For Finding Remote Work Online 
---
Affiliate Marketing
Affiliate Marketing is a super-easy way to make money online as a blogger. You get paid a small commission fee for promoting other peoples products or services.
Once you grow your site's traffic, your ability to earn passive income skyrockets!
But not all affiliate programs are going to earn you money. You need to do your research and pick programs that are a good fit for your audience and promote products or services you'd use.
My highest earning affiliate programs for Wanderlust Movement are:
• Hotels Combined (hotel booking service)
• World Nomads (travel insurance)
But the real affiliate marketing MVP is Skimlinks.
It lets me earn a commission from sites like Amazon.com and Skyscanner even though I don't have a direct affiliate account for those websites.
Once you install the WordPress plugin and Chrome browser extension, Skimlinks will automatically turn ordinary links into affiliate ones if the website has a commission program.
If you make a sale, Skimlinks and you split the bounty.
Read More: How to Become a Digital Nomad in 6 Easy Steps
---
Display Ads
Unless you have an ad blocker turned on, you're probably seeing ads on my blog right now.
It's another passive way to earn money online, but it's a lot harder to start making a consistent and liveable income from display ads in the beginning.
When I started blogging, I signed up with Google Adsense, and I think I reached the payout threshold of $100 twice.
Since then, I've moved on to better ad networks like Ezoic and Mediavine, and I've had regular monthly payouts.
The best part about display ads? As your blog traffic grows, so will your earnings!
Read More: 10 Tips For Working From Home To Maximise Your Productivity
---
Sponsored Content
I'm not the biggest fan of sponsored content.
The amount of emails I get from link building companies and fly-by-night brands wanting to place a blog post or a link on my site is too damn high.
I've had a urine testing company reach out to me repeatedly for guest posting opportunities.
Ew.
If you see sponsored content on Wanderlust Movement, it's because I've worked on a campaign with that brand and there is a relationship.
I've used their product or service or travelled to their hotel. I never want to alienate my audience or have a blog that screams SPAM.
Here are some examples of sponsored content I've written in the past:
• Staying at One Marine Drive Boutique Hotel in Hermanus
• Staying at Nxai Pan Camp in Botswana
Anytime I receive financial compensation or a complimentary product (yay for free stuff!), the post will contain a disclosure.
Read More: Best Tools for Freelancers: What You Need to Run Your Online Business
---
As For The Future…
If you're an OG reader, you may remember a time when I launched pre-sales for an ebook, and then my computer crashed and promptly deleted the entire thing.
FML.
One of my biggest goals for 2020 is to create an eBook and start growing my income with digital product sales. I'd also love to launch an online course with Teachable that can sell itself.
Both will give me more time to travel, increase my income while working less and help me to achieve the work/life balance I want.
I'd also love to develop my photography skills to the level where I can sell prints of my images and roll around in a bed covered in dollar bills like my friend @kyleincpt.
---
Are you location independent and earning money online? Or do you have any questions about the digital nomad lifestyle? Hit ya gurl up in the comments below!
---
Psst…Want to more location independent tips and inspiration? Check out my other blog posts:
? If you like it, then you should put a pin on it! ?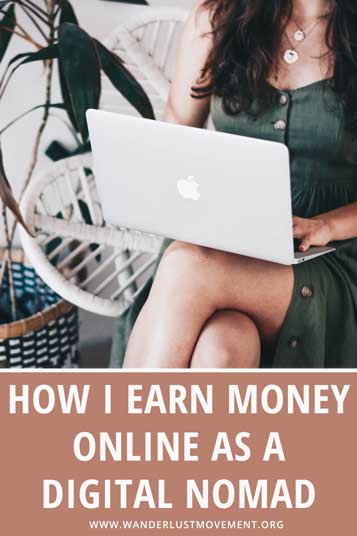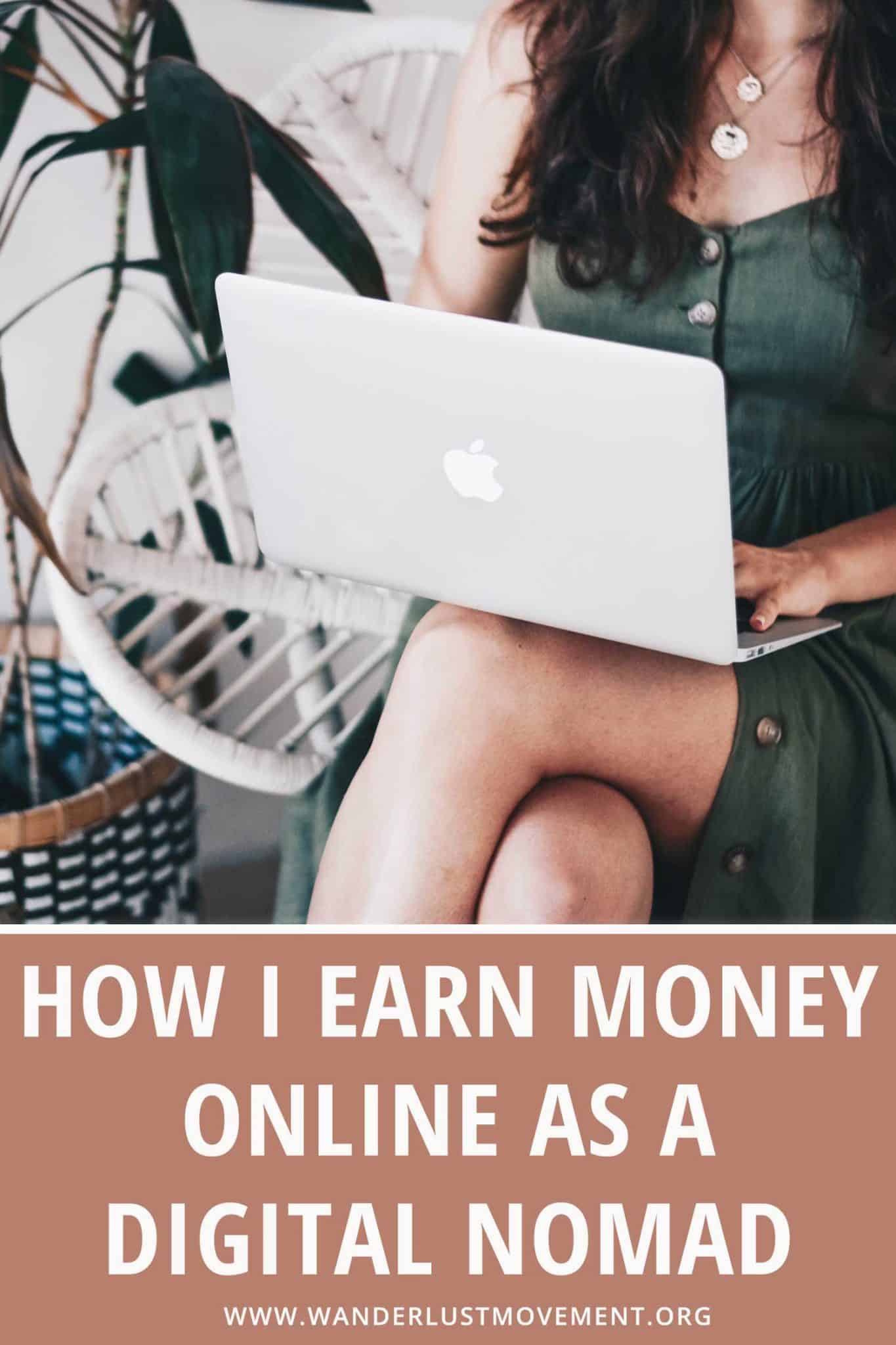 Curious about digital nomads make money online? I'm breaking down the top five ways I earn money as a full-time digital nomad!