Last Updated on April 7, 2021 by Taylor
It's not every day you can go to a beach and hang out with penguins.
Especially endangered African penguins from one of the few land colonies in the world!
But that's what you can expect at Boulder's Beach in Cape Town. So it's no surprise that it's one of the best things to do in South Africa!
With a strip of sand and sparkling blue water that puts the Seychelles to shame, and the chance to swim with a penguin or two, it's one of the top beaches in Cape Town.
But before we jump into how to get to Boulders Beach, entrance fees and where to see the penguins, there are a few things you need to know:
Always respect the penguins and give them the space to move freely.
Do not touch them – ever! They can and will bite.
Do not let your kids (or anyone else) chase them.
With that basic housekeeping out of the way, here's everything you need to know about visiting the penguin beach in Cape Town!
Psst…Planning a trip to Cape Town? Check out these posts:
---
How to Get to Boulders Beach From Cape Town
Train from Cape Town to Boulders Beach
**Choo choo** All aboard! The Southern Line railway route is the cheapest way to get from Cape Town to Simon's Town. Along the way, you'll ride past South Africa's beautiful coastline before arriving in South Peninsula.
The Simon's Town train station is 3km from Boulder's Beach. You can take a taxi or walk the rest of the way if you don't mind a thigh burner from the uphills.
Check the departure and arrival times for Cape Town's trains.
Price: From R15.50 one way.
Take an Uber
Not keen on figuring out public transport? Request a ride with Uber to Boulder's Beach. It's a safe, reliable and popular way to get around Cape Town, but it's not cheap.
If you'd rather have a driver for the whole day, you can get rates from metered taxi companies or speak to your driver and negotiate a rate.
Price: R200 – R300 for a one-way trip.
Hire a Car
The best way to get around South Africa is to hire a car. The prices are super affordable compared to other countries, and it will give you the freedom to see as much as possible while in the country.
Plus, if you're planning day trips from Cape Town to the Cape Winelands, the Southern Peninsula and trips around the city, it can work out cheaper than Uber or taxi rides.
Another bonus about hiring a car? Boulders Beach is 40-minutes from Cape Town and the drive STUNNING! I'm talking Table Mountain in the distance, the lush Southern suburbs along the M3 and sweeping views of the coastline.
Tip: For an unforgettable road trip, take Ou Kaapse Weg mountain pass on your way to or from Boulder's Beach!
Parking at Boulder's Beach
Your GPS will take you to the visitors centre on Kleintuin Road. If you want to go straight to the beach (and park close to the spot where you can see penguins for free), turn down Bellevue Road and park in the cul-de-sac.
The second entrance to the reserve is here, and it's right by Boulder's Beach. Parking is limited!
Read More: 45 Awesome Things to Do in Cape Town: A (Hella Long) Local's Guide
---
Boulders Beach Entrance Fees for 2020
South African Citizens and Residents: R40 per adult R20 per child
SADC Nationals: R80 per adult R40 per child
Internationals: R160 per adult R80 per child
Wild Card Holders: You get in for free at Boulder's Beach! South Africans and international visitors can buy a Wild Card which will give you unlimited access to South Africa's parks and reserves.
Tip: You need to present a valid South African ID (driver's or ID card) to buy your Boulders Beach tickets, and international visitors will need their passport.
---
Boulders Beach Opening Hours
Summer (December – January): 07:00 – 19:30
Winter (April – September): 08:00 – 17:00
Autumn (February – March): 08:00 – 18:30
Spring (October – November): 08:00 – 18:30
Don't forget to check the tides to make sure you arrive during low-tide!
---
Best Time to Visit Boulders Beach in Cape Town
There is no bad time to visit the penguins at Boulder's Beach – but it does depend on what experience you want.
Not a fan of screaming kids? Avoid public holidays and weekends.
Want to see cute baby penguins? Visit in January to see moulting penguins on the beach *s'cute!*
Here are a few other tips to keep in mind when planning your trip:
The morning (or dusk) is one of the best times to see penguins at Boulders Beach. You won't have to walk far to spot a dozen swimming in the ocean or sunbathing on the rocks, and photo bombers are minimal. The only downside to the mornings is that it might still be high tide and you'll have to wait until the water goes out to visit the second part of the beach.
The late afternoon is the best time for photographers. The crowds thin out, and if the tide is low for sunset, the golden light is incredible! The penguins become more active as the day cools down and you'll have plenty of opportunities to snap pics of them swimming and hanging out with each other.
Check the tides for Simon's Town to make sure you visit Boulder's Beach when the tide is low!
---
What to Pack
Don't hit up Boulder's Beach for a quick photo op. It's a beautiful part of South Africa (seriously, it looks like a missing piece of the Seychelles!) and it's worth spending a few hours here and having a picnic.
Here are some essentials for a beach day with the penguins:
Umbrella and towel: Get here as soon as the sanctuary opens to snag some prime real estate on the small beach. Bring something to weight your umbrella down in case the infamous Southeaster is pumping!
Swimsuit: Don't leave your swimsuit at home. The water is chilly, but it's worth it when you can swim past a colony of penguins.
Sunscreen: The African sun is intense. Even if you're not planning to spend the whole day here, you should lather up as shade is not something the beach has in spades.
Camera: Let's face it. You're probably going to snap 100's of photos of adorable penguins. A smartphone will do the job, but if you do shoot with DSLR, bring a zoom lens for beautiful close-up shots.
Snacks and a cooler box: Stop at Woolworths before you arrive and stock up on all the goodies. Remember if you do bring stuff to the beach, practice leave no trace principles to keep the penguin's natural environment clean.
---
Things to Do at Boulders Beach
Swim with the Penguins
Live out your Disney princess dream and swim with penguins at Boulders Beach! The water isn't for the faint of heart, but if you're okay with slowly numbing yourself to the elements, you can practice your strokes with your new penguin BFFs.
IMPORTANT: Do not touch the penguins! They will bite, and you can stress them out, which is bad for their health. Always keep your distance and never prevent them from moving away.
Visit the Penguin Sanctuary
Boulder's Beach is part of a  sanctuary for the penguin colony in Simon's Town. The African Penguin colony is endangered and one of the only few land-based colonies in the world.
Besides the beach, three boardwalks that run through the reserve with one penguin viewing area.
Go Snorkelling or Scuba Diving
Besides seeing the penguins in their underwater habitat, you can swim past shipwrecks, seals and other marine life.
Bring your snorkelling gear and explore the kelp forests or discover some of the top dive spots in Simon's Town such as Justin's Cave, A-Frame and Pyramid Rock.
Read More: 20+ Most Instagrammable Places in Cape Town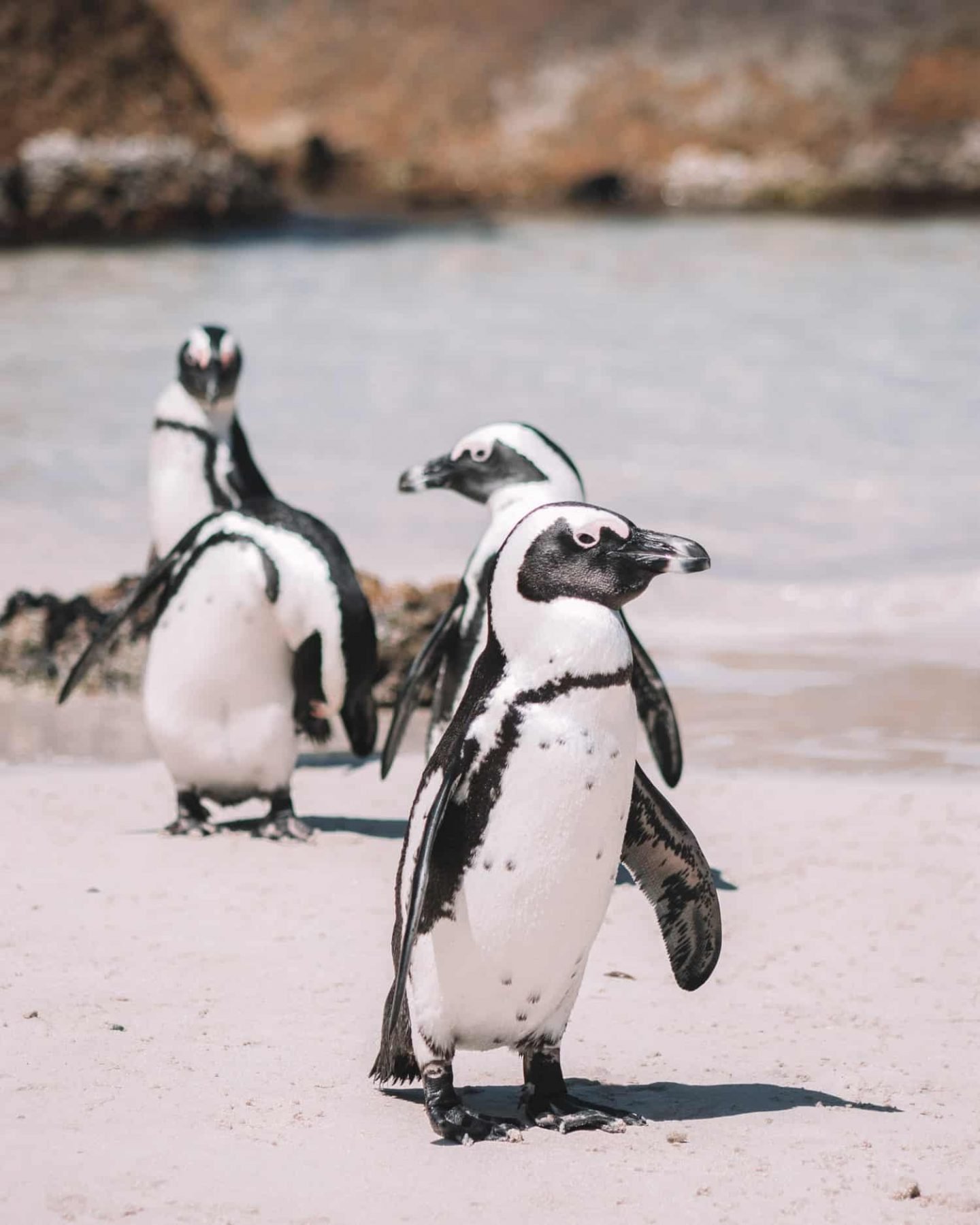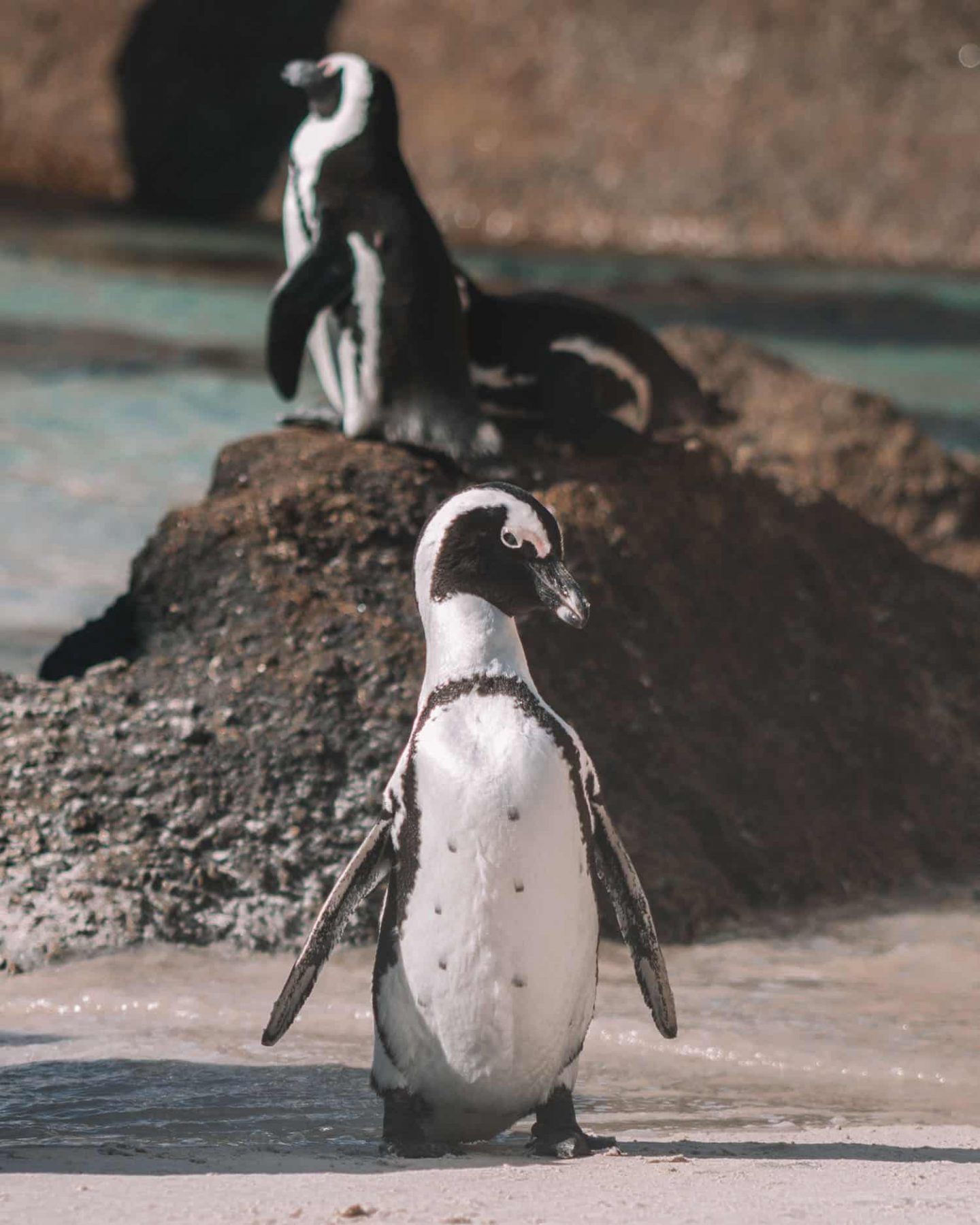 ---
Attractions Near Boulder's Beach
While you're on the East Coast squeeze in a stop to these nearby attractions!
Cape Point
Cape Point is a scenic 35-minute drive from Boulder's Beach. Plus, there's a nearby wine farm if you want to add a wine tasting to your Cape Town itinerary! Inside the reserve, there are multiple hiking trails (including two overnight trails), shipwrecks, deserted beaches and panoramic viewpoints of the peninsula.
Read More: Road Trippin' to Cape Point
Muizenberg
Cool off from the heat of the day in Muizenberg, a 30-minute drive from the beach. The suburb is where you'll find some of the best surf in Cape Town for beginners and colourful beach houses that are perfect for the 'gram.
Kalk Bay
Kalk Bay is one of my favourite little towns in the Western Cape. It's cobblestone streets are lined with trendy boutiques, quirky cafes and dive bars with incredible views of the ocean. It's 20-minutes from Boulders Beach, and the restaurants and bars here are top-notch.
Read More: 14 of the Best Things To Do in Kalk Bay
Chapmans Peak
Chapman's Peak is one of the most specular coastal drives in the world! Only 30-minutes from Boulders Beach, detour back to your hotel with a stop here. Park your car at one of the many impressive viewpoints and watch the sunset over Hout Bay in the distance.
---
How to See The Penguins for Free
Psst…Want to see the African penguins WITHOUT paying the entrance fee?
Next to the cul-du-sac parking on Bellevue Road is a small wooden gate. Open it and follow a path that goes in the opposite direction of the sanctuary.
If you come here in the early morning before sunrise, you'll spot penguins in the grass and on the boulders!
IMPORTANT: This path goes past private property. Please be respectful to the locals and wildlife by being as quiet as possible.
---
Accommodation Near Boulder's Beach
Boulders Beach is a short drive from Cape Town's city centre, but to get the most out of your trip, spend a night or two in Simon's Town. It will give you more time to explore other parts of the coastline, and you can visit all the small suburbs in between like Noordhoek and Scarborough.
Here are some of the best apartments and guesthouses with a view of Boulder's Beach and the penguins:
---
Do you have any tips for visiting the penguins at Boulders Beach in Cape Town, South Africa? Got a question I didn't answer? Hit ya gurl up in the comments below!
---
Psst…Want more Cape Town & South Africa travel inspiration? Check out these posts: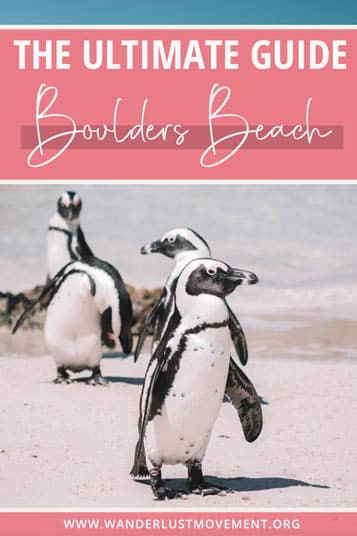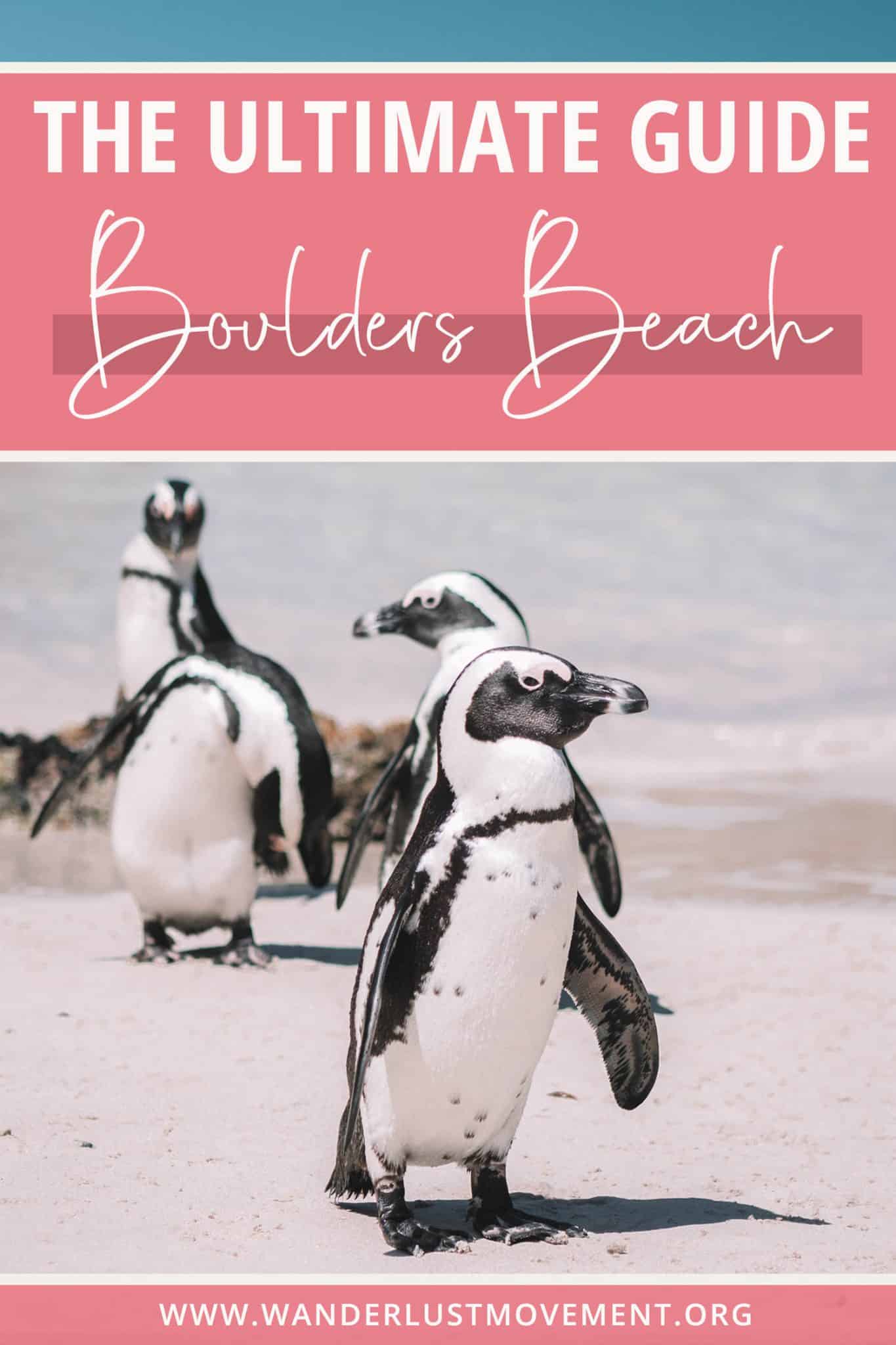 It's not every day that you can swim with wild penguins. Here's everything you need to know about visiting Boulders Beach in Cape Town!