Last Updated on November 19, 2020 by lauren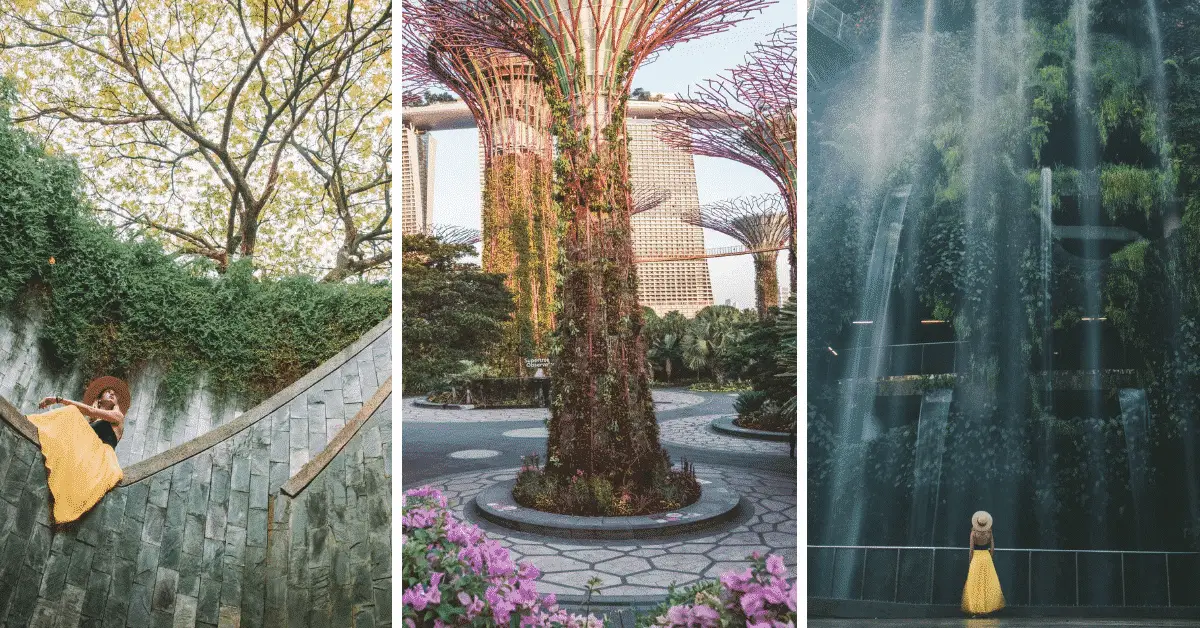 I can't believe I'm saying this, but Singapore is my new favourite country.
As a destination that wasn't  ANYWHERE near my bucket list, my four days in Singapore took me by surprise.
From the minute I walked into Changi Airport to the moment I left, Singapore had my heart hook, line and sinker.
It's one of the most beautiful cities I've explored and spoke to so many facets of my personality.
Incredible natural scenery? Check.
Delicious cheap food? Check.
Mind-boggling architecture? Check.
An extensive public transport system? Check.
Plenty of free things to do? Check.
Singapore is also home to the NICEST people I have ever met in my life!
I know that sounds so generic, but I mean it. I had people come up to me multiple times and genuinely help me not because they wanted money or were trying to rob me, but because they have hearts of gold.
If you're planning a trip to Singapore (can I fit into your suitcase?? I'm itching to go back!) I'm happy to report that four days is more than enough to explore the top attractions.
After hours of research, 20000 steps walked each day, blisters and litres of water consumed, I've created a super detailed guide on all the best things Singapore has to offer as well as where to stay, what to eat and how not to get arrested (it's easier than you may think).
Here's my 4-day Singapore itinerary!
4-Day Singapore Itinerary
Day 1: Gardens by the Bay, Cloud Forest, Art Science Museum, Helix Bridge, Marina Bay Sands Lightshow
Watch Sunrise at Gardens by the Bay & Visit the Supertree Grove
Okay, I know. Sunrise is intense – if you're not a photographer.
But if you can drag yourself out of bed, I promise it's worth it! You'll have the entire Supertree Grove and the Gardens to yourself. It's the best time to get shots without other people, and the sky is a beautiful shade of pink.
For those of you who don't get up before the sun (*cough my boyfriend cough*) plan to arrive at the Gardens by 8:00 am. You'll avoid the crowds, and it will give you a full hour to explore the Supertree Grove before the conservatories open.
Price: Free
Opening Hours: 5:00 am to 2:00 am
---
Explore the Cloud Forest and the Flower Dome
I'm not going to lie.
The attraction that sold me on Singapore was the Cloud Forest.
I mean, it's the world's tallest indoor waterfall, and it looks like something out of Fern Gully (who else remembers that movie?!)
I bought my ticket for the Cloud Forest and Flower Dome at Changi Airport. You can pick it up at the same kiosk where you'll buy your SIM card.
You can buy a ticket on the day you go, but I wanted to save time and be the first person inside the conservatory.
An achievement I ticked off!
You can easily spend an hour or two wandering through the Cloud Forest. There are five levels to explore, a Treetop and Cloud Walk, a beautiful orchid exhibition and a theatre dedicated to educating people about climate change and how it will affect the cloud forests of the world.
It's without a doubt one of the best places to visiting in Singapore!
Price: S$28 for two conservatories
Opening hours: 9 am to 9 pm
Maintenance Dates: The conservatories are closed to the public on specific dates each month for maintenance. Check the dates before you go in case you need to adjust your itinerary for Singapore.
---
Discover Future World at the Art Science Museum
I ran into a snag when I visited Future World at the Art Science Museum. The exhibition was undergoing renovations, and only the Space (Outer Space) section was open to the public.
Luckily, I got a S$10 discount on my ticket and got to see the exhibition's Instagrammable LED lightroom.
Price: S$19 for one exhibition
---
Watch the Sunset From Helix Bridge
End of your first day in Singapore with sunset at Helix Bridge.
It's an impressive pedestrian bridge that links Marina Centre with Marina Bay, and it's a prime spot to watch the sunset over Singapore's skyscrapers.
---
Stay for the Marina Bay Light and Water Show
Unfortunately, I didn't get to see the Marina Bay Light and Water Show. Singapore suspended the event due to the coronavirus outbreak in the city-state.
The performance is 15-minutes long and it features a four-part story told through colourful projections, laser shows, and fog effects set to the tune of an orchestra!
It's definitely one of the most romantic things to do in Singapore!
Price: Free
Times: Sunday to Thursday 8pm & 9pm, Saturday to Sunday 8pm, 9pm & 10pm
Please note: The Light and Water Show is suspended due to the coronavirus outbreak.
---
Day 2:  Fort Canning Tunnel, Old Police Station, Peranakan Houses, & Singapore Botanical Gardens
Visit the Fort Canning Tunnel & Park
Fort Canning Park is a beautiful place to spend a morning in Singapore. It's home to nine historical gardens and once housed the palaces of 14th-century Kings.
These days, the park's most famous attraction is the Fort Canning Tunnel. It's one of the most Instagrammable places in Singapore, and it's worth adding to your itinerary.
---

See the Rainbow Hued Old Police Station (Ministry of Communications)
One thing I quickly realised about Singapore is that it's basically Katy Perry's Confection Tour in real life.
I mean, where else in the world can you find a government building painted in the colours of the rainbow!?
It's one of the most unique buildings in the city and only 15-minutes from the Michelin-rated Chinatown Food Complex. Visit the Old Police Station before or after indulging in some of the tastiest (and cheapest!) food in Singapore.
---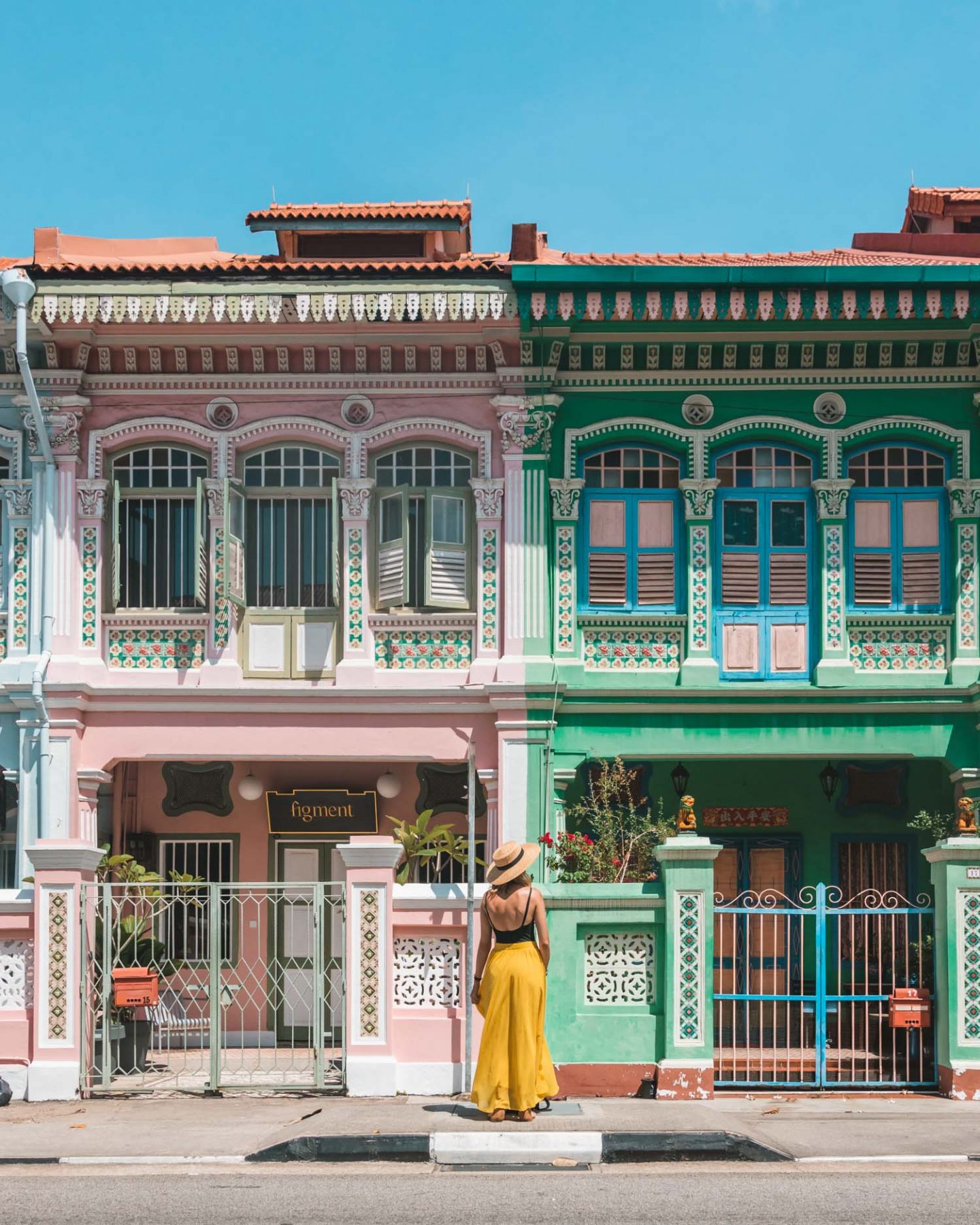 Wander Past the Pastel Houses of Joo Chiat Road
Continue your candy-coated dream by taking the MRT or bus to Katong. It's a historical neighbourhood in Singapore, and it's where you'll find the pastel houses of Joo Chiat Road.
The Peranakan Houses are 20th-century shophouses that were once the homes of the Peranakan Chinese.
While you're in the neighbourhood – don't forget to eat! Katong is one of the top foodie destinations in Singapore. You can grab something at the nearby Hawker Market or relax at a trendy cafe.
Try the famous Katong Laksa (a spicy coconut milk noodle soup) and other Nonya delicacies like Ayam Buah Keluak and Nonya Chap Chye.
---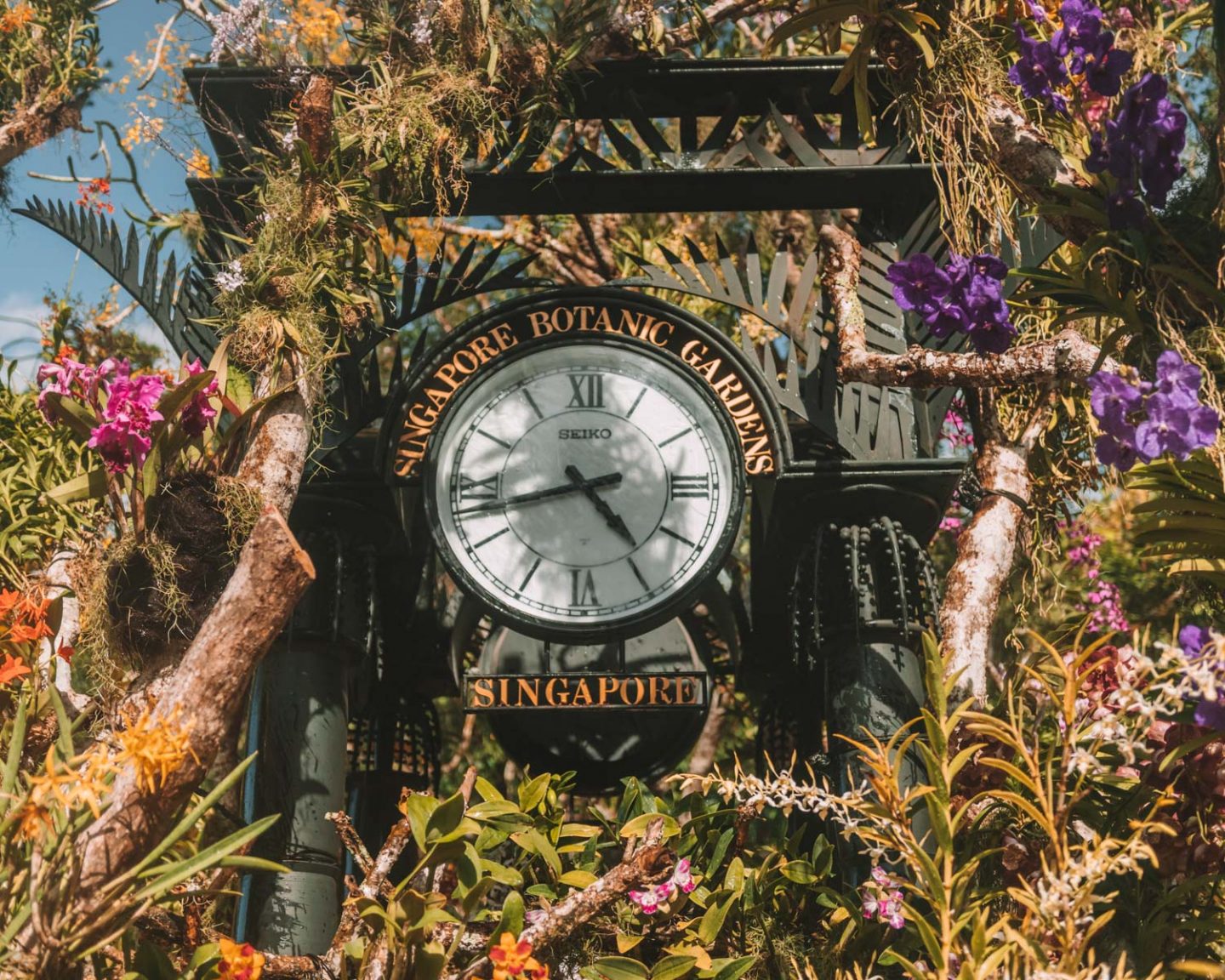 Explore the Orchid Garden at the Singapore Botanical Gardens
Lawd.
The Singapore Botanical Gardens are incredible!
I spent about 3 hours here, and I could easily dedicate an entire day to wandering around here.
It's Singapore's first UNESCO World Heritage Site and the only tropical botanical garden on the list. Established in 1859, it stretches across 60 acres and is a plant lovers paradise.
Time your flights to Singapore with the Tembusu tree flowering season (May to June and October to November). The one at the gardens is over 150 years old, and it's creamy white flowers open at sunset, giving off a strong fragrance.
That sounds like something out of a Disney movie!
But the garden's star attraction is The National Orchid Garden. It boasts the world's largest orchid display and houses 1,000 orchid species and 2,000 hybrids!
Price: Free entry for the Botanical Gardens and S$5 to enter the Orchid Gardens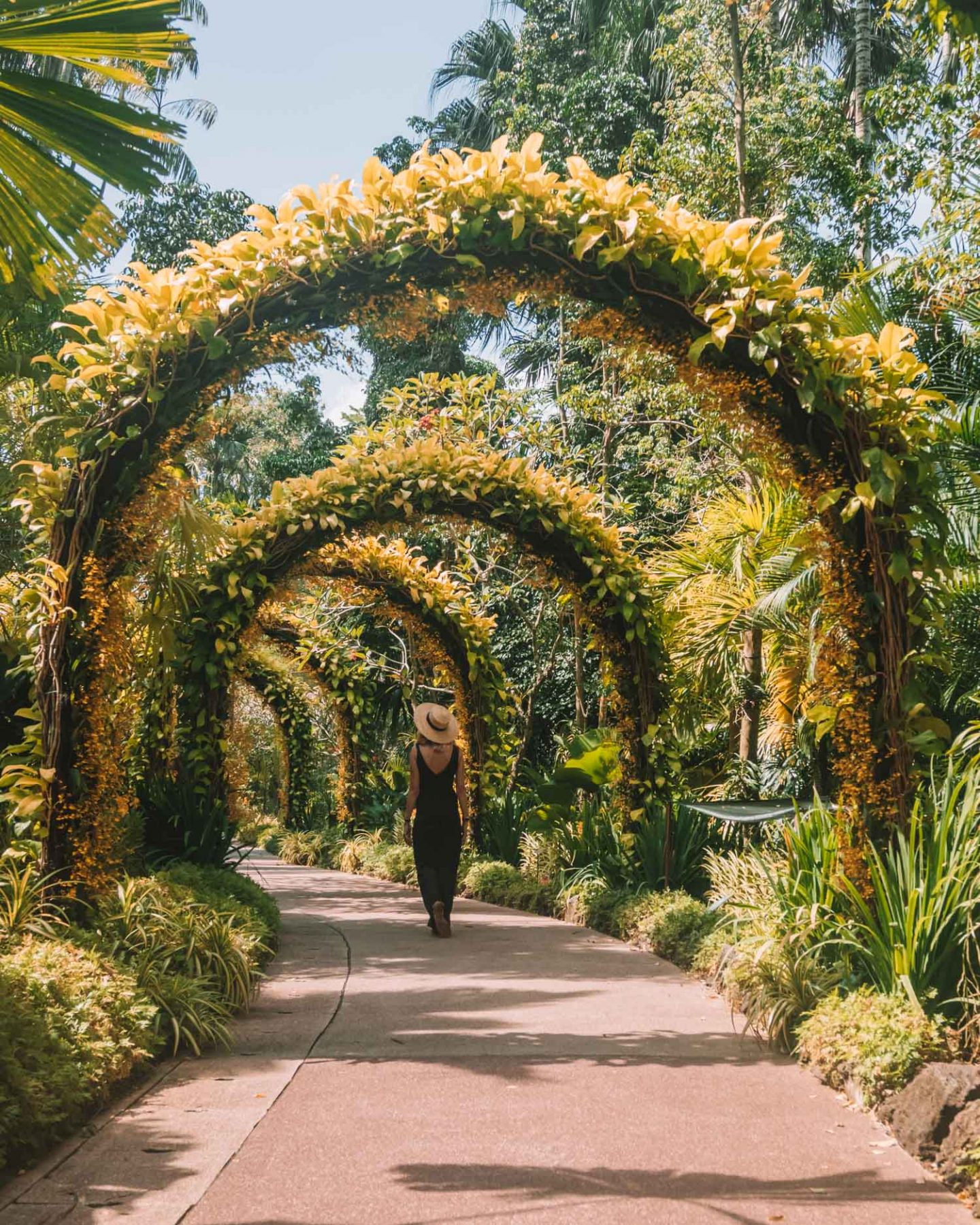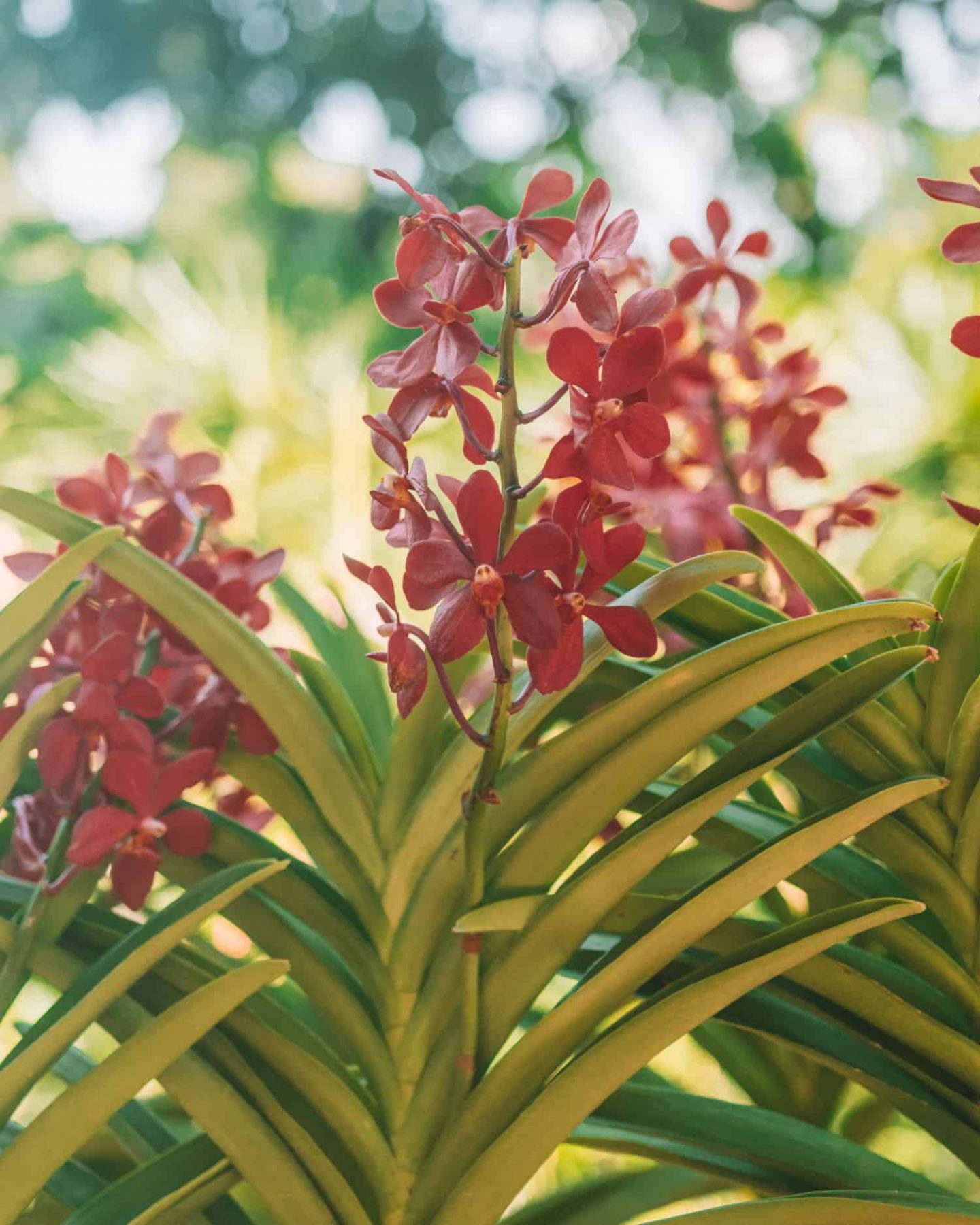 ---
Day 3: Chinatown, Buddha Tooth Relic Temple, Chinese Gardens, & Gardens Rhapsody
Explore Chinatown & Visit the Buddha Tooth Relic Temple
Chinatown is another dose of culture, delicious food and shopping. As soon as you get off the MRT, you'll find stalls selling everything from souvenirs to clothes and dozens of little restaurants.
But Chinatown's jewel is the Buddha Tooth Relic Temple. Located in front of the Chinatown Complex Food Center, it's a beautiful Buddhist temple that houses the relic tooth of Buddha.
The architecture is in the style of the Tang Dynasty, and the interior is ornately decorated.
Tip: If you want to understand the history of the area, sign up for a walking tour. 
---
Take the MRT to the Chinese Gardens, Japanese Gardens and Jurong Lake Gardens for the Afternoon
Continue your immersion into Singapore's Chinese culture by taking the MRT to the Chinese Gardens.  The 13.5-hectare garden is complete with a bridge guarded by majestic stone lions, pagodas, Bonsai Garden and a tea house.
While it is a bit out of the way, it's worth the extra travel time if you want a break from city life during your 4 days in Singapore.
The Chinese and Japanese gardens are closed at the moment, but you can still visit the nearby Jurong Lake Gardens. There are plenty of walking paths to meander around with gorgeous views of Singapore's towering skyscrapers in the distance.
Pack a picnic and stay for the sunset!
Price: Free
Opening Hours: 6 am to 11 pm
Please note: The Chinese and Japanese Gardens are currently undergoing renovations and are closed to the public.
---
Watch the Garden Rhapsody Show at Gardens by the Bay
One of the best things to do in Singapore is the Garden Rhapsody Show at Gardens by the Bay. You'll want to get here early to grab a good spot as it does get busy.
The Garden Rhapsody performance is magical, and the light shows are usually themed around a topic like Star Wars, opera or fantasy. So you'll always get a different show each time you come to Singapore!
Price: Free
Times: 7:45pm & 8:45pm every day
---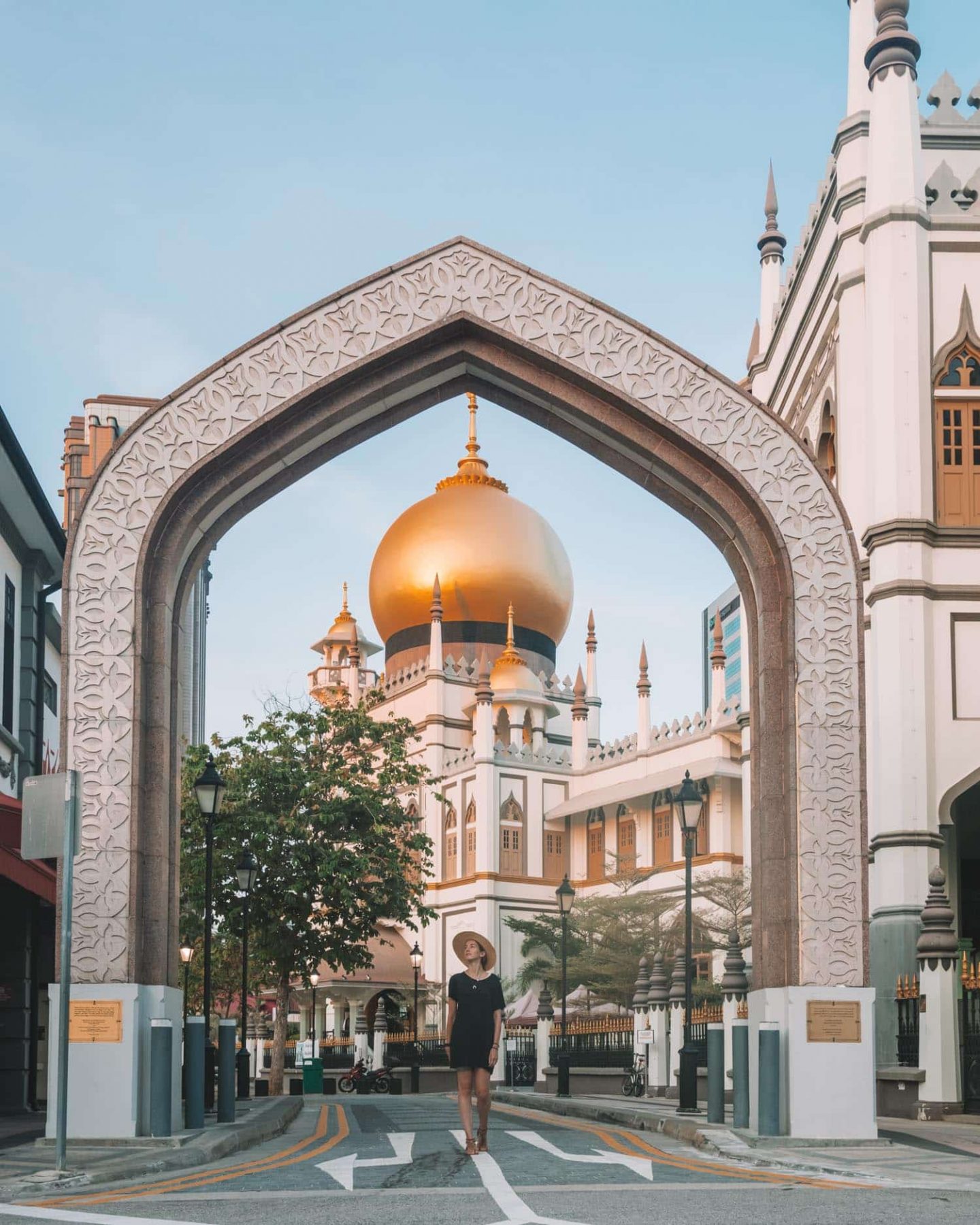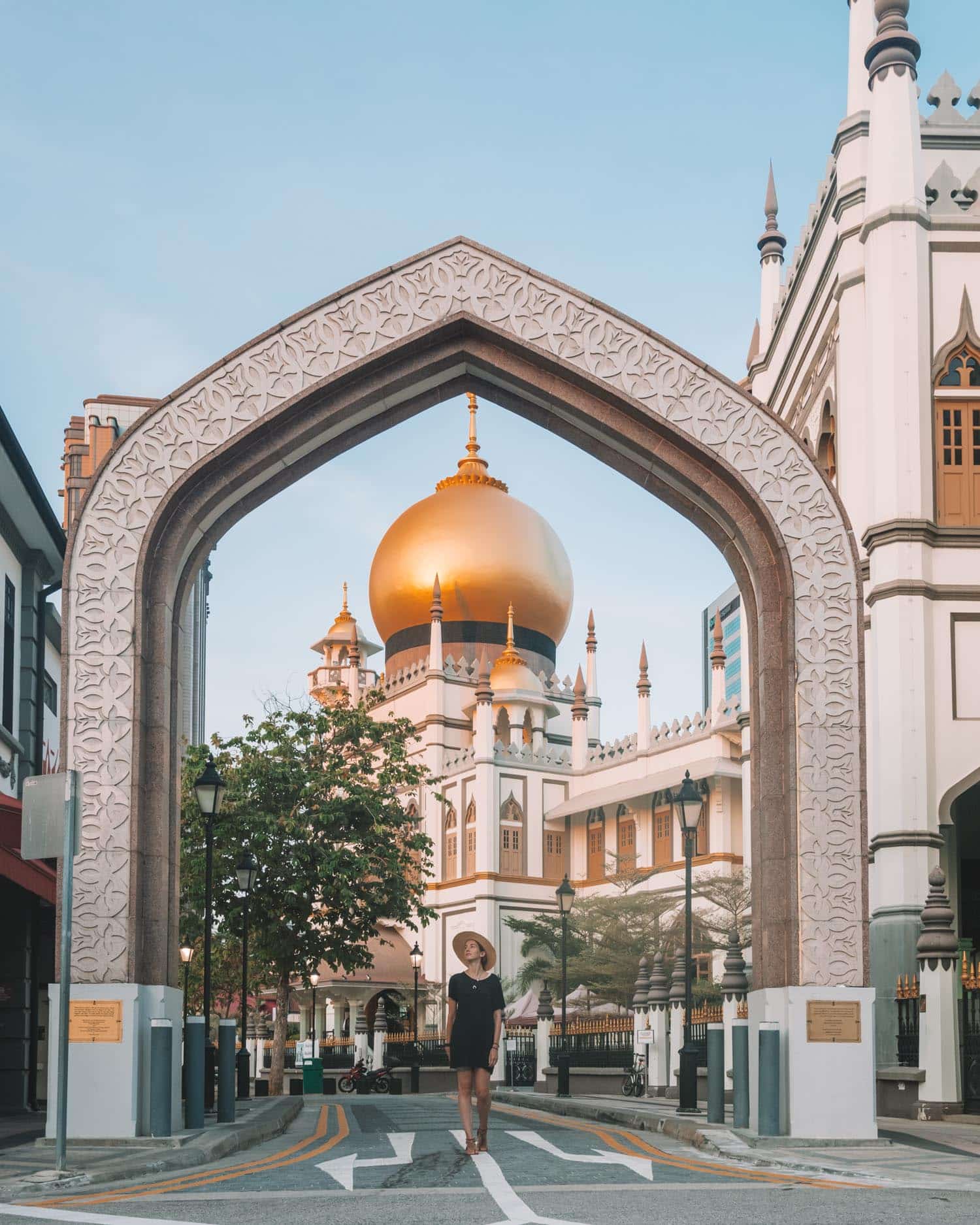 Day 4: Little India, Haji Lane, Masjid Sultan, & The Jewel
Visit the Masjid Sultan on Muscat Street
Built in 1824 for Singapore's first sultan, Sultan Hussein Shah, the mosque is one of the most impressive religious buildings in the country.
If you're up for another early morning mission, I highly recommend visiting Masjid Sultan for sunrise. The light hits the golden dome of the mosque, and it's a beautiful way to start the day.
It is possible to go inside, but the mosque is currently closed due to the coronavirus.
---
See the Colourful Houses of Little India & Tan Teng Niah
Little India is one of Singapore's most colourful districts. It's also where you'll find the best food (in my opinion).
The most famous building in the district is the Tan Teng Niah house. It's an eight-room Chinese Villa with a history dating back to 1900.
As one of the last remaining Chinese Villas in Singapore, it's an impressive piece of history and architecture.
If you want to learn more about the area, I'd highly recommend signing up for a Little India walking tour.
---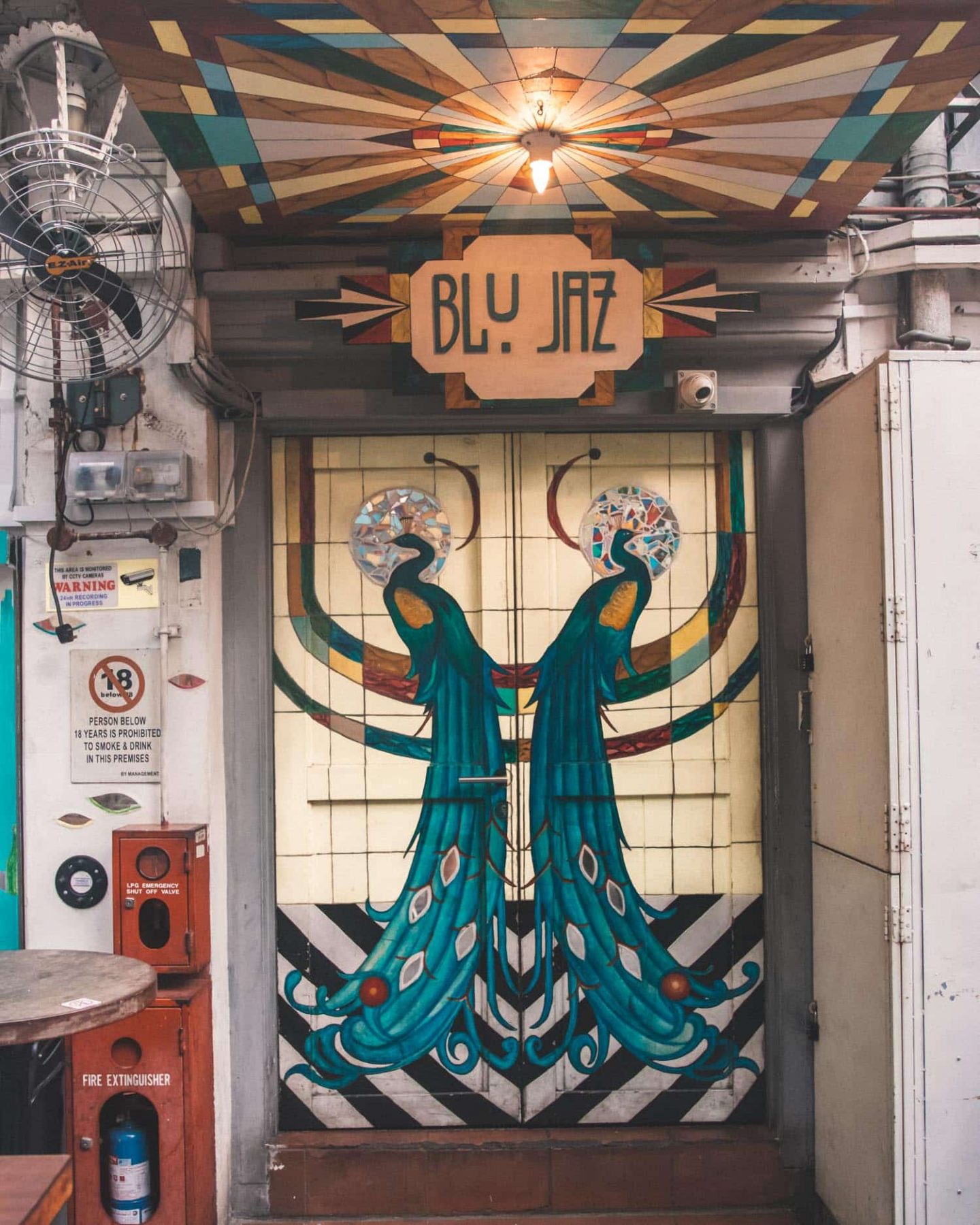 Shop & Have a Drink on Haji Lane
After you're done exploring Little India, take the MRT to Bugis Station. From there, it's a short 5-minute walk to Haji Lane.
Haji is the trendy, artsy side of Singapore. The street is lined with tattoo shops, fashionable boutiques, quirky cafes, shops selling weird knick-knacks and colourful murals.
Come here during the afternoon if you want to experience the vibe of Haji Lane is known for!
---

Go to The Jewel at Changi International Airport
Let's be honest.
How many other countries around the world can claim their airport is a tourist attraction?
End off your 4-day Singapore itinerary by exploring Changi International Airport's world-famous Jewel.
Linked to Terminal 1, 2 and 3 via a pedestrian walkway, the Jewel is a ten-story extravaganza of indoor waterfalls and forests, high-end shopping and a range of global and local cuisine.
(It's also a haven for anxious people like myself who like to arrive at airports six hours before departure).
---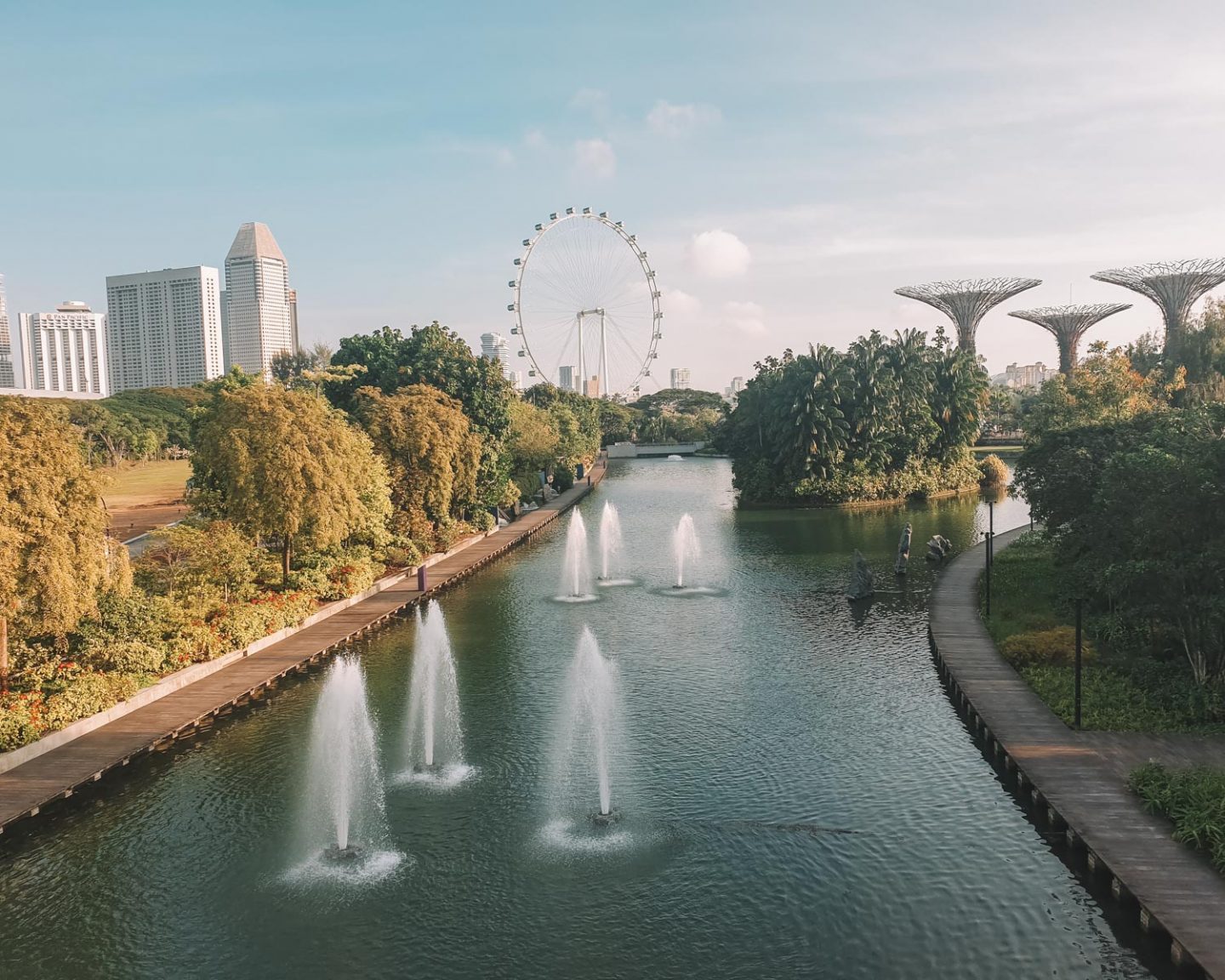 Additional Things to Do in Singapore
Don't like some of my suggestions and want to swap them out? Here are some more incredible things to add to your 4-day Singapore itinerary:
Universal Studios: Love rollercoasters and screaming your lungs out? Head to Universal Studios Singapore on Sentosa Island for an adrenaline-inducing day out. The theme park features 28 rides and unique themed zones like New York, Madagascar, Ancient Egypt and the Lost World. Tickets cost S$81 per person.
Sentosa Island: Sentosa Island is an island resort off the coast of Singapore. Expect pristine beaches, tropical landscapes and tons of things to do. Besides Universal Studios, you can also visit the incredible S.E.A. Aquarium, sign up for thrill-seeking activities at Mega Adventure Park, try Indoor Skydiving and so much more.
Clarke Quay: Clarke Quay is one of the best things to do in Singapore at night. Come here f you want to soak up the city's lively atmosphere at the bars and nightclubs. If you're not a night owl, Clarke Quay is a beautiful area to explore during the day.
Admire The Largest Gin Collection In The World: Atlas Bar is situated in a 7,400 Art Deco building and boasts a menu 1,011 bottles of gin and counting. It's one of the most unique things to do in Singapore, and the architecture alone makes the bar worth checking out.
Singapore Flyer: Want a bird's eye view of the city? Hop onto the Singapore Flyer. It's Asia's largest observation wheel and will take you 165 metres above ground level. Tickets cost S$33 per person, and the flights run from 8:30 am to 10:30 pm every day.
---
4-Day Singapore Itinerary Map
---
Hotel Indigo Singapore KatongHotel Indigo Singapore Katong
Where to Stay in Singapore
Hotel Indigo Singapore Katong: Hotel Indigo is a fantastic mid-range option for travellers that want a dash of luxury without forking out an entire month's rent per night. It's located in the historic Katong neighbourhood and features designs inspired by the Joo Chiat Heritage Area. The rooms offer floor-to-ceiling windows, a dreamy bathtub and there's a gorgeous rooftop pool!
Park 22 Hotel Little India: For a budget hotel option, book a stay at Park 22 Hotel. Situated in Little India, it's within walking distance of an MRT Station and the area's colourful heritage buildings and temples. The rooms are beautifully decorated and come with a private ensuite bathroom and a desk. It's the perfect choice for solo travellers who want privacy on a budget.
Hotel 81 Orchid: Hotel 81 Orchid is a 2-star hotel in the Geylang neighbourhood. The rooms feature simple, modern decor and come with a desk, flat-screen TV and a private ensuite option. Plus, there is a 24-hour front desk, making it an excellent choice if you're arriving on a red-eye flight to Singapore.
CUBE Boutique Capsule Hotel: Love cheap, delicious street food? Stay at CUBE Boutique Capsule Hotel in Chinatown. It's on the area's famous foodie Smith Street and is within walking distance of an MRT station. Breakfast is included, and you can sleep in single or queen-sized bed capsule rooms.
[email protected]: For a futuristic hostel experience, spend a night at Spacepod. The dorm beds look like something out of Star Wars, and it's one of the cheapest, unique stays in Singapore. Choose from single, double or private room pods and fill up on the free continental breakfast before heading out to explore.
---
Transportation in Singapore
The best way to get around Singapore is with the city's extensive public transportation system. No matter where you want to go, you won't have a problem finding a bus, train or taxi that can take you there.
Singapore Tourist Pass VS EZ Link Card
Should you get a Singapore Tourist Pass or EZ Link Card for your 4-day trip to Singapore? Let's weigh up the options!
The Singapore Tourist Pass will give you unlimited rides on the MRT and bus network for one (S$10), two (S$16) or 3 (S$20) days. You can buy the three-day pass and then switch to buying single trip tickets. These usually cost anywhere from S$1-3 depending on the distance travelled. You can buy the card at Changi International Airport when you arrive.
The EZ Link Card is what locals use to get around. You can buy the card for S$10 and S$5 is available for you to use as fare. After you use that up, you'll need to top up the card with more credit. EZ Link Cardholders also get a small fare discount, making it a more affordable option than single trip tickets.
I'd only recommend buying the EZ Link Card if you're staying longer than 4-days in Singapore. Most of my trips cost S$1.98, and I spent at least S$10 on transport every single day.
Transport from Changi International Airport
MRT: The cheapest way to get from Changi International Airport into the city centre is with the MRT. The only downside is that trips can take as long as an hour. But with a S$2-3 price tag, I'd say it's worth it.
Bus: You can catch the local bus from the basement of the airport. Tickets are around $2 per person, and the buses can take up to 1 hr 30 minutes to reach destinations like Orchard. Another option is to take the City Shuttle bus for S$6. It provides a drop-off service to most hotels in the city, and you can book your spot online.
Taxi: If you've arrived with a lot of luggage, you're in a big group, or you don't want to deal with public transport, you can get a taxi. There are metered cabs available at the airport as well as Grab (a ride-share service). One-way trips start at S$25.00.
How to Get Around Singapore
MRT: The best and fastest way to get around Singapore is with the MRT. There are trains every 3 to 5 minutes and the network zig zags across the entire city. There are stations within walking distance of all the major attractions and the lines open as early as 5:30 am and close at 12:30 am.
Bus: One of the cheapest transportation options in Singapore is the bus. While it's not a quick way to get around, you'll get a chance to see the city during your commute. If you aren't using a Tourist Pass or EZ Link card, you can buy a single trip ticket from the bus driver, BUT you'll need the exact amount as no change is given.
Taxi: Metered cabs and ride-sharing services like Grab (Southeast Asia's Uber) are available. You probably won't need to use a taxi unless it's late at night or you want a more comfortable way of getting around.
---
Where to Eat in Singapore
The best place to eat in Singapore on a budget is at the local Hawker Centres. The food is cheap (S$2-5) per meal, and you can feast on a range of cuisines from Chinese to Indian.
Here are some of the top Hawker Centres in Singapore:
Lau Pa Sat
Located in the heart of Singapore's financial district, Lau Pa Sat has been serving up food since the 19th-century. It offers some of the best in local cuisine as well as dishes from nearby countries like Thailand and far-flung destinations such as Turkey.
Address: 18 Raffles Quay
Maxwell Food Centre
Maxwell Food Centre is one of the most popular hawker markets in Singapore. It boasts some of the country's best food stalls and is the place to go if you want to try Singaporean food.
There are 13 stalls to choose from selling items like hot bowls of fish soup, oyster cakes, tapioca cake and traditional handmade ngoh hiang. As it is situated in Chinatown, vegans and vegetarians will struggle to find something to eat – but it's not impossible!
Address: 1 Kadayanallur St
Bugis Street Market & Albert Centre
Bugis Street Market deserves a spot in your Singapore itinerary – especially if you want to shop 'til you drop on a budget. It's one of the cheapest places in the city to buy souvenirs, clothing, electronics, and food.
While there are snacks like satays at the market, you'll want to visit the food centre at the back (Albert Centre) for larger meals from around S$3.50.
Address: 3 New Bugis Street
Tekka Centre
On the hunt for cheap, authentic Indian food? Make your way to the Tekka Centre! Situated in Little India, it's one of my favourite hawker centres in Singapore. You can pick up delicious meals for as little as S$2 and sip on a traditional mango lassi.
Address: Bukit Timah Rd
Have Dinner At The World's Cheapest Michelin Star Restaurant
You don't need to splurge on an S$100 meal to experience Michelin quality food in Singapore. Hawker Chan in the Chinatown Food Complex is the cheapest Michelin Star restaurant in the world. It's famous soya sauce chicken, and rice costs only S$2.50!
Address: 335 Smith St
---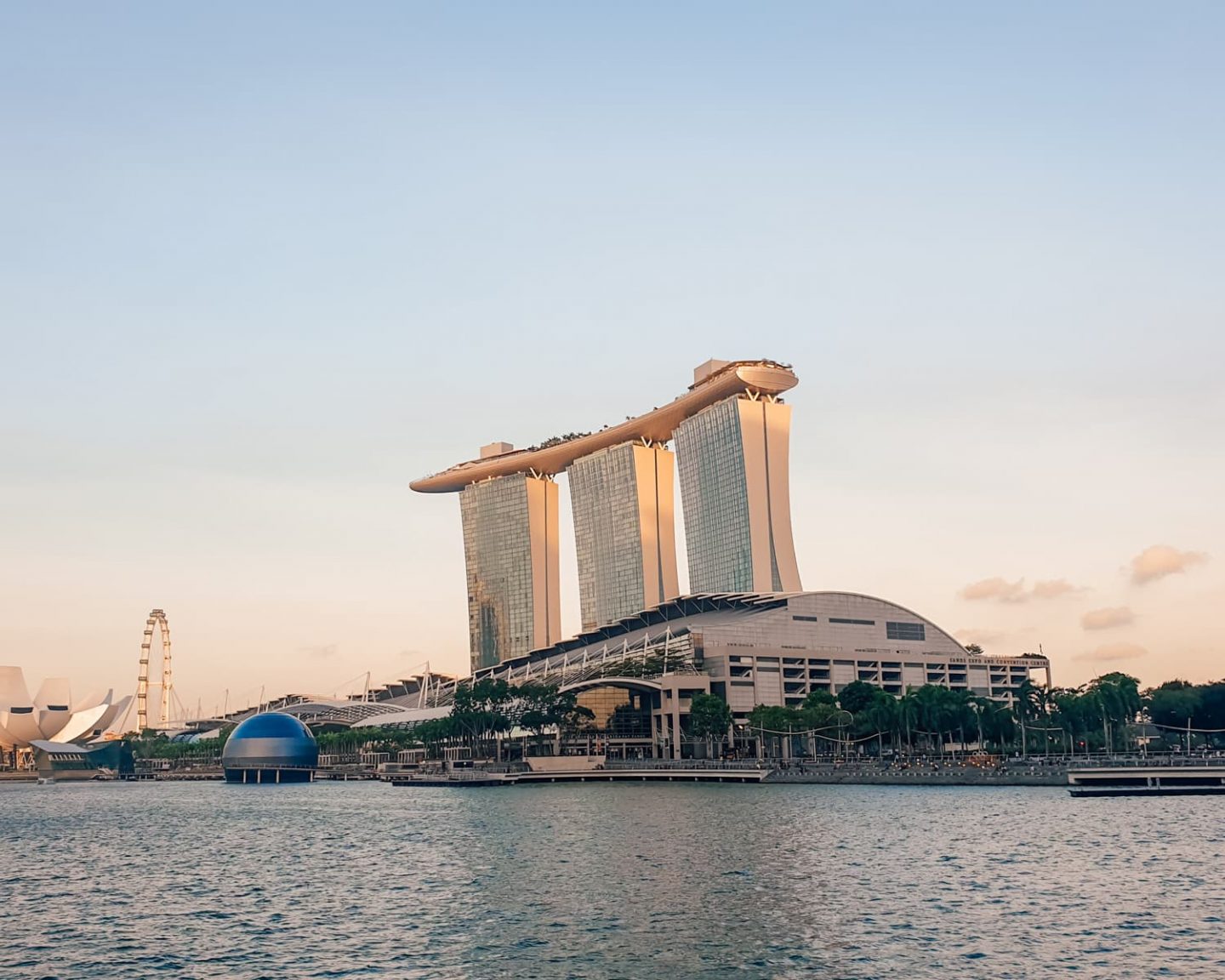 Singapore Travel Tips
Visa for Singapore
Singapore is visa-free for South Africans! Booya! You don't need to apply for a visa before arrival or pay a fee when you arrive. Once your flight lands, you'll get a 30-stamp in your passport, and an immigration official will take your biometrics.
Read More: The Complete List of Visa-Free Countries for South Africans
Things That Are Banned in Singapore
Chewing gum
E-cigarettes
Shisha
Public nudity
Taking durian onto public transportation
Gathering in groups of 3 or more people after 10 pm
Buying alcohol after 10:30 pm
Annoying someone with a musical instrument
Littering
Spitting
Same-sex relationships
Illegal drugs carry the death penalty
SIM Card
I'd recommend buying a tourist SIM card at Changi International Airport when you arrive. I paid S$30 for 30-day 10G sim card that included credit for overseas calls and a few gigs for destinations like Indonesia.
The Best Time to Visit Singapore
There is no bad time to visit Singapore. The country has a warm, tropical climate and rain can happen throughout the year. If you're visiting Singapore on a budget, plan your trip around Chinese New Year and other big holidays which cause prices of hotels and flights to spike.
Travel Insurance
From cancelled flights to stolen cameras, take out a comprehensive travel insurance policy with World Nomads. The policies are designed with travellers in mind and cover you for a range of adventure activities as well.
---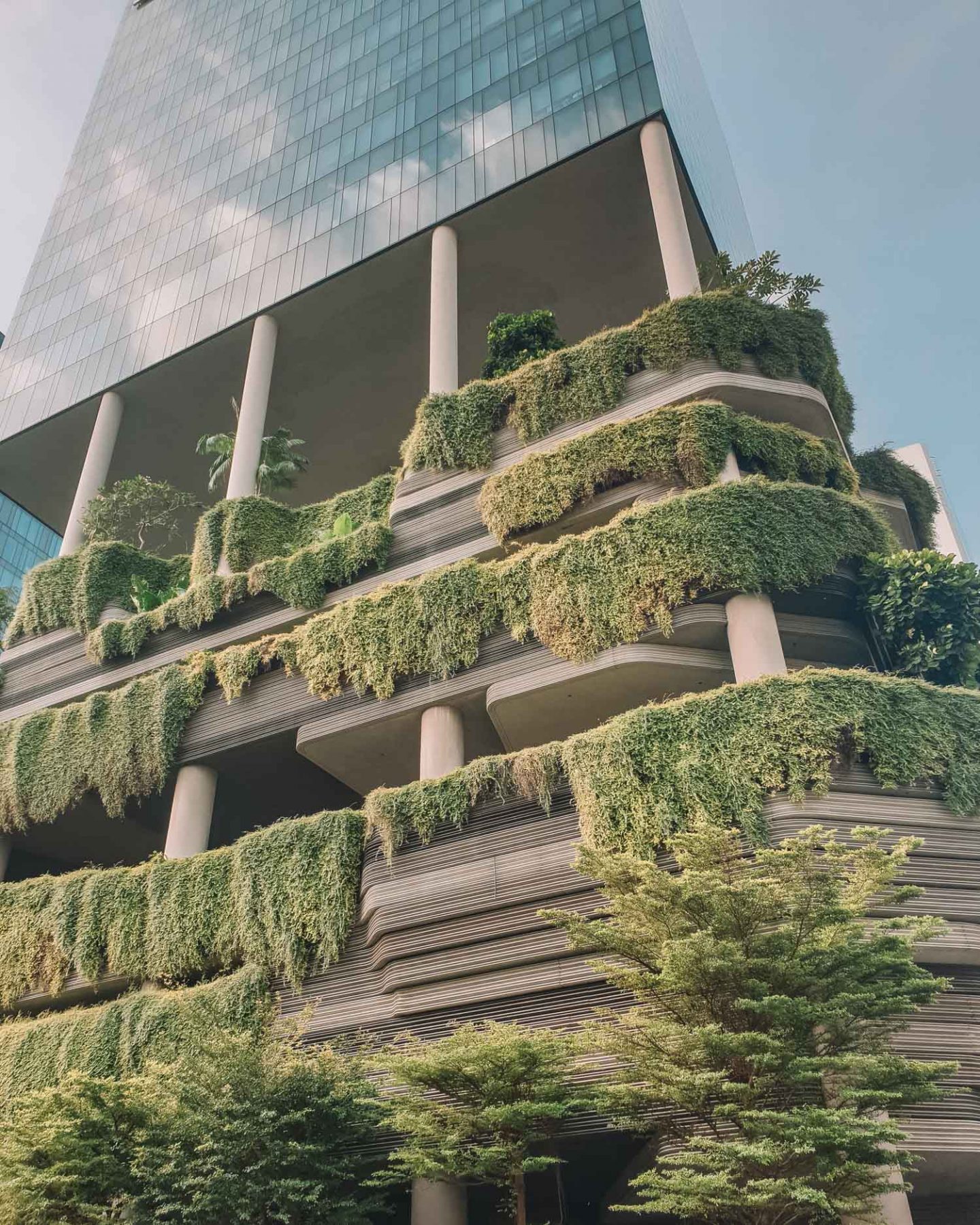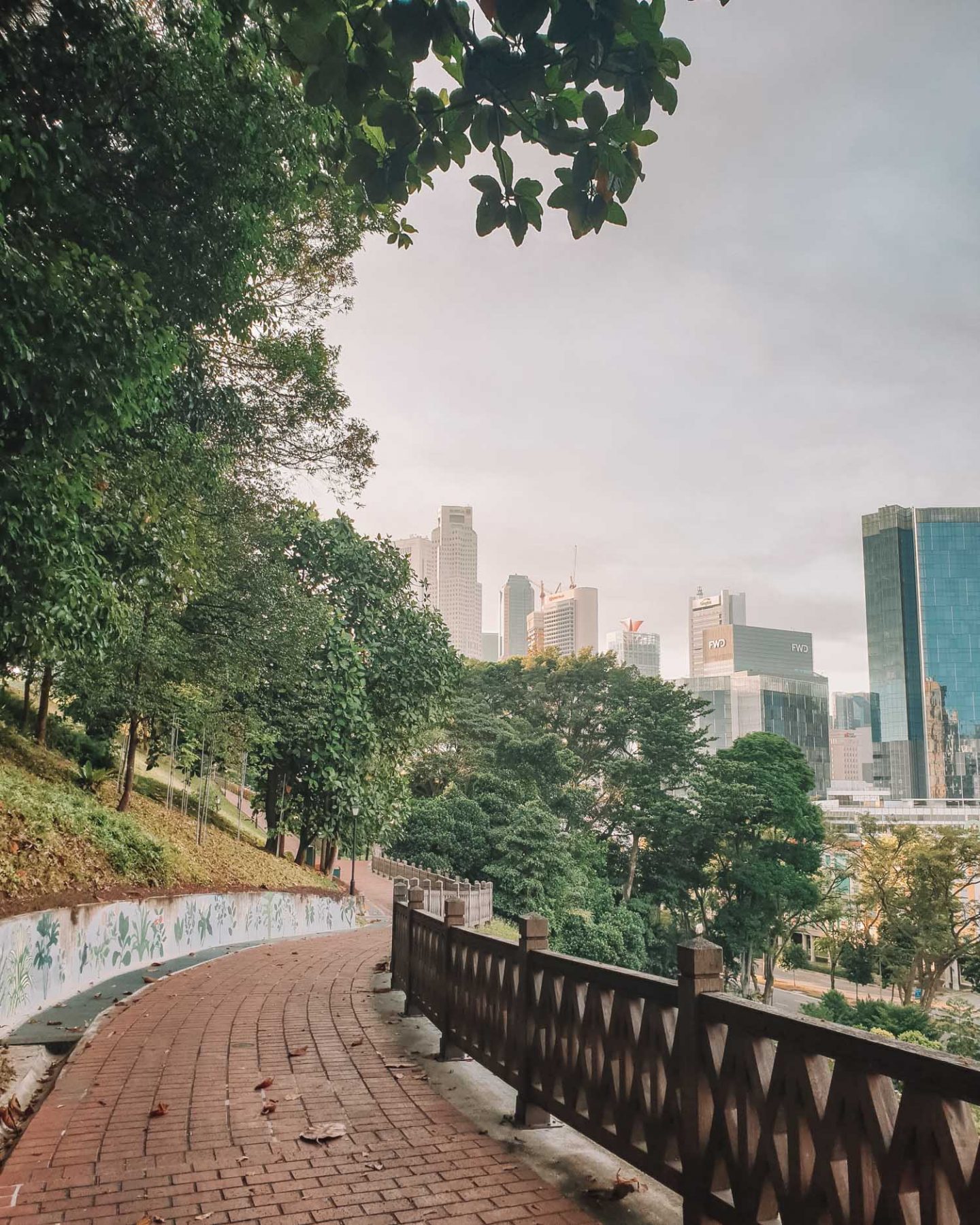 What to Pack for Singapore
International Converter: I made a rookie mistake for my trip to Singapore and left my international adapter in Bali. Bring along an international adapter that has the type G three-point socket.
Portable Phone Charger: Avoid the pain of having to find a restaurant with plug points by packing a portable phone charger. Trust me. You're going to be using your phone A LOT. Whether it's for Google Maps or taking photos, you won't survive a full day without a battery pack.
Hat: No matter what time of year you're visiting Singapore, you'll need a hat. The country's weather is hot, and you'll want all the sun protection you can get.
Raincoat & Dry Bag: On the flip side, a tropical thunderstorm could roll in unexpectedly. Keep a small raincoat in your bag and bring a dry bag for all your electronic equipment.
Travel-sized Tripod: I travelled to Singapore solo and took all my photos using my tripod and Canon Connect App. I recently upgraded my tripod to the Manfrotto Traveller and couldn't be happier. It's super compact and fits into my small day bag. If you're travelling with other people and you're not a landscape photographer, you can skip this.
Sunscreen: The sun in Singapore takes no prisoners. I'm the most golden I've ever looked in my life, and I did my best to avoid the sun as much as possible. Pack sunscreen with an of SPF 50+ if you're fair-skinned and do not want to tan.
Reusable Water Bottle: One of the things I loved about Singapore is that the city-state has public drinking fountains and the tap water is potable. Save money on buying plastic bottles (and help the planet) by using a reusable water bottle throughout your trip.
Camera: No trip to Singapore would be complete without a camera! It's one of the most photogenic cities in the world and is a photographers dream. During my four-day trip to Singapore, I shot with my Canon 80D and Sigma Art 18-35mm lens. In hindsight, I should have brought my Canon 10-22mm lens as I struggled to get attractions like the Supertree Forest and the Cloud Forest in the frame.
---
Woo-hoo! You made it to the end of one action-packed Singapore 4-day itinerary!
Do you have any questions about your trip or did I leave out one of your favourite Singapore attractions? Hit ya gurl up in the comments below!
---
Psst…Want more travel tips for Southeast Asia? Check out my other posts:
? If you like it, then you should put a pin on it! ?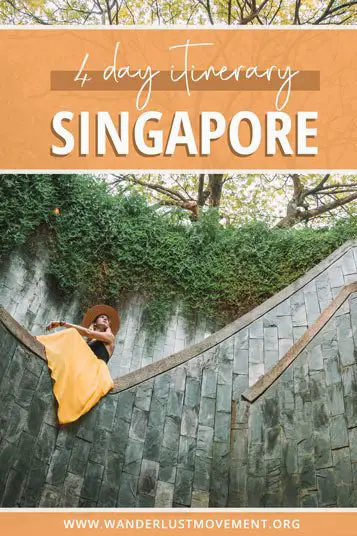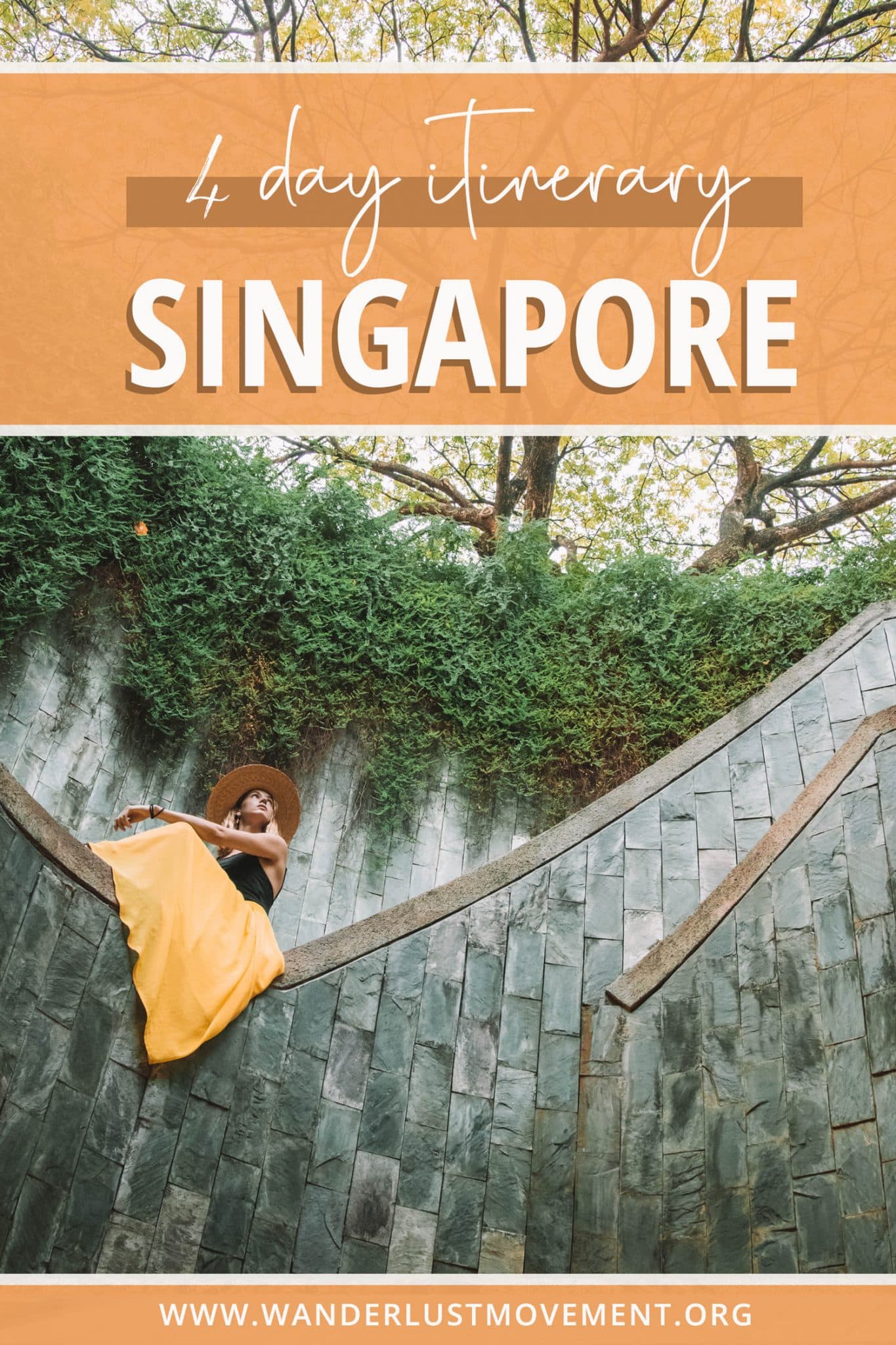 Worried 4 days isn't enough? Here's a detailed Singapore 4 day itinerary on how to see all the top attractions, where to eat, stay & more!