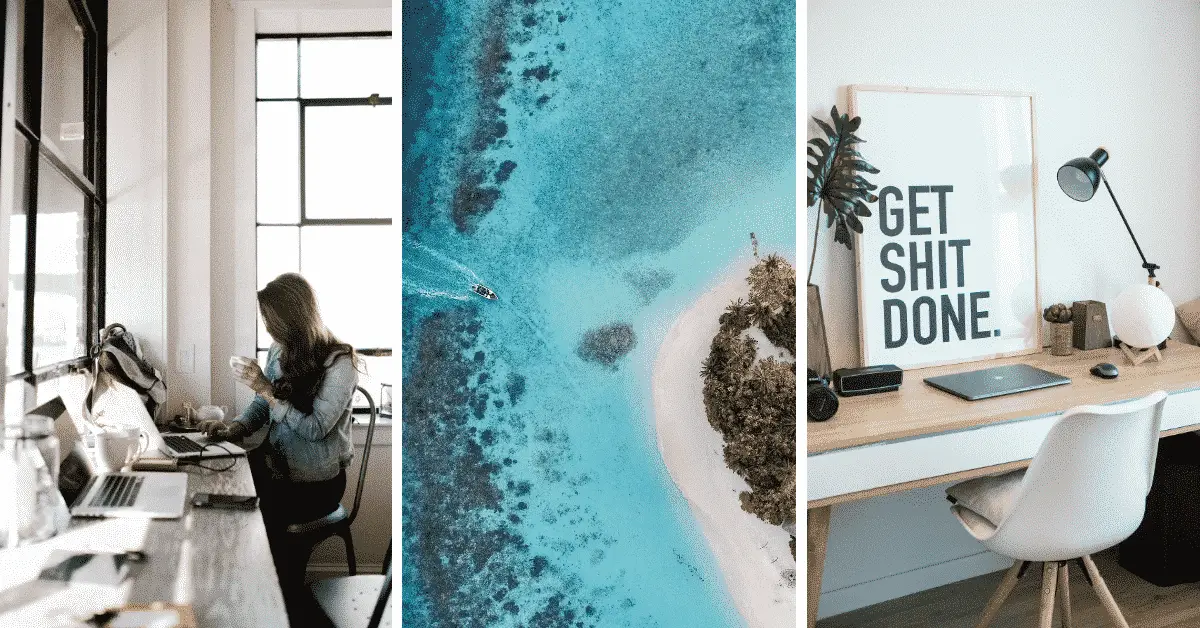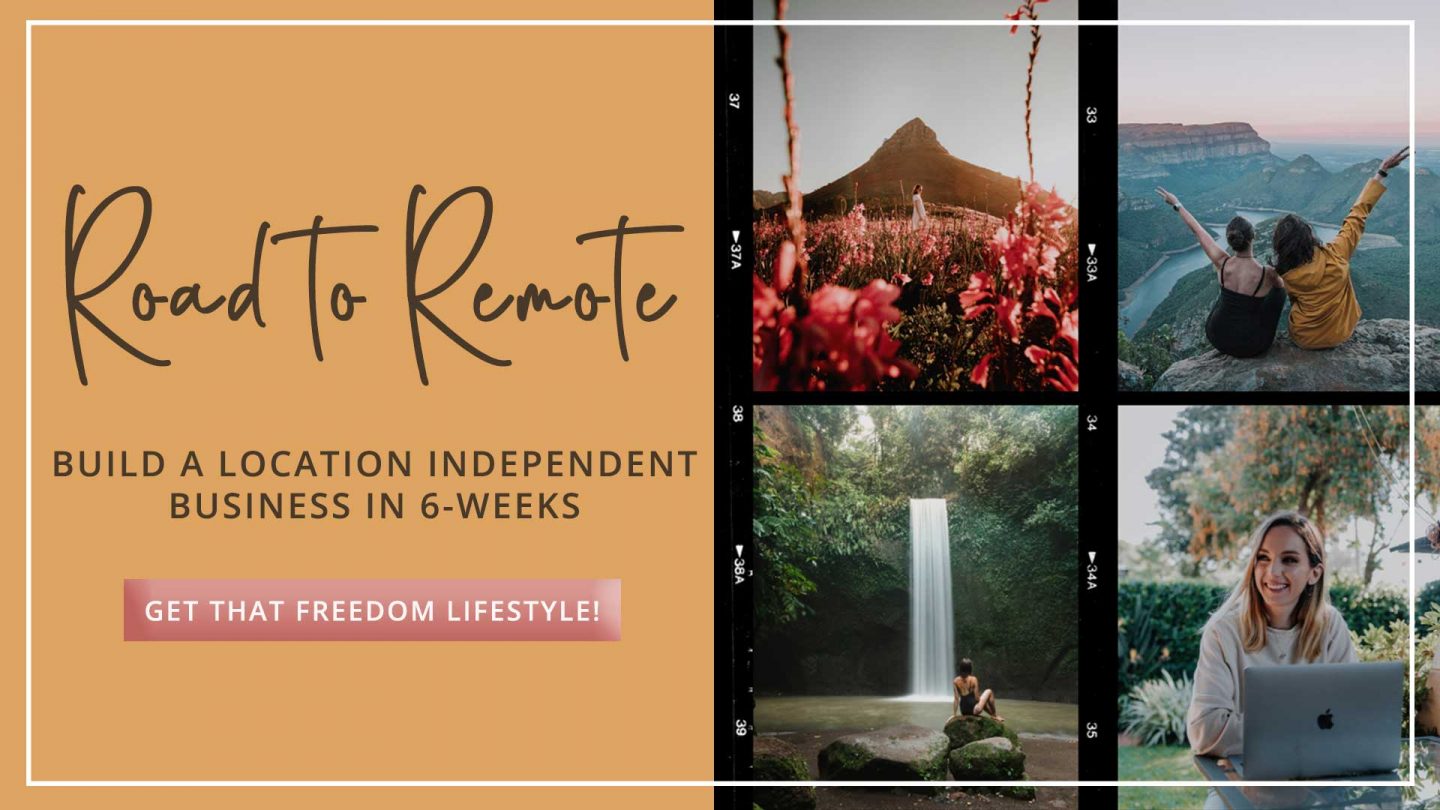 What's the WORST part about location independence?
Not knowing how to start making money!
If you're constantly thinking: "Where the hell do people find clients and remote jobs?!"
I've got you covered.
I tracked down the BEST sites for finding remote work online.
And no, you don't need to be a web developer or digital marketer to get in on the digital nomad lifestyle.
I've found niche job boards for e-sports (who knew that was a thing you could get paid for online?!), lawyers, translators and C-suite execs who want to become remote consultants for Fortune 500 companies.
With the coronavirus keeping most of us inside, there's no better time to start looking for online work. Whether you want to kick start a side hustle or finally get a job that doesn't require you to sit in traffic every day.
Ready to find your dream online job and land your first *paying* client? Here are the best sites for remote work!
How to Find Remote Work Online
Best General Remote Work Job Boards
Angel List
Angel List is a site I use every single day. Not only is it a valuable source for finding leads, but it has a job board full of positions with up and coming tech start-ups. While most jobs are for developers, you won't struggle to find positions for sales, marketing, support or content creation. Angel List lets you apply for jobs discreetly (perfect for those 9-5ers who don't want their boss to know about their plans) and each job post includes salary transparency.
Flexjobs
Flexjobs is an incredible remote work job board. It posts full-time, part-time and freelancing gigs for over 50 career fields! Plus, there are remote online jobs for people with no experience right up to executive level. Flexjobs screens every single job posting to make sure it's from a legit company to protect you from scams. The only catch? It's not free. You have to pay a monthly fee of $14.95 to be able to read job postings and apply.
Jobspresso
Jobspresso features a wide selection of curated remote work jobs. Each posting is scrutinised by staff to make sure it's high-quality and legit. If you tired of always reaching out to companies, Jobspresso lets you upload your resume for potential employers to search.
No Sweat Work
No Sweat Work is a job board site I've seen popping up in South African digital nomad groups. You'll need to create a profile to apply for jobs (which is 100% free), and then you can browse freelance or permanent position jobs. One thing to keep in mind is that not all positions are fully remote. Currently, there are jobs for marketing & media, advertising, film and IT & software development. No Sweat Work is for South African job seekers, and all job postings show the exact amount you'll make before tax.
Outsourcely
Outsourcely is a job board for full-time or part-time remote employees. It's not the best place to find gig projects as the companies are looking to foster long-term relationships. Browse jobs for design and multimedia, web development, content writing, sales, customer service, and marketing.
Pangian
Pangian is on a mission to connect remote workers with reputable companies around the world. The job board is robust, featuring remote positions for UX design, digital marketing, customer service, content writing, teaching and more. Pangian also offers a free community where you can connect with remote professionals from around the world.
Skip The Drive
Want to save time finding relevant jobs? Log onto Skip The Drive and use the filtering system to find posts in your niche and see results from other job boards on the web. The service is 100% free, and there are useful resources to help you swap your daily commute for a beach in Bali.
Remote Bliss
Remote Bliss features remote positions for full-time, part-time, contract, freelance and temporary professionals. The main job categories are customer service, data science, education, healthcare, HR and marketing. The site also has resources for remote workers and a Slack community.
Remote.co
Remote.co is more than another job board. It comes with juicy details like live rankings of the top companies looking for staff and stats on trending remote work niches. It's an excellent resource to browse through if you're looking for sales, design, developer, recruitment, marketing, and writing opportunities.
Remote Ok
What I love about Remote OK is the job site's filtering system. There is nothing more soul-draining than having to mindlessly scroll through endless job opportunities that don't apply to you. Remote OK lets you filter open positions by experience level, job type (marketing, design, sales, customer support and more) and whether it's a tech or non-tech related job! Create a custom job alert for your niche, and you'll get daily, or weekly email alerts of all new remote posts.
Remotive
Remotive is a free-to-join bi-monthly newsletter for remote job seekers with startups. The listings are broken down by type (marketing, sales, support, etc.), making it super easy to find a job in your niche. Besides the postings, you'll also get tips on location independence, access to interviews and bi-weekly webinars. If you don't want to clog up your inbox, you can browse available jobs on the website.
SolidGigs
SolidGigs is more for people looking to land freelance remote gigs. It's a monthly subscription service where you'll get sent the best remote freelance jobs to your inbox every single week. I'd recommend paying for the service if you don't have time to troll through job boards every single day and want to streamline your search. You can get a 30-day trial for $2 and then pay $19 per month. There's also a huge resource library with courses, interviews, templates, scripts and other tools to help you land more freelance jobs and grow your business.
We Work Remotely
We Work Remotely was one of the first remote job boards on the scene. Today, it's grown to a staggering 130,000 monthly users and is the place to start your location independence journey. Browse jobs in programming, copywriting, customer service, finance, admin, sales or design. You can filter job posts by full-time or contract, and you don't need to pay a monthly fee to apply for a position!
Work Ew
Work Ew is a digital nomad job board I stumbled across a couple of months ago on Facebook. It's a standard job search site with the ability to upload your resume and get Twitter notifications as soon as a position is uploaded. Work Ew has a range of categories including cryptocurrency, project management, operations and an "other jobs" section for posts like events specialist.
Working Nomads
Working Nomads is a free newsletter subscription for digital nomads. By signing up, you'll receive a curated list of remote jobs in your inbox every day or week. While you can find a range of location independent jobs on the website, the postings skew towards software developers.
Upwork
Upwork is how I started my journey to location independence. After landing a teaching job in Thailand, I used my free time in between lessons to manage social media accounts and write short 500-word blog posts. The pay on Upwork isn't great, but it's a way to gain testimonials and experience. You'll find jobs for almost anything. Whether you're a Virtual Assistant, a Facebook Ads manager or someone who wants to ghostwrite romance novels. The biggest drawbacks of using Upwork? You have to split 20% of what you make with the website, it takes two weeks to get paid, and you need to buy credits to respond to jobs.
Read More: 10 Tips For Working From Home To Maximise Your Productivity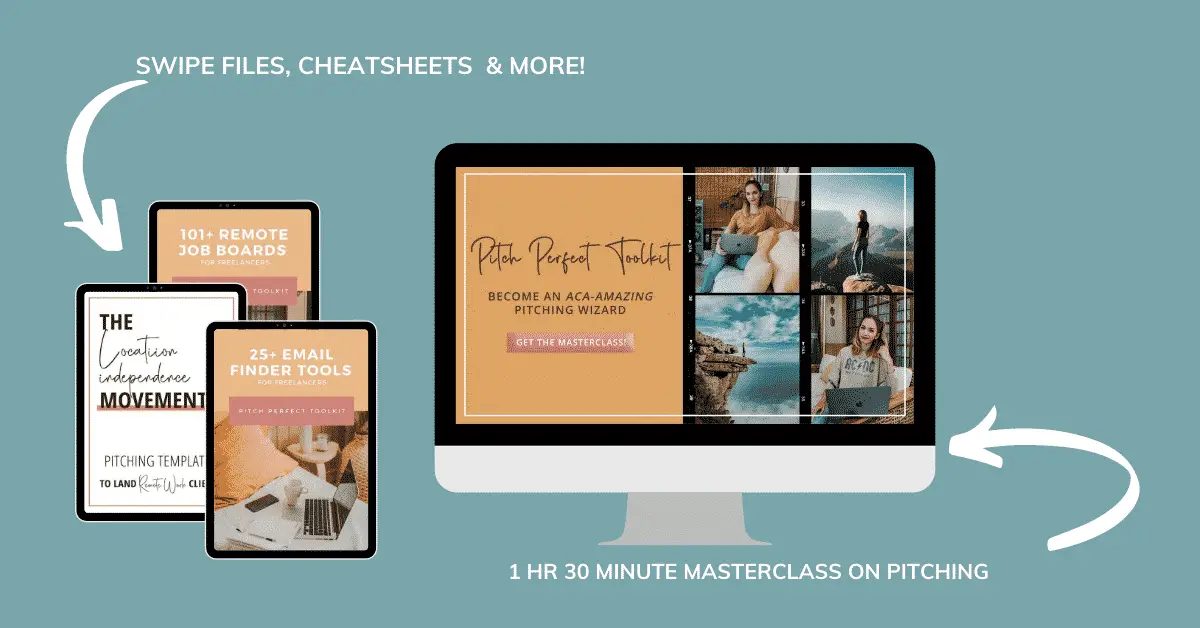 Not getting a response from job boards? Learn how to write pitches that SELL your services and position you as the EXPERT. Watch the Pitch Perfect Toolkit Masterclass and write aca-amazing pitches in 1hr 30min!
---

Best Writing Remote Job Boards
BloggingPro
BloggingPro is perfect for remote workers looking for blogging jobs – especially beginners. The list is updated daily, and you can filter through the results according to your writing niche.
Contena
Contena is a paid writing remote job board. However, it's WAY more than a website to land a gig. Your membership includes access to the Contena Academy, where you can learn how to write persuasive writing samples for any niche, tips for building a portfolio and landing the perfect clients. The job board has posts from a variety of companies, and you can land gigs writing newsletters, product descriptions, blog posts and editing positions. The only downside is that membership prices are steep. You'll need to pay between $99 – $199 per month for six months.
Contently
Contently isn't a job board, but a way to market your freelance writing business. The blog lets you apply to upload your portfolio to the site where you can land work from their network of brands IF you're a good match.
Freelance Writing
Freelance Writing is a job board that collects postings from around the web. You'll find postings for copywriting, blogging, social media, proofreading, journalism and technical writing. If you're new to freelance writing, use the free resources to sharpen your skillset and start creating high-quality articles. Always select the "remote" option under location to filter through US-based postings.
ProBlogger
ProBlogger is my absolute favourite job board for finding remote freelance writing jobs. I've found some of my favourite (and highest paying) clients on here. I'm talking $200 to $400 per blog post. You will need to have a writing portfolio to land jobs, as most clients are looking for intermediate to advanced writers. When it comes to writing niches, ProBlogger has it all such as gardening, B2B, cannabis, and even writing copy for online dating websites.
Remote Rich
Remote Rich is a daily list of the best remote writing gigs around the world. However, if you dabble in other parts of digital marketing, the site features another job board for social media management, email marketing and head of content positions.
Read More: 16 Things No One Tells You About Working From Home
---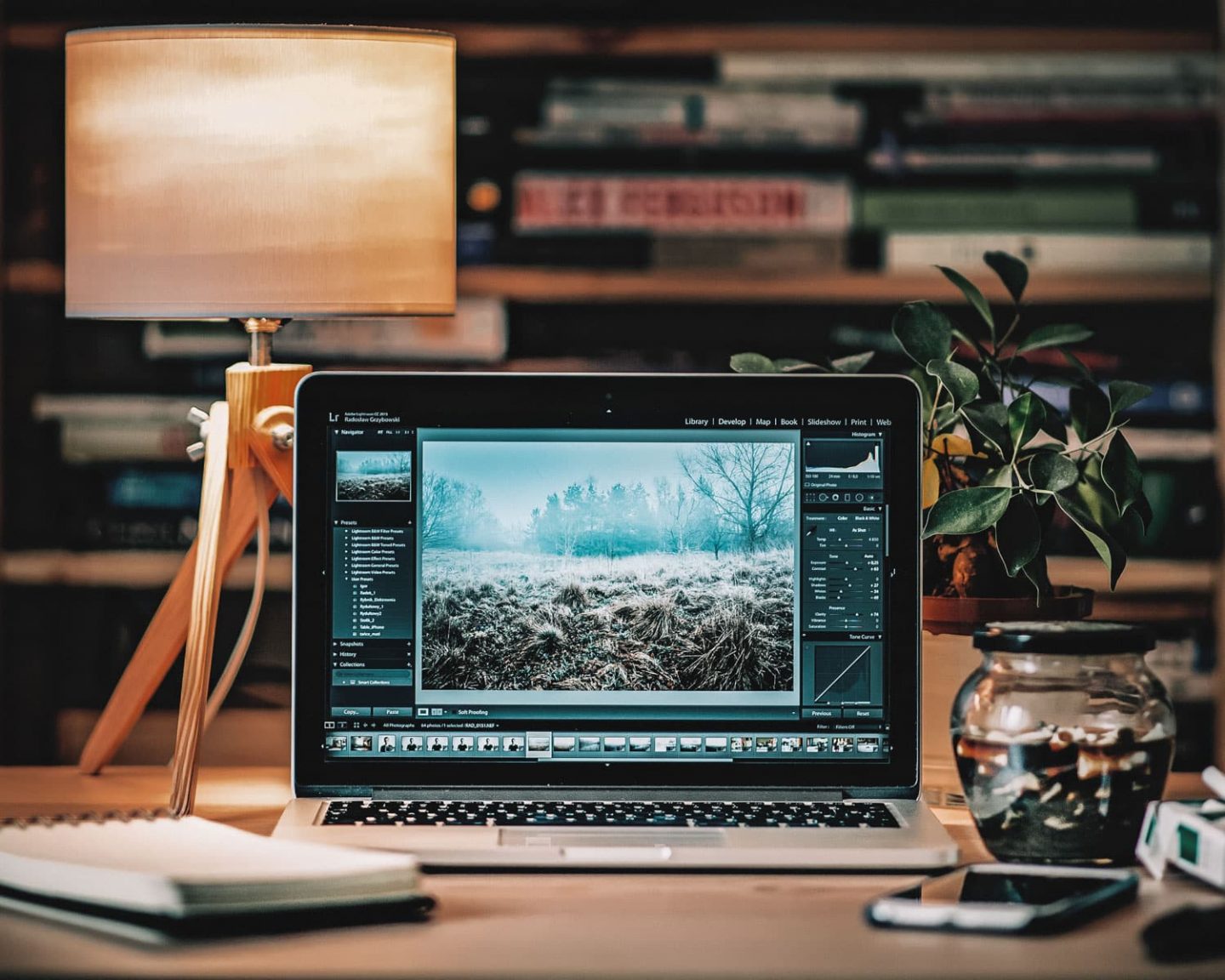 Best Design & Marketing Remote Job Boards
99designs
99designs is a firm favourite with designers looking for remote work online. It's an online community where you can showcase your work, connect with clients and bid on freelance gigs. You can filter opportunities by categories like web page design, logo design, illustrations, t-shirts and more. Much like Upwork, you'll need to split costs with 99designs (there are different tiers), and there is a $100 sign-up fee that comes off the first $500 you make.
CloudPeeps
Cloud Peeps is a good option if you're an established freelancer. You'll need to have a strong portfolio when you apply to the site. If you make the cut, you'll have access to remote jobs in social media marketing, digital marketing, copywriting, SEO and virtual assistance. Some of the world's biggest brands like Lyft, L'oreal and Airbnb post jobs on the site which has over 20,000 clients.
Coworks
Coworks brands itself as the number one freelance work platform for brands and agencies. If you're a creative job seeker (graphic designer, illustrator, web designer), it's worth signing up. Coworks also has recruiters who help brands find the top talent on the platform and save you time searching for jobs.
Dribbble
Dribble is a popular site for freelance web designers. Upload your portfolio and employers can hire you for a gig or use the job search feature to reach out to potential clients. Select the "remote" option on the location tab and browse through all the jobs you can do from home or anywhere around the world.
Hey Marketers
Hey Marketers is a job board with remote positions for marketing professionals. If you don't want to check the board every day, you can sign up to their mailing list and have the latest positions sent to your inbox every single day.
Media Bistro
Not sure where to find remote work opportunities around marketing, media and television? Media Bistro is the answer to your job hunt. The site has some of the biggest media companies (HBO and PBS) posting jobs. Type "remote" in the search bar and you'll get a list of their creative remote gigs!
Read More: Best Tools for Freelancers: What You Need to Run Your Online Business
---
Best Tech Remote Job Boards
GitHub Jobs
GitHub is mainly used by web developers to share code, ask questions or discoveries with other users. But there is a job board, and it has an entire section dedicated to remote work opportunities.
Gun.io
Gun.io is a platform designed for freelance web developers. You can use your GitHub account to sign up, and the site will match you to companies looking for your services.
PowerToFly
PowerToFly is the best place to find remote work online for women in tech. The idea behind the site is to match women with location independent jobs around the world. Before you can sign up, you need to pass a vetting process and then get matched for a paid trial with an employer.
Stack Overflow
Stack Overflow is more than a web development Q&A community. The site has remote work listings for tech professionals as well as in-house positions.
Read More: How to Start Freelancing With No Experience
---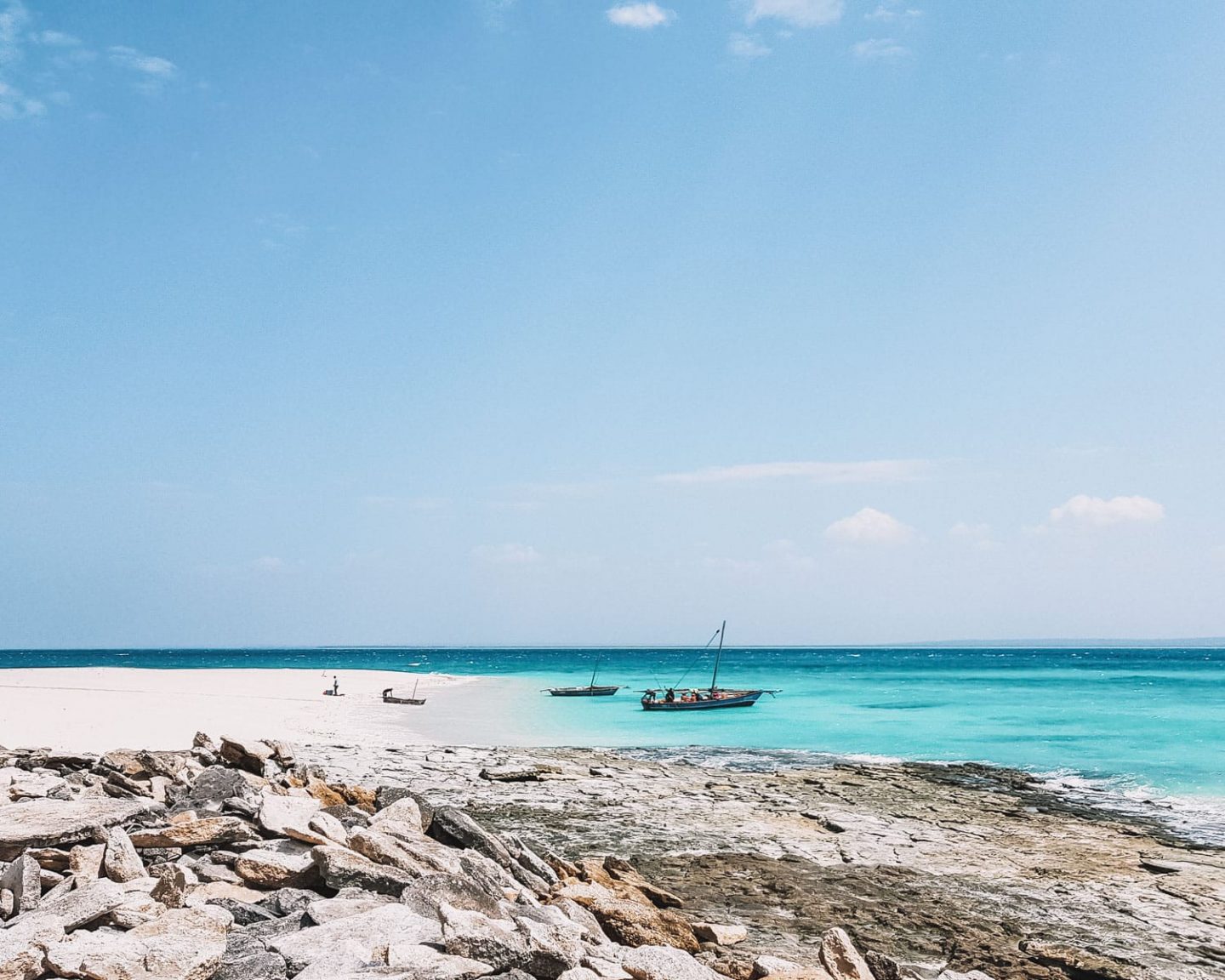 Other Niche Remote Work Sites
Aprés
Aprés is a site for mothers who want to re-establish their careers after childbirth through remote work. If you're not keen to go back to a location-based 9-to-5 and want more time with your kids, Apés can help you find the perfect online job. While there is a sign-up fee ($99), it comes with online courses, career coaching and a free copy of the site's flagship Your Turn ebook, webinar and workshop.
Axiom Law
Remote jobs aren't limited to the tech or digital marketing industries. Lawyers are joining their ranks with sites like Axiom Law. It matches lawyers with companies who want fully remote modern legal teams. Plus, more than 50% of Axiom's clients are Fortune 500 companies!
Business Talent Group
I know a lot of these job sites tend to offer entry-level or mid-level positions. So what do you do if you're a senior executive who wants ditch the old desk and become a digital nomad? You sign up for Business Talent Group! It's an independent consulting agency that will give you the freedom to work with some of the world's top companies from your laptop.
EuropeRemotely
Despite the name, EuropeRemotely isn't only for members of the EU. It's for remote workers who want a job within the European time zones which is ideal for South Africans! The site has a curated list of jobs programming, design, marketing, sales, operations and support.
Hitmarker
Hitmarker is an online job board for e-sports and gaming. Yup. If you're passionate about Call of Duty, Fornite and Halo 3, you can earn a living geeking out 40-hours a week. There are junior, intermediate and senior positions available as well as full-time, part-time and freelance contracts. Most of the positions are entry-level, making this site a great gateway to find remote online jobs with no experience.
Idealist
Idealist is a unique remote job board. The positions posted are for organisations and nonprofits committed to making a positive change in the world.
TranslatorsCafe
Are you a linguistics fiend? Can you speak, write and read multiple languages? TranslatorsCafe is the best online job board for you! Sign up for a free account and get instant access to translation, interpretation, subtitling, transcription and voice-over jobs.
TravelMassive
When I started as a social media manager in the travel industry in 2014, I lived and breathed TravelMassive. I attended every single Cape Town event, I made some fantastic connections, and before I left for Thailand, I was helping the organisers run the event. But besides the incredible networking opportunities, TravelMassive is a leading resource for remote jobs in the travel industry. The Marketplace has positions for community managers, editors, destination managers, tour guides and more!
---
Steal My Pitching Templates
Are you applying to DOZENS of job boards without any luck? Not sure what to say in your pitches to get a HELL YES from potential clients?
Learn how to market your skillset and show clients why you're the perfect person for the job.
Grab my Pitching Templates For Finding Remote Work Online e-book. Copy and paste the exact formulas I've used to land high-paying remote clients and jobs.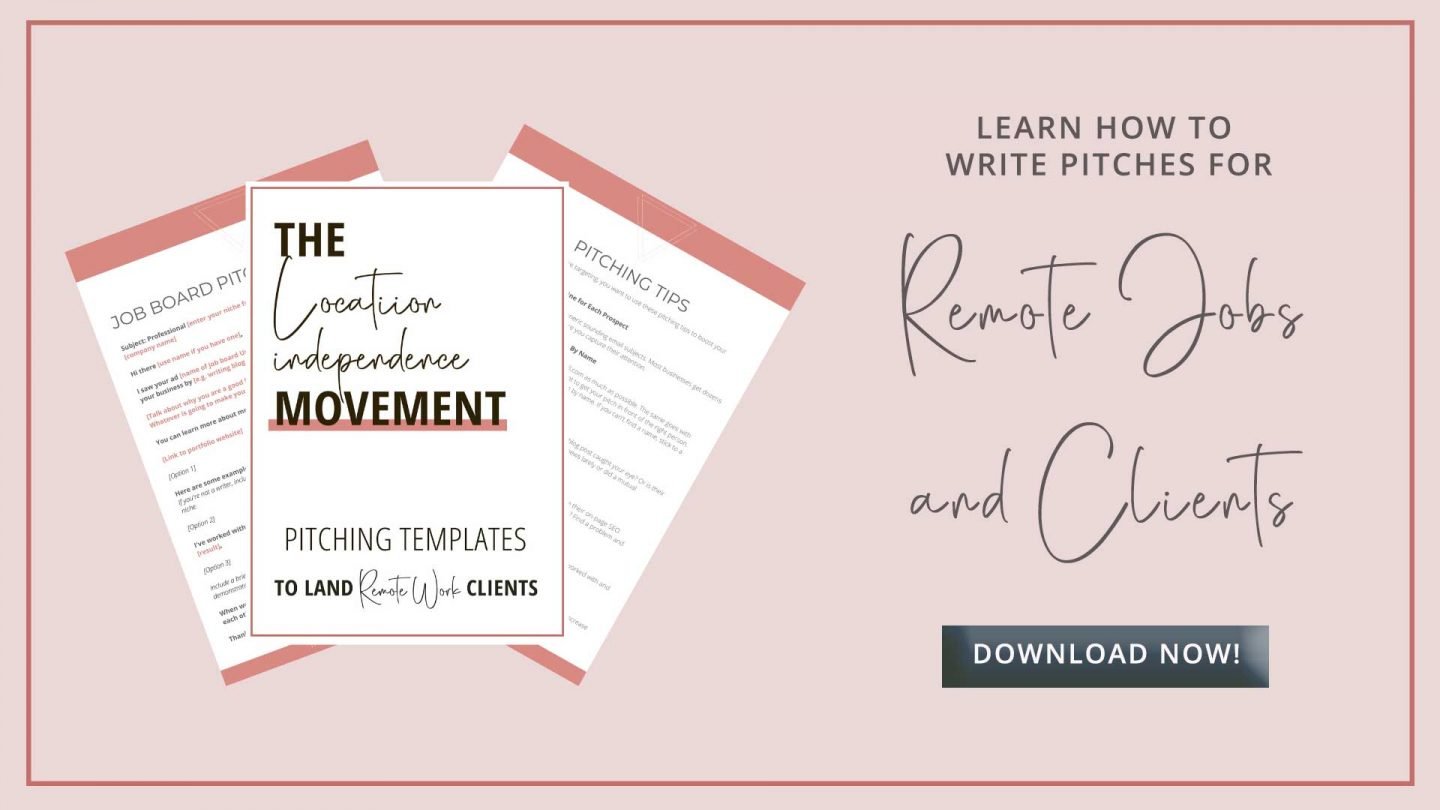 ---
What are some of your favourite sites for finding remote work online? Hit ya gurl up in the comments! I'd love to check them out.
---
Psst…Want more posts on location independence? Check out my other posts:
? If you like it, then you should put a pin on it! ?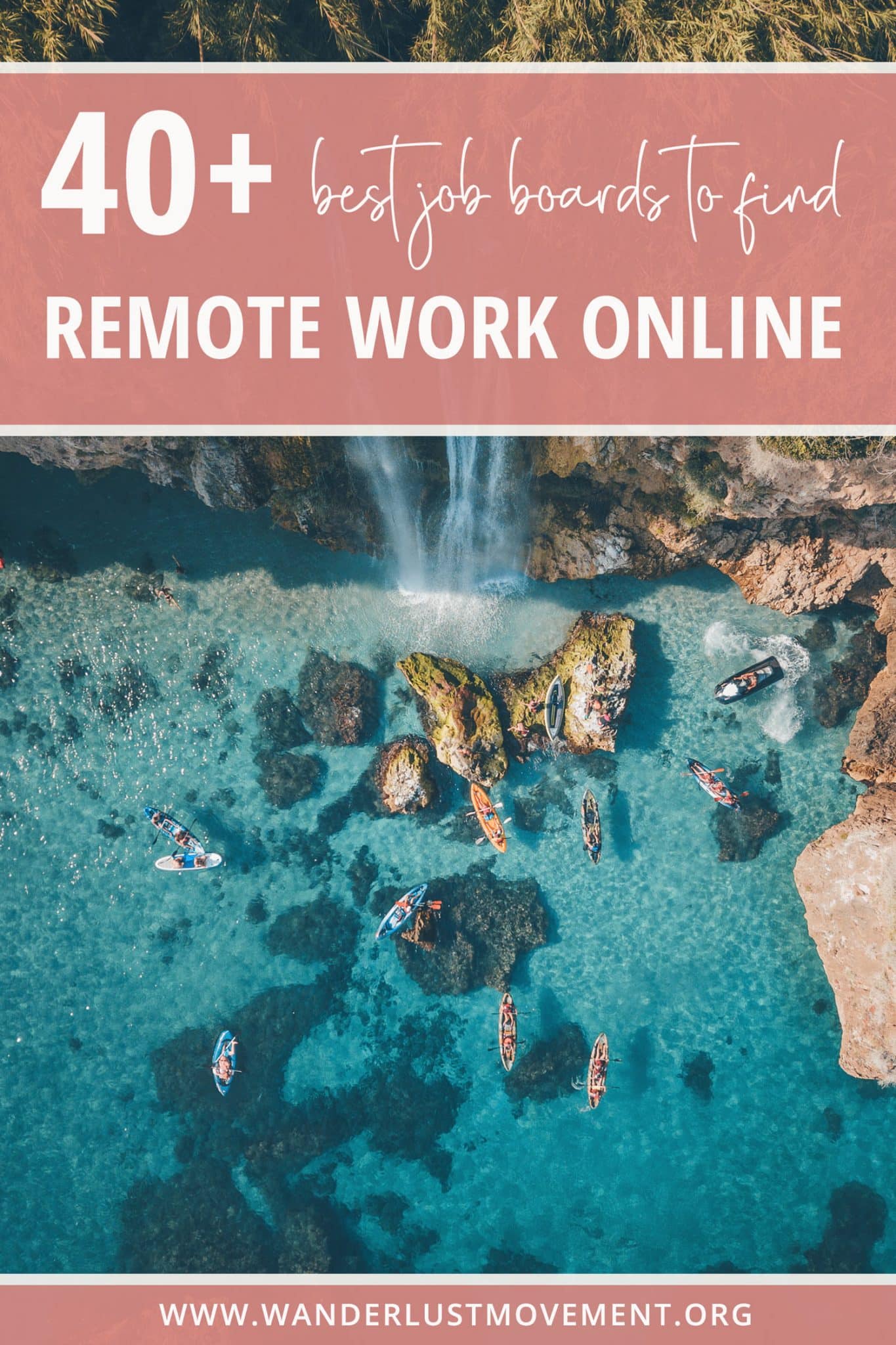 Feeling stuck with your remote work job search? Here are the best sites to find remote work online - no matter your niche!